PRO TAPER PRESENTS MXA'S MID-WEEK REPORT BY JOHN BASHER
#WHIPITWEDNESDAY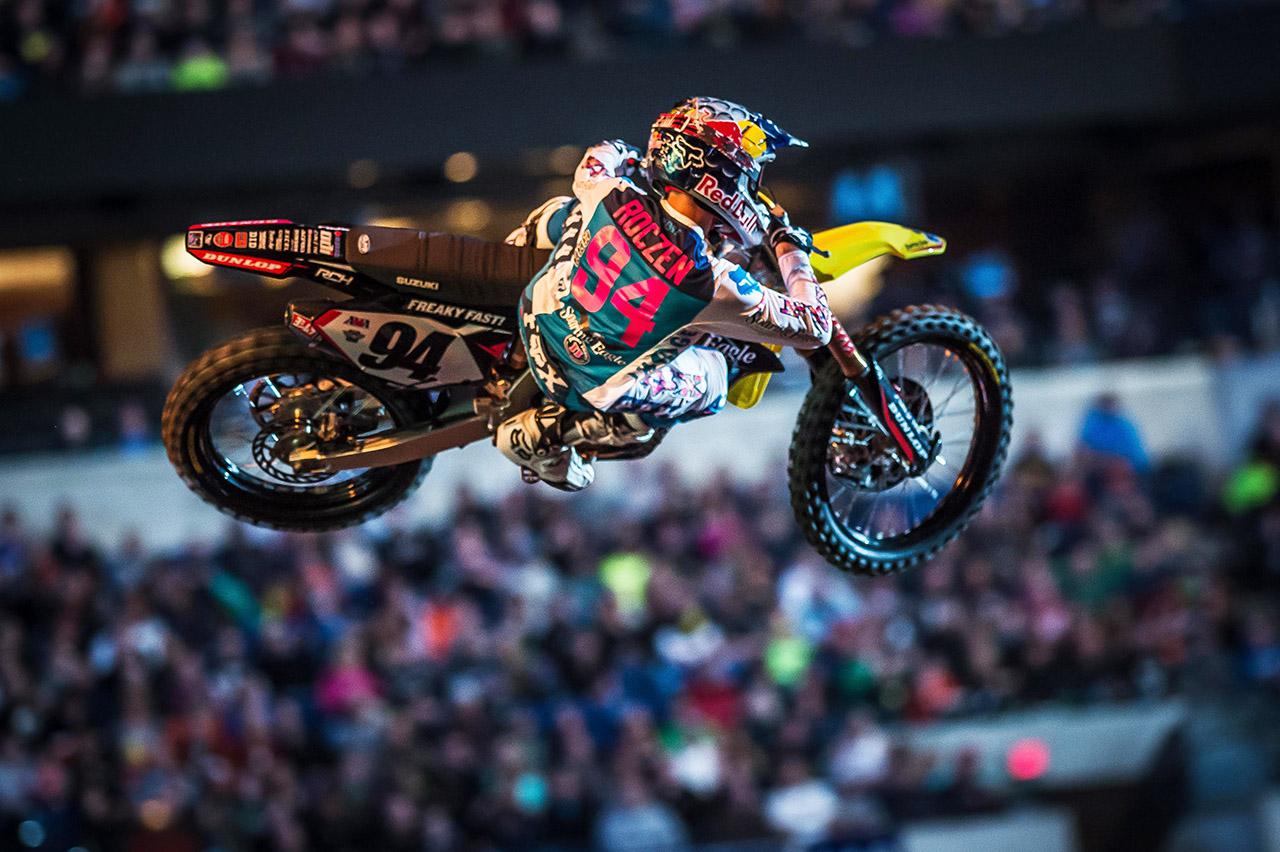 Rider: Ken Roczen
Location: Lucas Oil Stadium, Indianapolis
Date: April 9, 2016
Photographer: Brian Converse
Camera: Nikon D4
Lens: 300mm
Exposure: 1/640 sec.
F-stop: 3.5
ISO: 3200
MINI-VIEW: JEREMY MARTIN
Jeremy Martin and his mechanic talk strategy following a qualifying session last weekend in Indy. Photo: Scott Mallonee.
By Jim Kimball
The 250 East series started off well for Yamalube Star Racing Yamaha's Jeremy Martin. He looked poised to take his outdoor success indoors. Martin had some decent success, until things started to spiral downwards in Detroit, and then more significantly Indianapolis. Still, Jeremy is undeterred in his quest for a 250 Supercross Championship to go with his two National titles. Can he do it with four rounds to go and trailing by 28 points?
Jeremy, what a crazy Supercross 250 East series it's been! It has definitely been a wild one. If you are looking at it from a fan's perspective it may be the best season ever!  You have seen so many different winners so far, but from my perspective I want to be winning, wearing the red plate, and extending a points lead. Mookie [Malcolm Stewart] has the red plate right now, so I am just trying to focus on getting good starts and riding 15 solid laps. The tracks, like Indianapolis, have been pretty gnarly. I just focus on the fact that I am not racing Stewart, Davalos, or any particular rider. I am literally racing the track. The tracks change so much during the race that you have to also make changes.
It appears like there have been so many crashes and different drama happening in the 250 East series. For the most part I think that the East coast tracks have been much more like the west coast dirt. Detroit in particular was just brutal; much more like the super hard-pack tracks that I ride on in California during the week. Indy was just ruts everywhere, but it was good and I like the ruts. When you think of the East Coast you think exactly what the dirt was like in Indy–soft dirt and ruts. Overall, the tracks in the 250 East so far haven't been that way. I think that the tracks have been much more technical this year. This year the whoops seem much bigger, and the rhythm sections are much more difficult to do than in years past. The jumps seem much shorter and steeper.
Speaking of Detroit, that was the race where you went down in the first turn, right? That's right. It's never fun to go down in the first turn in Supercross, and that happened to me in Toronto and then Detroit. The worst thing is that you only have 15 laps to catch the leader, and that is almost impossible. You are not going to catch the leader unless people go down. It's definitely frustrating, because I put so much work in during the week. You get so prepared and ready, and the some simple crash can take you down. But we are racers, so we are all fighters and we want to win. When I crash I know that I have to get back up, as there are so many people that have invested time and money into me. I can't just throw in the towel.
Photo: Brian Converse
There has been a lot of talk about how you may have switched up your motorcycle settings for Supercross this year. Is that true? I've struggled a little bit in Supercross the past couple seasons, so I really looked at my bike setup. I have been pretty good outdoors, so tried to take a look at what I could do for Supercross. I am probably the hardest person on myself. I always get down on myself to see what I can do better. I want to try to get better. So that is what Johnny O'Mara, my mechanic, the entire Yamalube Star Yamaha team and I did over the winter. We asked ourselves the question, 'What can we do to get better in Supercross?' We looked at my bike to make changes for Supercross. I didn't really like it, but we knew that we had to do it. Over time I have gotten used to it, and I believe that it has been helping me.
Your 2016 Supercross season started out better than your previous years. Yeah, I truly believe that I am night-and-day better than before in Supercross. I had the red plate in Supercross for the first time in my career, and even though I had a couple bad races, there are still some rounds left. Despite the past couple races I am still in a good spot. I give it everything that I have every time that I am out on the track, and that is what I will continue doing as long as I am out on the track.
You have some ground to make up in Supercross. Can you still win the title? Of course. It will be difficult at this point, but anything can happen. It's not over until the last race, and that is where it counts the most. Getting a Supercross title to go with my 250 AMA National titles is the goal.
How do you see the 250 National Championship playing out? I think that you are going to see a lot of blue up front. I think that we are going to see a battle of the ages in the 250 class. I believe that Cooper Webb and I are going to be going for it like we did in 2014, only with more maturity and intensified. Of course there will be some other strong competitors. I have one more year in this class, and I am going to fight for it.
QUOTE OF THE WEEK: ANTHONY RODRIGUEZ
"A third criminal came out of nowhere with a shortened shotgun to be backup for the other two guys as they ran away. Luckily, the third criminal didn't see what my dad was trying to do, so my dad stopped reaching for his back or he would have been shot."
Click here to read the interview.
IN THE WORKS (UPDATED): PROJECT YAMAHA YZ125

Pay no attention to the mess in the background. Instead, gaze at the soon-to-be epic 2005 Yamaha YZ125. Note the Dunlop tires on the Dubya wheels. Don't worry, Jay, I'll put Dunlop tire stickers on before shooting static photos for the magazine. 
Not much has progressed with the 2005 Yamaha YZ125 project bike since last week. Magazine deadline has a way of keeping me out of the garage. My dad and I did find some time for therapeutic relief by way of spinning wrenches, but not nearly enough time to get the bike running. I can confidently state that the project YZ125 should turn out really well, thanks to a host of aftermarket companies helping the cause.
Dunlop sent over a set of new MX3S sneakers, which I mounted to black Dubya wheels with magnesium-colored hubs. Given my experience changing tires through the years, I boasted about my tire skills to dear old Dad. A few curse words and a lot of sweat later, I finally mounted both tires to their rightful places. I have since realized the importance of using a tire-changing stand for best results. Fortunately, it looks as if the tires are still holding air. Thanks to my beefy Zip-Ty Racing tire iron, Motion Pro Bead Buddy and Dunlop tire-mounting paste for getting me out of a pinch (no pun intended).
Let me back up for a second. Before mounting the rubber, I installed a Sunstar 49-tooth rear sprocket and Moto-Master Flame rear brake rotor. I opted for an extra tooth on the rear in order to shorten the gap between second and third gear. Contrary to what you might think, MXA has no stake in the sprocket business. We simply recommend what's best for every bike after testing myriad gearing combinations. A 49-tooth on a 2005 and newer YZ125 is the cat's meow.
It would take a nuclear warhead to disintegrate the TM Designworks Factory Edition 2 chain guide.
My Dad, bless his heart, decided to install a bombproof TM Designworks chain slider and guide. The polyurethane material is tough as nails, and often requires that the countershaft sprocket be removed during install. However, the countershaft sprocket nut has a shoulder washer and is torqued down at the factory. I had previously removed the rear wheel, preventing my Dad from locking up the rear end to stop the countershaft sprocket from spinning. Ever the crafty mechanic, he remember that the cylinder was off. He carefully placed a 14mm t-handle through the top hole in the rod where the worn-out piston was before. Dad loosened the countershaft sprocket nut ever so gently. Eureka! Everything else from that point forward was a breeze.
My goal is to install the Vertex top-end kit and get everything back together before the weekend comes. That way I can jet up to North Carolina Motorsports Park in Henderson, North Carolin, to shake down the bike. My Dad might come, too, which means that I'll bring his 2007 Suzuki RM125. A side note, I just received a set of beautiful Dubya wheels with Excel rims and Talon hubs that will go on the RM125 next week.
I would like to give props to the folks at Wiseco. Last week I ordered a Wiseco pilot jet and mainjet kit. What I got was a boatload of every size Mikuni jet known to man. So if you see me at your local track and are having problems with your Mikuni carb, I should be able to help out! Until next week…    
WINNING AT SOCIAL MEDIA: DEAN WILSON
Forget that Dean Wilson is out again with a knee injury, or that he's 26th in points (for what it's worth he's in front of James Stewart). Instead, take a look at this gem he posted on Instagram. By my count, there are 12 45-pound plates on the barbell. Add in the weight of the barbell, and you're look at 585 pounds. Now, turn your attention to Dean's comment. "You could say we are on our way to GAINZ VILLE." Excellent pun, Dean. Wilson is out of racing for the foreseeable future, but at least he hasn't lost his sense of humor. Oh, and one more thing. Why is the barbell still resting on the rack, Deano?
PRODUCT SPOTLIGHT: FASTWAY KTM BAR MOUNTS

Click on the image above for more information.
THE MAGNIFICENT EIGHT: LET'S NOT JINX 'EM
Photos by Brian Converse, Scott Mallonee and John Basher
Of the 44 racers in the 450 class that have earned a Supercross point this season, only eight have scored points at all 13 rounds to date. Believe it or not, these elite eight aren't all inside the top eight for overall points standings. That's because some, like Marvin Musquin and Cole Seely, have logged a bunch of great results, only to fall prey to injury in the late stages of the series. Let's take a look below at the magnificent eight:
Ryan Dungey (first place, 303 points)
Let's forget what Dungey did in winning last year's 450 Supercross title. His 2016 campaign is nothing short of amazing. Ryan finished on the podium for the 29th straight time this past weekend in Indianapolis, and in the process he won his 29th 450 Supercross race. He now sits sixth on the all-time wins list. Dungey has averaged 23.3 points (better than 2nd place) over the course of 13 rounds and leads Ken Roczen by 45 points. Look for Ryan to clinch his third 450 Supercross title in the next two weekends.
Ken Roczen (second place, 258 points)
K-Roc has done better in his sophomore season with RCH Suzuki than last year's crash-infested Suzuki debut. In most scenarios the German would be styling his way to a first 450 Supercross crown. However, he has met an impenetrable force in Ryan Dungey. Three times Roczen has finished second place, and every time Kenny has been beaten by Dungey. Even so, Roczen is the only rider within Dungey's two-race lead on the field. Kenny will likely finish second, which isn't a poor showing. Still, nothing short of a title is a letdown.
Jason Anderson (third place, 240 points)
The Rockstar Energy Husqvarna rider is coming into his own. He's already had a better Supercross season in 2016 than his rookie 450 outing last year. Two wins, a three-race podium streak and third in the standings, Anderson could win another race and climb up to second in points before this thing is done.
Eli Tomac (fourth place, 212 points)
Is it time for Tomac and Kawasaki to panic? Since trouncing the field at Daytona, Eli has finished 5-5-7-9. Eli was supposed to be getting better, but instead he has been picking himself off the ground. Not to worry, though. The 450 Nationals start in 38 days!
Chad Reed (fifth place, 193 points)
This might be the first year since 2013 that Chad Reed hasn't won a 450 main event. Granted, the Australian has been close twice (San Diego and Anaheim 2), but he hasn't had that same flair that he did at the beginning of the year. This means he'll probably win in St. Louis this weekend.
Justin Brayton (eight place, 149 points)
Marvin Musquin and Cole Seely are ahead of BTO Sports KTM's Justin Brayton despite missing at least one race. Brayton should pass Seely in the standings and end up seventh in the final standings–that is, as long as he can keep Trey Canard at bay. Justin average is a ninth place finish, with his best result a fifth at Atlanta.
Jake Weimer (tenth place, 106 points)
Would you believe that a "former 250 Supercross Champion turned factory 450 rider turned privateer" gets healthy and jumps back up to a 450 factory program? It used to be that ex-factory riders were shunned after losing their elite rides. Weimer proves that it's possible to earn a second chance. He probably expected better results after getting Suzuki backing, but he has been consistently inconsistent. Still, he has scored points at every round.
Mike Alessi (13th place, 94 points)
Alessi finally nailed a holeshot at Indy. Guess what? He finished around the same position (10th) that he did in the two previous rounds. At Santa Clara Mike rounded the first lap in 12th and finished 11th. In Detroit he came around the first lap in sixth and finished ninth. He's earning his salary by putting it in the show every weekend.
AMSOIL ARENACROSS: SALINAS HIGHLIGHTS
FUN FACT: KAWASAKI JOINS THE PARTY
Photo: Brian Converse
Remember how I pointed out last week that a Kawasaki rider had yet to score a holeshot in either 250 Supercross region? Leave it to Gannon Audette, the fill-in rider at Pro Circuit Kawasaki for Arnaud Tonus, to break the chalk line first at Indy. Way to go, Gannon, and congratulations on the gig.
THE FASTEST OF THE FAST: TO QUALIFIERS & HOLESHOT ARTISTS

FASTEST QUALIFIERS: 450 CLASS
Anaheim 1…Trey Canard
San Diego 1…Ryan Dungey
Anaheim 2…Ken Roczen
Oakland…Ryan Dungey
Glendale…Ryan Dungey
San Diego 2…Eli Tomac
Arlington…Ryan Dungey
Atlanta…Christophe Pourcel
Daytona…Eli Tomac
Toronto…Trey Canard
Detroit…Marvin Musquin
Santa Clara…Eli Tomac
Indianapolis…Christophe Pourcel
FASTEST QUALIFIERS: 250 CLASS
Anaheim 1…Cooper Webb
San Diego 1…Cooper Webb
Anaheim 2…Zach Osborne
Oakland…Cooper Webb
Glendale…Cooper Webb
San Diego 2…Zach Osborne
Arlington…Joey Savatgy
Atlanta…Malcolm Stewart
Daytona…Justin Hill
Toronto…Justin Hill
Detroit…Malcolm Stewart
Santa Clara…Cooper Webb
Indianapolis…Malcolm Stewart
HOLESHOT AWARD: 450 CLASS
Anaheim 1…Cole Seely
San Diego 1…Chad Reed
Anaheim 2…Davi Millsaps
Oakland…Ryan Dungey
Glendale…Davi Millsaps
San Diego 2…Ryan Dungey
Arlington…Ken Roczen
Atlanta…Justin Brayton
Daytona…Ryan Dungey
Toronto…Ryan Dungey
Detroit…Ryan Dungey
Santa Clara…Jason Anderson
Indianapolis…Mike Alessi
HOLESHOT AWARD: 250 CLASS
Anaheim 1…Jessy Nelson (West)
San Diego 1…Jordan Smith (West)
Anaheim 2…Jimmy Decotis (West)
Oakland…Christian Craig (West)
Glendale…Jimmy Decotis (West)
San Diego 2…Jordan Smith (West)
Arlington…Christian Craig (West)
Atlanta…Shane McElrath (East)
Daytona…Malcolm Stewart (East)
Toronto…Matt Bisceglia (East)
Detroit…Aaron Plessinger (East)
Santa Clara…Zach Osborne (West)
Indianapolis…Gannon Audette (East)
Photos by John Basher, Brian Converse and Scott Mallonee.