PRO TAPER PRESENTS MXA'S MID-WEEK REPORT BY JOHN BASHER
#WHIPITWEDNESDAY
Rider: Daryl Ecklund
Location: JGRMX Supercross track
Date: June 25, 2014
Photographer: John Basher
Camera: Canon 1D Mark III
Lens: 70-200mm f2.8
Exposure: 1/1000 sec.
F-stop: 4.0
ISO: 200
MXA VIDEO: "OLD COUNTRY" WITH JOEY SAVATGY
QUOTE OF THE WEEK: BEN TOWNLEY
"Well, I like that the MXGP Championship is worldwide, but when we go to some of these countries the standard should not be any less than it is in Europe when we have MXGP rounds. I personally thought it [the Thailand track] wasn't up to the proper standards."
Click here to read the full interview.
MX TRACK BUILDERS: PARQUE LAS PALMAS IN CHILE
Press releaase: MX Track Builders delivers an American-style motocross track at the Parque Las Palmas in Chile. Creating the South American motocross landscape. MX Track Builders began shaping the earth's surface in 2006, creating the North American motocross landscape one track at a time. Established as a racetrack design and construction company, MX Track Builders provides professional service for the construction of high quality motocross, Supercross, and Arenacross tracks. Need a track built? For more information visit us online at mxtrackbuilders.com or give us a call 847-204-9817.
MINI-VIEW: KEN DE DYCKER
By 24MX Lucas Oil Honda
Only last September Ken De Dycker was standing on the podium with Team Belgium at the Monster Energy MX of Nations. After a productive winter with his new 24MX Lucas Oil Honda team Ken was looking forward to the new season. That was until a femur fracture one week before the opening MXGP round in Qatar played havoc with his plans. We caught up with the multiple GP winner.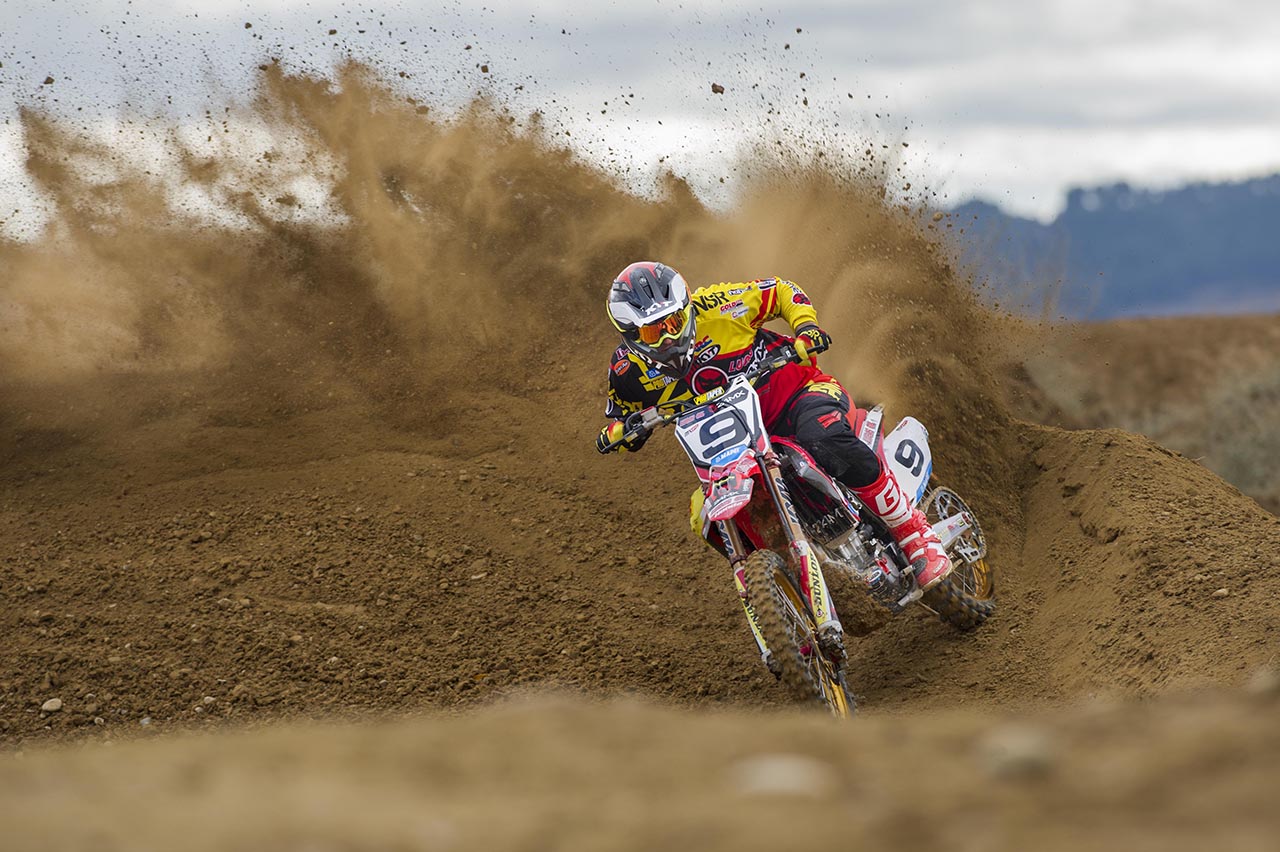 Ken, what's the current status of your injury?
Rehab is going well. Next week I'll have another scan of my leg and I will consult my surgeon, Dr. Ghijselings. Hopefully he can give me the green light for the screws to be taken out. I've started cycling again and that feels great! It's motivating to be moving forward. My next goal is to get back on my CRF in the next four to five weeks.
Where does this leave you physically?
Of course I'm not in the shape I was at the time of the crash. I immediately started to do the muscle exercises for my leg, daily physiotherapy and so on. We're literally doing everything to come back in the best possible way. You can see that I've lost muscles in my right leg but for sure the strength and stability are returning.
In spite of this huge blow you've remained very motivated and even-keeled. Has it helped mentally to have a guy like Joël Roelants (De Dycker's coach) in your corner?
It helps to have good people around you, but in the end you have to do it yourself. It's all about flipping the switch. Two minutes after something like this happens you have to say this is how it is. How do we go forward from here? Mentally it's been okay really. I think it's also different when you had some strong races under your belt and you can not finish the season. Now, I know that I have four months of hard work thrown away, so to speak, but I can still prove myself this season.
You looked strong in practice and you were definitely ready for 2016.
Yes, physically I felt really food and the bike was up there, as well. The CRF450R package is strong. We had the suspension working great, we only needed to fine-tune my starts. To return to a bike like that gives me confidence.

What do you think of the MXGP season so far?
Tim Gajser has had a heck of a start. He's been impressive. Romain Febvre is up there. Behind those two there's a big group of guys running a similar pace. You can see it makes for exciting racing! If Gajser can continue to challenge up front? Well, he has won three out of five rounds so far. That's no coincidence!
Any particular races you look forward to when you're back?
My home Grand Prix in Lommel, of course. I hope to be there for Matterley Basin, which is an awesome track. I love the British fans. The American GP's at the end of the season are always special as well. Depending on my scheduled return I might do an ADAC MX Masters (Germany), MX Elite (France) or  Dutch Masters of Motocross (Holland) race before my first GP's. I haven't raced in the Belgian Championship this year yet. I always like to ride in front of my home fans.
Do you have some additional events you'd like to do once the GP season has finished?
That's still far off! The Red Bull Knock-Out sounds tempting, though. I always wanted to do it, but in the past it was not compatible with the schedule of the team. If 24MX Lucas Oil Honda is up for it, why not?
Best of luck with the next stage of your rehab.
Thanks, I will keep you posted.
PRODUCT SPOTLIGHT: ALPINESTARS TECH 5 BOOT
Press release: Coming in the wake of the hugely successful and iconic Tech 10 and Tech 7 the new Tech 5 is an advanced multi-material, multi-panel construction boot that further strengthens Alpinestars line-up of class-leading motocross and off-road boots. Incorporating an innovative microfiber chassis, which is extremely durable and lightweight, a medial biomechanical pivot system for excellent levels of support and stability and extended accordion flex zones, the Tech 5 affords performance fit and high levels of comfort and durability. Price: $269.95. Contact: www.alpinestars.com or (800) 409-0903.
JOHN'S GARAGE: YAMAHA YZ125 BUILD
How's your bike build coming along? It's nearly May, which means that the weather is improving and motocross tracks around the country are ready to be ripped. You better make sure your bike's tires are fresh, the transmission oil is good to go, and the suspension is tuned for your weight (good job avoiding the dinner buffet the last few months). Let's ride!
Oh, wait a second, I'm not quite ready yet. My bike is still in pieces as I wait for Mr. Delivery Man to drop off a few more goodies for my Yamaha YZ125. Don't think I'm staring out my office window all day (yay, I finally have an office with a window!) waiting for the big brown truck with squeaky brakes to stop. Nope. Bikes don't get built that way. Instead I've been periodically sneaking away from my computer to spin wrenches. This past week I installed a full Hinson Billetproof clutch, Boyesen Supercooler kit, Motion Pro Titan throttle tube, Motion Pro throttle cable (the stocker was fraying), and cleaned the inch-thick grime out of the airbox. On the delivery front, I received my radiators back from Brett Koufas at ICW Radiators. He reinforced them to the point that nothing short of a trash compactor could crush them. Brett also threw in a carbon fiber ignition cover and some aluminum bolts. He's quickly moving up on my friends list. I also welcomed a set of CV4 silicone radiator hoses, a bunch of Maxima oils and chemicals, and a new YZ125 subframe from Marcus DeMichele at Yamaha.
I wanted to get the YZ125 back together, but right now the project 2007 Suzuki RM125 takes top priority. With the help of some great companies I was able to resurrect my dad's 'zook. Today I'm driving to ClubMX in Chesterfield, South Carolina, to chat with some of ClubMX's finest in Mike Alessi and Justin Brayton. Thursday will be more time with the Pros, and then on Friday I'll test the RM125 with the help of a few buddies. Look for an assortment of action and static bike photos in next week's edition of the Mid-Week Report. I'll also have more news on my YZ125 build. 
VIDEO: 2016 WEST ORANGE BRIGADE CAMP
AESTHETIC MOD: 2007 SUZUKI RM125
The 2007 Suzuki RM125 side panels are big enough to have their own MLS number. Given how the Suzuki two-stroke wasn't all that popular with the masses, aftermarket plastics companies haven't been keen to the idea of spending hundreds of thousands of dollars on new molds that would modernize the look of the bike. However, it doesn't mean that a RM125 owner can't get creative. Thank Glen Laivins at Cycra Racing for the idea of shaving down the massive side panels. Glen cut the bottom edge of the MXA project RM125 side panels, and then Armored Graphix created a template for the revised panels.
The results are outstanding. Not only do the cut panels give the RM125 an aerodynamic look, but now the FMF Shorty silencer is visible. Best of all, the modification is free. The only suggestion I have is that upon cutting down the side panels, file down the inside edges for a smooth finish.
MINI-VIEW: JAKE WEIMER
By Jim Kimball, Photo by Scott Mallonee
If I recall, you pointed out of the 250 class after winning the 250 West. Were you ready to move up to the 450 class at that time?
I would say so. I pointed out so I had to move up. However, I accomplished a lot in the 250 class with winning a Supercross championship, being on a winning Motocross des Nations team, and doing well in the 250 Nationals. When I had to leave I didn't feel like I was missing anything. I wasn't bummed out. I felt pleased with my 250 career and was ready to move up.
You may not have had the same success that you had in the 250 class when you moved to the 450 class, but how do you feel about it?
I feel that I definitely had some good results mixed in with some injuries. Of course I did have some not-so-good results, but I had some Supercross podiums and heat race wins. I did take third overall one year in the outdoor National series. By no means was it all bad, but when times aren't good, it's not very good at all. There was a streak that I had when it was going pretty badly, and I had to try some different things.
You joined Team Tedder, which uses Kawasaki's. Were you getting flowed any factory parts?
Well, there is really wasn't anything factory about it. They are a privateer team, and I feel that I did a good job with what I had. They got me to the races with a bike that we could go get some decent results on. They are a good team, and they do a very good job with what they have. It's important that people know that.
Have you fully recovered from your big injury last year when Trey Canard landed on you?
Not quite. Probably my biggest recent struggle has been dealing with my arm. There is a huge plate in there that really bothers me. I have been going to therapy several days a week so that I can ride. My big plan is to get ready for 2017 right now.
SCOTT MALLONEE'S FOXBOROUGH SIGHTS
NAMPA ARENACROSS HIGHLIGHTS
WHAT IF? RYAN DUNGEY'S DETROIT PENALTY
Had it not been for the AMA's decision to penalize Ryan Dungey in Detroit, the 450 Supercross Championship talk would have been over after St. Louis. Photo by Scott Mallonee.
Ryan Dungey has a 43-point lead with two rounds to go. Barring some crazy circumstances he should be able to secure the title this weekend in East Rutherford. All Dungey needs to do is leave New Jersey with a 25-point lead. Here's the thing. Remember the Detroit Supercross, when the AMA penalized Dungey two positions for jumping on the Red Cross flag? In my opinion and I'm not alone in it, it was a shoddy call, to say the least. Ryan lost the race and a $100,000 win bonus from KTM.
Money is one thing, but what really had to sting for Dungey was losing 5 valuable points. Guess what? Had that call not been made by the AMA, Ryan would have clinched the title in St. Louis. No one would be talking about how Ken Roczen has a mathematical chance to still win the Championship with two rounds to go. What does this all mean? If I'm Ryan Dungey, I'd score the points necessary to wrap up the title this weekend, and then march over to the AMA trailer to discuss ways to improve the convoluted Red Cross penalty going forward. He's the most powerful racer in the paddock right now, so he should use that influence to suggest a clarification of the rules.
By the way, if Ken Roczen wins this weekend then Dungey will need to finish no worse than 14th (7 points) in order to clinch in East Rutherford.
THE FASTEST OF THE FAST
An ongoing list of the top qualifiers and holeshot winners from each round of the 2016 AMA Supercross Championship. Photos by Scott Mallonee.
FASTEST QUALIFIERS: 450 CLASS
Anaheim 1…Trey Canard
San Diego 1…Ryan Dungey
Anaheim 2…Ken Roczen
Oakland…Ryan Dungey
Glendale…Ryan Dungey
San Diego 2…Eli Tomac
Arlington…Ryan Dungey
Atlanta…Christophe Pourcel
Daytona…Eli Tomac
Toronto…Trey Canard
Detroit…Marvin Musquin
Santa Clara…Eli Tomac
Indianapolis…Christophe Pourcel
St. Louis…Eli Tomac
Foxborough…Ryan Dungey
FASTEST QUALIFIERS: 250 CLASS
Anaheim 1…Cooper Webb
San Diego 1…Cooper Webb
Anaheim 2…Zach Osborne
Oakland…Cooper Webb
Glendale…Cooper Webb
San Diego 2…Zach Osborne
Arlington…Joey Savatgy
Atlanta…Malcolm Stewart
Daytona…Justin Hill
Toronto…Justin Hill
Detroit…Malcolm Stewart
Santa Clara…Cooper Webb
Indianapolis…Malcolm Stewart
St. Louis…Malcolm Stewart
Foxborough…Jeremy Martin
HOLESHOT AWARD: 450 CLASS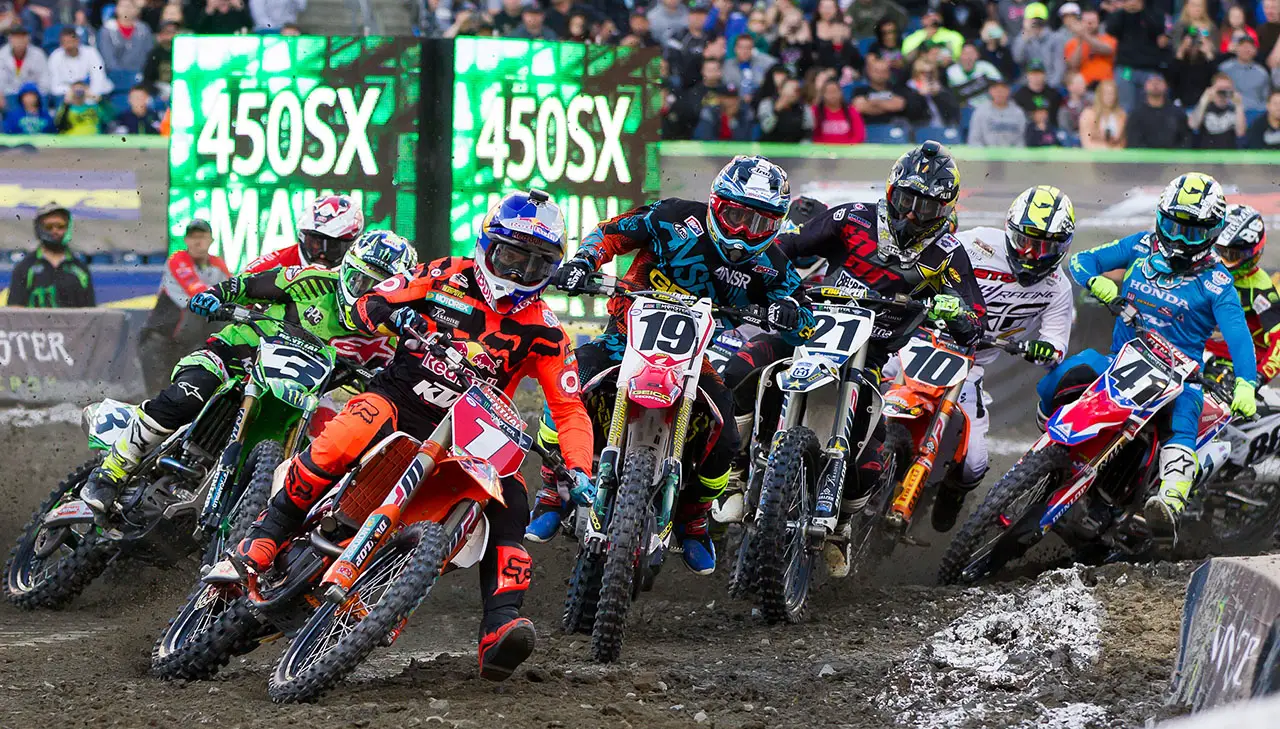 Anaheim 1…Cole Seely
San Diego 1…Chad Reed
Anaheim 2…Davi Millsaps
Oakland…Ryan Dungey
Glendale…Davi Millsaps
San Diego 2…Ryan Dungey
Arlington…Ken Roczen
Atlanta…Justin Brayton
Daytona…Ryan Dungey
Toronto…Ryan Dungey
Detroit…Ryan Dungey
Santa Clara…Jason Anderson
Indianapolis…Mike Alessi
St. Louis…Ken Roczen
Foxborough…Ryan Dungey
HOLESHOT AWARD: 250 CLASS
Anaheim 1…Jessy Nelson (West)
San Diego 1…Jordan Smith (West)
Anaheim 2…Jimmy Decotis (West)
Oakland…Christian Craig (West)
Glendale…Jimmy Decotis (West)
San Diego 2…Jordan Smith (West)
Arlington…Christian Craig (West)
Atlanta…Shane McElrath (East)
Daytona…Malcolm Stewart (East)
Toronto…Matt Bisceglia (East)
Detroit…Aaron Plessinger (East)
Santa Clara…Zach Osborne (West)
Indianapolis…Gannon Audette (East)
St. Louis…Jeremy Martin (East)
Foxborough…Dakota Alix