PRO TAPER PRESENTS MXA'S MID-WEEK REPORT BY JOHN BASHER
#WHIPITWEDNESDAY
Rider: Ken Roczen
Location: Sam Boyd Stadium, Las Vegas
Date: May 6, 2016
Photographer: Travis Fant
Camera: Canon 6D
Lens: 70-200mm f/4
Focal length: 200mm
Exposure: 1/1000 sec.
F-stop: 4.0
ISO: 125
QUOTE OF THE WEEK: ERIC PERONNARD
"The Junior Moto X is a very mild version of Supercross. We made it more hybrid, because the Loretta Lynn qualifiers are going on. We didn't want people to rethink their suspension settings. The track is going to be easier than a full-blown Supercross track. We just want to give the kids the feel of Supercross. We'll have the Tuff Blox lining the track. John Gallagher, the Director of Supercross, will be officiating. The Lazy E Arena is a little bit smaller than a Supercross venue, but the track is 1600 feet long. It's already a pretty large size, with lap times around 40 seconds."
Click here to read the interview.
FOX RACING PRESENTS: THE VIOLIN RIDER
BLAST FROM THE PAST: JOHNNY O'
California's Johnny O'Mara was one of the baddest dudes ever on a 125. Do you remember when O'Show won the 125 USGP in 1980 on an exotic all-white, hand-built 125cc Mugen Honda? I don't, because I wasn't born until a year later. However, it's important to understand motocross history. Appreciate the forefathers of the sport. Kids will recognize O'Mara as Jeremy Martin's trainer, but he was one of the premiere racers in the 1980s. Recognize!
Johnny dethroned Mark Barnett–a 125 master–in 1983. It was one of the best 125 National series in the sport's history. O'Mara battled with Barnett, Jeff Ward and Ron Lechien. Just to give you an idea of how outstanding the racing was, only 39 points separated first from fourth.
PRODUCT SPOTLIGHT: TROY LEE DESIGNS 2017 PHANTOM GEAR

Click on the image to view Troy Lee Designs' new Phantom gear.
JOHN'S GARAGE: YAMAHA YZ125 BUILD
Santa Claus came to my doorstep this past week in the form of a gentleman from UPS. Two boxes, weighing a total of 41 pounds, were signed over to yours truly. I immediately cut open one of the packages, revealing a set of X-Trig Revolutionary Opposing Clamp System (ROCS) triple clamps. These clamps are used by many of the top Pros. The unique split design is said to maintain a perfect roundness in the clamping area, optimal fork function (instead of binding up the fork internals due to pinch pressure from the clamps), and are very lightweight. The X-Trig ROCS triple clamps retail for $899.99 and include the handlebar mount system. You can buy a set at Technical Touch USA.
After gawking at the X-Trig clamps for a few minutes and cleaning up my pool of drool on the floor, I ripped open the larger box. There lay a Kayaba rear shock and a set of PSF-1 (Pneumatic Spring Fork version 1) air forks. The 48mm forks were used by the likes of Cooper Webb during last year's 250 Nationals. These forks have all the bells and whistles, including larger internals, trick coatings, and different fork lugs. As for the 50mm shock body, it is beefed up in every conceivable area for better performance and durability. There are a high- and low-speed compression clickers, as well as high- and low-speed rebound. The shock comes with a X-Trig preload adjuster to simplify sag adjustment. You can purchase the forks and shock separately, or pony up and buy both through Technical Touch USA.
I met my buddy, Mark Chillzone, where most moto heads meet–at the track. Mark dabbles in photography and, oddly enough, had lost his voice when I was introduced to him. He couldn't talk any louder than a whisper, so a lot of our initial conversations involved hand gestures and lots of pointing. It turned out that Mark is a master at machining parts, which goes hand-in-hand with his love for motocross. Chillzone has a 2003 Kawasaki KX125 that he's been building into the ultimate project bike. Don't believe me? Wait until next week's Mid-Week Report, where there will be a breakdown of everything Mark has done to his KX125, along with photos. It's unreal. I can't fathom how long he's spent in the machine shop hand-building and modifying parts for his beloved steed. Some would call it a sickness. Me? It's all about passion, baby.
Mark caught wind that I am in the final stages of completing my 2005 YZ125 project bike. In a kind gesture, he made me a set of titanium footpeg pivot pins, along with a titanium rear brake clevis. Each pin weighs 0.54 ounce–a fraction of what a standard steel pin weighs. While these parts won't make me go faster or jump farther, they're good talking points.
The 2005 Yamaha YZ125, which doesn't look 11 years old, should be completed by the end of this week. I'm waiting on a shipment from Think Technology (Lite seat foam) and LightSpeed Carbon (an assortment of carbon fiber parts), along with semi-custom graphics from Nic Wright at DeCal Works. Take a look at the graphics package above. Next week I should be able to reveal the fruits of my labor. Stay tuned.    
RYAN DUNGEY: TO THE WINNER GO THE SPOILS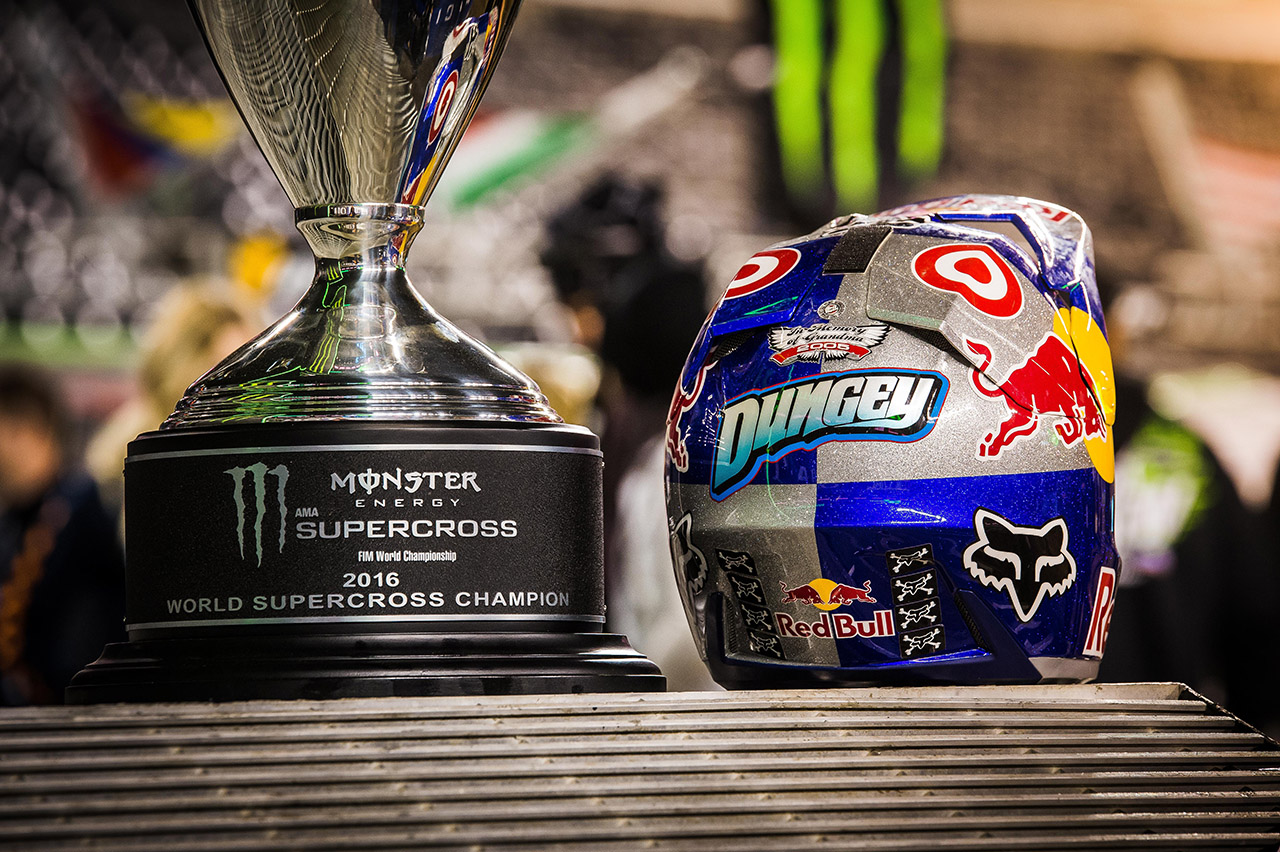 Ryan Dungey had a great five months of work, winning nine races, the 450 title, and over $2 million in win bonuses. Photo by Brian Converse
How lucrative is it to race Supercross? That all depends on whether you can win main events and finish well in the final standings. If you're Ryan Dungey then it should go without saying that you're laughing all of the way to the bank. The Red Bull KTM rider had a banner season indoors, collecting nine race wins and series-leading seven holeshot awards. It could have been even better had the FIM not botched Dungey's would-be win in Detroit. By the way, that decision cost Dungey an estimated $112,000 in win bonuses. Don't shed too many tears for Ryan, though, because he did well for himself…and the race season is only halfway through.
KTM bonuses:
9 main events…$900,000
2016 Supercross title…$1,000,000
* Not included is Dungey's heat race win bonus total
Race series bonuses:
9 main events…$108,000 ($12,000/win)
Remaining purse winnings…$40,000
Holeshot winnings…$10,500 ($1500/holeshot)
Season-ending bonus…$100,000
Total winnings = $2,158,500
*This does not include base salary, heat race win bonuses or any bonuses from other sponsors
MINI-VIEW: BRENT VAN DONINCK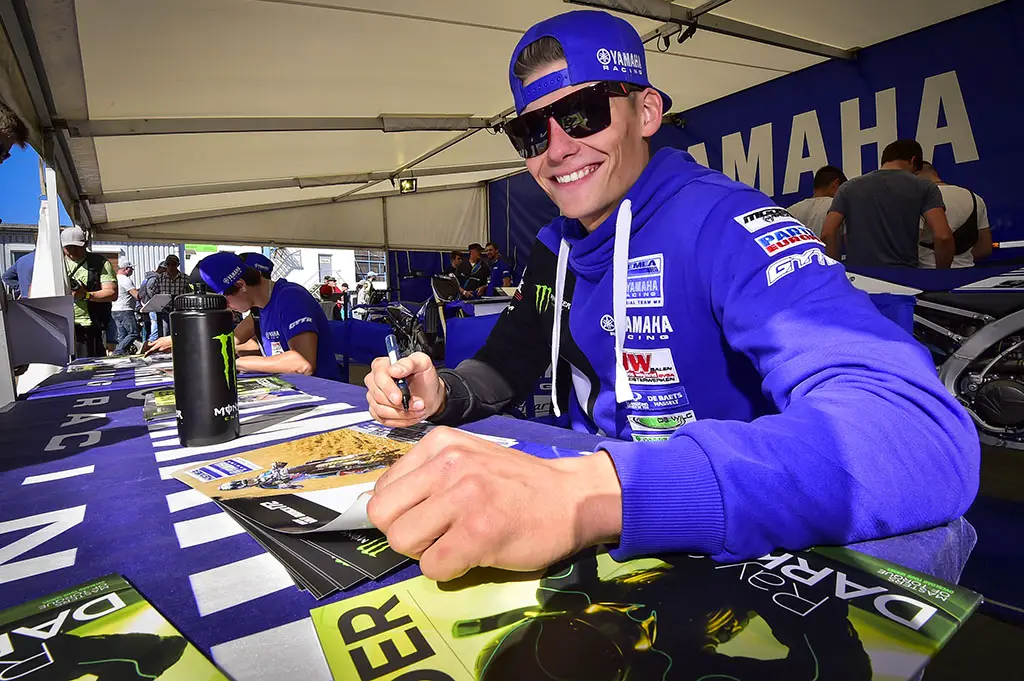 Belgium's Brent Van Doninck was born into a motocross family. Brent was bit by the racing bug at a very early age and quickly discovered that he had a knack for twisting the throttle. Van doninck won several major championships while ascending the ranks, and arrived on the World Championship scene last year at Argentina.
Unfortunately, a rash of injuries have held Brent back from the podium this season. However, the year is still young, and the Kemea Yamaha 250 rider is back on track after dislocating his hip earlier on in the series. Van doninck currently sits 10th in the standings, with aspirations of climbing up to the top five. Meet the 20-year-old Grand Prix rider.
By Jim Kimball, Photos by Massimo Zanzani
Brent, how did you get involved in motocross?
I started riding a pee-wee when I was five years old, and when I was six years old I rode my first amateur race on a 50cc KTM. When I was about eight or nine years old I started riding the youth Dutch motocross Championship in Holland. When I was 12 years old I started riding some European races and ADAC races in Germany. I was the ADAC Champion in 2009. When I was 15 years old I started riding the 125 European Championship, and did that for two years. After that I switched to the EMX 250 class and rode that for two season. Last year I moved up to the MX2 (250) class.
Belgium has such a rich motocross history. Was your family into motocross racing?
Yes, my dad and my uncles were riders, too. This definitely played into my racing. I got my first bike from my grandpa when I was five years old.
You are in your second season racing the 250 World Championships with Kemea Yamaha. What's the team atmosphere like?
The team made a big step the last two years since becoming the official 250 Yamaha team. They got much more support from Yamaha and everything is so professional. There is a really good atmosphere. We are like one big family.
You finished 13th in your rookie 250 World Championship campaign. What were some of the highlights and disappointments from last year?
Normally I was supposed to ride the EMX250 class for Kemea, but in the pre-season races they saw I had the speed to ride the GP series. They switched me with Damon Graulus after the MXGP of Thailand. The MXGP of Argentina was my first GP race. I finished 9th in the first moto and failed to finish the second moto because of a bent brake caliper. Going 4-4 for third at the MXGP of Assen was my highlight of the year. By the way, I finished the season with a torn ACL I suffered in England. I got surgery on it this past winter. Anyway, it was a good season for me, with some good experience. I learned a lot, made a big step in my career, and finished 13th even though I missed Qatar, Thailand, England and France.
Your USGP at Glen Helen probably did not go as you wished. What happened?
I didn't have a good feeling on the track all weekend. I also had some problems with the bike. I hurt my ankle pretty bad when I got stuck in a rut while riding. It was not as I wished. I finished 14th in the first moto and suffered a DNF in the second moto. It was my first time riding in the U.S. My riding was not as I expected, but to be in the U.S. was fun.
How was your preparation coming into 2016? Did you make any changes to your training or practicing?
First of all, I had surgery on my right knee. With that surgery I got a bad infection. I had to stay for two weeks in the hospital to clean and wash the knee two times. I also had to take really heavy antibiotics for six weeks. So conditionally I had to start training from zero again, which was mentally difficult. I changed my trainer in October. Now I'm training now with Jacky Vimond. I trust him 100 percent and we are really close. We went to Spain to train for two weeks. There I got an inflamed tendon in my arm. So I had to rest for 14 days and in those 14 days I had to undergo a small surgery on my left knee. As you can see, I didn't have a perfect preparation for 2016. I missed some bike time.

You have been a standout so far in 2016. How do you feel about your results?
In Qatar and Thailand I was not 100 percent fit, because of my difficult offseason. Still, I was satisfied with the results. In Valkenswaard I felt fit and I had the speed to be on the podium. Unfortunately, I had to deal with some bike problems in the qualifying race, which gave me a really bad gate pick. I came two times from around 20th place to the top five, so my speed was good.
Is there a lot of competition between the Yamaha guys in the 250 World Championship?
There is a lot competition between the Wilvo Standing Construct and the Kemea team because both want to be the number one Yamaha team in MX2. I don't see [Aleksandr] Tonkov or [Alvin] Ostlund as bigger competitors just because they are Yamaha riders.
American teams often look to Europe for the next big rider. Do you have any thoughts on racing in America?
It always has been my dream to ride in the United States. One day I hope to ride a few season in America, but I have things to do in Europe first.
You missed the GPs in Argentina and Mexico. Why?
I dislocated my hip in a Belgium race. It was very painful, but I was more disappointed because I was fifth in the 250 World Championship standings. The day after the race I had surgery to take out some of the bone that broke off. The doctor told me that I wouldn't be able to ride for six weeks, but after only four weeks I was on the gate in Latvia. I finished ninth overall. It was hard and very painful to ride, but I was satisfied. Everybody was surprised that I could even ride.
Thanks for your time, Brent.
Thank you, Jim.
JOEY SAVATGY'S 250 SHOOTOUT VICTORY
Joey Savatgy (middle) should hold his head high after a great 250 West Supercross series. Photo by Scott Mallonee
Pro Circuit Kawasaki's Joey Savatgy came up two points shy of the 250 West title. That's the bad news. While it's never fun to lose a title, especially after dealing with the roller coaster ride of emotions, Joey Savatgy is sitting pretty come 2017. He will be at the top of the list for a 250 Supercross title regardless of the coast he races. Joey's results have improved tremendously since the beginning of 2015. This year alone he won three 250 West rounds, including the East/West shootout in Vegas (netting a cool $8000 for the win). Savatgy is clicking with his training staff, which include Ricky Carmichael, Jeannie Carmichael and Clint Friesen. He also has JH Leale in his corner, a specialist in handling business and financial matters. Had Savatgy won the 250 West, he would have been bumped up to the 450 class next year. I'm not one to question Joey's talents on a 450, but I do think another year in the 250 class can help him. So while Savatgy didn't capture the number one plate indoors, he's the real deal.
MOVIN' ON UP: 250 ELIGIBILITY
Photos by Scott Mallonee, Brian Converse and Kyoshi Becker
The following riders earned at least 135 points in 250 Regional Supercross, meaning they have used up one year of eligibility (riders can stay in the 250 Est/West series as long as they don't earn 135 points three times in their career. They will get moved up if they win the 250 East/West Championship and have been in the class for three years or more. Take a look below to see who is moving up to the 450 class, and who still has at least one more year of 250 Supercross racing.
Malcolm Stewart

Gone. Stewart won the 250 East Supercross title in his sixth year in the 250 class. He will be forced up to the 450 class next January although, to be honest, that was his game plan anyway.
Cooper Webb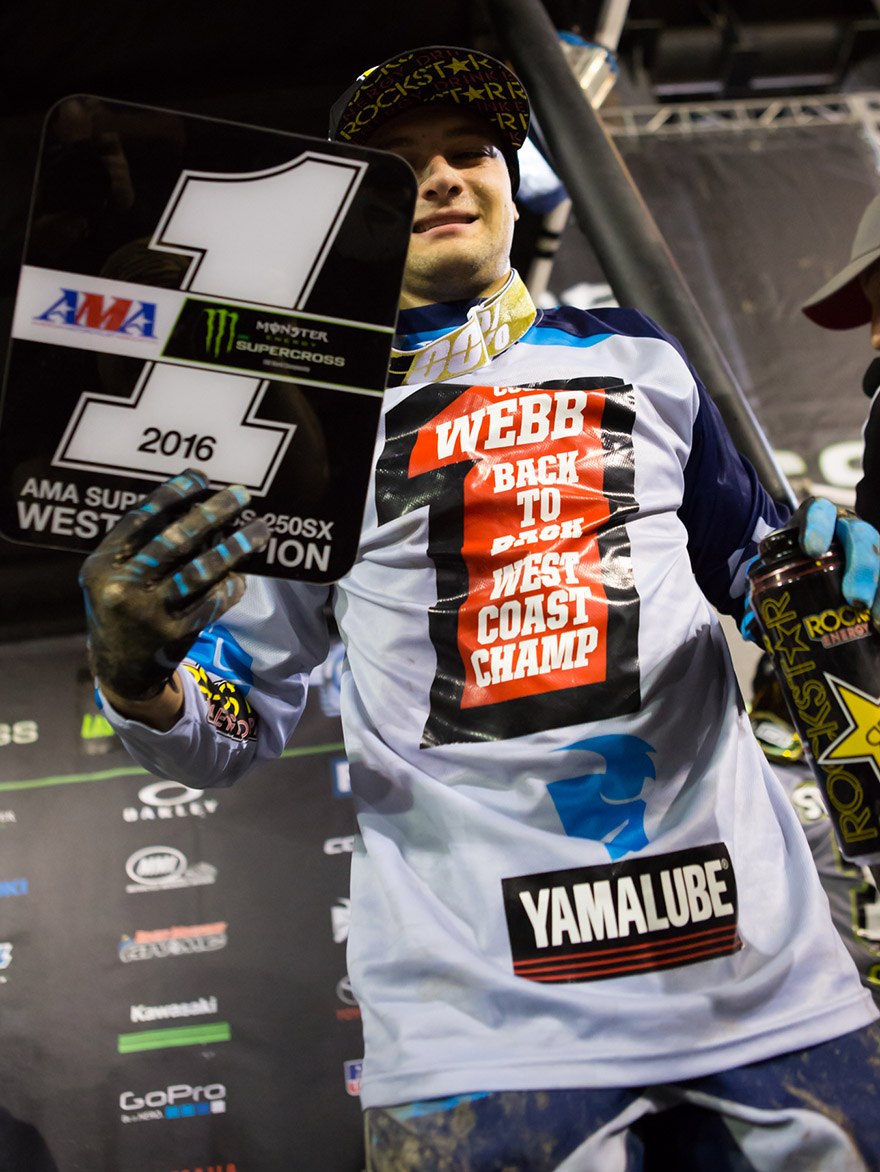 Gone. The writing was on the wall before the 250 West began. Cooper Webb, the 2015 AMA 250 West Champion, was given one year to defend his 2015 plate. He did just that, overcoming a wrist injury and wrapping up the title in Vegas by one point. Rumor has it that he'll join Chad Reed on the Monster Yamaha 450 factory team in 2017 and beyond.
Zach Osborne

Guess what? Zach Osborne used his first year of eligibility by finishing fourth in the 250 West (and earning 135 points). He has at least two more years of eligibility, unless he wins a 250 Supercross in 2017.
Joey Savatgy

Joey burned up his first year of eligibility last year by finishing fourth in the 250 East series. He was well over the 135-point barrier in 2016, meaning that 2017 will likely be his last season of 250 Supercross (if he erans either 135 points or wins the 250East/West title). Savatgy is out if he crosses the threshold or wins the title.
Christian Craig

Comeback. Geico Honda's Christian Craig had a great Supercross season in his comeback season. But, after coming out of retirement last summer, Craig was fired up for the 250 West. He won in Glendale and finished on the podium in five of nine rounds. Craig earned a 135 poinst and used up one year of eligibility—he had never earned enough points in his previous career at Troy Lee Designs Honda. He's good to go for 2017.
Colt Nichols

Pull the trigger. The Oklahoma native impressed a lot of teams with his outstanding performance in the 250 West. He nearly put an exclamation point on his indoor season by winning the 250 East/West shootout, but the inclement conditions got the best of him. Colt finished no worse than eighth in any race, and he logged a runner-up finish in Oakland. With at least one more year of eligibility, Nichols should be highly sought after by quite a few teams. Pick up your phone, Colt, because it's ringing off the hook!
Aaron Plessinger

First timer. Plessinger rode like a man possessed in Las Vegas after pulling into the pits on the first lap. He came all of the way back to fourth and nearly edged out Malcolm Stewart for third. Aaron lost the title to Stewart by 16 points. The good news is that Plessinger will be considered a front-runner for a Regional Supercross title next year. This was his first year of using up eligibility.
Jeremy Martin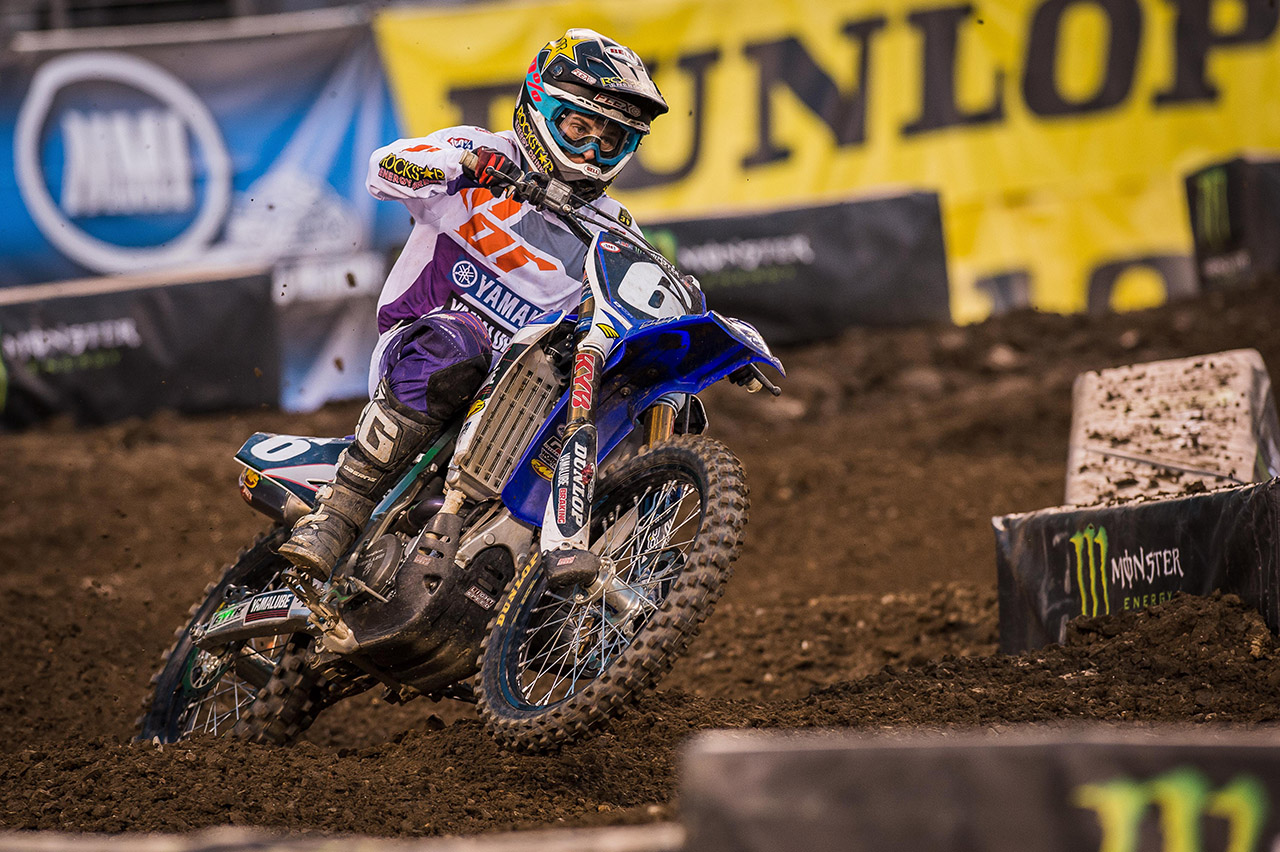 Believe it or not. The two-time AMA 250 National Champion still has another year of 250 Supercross eligibility. However, word on the street is that Martin will forego the 250 class in 2017 and move up–much like Blake Baggett did for 2015.
Martin Davalos

Social Security. Rockstar Energy Husqvarna's Martin Davalos burned up a year of 250 eligibility in the 250 East.He has been in the class for almost 10 years.  Oddly enough, he still has one more year of eligibility (if he hits the 135 point limit). He would have been out after this series now, except that he came up one point short of reaching the 135 point limit in 2013.
THE RACE FOR TENTH: JAKE WEIMER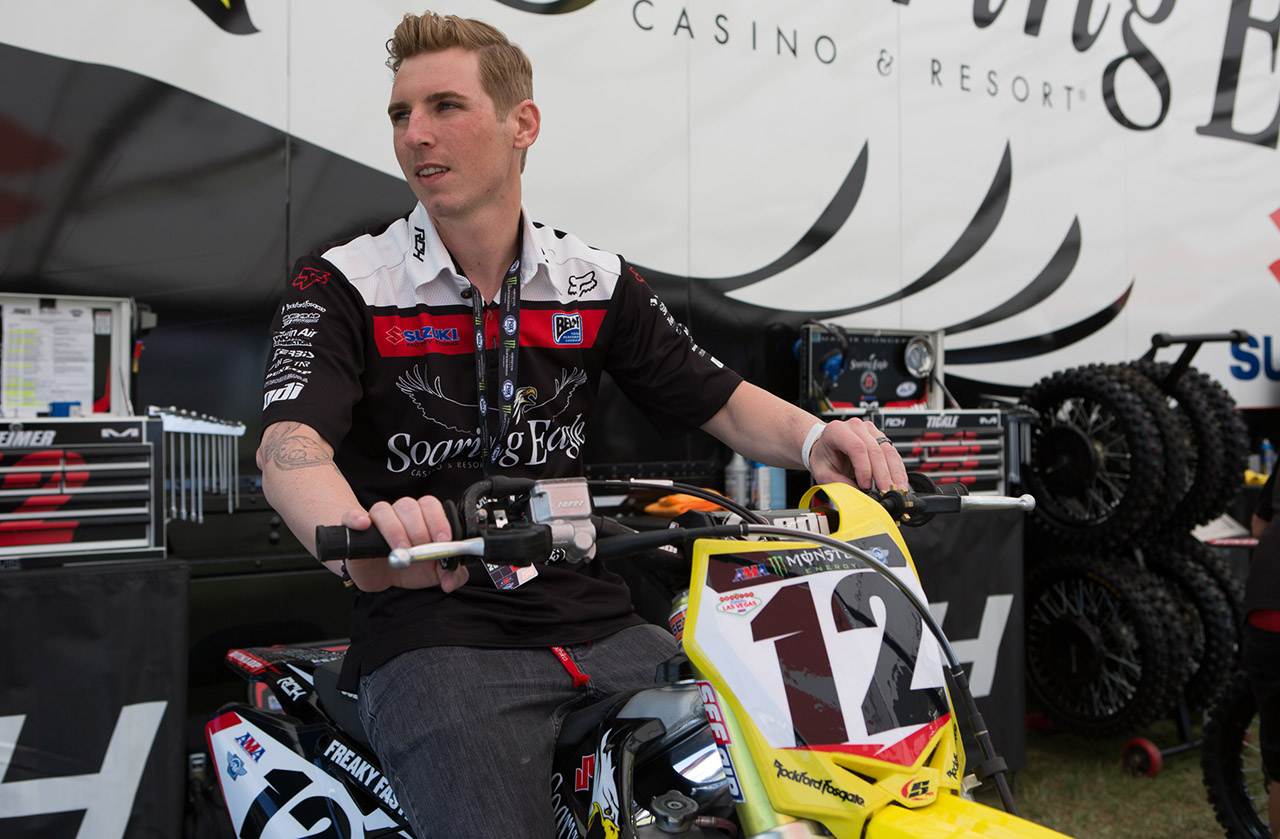 Jake Weimer secured 10th overall in the final points standings and celebrated by scheduling surgery on his wrist. Photo by Scott Mallonee
Last week I wrote about how Justin Bogle, Mike Alessi, Weston Peick and Jake Weimer were fighting for the final spot inside the top ten for the final 450 Supercross points standings. You wouldn't think that 10th isn't a big deal, but it is when considering team bonuses. It could make the difference between taking a vacation to Aruba, or spending some rare downtime playing Halo with the blinds shut while sucking down a bag of Cheetohs. Well, Jake Weimer is the big winner following his performance in the Las Vegas mire. The RCH Suzuki rider finished 12th in the main and took the final spot inside the top ten by one point. Rather strange is how tenth through 13th were separated by only four points. It's a statistician's dream! What if Justin Bogle hadn't missed three rounds? What if Weston Peick wasn't black-flagged for his A1 boxing brouhaha? What if? Hindsight is 20/20, and Jake Weimer shouldn't be looking back. If you're looking for the #12 of Weimer this summer, you'll be bummed to hear that he's going under the knife to repair the wrist he broke last year when Trey Canard landed on him in Supercross. Heal up, Jake. We'll miss you.
THE FASTEST OF THE FAST
A complete list of the top qualifiers and holeshot winners from each round of the 2016 AMA Supercross Championship
Photos by Scott Mallonee and Travis Fant
FASTEST QUALIFIERS: 450 CLASS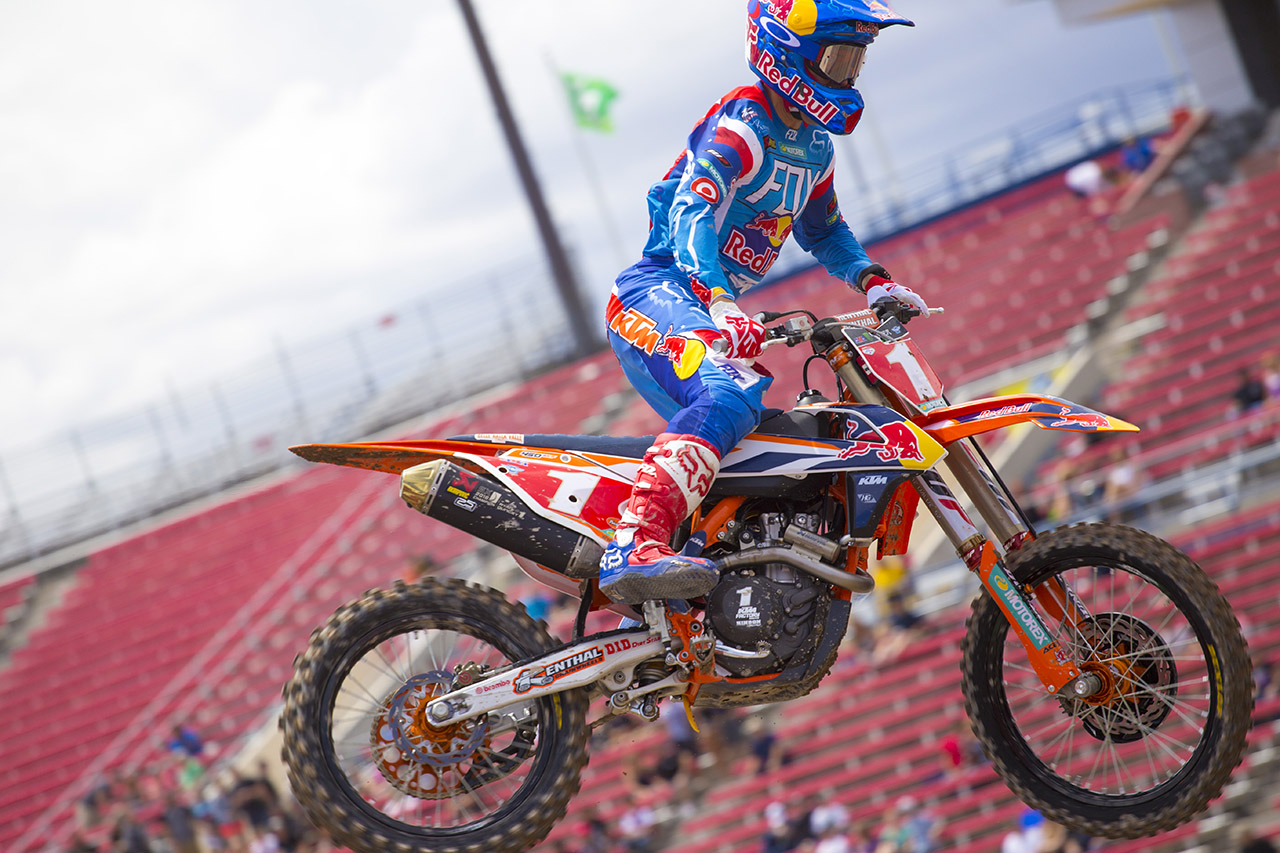 Anaheim 1…Trey Canard
San Diego 1…Ryan Dungey
Anaheim 2…Ken Roczen
Oakland…Ryan Dungey
Glendale…Ryan Dungey
San Diego 2…Eli Tomac
Arlington…Ryan Dungey
Atlanta…Christophe Pourcel
Daytona…Eli Tomac
Toronto…Trey Canard
Detroit…Marvin Musquin
Santa Clara…Eli Tomac
Indianapolis…Christophe Pourcel
St. Louis…Eli Tomac
Foxborough…Ryan Dungey
East Rutherford…Marvin Musquin
Las Vegas…Ryan Dungey
FASTEST QUALIFIERS: 250 CLASS
Anaheim 1…Cooper Webb
San Diego 1…Cooper Webb
Anaheim 2…Zach Osborne
Oakland…Cooper Webb
Glendale…Cooper Webb
San Diego 2…Zach Osborne
Arlington…Joey Savatgy
Atlanta…Malcolm Stewart
Daytona…Justin Hill
Toronto…Justin Hill
Detroit…Malcolm Stewart
Santa Clara…Cooper Webb
Indianapolis…Malcolm Stewart
St. Louis…Malcolm Stewart
Foxborough…Jeremy Martin
East Rutherford…Jeremy Martin
Las Vegas…Joey Savatgy (West)
Las Vegas…Jeremy Martin (East)
HOLESHOT AWARD: 450 CLASS
Anaheim 1…Cole Seely
San Diego 1…Chad Reed
Anaheim 2…Davi Millsaps
Oakland…Ryan Dungey
Glendale…Davi Millsaps
San Diego 2…Ryan Dungey
Arlington…Ken Roczen
Atlanta…Justin Brayton
Daytona…Ryan Dungey
Toronto…Ryan Dungey
Detroit…Ryan Dungey
Santa Clara…Jason Anderson
Indianapolis…Mike Alessi
St. Louis…Ken Roczen
Foxborough…Ryan Dungey
East Rutherford…Ken Roczen
Las Vegas…Ryan Dungey
HOLESHOT AWARD: 250 CLASS
Anaheim 1…Jessy Nelson (West)
San Diego 1…Jordan Smith (West)
Anaheim 2…Jimmy Decotis (West)
Oakland…Christian Craig (West)
Glendale…Jimmy Decotis (West)
San Diego 2…Jordan Smith (West)
Arlington…Christian Craig (West)
Atlanta…Shane McElrath (East)
Daytona…Malcolm Stewart (East)
Toronto…Matt Bisceglia (East)
Detroit…Aaron Plessinger (East)
Santa Clara…Zach Osborne (West)
Indianapolis…Gannon Audette (East)
St. Louis…Jeremy Martin (East)
Foxborough…Dakota Alix (East)
East Rutherford…Dakota Alix (East)
Las Vegas…Joey Savatgy (East/West)