PRO TAPER PRESENTS MXA'S MID-WEEK REPORT BY JOHN BASHER

#WHIPITWEDNESDAY
Rider: Dennis Stapleton
Location: Perris Raceway
Bike: 66-horsepower Honda CRF450
Date: December 29, 2014
Photographer: John Basher
Camera: Canon 1D Mark III
Lens: 70-200mm f/2.8
Focal length: 200mm
Exposure: 1/1250 sec.
F-stop: 4.5
ISO: 320
MXA VIDEO: 2017 KTM 250SX TWO-STROKE
QUOTE OF THE WEEK: ALEX MARTIN
Photo by Brian Converse.
"I realized that putting in over two hours a day on the bicycle was maybe a little unnecessary for Supercross. I learned, you know? I have learned that when I fail I have to get back up and try again. Fortunately, now in the outdoor series we're right in the points chase and everything is looking good."
Click here to read the interview.
ATTENTION HUSKY OWNERS: 2016 HUSQVARNA FC250 RECALL
Press release: Husqvarna Motorcycles is recalling specific frame numbers of the 2016 FC 250 machines to authorized Husqvarna dealers for a complete crankshaft replacement. Following market investigations by Husqvarna Motorcycles it has been determined that deviations in the manufacturing process of the connecting rod may result in early failure and fracturing of the connecting rod under certain load conditions.
Husqvarna Motorcycles is therefore issuing an instruction to replace the complete crankshaft on affected bikes. Owners of 2016 FC 250 models are being informed by a personal letter, asking them to immediately contact an authorized Husqvarna Motorcycles dealer to arrange an appointment for replacement. Customers can check online in the 'Service' area of the Husqvarna Motorcycles website to determine if their motorcycle is affected by this recall. Replacement crankshaft work will be carried out at no cost to motorcycle owners, but must be performed by authorized Husqvarna Motorcycles dealers only. 
DESTRY ABBOTT NEEDS OUR HELP
Press release: Please help support long-time FMF Team rider, family member, and off-road legend. Destry Abbott, a 10X National Champion and 7 ISDE Gold Medalist, was recently diagnosed with Leukemia. The Abbott family needs our help to raise funds for Destry's treatment. As FMF's contribution, 100% off all proceeds from the Destry Strong tee go directly towards Destry's fight to destroy cancer. FMF Racing is pleased to announce the arrival of the DA8 STRONG Destry Abbott Tee. Available now http://apparel.fmfracing.com/shop/destry-strong-charity-tee-su6118908/
Price: $25.00 (100% of all money raised goes direct to Destry).
PHOTO OF THE WEEK: REMEMBER WHEN?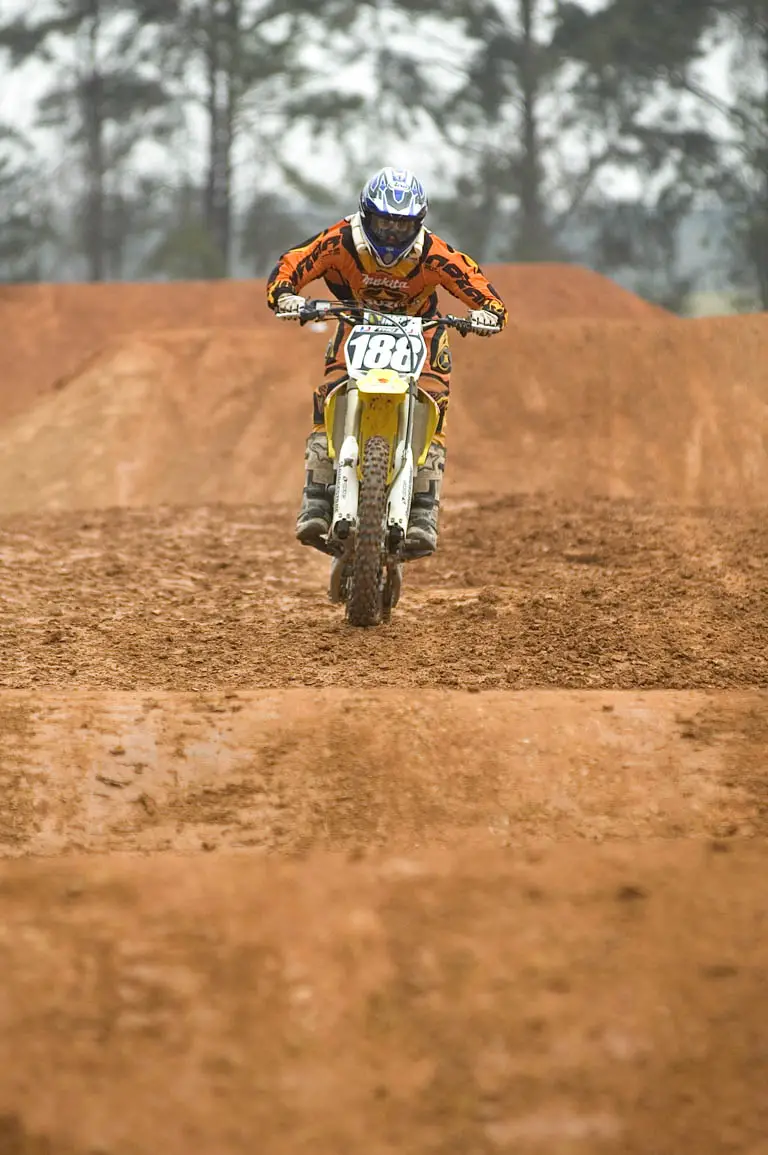 Do you remember when Davi Millsaps burst onto the Pro scene, wowing the masses with his blazing speed and supreme skills in the whoops? In 2004–his rookie season–Millsaps scored two podiums in the 125 East Supercross series on a Roger DeCoster-backed factory Suzuki. The following year, Millsaps raced the brand new RM-Z250 four-stroke. He won the 125 East opener in Indianapolis, and followed it up with a win in Orlando and three other podiums. He finished third in points, a lead that evaporated when he finished 18th at Daytona. However, he likely took solace in winning the 125/250 East/West Shootout in Las Vegas that year.
This photo was taken by my brother, Mike Basher, at Millsaps' house in Cairo, Georgia, back in 2005. It was just before the Daytona Supercross, where Davi had the crash that effectively ended his title hopes. Millsaps got a poor start, crossing the first lap in 15th, but worked his way up to fourth. Disaster struck on lap 12 when he hit the ground like a sack of taters. The next year he joined factory Honda and won the 250 East title.
PRODUCT SPOTLIGHT: MOTOOL AUTO ZERO SLACKER & UPGRADE OPTION
Press release: Motool, the maker of the world's only digital sag scale, just released a new Auto Zero Slacker which allows the tool to be used without placing the bike on a stand. It is also available as a software upgrade to existing users through a new upgrade program that allows users to send their old Slacker in to get it upgraded.
The new Auto Zero feature allows you to place Slacker in a learning mode so it can learn where the zero point is when the bike is lifted. All you do is hold the backlight button for 5 seconds to place it in Auto Zero mode then lift the bike to unload the suspension and Slacker will find the zero point for you. The tool will mark the furthest extension of the cable as the zero point so you can assure you are starting with the suspension unloaded. It still functions identically to the original Slacker but with this nice added feature.

"We developed this feature for street bikes initially but quickly found ourselves using this for off-road bikes as well. I love it for doing multiple bike setups since I don't have to lift the bikes on and off stands all day. It also simplifies the process if you are taking measurements alone as you can just roll the bike by the van, Auto Zero the unit and take the measurement all in the same place." John Casebeer, President of Motool Inc
Slacker is a purpose built system that allows a person to quickly and easily make precise adjustments to their bike's suspension with or without assistance. It was developed over the course of two years with input from industry leaders like Factory Connection, Pro Circuit, MMI and MB1 Suspension to assure the accuracy, consistency and reliability of the tool. Motool strives to make bike setup and maintenance easier and more precise for riders of all abilities.  For more information on the company and the Slacker digital sag scale please visit http://motool.co
THOR MX REWIND AT UNADILLA THIS WEEKEND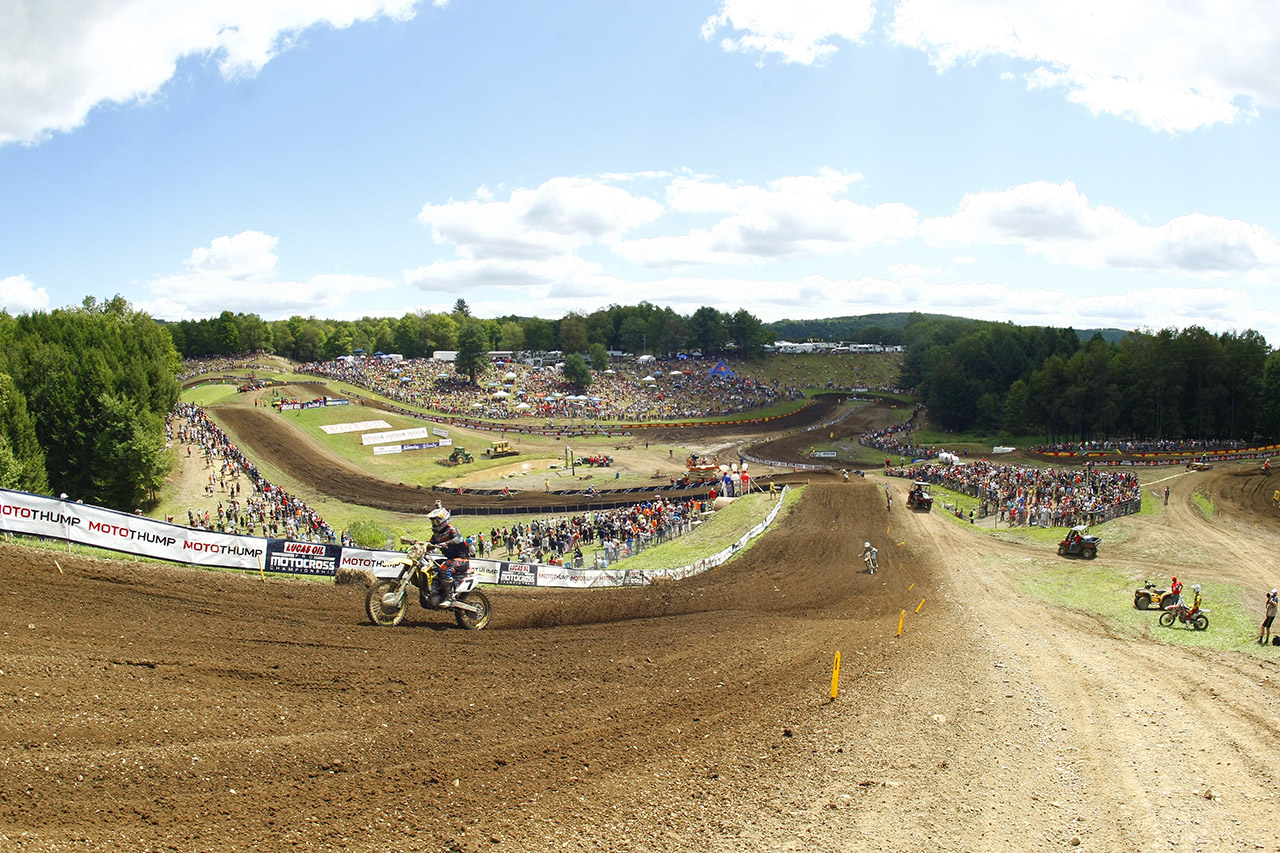 Press release: Thor MX Rewind at Unadilla gets underway this weekend, June 10-12, 2016 and includes three days of off road racing fun. If you haven't yet committed to attend, there is still time to make last minute plans. Returning again are the traditions that started five years ago and have made Thor MX Rewind the vintage racing destination. The popular historical classes, events and features-including AHRMA vintage and post vintage cross-country and motocross racing, AHRMA trials competition, a long list of motocross legends, the swap meet, as well as meet and greets, bench racing, and plenty of nightly entertainment – will all be at Thor MX Rewind 2016. 
Bikes as new as 1999 are eligible to race on the famed Unadilla Pro Track, which will be tamed down to be vintage friendly. You don't have to have a pristine vintage bike to become part of the racing action. Check the rules on our website for more details – but the cutoff date for racing is 1999, so all motorcycles built and sold as of the 1999 model year (and prior) are potentially eligible for competition. Twelve former racing greats will be making their way to Unadilla and will be at Thor MX Rewind starting on Friday afternoon. Fun with the legends hits a high point on Saturday night at the Thor sponsored Gathering of Legends Dinner and bench racing session. There's nothing quite like hearing motocross history directly from those who made it!
And for those who just want to step back in time and remember the Good 'Ole Days, a full weekend of on and off the track activities await. Spectator camping is available or racers and fans can choose from a number of chain hotels in the area. All racing classes are available during post registration at the event. Tickets and camping passes will be available upon arrival. For more information about Thor MX Rewind 2016 on June 10-12, visit www.mxrewind.com.
MOTOCROSS BIKES AREN'T JUST FOR RIDING
Now that we've approached the 2017 model testing season, it's a question of what to do with the old, roached out and beat up 2016 MXA test bikes. Jody and Dennis Stapleton found a creative way to use the tired iron – motorcycle dominoes! Dennis started first, tapping into his youthful experience playing Domino Express. However, he was no match for master Jody, who managed to lay down the whole fleet of bikes with the power of his pinkie finger.
In all seriousness, this is what happens when one bike, at the end of the line, topples over. No bikes were hurt in this photo. Rest assured that we treat our test bikes with the utmost care and respect…well, as much as a dozen moto heads can.
MINI-VIEW: MARVIN MUSQUIN
Marvin and Trey Canard.

By Jim Kimball
Marvin, it's remarkable how you finished 14th in the 250 World Championship in 2008, and then won the title the next year. How did you find success?
I had good people around me, and I trained so hard. Then I was lucky to have signed with Red Bull KTM in the middle of the 2009 season. Suddenly I had so many great people who treated me so well around me. Things went very well at KTM. I met everyone there, including Pit Beirer. Since then it has been awesome being associated with the Red Bull KTM team. They have been behind me the whole time. To win the 2009 championship for them was awesome
It's incredible how you came from really struggling with support on the privateer Honda team, and then KTM came to your rescue.
It's the best feeling when a team offers you a top ride, and then you reward them with wins and championships. I was so happy that I could thank them, because they gave me the chance in the first place.
How did you prepare entering the 450 Nationals, and can you win?
If someone like [Ryan] Dungey or [Ken] Roczen gets a poor start, I'll have to capitalize to get the win. This is my first outdoor season on a 450, and I know that it's going to continue to be tough. The tracks are rough, and the level of competition is very high. I'm not sure how I'll end up in the points. We will have to wait until the series ends. I rode outdoors for a little bit during the end of the Supercross series. I didn't do a lot of testing, but we'll continue to improve things as the series continues.
Are there any hard feelings between you and other French riders, such as Gautier Paulin and Romain Febvre, because you didn't stay in Europe and race the GP series?
I'm not sure. Every rider (regardless of nationality) is just another competitor. Even though I'm French and I raced with those guys on the Motocross des Nations team, I still wanted to beat the other guys. We do race as a team, and I like the feeling of having teammates, because it makes things fun. All year long you race for yourself, so to race the MXDN is a cool feeling. You want the other guys to do well. Last year's race was awesome, and definitely the best race in my career. Other than that, we don't talk to each other much, because they are over in Europe and I'm here in the U.S. They do their thing.
IT'S BACK: RED BULL STRAIGHT RHYTHM
Red Bull Straight Rhythm returns to Fairplex in Pomona on October 22. This year's event will feature the same intense head-to-head action as the top riders face off down a 1/2 mile straight rhythm section with no turns, but this time the full event will all take place on a single day. Starting at 1pm, fans will be able to watch practice, qualifying and the finals, which will take take place under the lights. Tickets for the event are on sale now with "early bird" price available until July 1.  More info and tickets at www.redbull.com/straightrhythm
PRODUCT SPOTLIGHT: DeCAL WORKS NUMBER PLATE DeCALS

Click on the image to view the DeCal Works website. 

BLAST FROM THE PAST: TONY D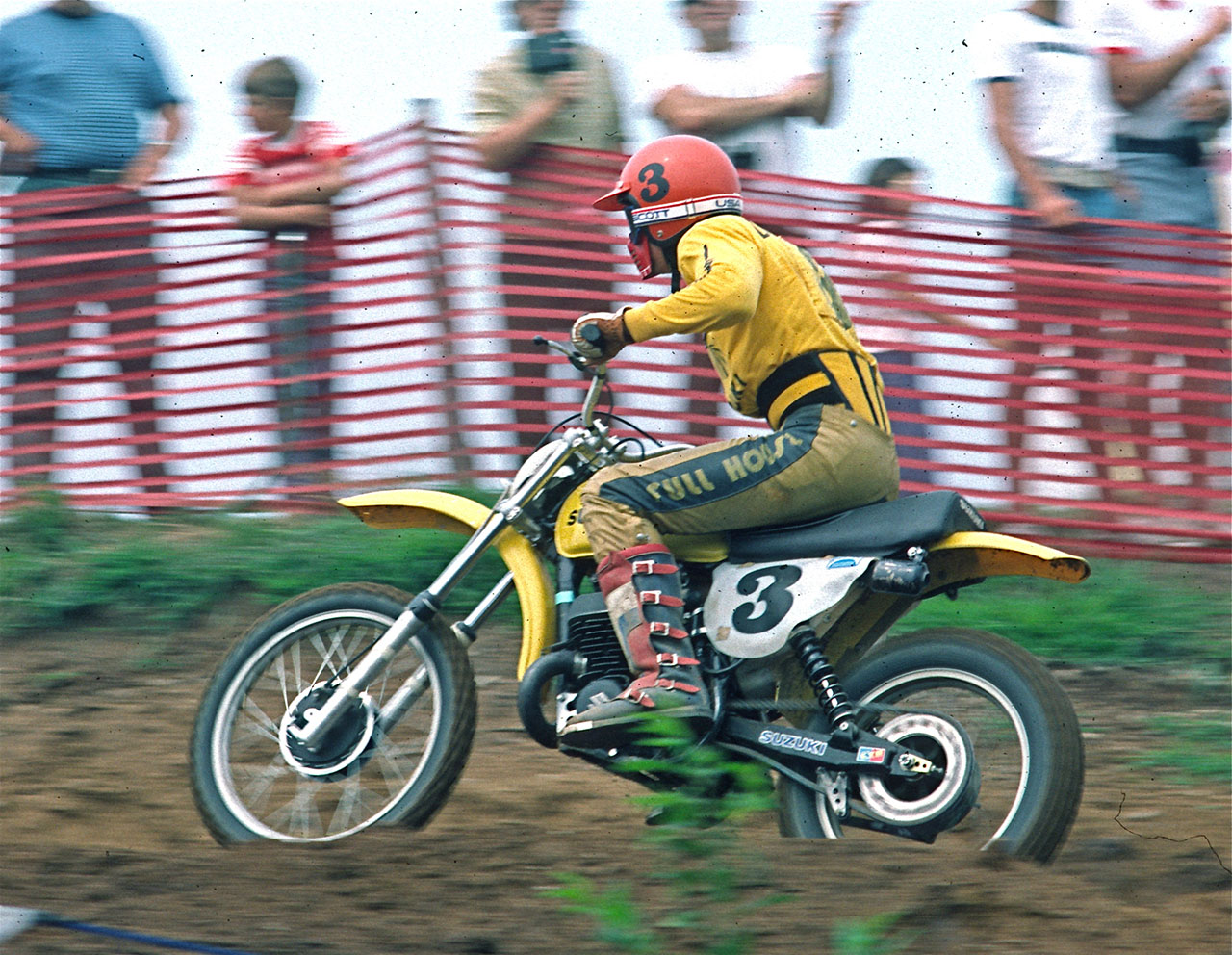 Pennsylvania's Tony DiStefano was a three-time AMA 250 National Champion, winning the title in consecutive years from 1975-'77. He is best remembered as a factory Suzuki rider, although he also raced for CZ, Can-Am, Husqvarna and Maico. In the photo above, Tony is wearing his own Full House gear (Tony was one of the first AMA Pro racers to get his own signature line of gear). What really catches the eye are the drum brakes, right-side-up forks, six strap leather boots, twin shocks and the pea shooter silencer.
MINI-VIEW: MITCHELL HARRISON
Photo by Brian Converse.
By Jim and Anna Kimball
If you haven't yet heard much of Mitchell Harrison, don't worry. His teammates Alex Martin, Jeremy Martin, Cooper Webb, and Aaron Plessinger that have been making the headlines on the Yamalube Star Racing Yamaha team. Still, the 18 year old from Brighton, Michigan, is beginning to forge his own path. With a couple top ten overalls in the 250 Nationals, Harrison is looking for even more. It looks like we may see another Yamaha rider in the headlines soon.
Mitchell, please talk about your amateur career, and how the Star Racing deal came together.
The end of my amateur career was really good. I won the Loretta Lynn's 250 A title. I knew that Monster Energy Pro Circuit Kawasaki wasn't really looking for another guy, because they already had Austin Forkner, so I had to venture out. I went over to Matt Walker's facility, as I know he's really well-known with everybody in the industry. I went to him for help and advice. He got me in touch with [Yamalube Star Racing Yamaha team owner] Bobby Regan, and we all just kind of worked it out. Eventually I got there and showed them what I had. They were really impressed with me, so that's how I got the ride.
Pro Circuit has such a long history of winning races and championships, yet Star Racing seems like the powerhouse team right now.
Oh yeah, this is the team to be on right now. They really have their stuff together. The whole team is just incredible. My mechanic, Drew Hopkins, is amazing. He really works hard, and I couldn't be happier with the team that I'm on right now.
Where have you been living since joining the team?
I currently live in Murrieta, California, just because that's where the team is based. California is where I should be for Supercross and for my first year. I'm close to the team shop, and I'm learning more about how things work. This year I'm focused on learning, while next year I need to be running at the front of the pack.
How do you feel your debut Supercross season went?
It was definitely something else. I grew up living in Michigan, where you can't really ride any outdoor tracks in the winter. You can ride some Arenacross, though. I kind of had a sense of Supercross, but it's definitely a different animal. Those guys are insane, especially Cooper (Webb). He really knows how to ride Supercross. So it was definitely something else. It was fun and I learned a lot. I had some fairly bad races because I kept crashing. I needed to figure out my bike. There wasn't much time coming from the Kawasaki straight to the Yamaha, but I eventually got it figured out. Santa Clara was my best round despite how the finish may seem. I finished 18th, but for half the race I was in the top five. Unfortunately, later in the race I got taken out. For a while it was great, and I was really happy with that ride.
It must be pretty intense being a part of this team with your teammates winning races and titles.
It's the powerhouse team. You have Aaron (Plessinger), who's won a couple races, and now Alex (Martin) was the points leader. Then Jeremy (Martin) is a two-time National Champion. I get to train with these guys on a daily basis, so it really helps me out. Right now it's Aaron Plessinger, Cooper Webb, Alex Martin and I who train with Gareth Swanepoel. We ride together almost every day, and we train together every day. It's such a blessing to just to be on this squad, you know? Gareth does a really good job. He's shown himself to be one of the great trainers, and I'm really happy where I am. There are a lot of different personalities within this team. Aaron is a funny guy. Cooper is just really, really focused all the time. Alex is a little bit like both of them. It's a lot of fun to be on the team.
We are only a few rounds into the outdoor season. How are you feeling about where you are, and where you want to be?
I keep moving forward, which is the important thing. I got my first top 10 last week at Glen Helen, and then again at Thunder Valley.  As I said, overall I want to just keep improving. That's the goal. I ride with these guys every day. They're winning, so I'm right there with them in the practice weeks. I should at least be top five. I feel that would be good, and eventually I will get there. It's just all about progress. I know I have what it takes to be in the top five. That's something to build on.
FASTEST OF THE FAST: AMA NATIONALS
An ongoing list of the top qualifiers and holeshot winners from each round of the 2016 Lucas Oil AMA 250/450 Nationals.
FASTEST QUALIFIERS: 450 CLASS
Hangtown…Eli Tomac
Glen Helen…Eli Tomac
Lakewood…Eli Tomac
FASTEST QUALIFIERS: 250 CLASS
Hangtown…Joey Savatgy
Glen Helen…Cooper Webb
Lakewood…Jeremy Martin
HOLESHOT AWARDS: 450 CLASS (1st/2nd motos)

Hangtown…Cole Seely / Ryan Dungey
Glen Helen…Trey Canard / Ken Roczen
Lakewood…Ken Roczen / Trey Canard
HOLESHOT AWARDS: 250 CLASS (1st/2nd motos)
Hangtown…Joey Savatgy / Jessy Nelson
Glen Helen…Tristan Charboneau / Jeremy Martin
Lakewood…Cooper Webb / Adam Cianciarulo