PRO TAPER PRESENTS MXA'S MID-WEEK REPORT

#WHIPITWEDNESDAY
Rider: Lance Coury
Location: Wyvern Ranch
Date: February 28, 2011
Photographer: John Basher
Camera: Canon EOS-1D Mark III
Lens: 16mm-35mm f/2.8
Focal length: 21mm
Exposure: 1/800 sec.
F-stop: 3.2
ISO: 800
MXA VIDEO: INSIDE ELI TOMAC'S FACTORY KX450F
JAMES STEWART UPDATES US ABOUT HIS NOGGIN
HOW THE WEST WAS WON
The AMA 450 Supercross series is more than a third of the way over. It's also the end of the SoCal-area rounds. After six rounds, Ryan Dungey is leading the charge in what has been an outstanding defense of the title. He won the West coast, so to speak. What have we learned?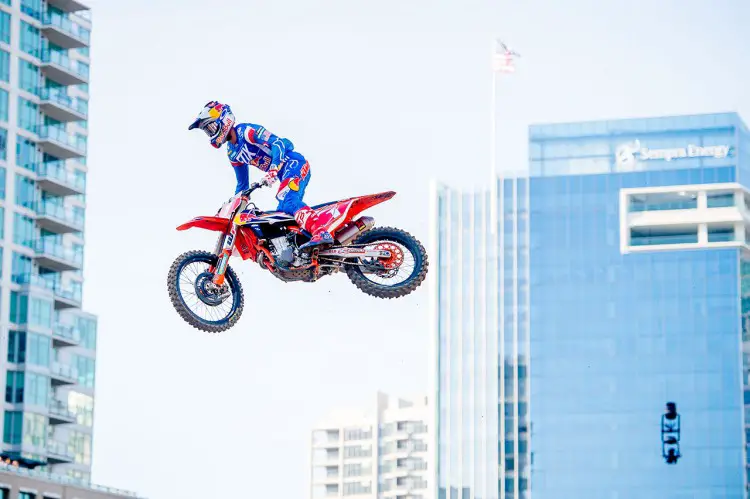 Four wins in six races, Ryan Dungey is enjoying his best start to a Supercross series in his career.
1. Ryan Dungey is in charge. That must should have been understood after Dungey suffered a poor start at Anaheim 1, was taken out by Trey Canard, and still came back to second place. Only a streaking Jason Anderson was better at the opener. Is it any surprise Ryan has four wins in six starts? He holds a 26-point lead.
Jason Anderson is one of three Supercross winners this year. He can beat Ryan Dungey, but it'll take a strong effort following a top-three start.
2. The list of potential winners shrinks by the weekend. Let's not kid ourselves. Only a select few riders have the tools needed to beat Ryan Dungey. That's different than the number of riders that can win. Anyone can win on any given night. However, when Dungey is on the track, the odds of Marvin Musquin, Trey Canard, Eli Tomac, Justin Brayton or Davi Millsaps winning go down drastically. There have only been four riders that have remained in the same zip code as Dungey on the track: Ken Roczen, Jason Anderson, Cole Seely and Chad Reed. Roczen and Anderson are the only riders not named Ryan or Dungey to win a main event this season. Seely found his form at San Diego this weekend, while Reed is struggling. As for everyone else? Good luck getting by the Dungey locomotive.
Ken Roczen (94) and Eli Tomac (3) are finding the podium, but Tomac is still knocking the rust off.
3. Donut holes. Of the 450 riders currently top 20 in the standings, seven failed to score points at every round. Looking closer at the standings, only seven riders have finished every round inside the top ten. Only one of them–Ryan Dungey–has finished on the podium at every round.
PURA VIDA: COSTA RICA UNLIMITED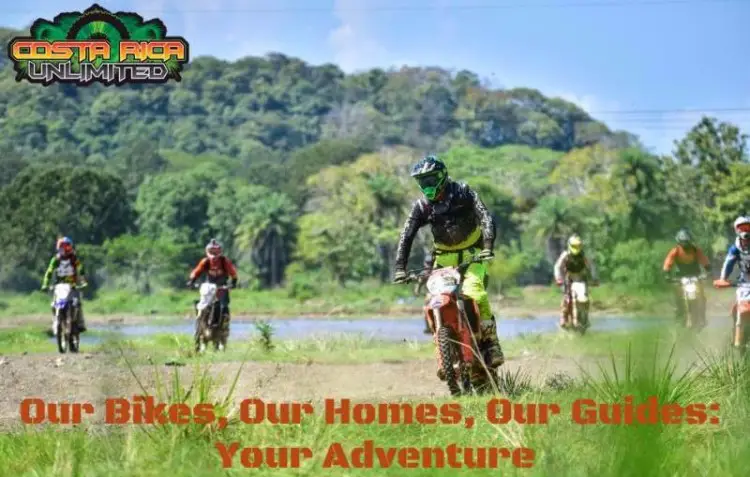 [Press Release]
Costa Rica Unlimited, the industry's #1 off-road motorcycle tour company, has add 2015 KTM 250/450XC-Fs to our line up. Guests now have the option of choosing between KTMs and our sYamaha WR's to adventure through all Costa Rica has to offer. 
All Costa Rica Unlimited bikes are top of the line, maintained daily, and include quality aftermarket components from many of our great sponsors including IMS Products, Mika Metals, DT-1 Filters, and TM Designworks. 
We pride ourselves on hosting the industry's top names and publications including Racer X Illustrated and Motocross Action. The sport's best trust us as the premier off-road tour company, you can too!

Add Costa Rica Unlimited to your #DreamRide List.   To reserve tour dates, call 714.368.0656, email us  and visit www.costaricaunlimited.com or follow CRU on Twitter (@CostaRicaUnltd), Instagram (@CostaRicaUnlimited) and Facebook.
TAKE A TRIP AROUND COSTA RICA WITH MXA
A LOOK AT WHAT MXA IS UP TO
This, kids, is what a race-ready Super Mini looks like. Save your milk money.
Sure, there are races to be attended (we went to them, by the way). There's also office work to be done…unfortunately. Our real joy comes in testing bikes and products. For that reason the MXA wrecking crew was happier than pigs in slop last Thursday when we tested a radically cool Bud Racing KX112 Super Mini. We had our resident mini cycle tester, Carter Dubach, spin laps aboard the Bud Racing machine. That test will appear in a future issue.
So what if we have expensive taste? This was actually one of our more modest builds (there aren't any titanium fasteners on this particular bike). 
We will also have a breakdown of what we did to improve the 2016 Honda CRF250. Dennis Stapleton nurtured the bike back to life, and then he went above and beyond the call of duty by pulling out all the stops. Odds are, you'll go broke if you do all of the mods that we made to our CRF250. We think our upgrades were well worth missing a few mortgage payments for.
INDUSTRY RUMBLINGS: 360FLY & YAMAHA PARTNERSHIP NO MORE?
Ahhh, social media. It's the new frontier of releasing information to the masses. Just the other day news leaked that 360fly, the first-person point of view camera company, might withdraw their support to factory Yamaha and Chad Reed. Why? According to 360fly CEO, Peter Alan Adderton (of Boost mobile fame), Monster Energy does not approve of 360fly's look. An Instagram photo of a crushed Monster can from Adderton's personal account, along with a heated explanation of why 360fly might not support Yamaha/Reed anymore, is a telling tale of corporate sponsorship woes. Take a look for yourself.
Via @padderton (Peter Alan Adderton, CEO of 360fly):
QUOTE OF THE WEEK: LARRY BROOKS
"I told Mr. Pierer [KTM President/CEO] at the time, if they put linkage on their bike then they could have won championships then. Having PDS suspension on the bike was the only thing holding us back. The shock was so one-dimensional that you couldn't really set it up for the whoops and also the big jumps. You had to take a middle-of-the-road setup, and it was never that good in the rear end. As soon as they went to linkage I knew they were going to excel."
Click here to read the full interview.
SAN DIEGO 2: SHOWING APPRECIATION TO THE MILITARY
Feld Motor Sports dedicated round six of the Supercross series, held this last weekend at San Diego, as the third annual Military Appreciation Race. Feld teamed up with United Service Organizations (USO) San Diego, a 501(c)(3) nonprofit organization serving active-duty, reserve, guard and military families throughout California's southernmost county. Members of the military received $10 off on tickets, and all military members received free access to the Party in the Pits.
Feld encouraged race teams to support the military by donning military-inspired colors and designs. Most of the teams took the opportunity by coming up with some one-off race graphics, while several gear companies also jumped on board. Of all the teams, there were several standouts among the rest. My personal favorite was Kyle Cunningham's Blue Angels-inspired U.S. Navy ensemble, replete with a mostly blue color scheme and yellow accents. In the gear department, Troy Lee Designs' Freedom Air gear was awesome. The Alias gear, worn by the Geico Honda team, was also pretty cool (no word on whether that gear is available to the public). Take a look at Kyoshi Mckizzie's photos from the Military Appreciation Race, and thank you to the military for protecting our freedom.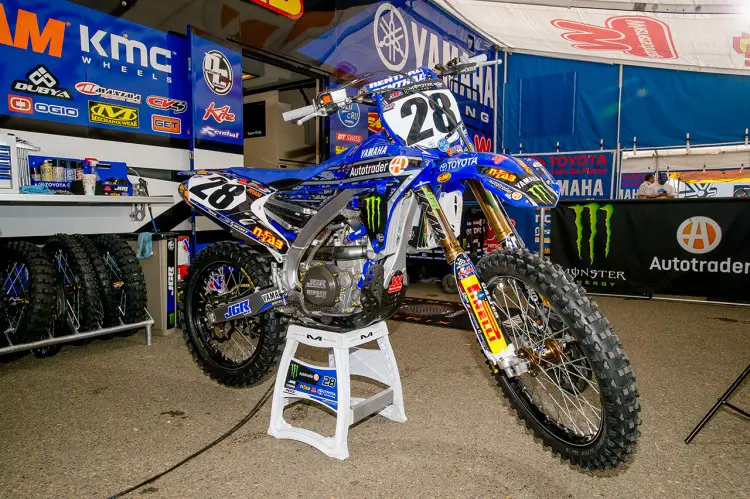 Weston Peick's JGR Yamaha YZ450F received the digital camouflage treatment. 
Cooper Webb's Yamalube Star Racing YZ250F also had a camo treatment in the graphics.  
Kyle Cunningham's Suzuki was one of the coolest bikes in the pits.  
Ken Roczen's RCH Suzuki RM-Z450.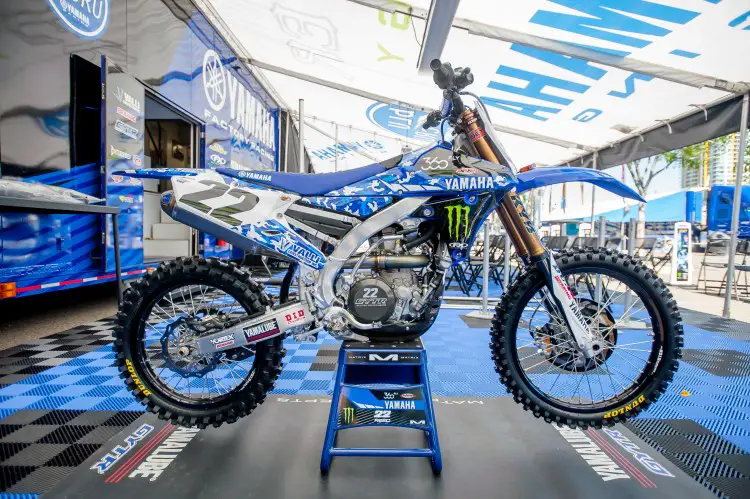 Chad Reed's factory Yamaha YZ450F.
The seat cover on Jordan Smith's Geico Honda CRF250 ties everything together. Very nice.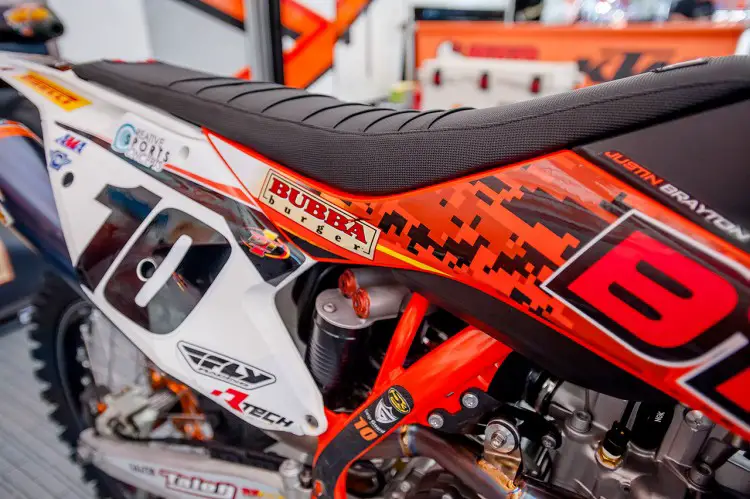 More camo, this time on Justin Brayton's BTO Sports KTM 450SXF.
Honda wasn't afraid to switch things up. Their all-white bikes made a statement.  
Kyle Cunningham buzzes the control tower with his Blue Angels RM-Z250. 
Pro Circuit Kawasaki didn't join the camo party, but Fox Racing outfitted their riders in red, white and blue. 
Color me camo.
No, that's not Captain America, but instead Mitchell Oldenburg in Troy Lee Designs' limited edition Freedom gear.
EVS SPORTS & ANTHONY MURRAY: FREE TO RIDE
WE DELIVER THE STORIES TO YOU
In the fast-paced digital environment people don't always have time to browse our website for the latest information. That's why we've built a weekly list of MXA's news and top stories and then email them directly to you. What could be easier? This week we highlighted our top photos from the San Diego 2 Supercross; we look at the 1971 Hodaka 100 Super Rat; we reveal the bike that could have saved Hodaka from bankruptcy; and Kawasaki shows you how to get the holeshot every time.
Don't miss out on all the major happenings in our sport, racing or otherwise. All you need to do is click here and sign up for our weekly newsletter. It's free, it comes once a week, and we promise not to sell your email address to a spam site.
AUSTIN STROUPE: REMEMBER HIM?
PRODUCT SPOTLIGHT: RIDE ENGINEERING SUZUKI RM-Z250 STEERING BRACKET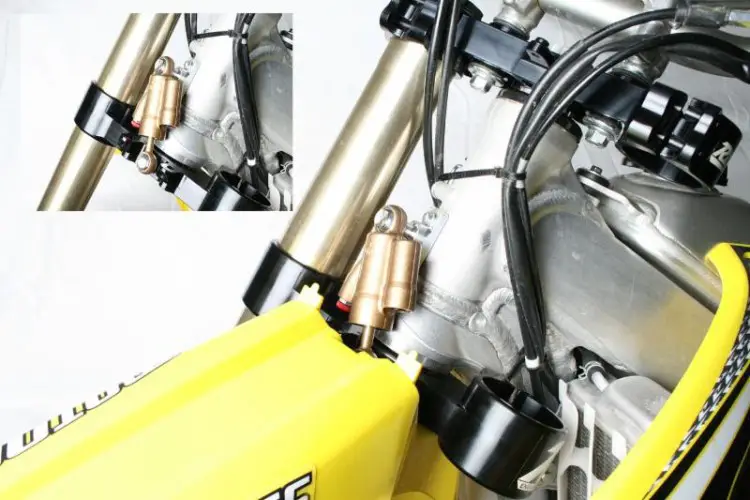 [Press Release]
Ride Engineering's latest innovation for the motocross world is the all new steering head stabilizer bracket for one the best handling bike on the planet: the 2016 Suzuki RMZ250. 
Now riders can add the ever popular Showa steering dampener to the nimble yet sometimes twitchy RMZ. This addition helps keep the bike going straight while entering and exiting rough corners and further improves cornering speeds.
New for 2016 models, the triple clamps are interchangeable with the RMZ450. Ride Engineering offers two offset options to tailor fit the handling of the bike to the rider's needs.
Pair these bolt on modifications with a Ride Engineering  270mm oversized rotor to increase overall braking power. Great handling, strong brakes, good suspension and a powerful motor are the four key ingredients to a fantastic race bike. Ride Engineering has the first two categories "handled"!
Ride Engineering's 2016 RMZ250 Product Recommendations:
NEW! Steering Head Stabilizer Bracket

Showa 24mm Steering Dampener

RMZ Triple Clamp Set

One Piece Oversized Bar Mounts

270mm Over-Sized Rotor Kit

Billet Axle Blocks
More information on these products can be viewed on our newly updated website; now compatible for mobile devices.
BIRMINGHAM ARENACROSS HIGHLIGHTS
BRIAN CONVERSE'S BIRMINGHAM BEST
Freelance shooter, Brian Converse, captured all the action from the Birmingham Arenacross for MXA. Below are some of his best shots from a wild night in Alabama.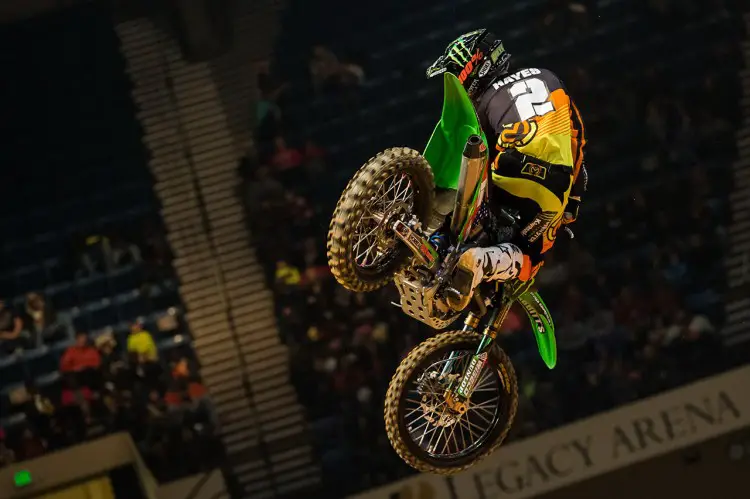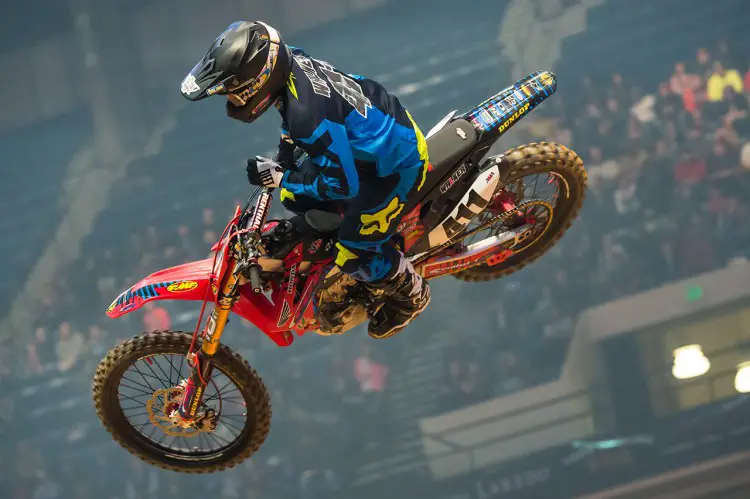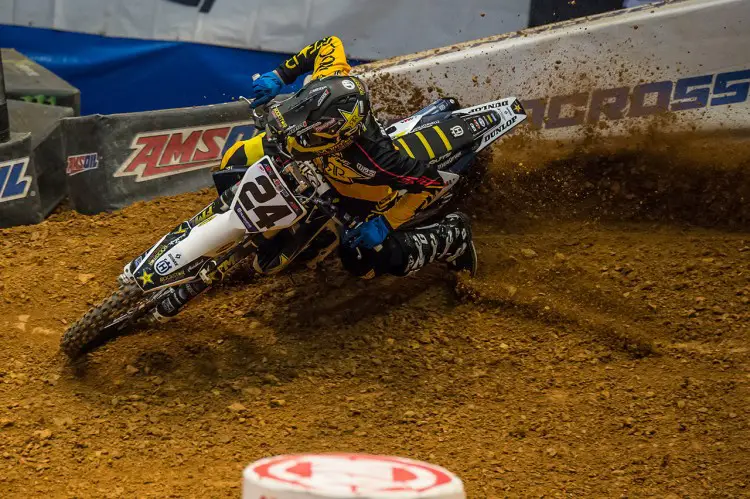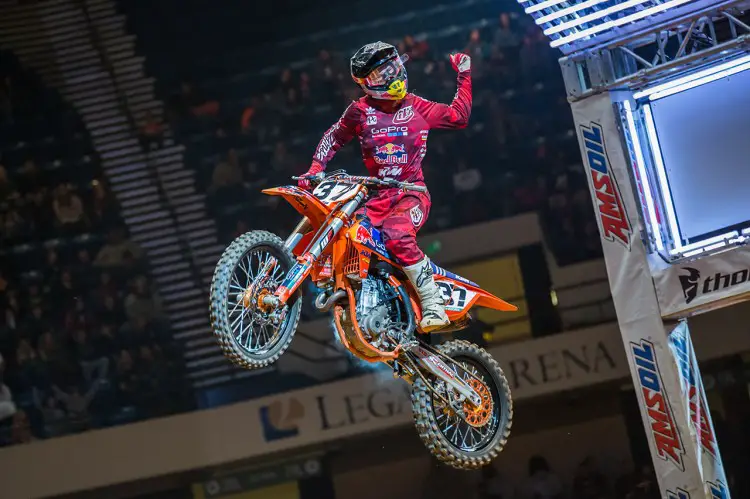 PROTAPER INKS EXCLUSIVE DEAL WITH KTM JR. SUPERCROSS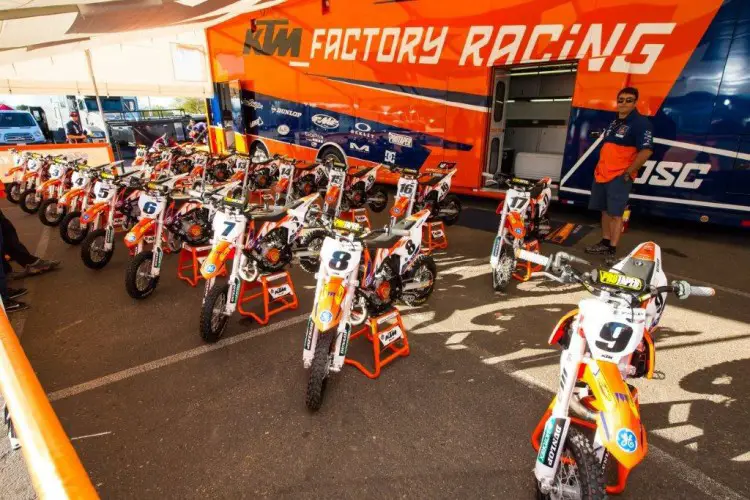 [Press Release]
ProTaper is proud to announce a multi-year agreement with KTM's Jr. Supercross Challenge (KJSC) program. ProTaper will launch its new Micro product line with the KJSC program at their home race, Round 7 at AT&T Stadium in Arlington, TX, just minutes away from ProTaper corporate offices at Tucker Rocky Distributing in Fort Worth, TX. All 17 identically prepared 2016 KTM 50 SX bikes will be equipped with ProTaper's revolutionary Micro Handlebars, grips and throttle tubes, as well as ProTaper sprockets.
"Kids' hands are much smaller than adult hands, so why should they ride with the same size bars and grips as adults?" said ProTaper Brand Manager, Paul Perebijnos. The ProTaper Micro product line includes handlebars, grips, and throttle tubes that have been reduced in overall outer diameter to give youth riders controls that have been optimized for their smaller hands.
"The ProTaper Micro product line addresses a huge market void in such an important and prevalent category of off-road motorcycle riding — youth riders on 50cc and 65cc minibikes. The Micro product line is something very near and dear to my heart, as it took a ton of work to bring it to fruition. I'm beyond proud of our partnership with the KJSC program, and I'm very excited to witness the reactions of the KJSC participants after getting their chance to ride a bike with our new Micro handlebars."
The KJSC program provides a platform for young minicycle riders to showcase their talents in stadium racing venues across the country as the half-time show of select rounds of the AMA Monster Energy Supercross Series. Young boys and girls are pre-selected for each of the 10 KJSC rounds and invited to compete on the very same track as their Supercross racing heroes. The program gives kids and parents a chance to experience what it's like to be a "Factory Rider" for a day and immerse themselves in the excitement of Supercross from a very unique perspective, and to enjoy the sport as a fun and rewarding experience.
"I'm very excited for the future of the KJSC program with the addition of the ProTaper brand and their Micro product line," said KTM Marketing Manager Christy LaCurelle. "Youth riders are the future of our sport and are very important to us here at KTM, so partnering with a brand like ProTaper, who have put their years of control innovation experience into a product specifically designed for kids, is invaluable to us. It is the perfect compliment to our KJSC participants."
The very first glimpse of ProTaper's new Micro product line on the KJSC minicycles can be viewed in person at Tucker Rocky's Supercross Pre-Party, February 18th at 6pm at Tucker Rocky Corporate Headquarters (4900 Alliance Gateway Freeway, Fort Worth, TX 76177) for all Tucker Rocky dealers, employees and families. Be sure to check out the all-new ProTaper Micro product line at a Tucker Rocky dealer or Internet retailer near you.
For more information on ProTaper please visit www.protaper.com
For more information on the KJSC program please visit www.ktmjrsx.com
THE FASTEST OF THE FAST
An ongoing list of the top qualifiers and holeshot winners from each round of the 2016 AMA Supercross Championship
FASTEST QUALIFIERS: 450 CLASS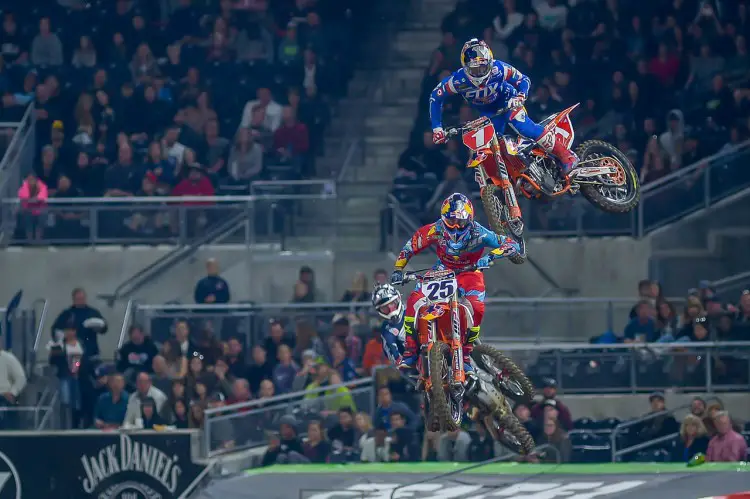 Anaheim 1…Trey Canard
San Diego 1…Ryan Dungey
Anaheim 2…Ken Roczen
Oakland…Ryan Dungey
Glendale…Ryan Dungey
San Diego 2…Eli Tomac
Arlington…
Atlanta…
Daytona…
Toronto…
Detroit…
Santa Clara…
Indianapolis…
St. Louis…
Foxborough…
East Rutherford…
Las Vegas…
FASTEST QUALIFIERS: 250 CLASS
Anaheim 1…Cooper Webb
San Diego 1…Cooper Webb
Anaheim 2…Zach Osborne
Oakland…Cooper Webb
Glendale…Cooper Webb
San Diego 2…Zach Osborne
Arlington…
Atlanta…
Daytona…
Toronto…
Detroit…
Santa Clara…
Indianapolis…
St. Louis…
Foxborough…
East Rutherford…
Las Vegas…
HOLESHOT AWARD: 450 CLASS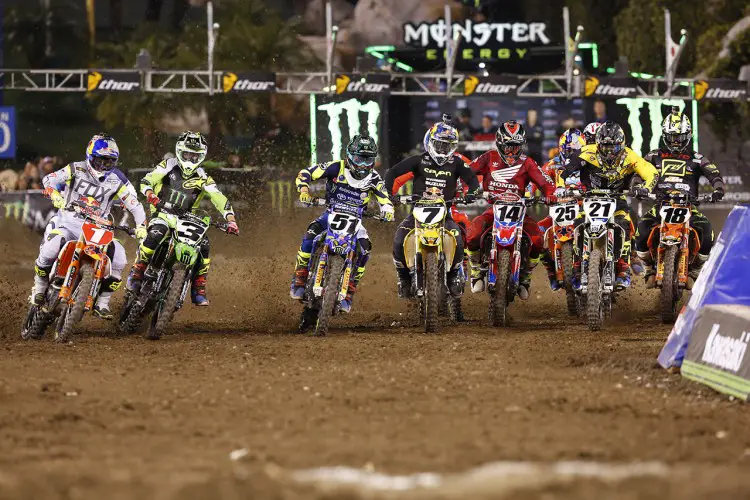 Anaheim 1…Cole Seely
San Diego 1…Chad Reed
Anaheim 2…Davi Millsaps
Oakland…Ryan Dungey
Glendale…Davi Millsaps
San Diego 2…Ryan Dungey
Arlington…
Atlanta…
Daytona…
Toronto…
Detroit…
Santa Clara…
Indianapolis…
St. Louis…
Foxborough…
East Rutherford…
Las Vegas…
HOLESHOT AWARD: 250 CLASS
Anaheim 1…Jessy Nelson (West)
San Diego 1…Jordan Smith (West)
Anaheim 2…Jimmy Decotis (West)
Oakland…Christian Craig (West)
Glendale…Jimmy Decotis (West)
San Diego 2…Jordan Smith (West)
Arlington…
Atlanta…
Daytona…
Toronto…
Detroit…
Santa Clara…
Indianapolis…
St. Louis…
Foxborough…
East Rutherford…
Las Vegas…