PRO TAPER PRESENTS MXA'S MID-WEEK REPORT BY DARYL ECKLUND


FACEBOOK PHOTO OF THE WEEK

The countdown to the first round of the 2015 MXGP in Qatar is only 10 days away. All eyes will be on Ryan Villopoto as he makes his debut into foreign territory. The big question is, how will he fair? Ryan has been spotted at many local SoCal tracks (generally Glen Helen) in the offseason testing. He is going faster than ever. It is a sight to see Ryan catapult down Mt. Saint Helen wide open, throwing a large stream of roost to the bottom of the big hill. Speed will not be an issue against the reigning eight-time MXGP champion Antonio Cairoli, but experience might. Everything from the food to the tracks are going to be much different from here is the states. Luckily, Ryan's teammate and former 250 World champion, Tyla Rattray will be helping guide him every step of the way. Ryan will be able to bring home the Championship, but it will not be easy. Good luck Ryan. Make America proud! The first round in Qatar will be aired in the U.S and Canada February 28th 1:00 a.m. (Eastern time) on CBS Sports.
DREAM JOBS:  JANNA McGEE PRODUCT LINE MANAGER, KTM POWERWEAR


STARTING POINT: "I have worked in action sports since 2007 starting as a design and merchandising assistant at DC Shoes. When DC started making the push into motocross is when I first became interested in the industry. After DC, I worked at ONE Industries for a short time and became more familiar with the industry. I have been at KTM for the past two years."
THE JOB: "Since I have started working at KTM I have had the opportunity to actually ride! It's been awesome learning. I work with great people who are truly passionate about this sport and the KTM brand. Day-to-day I manage the Powerwear product line for North America. Powerwear is everything from a high-end helmets to a KTM Toaster! As we are a subsidiary company, I work with the KTM Austria on new designs and developing new and innovative products to bring to the line."
RIDE ENGINEERING PERFORMANCE LINK FOR YZ125/250

Press Release: This new Product from Ride Engineering is available for 2006-2015 Yamaha 2 Stroke models. The 1.5mm longer Link stiffens the initial part of the stroke for better control and less wallowing in rough sections of the track. Typically the bike feels more balanced and predictable while handling is improved in flat and off-camber turns, driving the bike forward instead of sliding sideways. With the Ride Link, less effort is required to initiate turn-in and it keeps the bike going straight in whoops allowing the rider to be more aggressive. It also keeps the back end more planted in breaking bumps. Recommended sag is 102-104mm. Contact www.ride-engineering.com or [email protected](800) 805-1516
FUN FACT
Less than five woman in history have attempted to make a Supercross night show. At the Dallas Supercross round, this past weekend, Vicki Golden was the latest.
#MXA

TALKS

INSTAGRAM


It is said that every picture is worth a thousand words. Those words multiply with each set of eyes that see it. Some people will have different emotions or perspectives than others when they look at a photo. In this photo most would have no emotions attached unless they are the ones getting landed on by which what looks to be a 1981 Yamaha YZ125. It is possible that the rider over jumped by a long shot, but to get all the way into the stands is highly unlikely. The rider probably got whiskey throttle into a high berm catapulting him into close encounter territory. But for Dean Wilson this photo represents a metaphor. The bike which represents himself and the people symbolizes what he calls the "keyboard warriors." These "keyboard warriors" are people that like to talk trash through their computer or smart phones. You could say that Wilson's metaphor is a bit extreme or even immature for a factory rider, but it would be hard not to lash out a little when these "keyboard warriors" are putting you down left and right when your head is down trying your best. To you "keyboard warriors," don't you have anything better to do and to Dean get well soon and keep plugging away.
FROM THE TRIGGER FINGER OF JOHN BASHER: DALLAS SX PHOTOS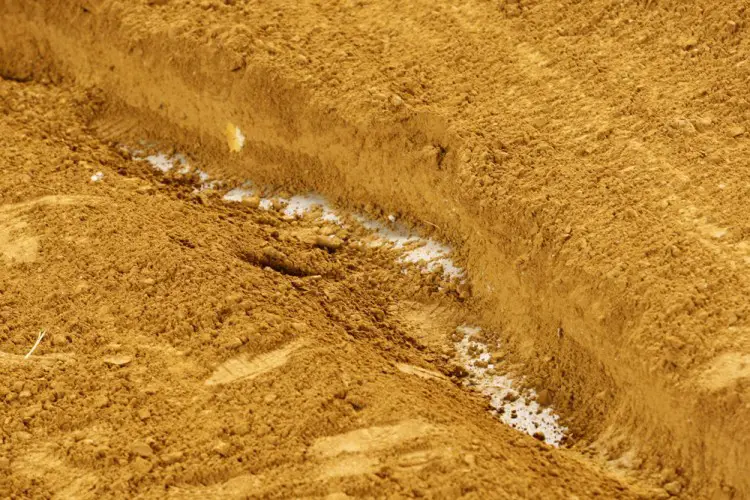 Yes, that is concrete that you see at the bottom of that rut. Better yet, it is wet concrete and it is extremely slippery. Dallas Supercross had some gnarly ruts and not enough dirt.

Joey Savatgy (37) had an impressive ride the first round of the East coast series with a third.

KTM hit two birds with one stone at Dallas with Dungey and Musquin coming out on top.

Who knew Ryan Dungey had a few old-school tricks up his sleeve?

Jeremy Martin will gain confidence with each and every round.

Marvin Musquin looked flawless in Dallas. But, it is a long way from the end.


Wil Hahn is still recovering . If you look closely you can see he has a rose behind his back. Since it was Valentine's day this last Saturday Wil picked a special fan to give his rose to.

Eli Tomac was looking fast in Dallas setting the second fastest lap time only three tenths behind Dungey.

Justin Bogle's speed fits his flashy style. Here he throws a whip for the crowd after a heat race win.
SUPERCROSS IS NOT FOR THE FAINT OF HEART

John Basher throws a whip on Austin Politelli 51Fifty YZ250F. Wait! Basher is a Pro behind the camera and a good Intermediate racer, but he's not ready for Supercross just yet. It turns out that the MXA gang forget to bring gear for the photo shoot and had to borrow John's—now John has some cool photos to show his kids one day. 
I am not going to lie, I was scared to jump a Supercross triple again, but I had to perform for John Basher's lens. We could have gotten one of are younger and still racing Supercross photo riders to wear the orange lid, but I thought I could handle it. Maybe I was remembering a few years ago when I was racing full-time as an AMA Pro, but because when I showed up to the test track I was scared. I had to try to remember how fast to hit the triple? What gear should I be in? Did I forget how to do this? More importantly am I going to make a fool out of myself in front of all the other riders? My mind was racing out of control. The 51Fifty team made me feel at home and set the bike up to my liking. For the first 30 minutes all I did was go through the whoops. I didn't really take any risks on the jumps.
Whoops, however, were not going to cut it for Basher's lens. So, I started jumping the doubles and felt more comfortable with each lap. Finally I decided to do the triple. I just pinned it out a the corner and somehow, I made it perfectly. It is fascinating what your body remembers to do automatically even when your brain tells you it is a bad idea. After that I had the confidence that I needed to wear John Basher's jersey with pride.
REDLABEL MX CUSTOM GRAPHICS
Press Release: RedLabel MX Custom Graphics is proud to release our new 2015 Moto YZ-YZF Line of Custom Graphics. RedLabelwill be releasing new colorways for this line to give customers 7 color Options to start with and then customize from there. Custom Kits are $189 which includes free custom work, hub stickers and mini plates with every order. Use coupon code "RedLabel 10-OFF" to get a 10% discount on your first RedLabel Custom Graphics Kit. Like Us on FaceBook /REDLABEL.mx, Follow Us on Instagram /@REDLABELmx, and Checkout www.REDLABEL.mx to order custom graphics for 2015.
WAIT TILL THIS 3 YEAR OLD CAN RIDE!
MXA FROM THE MXA ARCHIVES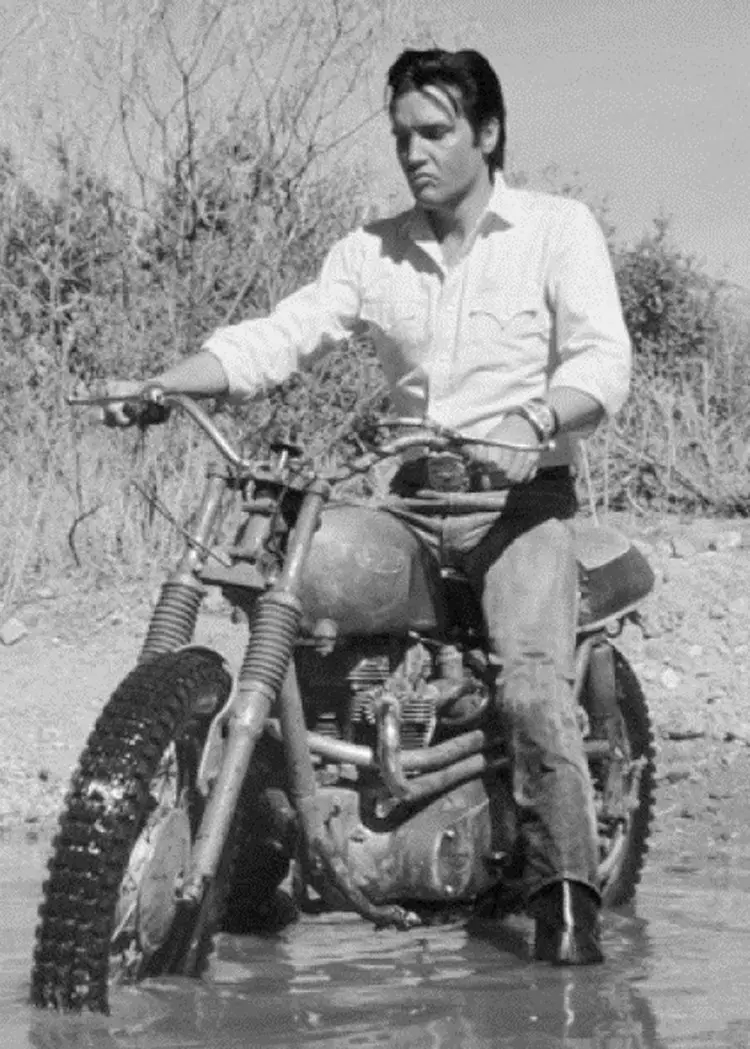 The King! Elvis Presley was a serious motorcycle fan—although best known for his full-dress Harley's he did venture offroad now and then.