PROTAPER PRESENTS MXA'S MID-WEEK REPORT BY JOHN BASHER

PHOTO OF THE WEEK
Eli Tomac secured his first 450 Supercross win on Saturday night at Chase Field in Phoenix. It was one of those sooner or later races for Tomac, who looked poised and confident all day long. By winning, Eli became the 58th different 450 Supercross race winner. The question is, can he do it again this weekend at Anaheim? A first-time winner has followed it up with a win the next weekend only ten times in Supercross history. Photo courtesy of Geico Honda.
FUN FACT: WHO'S MISSING?
As the 450 Supercross points stand now, there are five manufacturers represented in the top five. Suzuki (Ken Roczen), KTM (Ryan Dungey), Husqvarna (Jason Anderson), Honda (Trey Canard) and Yamaha (Weston Peick) are the top riders for their respective brands. You'll need to look back five places to find the top Kawasaki rider (privateer Jake Weimer, in 10th).
MXA VIDEO: A LOOK AT JASON ANDERSON'S ROCKSTAR HUSQVARNA FC450
FROM THE HORSE'S MOUTH: THE RACERS TALK ABOUT PHOENIX
450 CLASS:
Eli Tomac, Geico Honda (1st place, 450):
"It's a huge deal. I wanted a bigger celebration, but I just didn't do it. It's a huge weight off my shoulders. I got second twice last year, and I was getting beat up by the best guys in the world. The way it happened, too, was one of the best ways. Kenny and I went back and forth multiple times. Honestly, it was just super fun. I don't know how many laps it lasted, but somewhere around the middle of the race I ended up getting in front. The last five laps, I was putting it on cruise control. It was a gnarly race. I was huffing and puffing at the end of that 20. This [race] is as close as it gets for me. My home in Colorado is five and a half hours away, and we had 25 people here who I know really well. It's cool to do it in front of them."
Ken Roczen, RCH Suzuki (2nd place, 450):
"The track was a lot trickier than it was last weekend. I got off to a great start and that definitely helped. I wasn't feeling it before the main event and the track was definitely not the easiest. The first 10 laps was good racing and I just tried to play it safe. Eli (Tomac) beat me straight up, but that's ok. We finished with a second place so I think we're all good for the championship. It's all about being consistent."
Ryan Dungey, Red Bull KTM (3rd place, 450):
"This wasn't a bad result, but I definitely want better. I'm glad to be on the podium and am looking to keep this momentum going into the race next weekend."
Davi Millsaps, Monster Energy Kawasaki (5th place, 450):
"We made some good headway this weekend, but we've still got work to do. This week I felt better than last week, and I hope to feel even better next week and continue to progress. It's a long season, which after our result last week, plays in our favor."
Jason Anderson, Rockstar Energy Husqvarna (6th place, 450):

"My weekend was alright. I managed a bad start and ended up with a six. I'm still up there in points so that's good. It was tough to pass on this track but you just have to force your moves every lap, which I think I did pretty well. I'm looking forward to next week – hopefully I'll get a better start and be in the race."
Trey Canard, Muscle Milk Honda (8th place, 450):
"It was a good night in that I left healthy and ready for next weekend. I'm not happy with the result, but I believe that over the course of the season, all the top riders will have a night like I had here at Phoenix. I'm really excited for my fellow Honda rider on his win, and for all of HRC. Hopefully we can continue the success for them as we go forward."
Broc Tickle, RCH Suzuki (12th place, 450):
"The main event was a cluster for me. I didn't get a good start. I ended up with a bunch of guys in the beginning and just had to ride around for the first five laps. I made a mistake around Lap 6 and ended up doubling a triple so that cost me a position. I was creeping up there and getting faster as the main event went on, which was good, but I needed to be a little better at the beginning of the race. There was a group of guys in front of me at the end and if I would have had a better start, I think I could have been in front of them. I just need to keep riding my Suzuki during the week and getting seat time. I need to practice starts, do the basic run through of everything and just keep building. I'm frustrated because I was right there with (Jake) Weimer tonight so I could have been right in there if I hadn't made that mistake."
Cole Seely, Muscle Milk Honda (14th place, 450):
"The heat race was good—I felt like I was flowing and riding well—but the main event just kind of unraveled on me. My start was okay, but I got into it with Chad Reed and a couple other riders. I started going backward and got arm pump, so it was tough. I'll just take the heat-race win, build off of that and keep plugging away. The bike felt good all night."
250 CLASS:
Malcolm Stewart, Geico Honda (2nd place, 250 West):
"I got a good start. I don't know how, but I got a good start and held on. Honestly, I just put my head down and tried to ride the best race I could. I knew Cooper [Webb] was catching me. I could see it on the Jumbotron, but I knew Cooper would show me some respect. He was fast, and all I knew is that I needed to stay up. It paid off tonight, and I want to keep building from here. I can't thank my brother enough. I was so down after Anaheim 1, and then I went to the LCQ (in Phoenix). I talked to him, and he told me to forget about everything and go out there and have fun. That's what I did."
Jessy Nelson, Troy Lee Designs KTM (3rd place, 250 West):
"It wasn't my best race, but I'll take what I can because I felt like I rode a little tight there at the end. I'm definitely super happy to get on the box and still have the points lead."
Tyler Bowers, Pro Circuit Kawasaki (4th place, 250 West):
"I wasted my good start in my heat race. The first couple laps were pretty hectic, and I was just trying to stay out of trouble and keep moving forward. With a good start I know I can win races, so I'll continue to work on those this week and we'll be ready for A2."
Justin Hill, Red Bull KTM (6th place, 250 West):
"Overall, I was hoping to be in podium contention. I struggled with a head cold earlier this week and it affected my riding tonight. I am hoping to feel 100% this next week and come back stronger for the next Anaheim event."
Zach Osborne, Rockstar Energy Husqvarna (7th place, 250 West):
"Overall it was an ok day. It's tough with the injury, but I'm trying my best to ride through it. My start was good, but I should have done a little better. I'm only nine points out of the lead and I'm ready to move on to next week's race at Anaheim."
Zach Bell, Rockstar Energy Husqvarna (9th place, 250 West):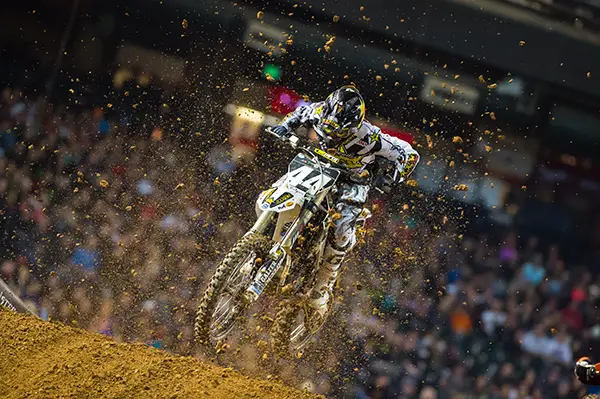 "I had a good heat race and finished fifth. I was riding really well in the main and, after getting caught up in the start, I went from the back all the way up to ninth. Overall I felt good on the bike and I feel strong. I'm getting better and better each week I'm and looking forward to getting on the podium."
Matt Bisceglia, Geico Honda (11th place, 250 West):
"Somebody hit me from the back, and I went into a hay bale. Then Shane McElrath fell over on me, and I had nowhere to go. My bike went straight up his bike. I ended up going down. I was pretty much in dead last, but I came back as far as I could. I fought for as long as I could and came back as far as I could. It was all I could do. We'll move on to next weekend and hopefully get some more good starts — and fight."
Chris Alldredge, Pro Circuit Kawasaki (15th place, 250 West):
"I'm happy with how [Phoenix] went. Getting the first round out of the way was good. Despite my crash, I felt good in the main event. I was pumped to get the start and be near the front and get a sense for the pace. I know what to expect now and will be ready for it."
VIDEO: SHADOW BLAKE BAGGETT IN PHOENIX
FUN FACT: A-SQUARED
The tracks are different, but the venue is the same. Anaheim, in the heart of SoCal, will play host again this weekend. Ken Roczen won the opener two weekends ago. Only seven times has the A1 winner gone on to win A2. Will Kenny be the eighth?

RYAN VILLOPOTO UPDATE: RIDE, TRAIN, REPEAT
For more news and photos, click on www.rv2.com
In a few short months Ryan Villopoto will be venturing over to Qatar for the opening round of the 2015 Grand Prix series. It will be a new venture for the king of U.S. racing.
By Ryan Villopoto
Well, you've probably wondered what I've been up to the last few months and I finally got a chance to sit down and type this up. A lot has gone on since my last update in November so let me fill you in:
Right before Thanksgiving we headed off to Spain to do some testing with my team and attend the FIM Gala.
We got some solid riding in at bunch of different tracks around Spain, and had some great food thanks to my food connoisseur/team owner Thierry! Not to mention my friend and MotoGP racer Dani Pedrosa hooked me up with his buddy Sete Gibernau, who let us come to his house and do some riding on his fleet of mini-MotoGP bikes— it was unreal. Hopefully we can do that again. I know I can shave off some time from the stopwatch, lol.  And last but not least, Sete's cousin Peto took us on a tour of some of Barcelona's most historic spots, which were amazing. Peto actually runs a track/camp out there, which you should check out www.poleacamp.com.
Next, we arrived in Jerez for the Gala. I'm really not one for the limelight but there was a lot of buzz because of my new endeavor. Still, it was quite exciting. Overall it was a lot of fun… dress up in a penguin suit (haha) and hang with a bunch of other top athletes from all over the world. The highlight was Sunday evening when I was awarded a medal for my fourth consecutive Supercross title— a good way to stamp my U.S. career.
Once we got back to the States it was only two days before Thanksgiving so my wife and I shot up home to Washington to spend some time with family.  We also got to step foot into our new home we purchased over the summer and guess what? It snowed! We got to experience the PNW life to its fullest and use our wood-burning fireplace. I have truly missed it up there. Afterwards, it was back to California to get ball rolling with training and riding.
Right now, it's kind of the boring part. The everyday grind of training and riding/testing. However, at this point the main goal is to get the bike dialed-in so I am comfortable. The rest will come. In Europe, the team runs some different hard parts here and there and their bike set-up is a bit different than what I'm use to, so it's a bit of a learning curve. But, I think we have pretty much worked all the bugs out and are sitting pretty good. It definitely takes time but anything worth doing does. Hard work pays off! "NO SHORTCUTS."
That's about all I have for now. We're busy getting ready to make the move over to Europe later this month so it's all hands on deck… -RV
WESTON PEICK INJURY UPDATE

Weston has a broken bone in his foot, but he's going to give it a go at A2
Press release: While racing in a podium position during the final laps of the Phoenix, Arizona, round of the 2015 Monster Energy AMA Supercross Championship AutoTrader.com/Toyota/Yamaha Team rider Weston Peick suffered a broken bone in his foot after casing a triple jump.  Despite the pain, he still managed a career best fourth place finish, and sits fifth in series points after two of 17 events.
An initial evaluation at the Asterisk Mobile Medical Center determined there was a break, and a subsequent MRI and further analysis led to Peick having a screw inserted to stabilize the broken bone.  Peick is determined to try his best to race this Sat., Jan. 17 at Angel Stadium in Anaheim, Calif.  Fox Sports One will air the event live starting at 10:00 p.m. (EST).
TWO-STROKE PRODUCT! VP T2 FUEL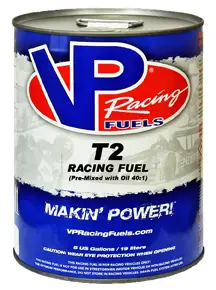 Press release: The ritual of mixing gas and oil has never been popular among 2-stroke motorcycle riders, and today riders are also confronted with damage from ethanol-blended street gas which clogs injectors, fouls carburetors and goes bad after just a few weeks in storage.  To address those problems and more, VP Racing Fuels has introduced T2™ – a racing fuel pre-mixed with oil.  "Ethanol-free T2 not only offers the convenience of a pre-mixed fuel and prevents ethanol-related problems, it offers substantial yet cost-effective performance gains in any modern 2-stroke bike," said Steve Burns, VP's Founder and Director-R&D.
Designed for today's modern stock or modified 2-stroke bikes, T2 is pre-mixed at a 40:1 ratio with a top quality JASO FD-rated, certified premium oil that, combined with the other fuel components, offers optimum performance.  "Compared to premium pump gas, new T2 offers substantial increases in horsepower and torque as well as better throttle response, along with the superior consistency for which VP's race fuels are famous," Burns said.
"T2 is economically priced, offering similar or better performance gains than many higher-priced race fuels.  A leaded fuel, T2's 105 octane rating (R+M/2) provides excellent protection against detonation and precludes the need for octane boosters or other measures required by riders using pump gas to deal with extreme conditions."
"T2 also protects your investment," Burns continued. "It vaporizes better, thus burns cleaner and more efficiently.  Because it contains no ethanol, T2 remains stable in a sealed container for up to 2 years and prevents repairs needed for ethanol-related problems.  All this combines to increase the time between rebuilds, extend the life of your engine and lower your long-term costs.  While T2 is designed for today's modern 2-strokes, we continue to recommend VP's C12 racing fuel for older air-cooled 2-stroke bikes."
MEET NELSON, McELRATH & DURHAM TOMORROW!

FUN FACT: REEDY & McGRATH
Chad Reed etched his names in the history books long ago, but this weekend he could match Jeremy McGrath's number of Supercross starts, at 172. This Saturday night Reedy would like to celebrate 172 on the top step of the podium. Do you think that will happen? Tell us what you think on our Facebook page.
WHY YOU SHOULD FOLLOW @ADAMCIANCIARULO ON INSTAGRAM
One bazillion followers (okay, 231K) are choosing the right horse to follow in Instagram. That man? None other than Adam Cianciarulo, who just rounded 18 years old a few months back. Adam, unlike most racers on Instagram, is actually interesting, informative, funny, well spoken and connected to his fans. If there is a downside to following Cianciarulo on Instagram, it's the plethora of amateur hour followers that bicker endlessly and make rude, asinine comments (often to AC, who undoubtedly has thick skin by now). By amateur hour I mean that these kids (they MUST be kids) are local level, back of the pack 125 beginners. Fortunately, Cianciarulo takes it all in stride. Below are reasons what you've been missing by not hitting the "Follow" button on Adam's Instagram page. This guy has a future as a writer if racing doesn't work out.
Cianciarulo is a funny guy. Self-deprecating humor, especially for a high-profile racer, is always entertaining.
He has great taste in music, evidenced by this posting. For those in the know, The Smashing Pumpkins had their greatest success in 1995…a year before Cianciarulo was born.
Adam does a good job at promoting himself, the brands that sponsor him, as well as the media. We went to his house in early November to shoot our New Year's video with Adam. Unfortunately he injured his shoulder shortly after, but ever the brand ambassador, he still promoted our video while sitting on the couch.
There's a bit of artistry in Cianciarulo's approach. He shot this photo of Ryan Villopoto with a GoPro, and it's better than what a lot of amateur shooters would capture.
THOR'S ALL FOR 1 VIDEO
Try not to be distracted by Jason Anderson's epic mustache
Thor MX – All For 1 from Thor MX on Vimeo.
WHERE THEY'RE AT: THE 450 TOP TEN
It's silly to make statements and wild predictions about racers. What is considered to be true today will change after Anaheim 2. And so it goes with the top ten in the 450 class, but I choose to play the game anyway. Two races down in a long series, here are my thoughts on the cream of the 450 crop.
Ken Roczen – Mr. Podium is doing exactly what it takes to win a 450 Supercross title. With 1-2 finishes, the season is very young, but Roczen is a standout among a decreasingly deep field.
Ryan Dungey – Dungey is the Mr. Rogers of Supercross racing. He knows that he has a problem pulling the trigger and being aggressive (that much was proven true in Phoenix and A1). This sport has proven that being a nice guy on the track doesn't pay off. He should introduce that Dunlop front tire to more racers, especially in the early laps.
Jason Anderson – Wow! Impressive! The real deal! Even though Anderson claims that the Supercross title isn't at the top of the list in his rookie 450 season, it is attainable. I pick Jason to win this weekend at Anaheim 2.
Trey Canard – Increased HRC factory support is a plus, but it doesn't amount to a hill of beans for Canard if he flubs the start. Trey is fighting for top Honda rider honors against Eli Tomac.
Weston Peick – He's the mixture of cage fighter, Chuck Norris, and the Rocketeer (coincidentally, formerly the Privateer). Peick broke a bone in his foot while fighting for a podium spot in Phoenix. He's going to line up at Anaheim 2. Can he gut out another big performance? Don't bet against it.
Andrew Short – Andrew was hot at Anaheim 1 and relatively cool in Phoenix. Let's hope that the 2005 version of Andrew Short shows up on Saturday night, and that his starts continue to impress.
Eli Tomac – See what happens when you start off the season by lawn darting into the ground? Although seventh in points, Tomac has been much better than that. He has 15 rounds left to make up for his A1 gaffes.
Justin Barcia – This guy has more haters than Eminem. People either love or loathe Barcia. I think that he's good for the sport, but his results need to improve if he wants to put a smile on boss man Coy Gibbs' face.
Broc Tickle – The RCH Suzuki racer could barely be qualifying for mains and I'd give him praise, but to recover from a broken back less than a year ago and be ninth in points? Way to go, Tickle time!
Jake Weimer – Jake's probably thinking, "Oh, hey, Kawasaki! Remember me? The guy you let go? I'm the best placing Kawasaki rider…on a privateer bike…against Chad Reed and Davi Millsaps. Haha!" However, Weimer is a really nice guy, so he'd probably never admit to thinking this.
VIDEO: PHOENIX 450 RACE HIGHLIGHTS
VIDEO: PHOENIX 250 RACE HIGHLIGHTS
Photos by Geico Honda, Monster Kawasaki, Rockstar Husqvarna, Adam Cianciarulo, RCH Suzuki, TLD KTM, Red Bull KTM, Massimo Zanzani and JGR Yamaha