RACING INTO THE NIGHT: GLEN HELEN'S 10-HOUR EXPERIENCE
Josh on the line with teammate Zac Commans (left), wife Ashley Mosiman (middle), and teammate Brandon Krause (right). 
RACING INTO THE NIGHT: JOSH MOSIMAN'S GLEN HELEN 10-HOUR OFF-ROAD EXPERIENCE
Photos by Trevor Nelson
It all started with an idea, which sparked a question, which landed on receptive ears of guys who were willing to turn the idea into action and see it through to the finish line. The 10-hour Endurance race runs as the second event in the middle a three-race series which features the 6-hour and the 24-hour races. The series is sponsored by 3Brothers and each event runs at the famous Glen Helen facility. The series isn't new, but prior to this year, I didn't have the right opportunity to race it. This year, the 3Brothers 10-Hour at Glen Helen began at 4:00 p.m. on Saturday and went until 2:00 a.m. Sunday morning.
Brandon Krause convinced Zac Commans and I to team up with and race the 10-hour endurance event on his KTM 450. When you look at our roster, Brandon fits into the "Full Off-Road Guy" category while I've only raced a handful of off-road GP-style events and Zac Commans had almost zero off-road experience coming into this. Additionally, it had been almost three years since Zac had ridden a dirt bike at the time he signed up for this crazy adventure. Zac and I grew up battling together in the amateur ranks and we even rubbed elbows a little in the Pros. With him being off the bike for so long while he was living in New York City and attending Columbia University, I was thrilled to convince him to get back on a bike and race something completely different than Supercross.
Our original bike with the fancy Modified Machine Works lighting system had issues on lap two, so we resorted to a small light bar and helmet lights for the night portion of the race. 
Brandon Krause, son of off-road legend Paul Krause, has raced the 10-hour and 24-hour endurance races at Glen Helen previously and had experience riding with lights, but Zac and I were totally new to it. On the Thursday before the race, I was at Glen Helen all day testing the 2021 KTM 450SXF and filming our First Ride video; However, when Jody, Daryl and Travis left around 5:00 p.m., my teammates Brandon and Zac showed up to test out our new light system. We were there until 10:15pm, but we had a blast and the lights we had were great.
Instead of standard inner tubes, we used NitroMousses to make sure we didn't have to worry about flat tires while racing. 
Brandon was generous enough to let use his bike for 10-hours of racing and with the help of NitroMousse and Dunlop, we didn't have to worry about traction or flat tires. For those who don't ride off-road, Nuetech's NitroMousse system replaces the standard air inflated inner tube with a foam tube which will still break down over time, but never go "flat" like a standard inner tube will when it's put up against the brutal terrain of an off-road race. I asked the "off-road guy" of the team which Mousse tubes we needed to get and without hesitation, Brandon asked for NitroMousse. For tires, Brandon recommended the Dunlop MX33 front tire and the Dunlop AT81 rear tire. I was happy with the front because I ride with the MX33 often and I trusted his decision with the rear knowing that he has more experience with wide open straightaways and rocks than me.  
Zac only had five days of riding before the race and I had only ridden Brandon's KTM one time, a week before. Although the odds were against us, Zac was riding really well, and by watching him ride, nobody could recognize that he had been off the bike for three years.
It was a struggle to get everyone together for a group photo before the race. This shot captured most of the riders and support crew, but not all of them. 
Around the same time frame that Brandon had convinced Zac and I to team up with him, another friend Cameron Purczynski was also assembling a team with Michael Del Fante, Cole Zeller and Lauren Woods riding on his big-bore Yamaha YZ250. Brandon, Zac, Cameron, Michael, Cole and I are all heavily involved with the PanicRev Christian Motocross ministry in that we help out at the PanicRev camps as coaches and group leaders> it was cool that we were slated to race against each other.
Additionally, two more friends, Ben Stevens and John Lein found out about the exciting plans and put together their own team with Cameron's Dad joining them. We were all last minute with our decision to race and our preparation, but once we got to Glen Helen on Saturday morning, we had an awesome group. In total, the PanicRev crew came with three teams, ten riders and 17 people there to support us—either by filling our gas tanks, filling our hydration packs or simply by cheering us on from the sidelines.
Michael Delfante and I took a photo in matching FXR gear before the race and ended the race about 30-seconds apart after battling against each other at 1:30 a.m. 
The race started off with engines off and our hands in the air. Brandon warned me that the starter wouldn't wait for everyone to be paying attention to wave the green flag, he was quick and he tries to catch riders off-guard. Knowing that, I was ready and surprisingly, I grabbed the holeshot! We rode up and down and up the steep Glen Helen hills on the main track and I had the lead as we launched off the top of the hill into the first ridge section. I had only ridden on the Glen Helen ridges once before and it was years ago. Without practice laps, I didn't know which way we were going, but I knew it was dusty up there because the water truck couldn't access the top of the mountain. With that in mind, I knew I had to get ahead of Trevor Stewart and the rest of the riders on the start or else I would be navigating the new section blindly. Luckily, I was able to execute the beginning of the race and I tried to make as much dust as I could once up on the ridge, but Trevor was able to make his way by me and I dropped to second as we headed back down the ultra-long and ultra-steep Yamaha hill. I wanted to be in the lead because it was cool, but I also liked the idea of being second so that I could watch Trevor hit the track before me because I knew he had more experience than me in the off-road sections at Glen Helen.
The #263 bike only lasted two laps before we had to trade it in for the backup bike. But the first two laps were good! I grabbed the holeshot, was passed by Trevor Stewart on the first ridge, but then regained the lead for most of lap two after Trevor went the wrong way into the pit area. 
I held on to second and kept Trevor in my sight for the entire first lap and once we headed into the pit area, I was close behind. However, Trevor went the wrong way and began to enter the pits backwards. I followed him originally, but quickly realized his mistake and I turned around and took over the lead. It was a surreal feeling to pass my wife and the rest of our crew as the lead rider/team on lap one out of the 74 other teams in attendance. I ran as fast as I could, trying to hold onto the lead and not paying attention to saving energy for the 10-hour event. For me, a it was a win to lead a lap and I was going to go all-out to be leading again when I came through the pits the next time.

Obviously, we didn't need lights for the day portion of the race. But my helmet was prepared with velcro stickers for my headlights once the night came. 
Unfortunately, our first issue arose at the beginning of lap two. The hydraulic clutch had play in it like a cable clutch and I knew that wasn't good. However, I figured it was just the seal on the clutch slave cylinder that went out so I pressed forward without using a clutch. The rocky and tight creek sections were challenging, especially when I came up on lapped riders who just barely left enough room for me to get by while still leading the race. Trevor caught up to me again by the time I exited the creek sections and was getting onto the REM track. I held him off for a few corners and even made a double out of two rollers as we entered the  Stadiumcross track to show off in front of Trevor . But my glory in the lead didn't last long as I was quickly humbled in the next section when I came in too hot off the long straightaway and blew passed the corner. Trevor took over the lead and by the time I pulled into the pits on lap two my bike was blowing white smoke. It was done and we were off to impound to grab our spare bike.
Zac Commans riding off into the sunset. The track was brutally rough, but fun at the same time. It featured tight and rocky creek sections, steep up hills, wide open sections, sand sections, brand new off-road trials, silty and dusty sections, asphalt road portions, three different motocross tracks, the off-road truck track, the ridges and we went down the ultra-steep Yamaha hill. The track was far from boring and it kept you on your toes. 
I finished out the first hour on Brandon's Dad, Paul Krause's KTM 350 and although the suspension was soft, it worked well! We were far behind the rest of the Pros, but we still pressed forward to catch them with the motivation of being the top team flying the PanicRev banner. Zac Commans took the bike and threw down some blistering fast laps. His times were right with Trevor Stewart and his teammates Cole Martinez and Justin Morgan.
Zac Commans was on the gas and threw down the fastest lap time of the race on a borrowed bike with only 5 days of riding in the last three years. We were all impressed!
Zac handed the bike off to Brandon around 6:15 p.m. and after the track had already been beaten up for over two-hours, it was Brandon's turn to go learn the layout and complete his section. Brandon went for four laps before we gave him the 1-lap to go sign on the pit board. Pit lane was incorporated into the track's layout so that the riders had to come through it each lap. With 74 teams in the race, pit lane took up two long straightaways and you were supposed to ride at only 5 mph through the section. It was hard to go that slow, but it seemed like people did it without too many problems.
Unfortunately, Brandon went down on the last lap and suffered a concussion. He was able to ride his bike back to the pit area, but he didn't complete the lap and he had a sweep rider following him back to our pit to make sure he was okay and that he got proper care. Luckily, Brandon didn't need to go to the hospital, but he was sore and out of the race. At that point, it was up to Zac and I to finish it with seven hours left.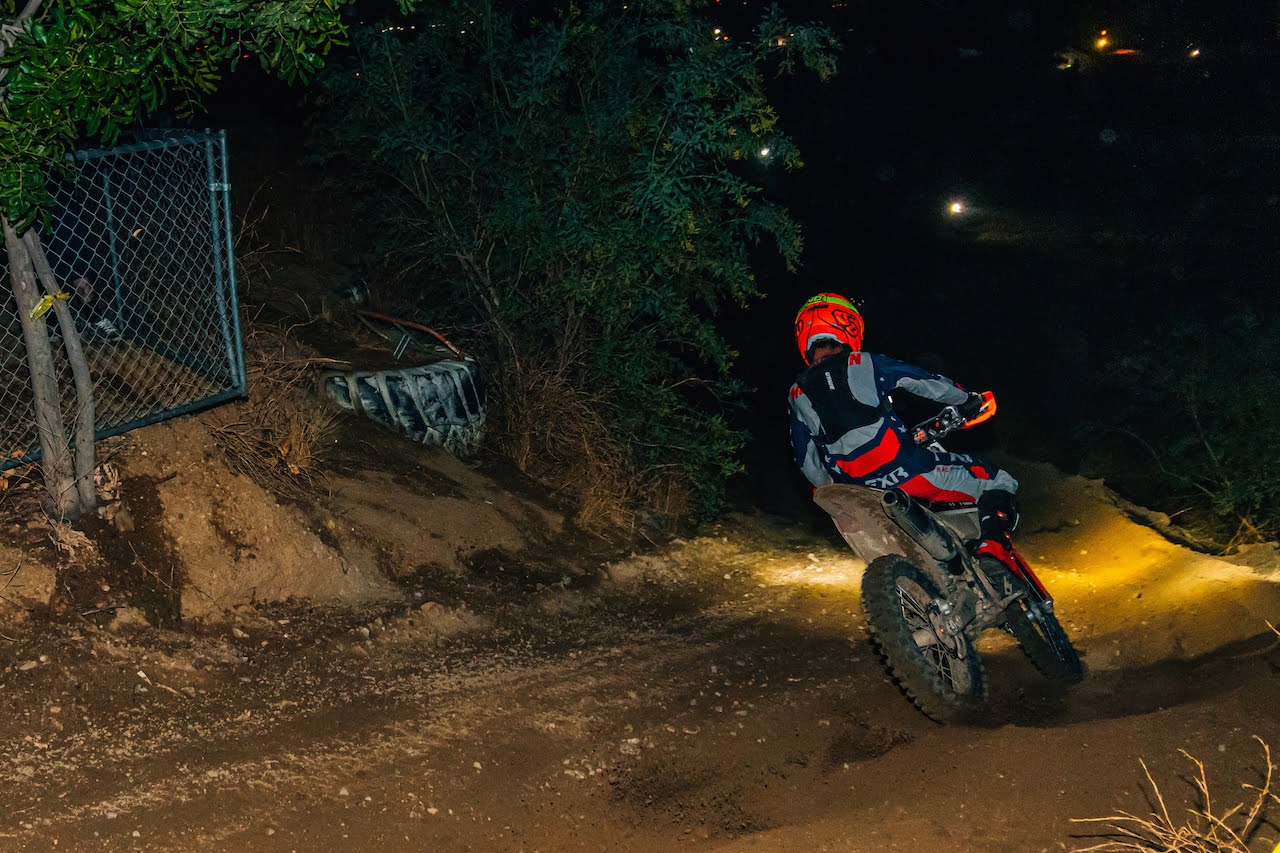 Although our spare bike was strong enough to last the entire 10-hour race it wasn't set-up to use the same Modified Machine Works lights that had originally been set up to use on Brandon's 450. We used a small light bar with our helmet lights to help us see during the night. 
Racing through the night was a challenge. I'm glad that we practiced riding at night on the Thursday before, however our lights that we used on the spare bike for the race were nothing like what we practiced with. We still were able to go fast and log some fast lap times, but other lap times were slower when we I ran into down riders. One  female rider was down on an uphill at the end of a fast straightaway. It wasn't easy to see her and she was in a dangerous part of the track, so I stopped and used my lights to warn others of the downed rider and help her get to the side of the track where she was safer.
At 18-years-old, Cole Zeller was the youngest rider of our group and he raced on Michael Delfante, Cameron Purczynski and Lauren Woods' team. 
Sadly, later on in the race a similar situation happened to my friend Cole Zeller. As the off-road loop exited the main track and headed towards the Glen Helen amphitheater, the track was rough with big bumps that had rocks buried underneath them. It was hard to see the rocks as you and your lights bounced through the bumps and Cole was caught off guard and slammed himself into the side of the hill. Luckily, he was able to get back up and ride back to camp. I offered to give him a ride back, but he was good to go on his own. I was super deflated as he turned around to ride back to camp and I kept riding the course. I worried if he would make it to camp and I made sure to check that he was there as I rode by our pit the next lap. It was hard to press forward at that point, but as motocrossers do, I eventually put it behind me and pressed forward.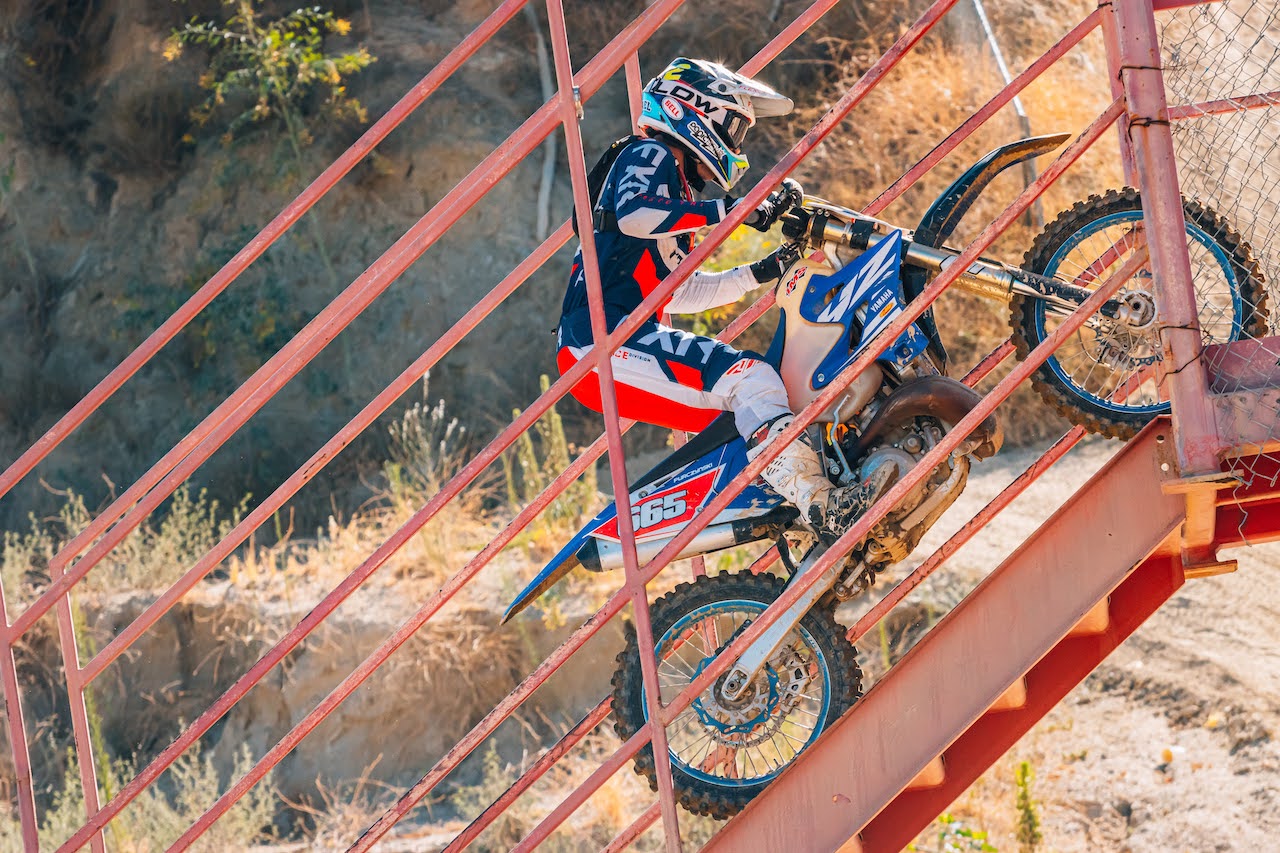 Michael Delfante climbing the staircase onto the Yamaha bridge. 
By the end of the race, we had spent too much time in the pits and our team was far off of the leaders and a lap behind our main competition, the other PanicRev team of Delfante, Purczynski, Zeller and Woods. It was just after 1:00 a.m. and I suited up one last time to finish up the race. During every session before this, I wasn't too tired and I was pretty excited. But my energy levels were low at 1:00 a.m. and the temperatures had dropped which made me cold and stiff. It really wasn't cold out, still in the low 70s, but my gear was damp from sweat and my body was ready for bed, not another hour-long moto. Luckily, I had another dry FXR jersey to throw on and that helped.
I was still stiff my first lap out and a made a few mistakes in the creek section and two riders passed me. I had only been passed three times before this. Two of the passes were by Trevor Stewart, one on the opening lap and the other after I was back in the lead and trying to fend him off but I overshot the corner. The other person that passed me was his teammate Cole Martinez. However, I was tired and cold at the end and little did I know, but Michael Delfante was right behind me and he was one of the riders that passed me. At this point I got fired up! All of the sudden I wasn't cold and I had a huge smile on my face. The battle was on.
I was going pretty fast through the tunnel until I hit my head on the roof as I exited. There was a bump coming out of the tunnel early on in the race I began to lift my head too early and tagged the top of my head on the concrete. Luckily, I did it during the day before I put my helmet lights on. It didn't hurt, but it scared me. 
I chased Michael out of the creek and into the asphalt section of the track and I was blown away with how fast he was going! I had ridden Supermoto once before but I still didn't know what real speed was on the road yet. He pulled on me on the road, but I did everything I could to gain ground once we got back into the next creek section and I caught him. After trailing him for half the lap, I made the move coming into a sand berm in the back section. He hit the inside and I railed the outside and got him. It was a blast and I had a smile on my face the entire time. I beat Michael to the finish line, but he was still a lap ahead of me which meant that Cameron Purczynkski's team of Michael Delfante, Cole Zeller and Lauren Woods beat Zac Commans, Brandon Krause and I. They ended up 8th overall and we were 13th at 2:10 a.m. when we crossed the line. Our other team flying the PanicRev flag was made up of Ben Stevens, John Lein and Mike Purczynski (Cameron's Dad). Overall, the entire event was a blast. Obviously, I wish that my friends Brandon and Cole hadn't crashed because I hate seeing my friends get hurt and I wish our bike wouldn't have had so many issues because when comparing our lap times to the other teams, we should've been able to finish well. However, that's motocross, or should I say, that's off-road. It's dangerous for rider and machine and anything can happen, especially when you're racing for 10-hours with the majority of it at night time. At the end of the day, we're all racers who enjoy testing ourselves and our machines and we're already making plans to be better for the 24-hour race back at Glen Helen on November 21-22.
MXA test rider Josh Fout (V7) was also racing with another group of guys. He was on Shane Tanner's team and he grabbed the holeshot in his class. 
Cameron Purcyznski charging into the night. As you can see in the photo, the flash from the camera is lighting up the dust in the air. Dust is inevitable when it's 90+ degrees out during the day, the track is 8-1/2 miles long and the duration is 10-hours.
The third PanicRev team was started by our friend Ben Stevens who originally thought about racing the event by himself in the Ironman class. However, he didn't have to because John and Mike were willing to join him. 
Josh Fout switched between a KTM and a Yamaha to complete the 10-hour race. His team won the 30+ Intermediate/Expert class and finished 11th overall out of 74 teams. This photo was taken as he exited the pit area and jumped onto the start. Josh also wore our new 2021 Fly Racing Lite gear to test its durability. Expect an article on the new gear in the magazine soon.  
Unfortunately, our third rider and the provider of our race bike, Brandon Krause crashed on a rough downhill section at the end of his 1-hour stint, suffered a concussion and was out for the rest of the race. We're glad he was okay and was able to ride back to the pit area on his own. 
This was the team on Thursday before the race with our patriotic colors and heavy duty and ultra-bright lighting system. 
Our pit area at night.
WATCH OUR RECAP VIDEO ON INSTAGRAM
https://www.instagram.com/tv/CDuMhrcHnHo/