RAIN ON FRIDAY MORNING MEANS SATURDAY'S REM MOTOCROSS WILL BE EPIC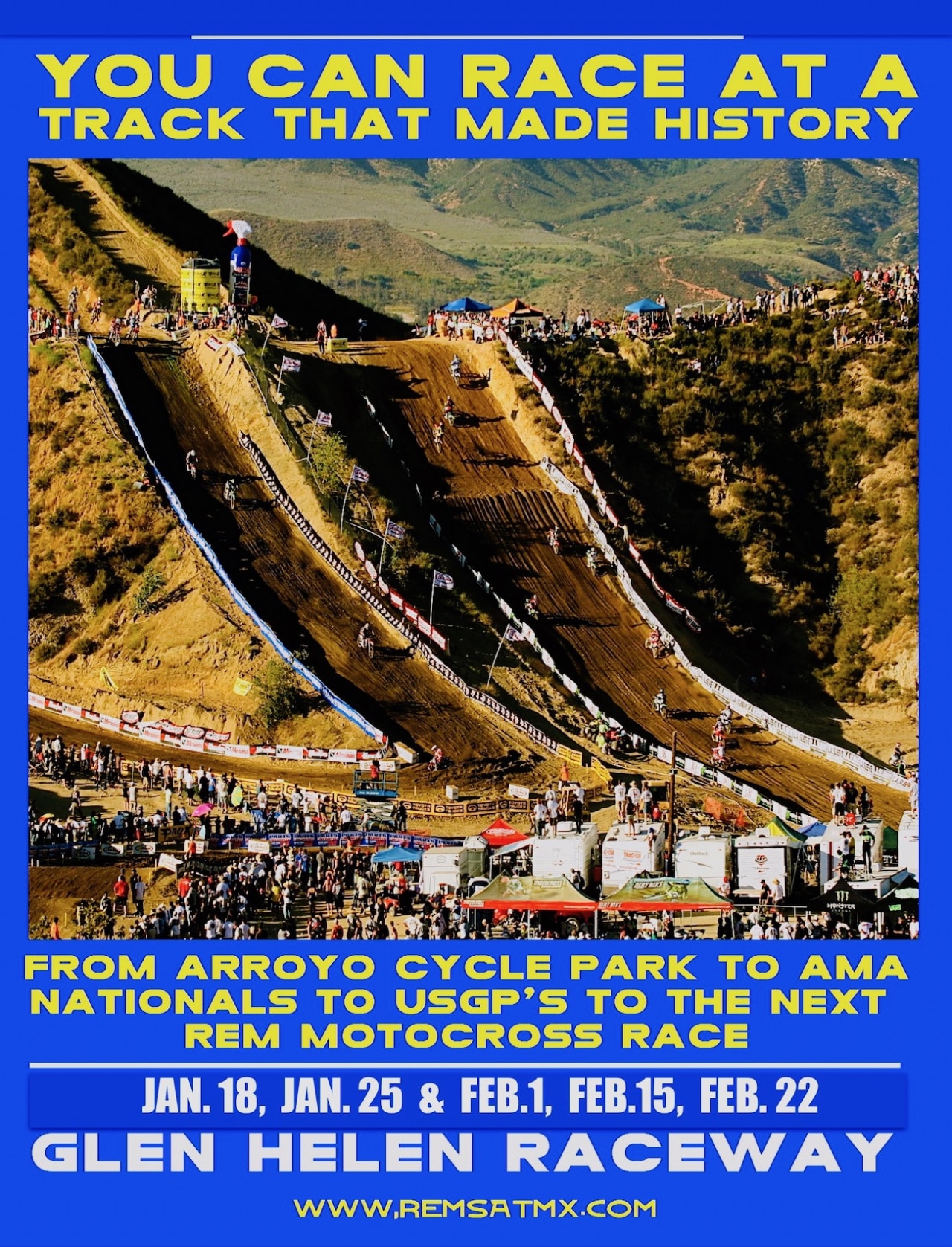 You gotta love it when it rains in SoCal, but really "loovve it" when it rains the day before a race. Luckily, it rained on Friday morning and REM has race on Saturday morning at Glen  Helen. In fact, REM has five races scheduled for the remainder of January and February — January 18, January 25, February 1, February 15 and February 22.
Dave Eropkin was the number one rider at REM in 2019. Photo: Dan Alamangos

2019 REM GLEN HELEN TOP TEN POINTS STANDINGS
1. Dave Eropkin
2. Robert Pocius
3. Steve Chandler
4. Todd Haegstedt
5. Lamont Dusseau
6. Joe Sutter
6. Mark Taylor
8. Jon Ortner
9. Ralf Schmidt
10. Mike King
The late Dennis Boulware is the only four-time REM Number rider (1999, 2008, 2009, 2010).
REM GLEN HELEN NUMBER ONE RIDERS (1989-2019)
1989 …Curtis Jablonski
1990 …Robert Failing
1991 …Robert Failing
1992 …Jeff Van Camp
1993 …Todd McKay
1994 …George Kohler
1995 …Alan Olson
1996 …George Kohler
1997 …Alan Olson
1998 …Jody Weisel
1999 …Dennis Boulware
2000 …Rich Eierstedt
2001 …Randy Skinner
2002 …Bengt Johansson
2003 …George Kohler
2004 …Billy Musgrave
2005 …Mark Crosby
2006 …Tim Murphy
2007 …Dennis McAdam
2008 …Dennis Boulware
2009 …Dennis Boulware
2010 …Dennis Boulware
2011 …Ray Pisarski
2012 …Randy Skinner
2013 …Jon Ortner
2014 …Jon Ortner
2015 …Jon Ortner
2016 …Tom Holmes
2017 …Val Tamietti
2018 …Val Tamietti
2019 …Dave Eropkin
Make sure to get your MYLAPS transponder for the new year. If you email Frank Thomason at this email address [email protected], he has a contact at MYLAPS that will get you a discount. Always wear a helmet that will protect your brain. REM recommends 6D Helmets as do a lot of REM racers. For more information go to www.remsatmx.com