RCH FOLDS, YOSHIMURA SUZUKI FOLDS…INTO ONE TEAM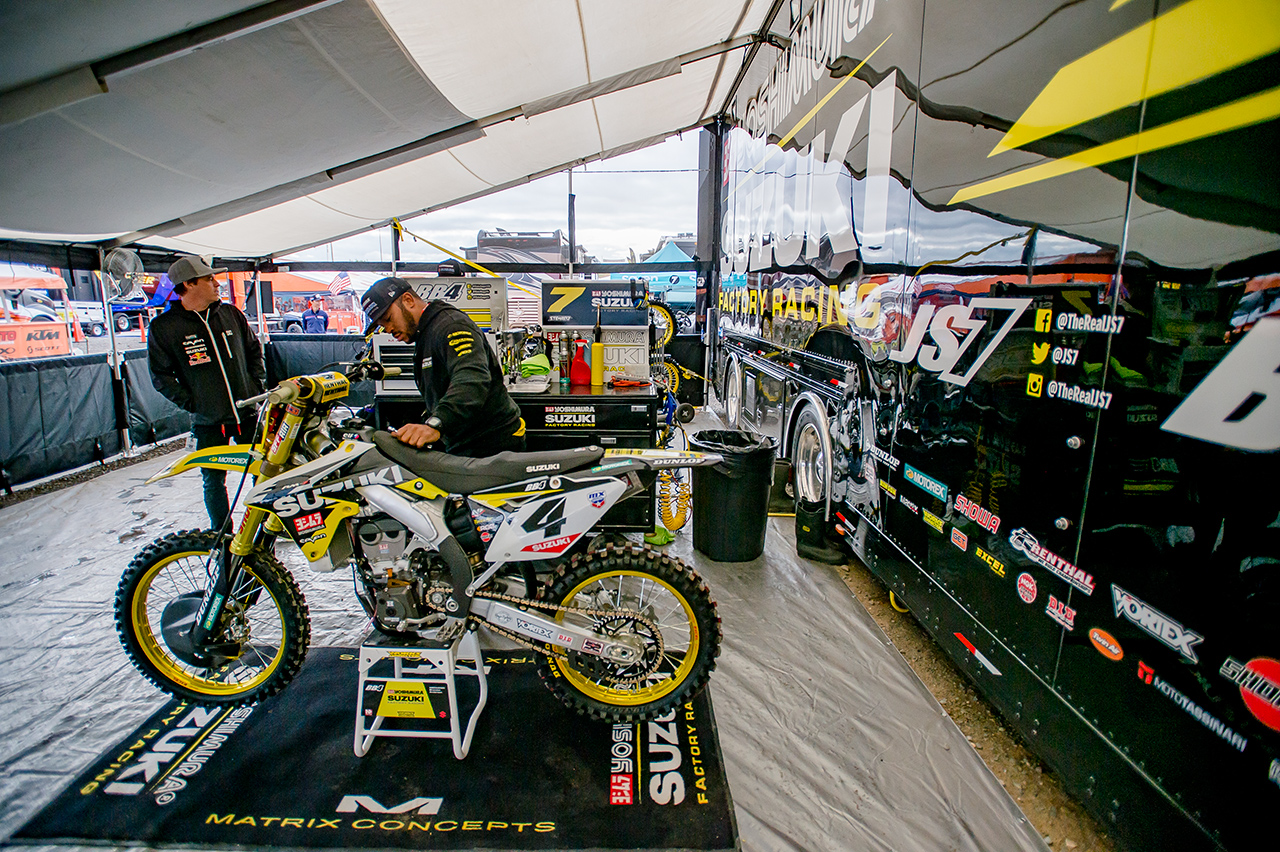 Given the lack of success that Yoshimura Suzuki has had the last two seasons, there was a lot of speculation as to what would become of the team. Much of the speculation revolved around breeding new talent as Suzuki's have been largely absent in the 250 class. Ryan Dungey was the last rider to win a championship atop the bike in the 250 class. The one highlight for the team has been the German sensation Ken Roczen on their sister RCH Suzuki team. Roczen would win the AMA National championship in 2016. Roczen wasn't the only rider to podium however. Blake Baggett of the factory team and Broc Tickle have both landed podiums this season. RCH's future has been as much a question as the factory teams future with Roczen switching to another brand. They finally broke the silence about both of the teams futures. See the press release below.
Official press release: Suzuki Motor of America, Inc. (SMAI) today announced the formation of RCH/Yoshimura/Suzuki Factory Racing as its premier 450 motocross and supercross team. This newly established effort combines Suzuki Motor of America, RCH Racing, and Yoshimura Racing & Development into a singular entity competing in the AMA Supercross and AMA Motocross championships.
"Suzuki has supported RCH Racing since its inception," said Carey Hart, co-founder of RCH Racing along with 15-time AMA Champion Ricky Carmichael, "and Yoshimura has been an important factor in our success as well. Having just clinched the 2016 AMA Pro Motocross Championship, we have proven that we can win titles. We are excited to bring our strengths to the new RCH/Yoshimura/Suzuki Factory Racing Team."
"Everyone at RCH is excited about the opportunity ahead of us and the partnerships we've created," added Carmichael. "RCH always strives to be the best team in the paddock and this relationship positions all parties involved to do exactly that. It all starts with hard work, determination and uncompromised support from Yoshimura and Suzuki. With everyone working together focusing on the same goals, we expect to race for wins and championships for years to come."
RCH/Yoshimura/Suzuki Factory Racing will be led by Kyle Bentley as team manager. The new team will make its debut at the 2017 AMA Supercross opener on January 7, in Anaheim. Riders will be announced later.
"Yoshimura and Suzuki have been racing partners for more than 40 years, both in the US and in Japan," said Don Sakakura, president of Yoshimura Racing & Development, "and over the past few years, we have developed a strong relationship with RCH Racing as well. Everyone at Yoshimura is excited to be a part of this new factory effort and we look forward to building an even stronger racing presence."
This move by Suzuki Motor of America is a continuation of the expansion the company is making in racing.
"Combining RCH and Yoshimura into a single team is part of our goal of strengthening the Suzuki brand in supercross and motocross," said Kerry Graeber, Suzuki Motor of America's Vice President of Sales and Marketing. "Simultaneously, we are growing our grass roots programs, developing a new 250 effort, which will be announced shortly, and establishing RCH/Yoshimura/Suzuki as the recognized top rung of the ladder. All of this is being done to increase sales of Suzuki motocross and off-road products."
WHAT CAN BE DISCERNED FROM THIS PRESS RELEASE?
There will be more press releases to follow, naming the 450 riders and announcing who will run the 250 team, but here are some things that seem obvious from the wording of this press release.
1. The unsaid message is that the Yoshimura Suzuki team, that was James Stewart and Blake Baggett, has been disbanded. Yoshimura would appear to be in a secondary role. This is highlighted by Ricky Carmichael of RCH saying with "uncompromised support from Yoshimura and Suzuki."
2. Based on the fact that RCH gets top billing on the new logo, it looks like they will be calling the shots.
3. Since Kyle Bentley, who was at RCH, has been named team manager it means that the Yoshimura personnel will be scrambling to fit in on the RCH team or looking for new jobs.
4. Finding 450 riders for the team will not be a problem once the silly season shakes out. There will be more than a handful of riders left standing when the game of musical chairs ends. However, finding a rider of the caliber of  Ken Roczen, who is going to Team Honda, will be almost impossible.
5. This is a partnership of convenience. RCH tried to make a deal to switch to KTMs, and reportedly to Hondas, earlier this season. So, returning to Suzuki wasn't their first choice — but Suzuki had backed the wrong horse with its Yoshimura team of Stewart and Baggett, so they are essentially licking their wounds.
6. No matter who runs the team or who the riders will eventually be, the sport is better off with a Suzuki factory team—even if it has been folded into a private effort.

7. Ricky Carmichael provides some historical connection to the Suzuki successes of old — and makes the new enterprise more palatable