REFLECTIONS OF THE PAST: 2008 LAKEWOOD NATIONAL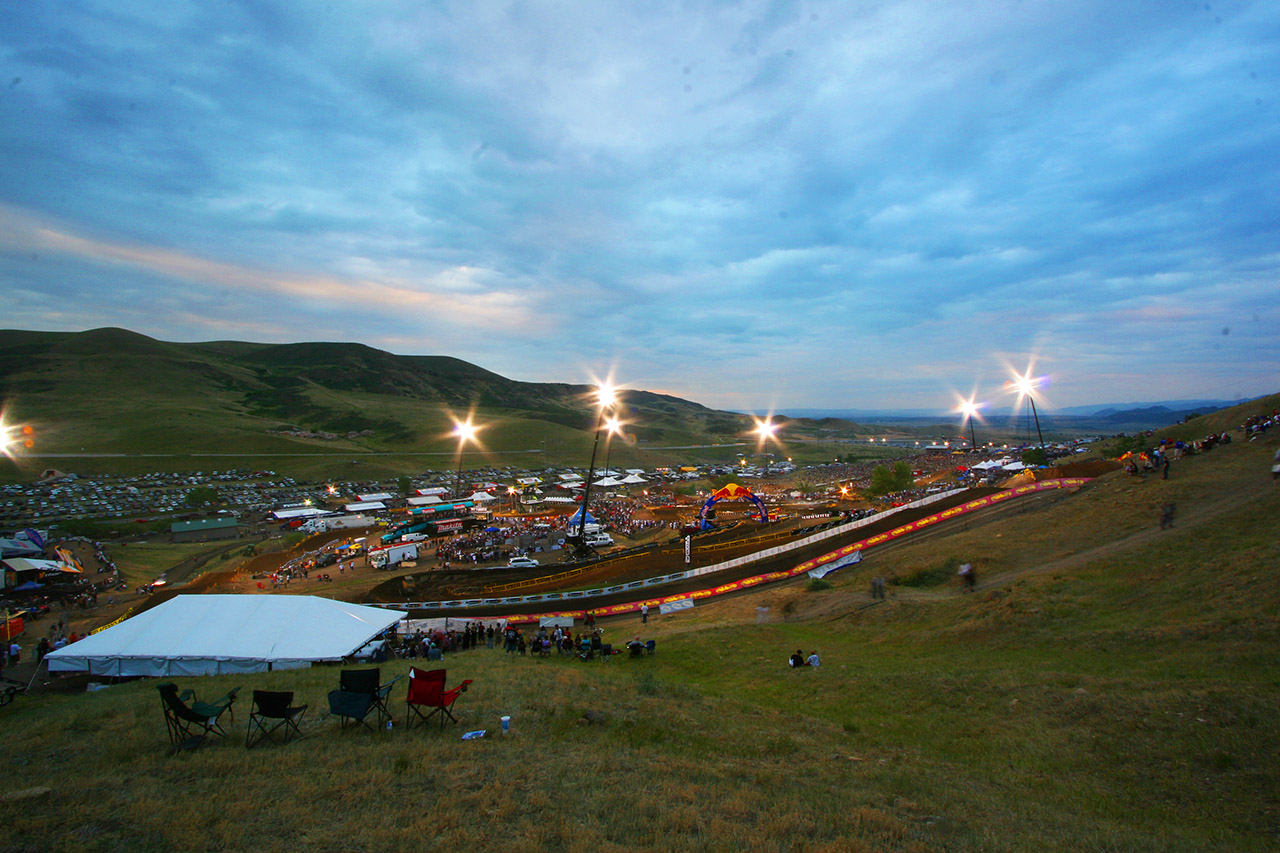 Stadium lights were brought in for the night-time AMA 250/450 National at Thunder Valley in 2008. 
By John Basher
June 29, 2008–the first time the Lakewood National went under the lights in what was the first (and only) night National. Since its inception in 2005, the Lakewood round has been moved around on the schedule. Initially it was stop number seven, but moved up to the fifth slot in 2008. In recent years it has jumped up to the third National stop, following the two California rounds.
The Thunder Valley track, located on the outskirts of Denver, Colorado, is positioned on the side of a hill. Run by David Clabaugh, Thunder Valley is as technical as it is spectacular. A massive tabletop along the back section, a power-robbing uphill start to a tricky righthand first turn and myriad off-cambers make Thunder Valley a spectacle to watch. In 2008, Clabaugh decided to run his National under stadium lights in the evening to better accommodate spectators and avoid the brutal dry heat of the day. The first 250 moto ended at 6:48 pm, while the final moto of the evening (450 second moto) concluded at 10:13 pm.
Was the night National concept a winner? No. Riders complained that it was difficult to see certain sections of the track. Photographers had difficulty shooting in the dark conditions. Fans showed up, but the Colorado faithful looked confused to the idea. The night National concept only lasted for two years (2008-'09) before returning to the traditional day-time schedule.
What happened at Thunder Valley in 2008? Like every other National that year, James Stewart dominated. The Monster Kawasaki rider went 1-1, a trend that lasted for 24 straight motos. Bubba won by a combined 11 seconds over Mike Alessi. In the 250 class, Ryan Villopoto was on a roll, having won every moto but the Glen Helen first moto. As a result, RV had opened up a 58-point lead on Ryan Dungey when Lakewood was said and done.
Take a look back at the 2008 Lakewood National through the following images. 
450 CLASS
Mike Alessi holeshot both motos on his Makita Suzuki RM-Z450, but it was James Stewart (7) who wound up sweeping the motos.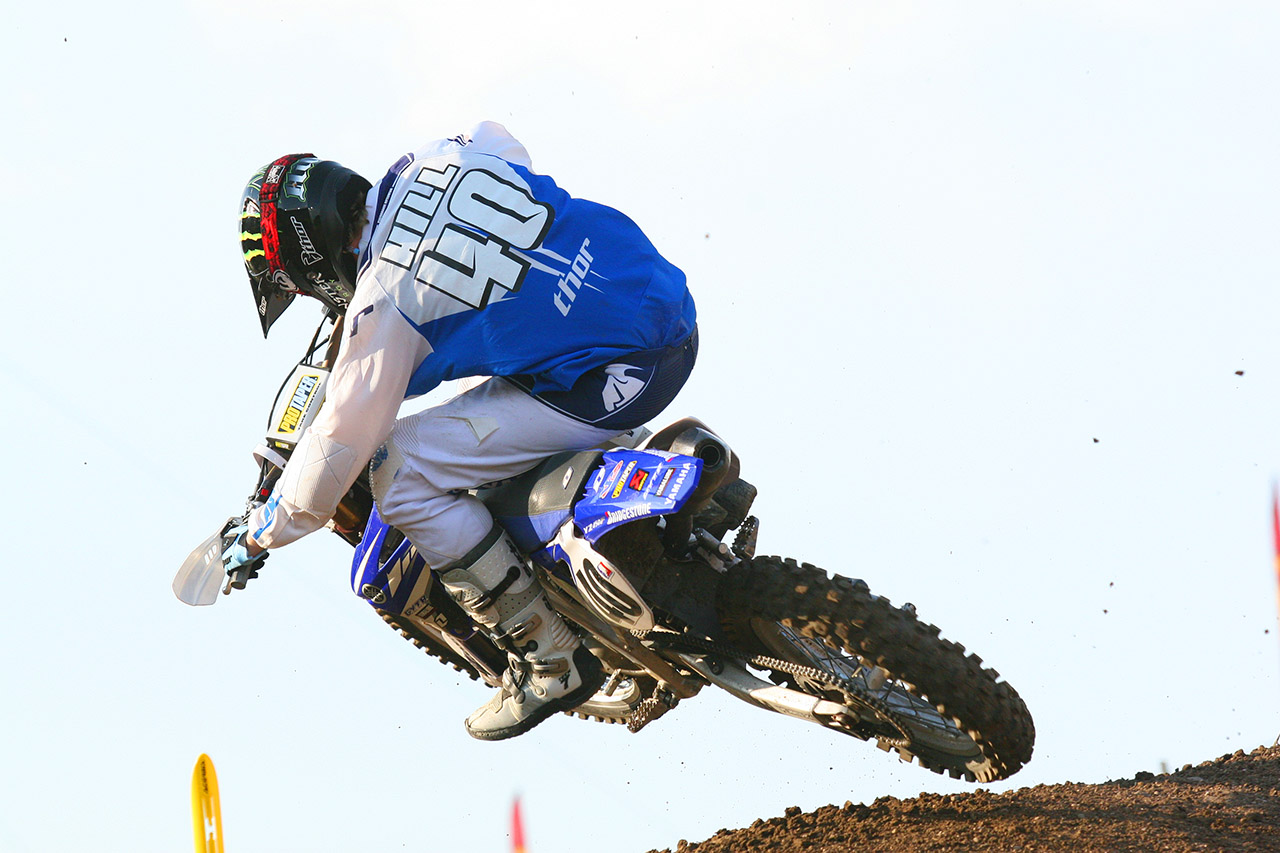 Do you remember when Josh Hill was Yamaha's future hopeful? Hill had won the Minneapolis Supercross a few months earlier, but he was having teething problems on the 450 outdoors.  
Tim Ferry was teamed up with James Stewart on the Monster Kawasaki team in 2008. His career was winding down at that point. Ferry was instrumental in helping Kawasaki develop the SR450 for James Stewart and, in subsequent years, Ryan Villopoto. "Red Dog" finished 8-5 for sixth overall at Lakewood.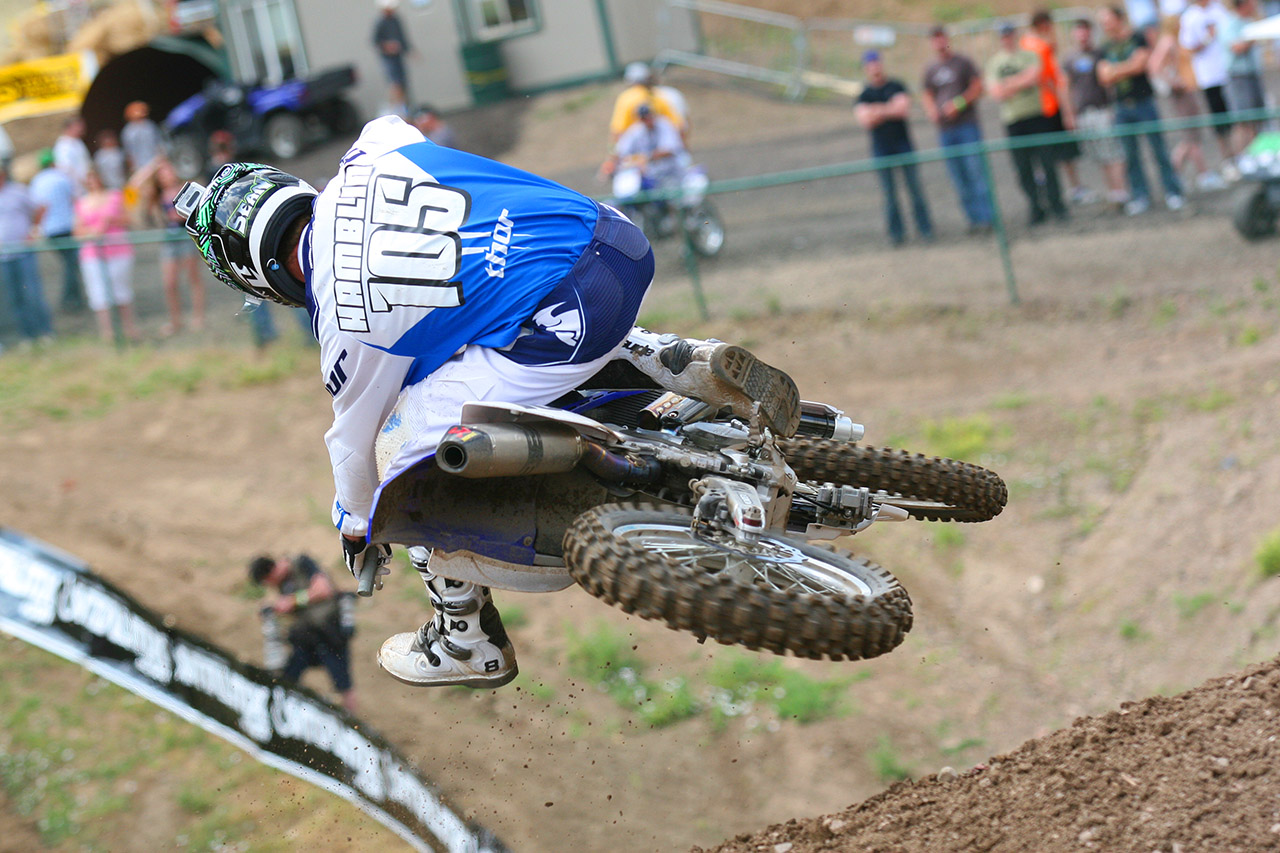 Sean Hamblin was a sudden star in Pro racing when he seemingly came out of nowhere to score podiums for the factory Suzuki program in the early 2000s. Hamblin rode the entire 450 National series for factory Yamaha in 2008, going 7-8 for seventh overall in Colorado. 
Had it not been for James Stewart, Andrew Short (above) would have been in the mix for the 450 National title. Shorty finished fourth overall at his home race, getting edged out by teammate Davi Millsaps for third. 
In what was common in those days, Mike Alessi started at the front.  
Josh Summey had a rough go at Colorado in 2008, scoring 26th overall. 
James Stewart was flawless in 2008. It was the last year he was on factory Kawasaki, and also the last year the Nationals held practice on Saturday and racing on Sunday. 
250 CLASS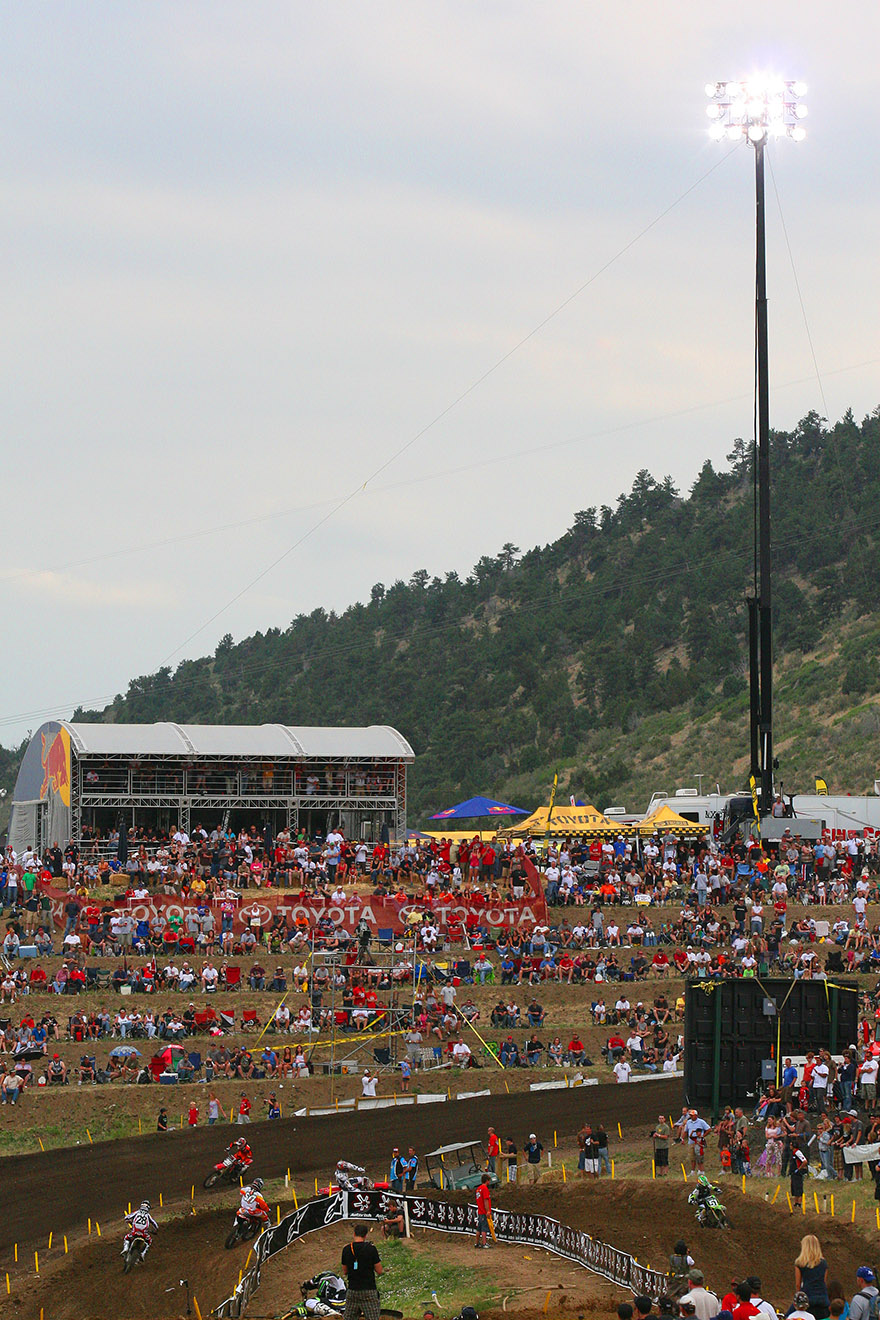 This is what the final 250 moto of 2008 at Lakewood looked like.  
Shot during Saturday's practice session, Ryan Villopoto was unstoppable in the 2008 AMA 250 Nationals. 
Mike Brown showed up to race the Lakewood National. He managed a sixth place in the second moto. It was his best moto finish of an abridged season. 
Take a close look at this picture of Ryan Dungey from 2008. The only major sponsors Ryan still has are Target and Oakley.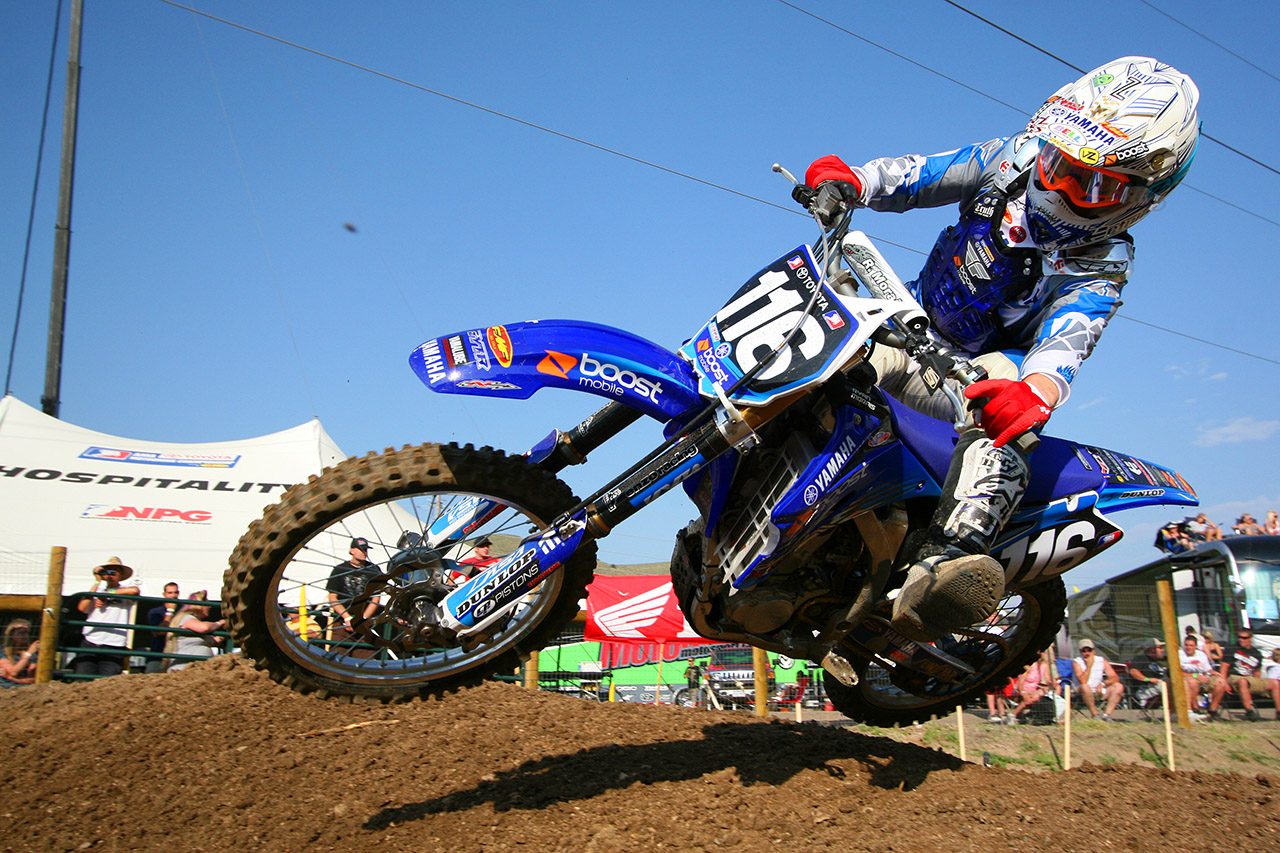 Ryan Morais keeps his YZ250F low over a scrub jump. Morais was best known for his Supercross skills. These days he helps KTM develop their race bikes. Click here to read an interview with Ryan. 
That's Nico Izzi (341) leading his teammate, Ryan Dungey, during the first 250 moto. Izzi would end up third overall, while Dungey had a huge crash on the first lap of the second moto and finished 38th. There's a good chance Dungey still can't remember parts of that evening.