REFLECTIONS OF THE PAST: 2011 MONSTER ENERGY CUP
Story and photos by John Basher
October 15, 2011–the date of the inaugural Monster Energy Cup (MEC). Held at Sam Boyd Stadium in Las Vegas, the MEC has become an annual event during the off-season. This is, like most anything, due to money and exposure. Promoted by Feld Motor Sports–the same folks that own the Supercross series–the MEC has all of the backing it needs to remain successful. Here's why.
(1) The Monster Energy Cup can be a big pay day. The winner walks away with a cool $100,000 for taking the overall. Win all three main events, like Ryan Villopoto did in 2011, and a racer gets paid a cool $1 million. Even those who qualify for the main event receive a nice chunk of change.
(2) It's a great opportunity for racers to knock off the ring rust of Supercross after spending the previous five months focused on motocross. The MEC isn't a traditional Supercross layout, per se, but it's close enough.
(3) The MEC is conveniently run around the time that race teams are deep into Supercross testing. Many teams have their riders try new settings, because no amount of practice laps can replicate a race situation.
(4) For all the reasons mentioned above, the MEC brings out many of the best and brightest Supercross racers. In turn, lots of people flock to Sam Boyd Stadium like the swallows to Capistrano. Not only that, but we're talking about Sin City, here. There's no need to explain any further.
The very first Monster Energy Cup was dominated by Monster's own Ryan Villopoto. RV was on a roll, having won the 2011 Supercross title, followed by the National crown. It was written in the stars that Villopoto would burn the field en route to a $1 million pay day. He cleared the competition by over five seconds in all three mains. No one, not even Ryan Dungey, could stick to Villopoto's Kawasaki rear fender.
Villopoto's trifecta was big news, but there were other happenings, too. Ryan Dungey made his debut on the Red Bull KTM team. He finished second overall, but looked tentative on the Austrian machine. Ben Townley finished second in the opening main while racing on a specially made Pro Circuit Kawasaki KX450F. Brett Metcalfe was riding for Rockstar Makita factory Suzuki and went 4-3-3 for third overall. And Eli Tomac, then with Geico Honda and a full-time 250 rider, jumped up to a 450 and went 5-4-10.
Take a look back at the 2011 Monster Energy Cup through the following images.
Ryan Dungey made his KTM debut at the Monster Energy Cup in 2011. This photo was used on the January 2012 cover of MXA.
Kevin Windham threw out some nice whips during practice, but was edged out of the main event by Josh Hansen.
No, that's not Justin Bogle, but instead Eli Tomac. At that time in the 250 class, Eli made his presence known among the established 450 field.
Feld Motor Sports had the bright idea to hoist Ryan Villopoto up on a platform in the opening ceremonies. It was foreshadowing at its finest.
Marvin Musquin (125), Ryan Dungey (5) and Kevin Windham (14) fight for position off the start of their heat race. Meanwhile, Brett Metcalfe pulled a full bike length on everyone.
Brett Metcalfe (24) tried to run and hide from Ryan Dungey (5), but it was all for naught. Oddly enough, the two were teammates at Suzuki only a month before.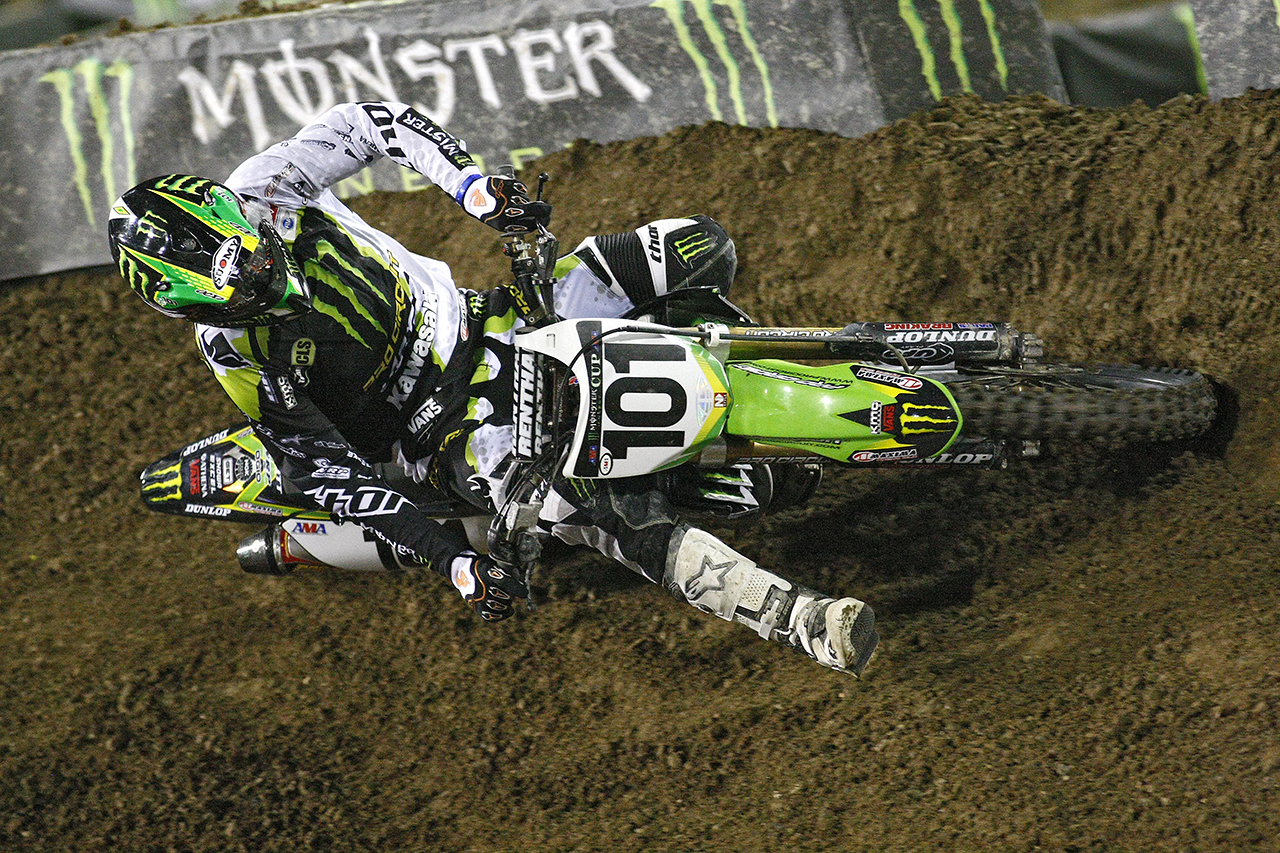 Ben Townley was on his way out of racing in the U.S. by the end of 2011, but as Townley is known to do, he wowed team managers with his second place finish in the first main event.
The Monster Cup has always has unique track layouts. Designed by Ricky Carmichael, the 2011 edition went into the stands.
Marvin Musquin went 8-8-17 on a KTM 350SXF.
Mike Alessi couldn't sneak away from Ryan Villopoto (2) and Ryan Dungey (5) in the first main event. Notice Cole Seely (34) sliding out in the background.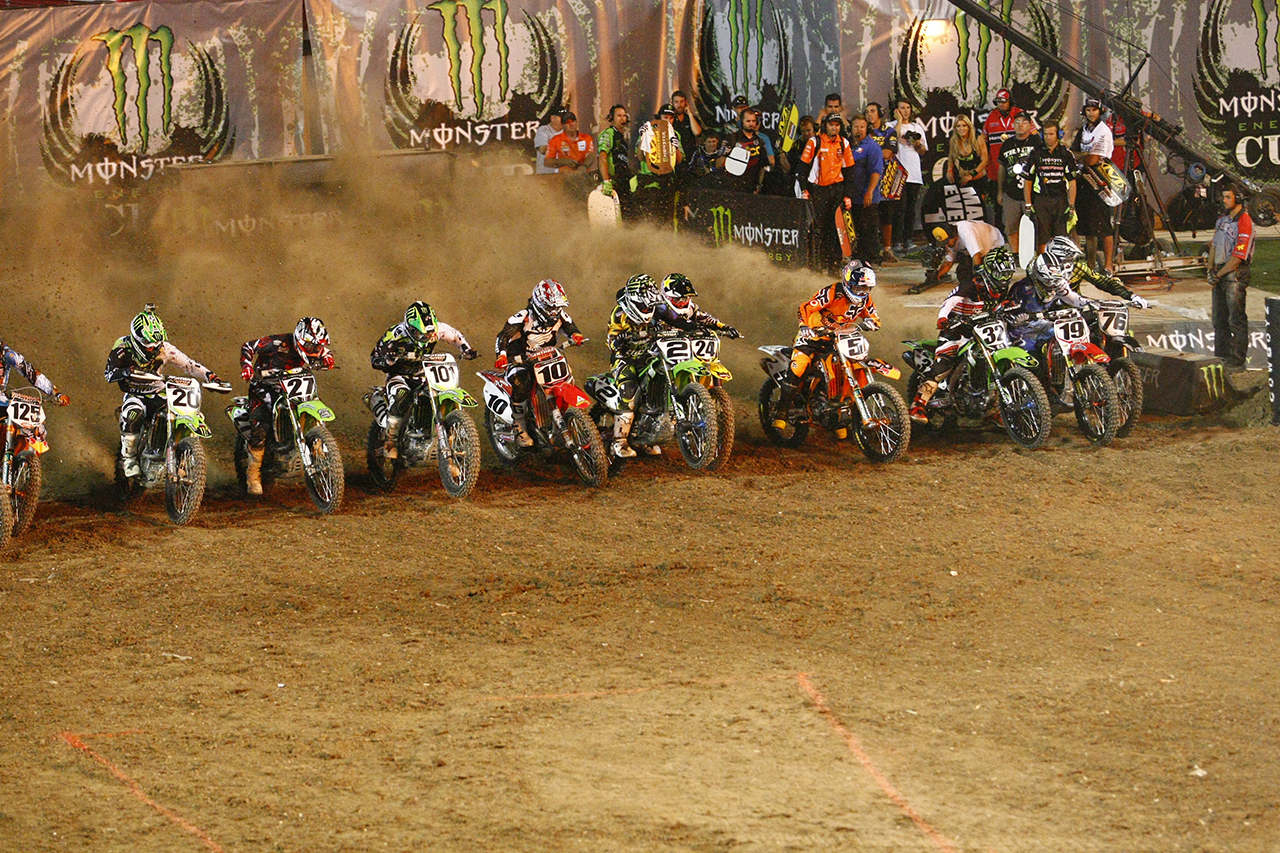 How many of these riders can you name? Thanks to the AMA numbering system it should be pretty easy. Marvin Musquin (125), Broc Tickle (20), Nick Wey (27), Ben Townley (101), Justin Brayton (10), Ryan Villopoto (2), Brett Metcalfe (24), Ryan Dungey (5), Jake Weimer (32), Eli Tomac (19) and Kyle Partridge (76) rocket toward the first turn.

Brett Metcalfe was on a good run five years ago. Then a freak practice crash kept him out of racing and off the radar. These days, Metty is racing the Canadian Nationals. At the MEC in 2011, Brett went 4-3-3 for third overall.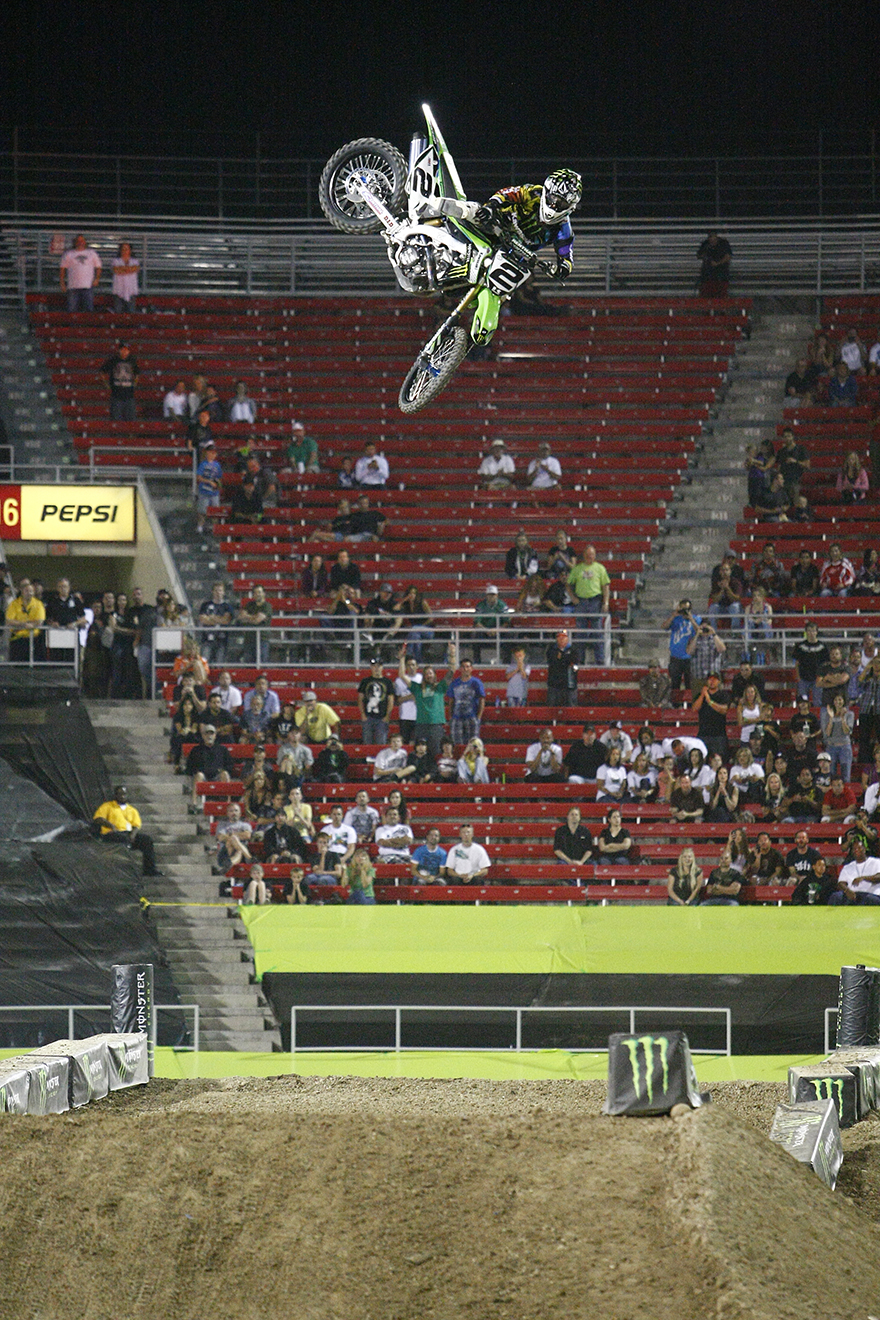 Ryan Villopoto celebrated one of his three main event wins with a big whip over the huge triple.
The MEC featured a Best Trick contest. Mark Monea, from Australia, won by landing his signature trick, called "The Carry On."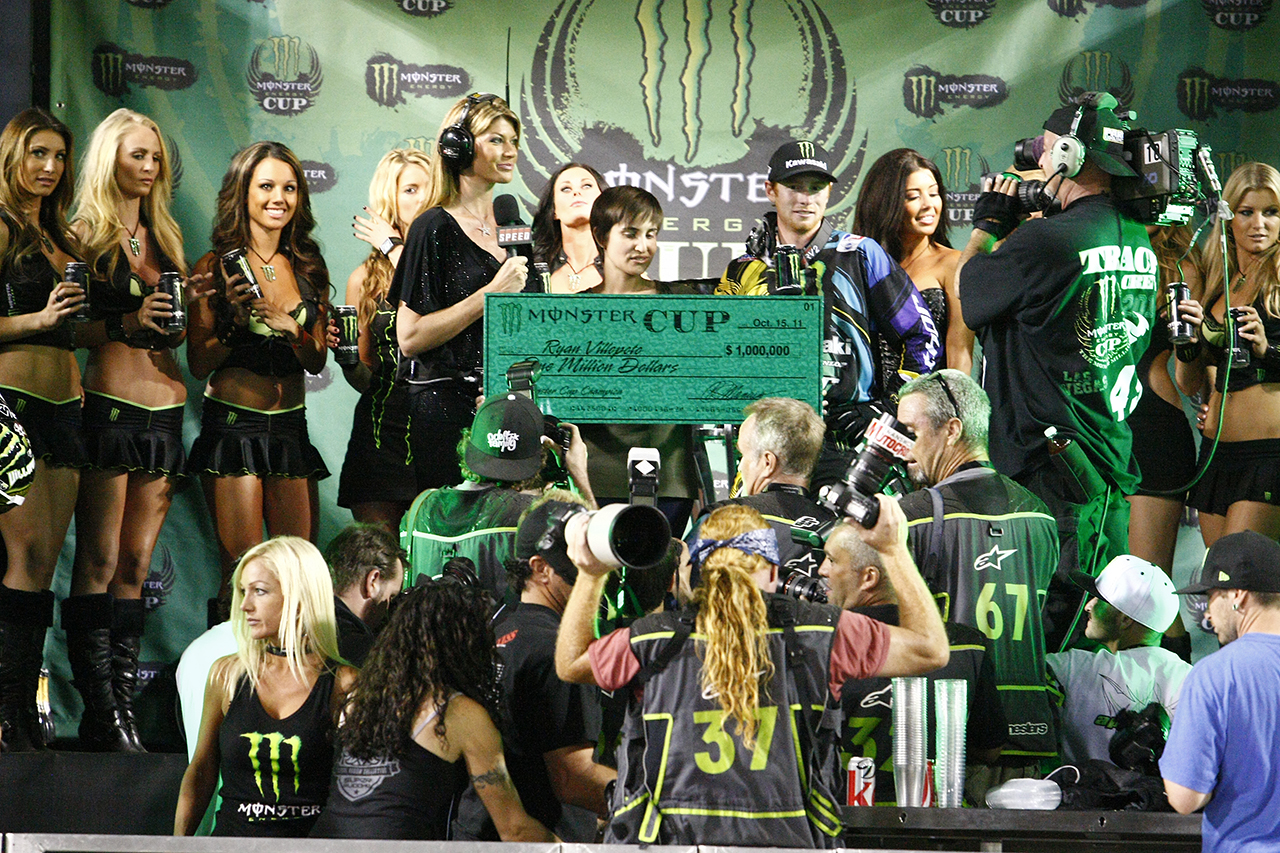 We don't know about you, but if we were holding a $1 million check, we wouldn't crack a forced smile like Ryan Villopoto did on the podium.