REM GLEN HELEN 2018 "UN-RACE" 2.1: THE SECOND NON-EVENT OF 2018
Life in the pits at an "Un-Race" is a lot more casual than at a regular REM race because there is no schedule. In this photo MXA's 2019 Kawasaki KX450 (74) gets set-up for the next rider to ride it, while miscellaneous riders get ready to go out and spin laps.
By Dan Alamangos
MXA hates it when there are no races—we prefer to test by racing—even though we spend a lot of time at local test tracks on week days. So, when there are no races to test at, we invent one. An "Un-Race" is not a race, nor is it an official anything. It isn't really all that special, it is just a chance for the MXA test riders to ride a wide variety of test bikes, work on the set-up and make changes without having to follow a prescribed race schedule.
What better place to sell a vintage bike than at a race track full of guys old enough to have actually ridden a 1977 Yamaha YZ400 when it was new?
What makes an "Un-Race" unique isn't that Glen Helen lets MXA ride on the REM track, because it is open virtually every Saturday, but that MXA gets Glen Helen to do special prep, extend their normal Saturday layout and the MXA guys are willing to grab water hoses to keep the track watered. And, even though there is never an official announcement of when an "Un-Race" will be held, it is not a secret, it's just not advertised. However, all of the regular REM guys show up as though it were a regular race weekend.
Jeff Scott makes his Suzuki RM250 two-stroke do what Suzuki's and two-strokes do best—crank out of a tight corner.
They come to break-in new bikes, bring friends out to try their first motocross track or show up because after decades of racing every weekend they don't know what else to do. This last weekend, MXA made an "Un-Race" happen because we had new 2019 bikes to test and wanted to get as many test riders on the 2019 bikes as possible. This was only the second "Un-Race" of 2018.
When REM isn't racing, an "Un-Race" allows guys like Dave Eropkin (811), Val Tamietti (31) and Randel Fout (61) to do what they do on a weekly basis—race against each other.
The cool thing about an REM "Un-Race" is that everybody there knows everyone — largely because they know someone who knows that MXA is going to get Glen Helen to put extra effort into the track. Obviously some people are left out of the loop and don't know that it is happening, but there are also people who show up by accident and get a better track because of it. It is a chance to ride without crowds, time to test new parts, play race with their next door neighbor, teach your kids some racing strategy, watch your Pee-Wee kid ride on the REM Pee-Wee track or just spin some laps. Plus, the Glen Helen National track is prepped and watered—and open to the REM racers at the same time (and vice versa).
Joe Sutter (111) lets Team Honda test at his private racetrack and they support his Honda-habit with advice and parts.
It wouldn't happen without the help of Glen Helen. They provide the track—all MXA agrees to do is keep it watered. It also wouldn't happen if REM's Frank and Myra Thomason would stay where they belong—holding REM races every weekend for the people that love them. But, since there was no REM race this past weekend, there was an "Un-Race."
Deven Raper (left), Jody Weisel (seated), T.V. Holmes (back to camera) and Randel Fout (right) get ready to ride, while Kyle Fry (447) rides by on his way to the track.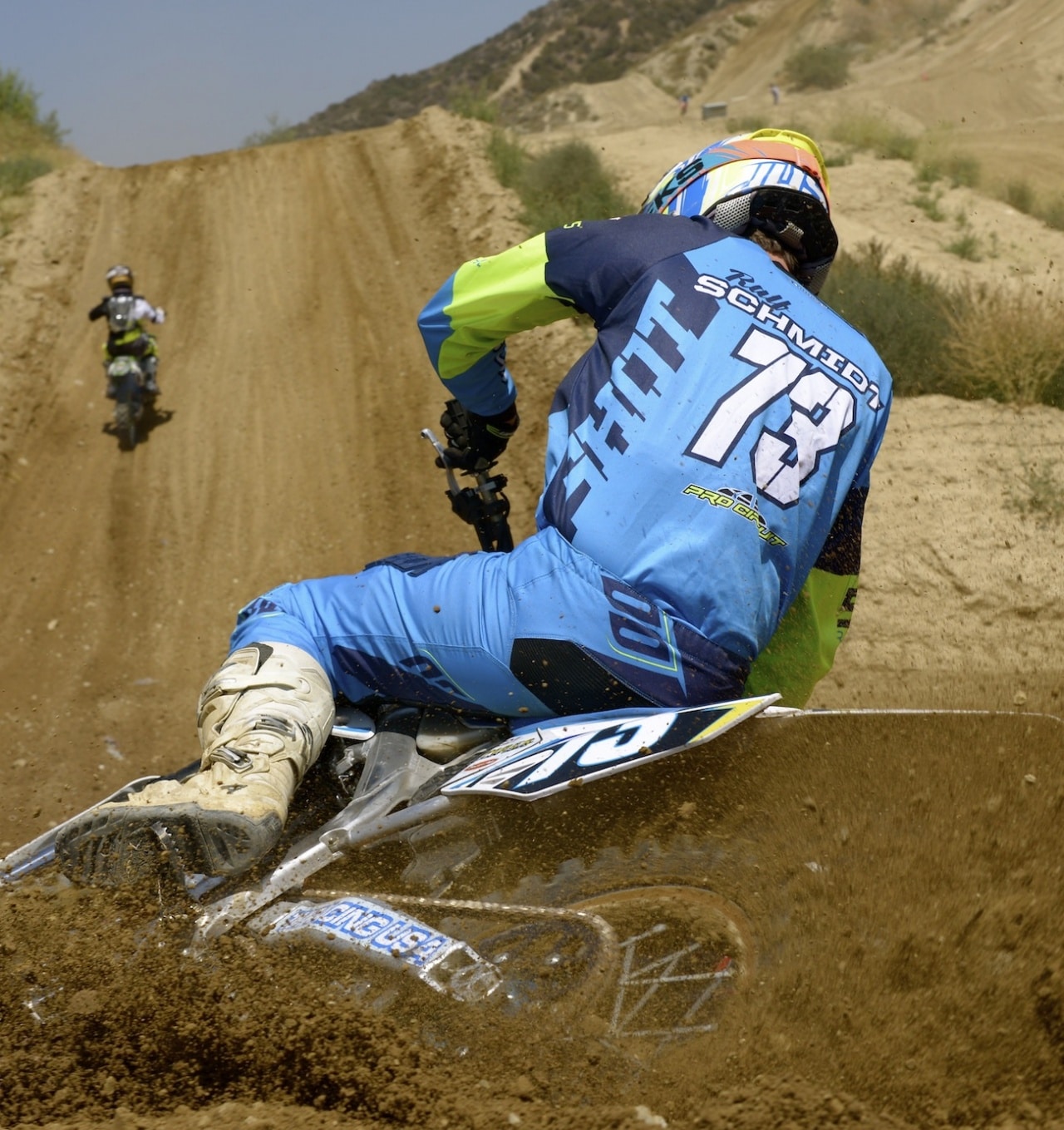 Ralf Schmidt (73) is the American TM importer and he never misses a chance to work out the jetting, suspension and chassis set-up on his Italian beauties.
MXA test rider Randel Fout (61) on MXA's 2018 Kawasaki KX450F—which we brought along to the "Un-Race" to make comparisons against our 2019 KX450.
Dan Alamangos laid down his camera long enough to spin laps on MXA's 2018 Husqarna FC350, KTM 250SXF and 350SXF, before riding the 2019 versions.
Deven Raper (74) is on the 2019 KX450 and Kordel Caro (91) is on the 2018 KX450F. When MXA needs more test input, we draft riders that have some experience in what we are interested in trying out.
Deven Raper raced a KX450F in the 2018 AMA Supercross series, so he was more than willing to ride MXA's 2019 KX450F. We sent him out to test the green, white and black ECU plug-in maps.

Kordel Caro spent the morning on the 2018 Kawasaki KX450F and the afternoon on the 2019 version. Although he had to borrow a helmet from Kent Reed because he forgot his.
Kyle Fry (447) came to Glen Helen to practice on the AMA track, but the REM "Un-Race" had more riders and consistent prep, so he switched tracks. When there is an "Un-Race," it is open to anyone who rides at Glen Helen.
Val Tamietti missed last week's REM race because he was at Mammoth Mountain, so this weekend's "Un-Race" was a chance to ride on his home track in preparation for next week's regularly scheduled REM race.
T.V. Holmes wanta to buy a new bike to replace his trusty old iron, so he asked Jody if he could try out MXA's 2019 KTM 250SXF (28) and the 2019 350SXF. He spent time on both bikes and ordered a new 250SXF that afternoon.
Luc Deley is an MXA endurance test rider who spent the day comparing last year's 250SXF to the 2019 model.
MOTOHEAD VIDEO OF AN "UN-RACE"