FREDRIK NOREN WINS REM GLEN HELEN
Yes, we know that it doesn't look possible, but if you go fast enough anything is. Swede Fredrik Noren demonstrates a physics formula that only works for AMA Pros. However, his left hand has let go of the bars so he must have the decimal point in the wrong place. Photo: Debbi Tamietti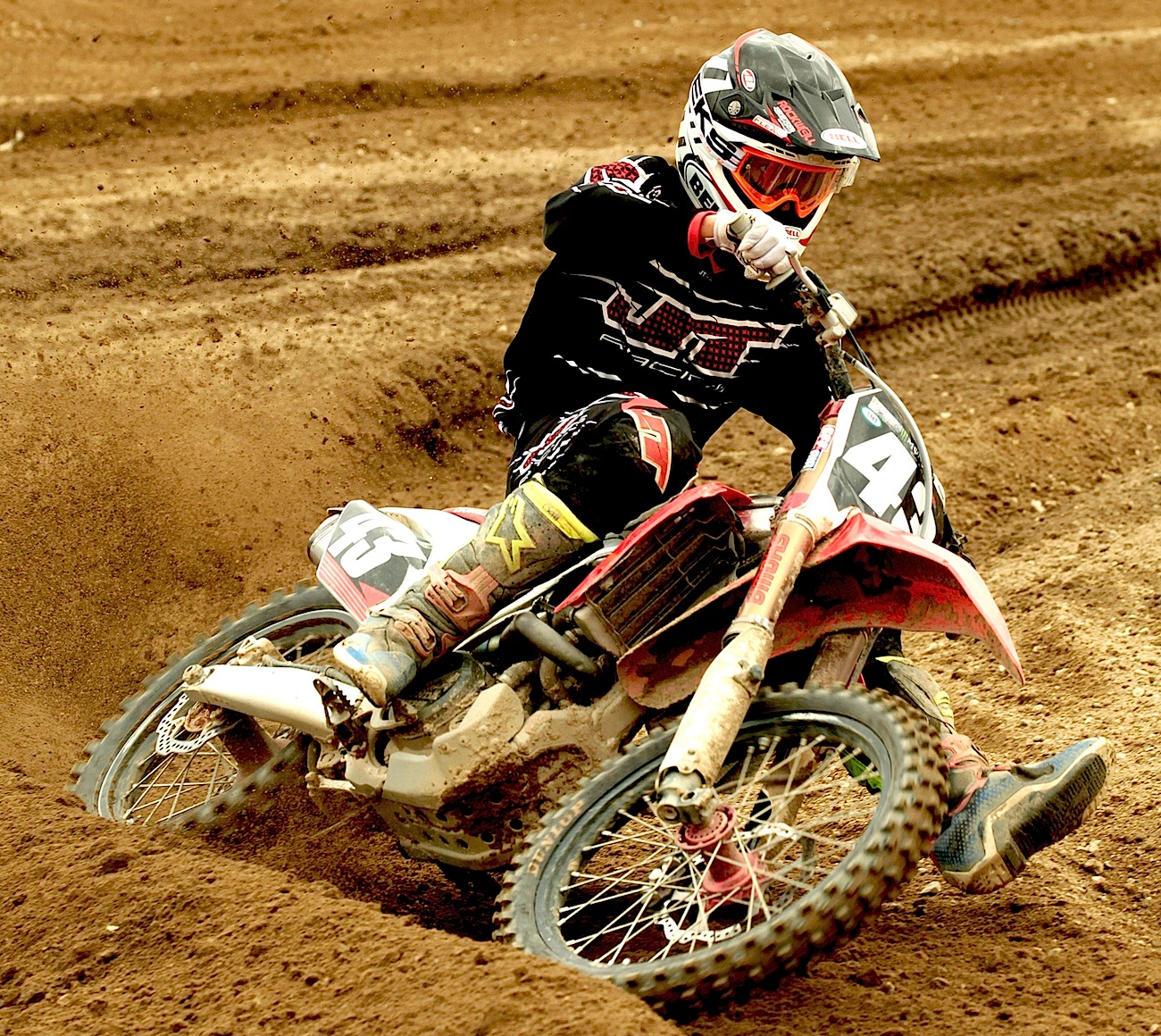 Here's Freddy under a little more control. Photo: Debbi Tamietti
Photos by Rich Stuelke, Jon Ortner, Debbi Tamietti & Dan Alamangos
TV weather forecasters are the same across the country, some wear clothes that are too tight, while others favor loud fabrics, but what they have in common, especially in SoCal, is that they can't predict the weather. When the motocross racers awoke on Saturday morning, they were met by a steady drizzle, that occasionally turned into showers. This wasn't in the forecast, but the smart motocross racers loaded their bikes up and headed up the 15 freeway for Glen Helen. They knew that this freak rain was not going to last and that nothing is better than a track that's been drizzled on for an hour or two.
Dylan Schmoke blasts around a downhill berm with spray flying. Dylan was second in the 450 Pros. Photo: Debbi Tamietti
Sure enough! Glen Helen was epic. Not only were there new sections of track put in as tests before the May 28 AMA National, but the dirt was not the least bit muddy. From the first practice on the track got better and better—and as the regular Glen Helen motocrossers know—Glen Helen had to break out the fire hoses later in the day.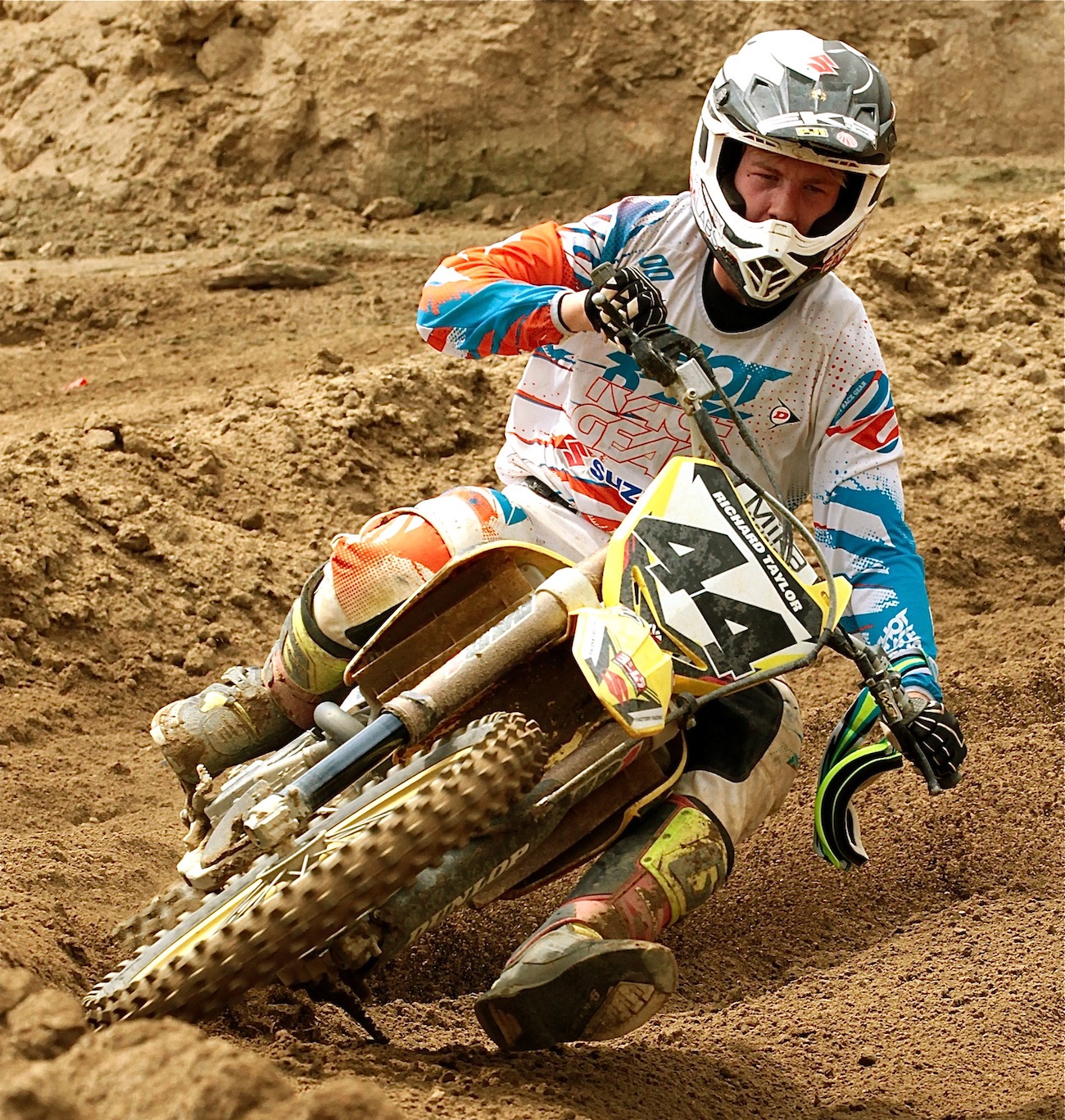 Richard Taylor won the 450 Intermediates with his goggles protecting his…hey, wait a minute. Photo: Debbi Tamietti
Since Fredrik Noren had pulled out of the AMA 250 West Supercross series to get ready for the outdoor Nationals, this week's REM race was a good test. It was the first of the 4 races that REM holds on the AMA National track (the others will be on July 2, September 3 and October 29). And even if Glen Helen was only testing a new straighter, longer, steeper Mt. Saint Helen downhill and a portion of the Canyon, it was a chance for Noren to get a feel for the upcoming National. It was fast, rough and challenging.
Austin Warren's 2-2 got him, what else, second in the 250 Intermediates. Photo: Debbi Tamietti
Noren was phenomenally fast all day. He was chased home by a top ten of Dylan Schmoke (3-2), Austin Howell (2-4), Nozomus Yasuhara (4-3), Broc Loftus (5-5), Shaun Hillion (6-7), Scott Noble (8-5), Garrick Noble (7-9), Dylan Delaplace (11-8) and Jason Ramsey (9-10).
Japan's Nozomu Yasuhara (500) came to America to race and race he did—to fourth in the 450 Pros. Photo: Dan Alamangos
Asutin Howell was third in the 450 Pro class with a 2-4. Photo: Dan Alamangos
In the 250 Pro class, Robert Wilson swept both motos in front of a top five of Cody Johnson (2-2), Brent Rouse (4-3), Cole Zitterkopf (5-4) and Bradley Taft (3-DNF).
Former Grand Prix racer Kurt Nicoll took the Vet Pro victory. Photo: Dan Alamangos
Richard Taylor won the 450 Intermediates, while Braden O'Neal took the 250 Intermediates. Kurt Nicoll bested Billy Mercier in the Vet Pro ranks.
Braden O'Neal snowplows this rut, but it seemed to work as he took the 250 Intermediate gold. Photo: Dan Alamangos
The four biggest classes at REM this week were, as always, the Over-50 Intermediates, Over-40 Intermediates, Over-50 Novices and Over-40 Novices.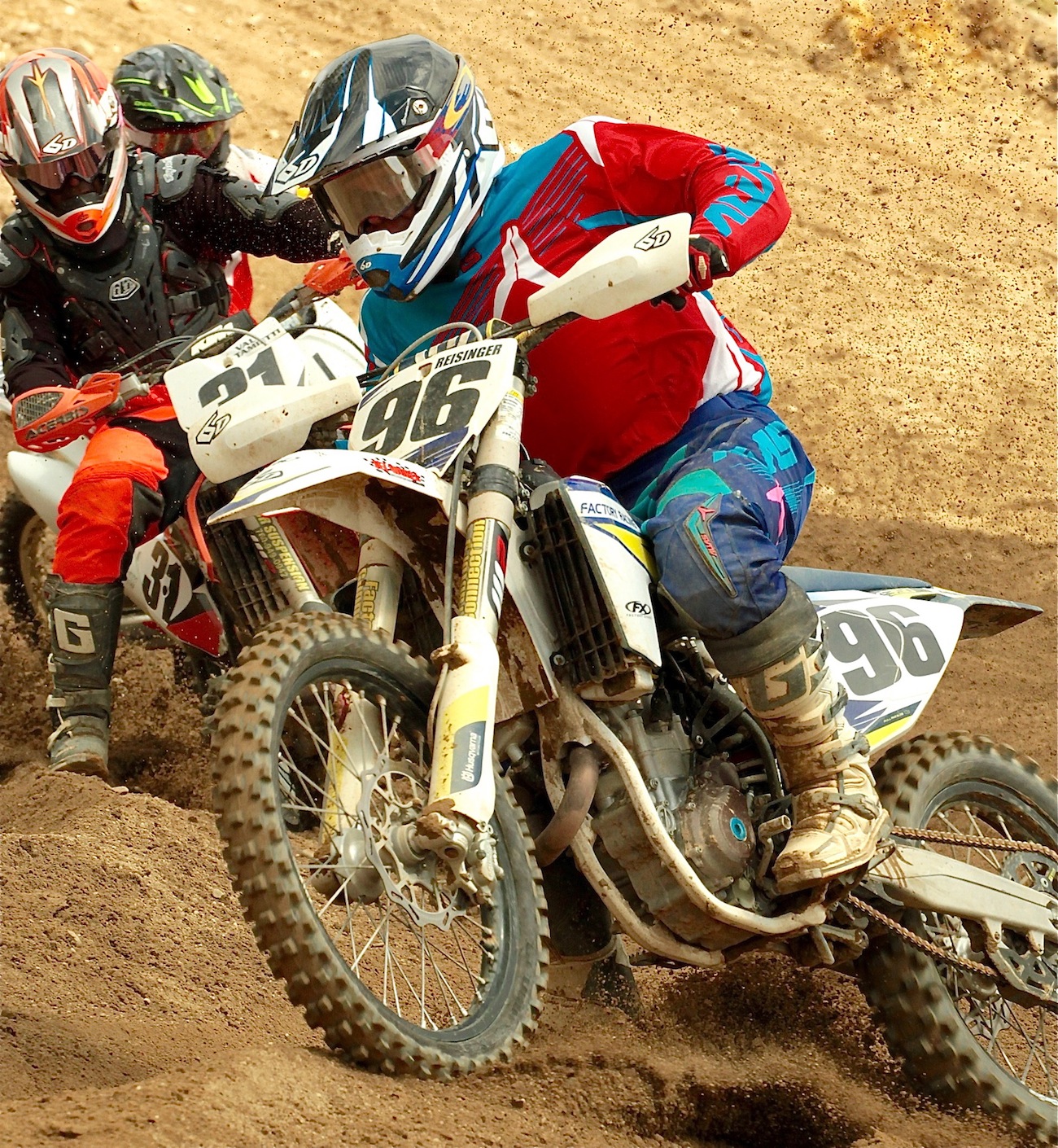 Robert Reisinger (96) on his way to the Over-50 Expert victory. Photo: Debbi Tamietti
Over-50 Intermediates: Bill Clontz used a 2-1 to edge out Robert Pocius' 1-2. Over 60-year-old Rick Johnson was third with a 3-3 in front of 60-year-old Jim Hanson, Lonnie Pashcal, Terry Varner, Todd Stubblefield, Mike Philllips, Jeff Hendricks and another 60-year-old—Joe Pena.
Aussie Dan Alamangos (26) and Val Tamietti (31) jump up onto the Log Cabin tabletop in the Over-40 Intermediate class—they are both closer to 60 years old than 40. Photo: Debbi Tamietti

Over-40 Intermediates: Jeff Fine's 3-1 was good enough to break a tie with Brian Calhoun's 2-2. Val Tamietti was third with a 4-3 followed home by Kyle Purner (6-5) and David Cincotta.
Chris Alamangos (72) makes a perfect landing on the backside of this jump—perfect if you don't want the guy behind you to see where he is going. Photo: Debbi Tamietti
Over-50 Novices: The top ten was Scott Miller (1-1), Lance Sloan (2-2), Gary Stoltenberg (4-4), Corby Reutgen (6-3), Andy Stix (3-6), Steve Chandler (5-5), Ty Larson (8-7), Angel Montoya (7-10), Graham Cruickshank (13-8) and Harold Smith (12-89).
Scott Miller (410) went 1-1 in the Over-50 Novice class. Photo: Debbi Tamietti
Over-40 Novices: Scott Youngstrand put together a 3-2 that was good enough to take the victory after first moto winner Eric Warrington went 1-4 and second moto winner Brandon Appl put in a 5-1 score. Dick Wilk came all the way from Utah to finish fourth with a 2-5. Darren Siegrist rounded out the top five with a 6-3.
If you don't like going up big hills don't worry, all of Glen Helen's big hills are followed by even bigger downhills. Photo: Rich Stuelke
In the Expert divisons there were lots of strong performances in every age group. Kurt Nicoll won the Over-30 Pro class and Billy Mercier took the Over-40 Pro win (and Shawn Wynne took a scary fall from the top of Mt. Saint Helen that left him bruised and battered, but okay).
Tyler Nicholson won the 85 Expert class. Photo: Debbi Tamietti
Alan Jullien went 1-1 in the Over-40 Expert class in front of Ralf Schmidt and Greg Pierce. Eddie Davis and Jon Ortner split moto wins in the Over-50 Elite class, with Eddie winning the moto that mattered. 6D's Robert Reisinger put together to a 1-1 to trump Val Tamietti's 2-2 in the Over-50 Experts. Rick Johnson's 3-1 held off Joe Pena's 2-2 in the Over-60 Expert class (there were 20 Over-60 riders on the line). Tom Holmes' 1-2 bested Lyle Sweeter's 3-1 and Alan Kent's 2-3 to get the honors in the Over-65 Expert class.
Over-50 Elite racer Luther French stopped and posed for this obviously staged photo. Photo: Debbi Tamietti
Shawn Wynne did not have a good day, but his crash was spectacular. Photo: Debbi Tamietti

JON ORTNER'S REM FAMILY PORTRAITS
Val Tamietti is lucky enough to share the same name as a famous moto-photographer. Photo: Jon Ortner
Dick Wilk drove down from St. George, Utah—leaving his shop in able hands so that he could go racing at Glen Helen. Photo: Jon Ortner
All a kid needs to entertain himself at the races it some toys, mud and a table to hide under. Photo: Jon Ortner
Oh yeah, a kid also needs a place to crash out after a hard day of making mud. Photo: Jon Ortner
The joy of playing in the mud knows no gender or age. Fun is fun. Photo: Jon Ortner
A real racer shows up at the races every week—even though his doctor told him he couldn't ride for another two months. Photo: Jon Ortner
REM's Frank Thomason is always at the ready. Photo: Jon Ortner
REM returns to the upper track, which most REM racers prefer, next Saturday, May 7. Then, they take May 14 off before coming back one week before the AMA National on May 21. For more info on REM go to www.remsatmx.com

v