REM GLEN HELEN: BATTLES FOR THE FORESEEABLE FUTURE
Click on images to enlarge
Photos by Dan Alamangos, Jon Ortner, Kyoshi Becker & Debbie Tamietti
Shaun Hillion (413) won the 450 Pro class, but he never had any breathing room as Mat Cerami, the 250 Pro winner, pushed Shaun in both motos. Photo: Kyoshi Becker
There are motocross racers at REM who have raced against the same guys for over 40 years (and since this weekend was the 30th Anniversary of REM holding races—there were racers at the track this week who had raced with REM since the beginning). One of the truth about motocross is that the guys you raced at 20-years-old you will race at 30-years-old…and if you both keep coming back for more, at 40, 50 and 60 years old. Sometimes these old rivalries are the glue that holds friendships together across the decades and sometimes they are lifelong grudges races that never cool down. Fifty and 60-year-old motocross racers don't grow on trees. They most likely started racing when the were 16 years old and kept at it. Or, took 20 years off from 20 to 40 years old, and came back to relive the joys of the sport of their youth. Rarely are there any 50-year-olds who decide on the spur of the moment to become motocross racers. It happens, and we hope that it happens more in the future—but it is rare.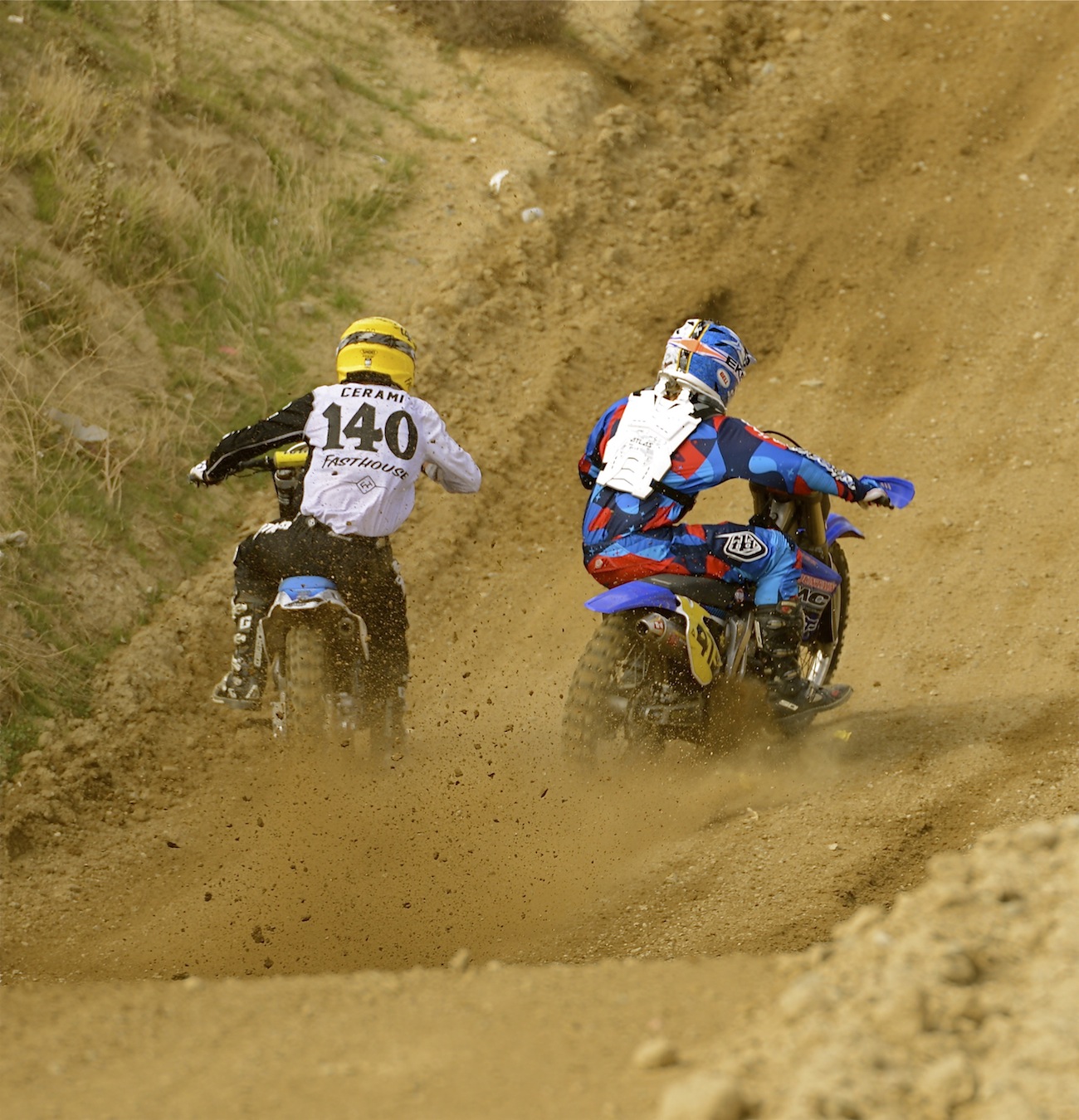 Matt Cerami (140) and Shaun Hillion (413) collided into each other in the roller coast section of the front straight in moto two. Hillion's rear wheel swung wildly to the left… Photo: Dan Alamangos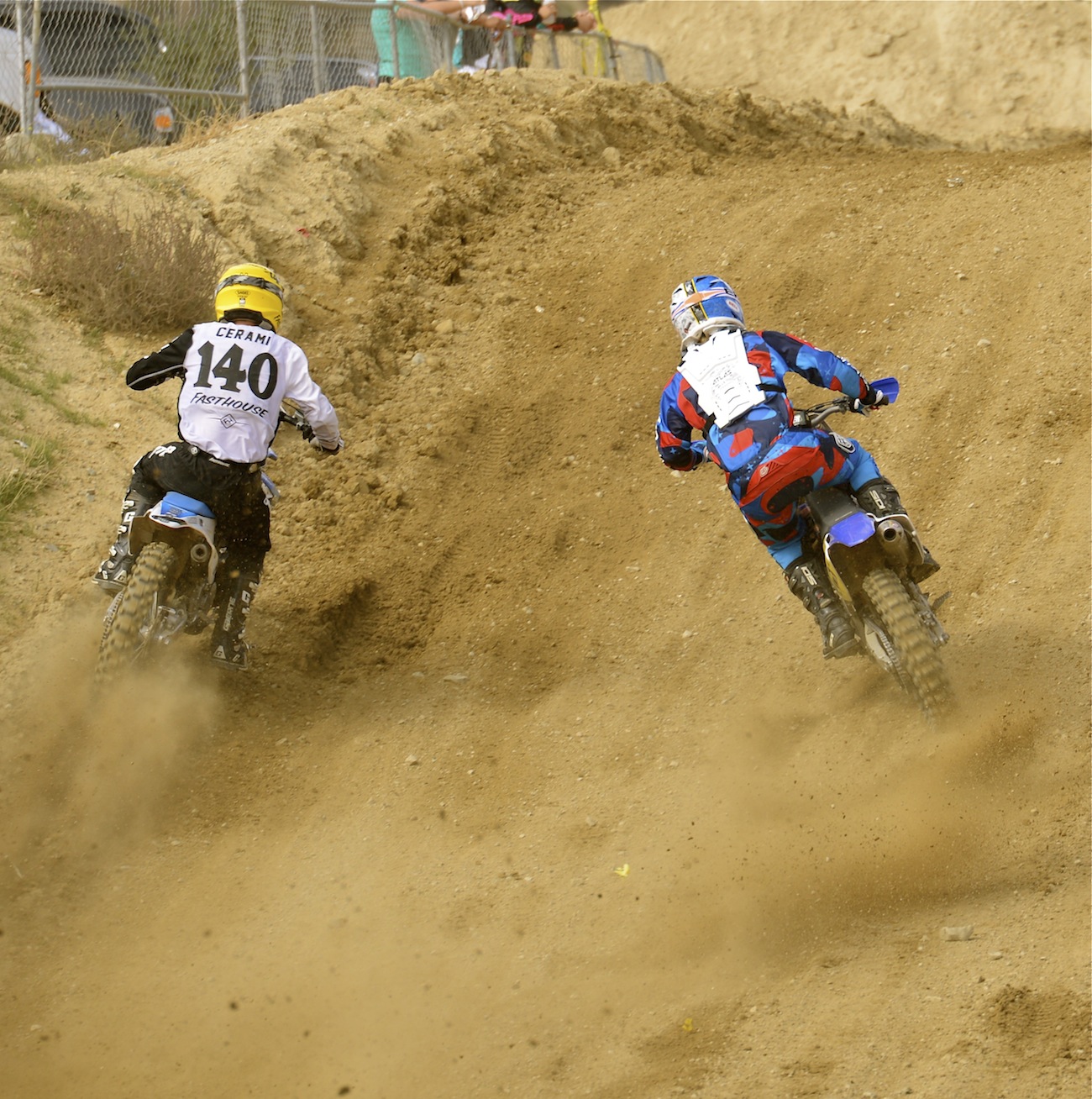 …and then swapped back to the right, as Cerami richochets over to the edge of the track. Amazingly, the both got their bikes straightened out and continued. Photo: Dan Alamangos
REM is a destination for many foreign racers. Here, Australian Ken Wheeler (47) works his way West on one of the REM's many downhill sections. Photo: Kyoshi Becker
The adage that "if they beat you at 20 they will beat you at 40" has the ring of truth to it, but motocross is a fickled mistress—and its not unusual for riders who were Novices back in 1996 to find themselves in the Expert class in 2016—and now racing against riders who would have lapped them 20 years ago. That's one of the cool aspects of racing motocross into your twilight years—you still get a thrill from it.
Gary Stoltenberg (781) is the leader of the pack as the Over-50 Intermediates wind their way through the esses with Jim Hanson (83) applying pressure. Photo: Kyoshi Becker
REM is the place for the young and old to mingle. Old friends from the '80s and '90s can meet on the field of battle again – often with the riders from the 1970s that they looked up to as teenagers mixing it up with them. At REM you can find Over-50 riders in virtually every class — they take advantage of the Vet rule book to move from Over-50 Expert to Over-40 Intermediate (and theoretically, they could go to Over-30 Novice if they wanted to). But, they aren't looking for an easy win — and if they were, they wouldn't find it in the younger classes. They just want more seat time.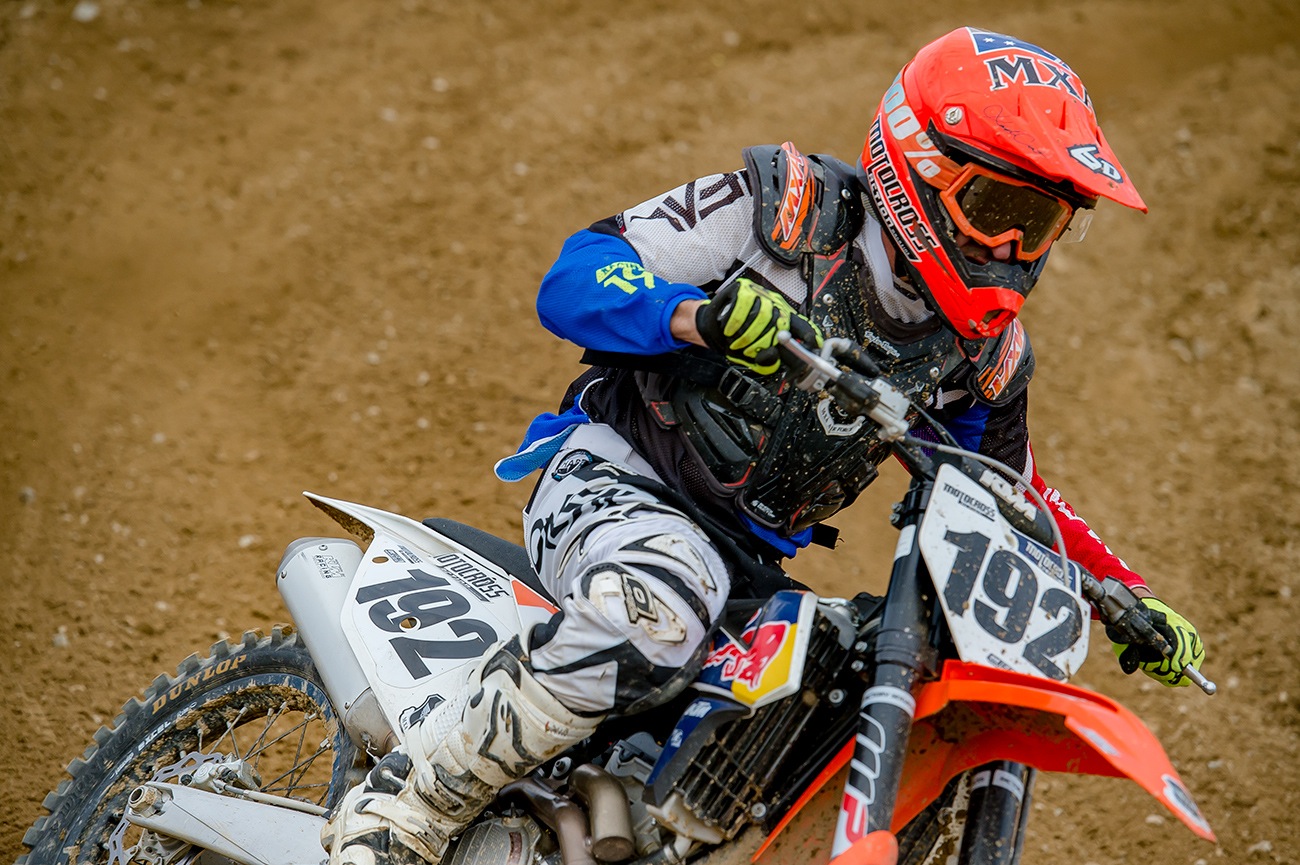 With Jody Weisel testing some prototype forks on MXA's KTM 450SXF, his WP Cone Valve-equipped 350SXF was just sitting in the pits. But, not for long as Dan Alamangos, took the chance to race the Jodymobile. Photo: Kyoshi Becker
For example, this week the Over-60 Intermediate class had three riders who were born in the 1940s racing in it. Yes, there are Over-65 classes they could race in, but they wanted to race with their friends, so they use the Vet rules to go where their buddies were. It makes the class bigger and develops a rivalry between the old guys dropping down and the young guys (if you can call riders in their 60s young) trying not to get beat by riders in their 70s.
Pasha Afshar (L7) is looking good as he holds off Drago Atanasovski (345) in the Over-40 Intermediates, but there was a surprise waiting for Pasha around the next corner. Photo: Debbi Tamietti
What happened to Pasha? Did he crash on the big hill? Did his bike break? How is he going to get to the top? The answers are that Pasha forgot to put gas in his bike before the moto and had to coast back down to the bottom with a dead engine. Photo: Jon Ortner
The Over-40 classes accounted for 15% of the riders at REM this week. Riders over 50 added up to 26%, while riders over 60 years old were 12% of the total. All in all, riders 40 years old and up represented 53% of the riders at REM. The spread of ages is what makes REM a fun place to race. Yes, there are young Pro riders and fast Intermediates looking for glory, but there are many more veteran riders just looking to enjoy racing motocross.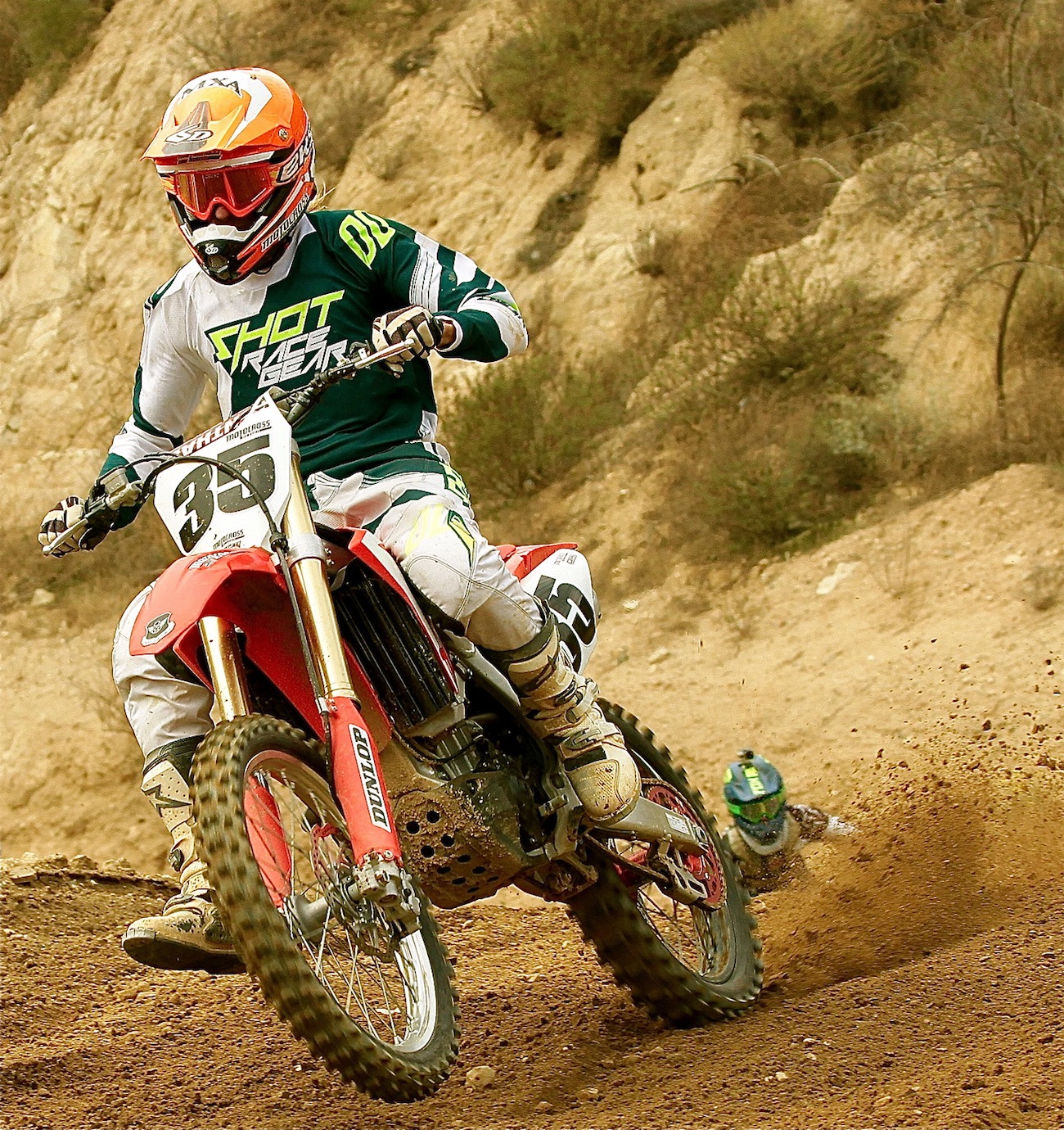 MXA's 2017 Honda CRF450 testing continued this week with three different test riders. Randel Fout (35) was assigned to test gearing—via three CRF450 rear wheels, each with a different rear sprocket on it. Photo: Debbi Tamietti
The brand breakdown for this weekend swung in KTM's favor with 34% of the motocross racers at REM riding orange. Yamaha had 24% followed by Honda (15%), Husqvarna (10%), Kawasaki (8%), Suzuki (5%) and TM (4%). Those numbers look good for KTM and Yamaha—with Husky happy to have made it into double digits. Equally thrilled was TM, for putting up numbers that actually register on the tables. Suzuki and Kawasaki should be concerned.
Since Dan Alamangos (35) and Randel Fout are about the same weight, they are often paired together in tests because their suspension settings are the same. Photo: Debbi Tamietti
RESULTS: OVER-50 EXPERT CLASS
1. Robert Reisinger (Hus)…1-1
2. CT Falk (KTM)…4-4
3. Joe Sutter (KTM)…3-5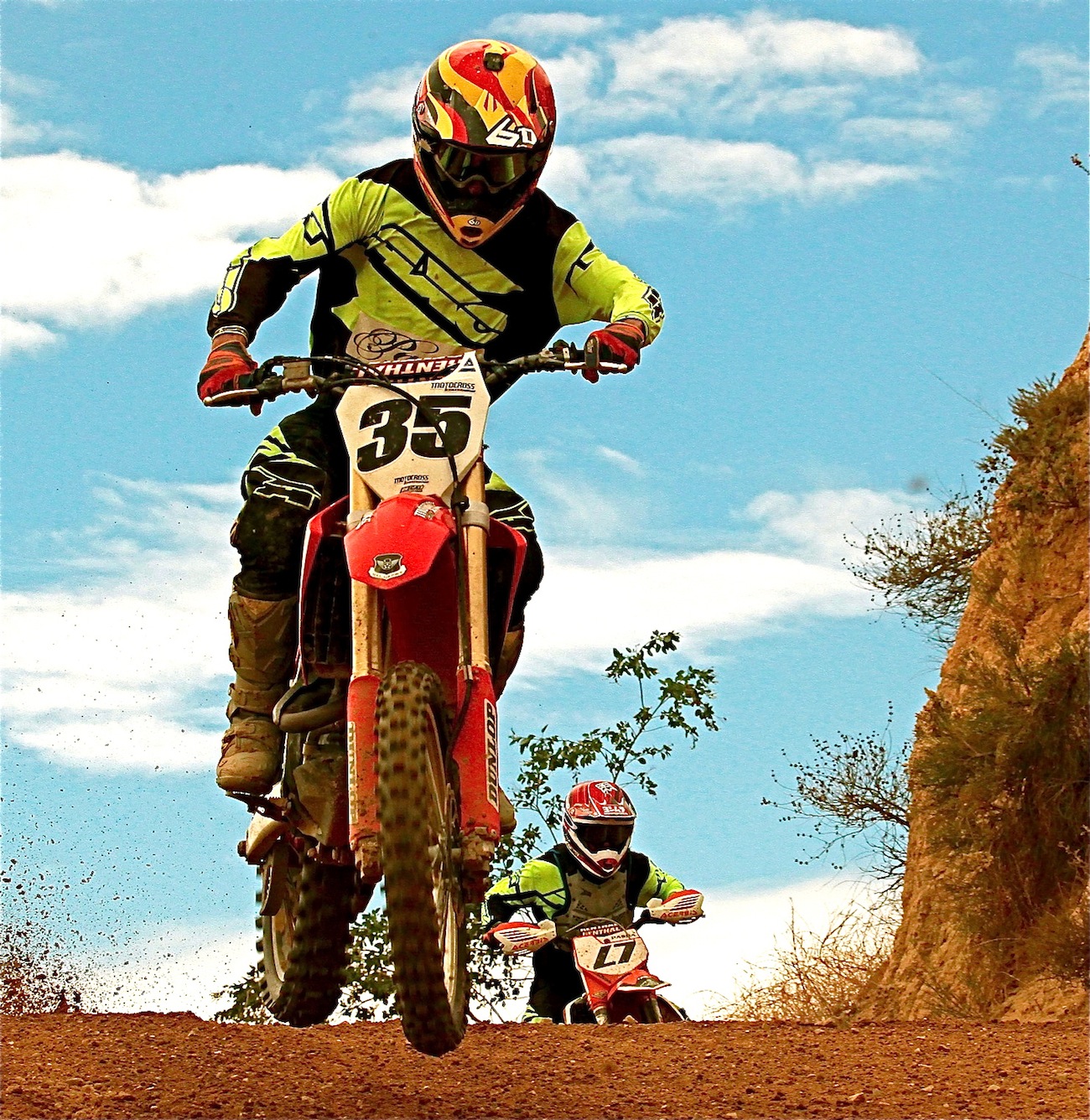 MXA enlisted Dave Cincotta (35) to race the 2017 Honda CRF250 in his second Over-40 Intermediate moto. Photo: Debbi Tamietti

RESULTS: OVER-50 INTERMEDIATE CLASS
1. Mike Monaghan (Yam)…2-1
2. Dave Eropkin (KTM)…3-2
3. Robert Pocius (Yam)…4-4
Lars Larsson (right) is either telling Jody Weisel (left) about some trick line in the canyon section of the REM track or pointing towards where he left the oven on in his home back in Sweden. Photo: Jon Ortner
RESULTS: OVER-60 INTERMEDIATE CLASS
1. Kent Reed (KTM)…1-1
2. Jody Weisel (KTM)…2-3
3. Brian Martin (KTM)…4-2
Robert Reisinger used a 2-1 to beat Holland's Ralf Schmidt (1-3) for the Over-40 Intermediate victory. Robert then came back to sweep both motos of the Over-50 Expert class over Dave Eropkin. Photo: Dan Alamangos
RESULTS: 250 NOVICE CLASS
1. Luis Macias (TM)…1-1
2. Jeremy Mowry (Kaw)…2-2
3. Zachary Taylor (Suz)…3-3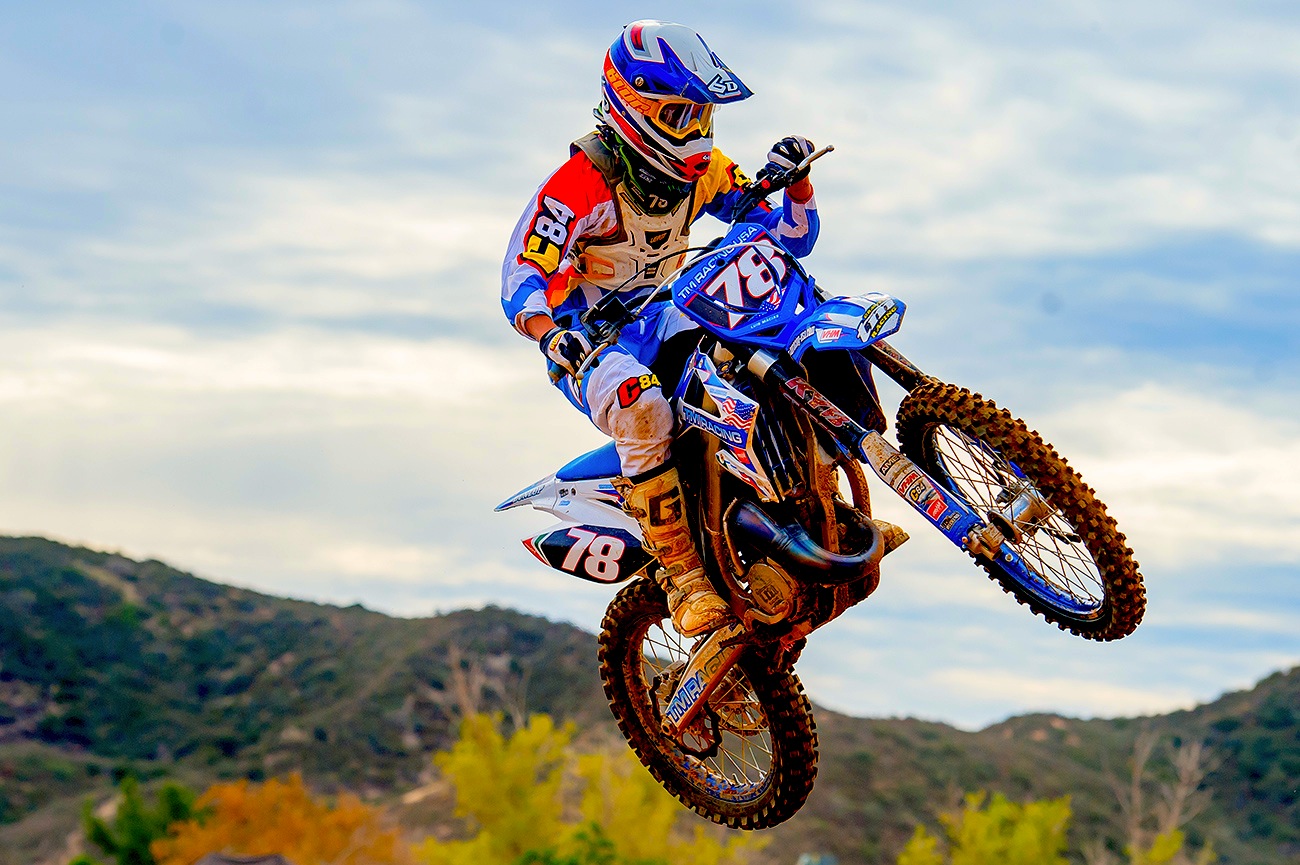 Luis Macias (78) won the 250 Novice class on a TM125 with a 1-1 score. Photo: Kyoshi Becker
RESULTS: OVER-40 NOVICE CLASS
1. Pete Vetrano (Hus)…3-1
2. Ken Clark (Yam)…2-2
3. Daniel Barker (KTM)…1-3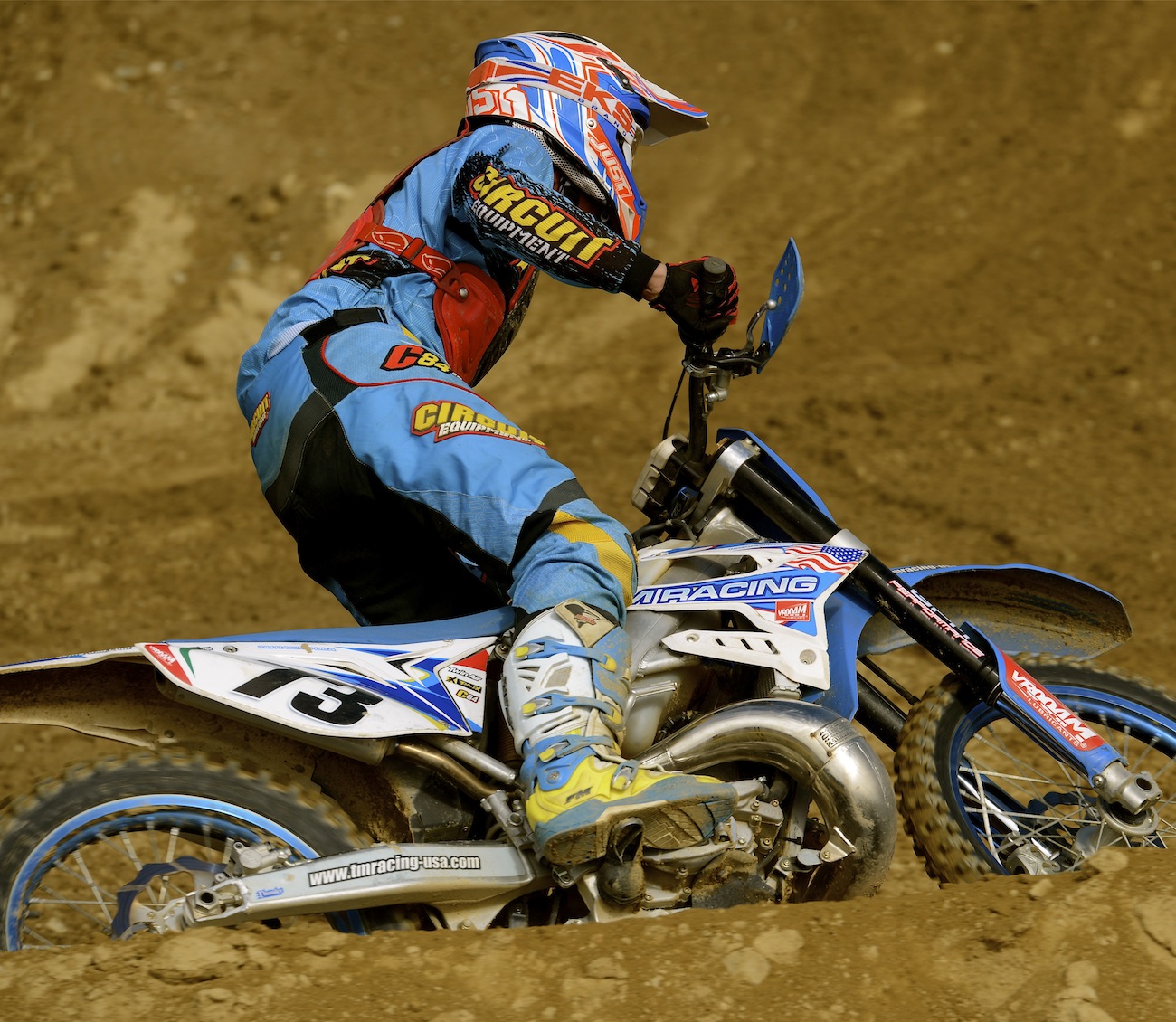 Next on the TM hit parade was Ralf Schmidt (73) who finished second in the Over-40 Intermediates on a TM 300MX. Photo: Dan Alamangos
RESULTS: VET NOVICE CLASS
1. Braden Larson (Kaw)…2-1
2. Mark Taylor (Yam)…3-3
3. Deano Lourenco (Kaw)…5-2
TM also won the 250 Pro class with Matt Cerami in the saddle. Photo: Dan Alamangos
RESULTS: OVER-50 NOVICE CLASS
1. Lance Sloane (KTM)…1-1
2. Milano Atanasovski (Hon)…4-2
3. Glenn Pietronico (KTM)…3-3
Robby Schott (523) took the 125 Intermediate two-stroke class on his TM 125MX. Photo: Debbi Tamietti
RESULTS: 450 NOVICE CLASS
1. Zack Randolph (Yam)…1-1
2. Brandon Reid (Yam)…2-2
3. Garrett Dalton (KTM)…4-3
Marc Crosby (orange) and Pete Vetrano (37) chase Mike Monaghan in the Over-50 Intermediate race. Monaghan would ride L.A. Sleeve's YZ300 two-stroke to a 2-1 victory. Vetrano was fourth with a 7-3, while Crosby was 8th with a 10-7. Photo: Debbi Tamietti
RESULTS: OVER-40 INTERMEDIATE CLASS
1. Robert Reisinger (Hus)…2-1
2. Ralf Schmidt (TM)…1-3
3. Brian Bolding (KTM)…3-2
Brian Martin (65) was third in the Over-60 Intermediates class with a 4-2, while Gene Boere (62) was fourth with a 3-4. Photo: Debbi Tamietti
RESULTS: OVER-60 EXPERT CLASS
1. Jim Latendresse (Hus)…1-1
2. Jim Hanson (Hon)…3-2
3. Mike Marion (Yam)…2-3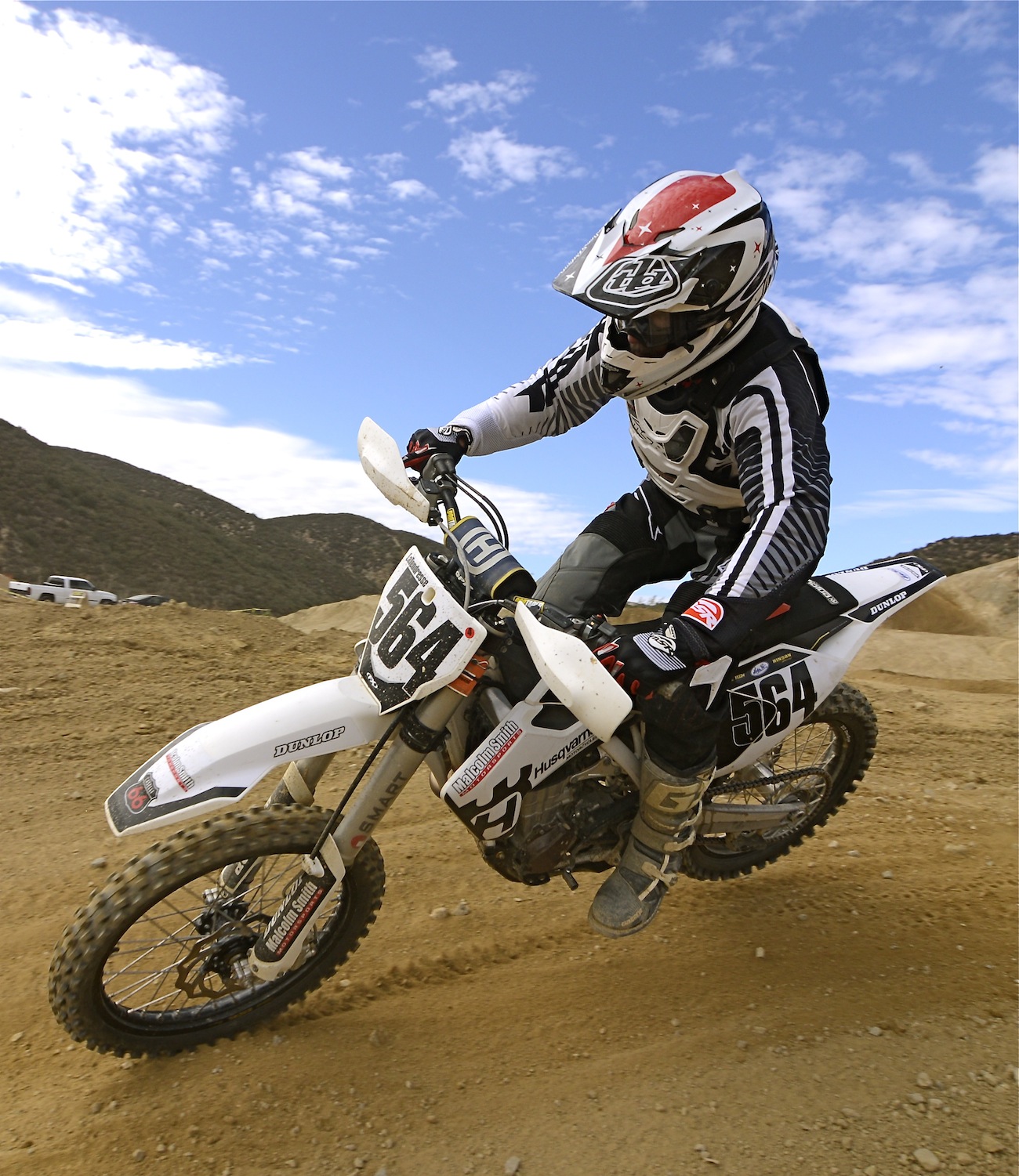 Jim Latendresse swept the Over-60 Expert class — as most of his competition was still taking a break after the World Vet Championships—where Latendresse finished fifth. Photo: Dan Alamangos
RESULTS: 250 BEGINNER CLASS
1. Aeron Price (KTM)…1-1
2. Alaric Sanchez (KTM)…2-2
3. Boaz Casucci (KTM)…2-3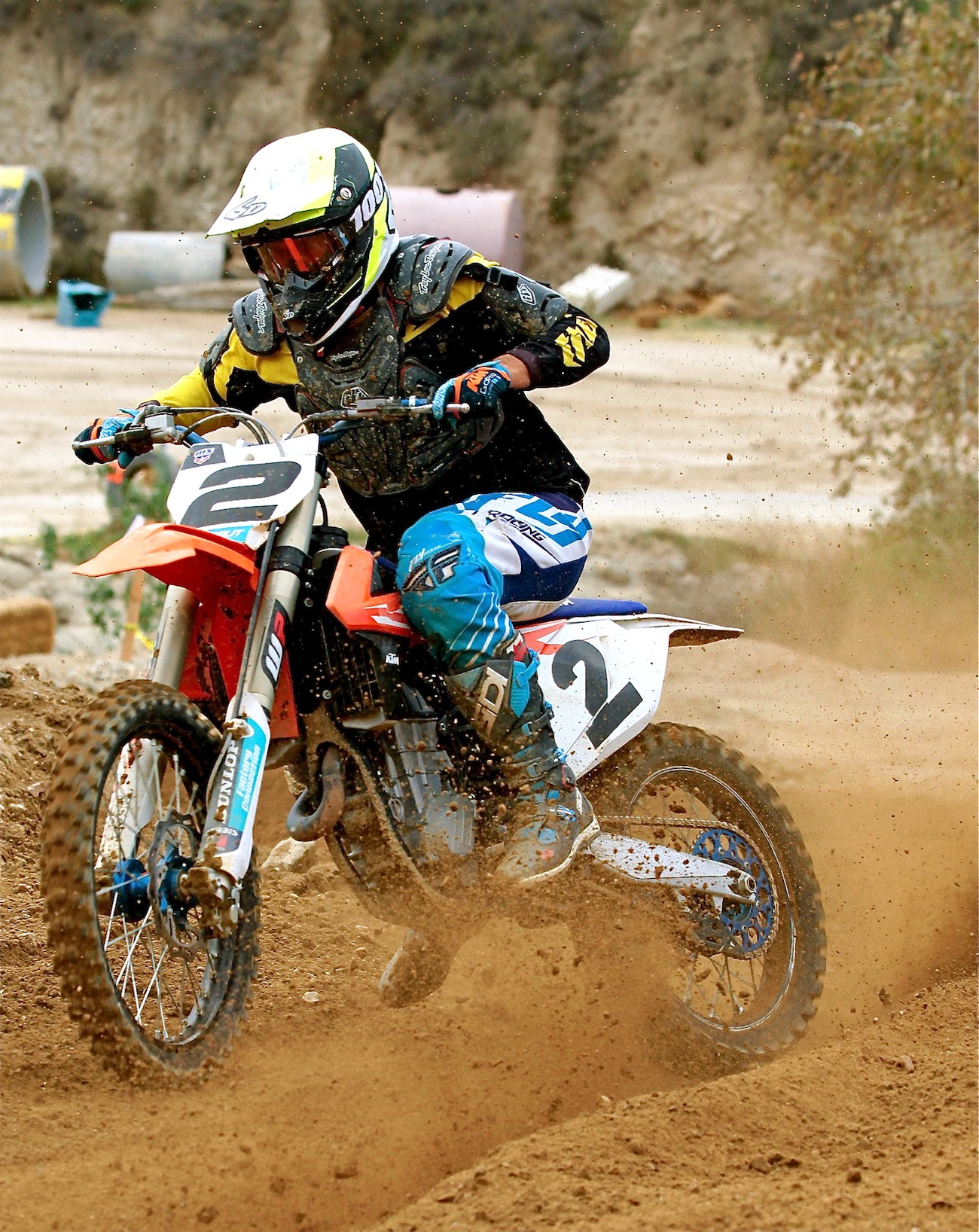 Luther French (2) got passed with one lap to go in the Over-50 Elite class, but dug deep and made an aggressive pass to get back to the front to take a 3-1 victory over Jon Ortner's 2-2. Phil Dowell won the first moto, but a bad start in moto two doomed him to a distant third. Photo: Debbi Tamietti
REM does not race next Saturday, November 26, at Glen Helen because of the "Day in the Dirt" GP. REM will be back for three straight races on Dec. 3, Dec 10 and Dec. 17 to finish off the 40-race 2016 series — and crown the number one rider at Glen Helen. For more info about REM go to www.remsatmx.com