REM GLEN HELEN: DAY OF PASSES & CRASHES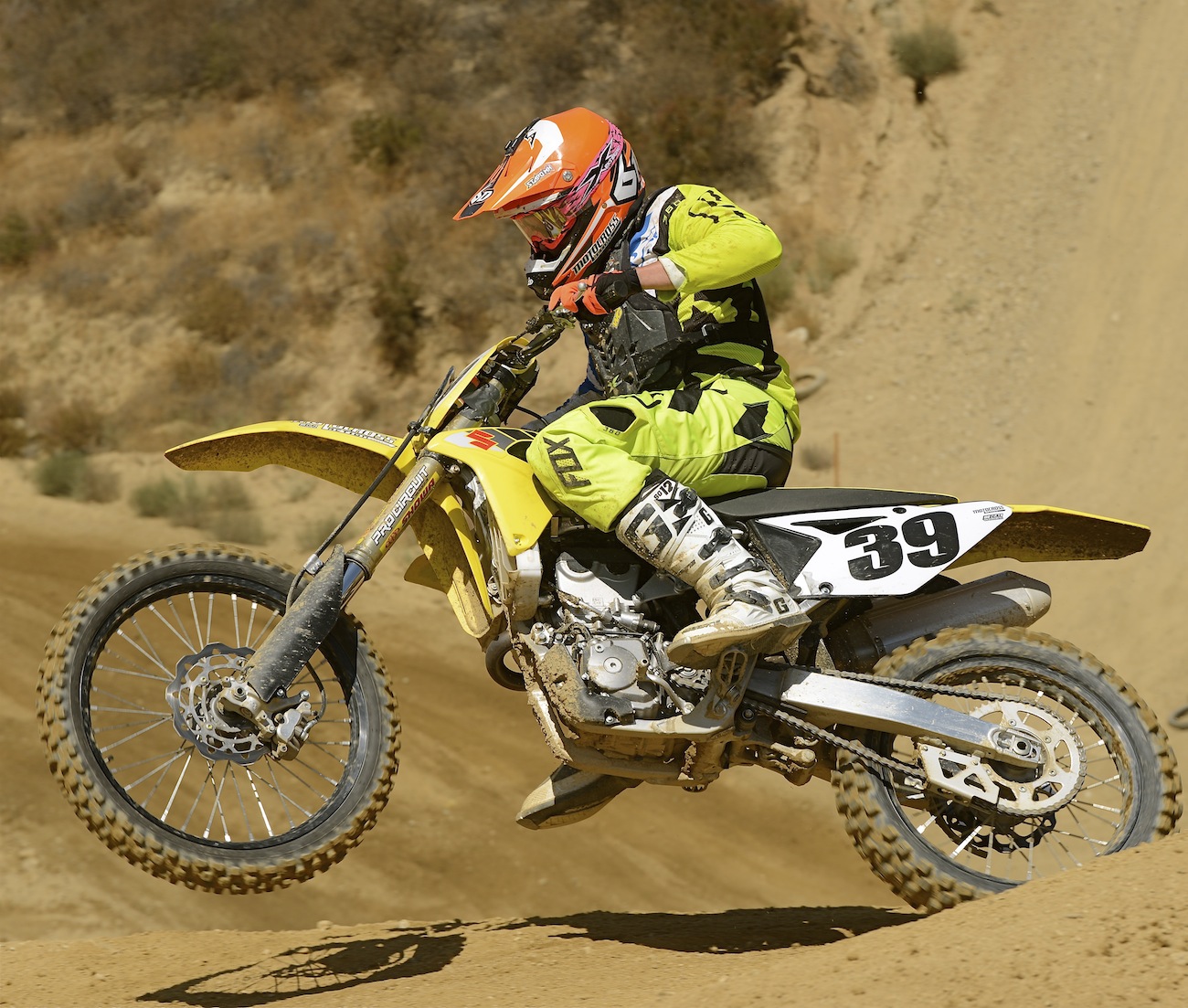 Dennis Stapleton was assigned to race MXA's 2017 Suzuki RM-Z450. He wanted to spend some time on it because next weekend Dennis is off to the Soaring Eagle Casino race in Michigan —where he will be racing Ken Roczen's 450 National Championship RCH RM-Z450 for an MXA test. Photo: Dan Alamangos
Some weeks things just seem to heat up. This week at the REM Glen Helen motocross race there was some great racing, a few come-from-behind victories, several dominant performances, three red flags and more crashes in one day than in the last two months. It seemed like almost everyone was involved in some kind of crash, tip-over or slide-out. Out of the seven MXA test riders at REM, five of them suffered crashes, most minor, but just a sample of the days action. The track was very technical, tight and rough. It required patience and most importantly a good start—which probably accounts for the number of first turn crashes (on the same start that was error-free last week).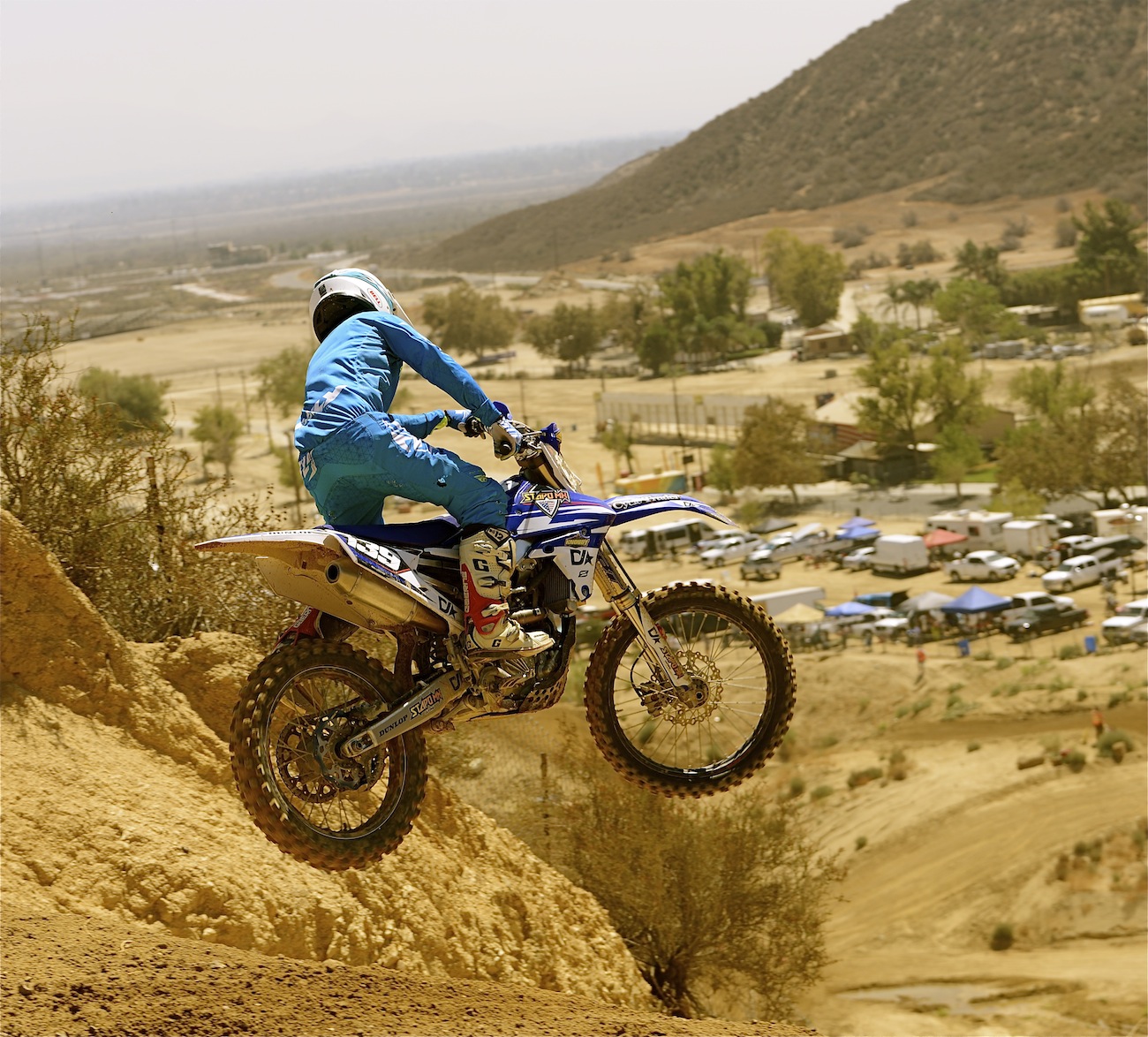 When you are looking up it, this hill doesn't look all that big or steep. However, Hawaiian Brian Medeiros (139) can attest to just now big it is. He checks his truck in the pits to see if he left the lights on. Photo: Dan Alamangos
AMA 125 National racer and eight-time ATV National Champion Gary Denton highsided in a quick switchback from an uphill left to a downhill right. The riders around him said that he flew up into the air and hit the ground hard. Denton was transported and diagnosed with two fractured vertebra. Early reports say that he won't need surgery, but will have to wear a back brace until the fractures heal.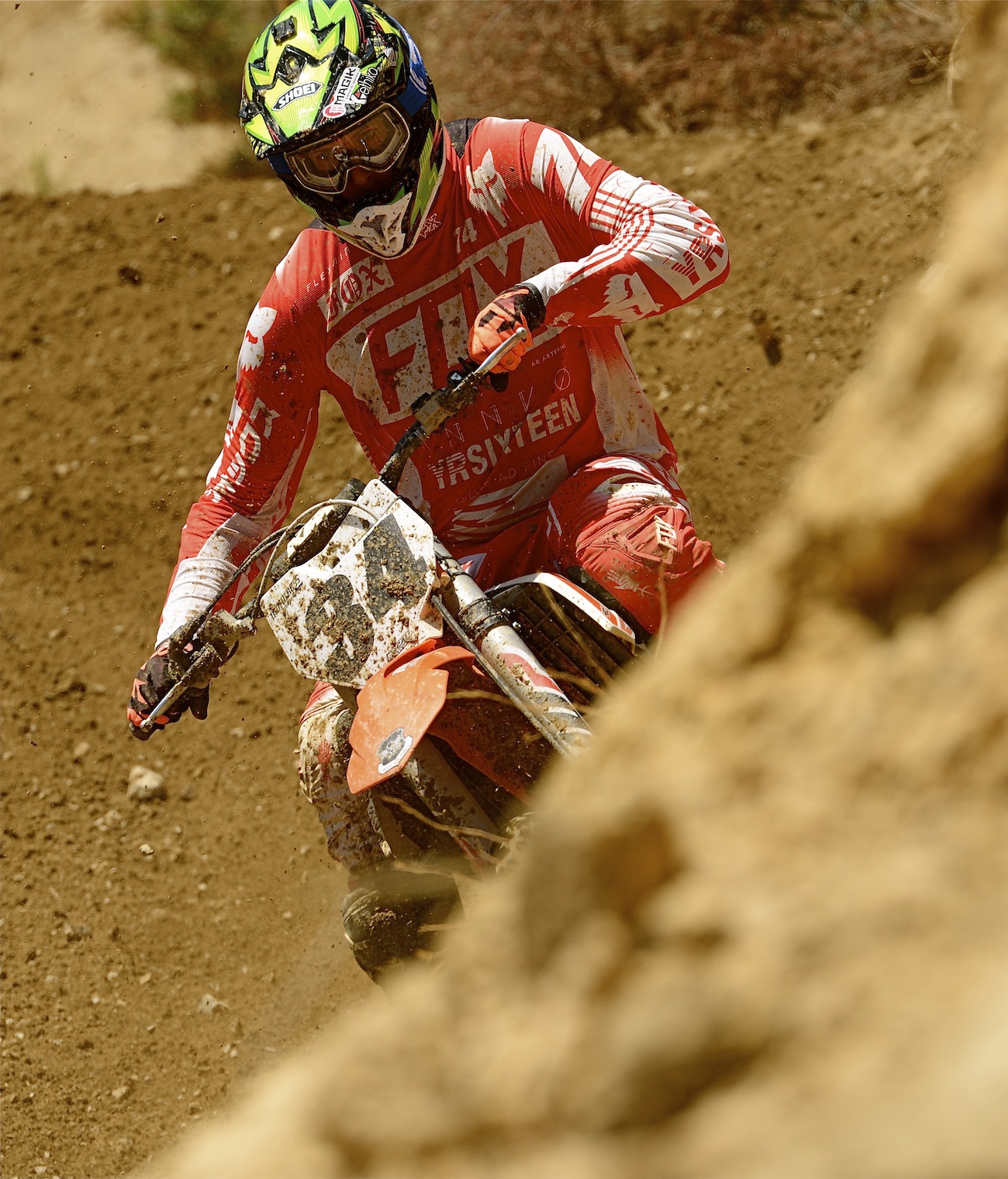 Broc Armbruster had a sure thing going in the Vet Pro class until the front wheel on his KTM 450SXF exploded. Photo: Dan Alamangos
Kent Reed and Lyle Sweeter were involved in a first turn incident when Kent's leg got stuck in Lyle's rear wheel. The spinning rear wheel sucked his pants out of his boot and chewed it up, leaving tire marks on the nylon and a nasty burn on Kent's leg. Because the second gate was waiting, the race had to be red flagged to get Kent's leg out of Lyle's rear swingarm.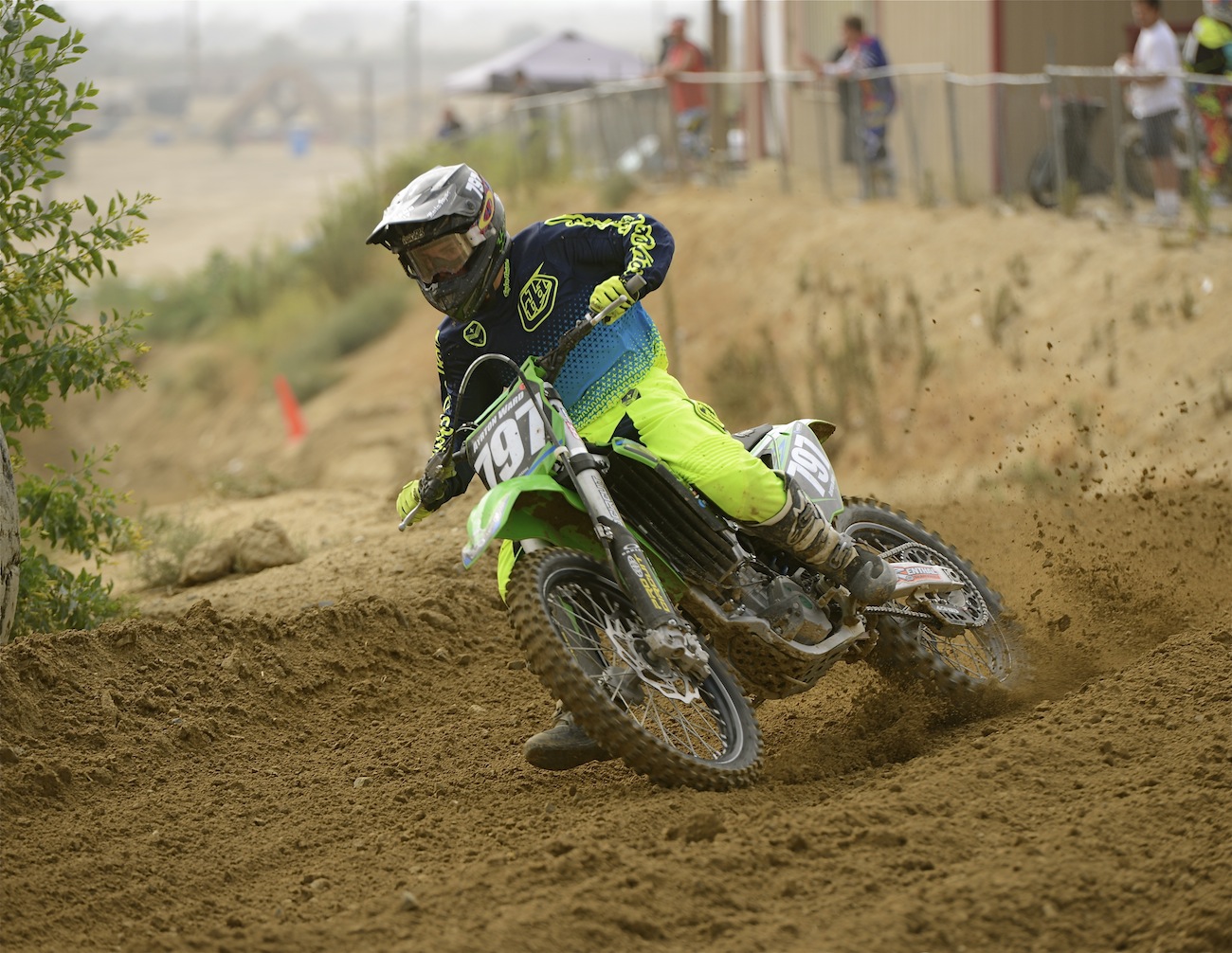 Aryton Ward, son of seven-time National Champion Jeff Ward, sweeps by the scoring tower on his way to second in the 250 Intermediates. Photo: Dan Alamangos
There was lots of good racing. As always the Over-50 Elite class did not disappoint. Luther French, on his brand-new 2017 KTM 450SXF,  led the first moto, while his prime competitor Jon Ortner crashed on the first lap (and ended up at the back of the combined Over-50 Elite/Over-50 Expert/Over-40 Pro race). Steve Pfaff, a former Saddleback Pro from the good old days, struggled with a bad start enabling Ortner to come from the back of the line all the way to 2nd place in moto one. Then, Ortner won the second moto to take the overall win as Luther French crashed out of contention. The final top five was Ortner (2-1), Pfaff (4-2), Phil Dowell (3-3), Luther French (1-5) and Rob Engel (5-4).
Ciaran Naran was the man that Aryton Ward was chasing. Ciaran went 1-1 in the 250 Intermediates. Photo: Dan Alamangos
The biggest class of the day was the Over-50 Intermediates. Don Pastell took the victory with a 1-1, but a big first turn crash collected several riders including Jeff Scott, Ernie Becker, Lonnie Paschal, Ray Poltack and Joe Pena. There was a red flag in this race also. It was also the race that Gary Denton crashed (although Denton was in the Over-40 Intermediates in a separate gate)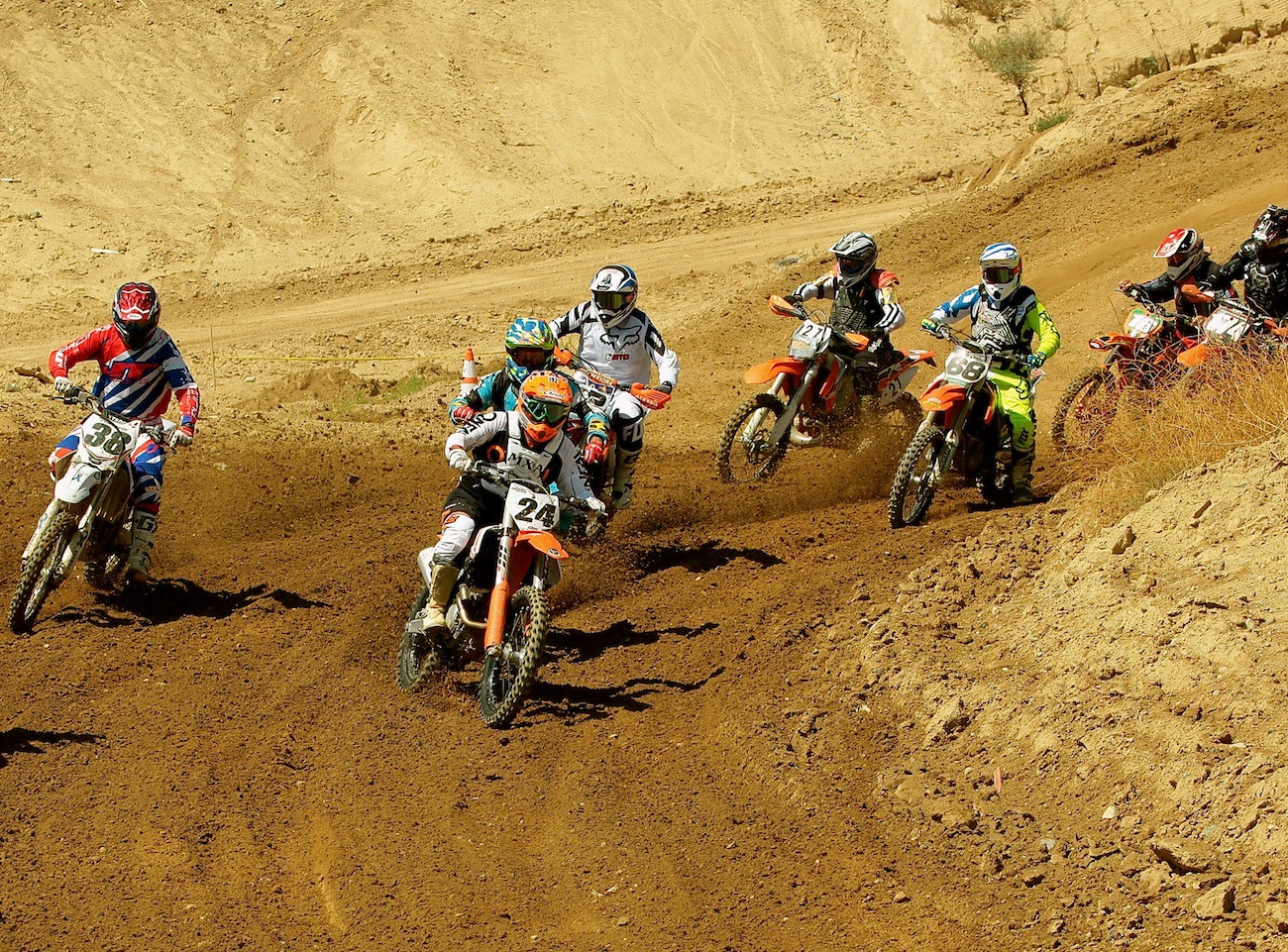 Jody Weisel (24) holeshot the Over-60 Intermediates, but it didn't lead to a win. A flat front tire on lap two led to some out-of-control cornering techniques for the next five laps. Photo: Debbi Tamietti
It looks like the 60-year-old class is going to be a big deal in the coming years. You know something's up when 23 racers, everyone of them born before 1957, show up at local race every weekend. Rick "Too Tech" Johnson easily won the Over-60 Expert class. Carl Gazafy (4-2). Jim Hanson (3-3), Joe Pena (5-5) and Patrick Flynn (2-8) rounded out the top five. Westly Peterson won the Over-60 Intermediates, Kirk Muraoka the Over-65 Intermediates and Lyle Sweeter took the Over-65 Experts (after the restart in moto two).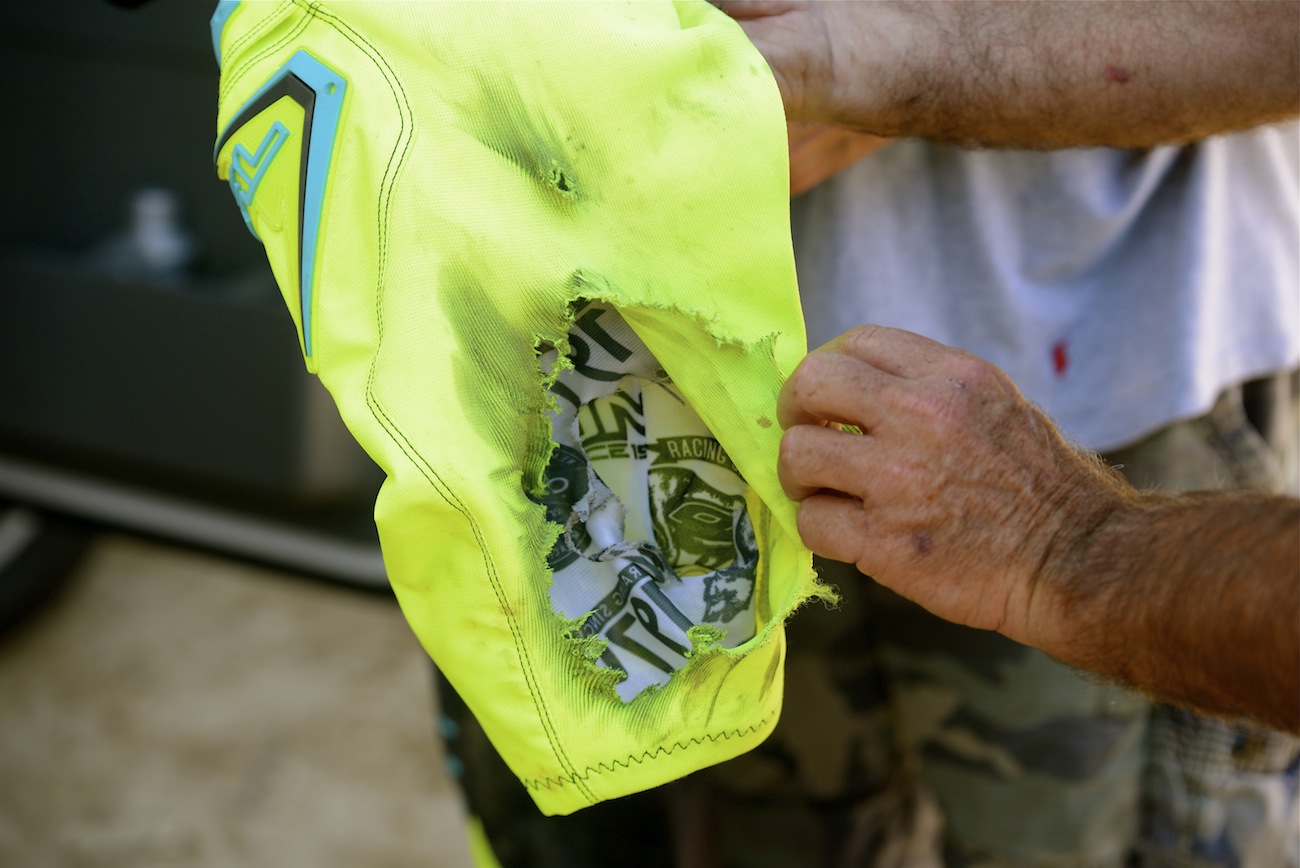 What happened to Kent Reed's pants? He got his leg stuck in the rear wheel of Lyle Sweeter's Honda in the first turn. It led to a red flag restart. The real question is what happened to Kent Reed's leg? It looks like his pants. Photo: Dan Alamangos
Pasha Afshar took the Vet Novice victory (in front of Reid Davis and Brian Bolding) and was third in the Over-40 Intermediates (behind James Lavender and Ralf Schmidt).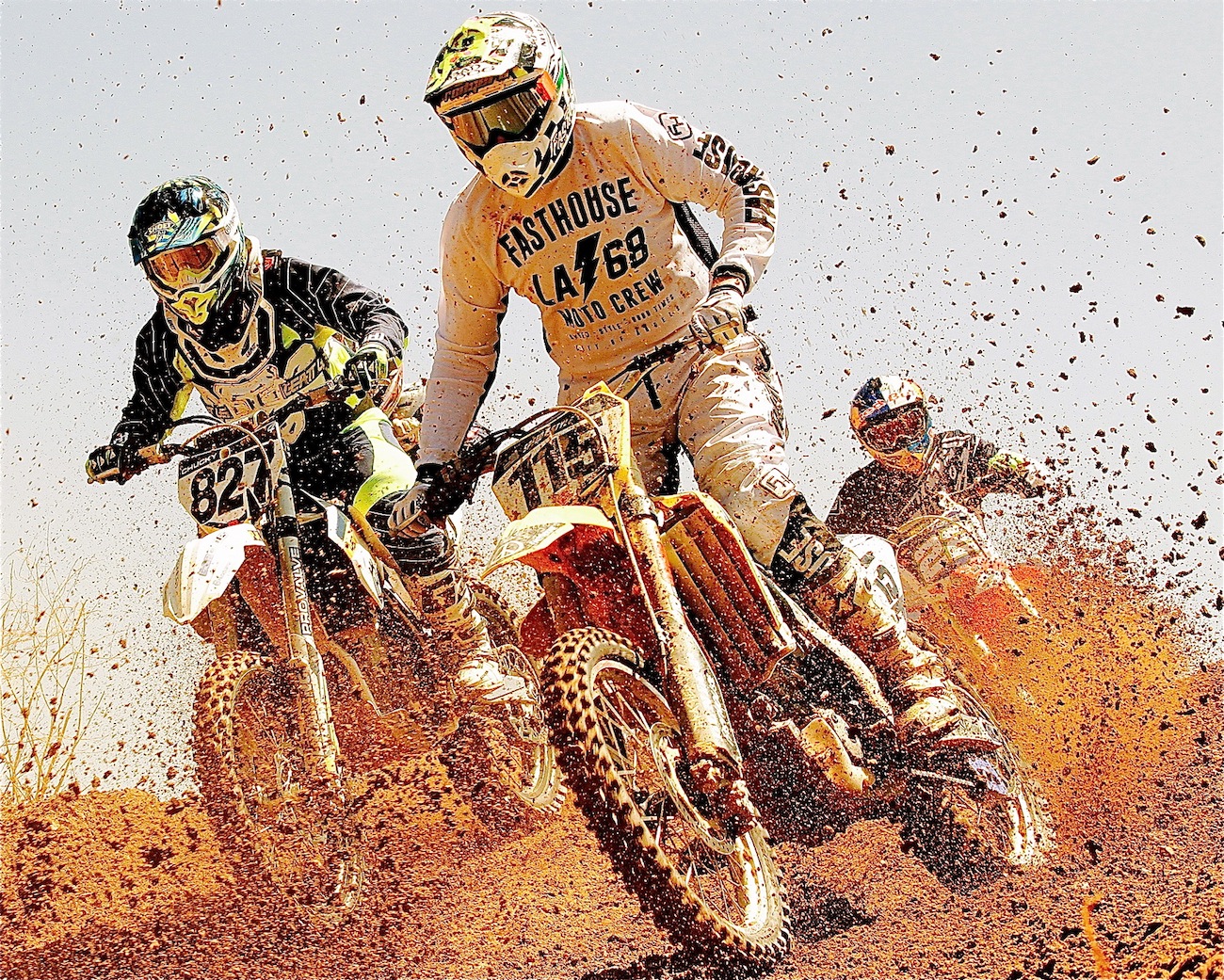 Mic Rodgers (115) and Chuck Cook (827) push through the shrapnel. Note the reflected color of the dirt on Rodger's white jersey. Photo: Debbi Tamietti
Bob Morales won the Over-50 Novices for the second week in a row (with a 1-1). Glenn Pietronico was second (3-2), Marc Crosby third (6-3), Jeff Greene fourth (2-7), Frank Emerson fifth on his twin-shcok Husqvarna vintage bike (7-4), Gary Stoltenberg sixth (4-10), Chuck Cook seventh (10-5), Angel Montoya eighth (9-6), Mike Hillion ninth (8-8) and Steve Chandler tenth (11-9). The inconsistent moto scores were largely a factor of riders spinning out, sliding out or running off the track.
REM promoter Frank Thomason (551) tries to keep his racing eye sharp when he isn't busy running the races. Photo: Debbi Tamietti

Riders who had a good day included: Matthew Trussell (Vet Beginner), Jake Davies (65 Beginner), J.P. Alvarez (85 Expert), Dane Morales (85 Beginner), Luis Macias (250 Novice), Dexter Dickinson (450 Novice & Open Novice), Eric Warrington (Over-40 Novice) and Westly Turner (Open Vet).
Jon Ortner won the Over-50 Elite overall with a 2-1 score. Photo: Dan Alamangos
Former winners who had a bad day included: Mike Marion (7-4 in Over-60 Experts), Chris Alamangos (10-9 in Over-40 Intermediates), Randy Skinner (12-3 in Over-50 Intermediates), Dave Eropkin (22-2 in Over-50 Intermediates), Terry Varner (20-14 in Over-50 Intermediates) and Mike Hillion (8-8 in Over-50 Novice).
Luther French (2) and Shawn Wynne (9) are in the foreground of Mt. Saint Helen's downhill in the background. Photo: Debbi Tamietti
The brand breakdown for this weekend saw 27% of the racers on KTMs, 25% on Yamaha, 15% on Hondas, 13% on Kawasakis, 13% on Husqvarnas and, finally, 6% on Suzuki's.
Rob Engel powers out of a humped corner on his way to a 5-4 day in the Over-50 Elite class. Photo: Debbi Tamietti
There are some obvious trends in bike brands. The majority of Kawasakis were in the minicycle classes—with the 65cc bikes accounting for the bulk of KXs. In classes over the age of 40 almost 50% of the riders chose to race a KTM or Husqvarna (with twice as many on KTM as Husky). In the 250 and 450 Novices—44% of the riders were on Kawasakis with 33% on Yamahas and 11% on Hondas. Only 1% were on KTM or Husqvarna. The other classes that Kawasaki dominated were 65 and 85 classes—where 50% of the riders were on Kawasakis.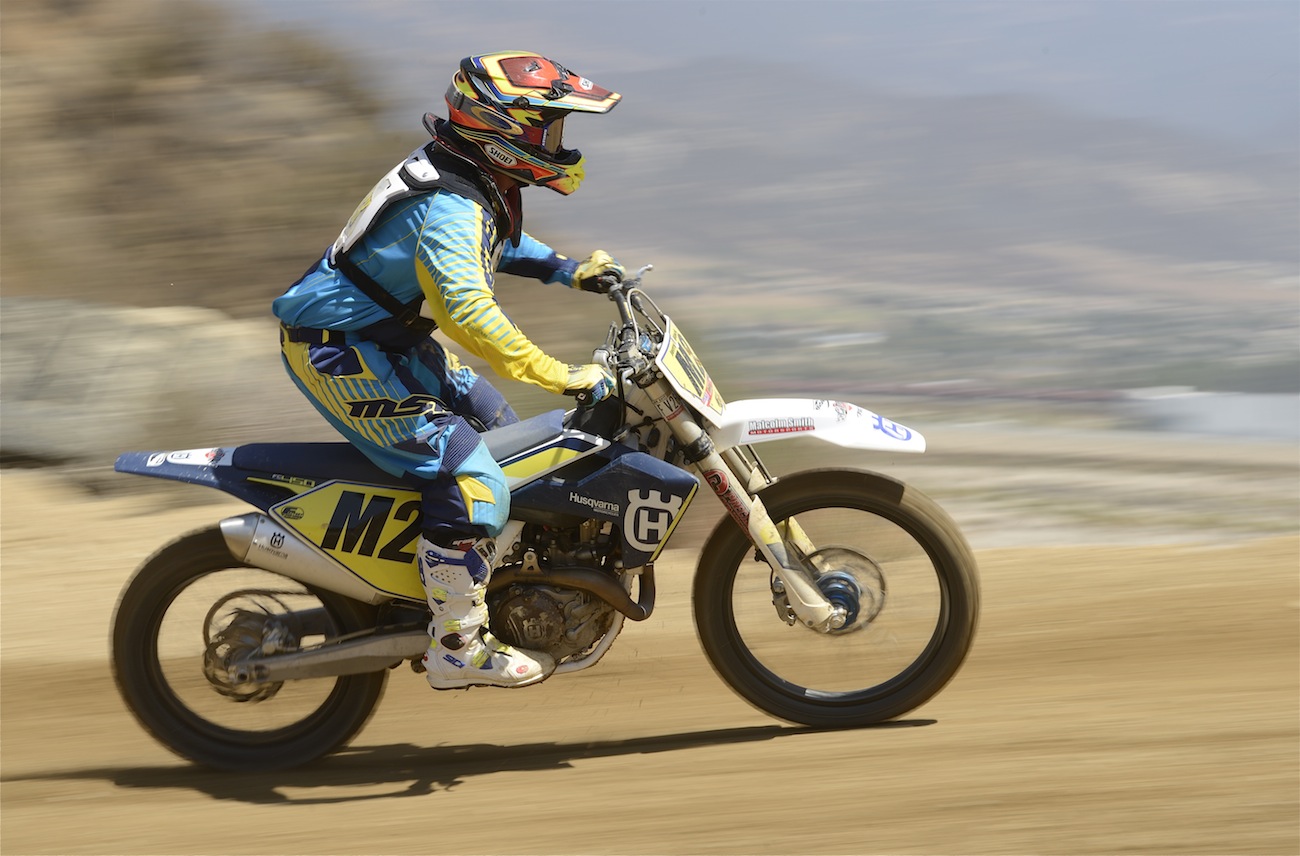 Jerry Black speed blurs the valley below. Photo: Dan Alamangos
No classes were totally swept by any brand, but KTM came within within one rider (on a Suzuki) from having an all-orange race in the Over-60 Intermediates and Kawasaki came within two riders of having a sweep of the 450 Novices. The obvious pattern is that KTM/Husqvarna had the most riders on their brands by virtue of dominating the older classes (66% of the KTMs/Huskys at REM were in the Over-50 and Over-60 classes). And if you combine the Over-40, Over-50 and Over-60 classes you would find that 90% of the Austrian-built bikes at REM were in those three age groups (split between Novice, Intermediate and Expert groups).
Mark Crosby (84) and Kent Reed (491) search for the perfect position. Photo: Dan Alamangos
As for the smallest brand representation at REM this weekend, Suzuki claimed 6% (but it was only that big because several Suzuki riders raced two classes, thus increasing the racer count without increasing the actual number of Suzukis). In truth, it is easier to name the Suzuki riders at REM than to count them: Jeff Scott, Bill Reimer, Nick Costello, Mic Rodgers, Randy Skinner, Greg Groom, Jeff Jetton and Dennis Stapleton.
Bill Seifert (37) has been out of action for several months with a shoulder injury. He took it easy in his first race back. Photo: Debbi Tamietti
The strangest number of all, especially for a race that is considered the safest of all the race organizations in SoCal, was that 20% of the racers at REM this weekend DNF'ed at least one moto. That doesn't mean they all crashed, because only Gary Denton was injured enough to require medical treatment—just that they didn't finish. The biggest reason is normally that they sign up to race two or occasionally three classes and then drop out of motos later in the day to focus on the one they did good in. Mechanical failure plays a small role and, of course, riders have been known to pull in with fitness or motivation issues. But this week did see a lot of crashes, several in the first turn, that had riders return to the pits to rethink their race strategies.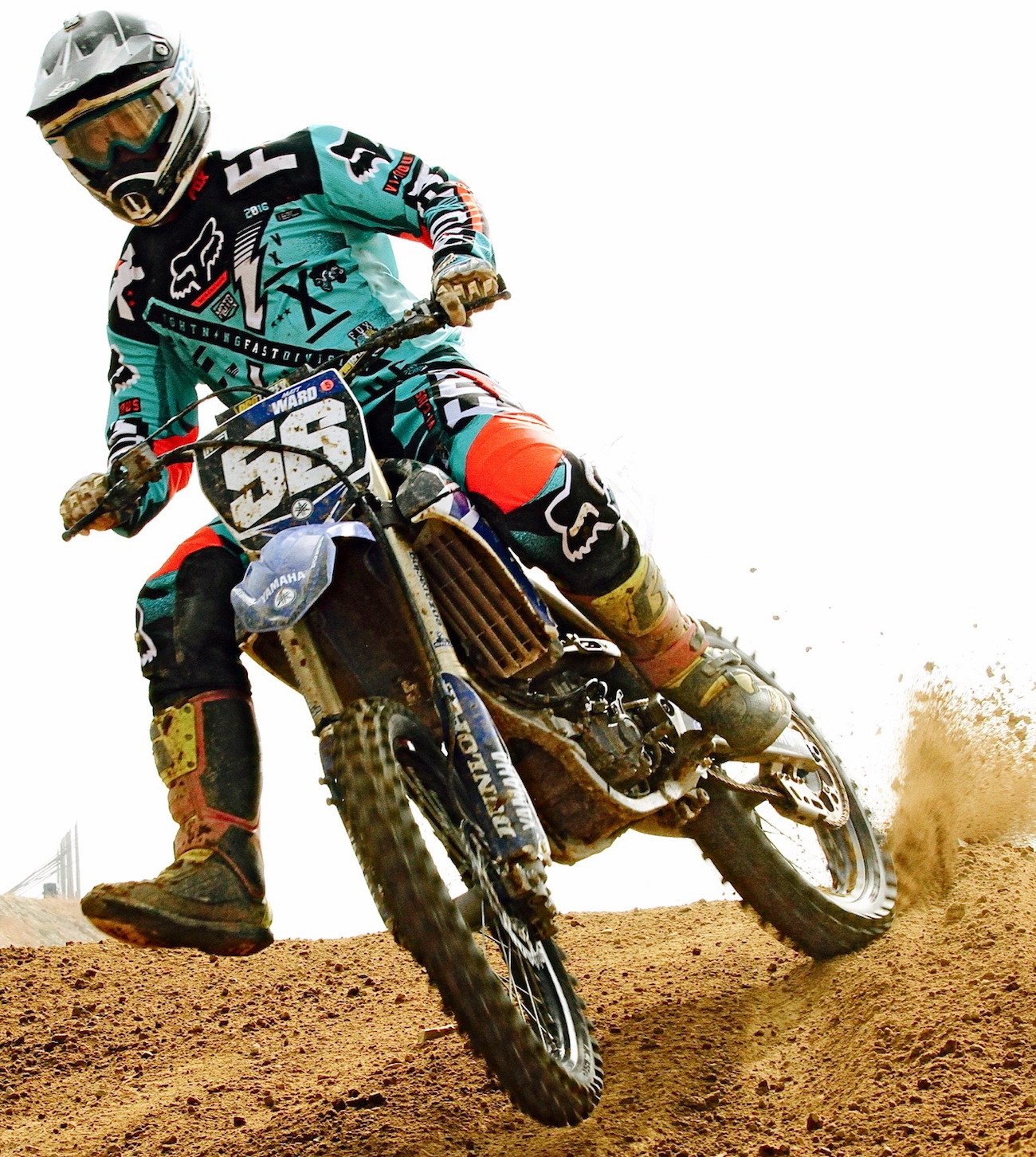 Matthew Ward, from Littlerock, California, styles for awhile.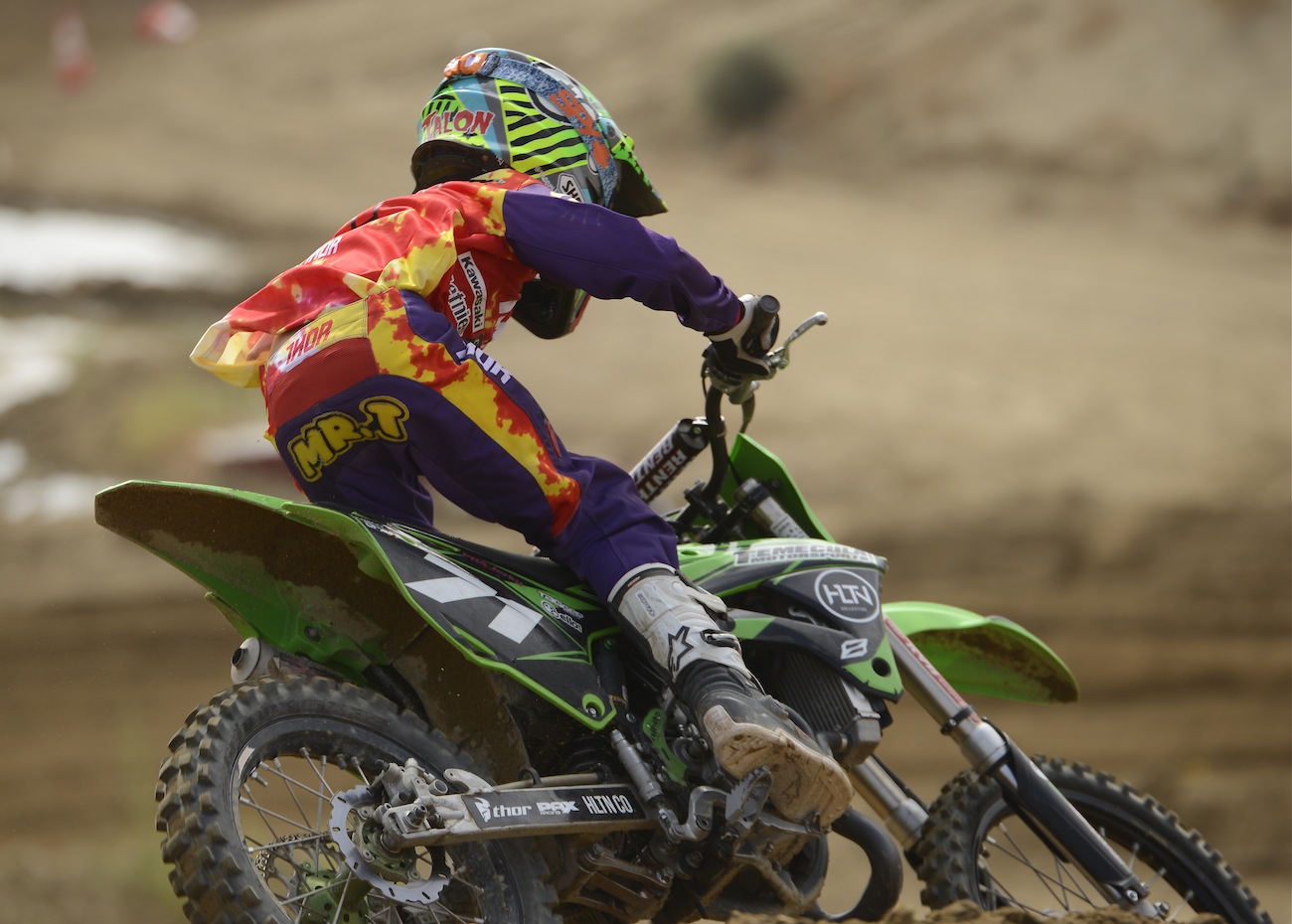 Talon Hawkins raced his KX85 in the 250 Novice class. After finishing 4th in the first moto, Talon was among the 25% who didn't make it through moto 2 in this class. Photo: Dan Alamangos
SNAPSHOTS OF LIFE IN THE PITS
Tom White keeps charming the ladies at REM. Here, Peggy plants a kiss on his cheek. Photo: Jon Ortner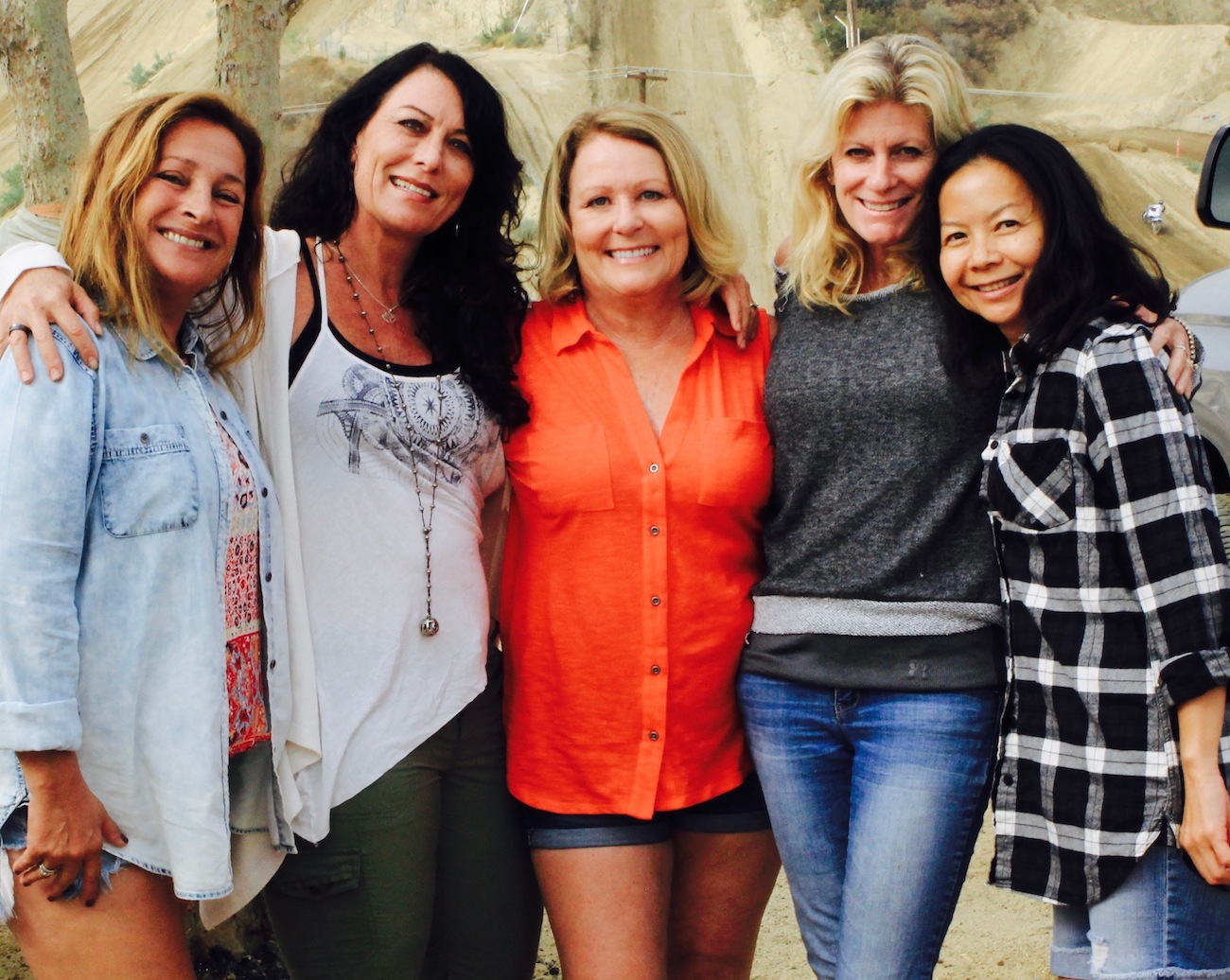 To the casual observer, this looks like the wives of the Glen Helen racers, but to Tom White it's a target rich environment. Photo: Jon Ortner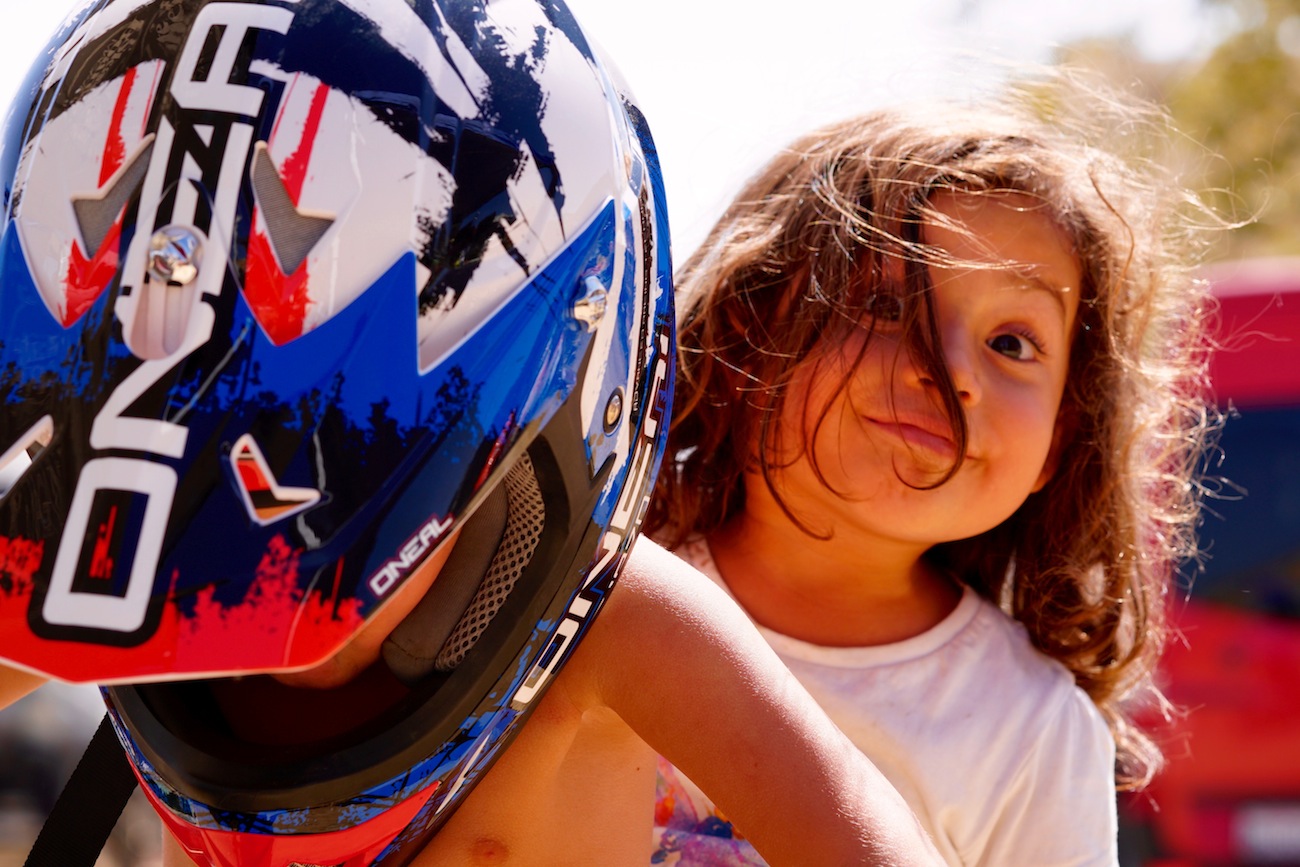 Chloe wants to know when it's her turn to drive. Photo: Jon Ortner
Not every Jeff makes it through every day. A first turn crash ate Jeff Scott's hand.  Photo: Jon Ortner.
Dennis Stapleton runs a motocross school, has a motocross camp where racers can come stay, rent bikes and race in SoCal, works as a MXA test rider and races at the far ends of the earth. You can reach him at www.facebook.com/Stapomx. Photo: Jon Ortner
Frank Derby brought a trophy he won at Carlsbad Raceway at the REM race back in 1989. Then, he went out and got 3rd in the Over-65 Intermediate class 27 years later. Photo: Debbi Tamietti
Gary Denton jokes around with Myra Thomason at sign-up. Gary would later high-side and end up at Loma Linda Hospital with a fractured L1 and L5 vertebra. He doesn't need surgery, but will be on the sidelines for awhile. Get well soon…or should we say "spend some time on the couch."! Photo: Debbi Tamietti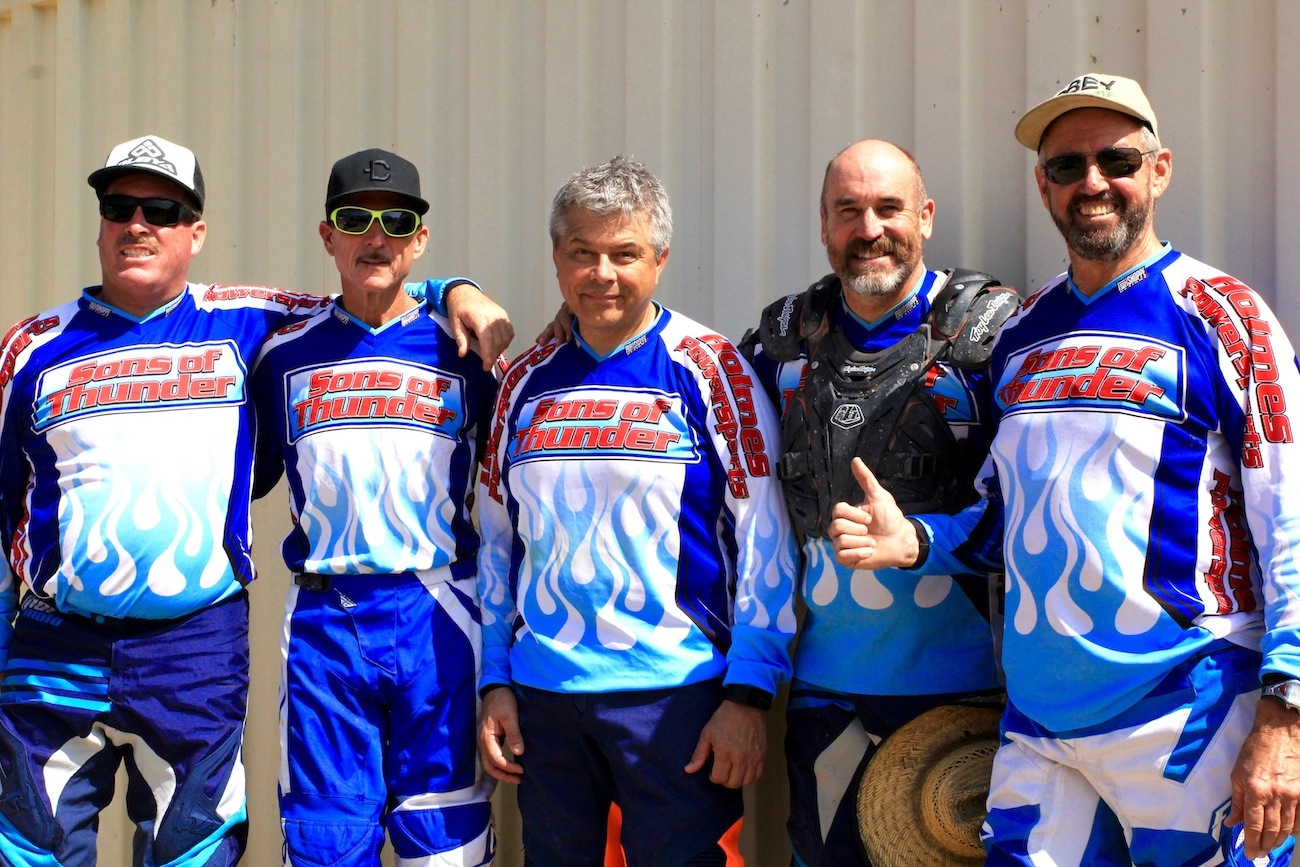 Tom Holmes (far right) owns Homes Powersports, which is a motorcycle wreck repair business, and helps out his friends with his "Sons of Thunder" team. Photo: Debbi Tamietti
REM does not race for the next two weekends because the USGP on Sept 10-11 and the WORCS race on September 17-18, but will return on October 24 (for 11 races over 14 weeks). For more info go to www.remsatmx.com