REM GLEN HELEN: FIRST PRO WIN, THE BIG TIRE & SCENIC VISTAS
Click on images to enlarge
Photos by Jon Ortner, Tim Olson & Jody Weisel
R.J Wageman took the 450 Pro victory on his R-One/Motul Suzuki RM-Z450. Photo: Tim Olson
Nothing is scarier to a Glen Helen motocross racer than when the weatherman declares a Santa Ana wind warning. The dire predictions of 60 mph gusts came on Friday, and were prefaced by giant trees blowing over in Pasadena on Friday morning. The locals always say that there are only three seasons at Glen Helen. (1) The Hot season. (2) The Windy season. (3) The Hot and Windy season. With the TV weathermen guaranteeing that it would hot and windy in San Bernardino on Saturday, you would think that no one would show up for the weekly REM races. Wrong! Glen Helen motocross racers aren't just hardy, they are also stupid. So stupid that they don't always believe what TV weathermen say.
Willy Simons, Jr. has moved up from Intermediate to Pro and, not only notched his first 250 Pro win, but also his first paycheck. Photo: Tim Olson
Thus, when the gang began to pour into Glen Helen's upper motocross pits, they were greeted by perfectly calm weather. As the day progressed the wind picked up, but was never an issue—and never came anywhere near "Wind Warning" status. However, REM promoter Frank Thomason had the track reconfigured to avoid the biggest hill out of fear that the predicted gusts would be hurricane force as the riders created the peak. Without the big up and down hill, the track featured lots of tight turns and was turned around backward from the previous race.
This weekend, MXA's Dennis Stapleton raced Friday, Saturday and Sunday. However, REM was a little too much for him on Saturday, so after the first moto he decided to save some energy for Sunday. Photo: Jon Ortner
The breakdown on brands for this week's race motocross point to some trends (that may only apply to Glen Helen). At REM 35% of the bikes on the line were KTMs. Yamaha was second with 24%, with Honda 17%, Husqvarna 9%, Suzuzki 7%, Kawasaki 5% and TM 1%. Obviously these number points to continued growth for KTM, and also Husqvarna, which surpassed Suzuki and Kawasaki at REM. Yamaha used to be the most popular brand at Glen Helen, but has slipped behind KTM on the charts. Honda, is hoping that the new CRF450 will revitalize their numbers (which used to be comparable to Yamahas).
Backlit by the morning sun, South African Alan Jullien (86) leads the big parade. Photo: Jody Weisel
What hasn't changed at REM is the massive number of riders over the age of 50. An amazing 33% of the riders were between 50 and 59 years old, with another 15% over the age of 60. The total of Over-50 and Over-60 racers at REM this week was 48% of all the riders in attendance. If you add in the riders over the age of 40, the older set made up 64% of all the racers. Leaving only 36% for riders under 39 years old. This isn't just a SoCal phenomenon, but because of REM's proximity to the motorcycle industry—where most of the workers got their jobs because they liked to race. There is no doubt the REM draws heavily from the manufacturers and aftermarket companies. This week there were riders from TM, Suzuki, KTM, SWM, Yamaha, 6D Helmet, Wiseco, O'Neal USA, Varner Racing, MXA, Tube Saddle, Scalvini, ARC Levers, Dirt Bike, LightSpeed, Mechanixwear, Dubya USA, Pro Circuit and Too Tech Suspension — not riders sponsored by these companies, but riders who worked there or even owned the companies.
Brian Medeiros (blue jersey) and Brent Rouse (553) traded 5-4 and 4-5 scores in the 250 Pro class. Medeiros took the fourth spot with a better second moto—he was first two-stroke. Photo: Tim Olson
This week's winners included a potpourri of young and old—with one rider getting his first Pro win and another winner coming all the way from North Carolina to race with his old pals.
The Pros: Robbie Wagemen went 1-1 in the 450 Pros, while Willy Simons, Jr. joined the winning ranks of the 250 Pro class with his first win. Tony Amaradio won the Vet Pro class.
Braden O'Neal swept the 450 Intermediate class on his Honda. Photo: Tim Olson
The Experts: Carl Gazafy's 1-2 bested Rick Johnson's 3-1 in the Over-60 Experts. Tom Holmes won the Over-65 Experts. Jerry Black was the Over-50 Expert winner, while Luther French took the Over-50 Elite win with a 2-1 over Jon Ortner's 1-2. Alan Jullien was the easy winner in the Over-40 Expert class.
How many guys can you squeeze into a phone booth. Or, in this case, one sand corner. Photo: Jody Weisel
The Intermediates: Braden O'Neal took the 450 Intermediates with a 1-1, while Nathan Berge got the 250 Intermediate gold with a 3-1 over Alexander Harris' 1-2. Tim Olson won the Over-40 Intermediates. Dave Eropkin used a 2-1 to take the Over-50 Intermediates (after first moto winner Randy Skinner went 1-11). Frank Steiner came all the way from North Carolina to win the Over-60 Intermediates.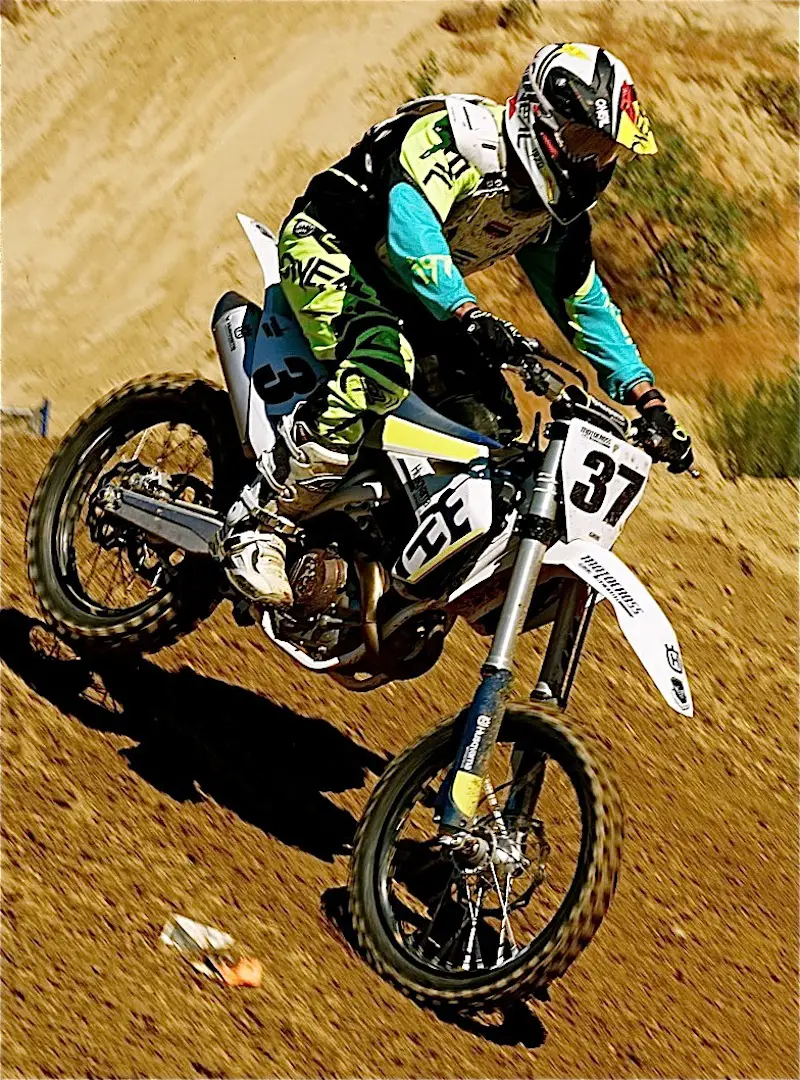 Multi-time Baja 500 and 1000 winner Jim O'Neal borrowed MXA's Husky FC400 for a shakedown cruise. He loved the bike, but got caught in someone else's mistake at the "Big Tire" turn and had to watch everyone pass him as he lay trapped under his and the other guys bike. Photo: Jody Weisel
The Novices: German rider Philip Maassen took the 450 Novice victory on a TM. Andrew Denton won both motos of the 250 Novices over Kuwaitti Barak Aljasmi. Vet Novice gold went to Pasha Afshar. David Myles swept both motos of the Over-40 Novices. Russell Brown's 2-1 took the trophy home in the Over-50 Novices.
Big news! Not only did Jon Ortner not win the Over-50 Elite class, getting beat by Luther French in the second moto, but when it came time to leave Glen Helen Jon and Jim O'Neal discovered that the battery on Jim's Sprinter had gone dead. Oh yeah, they were the last guys in the pits at the time. They got home a few hours late. Photo: Jody Weisel
REM is almost through its 40-race series — that started last January. There are nine race left and they come hot and heavy right up until Christmas. There are three breaks in the schedule for the 24 Hours of Glen Helen, the World Vet Championship and the Day in the Dirt.
REMAINiNG REM RACES OF 2016
Oct. 1…Glen Helen, CA
Oct. 8…Glen Helen, CA
Oct. 15…No race (24 Hours of GH)
Oct. 22…Glen Helen, CA
Oct. 29…Glen Helen, CA (USGP track)
Nov. 5.. No race (World Vet Championship)
Nov 12…Glen Helen, CA
Nov. 19…Glen Helen, CA
Nov. 26…No race (Day in the Dirt)
Dec. 3….Glen Helen, CA
Dec. 10…Glen Helen, CA
Dec. 17…Glen Helen, CA
Dec. 25…No race (Christmas Day)
Dec. 31…No race (New Year's Eve)
Former factory mechanic and nine-time World Vet Champ Alan Olson came to REM to watch his son Tim race. Since he was there, he pitched in to help water the track. Unfortunately, his fire hose exploded behind him. Photo: Jody Weisel
Gary Scott (157) and Gary Stoltenberg (781) share different levels on the same part of the track. Photo: Jody Weisel
American TM importer Ralf Schmidt moves on a lot of earth in an effort to show Italian two-stroke power. Photo: Jody Weisel
This chicane was put in the track to slow down the riders. It slowed them down — because the "Big Tire" turn was the site of lots of mayhem. Photo: Jody Weisel
Tom White demonstrates how you should negotiate the "Big Tire" corner on his way to second in the Over-65 Expert class. Photo: Jon Ortner
Bill Seifert demonstrates how not to negotiate the "Big Tire" corner on his way to third in the Over-65 Expert class. The big tire wasn't the problem. The steep, slippery, uphill, right-hand turn with a sharp left at the top was. It claimed someone in every moto. Photo: Jon Ortner
John Caper has been nursing an injury, but finally decided to come back and give it a try. He rode to a safe and sane 15-15 score for 15th overall in the Over-50 Novices. Photo: Jon Ortner
JON ORTNER'S PIT PASS PHOTOS
Willy Simons, Jr. explains how he won his first-ever 250 Pro victory. Of course it takes the requisite hand signals.
Tom White is at it again. This time he suckered Tina Simons into kissing him with some promise that he can't keep.
Hawaiian 250 Pro Brian Medeiros and girlfriend Ashley gave up island life for SoCal dirt.
Mr. and Mrs. Jerry Black sport the wind blown look at the riders meeting.
The two most interesting things in this photo of Tom White interviewing Jim O'Neal at the riders meeting are Randy Skinner lurking in the background and a rare 1978 vintage "Jodycross" T-shirt that Tom found in his museum.
After a high-speed get-off on the back straight Jody Weisel's arm looked like it had been shredded by a wolf. When asked how long he'd be out of action while waiting for the chunks of meat to grow back Jody said, "Six days or until the next race."
REM races again next Saturday, October 1. For more info about REM motocross go to www.remsatmx.com