REM GLEN HELEN MOTOCROSS: 53-YEAR-OLD BEATS ALL THE PROS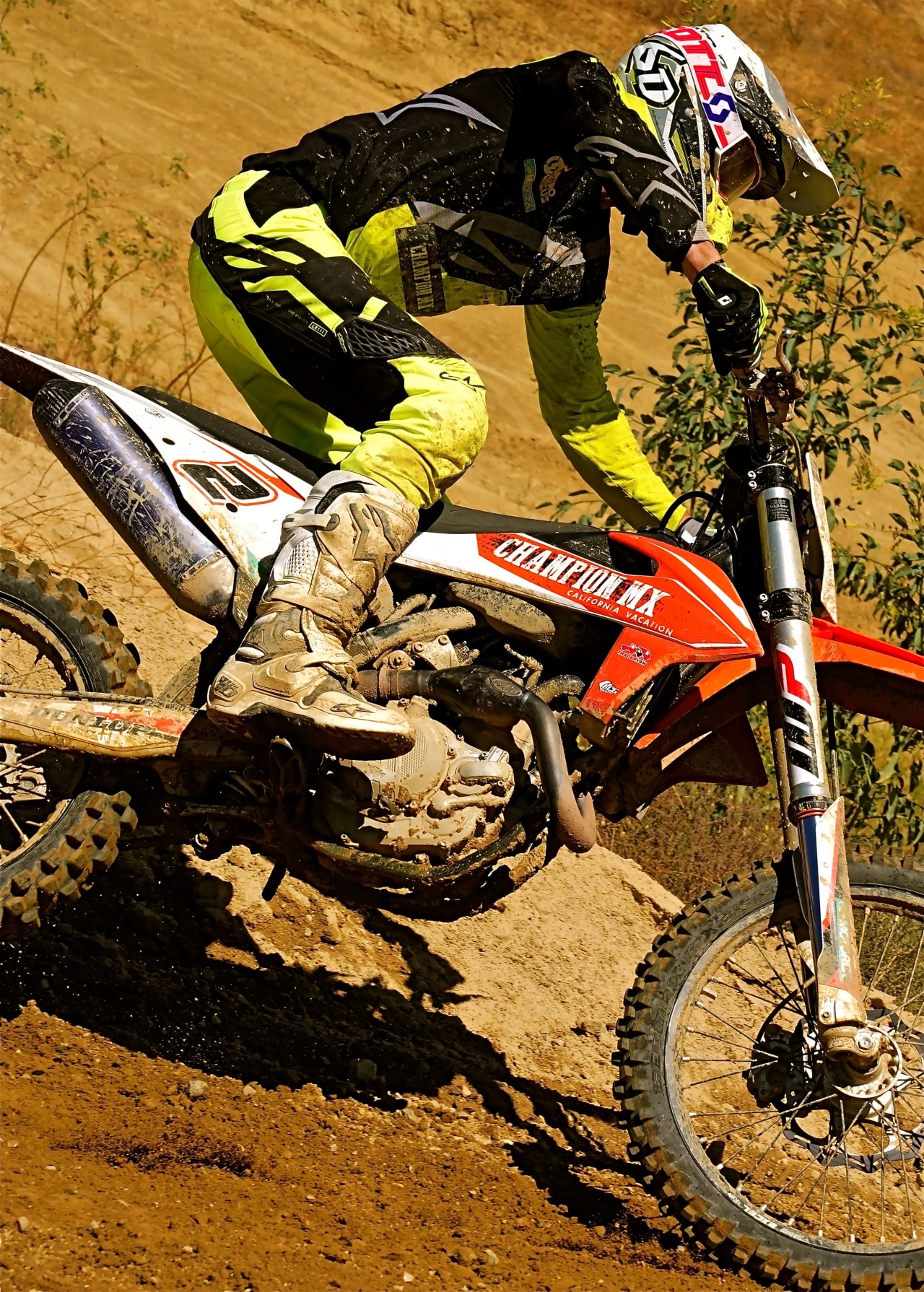 53-year-old Kurt Nicoll got the holeshot in the second moto of the 450 Pro race (Kurt was on the same gate, but in the Vet Pro class). While the young pros fought with each other, Kurt built up a big lead. Ryan Surratt finally caught and passed Kurt with one lap to go, but Kurt passed him back in the next turn and opened up his lead to the checkered flag. Photo: Jon Ortner

Photos by Jon Ortner, Rich Stuelke, Josh Fout & Jody Weisel

REM was back in action after a break to allow the WORCS series and the Lucas Oil Offroad Truck Championship to use all of Glen Helen Raceway. The turnout at REM was the perfect size, which means the gates were full and the final race was over before 3:00 p.m. The only downside for this race report was that ace photographer Debbi Tamietti was at a one-year reunion party with her friends that survived last year's Las Vegas shooting and MXA's Dan Alamangos broke his foot racing at a vintage mini-bike race last weekend. Luckily, Jon Ortner, Rich Stuelke and Josh Fout pitched in to the shoot the photos this week. And there was lots of action for them to capture.

Dennis Stapleton was doing back-to-back testing between MXA's stock 2019 KX450 and Dick Wilk's modified MX1 KX450. Photo: Josh Fout
450 PRO CLASS
1. Ryan Surratt…1-1
2. R.J. Wageman..2-2
3. Dalton Shirey…3-3
Carter Dubach gets to test three different soil types in one downhill swoop. His rear wheel is in rocky loam, his front wheel is aimed at hard-pack with loose sand on top and the face of the jump is tacky watered soil.  Photo: Jon Ortner
250 INTERMEDIATE
1. Ford Heit…2-1
2. David Dabin…1-2
3. Trevor Hunter…5-3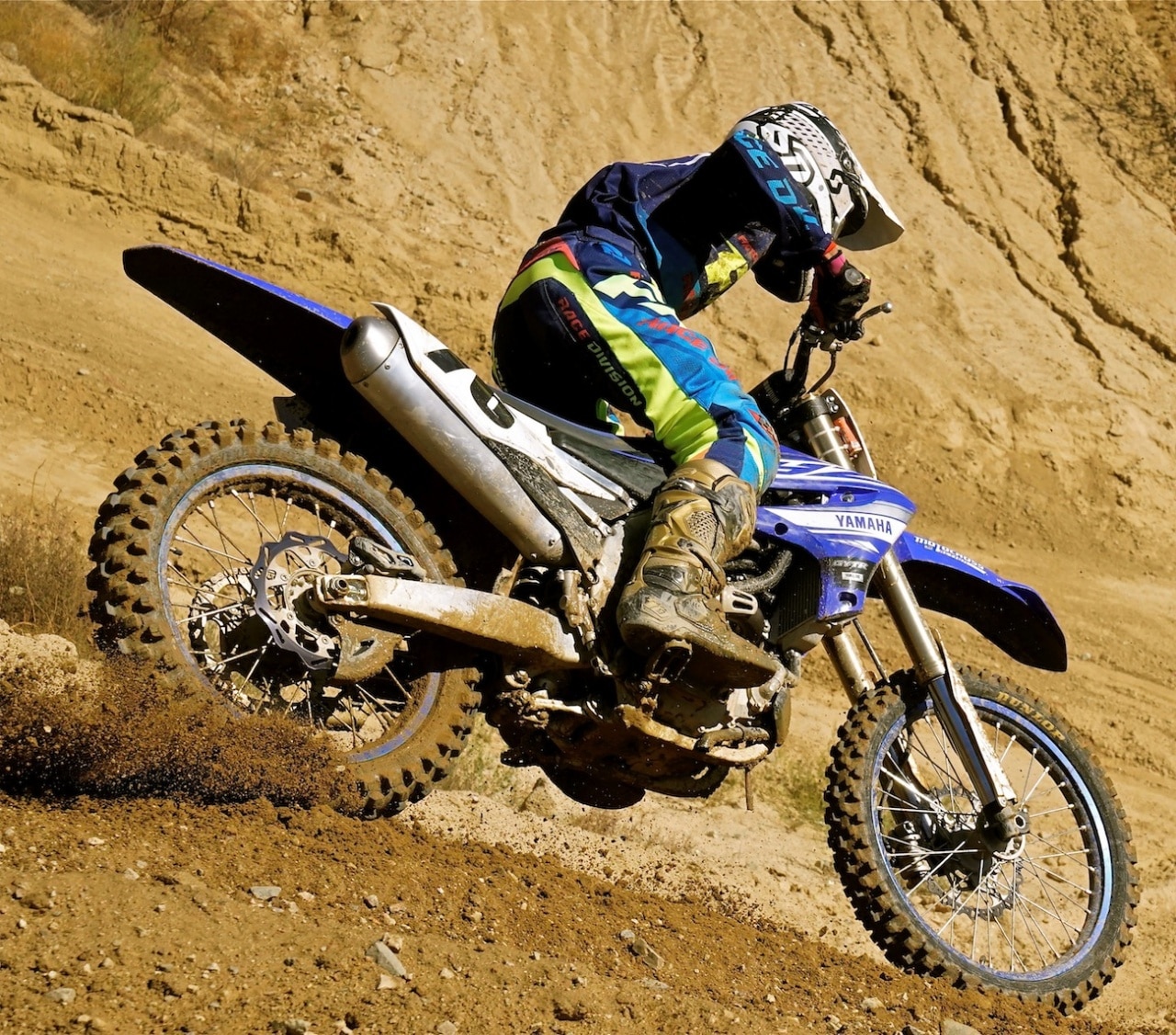 MXA's Brian Medeiros raced a 2019 Husqvarna FC350 in one moto and a 2019 Yamaha YZ450F in the second moto. He ended up fourth in the 450 Pro class.  Photo: Jon Ortner
VET PRO
1. Kurt Nicoll…1-1
2. Benny Breck…2-2
3. Tony Amaradio…3-3

This is exactly what it feels like when the cable on an elevator breaks. Photo: Josh Fout
OVER-40 EXPERT
1. Craig Davis…1-1
2. Mike Carter…2-2
3. Ralf Schmidt…3-3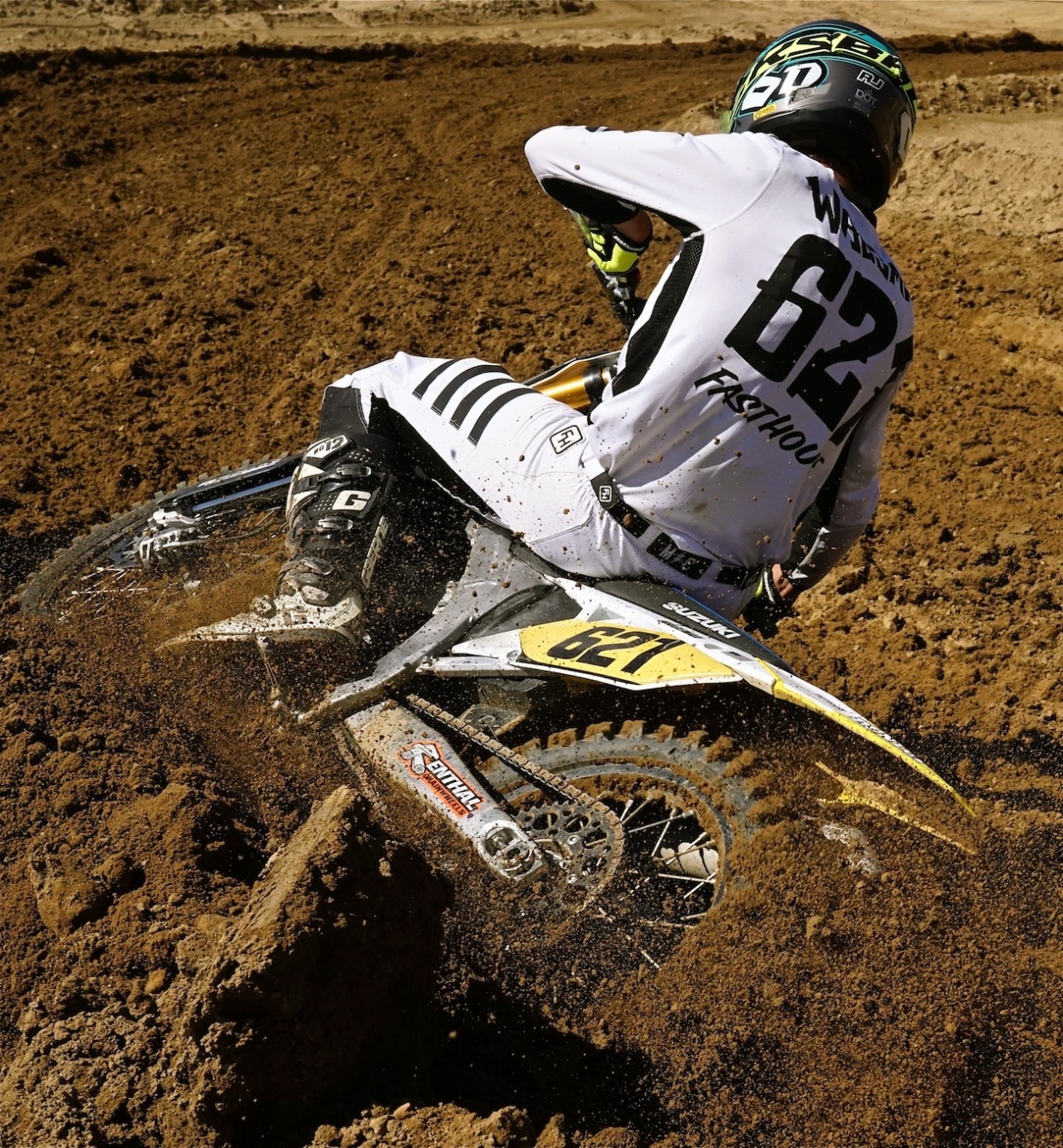 R. J. Wageman buries his Suzuki RM-Z450 deep into a berm on his way to a 2-2 day in the 450 Pro class. Photo: Jon Ortner
OVER-50 EXPERT
1. Ron Shuler…1-1
2. Robert Reisinger…2-2
3. Bryan Friday…3-4
Randel Fout was another MXA test rider doing double-duty at REM. Randel raced the first moto on Damon Bradshaw's GasGas 300 two-stroke and the second on the same Husqvarna FC350 that Brian Medeiros raced in the first moto of the 450 Pro class. Photo: Jon Ortner
OVER-60 EXPERT
1. Dave Eropkin…2-1
2. Will Harper…3-2
3. Val Tamietti…1-4
The weekly war between 1970 Saddleback icons Val Tamietti and Dave Eropkin is always worth the price of admission. Tamietti won the first moto of the Over-60 Expert class, but had issues in moto two (see below). Photo: Jody Weisel
OVER-40 INTERMEDIATE
1. Gavin Young…1-1
2. Jason Goss…3-2
3. Joe Sutter…2-3

When Val Tamietti (31) was blocked by a lapper (47) in moto two, Thad Friday (10) came up the inside and collided with him (note that Val has lifted his leg up to keep it safe and Thad lifts his leg to counter-balance against the contact). Photo: Jon Ortner
Thad Friday (1) tries to turn away from Val Tamietti a little too late. Photo: Jon Ortner
In what can only be describe as a "pick-up pass," they both go down. It is called a pick-up pass because the first one to pick up his bike will win. Note that Val is the consummate professional because as he is hitting the ground he raises his arm to warn the riders behind him. Nice touch. Photo: Jody Weisel
OVER-50 INTERMEDIATE
1. Lonnie Paschal…1-2
2. Bob Stephenson…3-1
3. Gavin Young…2-3
It's likely that your track doesn't have very many motocross racers over the age of 60, but at REM this class is packed. This is the Over-60 Expert start with Will Harper (7) leading Dave Eropkin (811) and Val Tamietti. In the gate behind the Experts are the Over-60 and Over-65 Intermediates. Photo: Josh Fout
OVER-60 INTERMEDIATE
1. Steven Chandler…1-1
2. Tom Holmes…2-3
3. Kent Reed…4-2
You can't see how rough this steep downhill is, but it has ledge-like kickers on the face. Late in the day this hill bit former Pro Shawn Wynne, high-siding him down to the bottom. Wynne was knocked out and the Over-50 Elite race was scored from the lap before Shawn crashed. Shawn was checked at the hospital and released that evening. Photo: Jody Weisel
OVER-65 INTERMEDIATE
1. Brett Leaf…1-1
2. Tony Parsons…2-2
3. Rich Stuelke…3-3
Gavin Young (42) came from England to race at REM. Well, he was actually on his way to the MXDN at Red Bud, but got lost. Gavin will be back at Glen Helen as part of Team England at the World Vet Championship in a month. Photo: Jody Weisel
VET NOVICE
1. Braden Larson…2-1
2. Barrak Aljasmi…3-3
3. Anthony Barraza…6-2
The big braking bump at the bottom of the downhill could bite you if you weren't careful. Jody Weisel (64), Mike Bendykowski (274) and John Caper (44) demonstrate prudence. Photo: Jon Ortner
250 NOVICE
1. Connor Styers…1-1
2. Dillan Alcantara…2-2
3. Nate Janis…3-3
Kent Reed (491) and Steve Chandler (305) lead the Over-60 Intermediate pack through the roller-coaster section. Chandler would take the win with Reed third.  Photo: Jon Ortner
OVER-40 NOVICE
1. Lamont Dusseau…1-1
2. David McCarthy…2-2
3. Pete Vetrano…2-4
Josh Fout (74) leads Ryan Washburn (21), Moaath Alansari (38), Brandon Wood (56), Braden Larson (21) and Mark Taylor (126) through the switchbacks. Photo: Jon Ortner
OVER-50 NOVICE
1. James De Ridder…4-1
2. Craig Hamilton…3-2
3. Scott Williams…2-4
R.J. Wageman and girlfriend Francesca share a moment, while Bentley gives Jon Ortner's camera his fruit bat impression. Photo: Jon Ortner
VET BEGINNER
1. Michael McCune…2-2
2. Frank Ippolito…1-3
3. Randall Osakoda…4-1
What? Not another Fout. Son of Randel and brother of Josh, Logan Fout comes from a racing family and has grown to the ripe old age of 6 at the track. Photo: Jon Ortner
250 BEGINNER
1. Jacob Wondolowski…1-1
2. Garrett Griggs…3-2
3. Khaled Alfayez…2-3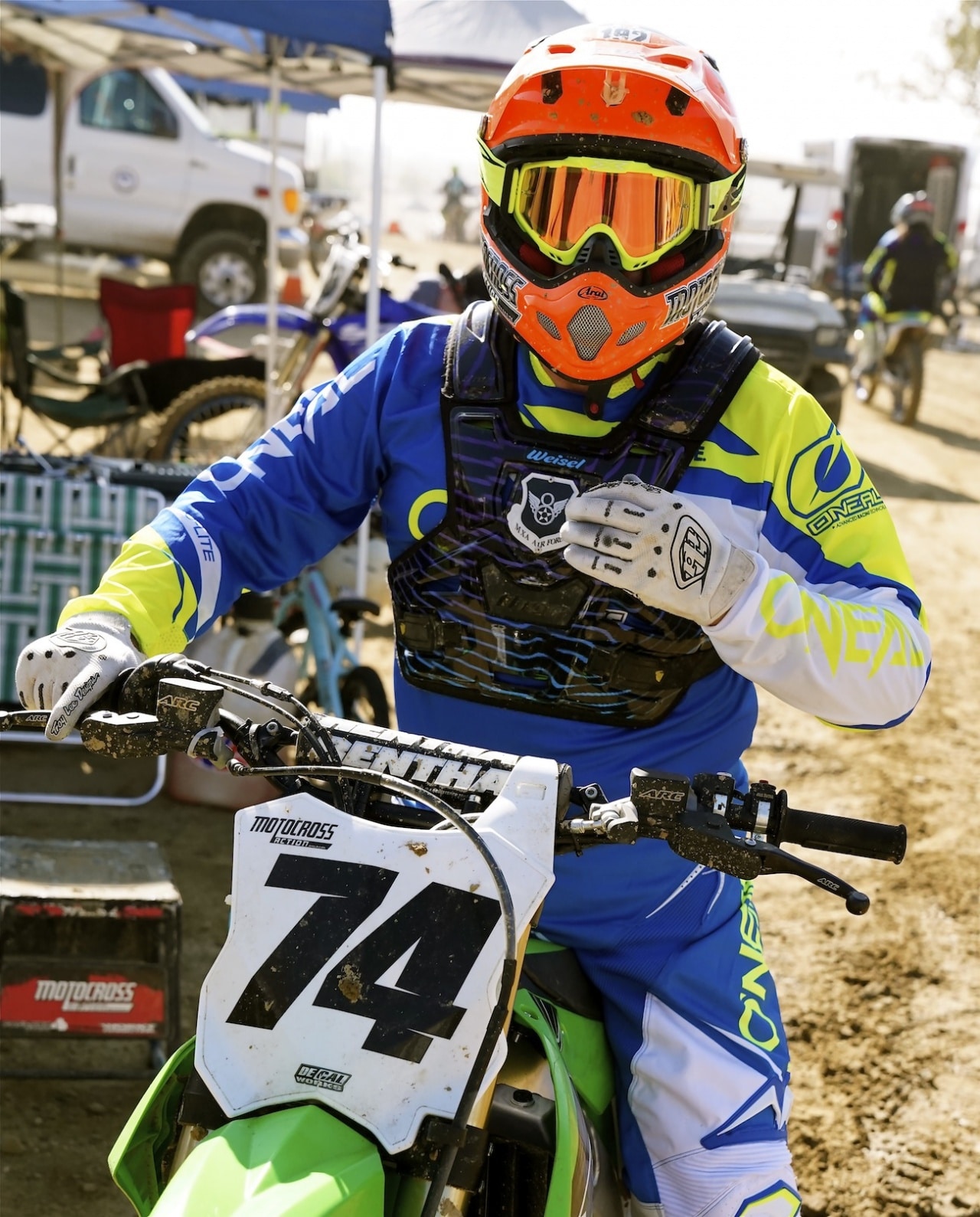 In the last 12 months, MXA's Jody Weisel has been out of action for 8 of the 12 months with a badly broken arm, followed by surgery on both eyes. With his eyes healed, he came back to race with his friends this week. Photo: Jon Ortner
Jim O'Neal loves REM. He likes to race there because about a quarter of REM racers wear O'Neal gear. Photo: Jon Ortner
The weekly breakdown by brand shows that KTM and Yamaha tied with 33% of the bikes at REM apiece. Honda was third with 14%, Husqvarna fourth with 8%, Kawasaki fifth with 5%, Suzuki sixth with 3.5% and TM/GasGas accounted for 3.5%.
Randy Skinner tried to race for a month after hurting his shoulder, but finally decided to see a doctor, who said he was idiot for not coming in the day after he hurt it. Surgery and a couple months of sitting on a giant tractor tire are what the doctor ordered. Photo: Josh Fout
The weekly breakdown by age reveals that riders under the age of 30 (Beginner, Novice, Intermediates, Pro, Minis and Pee-Wees) accounted for 31% of the riders at REM. The Over-50 age group classes (Elite, Expert, Intermediate and Novice) represented 26% of the turnout. The Over-60 age groups (Over-60 Expert, Over-60 Intermediate and Over-65 Intermediate) tallied 20% of all the riders at REM. The 30-year-old Vet classes (Beginner, Novice, Intermediate and Pro) accounting for 12% and the Over-40 classes adding up to 11% (Novice, Intermediate and Expert).
Chris Cole — all-around good guy. Photo: Josh Fout
Doug Dubach and son Carter. Photo: Jon Ortner
Mason Hibner (25) styles for awhile on his way to the 65cc Beginner class victory. REM has a special kid's track that allows young riders to race on a safe and sane track design for small bikes and small riders. Photo: Rich Stuelke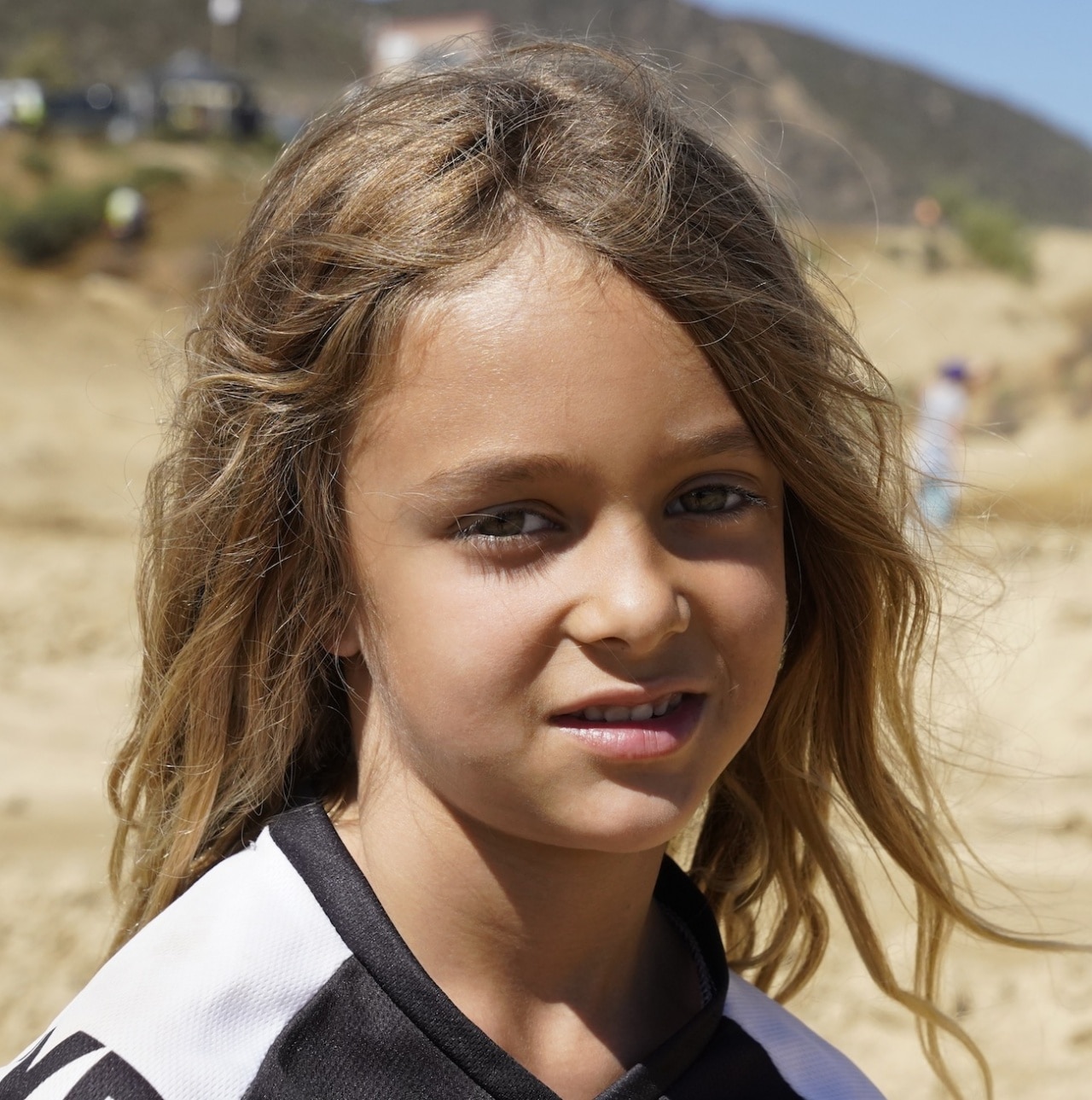 Mowgli Roe is a regular on the REM Kid's track where he shines on his KTM 50SX. Photo: Jon Ortner

6D Helmets' Robert Reisinger and son Nick were all smiles for Nick's first-ever ride on the big REM track — he's a graduate of REM's kid's track. Photo: Jon Ortner
ARC Lever's Bob Barnett came out to help the MXA gang with the levers on the 2019 KX450 and also changed the leverage ratio on the clutch lever. Photo: Jon Ortner
REMAINING 2018 REM MOTOCROSS RACES
Oct. 6…Glen Helen, CA
Oct. 20…Glen Helen, CA
Oct. 27…Octobercross (World Vet Warm-up on World Vet National track)
Nov.3-4…Dubya World Vet Championship (National track)
Nov. 17…Glen Helen, CA
Dec. 15…Glen Helen, CA
Dec. 22…Glen Helen, CA
Dec. 29…Glen Helen, CA
GasGas built Damon Bradshaw a special one-off GasGas 300 motocross bike. MXA raced it at REM, but first had to resolve some jetting issues  Photo: Jon Ortner
REM races again at Glen Helen on October 6, 2018. For more info on REM Motocross go to their facebook page or web page at www.remsatmx.com