REM GLEN HELEN MOTOCROSS: BATTLE OF THE AGES
Photos by Dan Alamangos, Jon Ortner, Rich Stuelke, Kyoshi Becker and Debbie Tamietti (click on images to enlarge)

Welcome to Glen Helen. Drop in any time. Photo: Rich Stuelke

Normally the Pro classes are the big draw of any REM motocross, but this week all eyes were turned to a showdown in the Over-50 Elite class. How so? REM attracts a phenomenal number of Over-40, Over-50 and Over-60 motocross racers. How many? More than 60% of the racers at Glen Helen this weekend were over the age of 40 and by far the 50-year-olds (born before 1966) were the biggest classes. The draw this weekend was Doug Dubach. Doug is not only the current Over-50 World Champion, but he has won an AMA Supercross, been a factory Yamaha rider and holds World Vet Championships in the Over-30, Over-40 and Over-50 classes. In a nutshell, Doug doesn't lose. That was about to change when REM came to the USGP track for this week's race.
Last week Jon Ortner won the Over-Elite class on a 2017 Husqvarana TC250 two-stroke, this week he did the deed on a 2017 KTM 250SX two-stroke. Photo: Dan Alamangos

Additionally, two-time World Vet Champion Pete Murray was also in the Over-50 Elite class. Murray won the Over-40 World Vet crown in 2000 and backed it up with the Over-50 crown in 2012. Pete prefers to race a YZ125 two-stroke when he can and he and Dubach both showed up with matching tiddlers. Their little bikes faced not only Glen Helen's big hills (although they were lucky because REM decided not to run the biggest uphill this week), but a veteran field of Over-50 racers—including Jon Ortner, Luther French, Phil Dowell, Kevin Barda and Gary Renko. They would also be joined in their gate by the Over-50 Experts making for an almost full gate.
Doug Dubach (15) rarely loses at Glen Helen. He has won the FIM Vet World Cup, World Four-Stroke Championship and the World Vet Championship there. In fact, he has won World Vet Championship titles 25 times. So, he showed up on a Yamaha YZ125 with every intention of winning. It didn't turn out as the Doctor planned. Photo: Debbi Tamietti

Exactly what you expected to happen did happen — Murray and Dubach got mid-pack starts—while the rest of the Elites ran free up front. Jon Ortner had won the Over-50 Elite class the week before on MXA's 2017 Husky TC250 two-stroke and this week he was on a 2017 KTM 250SX two-stroke. Something was in the water because it didn't take long for the three two-strokes to become the front three with Ortner, Murray and Dubach (who was hampered by a first moto fall) pulling away from the rest of the field. Dubach pushed his way past Murray for second and on the last lap closed the gap on Ortner's 250cc smoker. Dubach would close on the downhills and Ortner would open the gap on the uphills. The final five corners were tricky flat-land corners that varied from on-camber to off-camber. Dubach's YZ125 was ultra-fast in the twisties. As the checkered flag fell, Dubach blasted by Ortner over the finish-line double for what looked like the win—but the transponder wire was buried in the face of the jump and Ortner beat Dubach to the wire for the first moto win.
Sequence #1: With two laps to go in the second moto of the Over-50 Elite class, Doug Dubach (15) caught leader Jon Ortner (10) as they went under the bridge. Scott Boek (66) was being lapped in a section of track where there is no place to get out of the way. Photo: Dan Alamangos

Sequence #2: Dubach pulls even with Ortner and their elbows touch, but Doug's YZ125 is sliding as he wheelies up the incline. Photo: Dan Alamangos

Sequence #3: Dubach and Orter's bikes collide as Ortner tries to sweep around the lapper. Photo: Dan Alamangos

Sequence #4: Doug goes down as Ortner gets away and YZ125-mounted Pete Murray, a two-time World Vet Champion, gets by also. Doug would get up off the deck and repass Murray, but come up 15 feet short of catching Jon Ortner at the checkered flag. Photo: Dan Alamangos

The second moto was like a instant replay of the first moto. Ortner had his starts nailed on his 250 two-stroke (the 2017 KTM 250SX only weighs 211 pounds) and Dubach and Murray had to work their way through traffic. It didn't take long for Dubach to get close enough to play a cat-and-mouse game with Ortner (gaining ground on the downhills and losing it on the uphills). Finally, with two laps to go, Dubach decided to make his move under the bridge. Dubach dove inside in the berm and turned tighter than Ortner, but this gave Ortner the inside line in the next right-hand turn. Unfortunately for Doug Dubach, there was a lapper in front of them. The lapper had no where to go and both Ortner and Dubach were forced to go the long way around him—except there was only room for one rider in the tight right. Dubach and Ortner collided and Doug's front wheel was swept out from under him. Down he went.
Syd Woods (489) and Jeff Scott (452) try to make up ground on Scott Richardson (94), while Richardson gives up half a bike length to Lyle Sweeter (55) and Brian Allen (923) in the rush to the Talladega first turn. Photo: Rich Stuelke

As Doug Dubach picked his bike up, Pete Murray flew past into second place. It looked like it was over for Dubach. But, Glen Helen is Dubach's happy hunting ground. Doug pulled the plug and rode like a man possessed. With one lap to go he passed Pete Murray and closed back up on Ortner — with high hopes of making his move in the five sweeping corner down on the flat land. Ortner had never beaten Dubach in his life—not during their days on the AMA circuit and not in the years since. Because Ortner was also on a two-stroke, some of Dubach's line choice advantage, that he would normally have over a four-stroke, was lost as Jon blunted every move the Doctor made in the final five corners. They crossed the finish line nose to tail, but Ortner had blipped the transponder wire first again.
MXA's Dennis Stapleton lets it all hang out of the Hip Jump on a 2017 Kawasaki KX450F test bike. Photo: Dan Alamangos

You wouldn't think that 50-year-old motocross racers would act like giggly kids, but Ortner had done something that had escaped him his whole life. He was babbling. He beat Doug Dubach, at Dubach's home track, in both motos. It didn't matter that Doug was on a 125 and Jon was on a 250—because Doug Dubach always wills his way to the win—even if he was on a minicycle in the 450 class. It didn't matter to Jon that Doug fell—because Doug has gotten up off the mat many times during his run of 25 World Vet Championship.
450 Pro Sean Lipanovich backs the rear of this KTM 450SXF around a tight left-hand bend. Photo: Dan Alamangos

Motocross pays dividends to those who apply themselves — although it may take 30 years to get that pay-off. Maybe the pay-off never comes, but there is joy in the pursuit. Congrats to Jon Ortner and to Doug Dubach who rode brilliantly all day long to lose by bike lengths. The scorecard may say different, but nobody at REM lost.
Justin Muscutt (116) lifts his leg up in preparation for the next big rut on his way to 5th in the 450 Pro class. Photo: Jon Ortner
Carson Mumford (122) went 4-4 in the 250 Intermediate class on his Honda CRF150. Photo: Dan Alamangos

Doc Alexander put down his stethoscope for a weekend and came to REM to race. Doc finished sixth in the Over-50 Intermediate class on his Husqvarna. Photo: Dan Alamangos
Jim O'Neal brought his Husqvarna Baja pre-run FC350 to REM. He went 4-4 in the Over-65 Expert class. Photo: Jon Ortner
Max Vohland, son of former AMA National Pro Tallon Vohland, swept both motos of the 85 Intermediate class. Photo: Dan Alamangos
Jett Reynolds (79) scatters dirt and rocks as he sweeps past a cliff face on his way to the 85 Expert win. Photo: Dan Alamangos
Carter Dubach is quickly developing the same style as his dad, former Team Yamaha rider and AMA Supercross winner Doug Dubach. Carter went 3-2 for second overall in the 85 Intermediates. Photo: Dan Alamangos

Terry Cook was winning the Over-40 Pro class when he fell at the top of Shoei Hill. As you would expect, 39 riders missed him and then the last rider ran over his bike. Photo: Kyoshi Becker
For a change Jody Weisel (34) wasn't the oldest rider at Glen Helen thanks to Jim O'Neal making a rare appearance. We don't want to say how old they are, but they were both born in the 1940s. Photo: Kyoshi Becker
JON ORTNER PHOTO PIT PARADE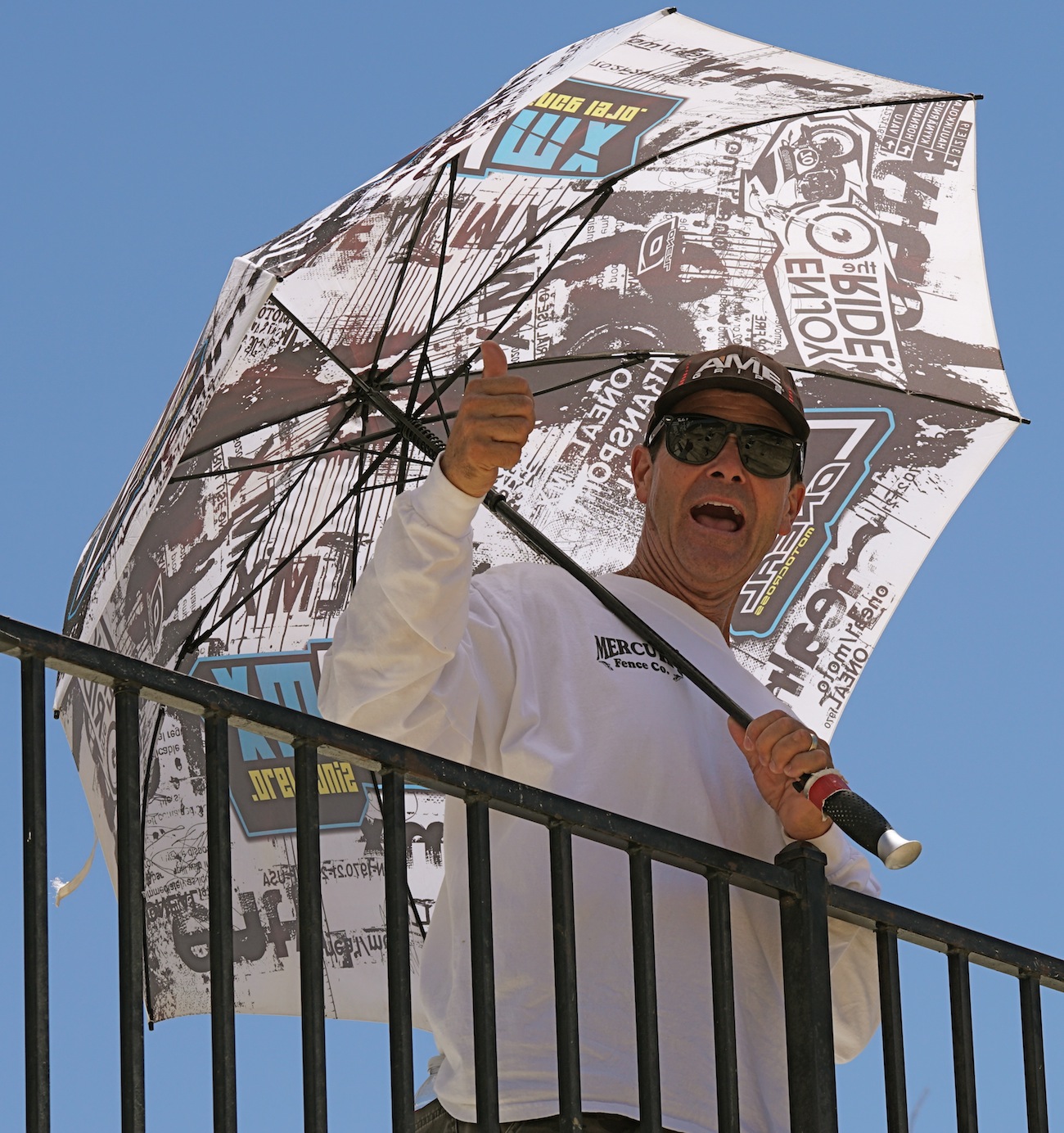 Last Saturday Val Tamietti separated and dislocated his shoulder. This week he had to rest his umbrella on his good shoulder. Shouldn't Val be holding that umbrella over his wife Debbi?
At the rider's meeting they held a special presentation for Cole Tompkins, who won three classes at Mammoth Mountain (you can see one of his bear trophies in the lower right). Tom White (left) then awarded Cole with a check for $1000 to help him get to Loretta Lynns.

You know you have to give it your all when your buddy rips off his shirt and waves you on with it.
6D's Bob Weber suffered engine trouble with his CRF450, but borrowed MXA's KX450F to salvage the day.

Doug and Jody Weisel model the latest in straw hat fashion for Pete Murray.
Terry Cook and his daughter in the calm before the storm. Terry would win the first Over-40 Pro moto, but crashed on the biggest hill in moto two.
Tina Simons and Will Junior.
You can see photos of almost every rider who was at REM on July 2, 2016 by going to www.motophotollc.com/IMOTO-Racing/REM-7-2-16/
REM races again next Saturday, July 9, at Glen Helen (on the REM track this time). For more info go to www.remsatmx.com.