REM GLEN HELEN MOTOCROSS: FIRE, WIND & ROOST, BUT NOT IN THAT ORDER
R.J. Wageman (621) got a gift in the first 450 Pro moto, but in the second moto he came through to catch and pass Brian Medeiros for the overall win with a 1-1. Photo: Debbi Tamietti
PHOTOS BY DEBBI TAMIETTI, ROMMEL ANDRADE & DAN ALAMANGOS
It was a tough week in SoCal as the Santa Ana winds started to blow in off of the desert. "Blow" is not accurate—they howled. The wind knocked down trees, overturned garbage cans, blew palm fronds into the air and made cars swerve on the freeway (forcing a few riders to put down their cell phones to concentrate on the road). But that isn't the worst of it, went the winds blow from the desert the humidity sinks to incredible lows. In Los Angeles on Thursday and Friday the relative humidity was 3%. If you sprayed a garden hose into the air, the water would evaporate before it hit the ground (and with the winds, it wouldn't hit the ground for a half-mile away anyway).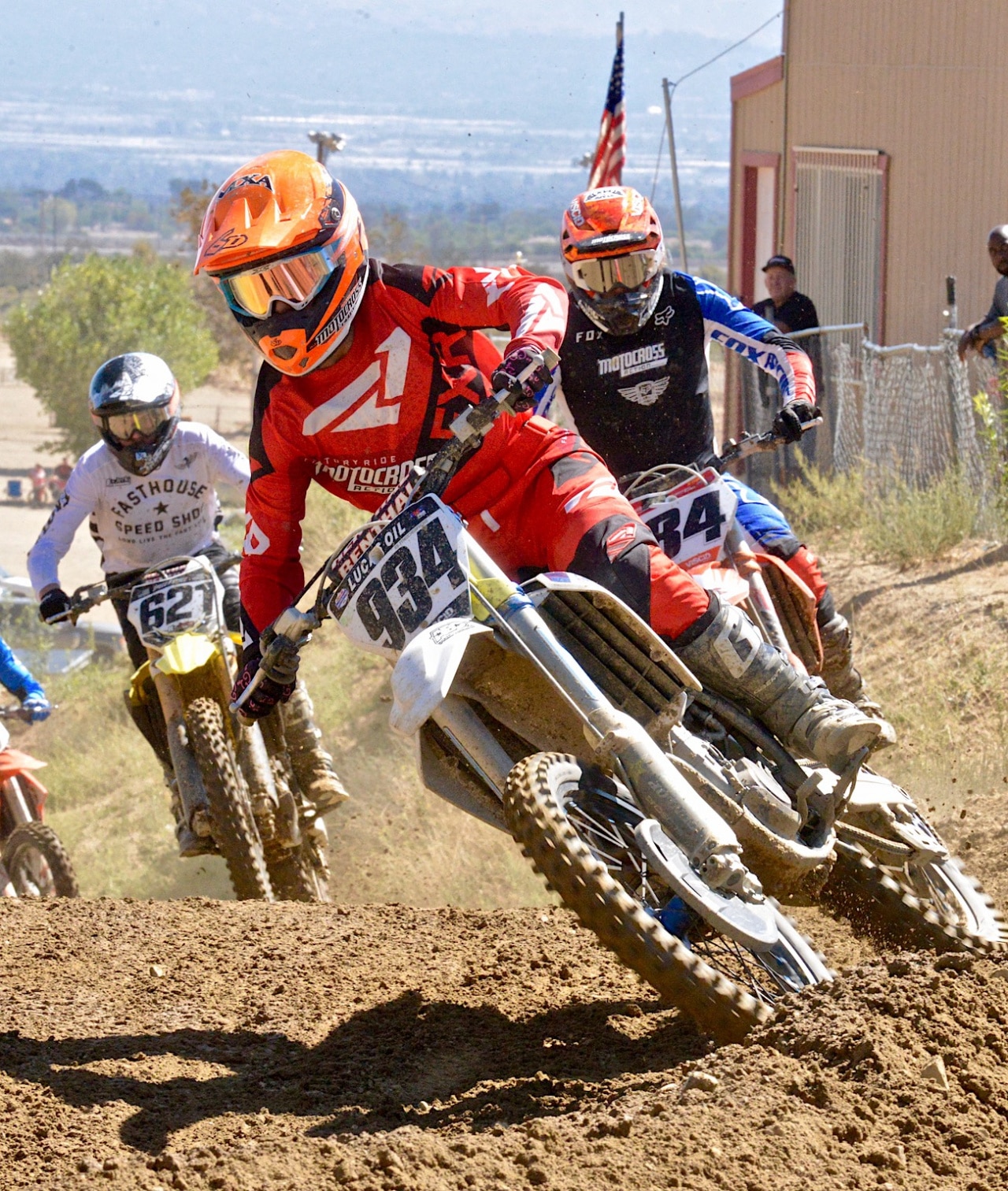 Brian Medeiros (934) holeshot both 450 Pro motos and was easily winning the first 450 moto. However, on the very last lap, with a 7-second lead, a pack of lappers swerved into his path. R. J. Wageman went by as Brian was picking up his Husky. Photo: Dan Alamangos
With 35 to 60 mph winds and almost zero humidity, the chances of a wild fire breaking out are immense. After last year's devastating wild fires, which killed people and destroyed whole towns, the power company was sued for not maintaining their lines and transformers. The electric arcs from the power lines set off the biggest fires (estimated that almost half of the fires were caused by power lines). So, this year, the company that failed to maintain its lines, trim tress away from the dangerous wires or update their aging transformers came up with the perfect solution — they turned the power off.
Dennis Stapleton (84) was running second in the first 450 Pro moto, but a small crash dropped him back. He eventually went 3-3 for third overall in the 450 Pro class. Photo: Debbi Tamietti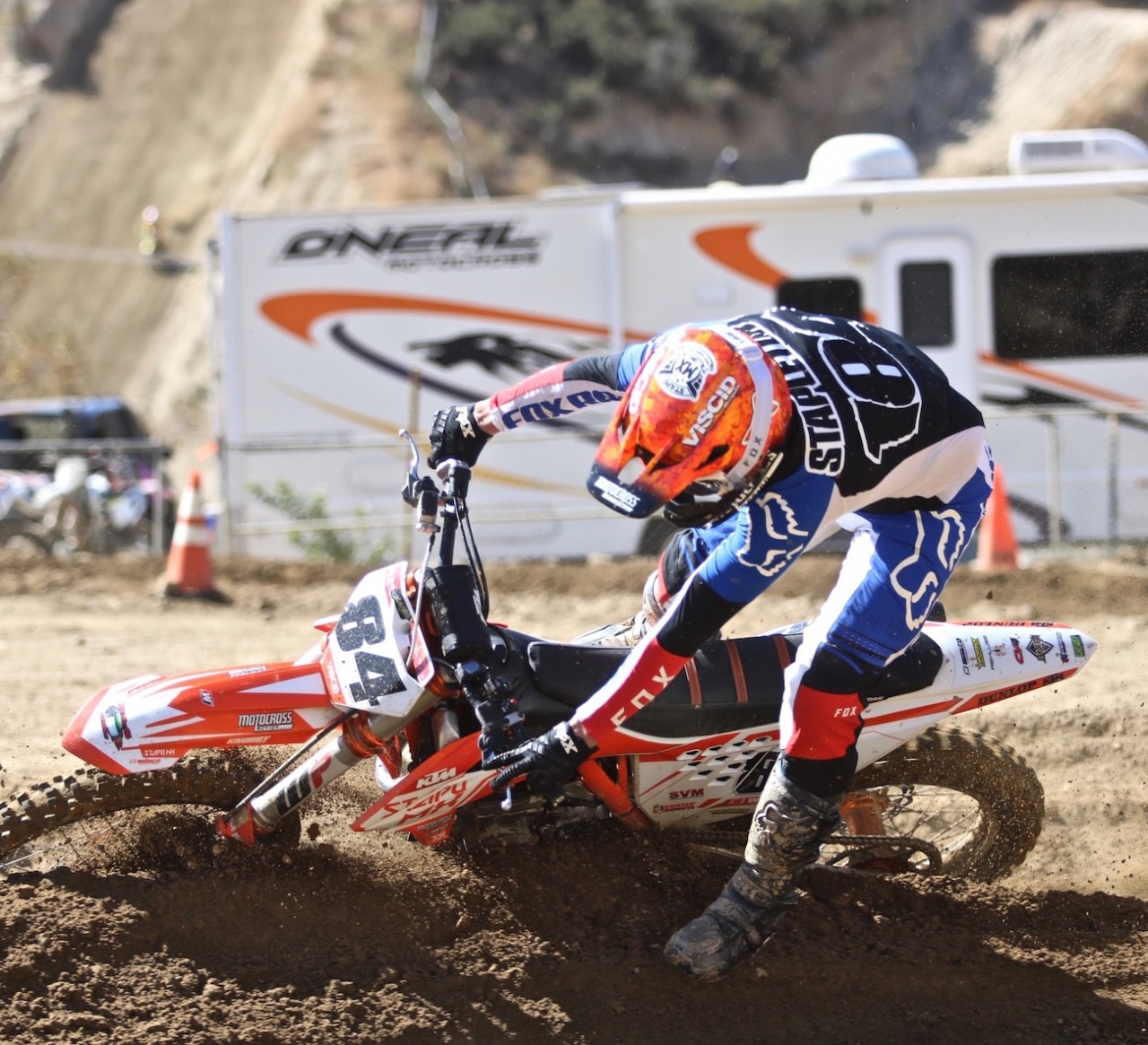 Dennis Stapleton goes over the berm at the bottom of the Mt. Whitney downhill and gets lifted out of the saddle while running second in the 450 Pro class. Photo: Rommel Andrade
What goes up must come down. Photo: Rommel Andrade
Say what? Starting on Wednesday, the electric company, which is under bankruptcy protection from the billions of dollars in claims against them from last year's fires, decided to turn off the electricity to more than 700,000 bill-payers. Of course it was done out of caution over the possibility that there could be wild fires started by their lines during the Thursday and Friday wind event, but that's like cutting down on the number of auto accidents by banning cars.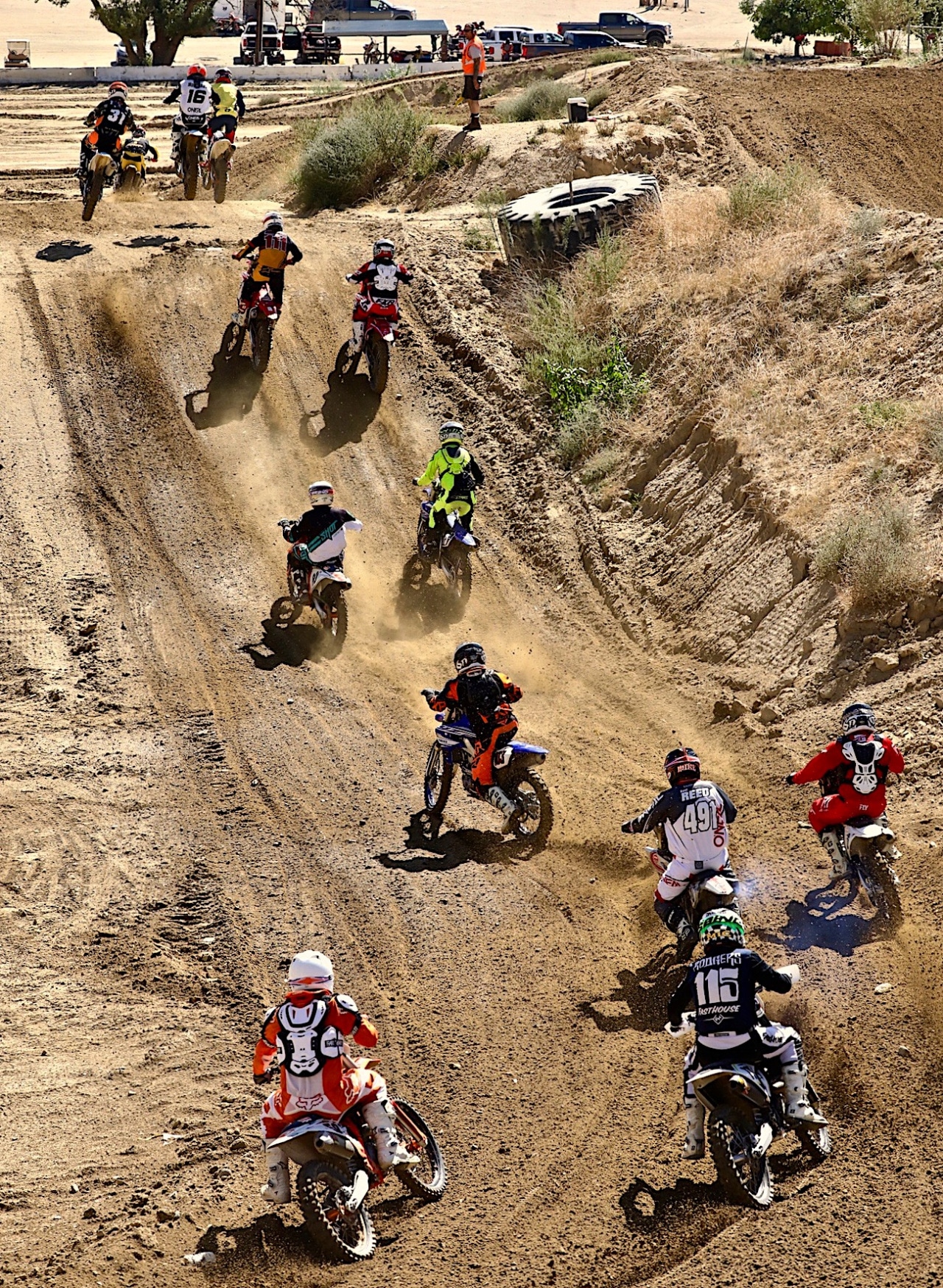 If you are back here, you have your work cut out for you. On the other hand, it means that you can relax and have a pleasant day because there is no point in rushing around like the fools in front of you. Photo: Debbi Tamietti
The cynical belief is that the reason they turned off the power is because their government-brokered $20 Billion dollar insurance policy doesn't take effect until 2020—and any wild fire that they started in 2019 would not be covered by that state legislature deal. Thus, leaving people in the dark for days would both lessen the chance of wildfires and be good for the power company's pocket book.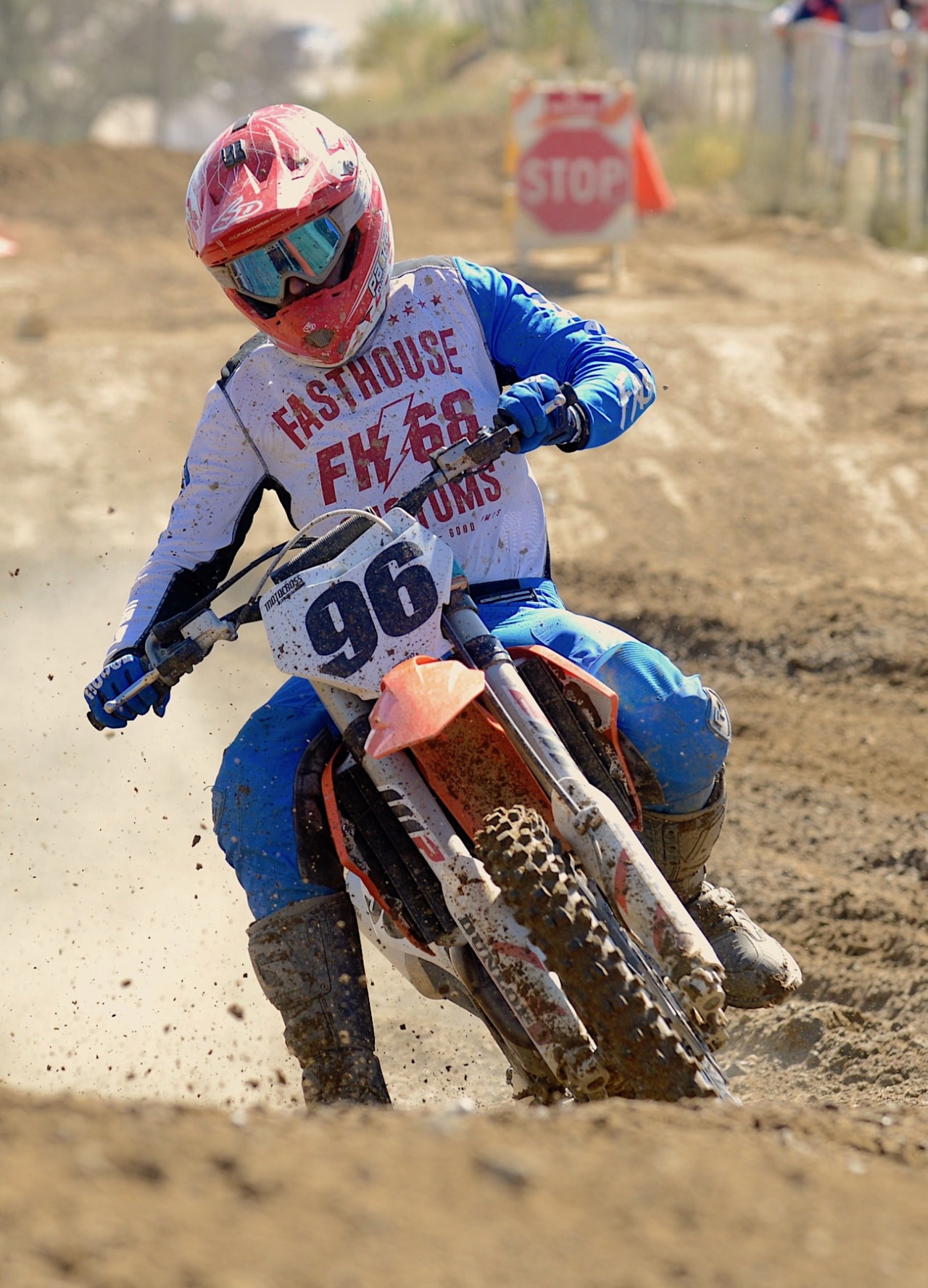 Bradley Denton's YZ450F broke in practice. Jody Weisel lent him MXA's 2020 KTM 450SXF. They shared it in back-to-back motos. Since Bradley's 450 Pro moto was first, Jody told Bradley to set it up for his weight, because Jody said he didn't plan to rush around like the fools in front of him in the Over-60 class. Bradley went 4-4 in the Pros.  Photo: Dan Alamangos
And there were fires in Northern California and SoCal. In fact, Interstate 5, between Southern and Northern California was closed for a day, along with several other freeways. Traffic was brought to a standstill as people tried to find alternate routes to get out of the City of Los Angeles and back to the valley.
What does this have to do with the REM motocross? When the MXA wrecking came to Glen Helen on Friday for a private 450 test session, there was no electricity at the track. The electric company had turned it off. There was also no water—it was being saved by the county in case a fire broke out in that area of SoCal. Oh yeah, did we mentioned that wind was blowing 35 mph at the same time. The MXA wrecking crew rode anyway. The track was rock hard and shiny, but no worse than Carlsbad used to be in the afternoon and, at least, the wind coming down the canyon, blew the dust away very quickly. But, the situation was—if by Saturday morning the power company didn't turn the power back on and the county didn't release the water— there would be no races at Glen Helen (and they had four different events scheduled).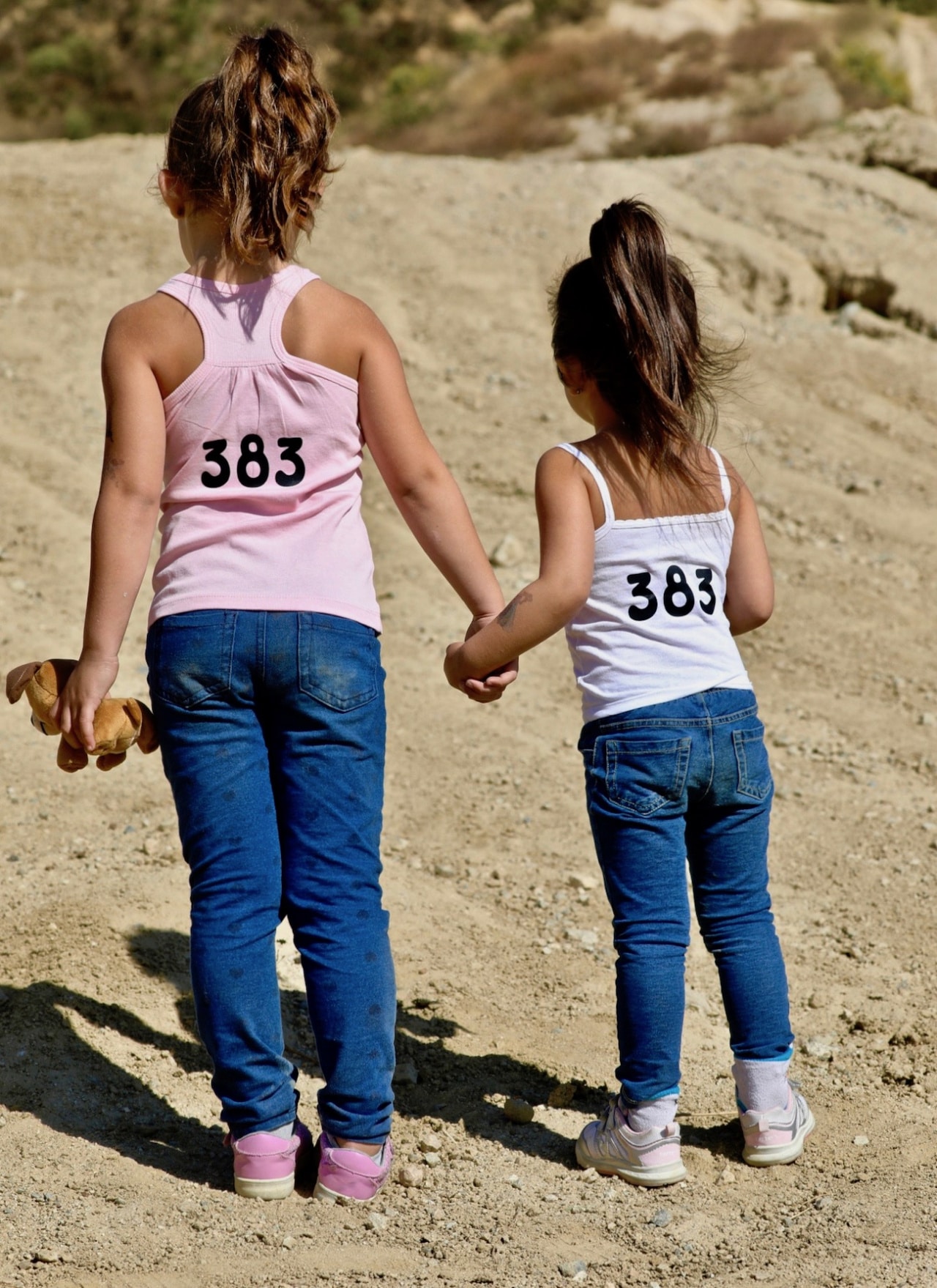 These are the cheerleaders for Speedway Pro Randy Skinner. Photo: Debbi Tamietti
Luckily, the power came back on. Glen Helen's John Allen had prepped the REM track with the Cat on Friday and on Saturday morning he was making endless runs with the water truck to get some water into the ground. The wind had died down, the sun was out and it was about 85 degrees. It turned out of a perfect race day, after a rough start.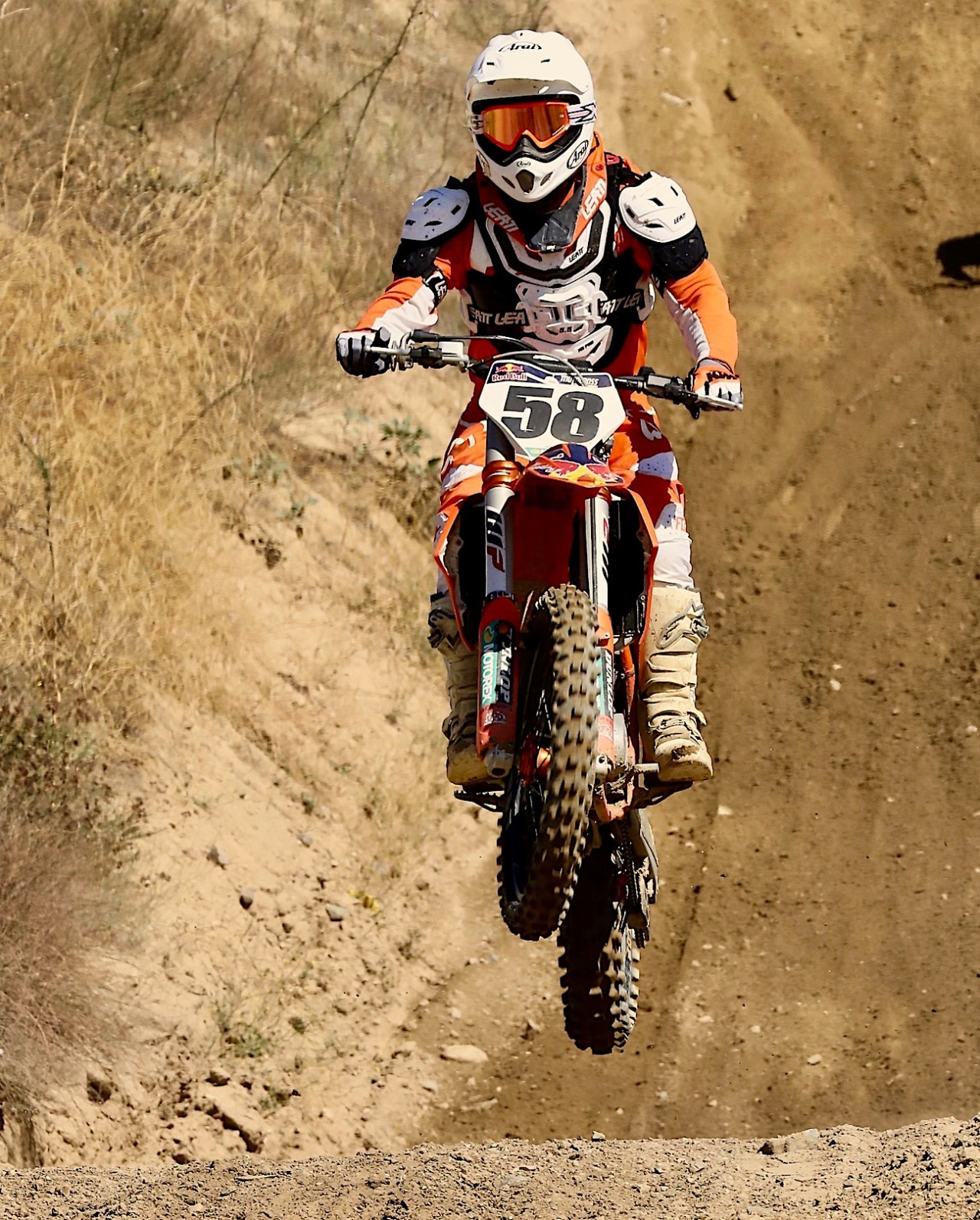 This is who the girls were cheering for — Randy Skinner. Photo: Debbi Tamietti
The best race of the day was the 450 Pro class. The fast four where Brian Medeiros, R.J. Wageman, Dennis Stapleton and Bradley Denton. They quickly moved to the front of the other riders. Hawaiian Brian Medeiros only weighs about 130 pounds, so his Husky FC450 was a rocket to the first turn. And by the end of the first lap he had built up a big lead as Stapleton, Wagemen and Denton battled over second place. That matter was settled when Stapleton fell at the bottom of the big downhill. R.J. Wageman moved into second, but the odds of him catching Medeiros were slim. But, he put his head down and whittled the Hawaiian's lead down from 15 seconds to 7 seconds as they got the white flag.
Nick Reisinger is the son of former Kawasaki test rider, AMA National Pro and 6D helmet engineer Robert Reisinger. If Nick has any bad habit on his bike, we are gonna know who he picked them up from. Photo: Debbi Tamietti
All Brian Medeiros had to do was ride at a decent pace and he would take the first moto win. It didn't work out that way. There was a tight left-hand turn at the top of a small rise, it was built on very bumpy and hard terrain. This corner was hard to get through flawlessly because it dropped away almost instantly down a curving right-hand bend that was off-camber. As Medeiros swung into the first left, there where three lappers in the turn. He tucked in tight and went as far left has he could get, even though that wasn't the fast line. Unfortunately, as the three lappers jostled for position, one of them got bumped out of the way and swerved in Medeiros' path—knocking him down. Medeiros got up quickly, but Wageman got by and Stapleton was on his tail. The win went to Wagemen with Medeiros second, Stapleton third and Denton fourth.

Robert Reisinger (96) in hot pursuit of Ron Shuler (33) in the Over-50 Elite class. Photo: Debbi Tamietti
The second 450 Pro moto was almost a repeat. Brian Medeiros got another big holeshot and opened up a gap, with Dennis Stapleton second, R.J. Wageman third and Bradley Denton fourth (on a borrowed KTM 450SXF). It looked like the Hawaiian rider would get redemption, but Wageman forced his way by Stapleton at the downhill hairpin and set out after Medeiros. When he caught up, Medeiros picked up the pace and they raced nose to tail for two laps, but finally, the constant pressure forced a mistake from Brian and Wagemen went by. Medeiros immediately fought back and looked like he was going to get back in the lead, but it didn't work and the next time he got close to R.J. he tried a high risk manueuver and lost 3 seconds. It was all over. Wageman went 1-1, Medeiros 2-2, Stapleton 3-3 and Denton 4-4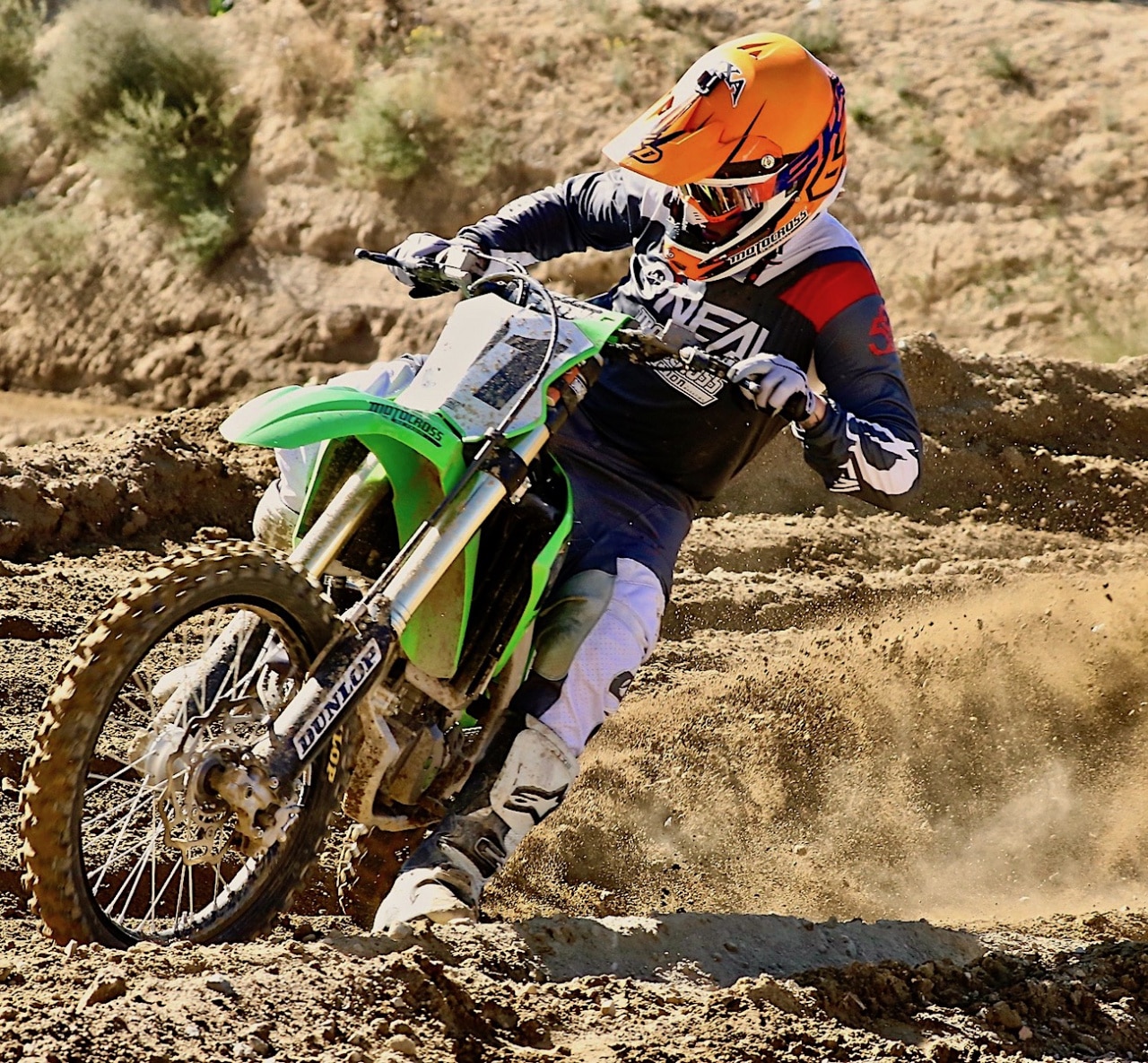 Josh Fout (91) raced MXA's 2020 Kawasaki KX450 to the Open Vet victory. MXA focused on racing all of it's 2020 450's at Glen Helen this weekend. Photo: Debbi Tamietti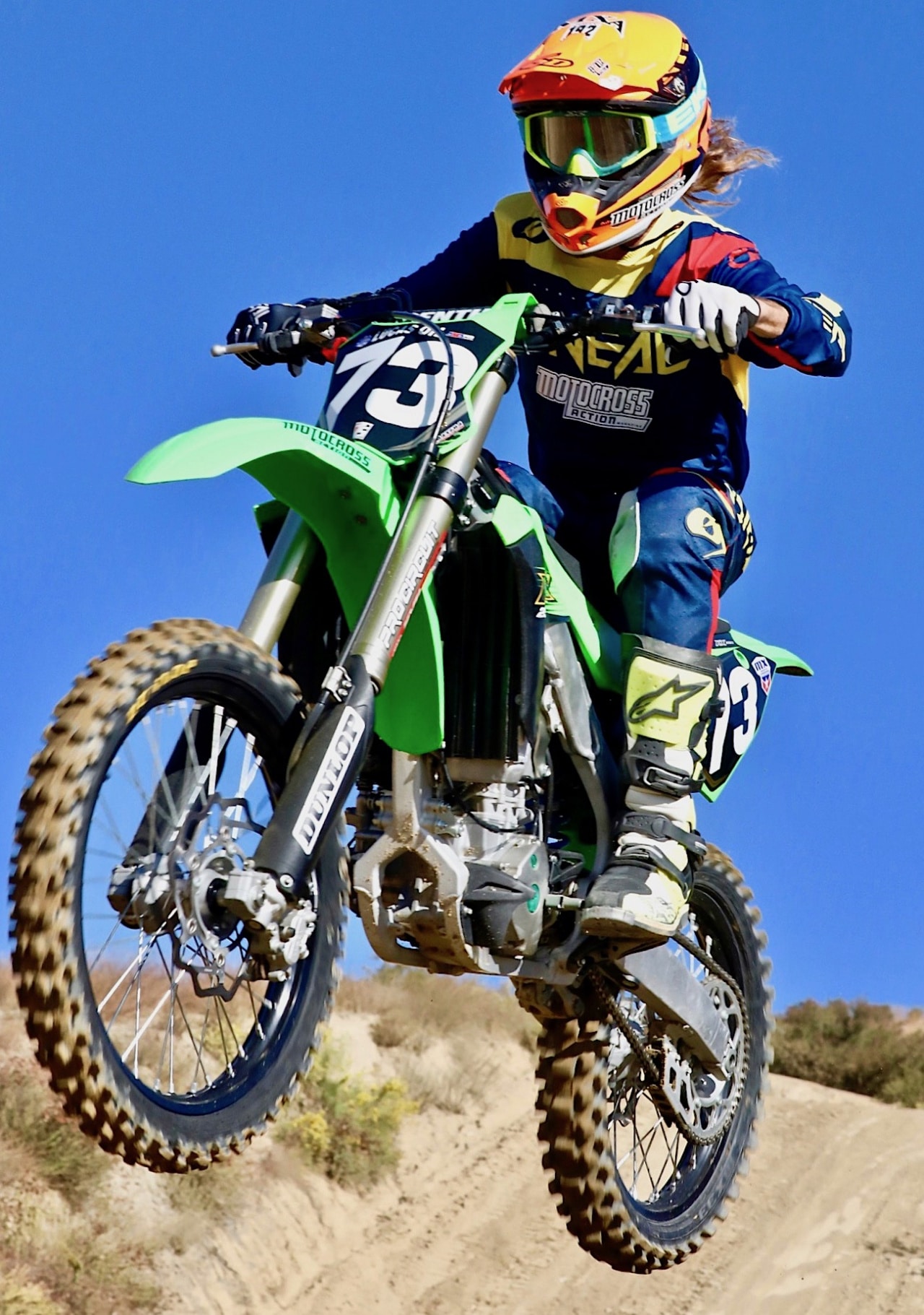 Randel Fout (73) was exempt from racing a 450 because he is working on an MXA spring rate test on the 2020 KX250. MXA had to borrow Martin Davalos' KX250 plastic after Mike Monaghan crashed the bike out at the last race. Martin doesn't need it anymore. Photo: Debbi Tamietti
In the Over-50 Expert class, which starts with, but doesn't stay with the Over-50 Elite riders, it was Nick Waters and Chris Radzinski swapping moto wins, but Radzinski's first moto 7th meant he had no chance of the overall. Aussie Dan Alamangos went 5-3 for third with C.T. Falk fourth and John Griffin fifth.
German Philip Maassen (7) took the 450 Intermediate win on a TM two-stroke that he borrowed from TM importer Ralf Schmidt. Philip comes to America in the winter to get in some warm weather laps. Photo: Debbi Tamietti
It isn't uncommon for the Over-60 guys to race in the Over-50 or Over-40 classes to get in more seat time—and most of the time they win against the younger guys, but their real challenge is to win the Over-60 Expert class. It is packed with hotshot racing talent — albeit  from the 1970s.  Former AME Indian Dunes Champion Will Harper took the overall win with a 1-1, but he was never alone out front. Dave Eropkin was second with a 3-2 that edged out former CMC #1 rider Val Tamietti's 4-2. Mike Monaghan, who was a Pro Circuit Husqvarna rider back in the days before Team Peak, was fourth with a 3-5 (on MXA's Husqvarna FC450), former Baja 500 and Baja 1000 winner Bob Rutten was fifth with a 5-4 in front of Dirt Bike Magazine editor and ISDT medal winner Ron Lawson's 8-6.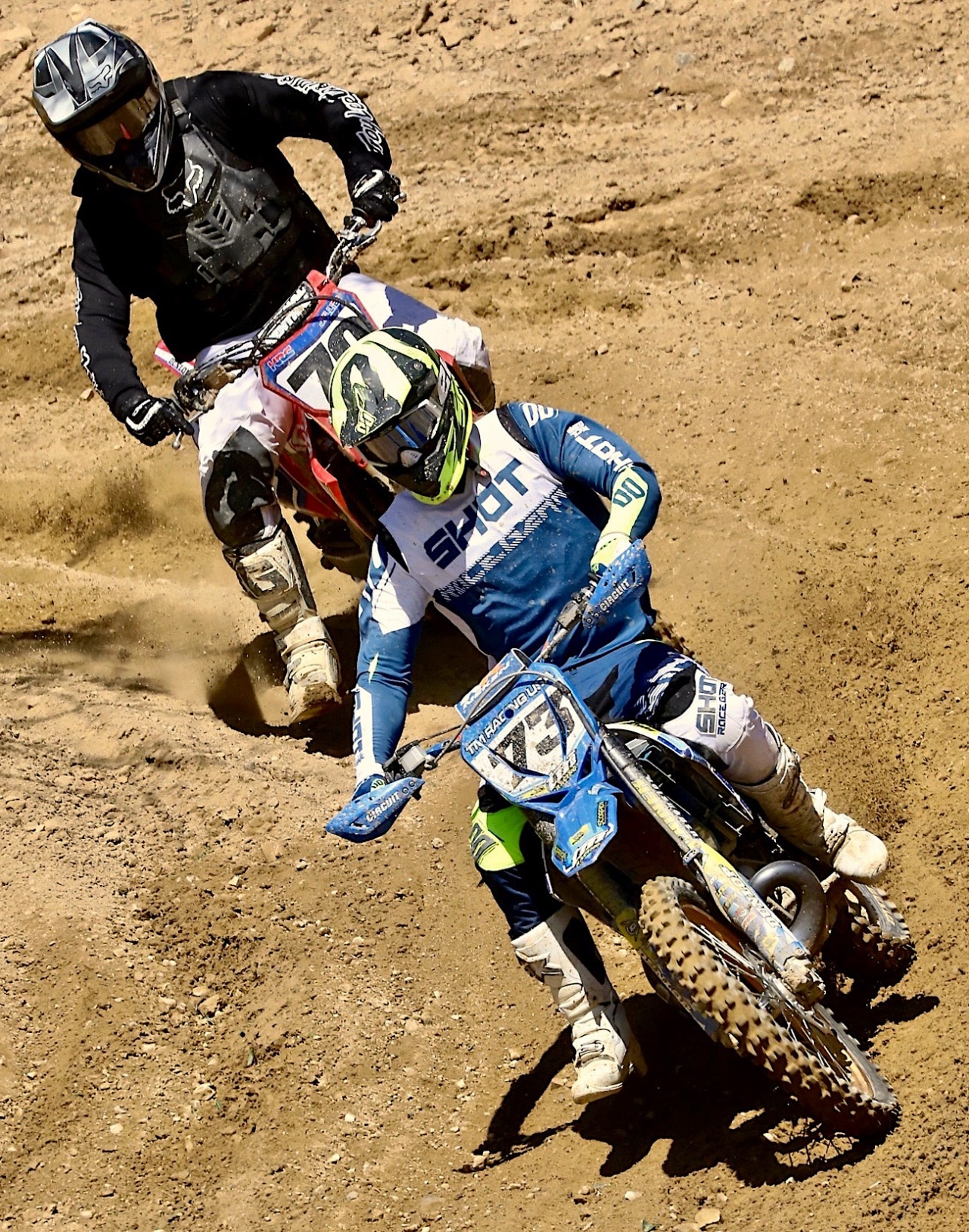 Dutchman Ralf Schmidt (73) and South African Alan Jullien (7) dueled for the Over-40 Expert win. It went to the Dutch rider. Photo: Debbi Tamietti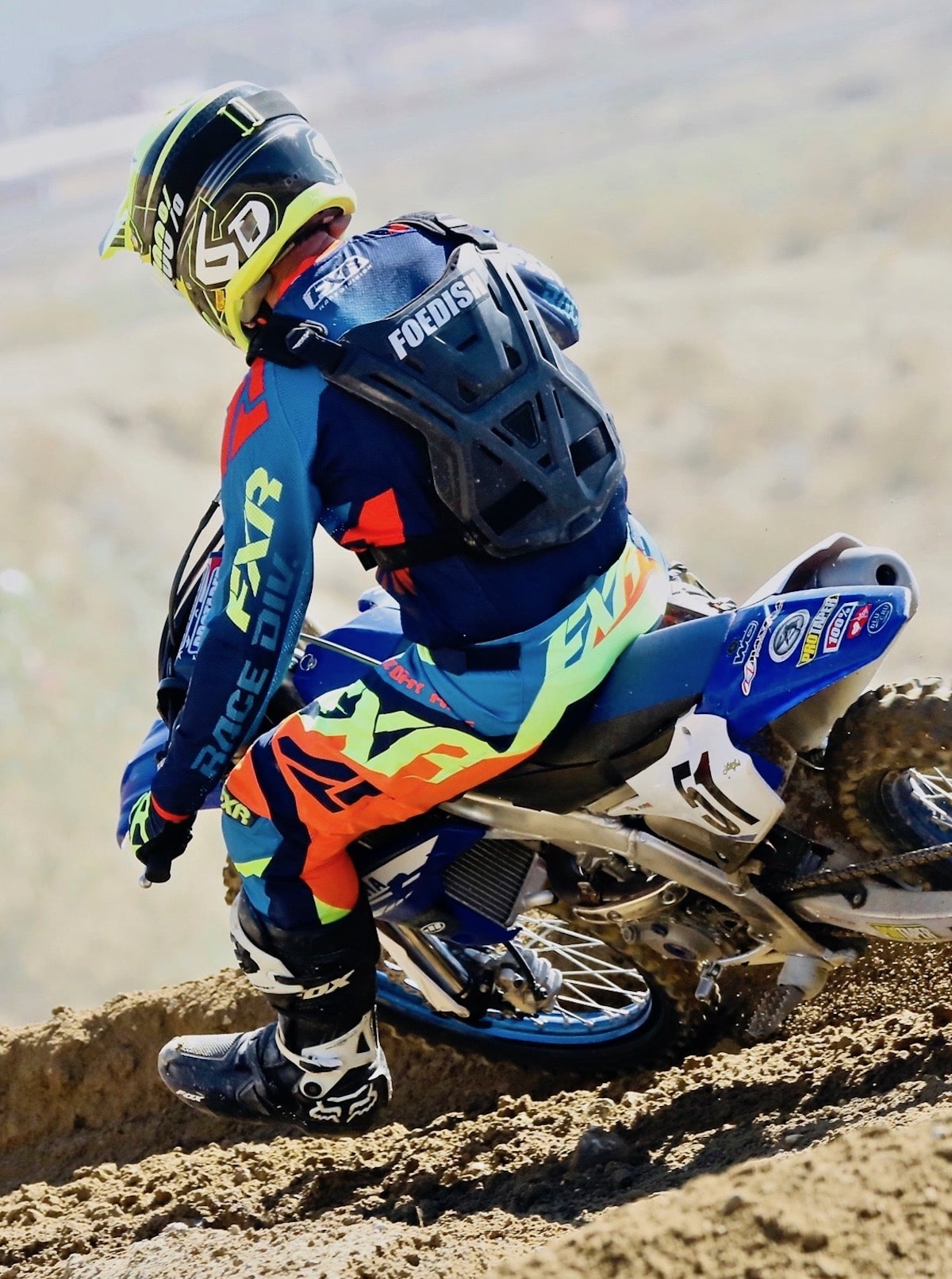 Ed Foedish (51) came from Arizona two weeks ago to race at REM to get ready for the World Vet Motocross Championship. He got beat. He came back this week with a better set-up and won both Over-50 Elite motos. Photo: Debbi Tamietti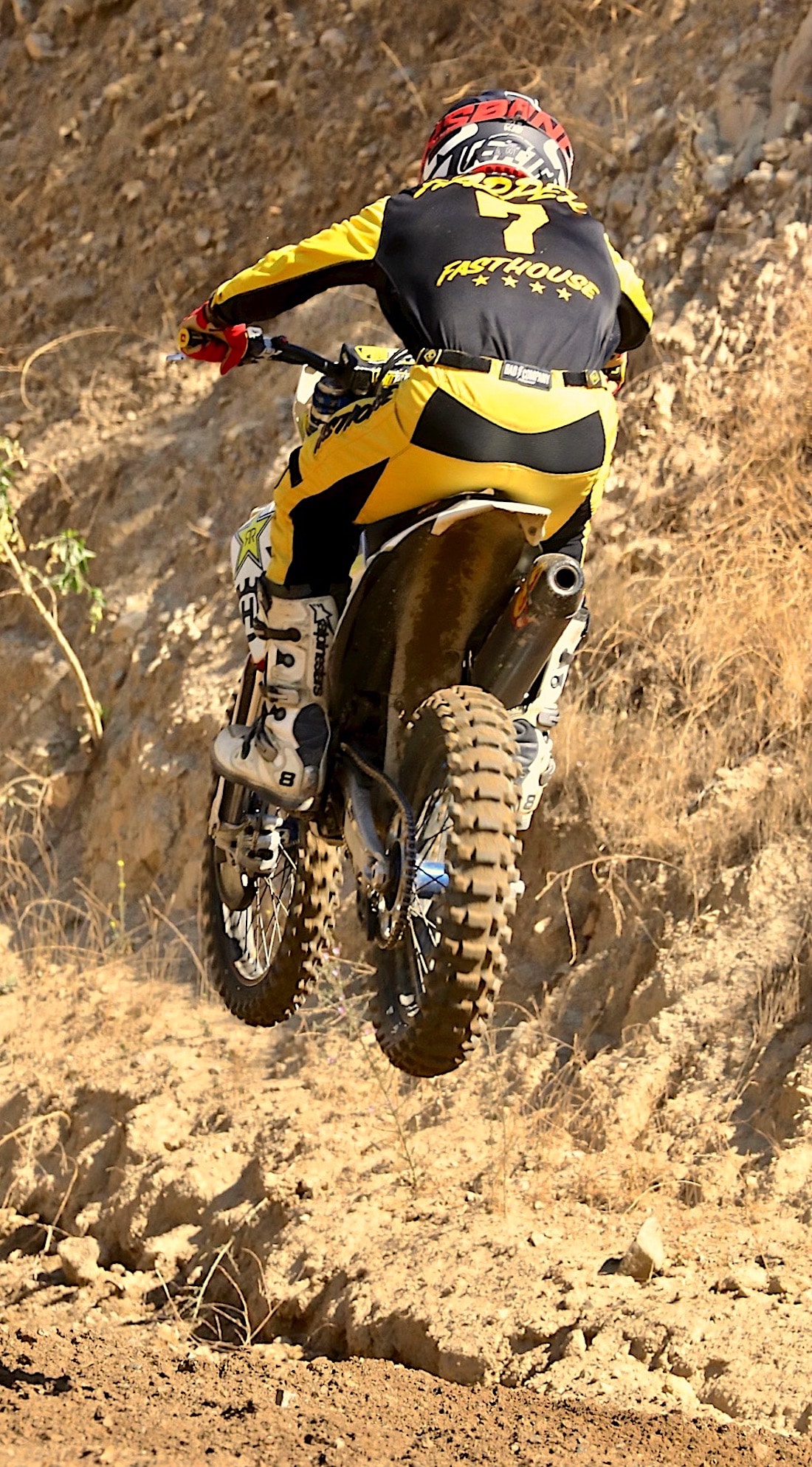 Former Indian Dunes Number 1 Will Harper went 1-1 in the Over-60 Expert class and finished second in the first moto of the  Over-50 Experts, but was a no-score in moto 2. Still a pretty good day for the Hollywood stuntman. Photo: Debbi Tamietti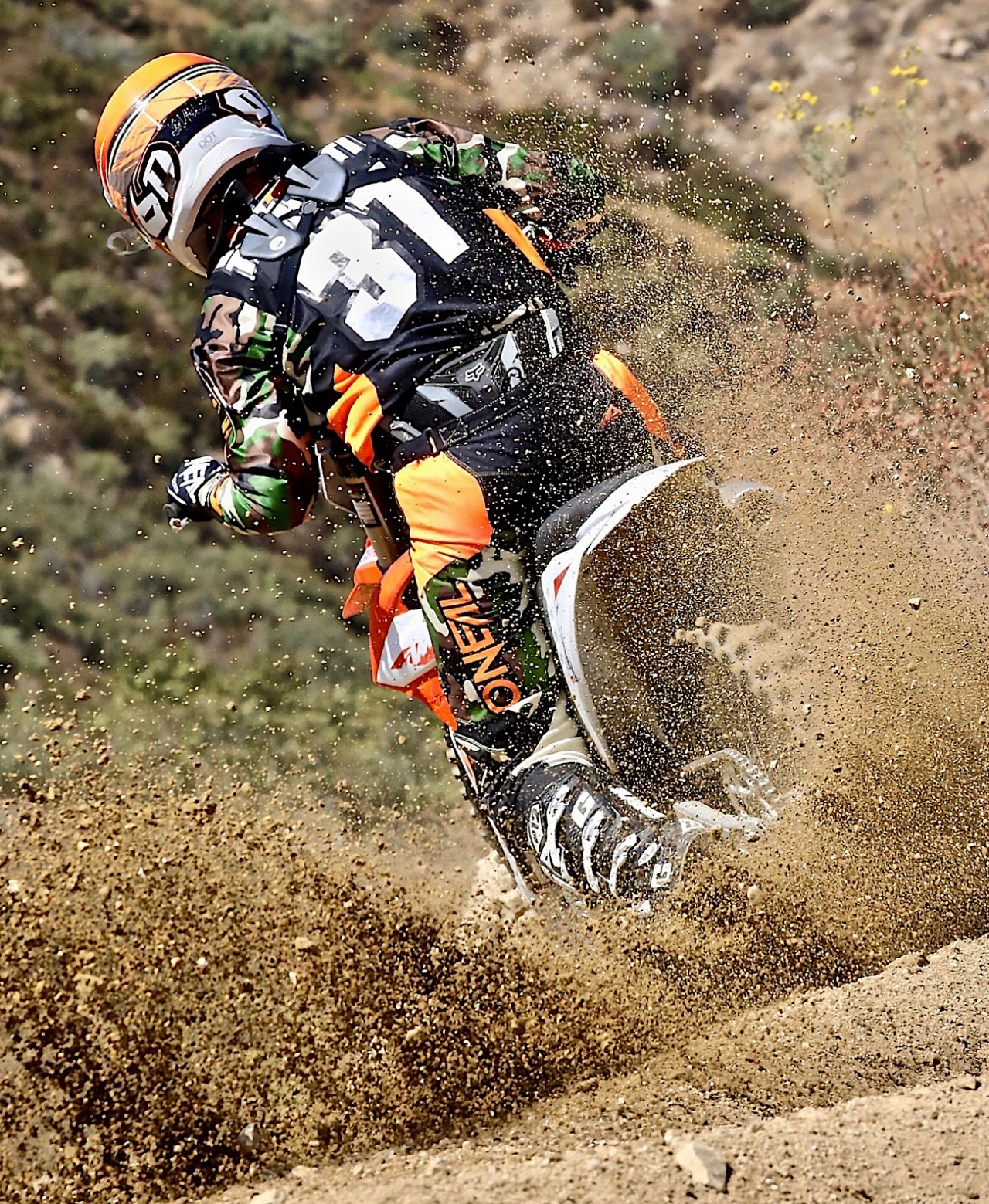 Val Tamietti could sod his front yard with the dirt he is moving out of this Glen Helen berm. Val went 4-2 in the Over-50 Experts. Photo: Debbi Tamietti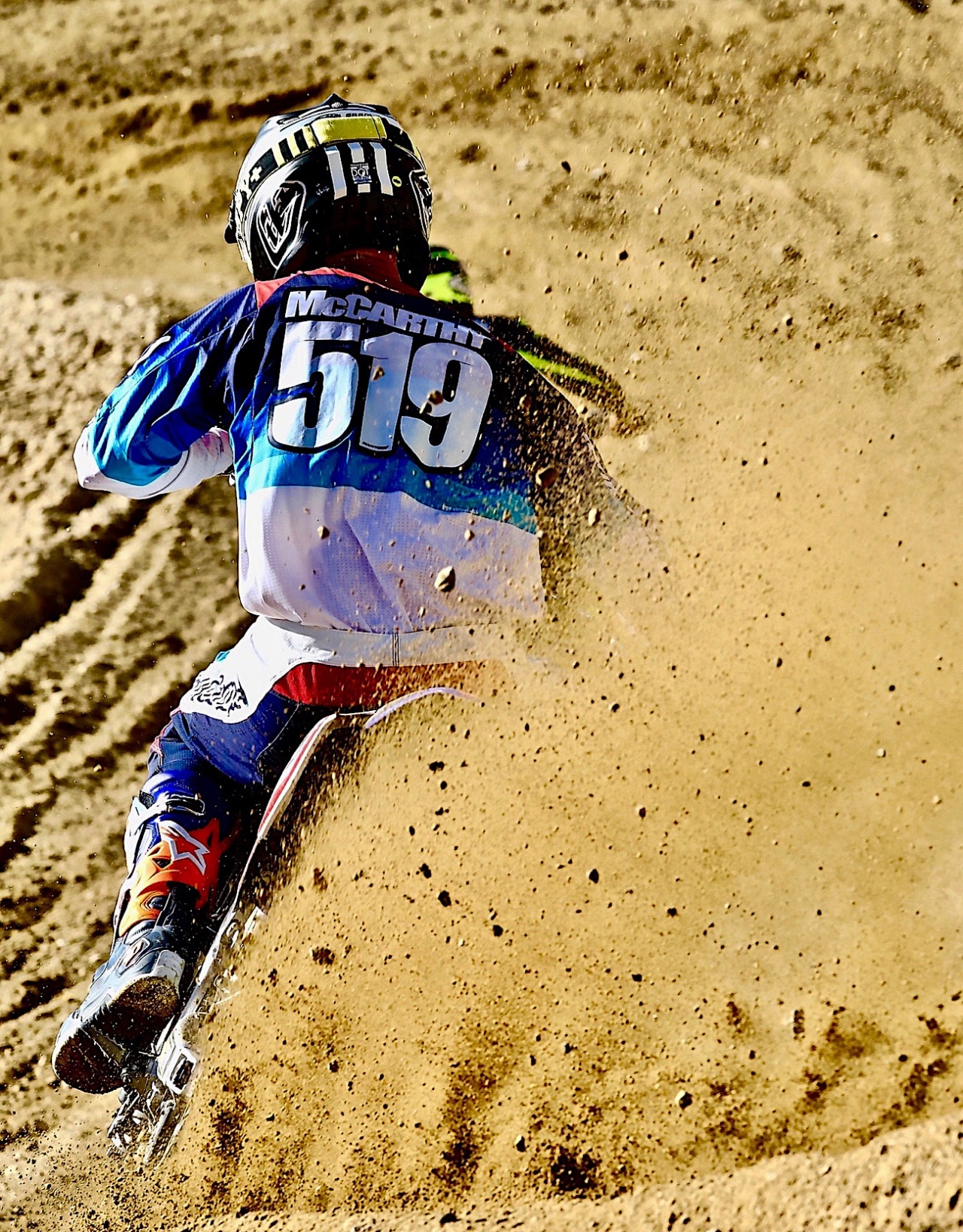 David McCarthy (519) is obviously trying to help Val Tamietti with his yard work. This is not a fluffy sand roost — it is a mixture of rocks and decomposed granite—which is a fancy way of saying "small rocks." Photo: Debbi Tamietti
Nick Waters threads the needle between Lance Sloane (124) and Dan Alamangos (white fender) on his way to the Over-50 Expert victory. Australian Dan Alamangos was third with a 5-3. Photo: Debbi Tamietti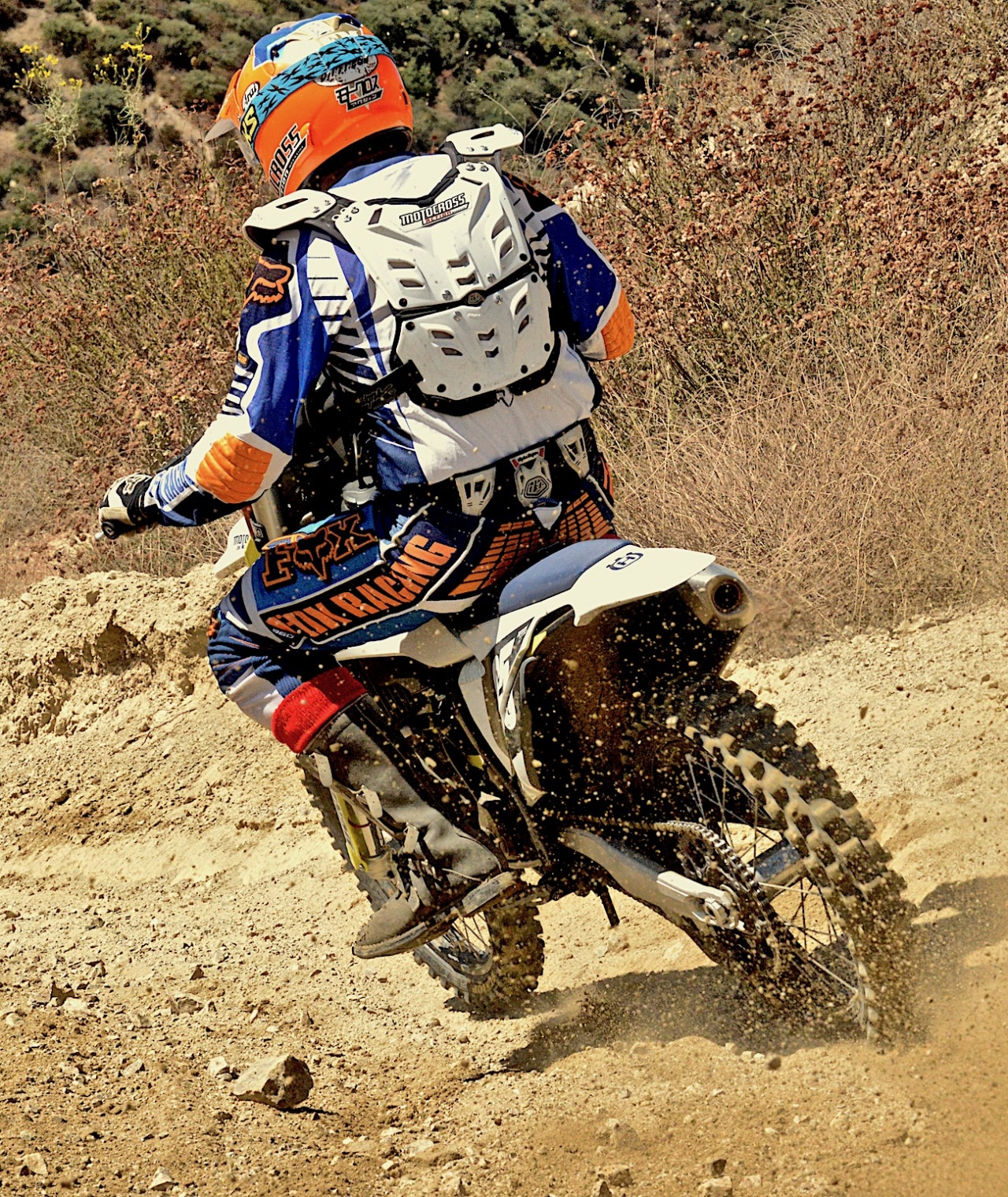 George Kohler (95) moved to Carson City, Nevada, a couple years ago from Anaheim, California. He came down to race at REM this week and said that he will be back for the World Vet. Photo: Dan Alamangos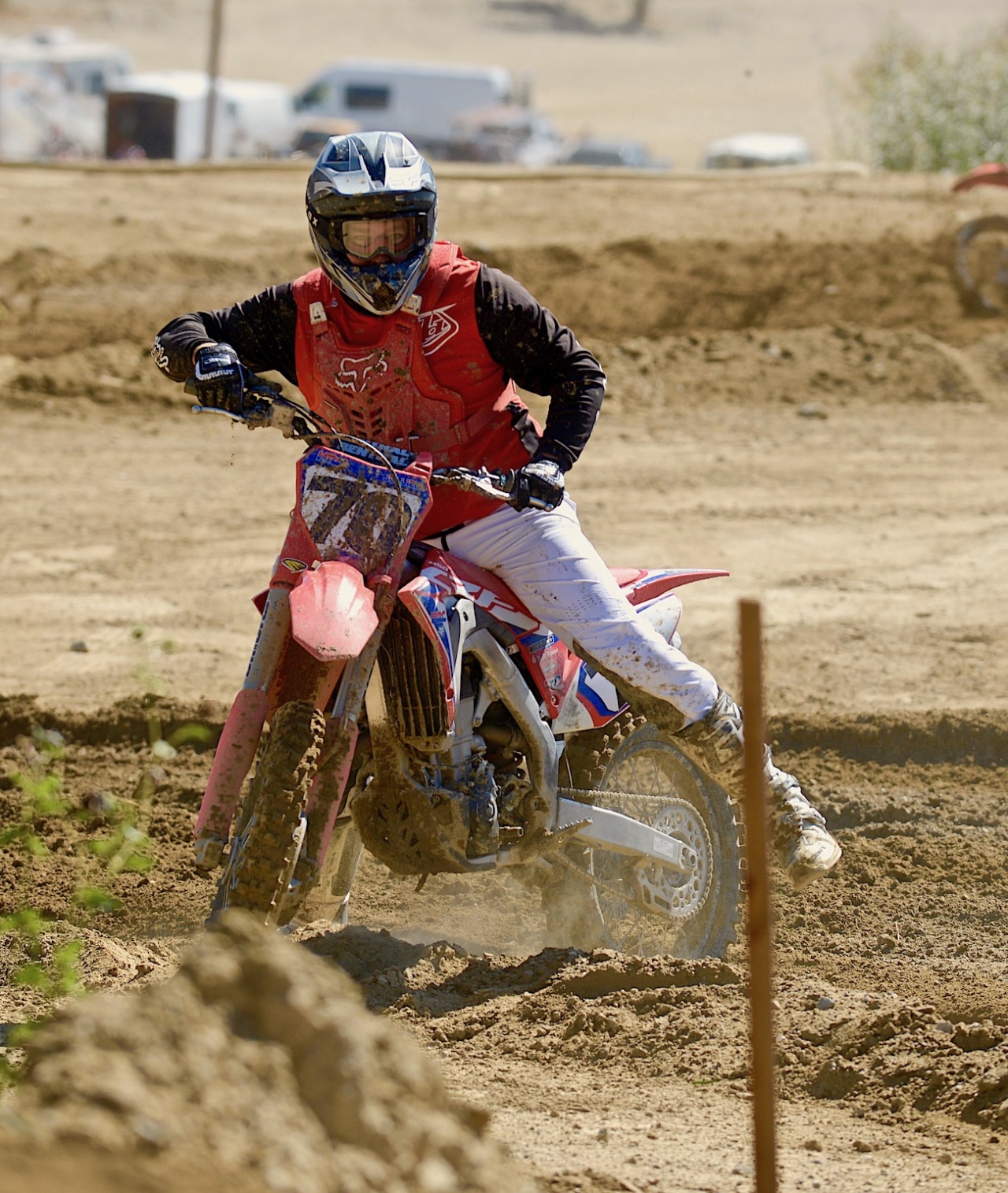 Alan Jullien (70) and his CRF450 had a disagreement about which way the track went. The CRF450 won the argument, but Alan lost the race. Photo: Dan Alamangos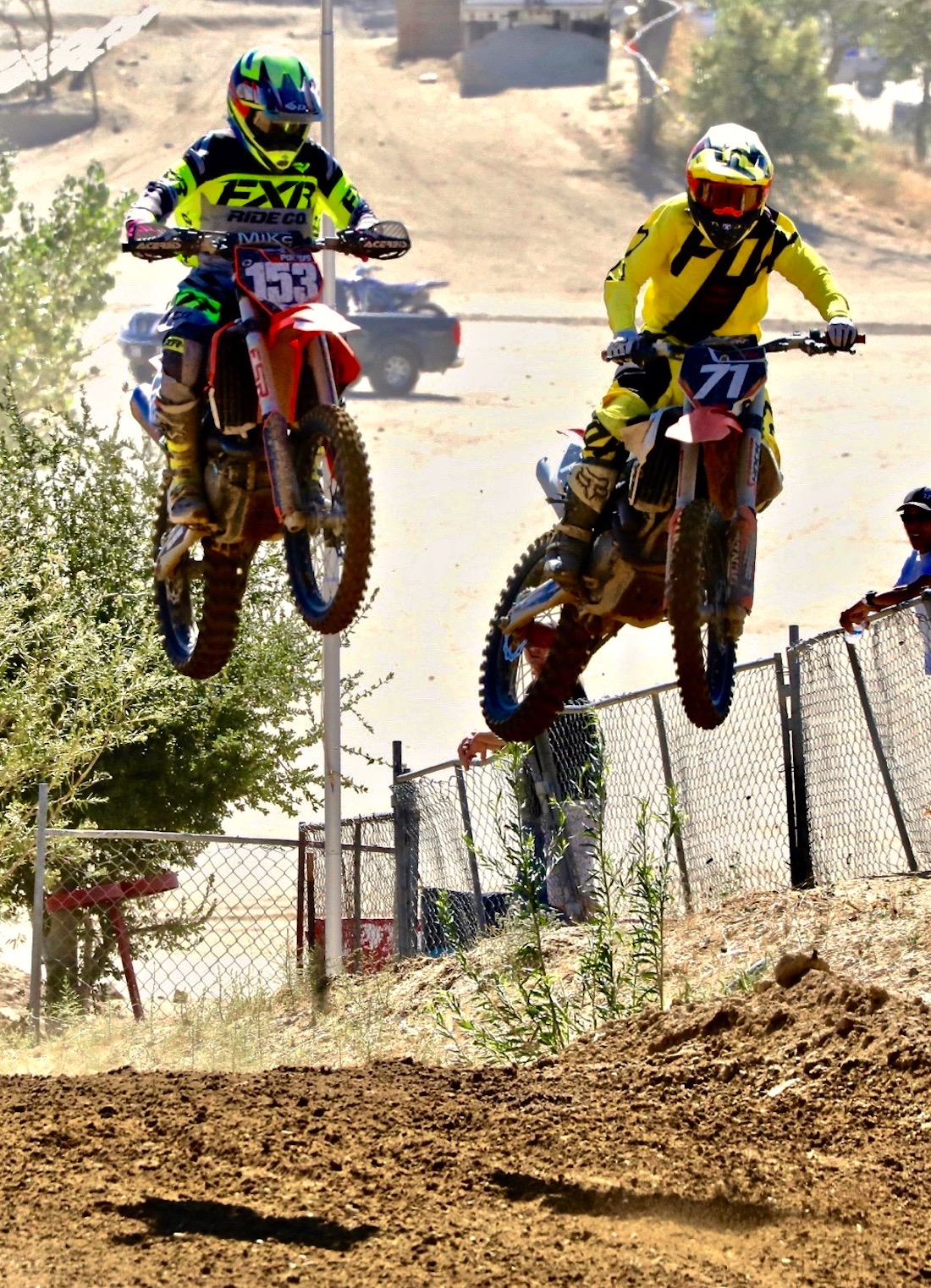 Debbi Tamietti got trigger happy and pressed the button one second too soon. After her twitchy trigger finger captured Bob Pocius (153) and Bill Reimer (71) getting the checkered flag, Reimer's line drifted into Pocius' line mid-air and they both narrowly missed disaster by an inch or two of colliding. Photo: Debbi Tamietti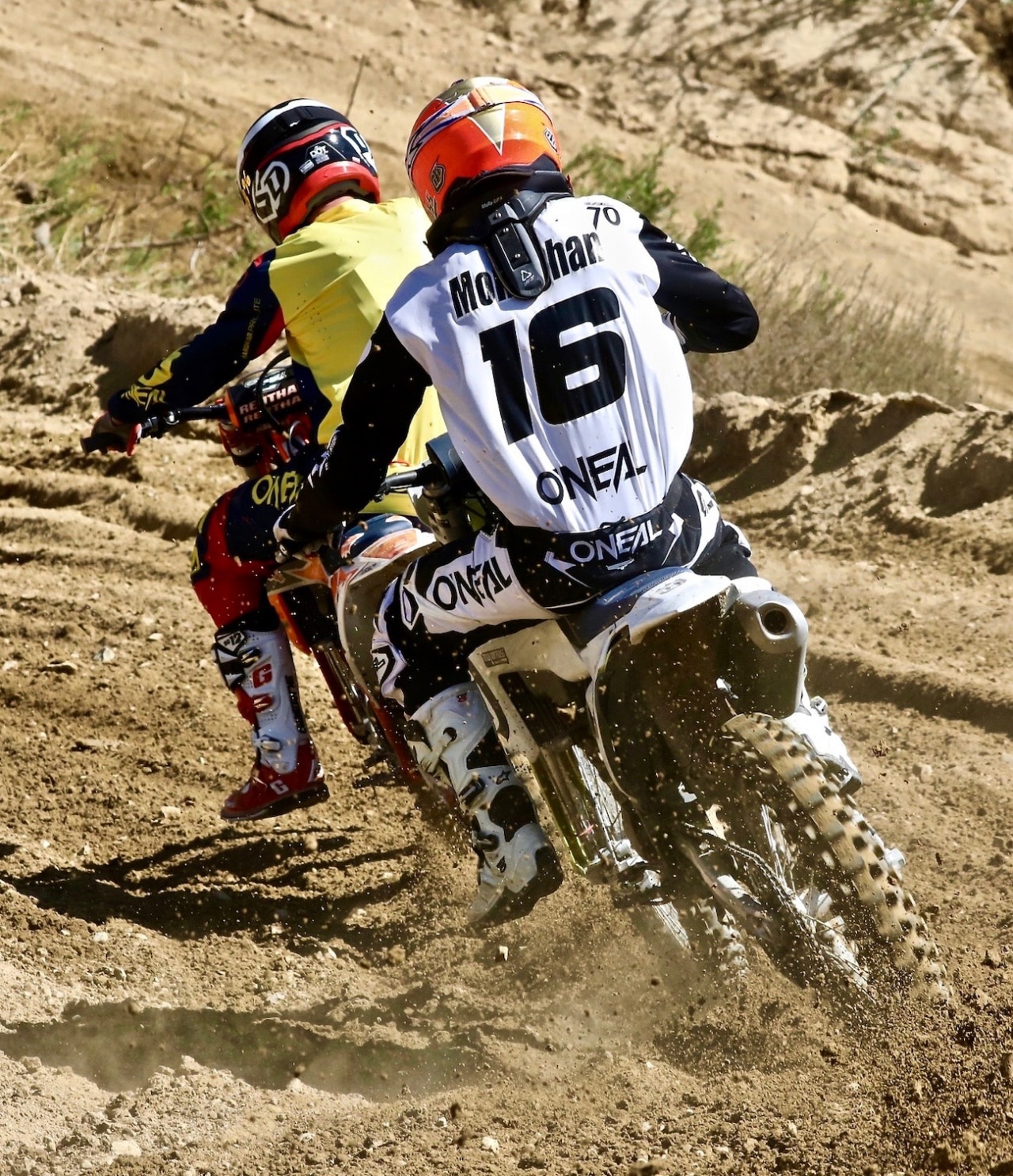 Mike Monaghan only races two-strokes, but MXA has assigned him four-strokes for the last month to round out his testing resume. This week he was on a 2020 Husqvarna FC450. That's Dave Eropkin in front of "Monty D." Photo: Debbi Tamietti
Will Harper at the front of the Over-60 Expert spear. Randy Skinner (58) is looking back to see what happened to the rest of the guys. Photo: Debbi Tamietti
Lamont Dusseau was third in the Over-40 Novice class.  Photo: Debbi Tamietti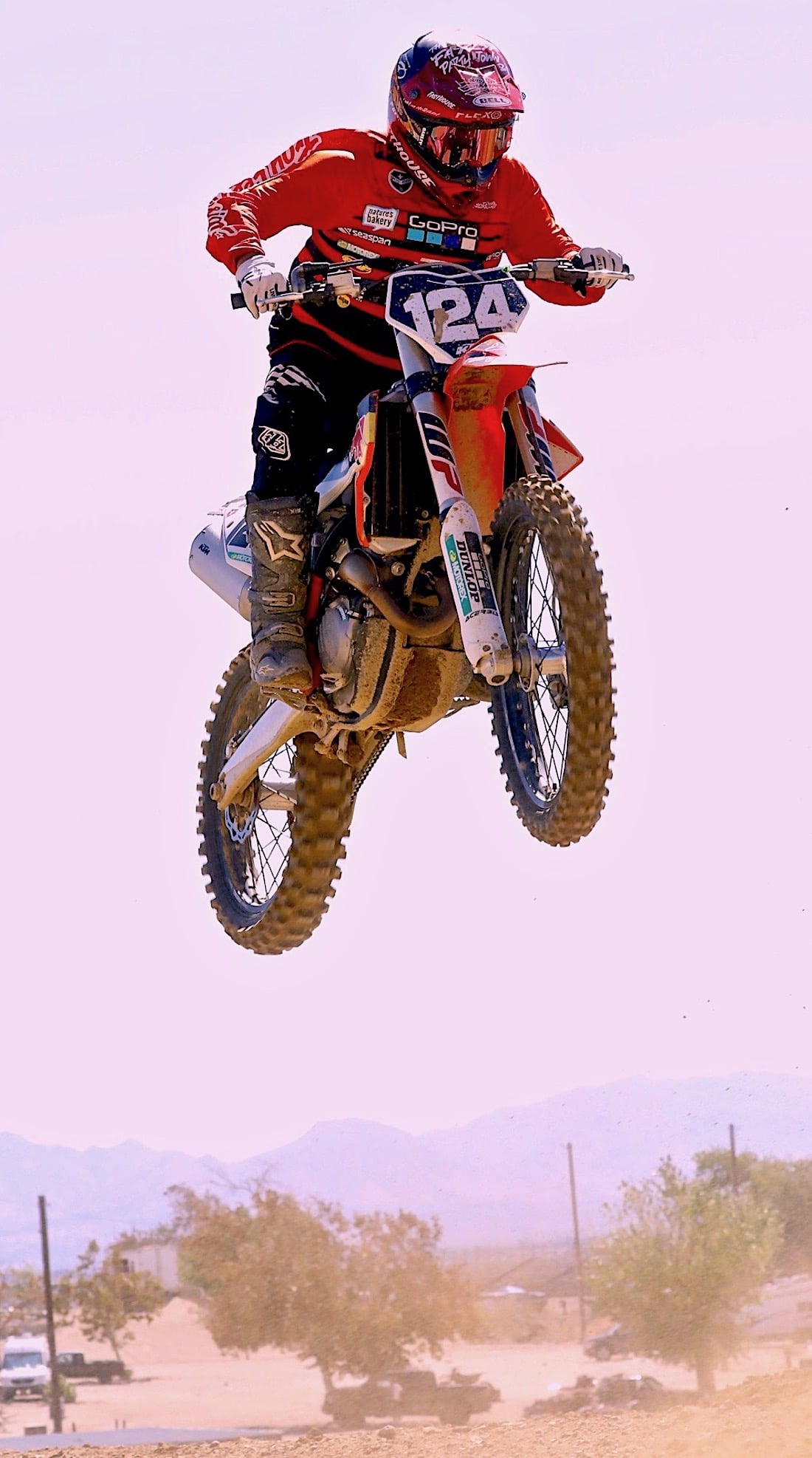 Lance Sloane airs it out. Photo: Debbi Tamietti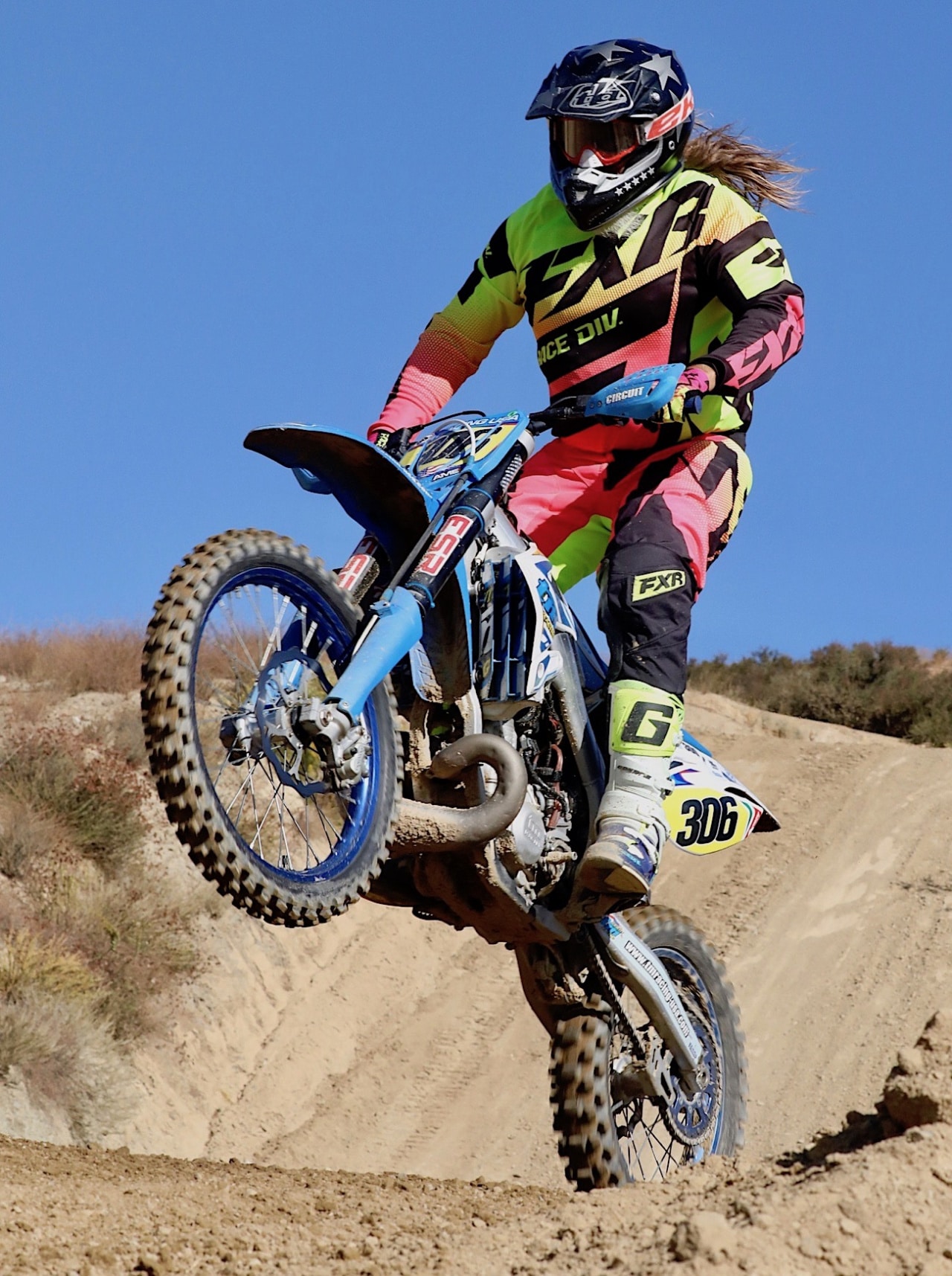 Steven Chandler won the Over-60 Intermediate class with a 2-1 over Toby Taki's 1-2. Photo: Debbi Tamietti
Pasha. Photo: Rommel Andrade
REMAINING 2019 REM RACE SCHEDULE
Oct. 26…Glen Helen (Octobercross on National track)
Nov.1-3 …Glen Helen (World Vet Championship)
Nov. 16…Glen Helen
Nov. 23…Glen Helen
Dec. 14…Glen Helen
Dec. 21…Glen Helen
REM will be back at Glen Helen on October 26 on the Glen Helen National track for their annual Octobercross "World Vet Warm-Up" race. For more info about REM motocross go to www.remsatmx.com or their Facebook page by Clicking Here.