REM GLEN HELEN MOTOCROSS: LIKE AN ALL-JAPAN NATIONAL IN SOCAL
Gota Otsuka led a Japanese sweep of the top three spots in the 450 Pro class with a 2-1 in front of Taiki Koga and Ukyo Michiwaki. Photo: Jody Weisel
It was hot at Glen Helen on Saturday—as everyone wonders when Winter is going to arrived in SoCal. It has been a hot winter so far. While waiting for a cool wind to blow, the Japanese arrived at REM motocross in force, along with riders from Norway, Sweden, Holland, England, Ireland, South Africa and Australia. But, the Japanese contingent came loaded for bear. They took the top three spots in the 450 Pro class and second, third, fourth, fifth and sixth in the 250 Pros. English motocross rider Robbie Dowson broke their stranglehold with the overall in the 250 Pros.
Japan's Taiki Koga (922), Hawaiian Brian Medeiros (63), Irishman Jim O'Neill (15), Japan's Gota Otsuka (155) and Japan's Ukyo Michiwaki (213) hold down the first five spots early in the first 450 Pro race. Photo: Jody Weisel
Also on the agenda for this Saturday was the Annual Awards day in which the Class Champions from last year were given their awards, along with the Sportsman of the Year, Racer of the Year and REM number One plate. Held at the riders meeting, the motocross awards ceremony is one of those boistrous occasions when racers get to cheer for their friends, competitors or hear heart-warming stories. This year was no different as the class winners showed up to collected their prizes in all manner of ways. One award, to Josh Fout, was picked up by his 5-year-old brother because Josh was off on some 100-mile cross-country night race. Another award, could only be held in one hand, as Glenn Pietronico, was still recovering from a recent crash and had his arm in a sling.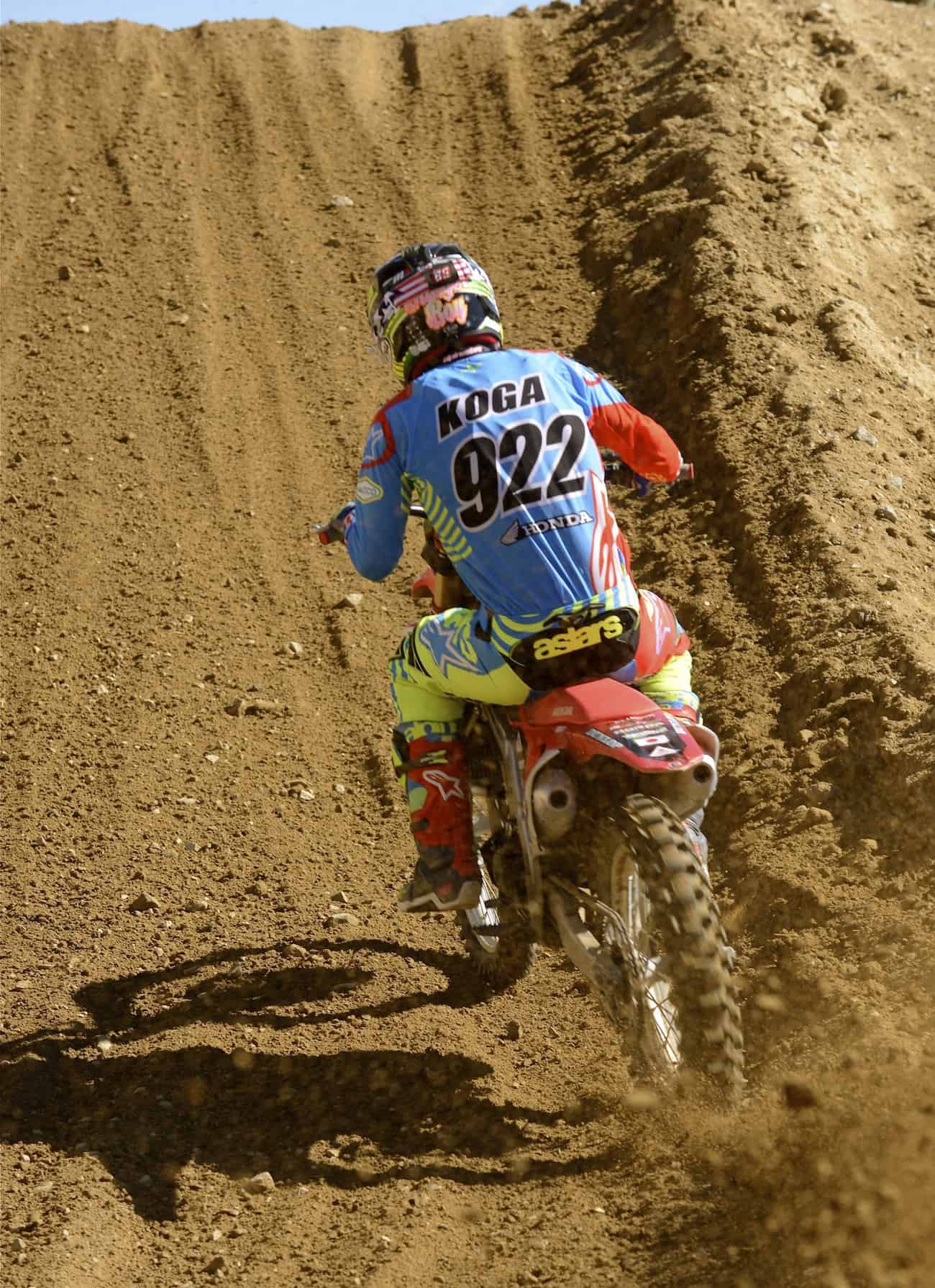 Taiki Koga (922) went 1-2 for second in the 450 Pros. Photo: Jody Weisel
On the track, the battles raged—as proven by the fact that 1-1 sweeps were the exception instead of the rule. In fact, 9 classes were won with 1-2, 2-2 or 1-3 scores, while only 5 were won with 1-1 sweeps.
Irish rider Jim O'Neill (15) was fourth in the 450 Pro class with a 5-4 day. MXA lent him our WP Cone Valve forks and Traxx shock for his 2018 RM-Z450 as part of a test project. Photo: Debbi Tamietti
Brian Medeiros had a fourth in moto one, but slipped back to sixth in moto to miss fourth overall by one spot. Photo: Debbi Tamietti
Dennis Stapleton (184) flew to the Philippines for a race last week, but it was canceled after a terrorist bombing 100 yards from the racetrack, so he flew to Japan for some meetings. Dennis got a few hours sleep and was at Glen Helen on Saturday morning ready to race. Photo: Debbi Tamietti
British rider Robbie Dowson won the 250 Pro class with a 2-1. Here, Robbie leads Ryota Baba (79) into the back portion of the track. Photo: Debbi Tamietti
Sweden's Kristoffer Palm got a new Yamaha. How can we tell? Shiny plastic and no numbers are a dead giveaway. Kris went 4-3 for third in the 250 Pro class. Photo: Debbi Tamietti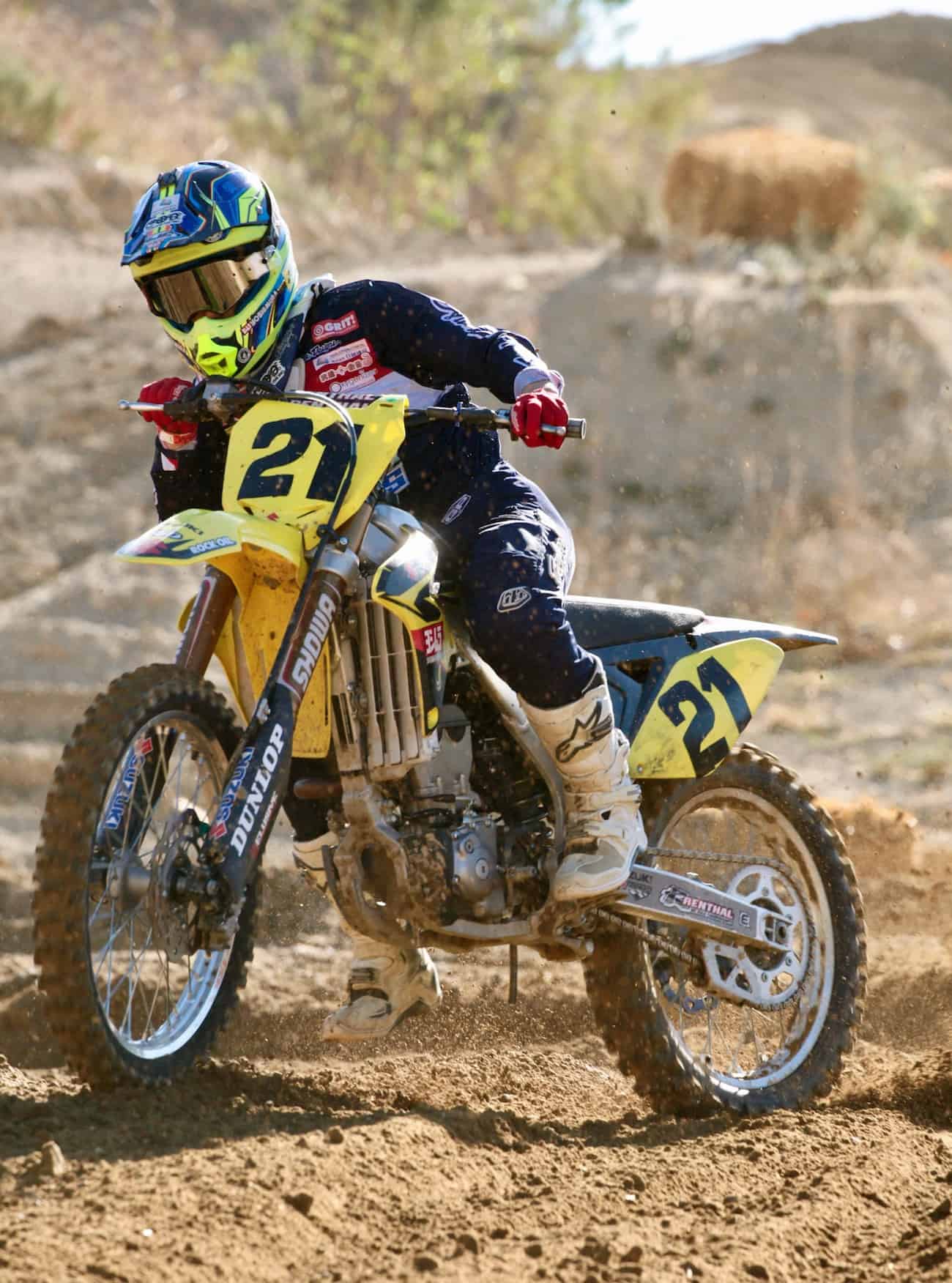 Kakeru Kamoda (21) was the only Japanese rider at REM not to make the top five. Kakeru's 5-5 in the 250 Pro class was inched out by countryman Masashi Teguki's 6-4. Photo: Debbi Tamietti
REM AWARDS DAY AT GLEN HELEN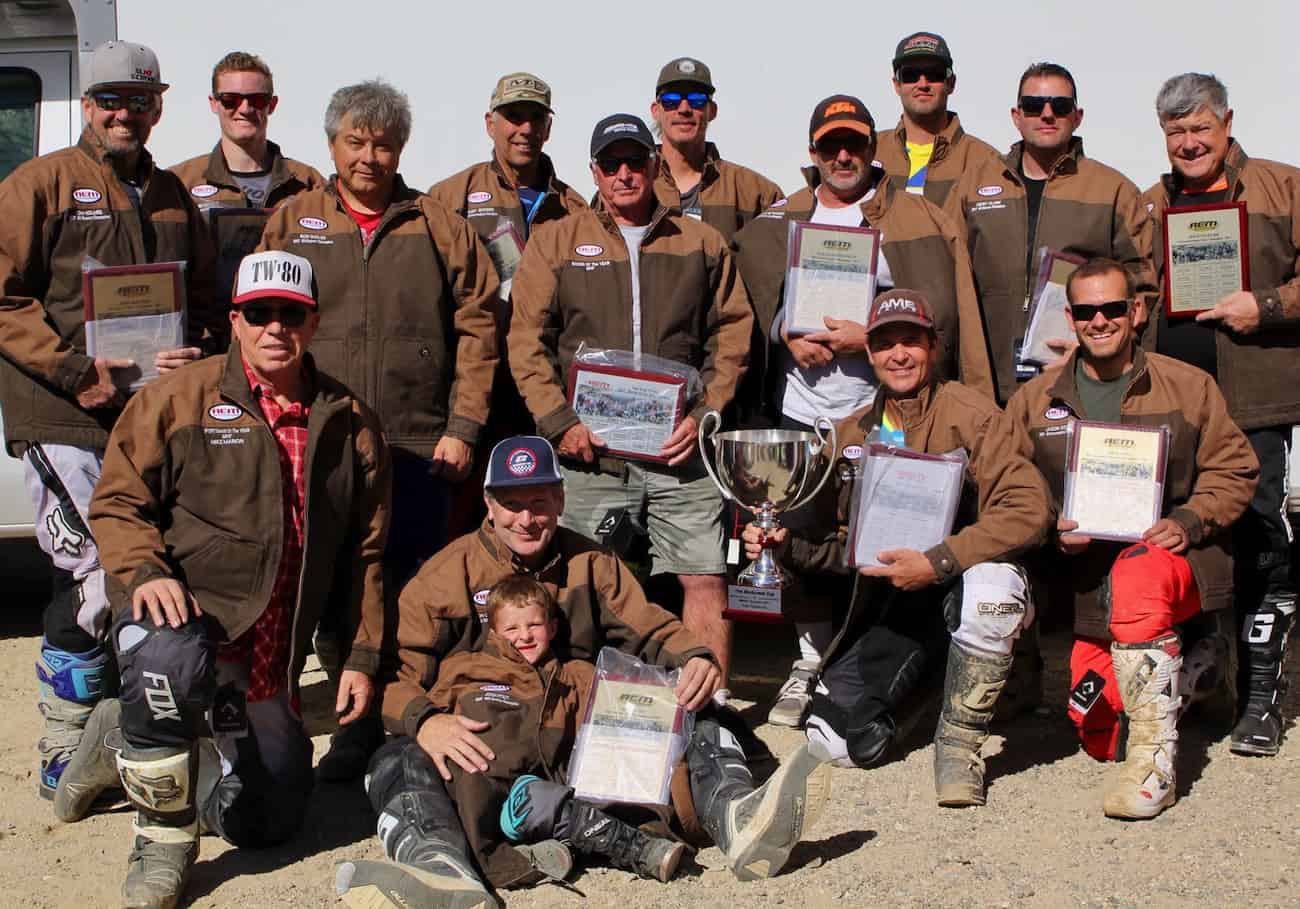 All of the 2017 points-leading class winners received their awards and jackets on Saturday—Additionally, special awards were given to Val Tamietti (with silver cup) for REM number 1, Mike Marion (front row, far left) for Sportsman of the Year and Jody Weisel (center of second row) for Racer of the Year. Photo: Debbi Tamietti
Val Tamietti was delighted to find that his Number One cup was filled with Hershey's Kisses. Val's speech spoke about how when his Pro racing days were over he quit racing, until friend Bob Rutten told him five years ago that he had to come race REM. After that first time he was hooked. Val added, "I used to be the most famous motocross person in my house, but now people just refer to me as the husband of the famous photographer Debbi Tamietti."  Photo: Debbi Tamietti
Jody Weisel (left), 1984 CMC and 1998 REM number one, was named Racer of the Year for his 117 consecutive races without missing a single race—before breaking his streak with a broken arm. Mrs. Jody came to celebrate with him. In his acceptance speech Jody said, "I really wanted to be named Sportsman of the Year, but nobody I ever raced against would agree." Photo: Debbi Tamietti
Five years ago, when young REM racer Patrick Healy was dying of cancer, he told his dad to give his Yamaha YZ250 to the most deserving rider at REM. And every year since, one rider is been given the "Patrick Healy Sportsman of the Year Award" from Patrick's father. This year's recipient is Mike Marion. In a tender twist, when Tom White was dying of cancer late last year, he called Mike Marion and said, "I want to give you my YZ250 to replace your old worn-out bike." Out of respect, Mike took Tom's bike and had it customized to look exactly like the 1974 Yamaha YZ250 in Tom White's museum, including Tom's racing number and TW80 decals. Then, in one final request before he died, Tom asked REM promoter Frank Thomason, to give Mike Marion the "Sportsman of the Year Award." Read the full story about Tom's bike and what Mike Marion did to honor him by clicking here. Photo: Debbi Tamietti

THE BIG CRASH OF THE DAY & AN OUTPOURING OF CONCERN
Coming over the blind jump at the top of Mt. Whitney (think of it as a 100-foot high tabletop). Jerry Black (top right) crashed. Joe Sutter (111) was already committed to the exact same line when he crested the top of the hill. Sutter tried to avoid Black's bike, but clipped it and both he and his CRF450 started cartwheeling. This photo was shot midway through Joe's tumbles and with every flip his bike would land on top of him. It was brutal. Scotty Walker (28) and Randel Fout (141) avoid the crash. Photo: Rich Stuelke
Quick thinking Randel Fout turned around at the bottom of the hill and rode back up to help protect Joe Sutter, while Jerry Black came down from above to put his bike between Joe Sutter and any oncoming traffic. Amazingly, Joe Sutter would eventually walk away. Photo: Rich Stuelke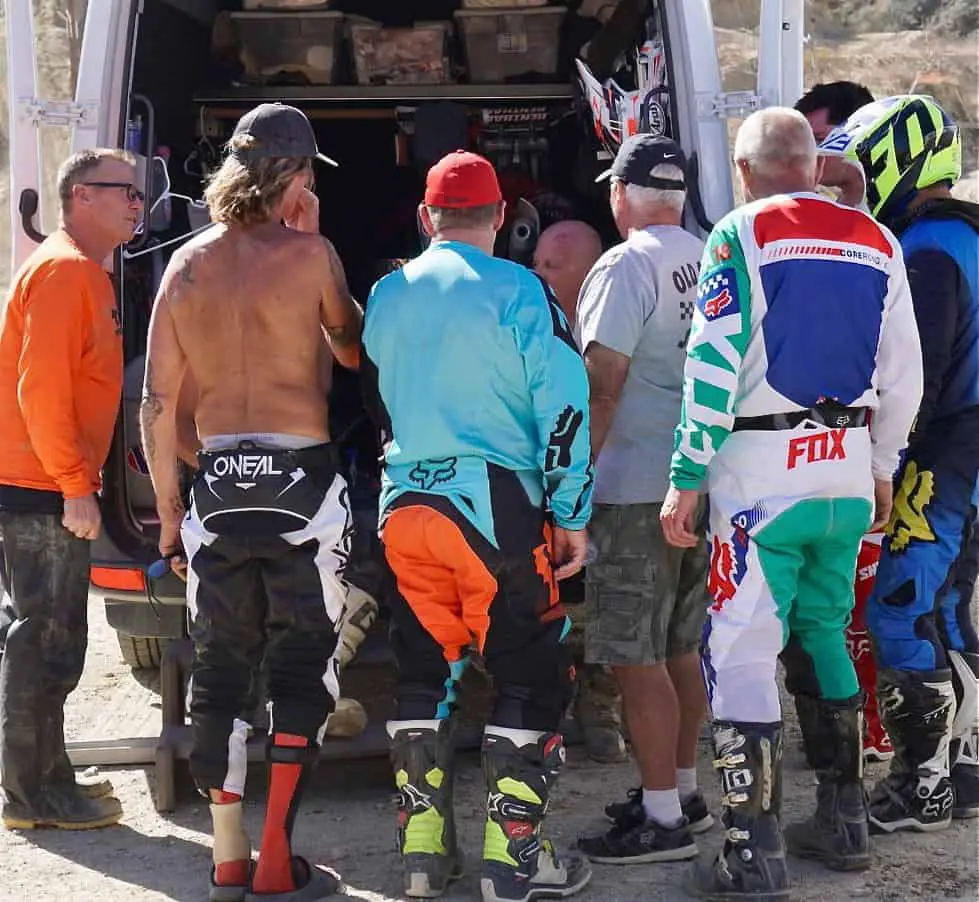 Once he was through being checked out by the EMT's, a crowd of worried friends gather at Joe Sutter's Sprinter to check on him. Among the first visitors were Randel Fout and Jerry Black. Joe was worse for the wear, but will be back in action in a week or two. Photo: Jon Ortner

THE REST OF THE CRAZY CAST OF REM CHARACTERS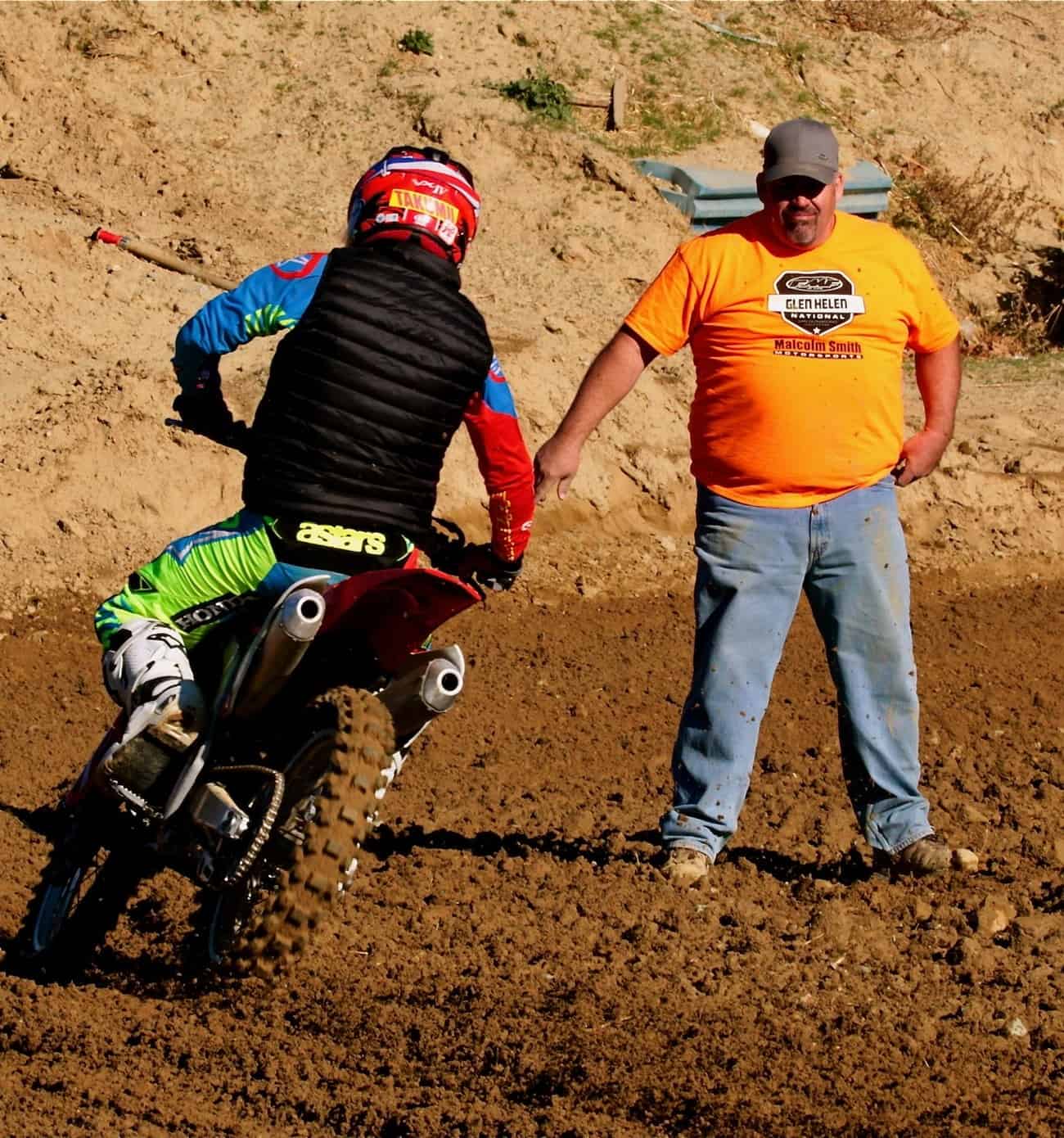 No one is going to get off their bike and disagree with this track marshal. If he says go here, you go there. Photo: Debbi Tamietti
Gary Sewell (710) and Kenny Maddux (418) dueled for second place in the Over-50 Intermediates (and also for every available inch of track). Maddux went 4-1, while Sewell went 2-4. Photo: Rommel Andrade
Randy Skinner (72) and Luc DeLey (192) play a game of high-speed chicken. Photo: Debbi Tamietti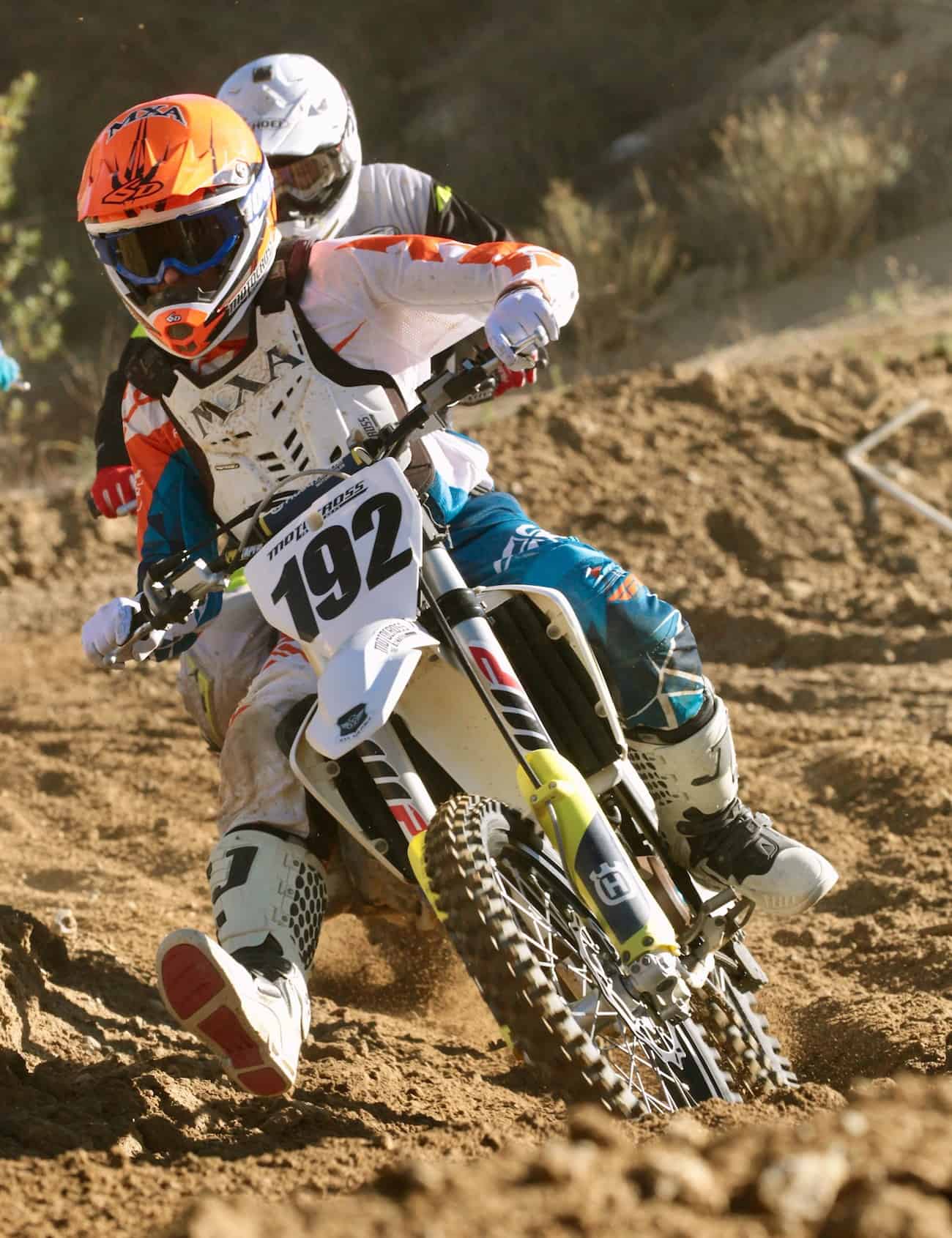 Australian Dan Alamangos (192) cranks through the switchbacks with at least a 6-inch lead over the guy behind him. That's what you call, "breathing down my neck." Photo: Debbi Tamietti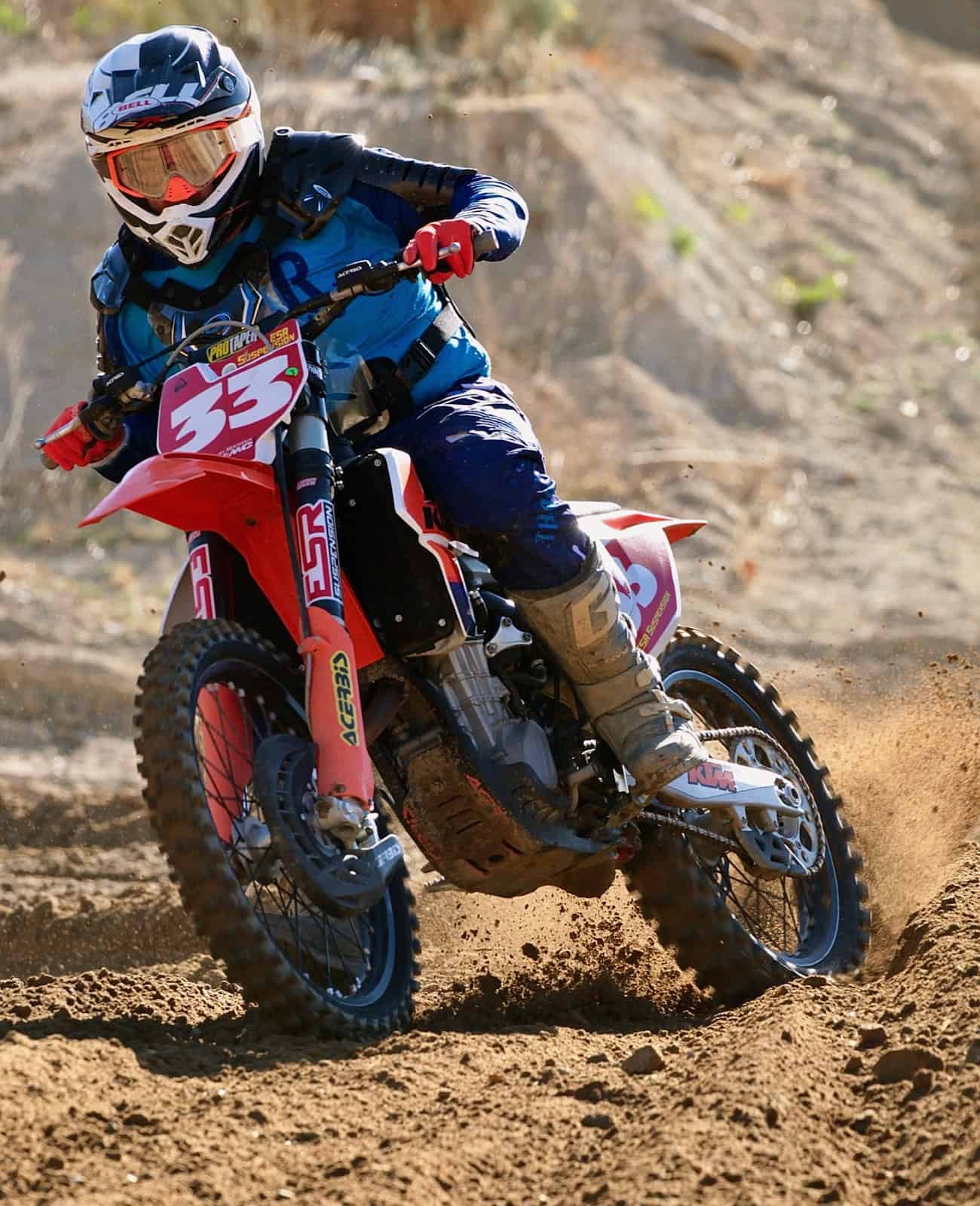 Ron Shuler used his ESR-tuned suspension to good effect with a 2-2 overall win in the Over-50 Experts. Photo: Debbi Tamietti
Pasha Afshar (top) will always be able to tell his kids about the time 1980 AMA 500 National Champion Chuck Sun (63) used the outside line to blow by him on the next straight. Photo: Jody Weisel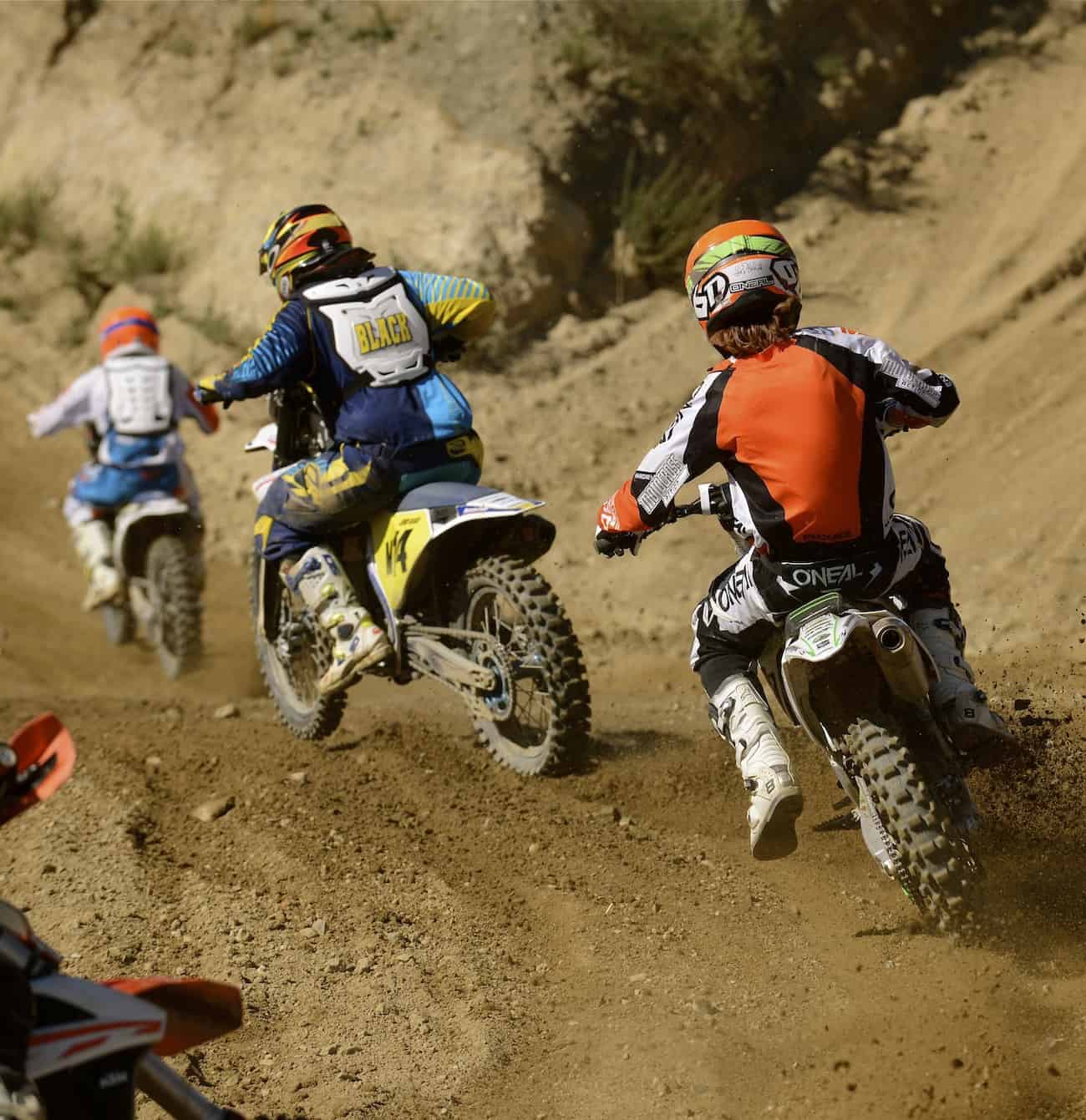 Dan Alamangos (white chest protector) would eventually get away from Jerry Black and Randel Fout to get third in the Over-50 Expert class. Photo: Jody Weisel
David Cincota (861) doesn't have time to look back across the valley to see how big his lead is, because he can hear Mike Carter's engine in his ears. Photo: Dan Alamangos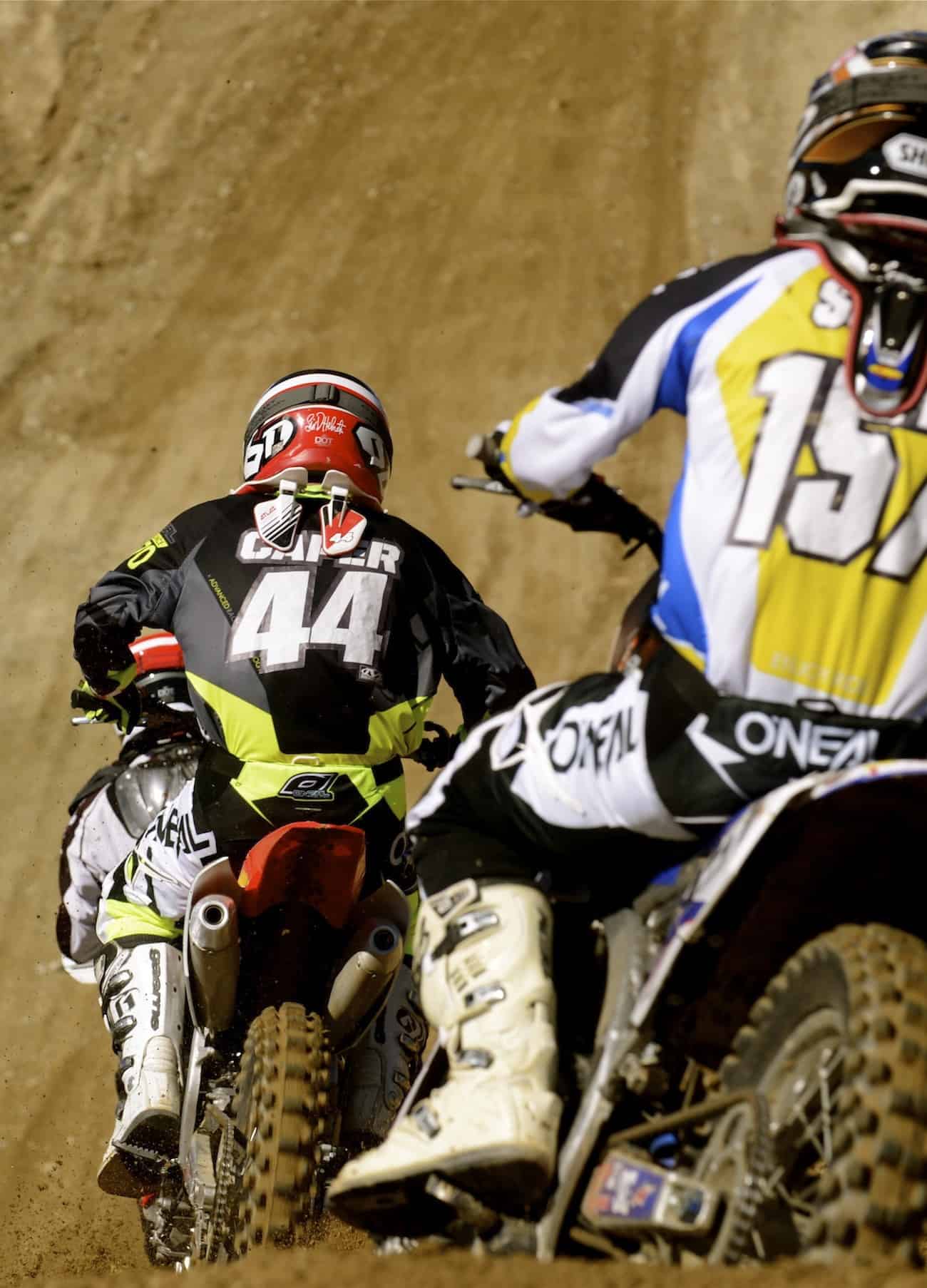 John Caper (44) bought a new Honda CRF450 and brought it to REM to break it in. He said that he was just going to putt around, but once the gate dropped Caper went 2-3 for second overall in the Over-60 Intermediates. Photo: Dan Alamangos
When MXA went looking for a test rider to help evaluate Doug Dubach's World Vet Championship winning 2018 Yamaha YZ450F, we chose Jon Ortner—but just so Jon he could see the front half of Doug's bike, since he only saw the rear of it at the World Vet race in November. Photo: Rommel Andrade
MEANWHILE, DOWN AT THE KIDS TRACK IT IS PEE-WEE HEAVEN

Overall winner Kale Bucher (511) gets the holeshot on his way to a 1-1 day in the Pee-Wee class on the special REM Kids track. Photo: Rommel Andrade
Kids just want to ride, from the moment they get out of the truck until Dad starts loading up. Zach Anderson gives his CRF four-stroke a workout. Photo: Rich Stuelke
Jon Lourenco (5) works on his air time. Photo: Rich Stuelke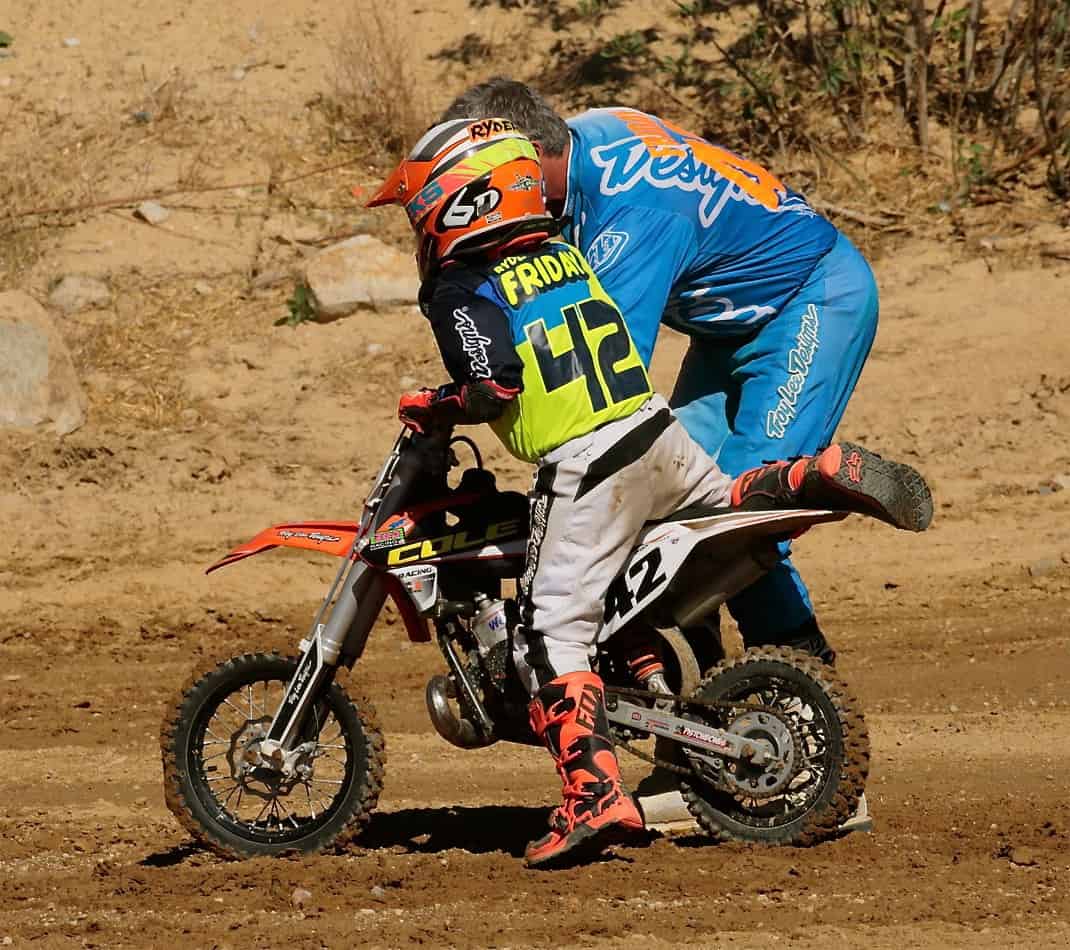 Last week's winner Ryder Friday (42) ran into a little bad luck in moto two—but dad was there to bail him out. Photo: Rich Stuelke
Although Logan is only 5-years-old, his dad made him training wheels for his PW50, so they can go trail riding together—but those training wheels won't be on for very much longer. Photo: Debbi Tamietti
Photos by Debbi Tamietti, Jody Weisel, Dan Alamangos, Rich Stuelke, Rommel Andrade and Jon Ortner (Click on images to enlarge)
REM races again next Saturday, February 10 (and again on February 17 and February 24. For more info go to www.remsatmx.com