REM GLEN HELEN MOTOCROSS RACE REPORT: CHUCK SUN TAKES A MAICO SHAKE-DOWN CRUISE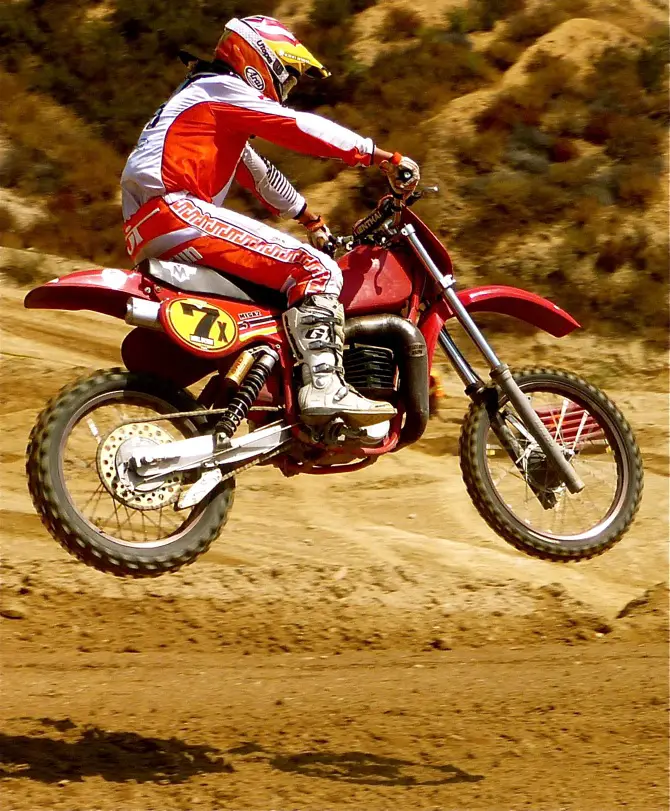 Chuck Sun has already raced the real MXDN, so 30 years later he's headed for the Veteran MXDN.
While the majority of the nation broils in blistering heat, the REM racers were greeted by balmy 88 degree temps and a slight overcast for their weekly moto war. With the Pala National just down the road most of the Pro riders had headed for the big-time leaving the competition open to the local heroes and old guys.
CHUCK SUN RIDES A MAICO


Chuck's 1981 Maico 490.
Former 1980 500 National Champion and 1981 MXDN Champion Chuck Sun is preparing to go to England for the Veteran Motocross des Nations at Farleigh Castle. Sun will be joined by Jeff Stanton, Scott Burnworth and Jim Gibson as part of the American team. It is only fitting, since Sun, Gibson and Stanton are all Motocross des Nations winners.
Chuck wanted to get in a race, against tough competition, before heading for England. He chose REM because it has the largest field of Over-50- Expert riders in the country.
THE OVER-50 EXPERTS DON'T CUT ANY SLACK


Greg Nelson (385) and Kurt Sofka (701) duel in moto one of the Over-50 Experts.
As you would expect, Chuck's 1981 Maico 490 didn't get the best starts against a pack or 450cc four-strokes. He was mired in the back of the pack and spent almost four laps trying to pass four-time REM number one rider Dennis Boulware. Once past Boulware in began to move forward during the 20-minute moto. Eventually Chuck made it to fourth place behind first moto leaders Greg Nelson, Kurt Sofka and Dave Eropkin.

Clark Jones (41) and Kurt Sofka (701) duel in the second moto. Kurt was everywhere.
The second Over-50 Expert race was an all-out war up front. In the end, Dave Eropkin held on for the win in front of Dirt Bike editor Ron Lawson and a fast closing Chuck Sun. Sun had stalled his Maico at the bottom of the big downhill on lap one, but because of that he raced harder and moved up quicker. Sun caught and passed first moto winner Greg Nelson, who had fallen while racing with Dave Eropkin, for third. Sun's 4-3 gave him fourth overall behind overall winner Dave Eropkin (3-1), Greg Nelson (1-3) and Ron Lawson (5-3). Kurt Sofka had a bad second moto and went 2-9.
AS FOR THE PRO CLASSES


Billy Musgrave takes a moment to work with his tearoffs.
With the local heroes, most notably Preston Tilford, off at the AMA National, it was left to the magazine test riders to clean up in the 250 and 450 Pro classes. Billy Musgrave, on MXA's 2012 KTM 150SX, won the 250 Pro class, while Mark Tilley, on Dirt Bike's 2012 Yamaha YZ250F, took the 450 Pro class. It was strange that Musgrave won a 150 two-stroke in the 250 class, while Tilley elected to race a 250 four-stroke in the 450 class?but that is the life of test riders, they race what they told to race.

Mark Tilley raced Dirt Bike's 2012 YZ250F in the 450 Pro class…this is a trend started by Preston Tilford and now very common at REM
THE REALLY OLD GUYS
In order to make the day run smoother, so that riders don't have to sit around all day waiting for moto 13 to come back around, REM uses "wave starts." A wave start is when one class goes first and then 30-seconds later another class chases after them. REM is very good at organizing the races, so that the day can be done by 2:00 p.m. (so that the riders can go home and prep their bikes for Sunday's race).
It is not uncommon for each wave to includes a mix-and-match set of class groupings. And no where was this more evident than in the final moto of the day?which combined the Over-40 intermediates, Over-50 Intermediates, Over-50 Novices and Over-60 Experts together. The first wave was made up of the Over-40 and Over-50 Intermediates, with the second wave the Over-50 Novices and the Over-60 Experts.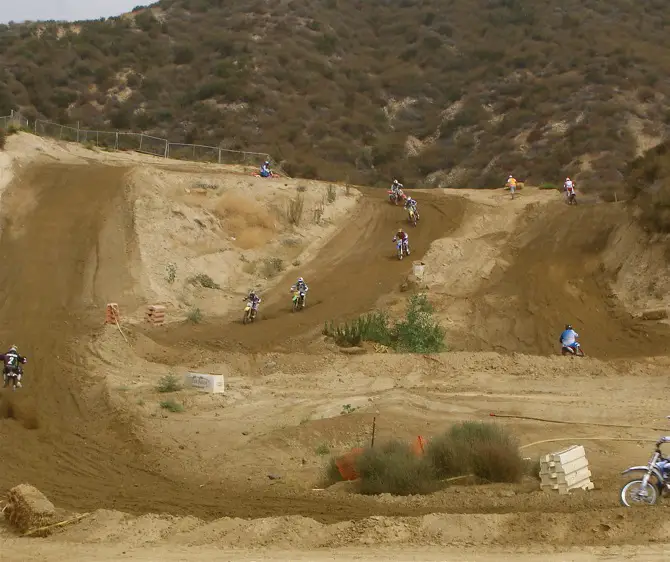 Glen Helen's REM track goes up, down and all-around.
The first gate was won by Over-40 Intermediate Danny Pacheco (3-1) with Kevin Worrell (2-2) and Dan Alamangos (1-3) rounding out the podium. This group was joined by the Over-50 Intermediates. Mark Hall took the win with a 1-1 in front of Jim Masters and John Caper.

Kevin Sleeth had a bad day, but it looked bright for about 30 seconds.
Meanwhile, back at the starting line, the second wave was about to explode into action. It was comprised of a large group of Over-50 Novices and a handful of Over-60 Experts. Since the Over-60 Experts ranged in age from 64-years-old to 80-years-old, the promoters were a little nervous about the match up. It turned out that what they expected, which was the much younger 50-year-olds to romp all over the old guys, didn't happen. When the gate dropped, oldsters Jody Weisel and Ray Pisarski took off and left the youngsters behind. The only race at the front was between the two 60-year-olds (and Pisarski made a pass on the back straight to get a slim victory in moto one).

Angel Montoya.
Angel Montoya brought the Over-50 Novices home in moto one with Kenny Kopekcy, Greg Whitfield, John Tookey and George Garcia rounding out the top five.
There were two surprises in the second moto of the Over-50/Over-60 combined race. (1) Over-50 Novice Don Meiner pulled the holeshot, but he was passed in the second turn on both sides by the Weisel and Pisarski. (2) Although the two orange helmet MXA guys ran away for awhile, they were surprised when Kevin Sleeth shot out of the Over-50 pack and caught them. Kevin made a pass at mid-moto on Jody and closed on Ray Pisarski. It was a short-lived moment of glory as Kevin high-sided down a hill and dropped back to eighth in his class.
Angel Montoya took the win again, with Greg Whitfield (3-2) getting second overall and Kenny Kopecky (2-3) third. In the Over-60 class it was Pisarski (1-1), Jody Weisel (2-2), Bill Seifert (3-3) and Chuck Minert (4-4).
THE "GIRLY MEN ONLY" CLASS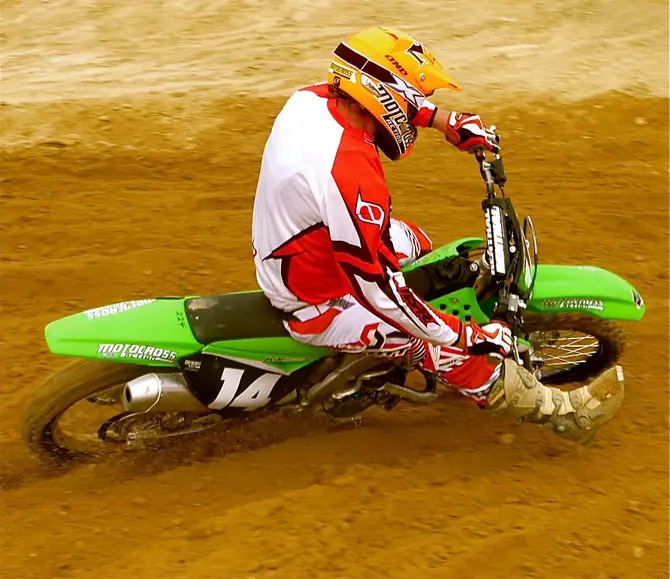 Chris Alamangos.
Weird classes spring up organically at REM and this week there was a class called the "Girly Men Only" class listed on the sign-up sheet and riders signed up for. We don't know why they did, but they did. Dirt Bike's Ron Lawson ended up getting the victory with a 2-1 over Dan Alamangos 4-2, Randy Skinner's 3-3, Dennis Boulware's 1-7 and Mark Hall's 5-8. We can hardly wait to see the trophy.
The craziest of the crazy Australian Alamangos brothers, Chris, was back racing after a long lay-off. He had a spirited duel with Jay Clark in the first moto and was surprised that he didn't fade. In the second moto Chris took the overall victory in the Over-40 Novices with a 1-1 in front of Kenny Campbell (4-2) and Steve Achey (3-3).

Jay Clark.
Mike Walker won the Vet Beginner class with a clean sweep in front of a top five of Brian Pappalardo, Robert Walker, Chris Arellano and Billy Seifert.
Jon Rice won the 250 Novice class, although he and Cody Johnston stayed the same distance apart for both motos?with neither gaining or losing an inch. Rice's victory came courtesy of two holeshots. Sinjin Lloyd was third.
REM does not race next Saturday or the following one, because of the WORCS races on September 17 and September 24. REM will return to action on October 3. For more info go to www.remsatmx.com