REM GLEN HELEN MOTOCROSS RACE REPORT: COLTON AECK, GARETH SWANEPOEL & HUNTER FALK IN THE PROS – GARY JONES & WILLY SIMONS IN THE OLD DUDES

Photos by Ernie Becker, Randel Fout & Dan Alamangos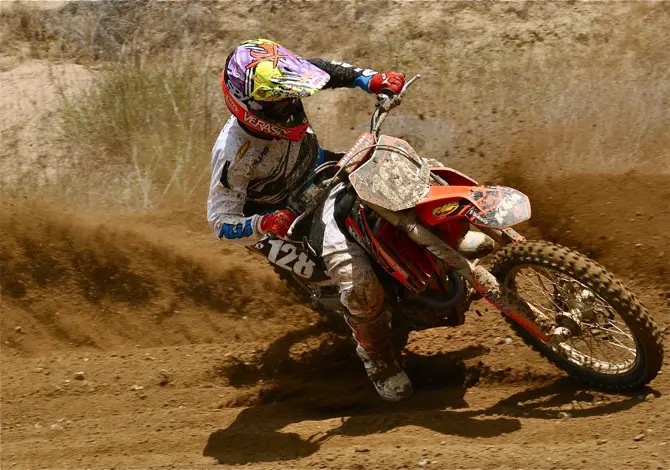 250 Pro winner Hunter Falk styles his KTM 250SXF out of a loose berm on his way to a 1-1 day.
Although SoCal has many racetracks, most of them specialize in practice days?not races. Glen Helen is unique in that they are only open one day a week for practice (Thursdays), but their weekends are packed full of races. And, REM is the most active race organization in SoCal. REM races 40 weekends out of the year on their own purpose-built race track, located high on a hill above the Glen Helen National track, Stadium Cross track and Lucas Oil Offroad Truck track.

Back from his foray at the AMA Nationals, Colton Aeck was untouchable in the 450 Pro class.
REM has been relegated to the Glen Helen National track for the last month so that the Red Bull X-Fighters crew could come in an transform the old Arroyo Cycle Park location into a freestyle park. After Red Bull left the REM track had to be transformed back into a motocross track. And this weekend was the grand opening of the new layout. Next week will probably see a variation on this week's track and so on throughout the year. A big crowd showed up at REM to ride the reconfigured layout.

Veteran Grand Prix and AMA National rider Gareth Swanepoel went 2-2 in pursuit of Colton Aeck in the 450 Pro class.
THE RACES
Although SoCal has had a mild winter, with very little wind (save for X-Fighters weekend) and near perfect Mediterranean temperatures, this week was the first hot day on the year ?100 degrees. Amazingly, most REM racers prefer hot weather to cold weather and they came prepared with awnings, umbrellas and Canopy Cools.

Swede Kristoffer Palm (127) used a 2-1 to defeat Kirk Raleigh (4-2) and Kyle Fry (3-3) in the 250 Intermediates.
450 Pro: Colton Aeck was the star of the day. He simply rode away from the rest of the field. South African Gareth Swanepoel gave chase, but it wasn't Swannies day and he had to settle for 2-2 behind Aeck's 1-1. Dylan Gosling's 3-4 edged out the 5-3 of Swede Marcus Ovegaard.
250 Pro: KTM-mounted Hunter Falk also had his way in the 250 Pros, as Devin Roth and Jared Hicks engaged in a war to see who would take the runner-up spot. Roth's 3-2 defeated Hick's 2-3.

Those ants down below are the targets that Kyle Fry (271) is shooting for.
250 Intermediate: Swede Kris Palm used a 2-1 to take the overall victory. Kirk Raleigh was second with Kyle Fry third.

Just when you think no one is looking ? snap! You are captured cheating. Justin Hoeft (615) is fast enough not to need to do bush league things that bring his reputation and that of his sponsors into question. Justin is this week's "Greg Groom Creative Line Award" winner.
WHAT ABOUT THE VETS
Over-30 Beginner: The Vet Beginner class was won by Mike Wilson who split 1-2 and 2-1 scores with Ken Sarmento. Coincidentally, the battle for third fell to Jason Chism over Shawn Khacherian with matching 4-3 and 3-4 motos.
Over-30 Novice: Jason Alexander made it a clean sweep in the Vet Novice class. Vance Freeman (3-2), Jon Lyles (2-3), Brian Packer (4-4) and Jason Mung (5-5) rounded out the top five.

Over-30 Intermediate: The top five were Adam Morrow, Craig Bouman, Curt Biegel, David Faux and Nate Hawley.

Australian Dan Alamangos laid down his camera long enough to sail down one of REM's many steep drops.
Over-30 Pro: Normal Over-40 Pro winner William Hendershot decided to take his Yamaha two-stroke down from the older group to race in the Vet Pro class. Hendershot swept both moto wins in front of Tony Amaradio and Justin Reese. With Hendershot absent from the Over-40 Pro ranks, Randel Fout rode to an easy win in his first race back from a concussion six weeks ago.
THOSE FABULOUS 50S


Alex Zapata (310) leads a snarling pack in the Over-40 class that includes Rob Engel, Greg Pierce, Ron Shuler and Randel Fout
Over-50 Novice: Syd Wood's 3-1 was good enough, just barely, to take the win over Ty Larson's 1-3. Paul Dobereiner's 4-4 earned a podium spot in front of the 7-2 of Bill Reimer. Both Reimer and Shy Moshe finished second in the motos, but backed them up with a seventh and a 13th.

Jeff Fahy swept both moto of the Over-50 Intermediate class in front o Randy Skinner, Steve Donovan, Chris Cole and Jeff Mason.

Over-50 Intermediate: The old dudes classes were packed as always. The Over-50 Intermediates were the biggest class of the day in a tie with the Over-40 Novices. The next biggest classes were the Over-50 Novices, Over-50 Experts and Over-60 Experts. Jeff Fahy took the Over-50 Intermediate victory with a 1-1 in front of a  top ten of Randy Skinner (3-3), Steve Donovan (2-5), Chris Cole (6-2), Jeff Mason (5-4), Dean Adkins (7-6), Joe Sutter (8-7), Ken Ehlers (10-9) and Greg Ziegler (14-8).

Four-time 250 National Champion Gary Jones raced two classes in the 100-degree heat. He won the Over-60 Experts and finished 7th in the Over-50 Experts. Jones has qualified for Loretta Lynn's in the Over-50 class, but has no illusions that a 60-plus rider has much of a chance. He just wants to race because he will be there manning the Hinson booth all week.

Over 50 Experts: Willy Simons and Jon Ortner continued their amazing races this weekend. Orter won the first moto on his YZ250 two-stroke with Simons second, Pete Murray (on a YZ125) third, Willie Amaradio fourth, Bryan Friday fifth, David Blunk sixth, Gary Jones seventh, Dave Eropkin eighth, Mike Monaghan ninth and Joe Pena tenth.
In the second moto, Simons got the holeshot and held the point for the whole moto. Ortner was second for second overall. In the final tally the top five was Simons (2-1), Ortner (1-2), Amaradio (4-3), Friday (5-4) and Monaghan (9-6). Other notables included Val Tamietti's 12-5 and Bob Rutten's 11-7.



Mark Tilley (79) meet Jon Ortner (10). The "Dirt Bike" Magazine test rider decided to get in some extra track time on his 2014 KTM 350SXF test bike by riding with the Over-50 Experts.



What Tilley didn't understand is the the Over-50 Experts are the most serious and hard-fought class at REM…and they don't take 450 Pros playing with them lightly.



In 20 years, when Tilley turns 50, he can pay Jon Ortner back.
Over-60 Expert: Gary Jones got stung by a bee on his way to the starting line for the first Over-60 Expert moto, but it obviously didn't bother him as he swept both motos. Lyle Sweeter's 2-2 earned him second, with George Kohler (4-3) third, Tom Holmes (3-2) fourth and John Huegel (6-6) fifth. Jody Weisel lost his brakes in the first moto, but managed a 10-5 for sixth overall in front of Tony Parsons, Lee Amaradio, Tom White and Bill Seifert.
REM races again next Saturday, June 8. For more info go to www.remsatmx.com