REM GLEN HELEN MOTOCROSS RACE REPORT: IT'S NOT THE TWISTING AND TURNING THAT'S HARD – IT'S THE BREATHING

Photos by Dan and Chris Alamangos

If you could get this close to Bonanza Plumbing KTM rider Justin Jones, this is what you would see. You'll have to imagine what it would feel like.
When REM Motocross announced that it was switching every class to 20-minute motos starting in 2014, there were two camps lined up against each other on the issue. Half of the crowd didn't want to go 20-minutes because it seemed like too much, the other half lobbied for 30 minutes. Now, four races into the 2014 season, most riders have come to realize that long motos are what motocross is all about. Not sprints. Plus, it has changed the winners in some classes, as the riders who keep coming have started to get to the front on the very last lap.

However, Jones isn't perfect as he goes out of frame in this photo with his legs flying as he loses the front end in a rut. He saved it and Jim Longiner (14) got a front row seat.
And this week was no different as riders chased from way back in the pack with the hope of catching the leaders in the waning laps?and many did. As one rider said, "I prefer the 20-minute motos because almost everyone in my class is faster than me, but with more time I can wear them down."

Andre Blomqvist is probably dreaming about being back home in Sweden where it is 5 below zero and snowing?okay, maybe that isn't what he's thinking.
In the Pro ranks, Justin Jones (450 Pro) and Justin Hoeft (250 Pro) were locked to together in both motos?with the margin of victory in both cases being a bike length?with Jones winning both stanzas.

Mark Chilson shot this slo-mo pan of Justin Hoeft that shows just how rough the REM Glen Helen track can be.
In the Over-50 Elite class, 6D helmets founder Bob Weber opened up massive leads, while REM number 1 Jon Ortner was mired in the pack at the start of both races. But Weber, who doesn't get to race with the regularity of the rest of the REM Over-50 class, began to tighten up as Ortner began to loosen up. In the first moto Ortner came from 12th to just miss passing Bob at the finish line. In the second moto, Weber  held the point, but Ortner came through the pack again?only this time he passed Bob Weber. Ortner's 2-1 beat Weber's 1-2. Randel Fout was third and threw in four crashes during the day to make it challenging.

Ryan Surratt (51) checks to make sure that he has cleared Willy Simon's Jr. (46). Their fathers, both named Willy, raced against each other in the old days.
Meanwhile, in the Over-50 Expert class, which has seen a revival in rider turnout after the fastest guys were moved up to the "special" Over-50 Elite class. The Over-50 Expert class was biggest class of the day. It was won by former CMC number 1 rider Val Tamietti in front of Bryan Friday, LightSpeed owner Willie Amaradio, former Pro Circuit Husqvarna rider Mike Monaghan, Dave Eropkin, Joe Sutter, Will Harper, Baja champion Bob Rutten, Craig Christian and Fred Nichols.

The battle continues.
THE BIG WINNERS


The next time you think that you were "really roosting," think of R.J. Wageman's 18-foot long roost. Photo: Debbi Tamietti
250 Intermediates: Ryan Surratt won the 250 Intermediates with a 1-1 in front of Willy Simons, Jr.'s 3-2. Kordel Caro was third with a 6-3 followed by a top five that included Tyler Hoeft (5-5) and Kim Ramsell (4-6).

Four-time 250 National Champion Gary Jones has clear track ahead of him… and clear track behind him also (he was that far ahead)
Over-50 Novice: Gary Harada's 1-1 took the victory with John Caper (2-3) second, Bill Reimer (5-2) third, Robert Pocius (3-5) fourth and Kent Reed (6-4) fifth.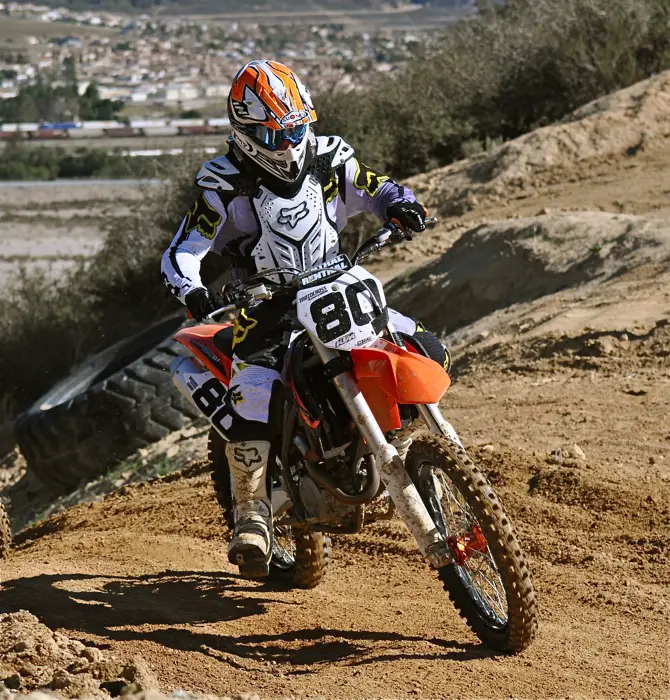 Tom White crests a hill. Don't be fooled into thinking that those houses in the valley are close?they are five miles away. Photo: Mark Chilson
Over-60 Expert: Gary Jones, the current Over-60 World Motocross Champion, ran unmolested at the front of the pack in both motos, while George Kohler and Mike Marion squabbled over second…and it came down to a last lap pass by Marion. Multi-time World Vet Champion Bill Maxim was fourth in front of a top ten of Tom Holmes, Tom White, Lars Larsson, Tony Parson, Jody Weisel and Bill Seifert (Seifert crashed into the back of Jody in the first moto knocking them both down and ripping Seifert's YZ450F brake line off?Jody lent him his spare bike for the second moto).

The Stadium section of the REM track features a lot of twisting and turning. Don't be confused, the next photo will make sense of it all.
Over-40 Intermediate: Aussie Dan Alamangos used a 2-1 to nip Luther French's 1-2. Kendall Stanley was third in front of Cory Clark, Craig Christian, Terry Varner. Pasha Afshar and Joe Sutter.

Seen from above, REM's Stadium Section a serpentine design that often has riders returning almost to where they started from. Photo: Mark Chilson

The Swedes: Swedish riders were everywhere with Jim Longiner, Kim Ramsell, Tom Johnsson, Lars Larsson and Andre Blomqvist enjoying the 80 degree SoCal sunshine. Johnsson was second in the 450 Pro class, while Blomqvist was second in the 250 Pros. Norwegian Mads Gregerson won the 450 Intermediates.

Bob Weber rode flawlessly for 15 minutes, but unfortunately the motos were 20 minutes long. It was still good enough for second overall. Photo: Mark Chilson

Chris Alamangos (35) and his brother Dan ride like maniacs. Why? They are Australians. Nuff said. Photo: Debbi Tamietti
Family time: Family is big at REM. Aryton Ward, son of Jeff Ward, was second in the 85 Expert class and 10th in the 250 Novices. Justin Jones, son of Gary Jones, won the 450 Pro class. C.J Wageman, son of Russ Wagemen won the 250 Beginner class, while his little brother Timmy took the 65 Beginner class and older brother Robbie went 2-DNF in the 250 Intermediates. The crazy Australian brothers, Chris and Dan Alamangos, had a good day with Dan winning the Over-40 Intermediates and Chris winning the Vet Novices. Ryan Surratt, son of Willy Surratt, won the 250 Intermediates, while Willy Simons Jr. was second. Both Tyler and Justin Hoeft raced.

Two-stroke mounted Mike Monaghan (76) and Val Tamietti (31) sweep past Ron Lawson's Beta enduro bike. The Beta is cool, but look at the Scalvini cone pipe on Monaghan's YZ250.
The only sour note on a great day of racing was when Over-50 Intermediate Bobby Hunt high-sided in an uphill turn and knocked himself out. The race was red flagged as the EMT's cared for Bobby who was alert and moving. Jeff Mason's 1-1 would win the class in front of Mike Phillips 3-2, Mark Crosby's 2-3, Larry Boulware's 4-4 and Ken Ehlers' 5-8.

More twists and turns.

The "Greg Groom Creative Line Award" for this weekend goes to Ayrton Ward (797), who takes some liberties with the track boundaries, while eventual 85 Expert winner Conner Mullennix (88) stays on the course.
REM races again next Saturday, February 1, 2014. For more info go to www.remsatmx.com