REM GLEN HELEN MOTOCROSS RACE REPORT: IT'S NOT WHERE YOU ARE FROM, BUT WHERE YOU FINISH THAT COUNTS

Photos by Dan Alamangos, Chris Alamangos and Debbi Tamietti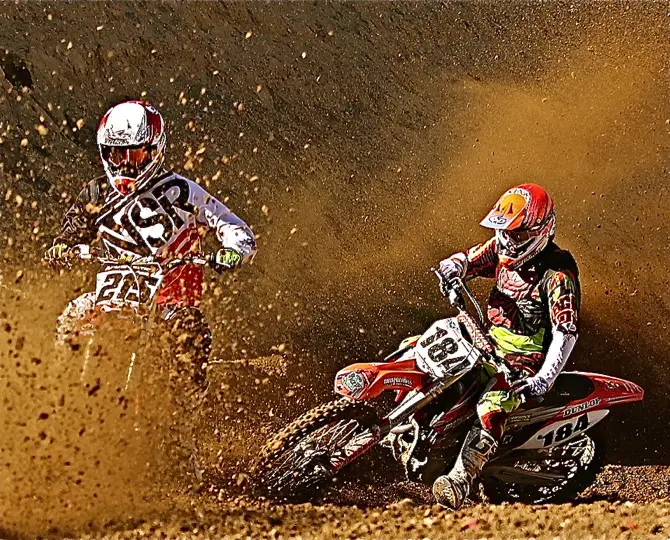 Broc Armbruster (215) and Dennis Stapleton (184) power through a major roost storm in the Pro class. Photo: Debbi Tamietti
It seems cruel to be racing motocross on a bright sunny, 80 degree day, while the rest of the country is suffering through one of the coldest winters on record, but not so cruel that any of the REM Motocross racers would be willing to trade places with someone is Buffalo. And the forecast for next week's Glen Helen weather is for a warming trend.

Bonanza KTM'S Justin Jones (42) continues his winning ways at REM Glen Helen. Here, he is pursued by Swede Andreas Ovgard (2), who would go 2-2 to Jones' 1-1.
Of course, one of the big draws of SoCal motocross is the good weather, plentiful race tracks and the beautiful beaches. Which is why a large percentage of REM racers are from somewhere else. This weekend alone there were Swedes, Italians, Brits, South Africans, Australians and even one confused Hawaiian. Since REM also runs 20-minute motos for every class, it is the perfect place for riders to come to prepare for their home country championships.

We are not quite sure what Australian racer Geordie McGrath is doing here, but it doesn't looked like he planned it.
Let's dispense with the statistics immediately. The three biggest classes of the day were the Over-50 Experts, Over-50 Novices and Over-60 Experts. You read that right. Since SoCal was a hotbed of racing in the 1970s, and many of those former teenage racers went on to work in the motorcycle industry, they never quit racing. Who would have thought 40 years ago that those long-haired kids of the 1970s would become the gray-haired masters of motocross?

Hawaiian Brian Medeiros (34) chases Swede Kim Ramsdell (383).
Over-50 Experts: REM reconfigured the Over-50 Expert class at the start of the 2014 season. The faster Experts were moved into a special "Elite" class?not because they wanted to move up, but to give the rank-and-file Over-50 Experts a chance to compete for something more than 7th place. But, since the Elites and the Experts still race together, the visual outcome of the races hasn't change. But on paper it has.

Willy Simons, Jr. went 3-3 behind the Wageman brothers in the 250 Intermediate class. Photo: Debbi Tamietti
Jon Ortner, who holds the Number One plate at Glen Helen for 2013, won the Elite class in front of LightSpeed's Willie Amaradio and Randel Fout. Meanwhile, in the Over-50 Expert class Val Tamietti (2-1) took the win over a top ten of Bryan Friday (3-2), Dave Eropkin (4-3), Mike Monaghan (1-6), Joe Sutter (6-4), Ron Lawson (5-5), Randy Skinner (7-9), Fred Nichols (9-8), Will Harper (8-10) and Joe Pena (12-7).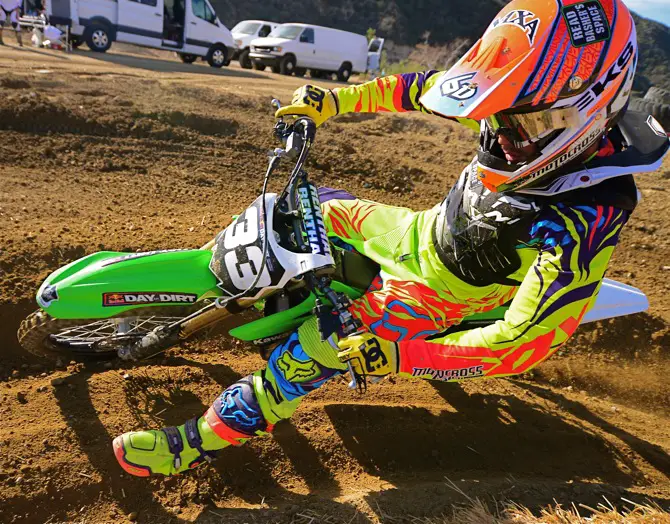 MXA's John Basher exuded pastels in the Vet Intermediates.
Over-50 Novices: Mike Hillion has been on a streak as of late and used a solid 1-1 to best Lance Sloane (2-4), Syd Woods (4-3), Paul Crouch (7-2), Kent Reed (5-6), John Caper (3-8), Anthony Rose (9-5), Robert Pocius (6-9). Mitch Evans (8-10) and Brian Martin (10-11).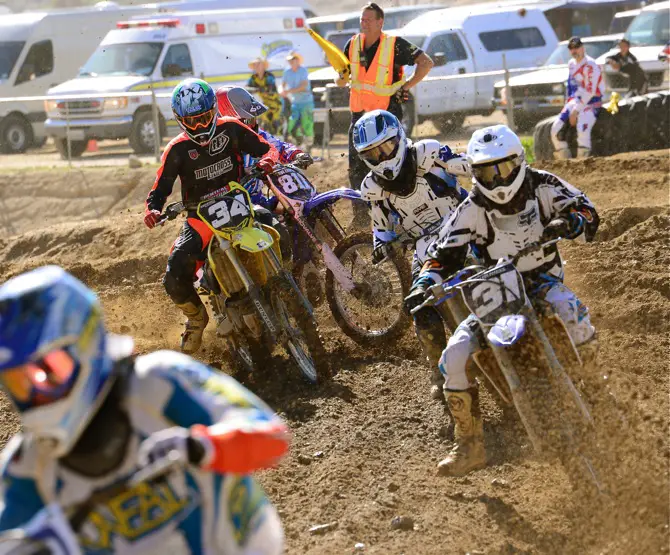 This is where the battle takes place. Mike Monaghan (left front) tries to distance himself from the heavy fighting behind him in the Over-50 Expert class. Randy Skinner (31), Val Tamietti (behind Skinner), Randel Fout (34) and Dave Eropkin battle for position and glory.
Over-60 Experts: REM tends to get more Over-60 Experts at its weekly races than show up at the World Vet Championship. And this week was no different.  As expected Gary Jones swept the field, but there was a great battle behind him between George Kohler and Carl Gazafy (both splitting 2-3 and 3-2 scores) ? with the second place nod going to Gazafy.

Bryan Friday (43) got to lead Elite rider Jon Ortner (10) for three laps in the Over-50 Experts ? then Ortner pounced.
OTHER WINNERS OF NOTE
450 Pro: Justin Jones had no equal as he won both motos easily.
Vet Pro: Tony Amaradio took the win in his first race back since the World Vet in November.
250 Pro: Australian Geordie McGrath took the 250 class victory.

Fred Nichols (451) went 9-8 in the Over-50 Experts, but had his moments on the hilly REM track.
250 Intermediates: R. J. Wagemen's 1-1 bested his brother Robbie's 2-2 and Willy Simons Jr.'s 3-3.
Over-50 Intermediates: C.T. Falk made it look easy as he rode in perfect control for both 20-minute motos. Falk went 1-1, Jeff Mason was second, Russell Brown third, Pete Vetrano fourth and Mike Phillips fifth.

You gotta give Australian Dan Alamangos a lot of credit. He's laid his Yamaha YZ250F as far over as it will go and has remained standing on the pegs with the throttle pegged. Looking good Dan. Unfortunately, his front tire has lost traction and Dan's moment of glory is short lived.
WHAT ABOUT THE FOUR-OHS
Over-40 Novices: Robbie Carpenter used a 2-1 to take the victory over Owen Fitzsimon (1-3) and Joe Pena (3-2).
Over-40 Intermediates: Scotty Walker's 4-1 was good enough to beat out Tom Baker's 3-2 and Scott Fichter's 1-5.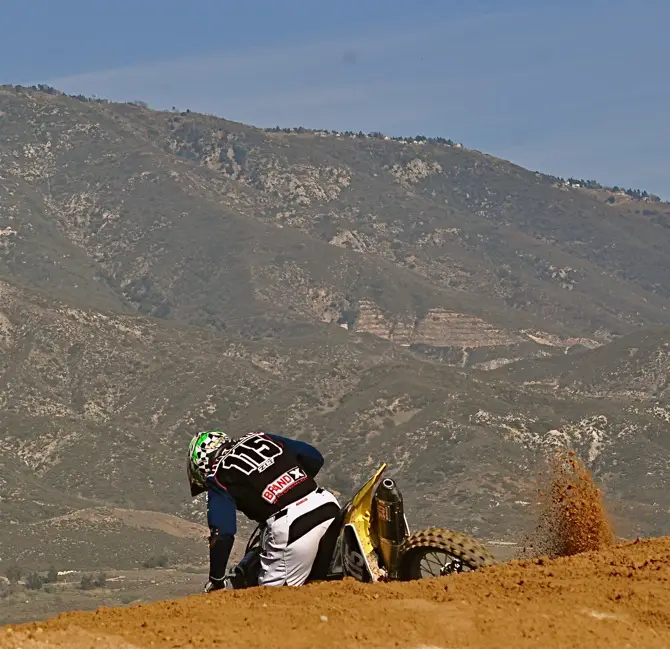 Mic Rodger (115) disappears over a hill as a 7000-foot mountain looms in the background. Rodgers went 6-5 in the Over-60 Experts.

If the view isn't thrilling enough for Mitch Evans (left), then being passed by a four-time 250 National Champion should be. Gary Jones (88) swept both motos of the Over-60 Expert class in front of Carl Gazafy, George Kohler and Bill Maxim.

Mike Hillion (413), Gary Scott (157), Paul Crouch (3), Syd Woods (489), Anthony Rose (127), John Caper (44), Kent Reed (491), Mitch Evans (4) and Brian Martin (65) charge one of REM's hills in the Over-50 Novice class. Hillion would go 1-1.
Over-40 Experts: Just like the Over-50 Experts, the faster riders have been spun off into an Over-40 Pro class. Tony Amaradio was the easy winner of this class, given that he also won the Over-30 Pro class. Alan Julien won the regular Over-40 Expert class with a 2-1 in front of Swede Patrik Erlandsson's 1-2.

The difference between winning and losing can often be measured in inches. If Justin Jones's rear tire had hit the sharp-edged rock next to his rear wheel he would not have been standing on the podium at the end of the day.
REM races again next Saturday, January 18. For more info go to www.remsatmx.com