REM GLEN HELEN MOTOCROSS RACE REPORT: NICK WEY RUNS INTO A BUZZ SAW NAMED JUSTIN JONES

Photos by Dan Alamangos and Ernie Becker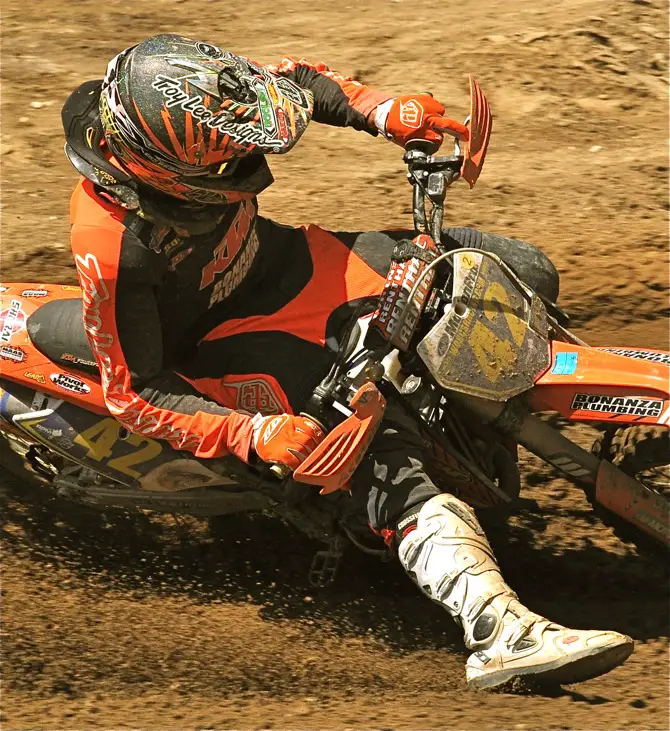 Justin Jones slides on his heel during the 450 Pro race.
Well aware that the rest of the nation is scorching hot, SoCal's motocross racers have enjoyed the most pleasant summer in years. Although the REM motocross racers have had to endure a few 100-plus degree days, for the most part they have been racing in balmy temps for the last four races. The unseasonably cool temperatures have had a reverse effect on the competition ? as the riders aren't riding to conserve energy like they would on a broiling hot day, they are riding harder and the racing is hotter.
Everything about the 450 Pro race was hot. Nick Wey showed up to spin some race laps during his week off from the AMA Nationals, but he got to Glen Helen late. The promoters held up the first race for a few minutes so that Nick could take a couple laps by himself. Then, in the first start of the 450 Pro class was red flagged (which helped Wey who had a last place start). Shawn Rhinehart brought out the red flag when he bounced off of a canyon wall while leading and knocked himself out.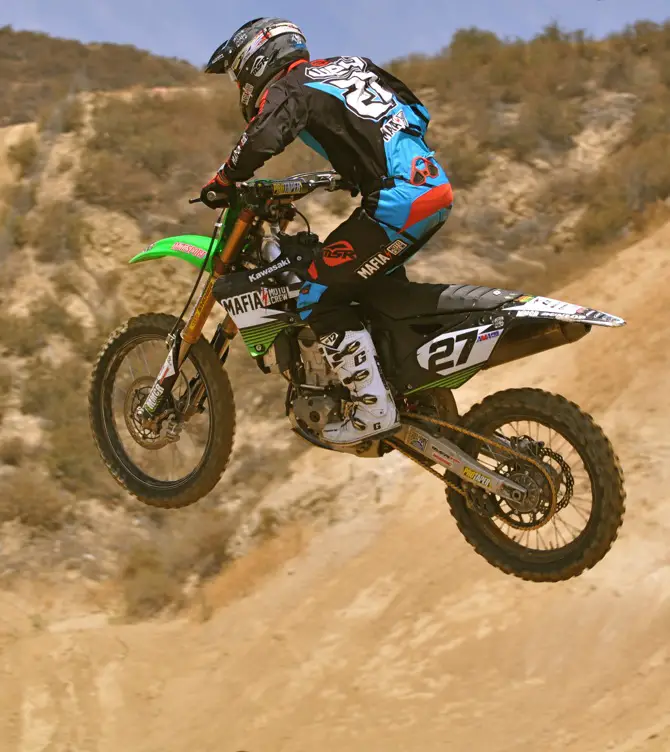 Still rehabbing from his big crash last year, Nick Wey came to REM to tune up before Unadilla next weekend.
On the restart it was Washington's Nick Schmidt in the lead with Michigan's Nick Wey in second. Local hero Justin Jones was coming through the pack fast. Jones was relentless as he sliced his way by Wey, who he surprised in a steep downhill drop-off, and then caught and passed Schmidt with another classic move. Jones would win the first 450 Pro moto in convincing fashion with Schmidt second, Wey third, Adam Enticknap fourth and Swedish rider Marcus Ovegaard fifth.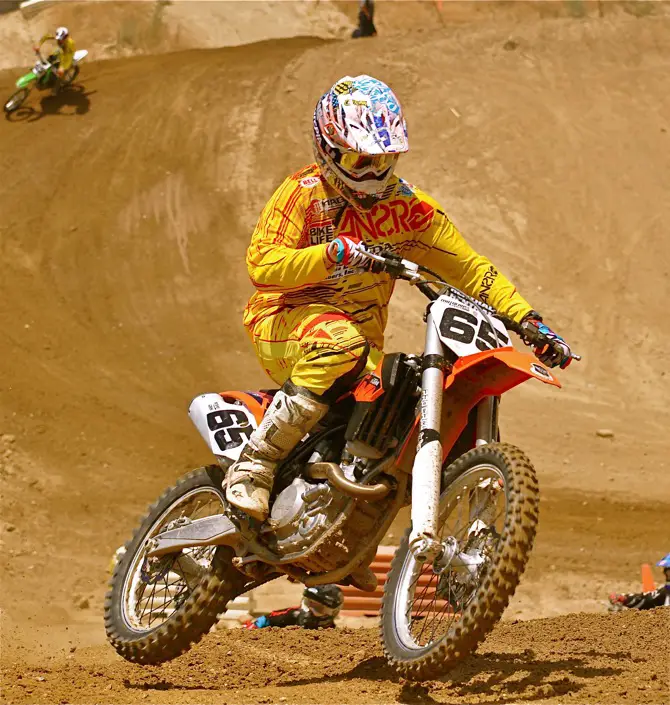 It took two different bikes to get Nick Schmidt to the finish line in the 450 Pro class, but he got second overall.
Jones was just as impressive and aggressive in the second moto, as he came from behind to quickly dispatched everyone ? save for Nick Schmidt. Schmidt's KX450F broke its pipe, lost a side panel and in general looked worse for the wear after moto one, so MXA's Jody Weisel lent Nick the KTM 450SXF that he was racing in the Over-60 Expert class. Schmidt holeshot on the borrowed bike and ran away for 75 percent of the race ? but Jones hunted him down and moved by for the win. Then, Nick Wey closed in on Schmidt with two laps to go and they started dueling. Wey wanted to make the pass for second overall on the steep Mt. Whitney uphill by coming straight up the inside. Unfortunately, Wey didn't get by Schmidt before the top and when he slammed on his brakes on to avoid a collision, his bike stopped dead in its tracks on the steep hill. Nick was only one foot short of the top, but it might as well have been 100 feet short. He had to ride to the bottom of the hill and rejoined the race in 7th, but got back to 5th by the flag.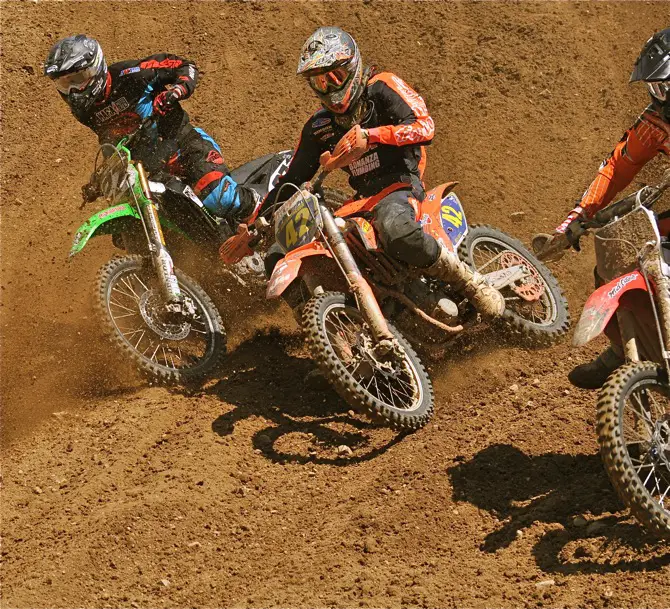 Nick Wey (27) and Justin Jones (42) played fair, but they ran it close together.
The final 450 Pro tally was Justin Jones (1-1), Nick Schmidt (2-2), Adam Eticknap (4-3), Nick Wey (3-5), Marcus Overgaard (5-4), Broc Armbruster (6-6), Jake Tiernan (8-7) and Dane Rouse (7-8).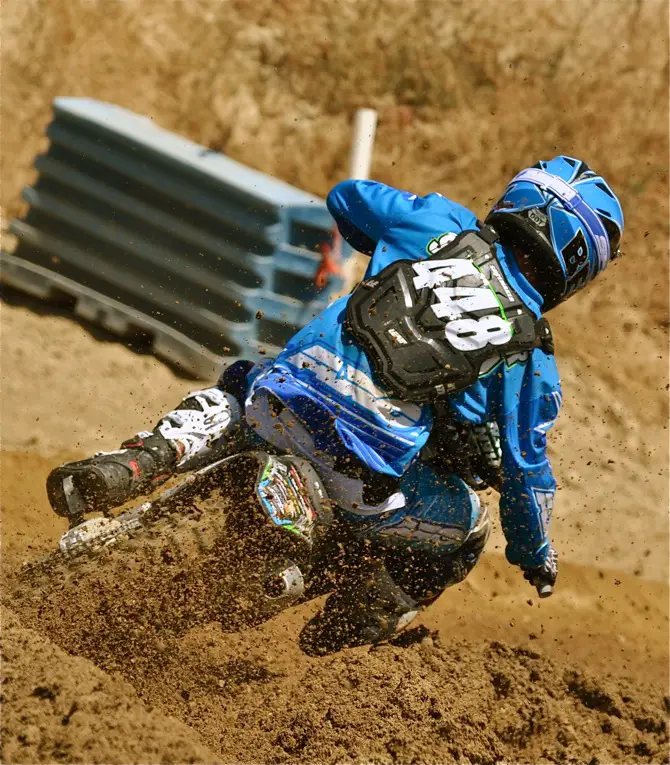 Broc Shoemaker took the 250 Pro victory.
The 250 Pro class was won by Broc Shoemaker over Swede Kristoffer Palm, Husky CR144-mounted Colton Aeck, Jake Scarborough and Brent Rouse.

Colton Aeck raced the 250 Pro class on a Husqvarna CR144 and finished with a 2-3 day.
IN THE INTERMEDIATES:
250 Intermediates: Kirk Raleigh used a 1-2 to take the victory over Zebastian Hellqvist's 3-1 and Kordel Caro's 2-3. Nathan Cernicky and Danny Gross rounded out the top five.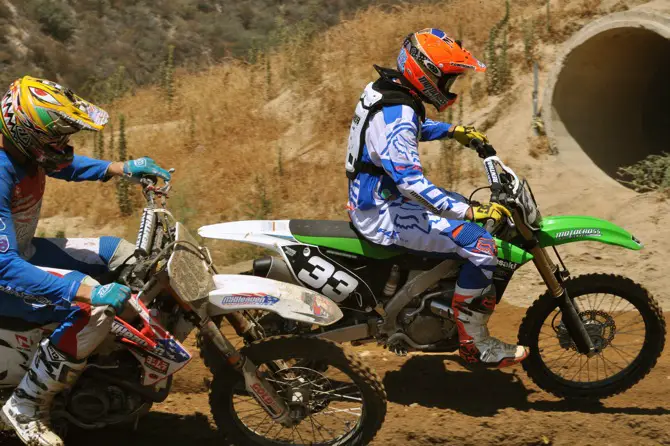 John Basher (33) and Marcus Ovegaard drag race at REM.
Vet Intermediates: MXA's John Basher, free from his X Games judging duties, swept both motos in front of Matt Stewart and Jordan Eubanks.
Over-40 Intermediates: Ron Shuler's 2-1 took the overall in front of Kelly Gelhaus' 3-3 and Dan Alamangos 5-2.

Bryan Friday (43), Jeff Mason (459), Fred Nicholls (45), Darrin Powell (136), Shy Moshe (1) and Steve Donovan (6) fan out across the track in the Over-50 Intermediate race
Over-50 Intermediates. By far the biggest class of the day, the victory went to Bryan Friday. This was a little odd since Friday has been a top ten competitor in the Over-50 Expert class (although he did take some time off for an injury). As a rule of thumb, it is bad form to moved down a class and then win. Jeff Fahy's 3-2 was good enough for second overall and "first real Over-50 Intermediate" prize, while Steve Donovan was third with a 4-3, Wil Harper fourth (6-5) and Joe Sutter fifth (8-6). The rest of the score were all over the map ? Fred Nicholls went 1-DNF, Justice Quidd 12-1 and Randy Skinner 5-13.
THE CLASS OF THE CLASSES


Andy Jefferson.
You would have swore you were at Saddleback Park in the 1980s when the gate fell for the Over-50 Expert class. Andy Jefferson (the first black rider to ever make an AMA Supercross main event), Val Tamietti (multi-time CMC number one), Jon Ortner (AMA National rider who earned AMA points in four consecutive seasons), Mike Monaghan (a member of the Pro Circuit Husqvarna team), Dave Eropkin (SoCal 125 star of the 1970s), and Willie Amaradio (former 125 National rider) were all aiming for a win.
In the end it became a showdown between Andy Jefferson and Jon Ortner ? and an anti-climatic one at that. Jefferson took the win with a 2-1, but the joy of victory was lessened when Ortner pulled off the track in moto two to help a fallen rider who was stuck under his bike. He reentered the moto, but gave up any chance of winning.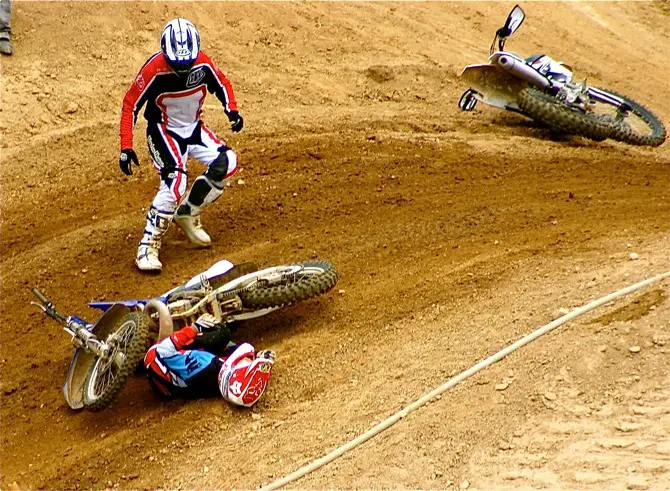 Jon Ortner to the rescue.
Over-60 Experts: George Kohler won the Over-60 class in front of Hollywood stuntman Mic Rodger, White Brother Tom White, Bill Seifert, Jody Weisel, Tony Parsons, Earl Shuler and Bill Maxim.

Over-50 Novice: Mike Phillips went 2-1 in front of Paul Crouch (1-2), Kent Reed (3-4), Anthony Rose (5-3) and Michael Mosca (4-6).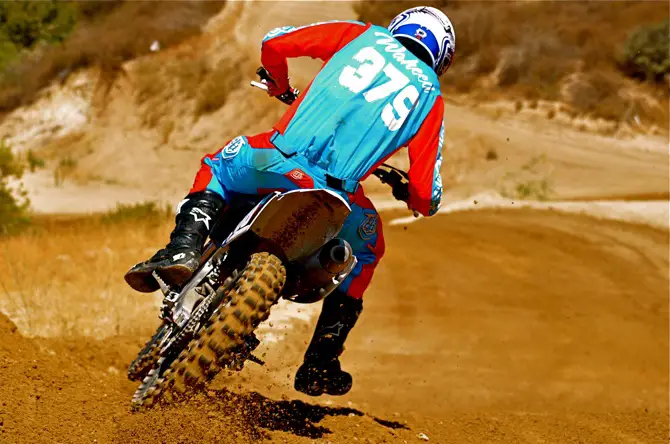 Adam Waheed won the Vet Novice class in front of Ernie Becker, Pasha Afshar, Duncan Crater and Sean Holder.
250 Beginner: Corey Pennington and Tristan Mastro traded 1-2 and 2-1 scores with Pennington having the better second moto. Evan Hall was third, Andrew Norski fourth and Andrew Sweeney fifth.
Over-40 Novice: Scott Ficter (2-1) and Greg Schellack (1-2) traded moto wins in front of a top ten of Joe Sutter (6-3) Cory Clark (3-6), Kendall Stanley (5-5), Kenard Lipscomb (4-9), Gary Harada (11-5), Russell Brown (9-7), Greg Anderson (7-12) and Justice Quidd (10-10).
REM does not race on August 10, but returns to action on August 17. For more info go to www.remsatmx.com