REM GLEN HELEN MOTOCROSS RACE REPORT: RYAN HUGHES SWEEPS THE 450 PRO CLASS AT REM'S USGP SEQUEL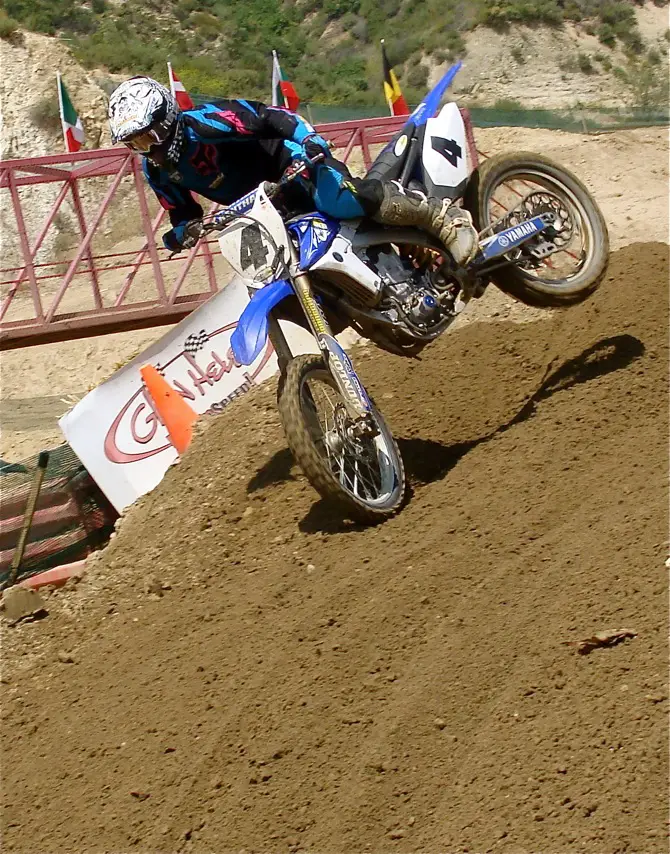 Ryan Hughes (4) left nothing on the table on his way to the 450 Pro win.
Every year after the USGP or the previous AMA National, REM gets to hold a race on the leftover race track. It is the perfect dream sequence for the Glen Helen regulars…but even dreams can have a few down sides. As sweet as it is to race on the same track as the big-time pros, it means that the local racers (Novices, Vets and Minis) have to ride on the same bumps, jumps and hills as the big-time Pros. And, no matter what anyone tells you, a National or Grand Prix track is tough, rough and demanding?much more than the same track prepped for a local race.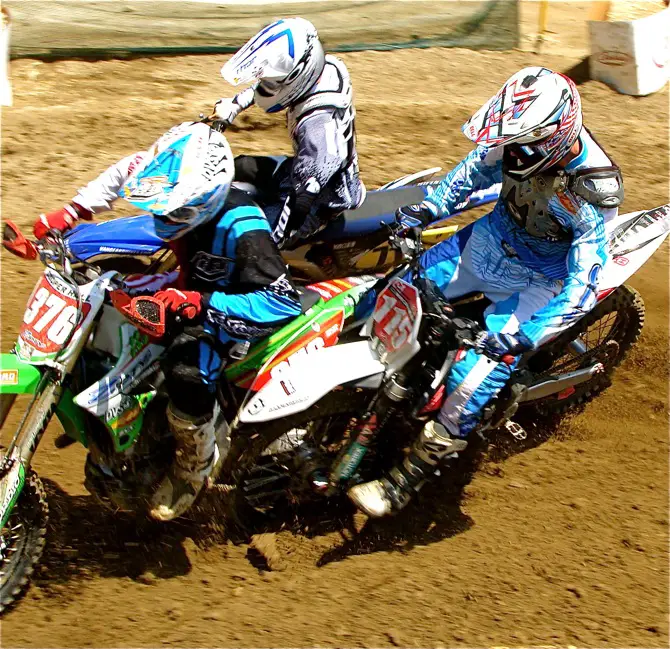 Cory Graffunder (115) uses a little Husqvarna muscle on Cooper Hall's Kawasaki.
And the REM racers faced a brutal track. It had sand whoops, big braking bumps (on the bottom of steep downhills), rolling whoops that had bottomless cavities and jumps that were intimidating (even for those who had no intention of jumping them). But, even with the challenges, the Glen Helen racers were happy to have the opportunity to test their mettle against the biggest, steepest and fastest track around.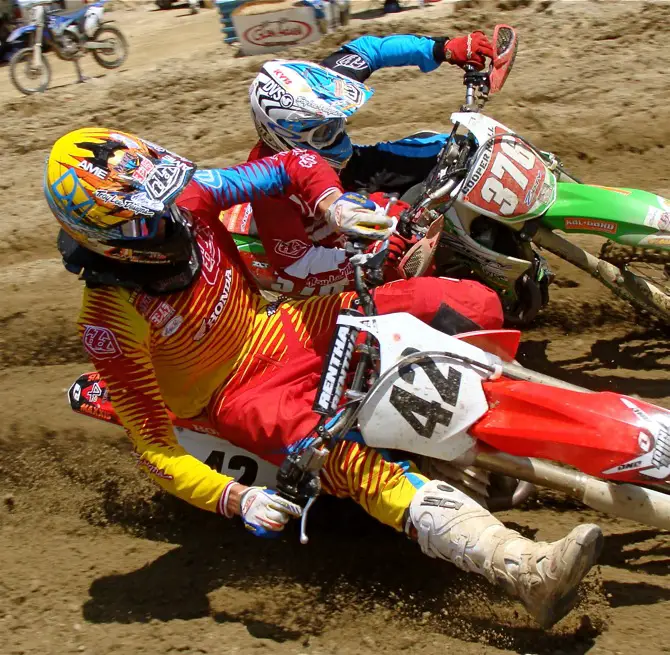 Justin Jones gets his CRF450 low. Cooper Hall (376) is the victim again.
THE  PROS HAD NO ISSUES
Ryan Hughes swept both motos of the 450 Pro class. As a rider with GP and AMA National experience, Ryan didn't think the track was all that rough…and it isn't?when you skim across the top of the bumps, double the whoops and rail through the sand. Vance & Hines rider Preston Tilford was second with Bruce Shoemaker, Dylan Schmoke, Jamie Lanza, Tony Amaradio, Connor Stouff, Casey Casper, Brian Bebeck and Chris See rounding out the top ten.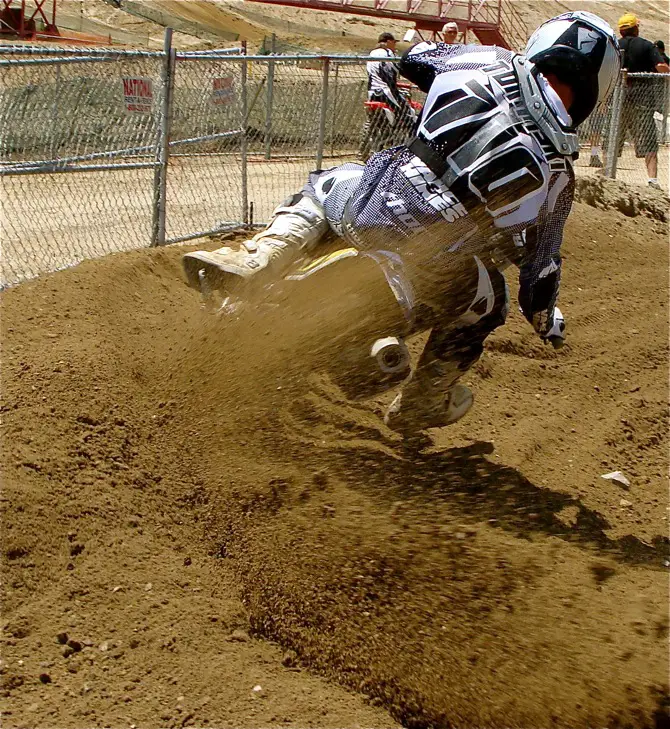 Vance & Hines has invested heavily in Steven Tokarski?he's paying them back with wins.
Vance & Hines' Steven Tokarski swept the 250 Intermediates, while Justin Jones did the same thing in the the 450 Intermediates.

Teenager Billy Musgrave has steadfastly stuck with two-strokes. The MXA test rider was second in the 250 Pro class.
The 250 Pro battle was between Damion Tackett (1-1), Billy Musgrave (3-2) and Tyler Granger (2-3).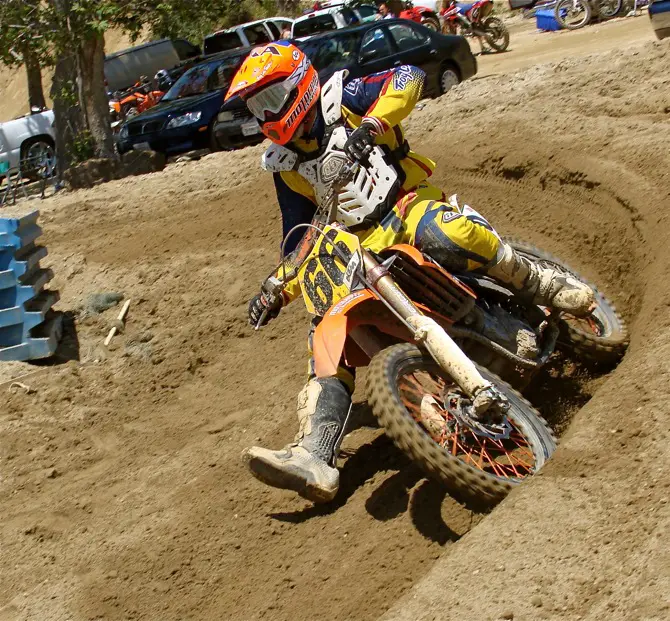 George Kohler raced the KTM 450SXF that Spanish GP rider Xavier Costa raced at the USGP. George went 6-8 in the Over-50 Experts.
Other sweepers included Ryan Surratt (250 Novice), Gary Brown (125 A), Taylor Lacombe (250 Beginner), Matt Stack (450 Novice), Brian Davis (Vet Novice), Donovan Tryon (150 Advanced), Brandon Krause (125 Open), Sean Bell (85 Beginner), Gavin Leachman (65 Advanced), Kent Reed (Over-50 Novice) and Bob Marino (Over-50 Intermediate).

Steve Butler (9) and Pete Murray (6) are about to make a YZ125 sandwich out of Mike Phillips (433). Butler, Jeff Emig's former mechanic, won the Over-40 Expert class, while Murray won the Over-50 Experts. Phillips was fifth in the Over-40 Intermediates.
THE RACE OF THE DAY
There is something about REM that attracts Over-50 Expert racers. They come out in droves and this week was no different. The race between eventual winner Pete Murray (on a Yamaha YZ125 two-stroke) and Willy Simons was as close as a race could get. Simons and Murray swapped 1-2 and 2-1 scores. Bob Casper was third with Greg Nelson fourth, Marc Painer fifth, Mike Monaghan sixth, George Kohler seventh, Dennis Boulware eighth, Gary Jones ninth and John Perry tenth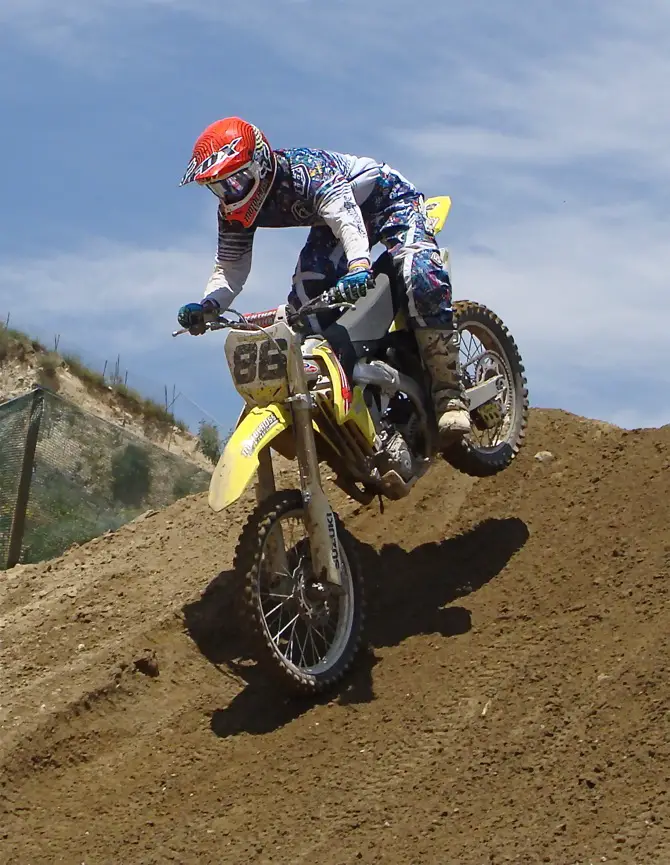 This is the very tall and very steep hump that leads into the sand section. John Perry demonstrates one of the many ways to come down the 12-foot tall bank.
The bike breakdown for this week's race (in all the classes) was 32% Honda, 28 % Yamaha, 16 % Kawasaki, 13% KTM, 10% Suzuki and 2% other brands.

Nick Desiderio (6) gets under Max Groom.
REM returns to the REM track next weekend (and there are a lot of beat-up Novice and Vet riders who are happy to go back to the upper track, which is very rough, but nothing like the USGP track).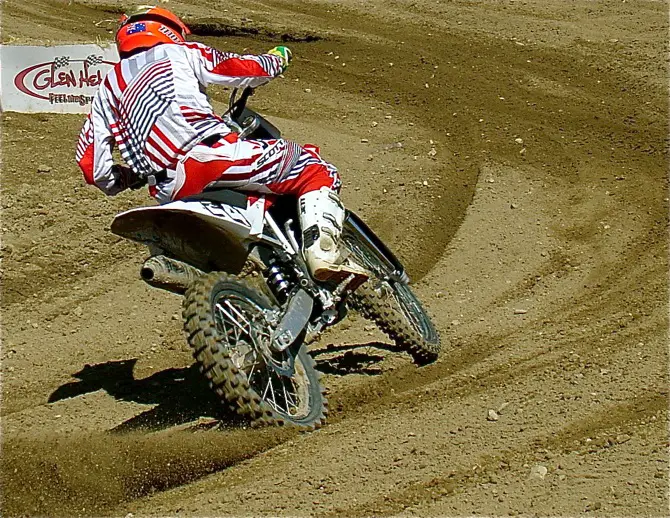 Dan Alamangos (54) was one of five Husqvarna riders at Glen Helen. He joined Gary Jones, Cole Safford, Jamie Lanza and Cory Graffunder on the Italian/Swedish/German/Taiwanese bikes. Safford, son of famous designer Kenny Safford, was the only Husky winner?on a CR125 in the 125 Novice class.
For more info about REM go to www.remsatmx.com