REM GLEN HELEN MOTOCROSS RACE REPORT: THE 250 PRO WINNER'S DAY IS SAVED BY A HELPFUL FRIEND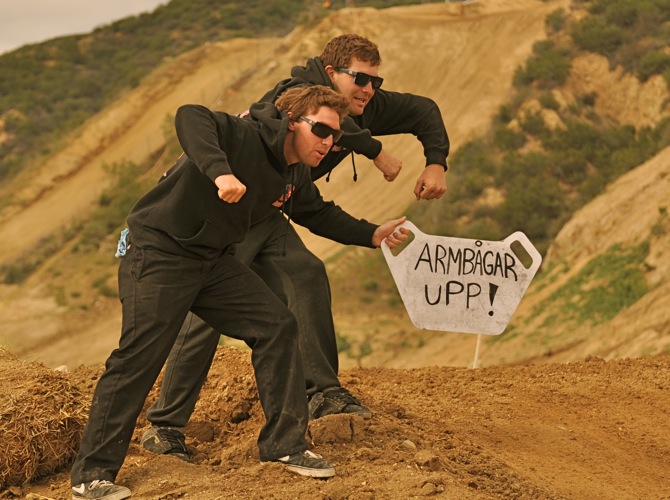 This may look like a couple of Swedish fans rooting on their riders with a pit board message that reads "Arm Up" in Swedish, but it's really a couple of Australians making fun of the Swedish riders. All in good fun.

Randel Fout was drafted by MXA to do some gearing tests for an upcoming bike test on FMF's Kawasaki KX500 two-stroke. Yes, we know that it looks like a KTM, but the engine doesn't.
There is nothing as stressful sitting through a couple days of rainy weather, wondering if the weekly motocross war will be canceled. Then, you make the long drive to find out that the motocross track is good to go…and so are all of your friends. This week's REM motocross was on a verge of being called off when a frog strangler of a rain storm blew through the track the night before. Thanks to the hardcore efforts of Glen Helen's Cat driver John Allen, the track was cleaned up and ready to race by the time practice rolled around. Then, the sun came out and the track dried out enough that they had to water by the second round of motos.
The REM race community is a close-knit group and for the most part they get along and help each other (off the track). On the track it is a different matter. Here is what happened this weekend at REM Glen Helen.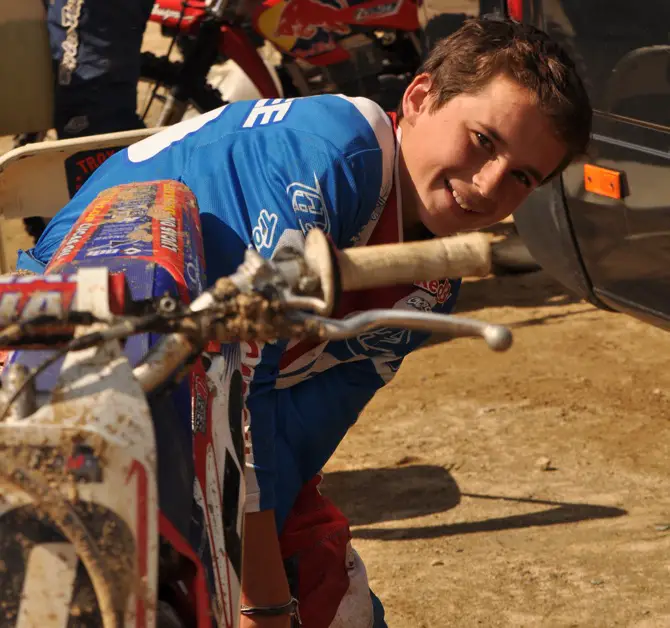 Max Lee has been bitten by the racing bug and is dragging his dad along with him. There is nothing as bonding and a father and son who can race together.
Troy Lee Designs: The Troy Lee crew came out in force with Troy Lee and his son Max Lee racing and helping the team's future hope Shane McElrath get some saddle time. It was a complete team effort as even team manager, Tyler Keefe, donned his gear and threw down some laps.

Willy Musgrave won the Over-40 Pro class on a YZ250 two-stroke. Randel Fout was second on the KTM/KX500 hybrid.

You may think that your friends are watching your moto, but this photo illustrates that isn't always the case. As Jody passes by the pits, Jon Ortner (left) snaps a photo, while Willy Musgrave and Andy Jefferson (center) discuss their last moto and TM importer Pete Vetrano (right) averts his gaze.
MXA wrecking crew: With Dennis Stapleton on a plane home from Qatar, John Basher on baby watch with his wife Hope, Travis Fant in Daytona and Lars Larsson in Mexico, the MXA gang recruited some extra help on testing duties…those riders included Andy Jefferson, Mike Monaghan, Jon Ortner, Randy Skinner and Randel Fout. They each got an assignment, while Jody, Mark Hall, Dan Alamangos, Bengt Johansson and the Musgraves (Billy Musgrave back for his first race since breaking his femur in a kart crash last year) held down the fort.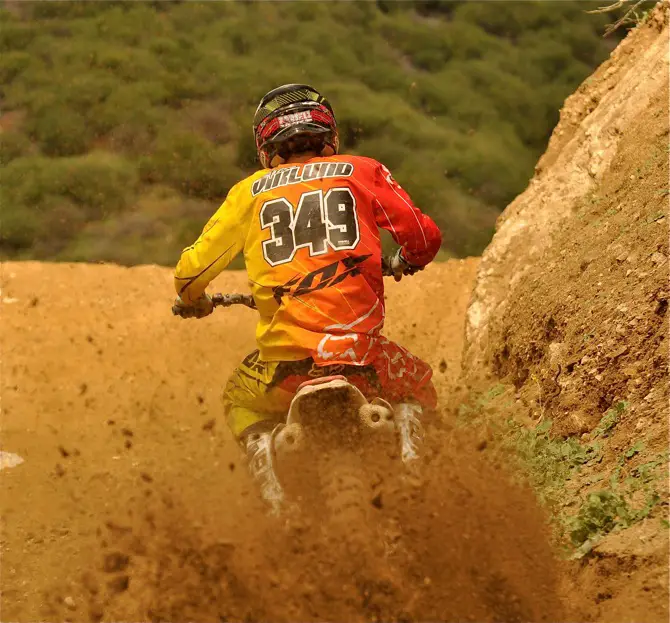 Swede Alexander Viklund was second in the 450 Intermediate class and third in the Open Intermediates.
Foreigners: As always the REM pits were packed with Swedes, Aussies, Danes and Austrians. With names like Miika Oininen, Frans Andersson, Alexander Viklund, Joakim Bage, Tobias Kempe, Mathias Keller and Gustaf Svanbro, track announcer Tom White had his mouth full of marbles all day long. When you add in the regular REM foreign legion of Bengt Johansson (Sweden), Kristoffer Palm (Sweden), Dan Alamangos (Australia) and Travis Curtin (Australia) you have the United Nations.

Shane McElrath borrowed a 2008 Honda CRF250 after a rock broke the cases on his Lucas Oils Honda CRF250 and used it to win the 250 Pro class.
The Pros: Troy Lee-sponsored Shane McElrath, from South Carolina, was the class of the 250 Pro field. He streaked away to an easy victory in the first Pro moto, but sucked a rock into his countershaft sprocket and broke his CRF250 classes. But McElrath came to race, so when professional speedway racer Randy Skinner offer to lend the TLD team his CRF250?they readily agreed. But, it turned out that Skinner's CRF250 was a 2008 CRF250 that Randy had just bought for $2000. It was virtually new, albeit five years old, and still had the original oil in the engine from when it was origianally purchased. McElrath was up for the challenge and after a battling his way to the front he took the second moto win in front of Danish rider Mathias Keller. Meanwhile, Tobias Kempe won the 450 Pro class over Chris Peterson and Billy Musgrave.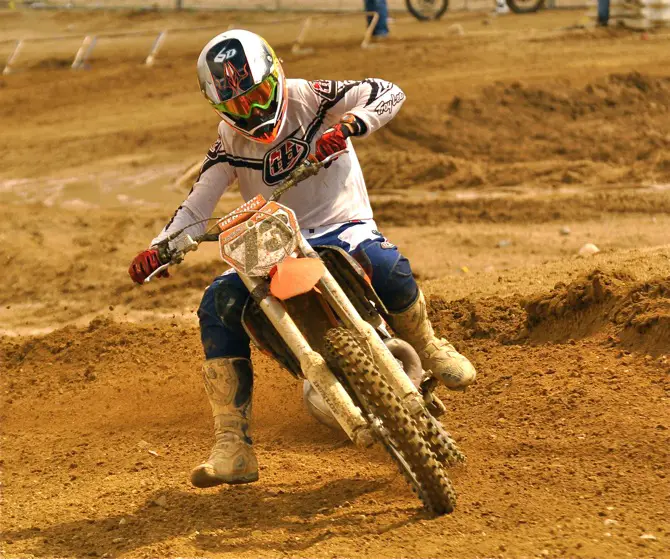 Jon Ortner two-stroked his way to the overall win in the Over-50 Expert class
The biggest class: The Over-50 Expert class was jam-packed with former Pro riders from the 1980s. The field included Andy Jefferson (the first black motocross racer to make a Supercross main event), Bob Weber (a New England Pro who is the inventor of the 6D helmet), Andy Kirker (a former Pro motocross who has found success in Baja), Troy Lee (one of three former Pro Circuit Husqvarna team riders in the field), Wil Harper (of Maico and Indian Dunes fame), Willie Amaradio (who owns LightSpeed carbon fiber), Ray Poltack (a diehard two-stroke rider who will be missed when he starts working on weekends), Gary Bowman (the Bakersfield flash), Mike Monaghan (who insists on racing a 125 two-stroke against 450s) and Santa Barbara Pro Jon Ortner.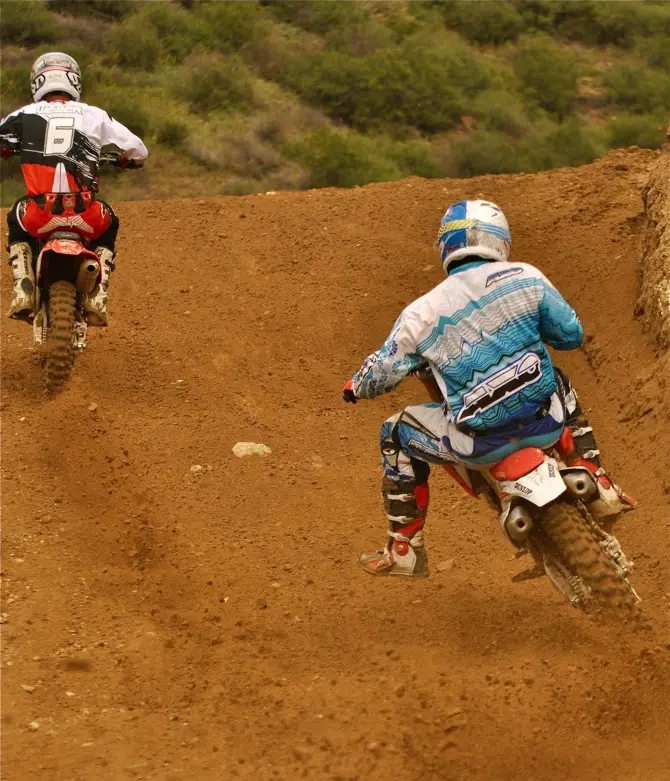 Bob Weber (6) is being chased by Andy Jefferson. Jefferson raced a different bike in each moto and practice session.
Ortner, assigned to test aftermarket parts on MXA's KTM 250 two-stroke, couldn't be touched. Ortner ran down Gary Bowman in the first moto and simply left the pack in moto two. Bob Weber, testing 6D helmets the old-fashioned way, used a 4-3 to take second in front of Andy Jefferson, who works at Husqvarna, but came on a fact finding missing to try out the 450s of Honda, Kawasaki and KTM. Gary Bowman's 2-5 gave him fourth with Kirker (10-2), Eropkin (7-6), Amaradio (6-7), Monaghan (9-8), Hollywood stuntman Bryan Friday (5-13) and Poltack (12-9) rounding out the top ten.

Tom Holmes (510) leads Lyle Sweeter (55) early in the Over-60 Expert race. Sweeter would go on to win with Mic Rodgers second, Jody Weisel third, Bengt Johansson fourth and Bill Seifert fifth. As for Holmes?it just wasn't his day.
The next biggest class: Would you be surprised to find that after the Over-50 Experts, the next biggest class was the Over-50 Intermediates? Jeff Fahy swept both motos in front of Russell Brown (2-2). Steve Donovan's 6-3 best Joe Sutter's 5-4, Mark Hall's 4-8, Mike Phillips  3-10, Randy Skinner's 8-6, Jeff Scott's 7-9, Jeff Mason's 12-5 and Bob Marino's 10-7.

Jeff Fahy (31) swept both motos of the Over-50 Intermediate class.
REM races again next Saturday. For more info go to www.remsatmx.com
Photos by Ernie Becker