REM GLEN HELEN MOTOCROSS RACE REPORT: THE COMPETITION, THE FLU & THOSE DARN HILLS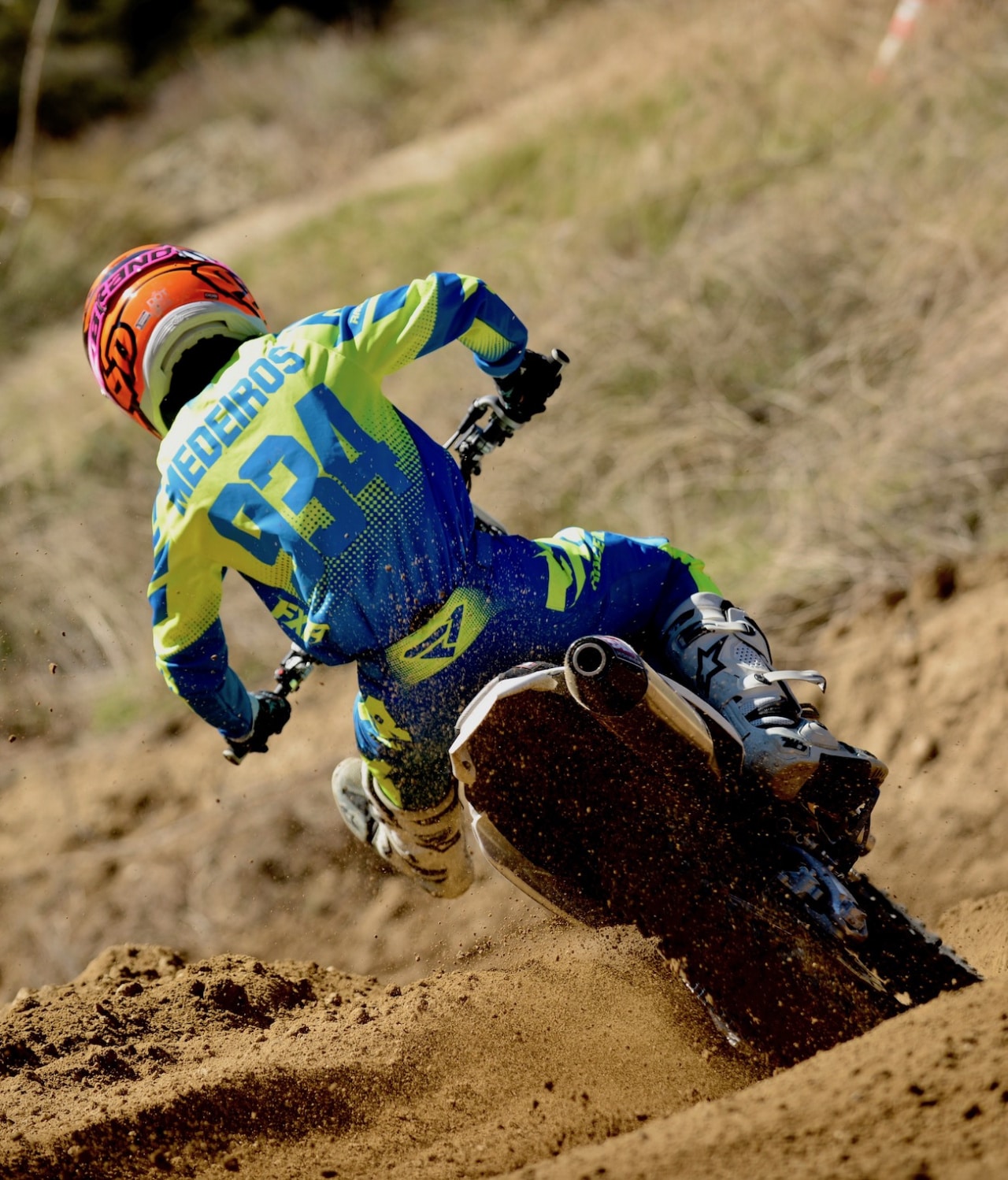 Hawaii's Brian Medeiros (934) repeated last week's 450 Pro victory with another 1-1 day on his Husky FC350. Photo: Dan Alamangos
PHOTOS BY DEBBI TAMIETTI, DAN ALAMANGOS & JON ORTNER
The REM motocross races are on a big roll. They will race seven of the next eight weekends at Glen Helen Raceway (taking only February 8 off over the February and March span). This is what REM's regular crowd wants—they want to race! And so far in 2020 REM's Frank and Myra Thomason has given them what they want. Plus, there have already been track revisions on a weekly basis and the dirt has been very very good thanks to a series of weekly rain storms that keep hitting mid-week instead of on the weekends.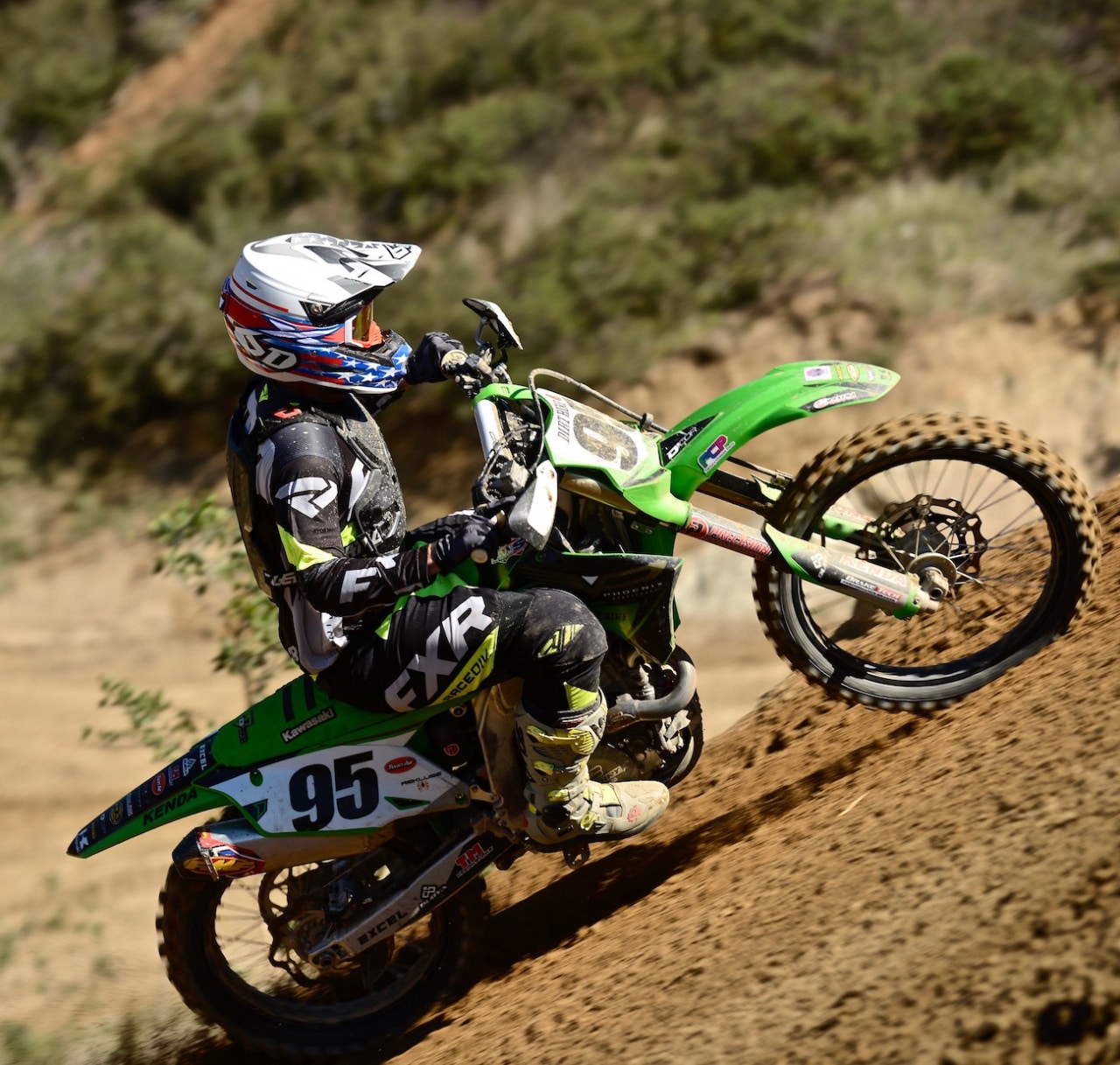 Dirt Bike's Mark Tilley came to REM so his son could practice on the Pee-Wee track, but elected to run the 450 Pro class at the last minute. He was second in the first moto, but had to get home early and skipped the second moto.  Photo: Dan Alamangos
REM used to be at Carlsbad Raceway before moving to Glen Helen over 30 years ago. They took over a vacant piece of land that hadn't been used for much since Arroyo Cycle Park close in the mid 1970s. In fact, at one-time it was used at the ATV practice area. Once REM moved there the track began to expand its horizons, more accurately, over its horizons to include sections of track behind the front ridge that you can see from the pits. By racing 40 weekends out of the year REM became one the best places to test yourself against the competition. With its rolling hills, steep climbs, fast downhills and lots of technical sections the risks are reduced over the typical modern jump track—because REMs jumps are built into the natural lay of the land.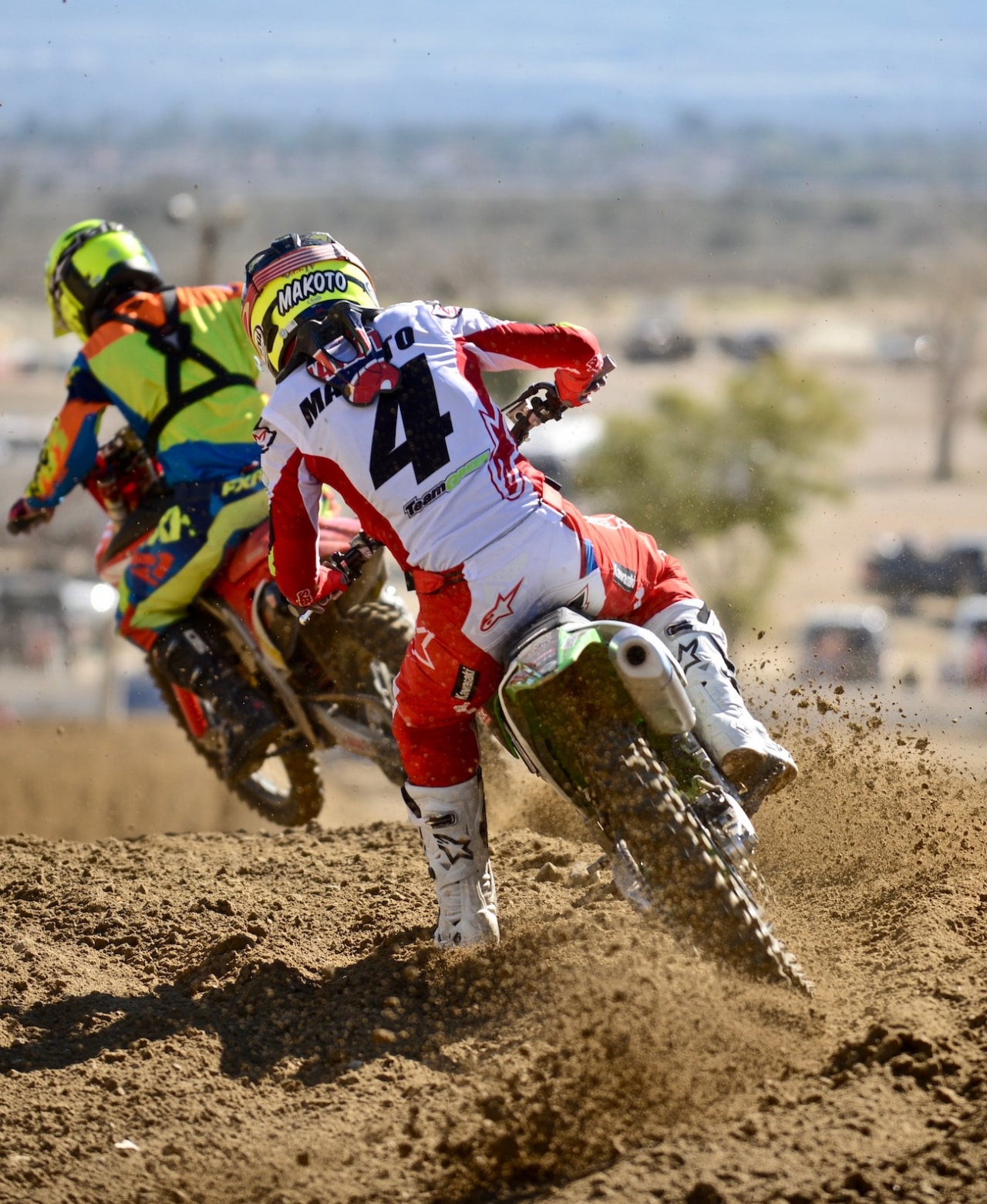 Japanese Kawasaki rider Makota Ogata, went 3-2 for second overall in the 450 Pros. Here, Makota chases Evan Kelly, the son of 1970s desert star Tom Kelly, who went 4-3 and showed some serious speed. Photo: Dan Alamangos
The breakdown by brands is always interesting at REM.
1. KTM……30%
2. Honda……21%
3. Husqvarna…19%
3. Yamaha…..19%
5. Kawasaki….7%
6. TM…….3%
7. Suzuki…..1%
Dominic Desimone was on Pasha Afshar's YZ125 in the 450 Pro class. He didn't win, but he had a lot of fun. Photo: Debbi Tamietti
The biggest classes of the day have followed the bubble of riders who started in the sport in the 1970s—and never quit or stopped in the 20s but came back in their 40s. Here are the biggest classes by entrants and their % of the total entrants at the race:
1. Over-60 Experts…18%
2. Over-50 Experts…14%
3. Over-50 Intermediate…13%
4. Over–65 Intermediate…10%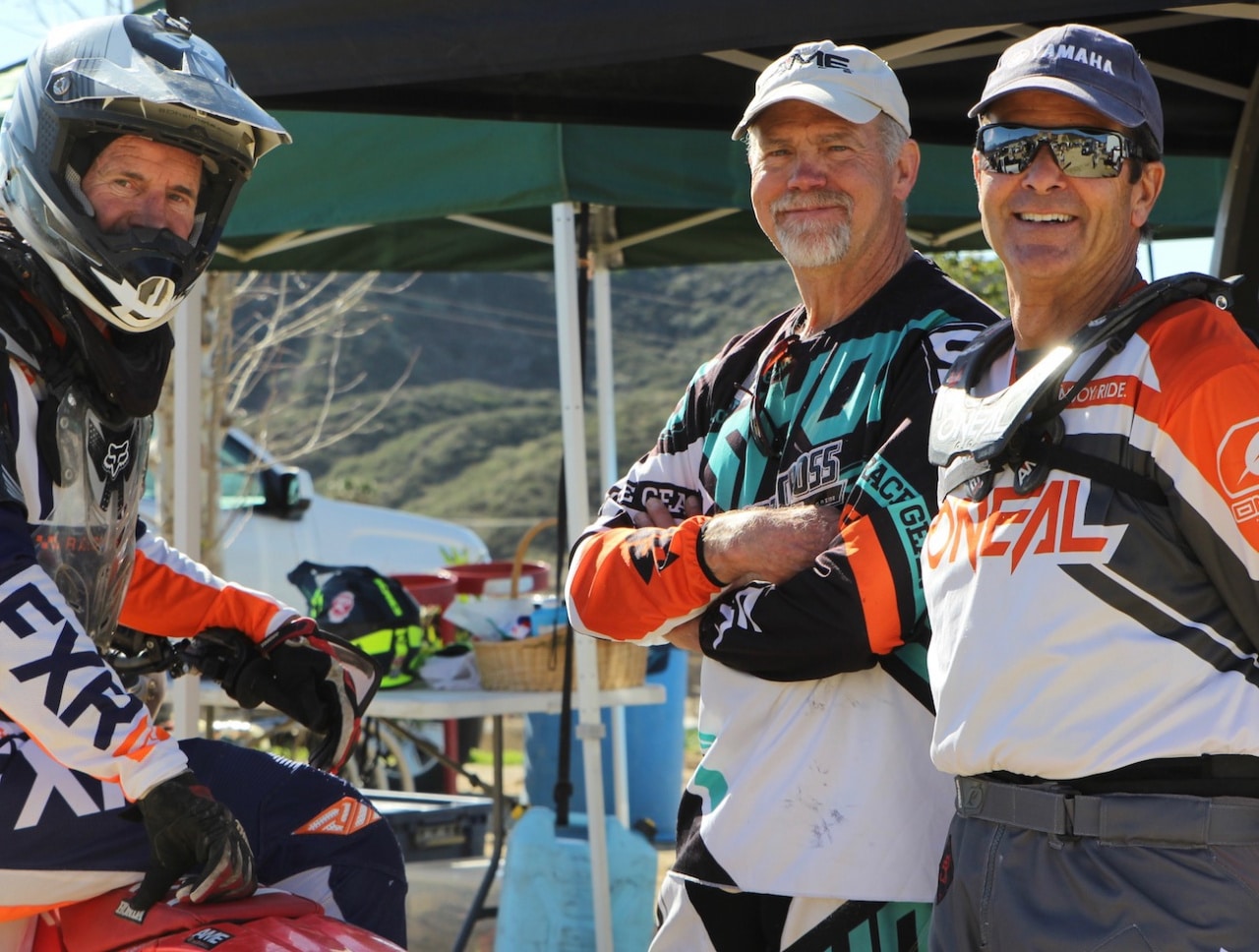 Brent Wallingsford (left), Bob Rutten (center) and Val Tamietti (right) chat about the good old days—which, given their failing memories, were probably last week. Photo: Debbi Tamietti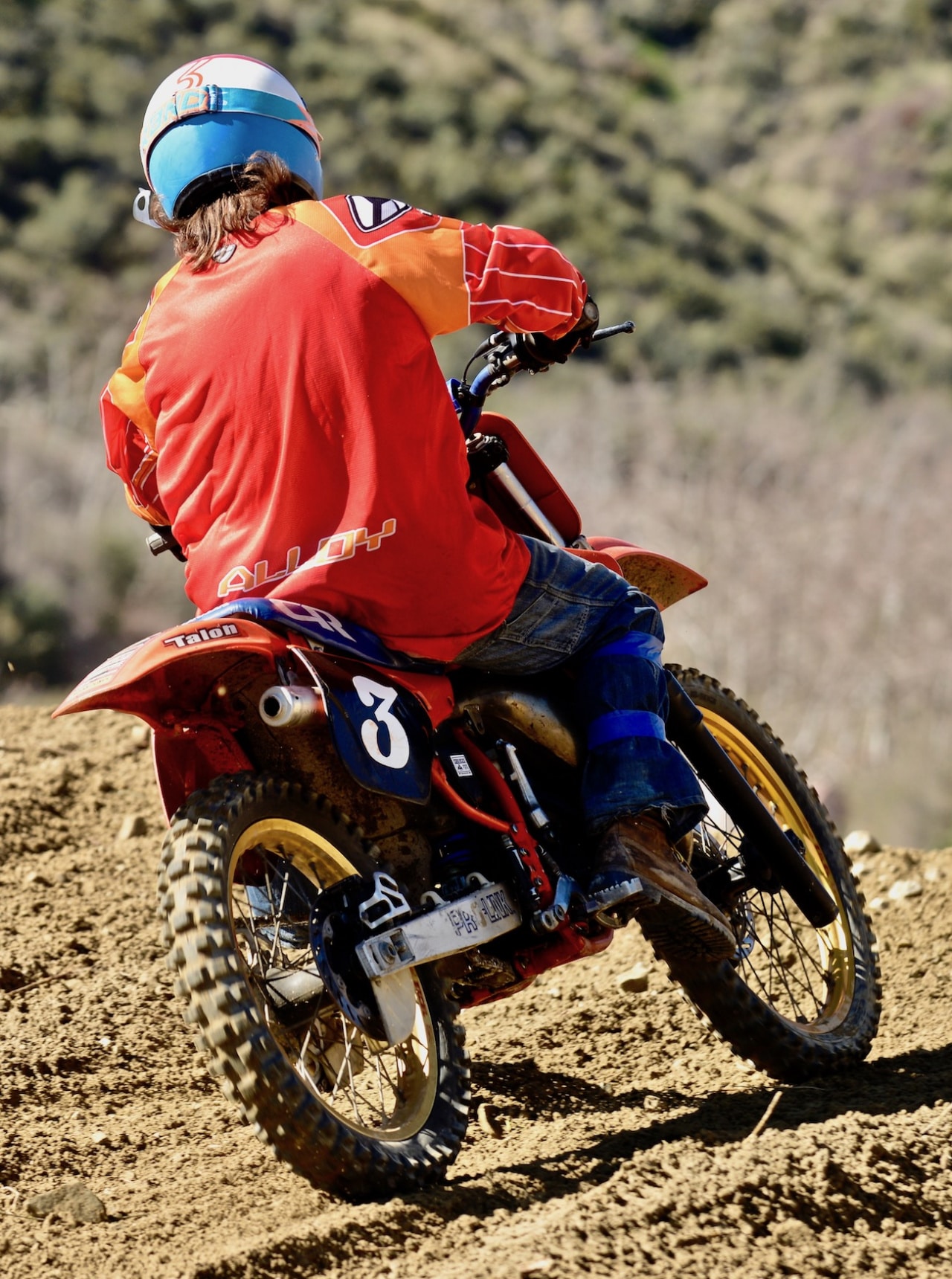 Ace vintage racer Chris Corum (3) decided to try his hand at racing his 1987 Honda CR125 in the Over-60 Intermediate class against modern bikes. He had some bike issues in moto one, but put together a 4-1 day for second overall. Photo: Dan Alamangos
Obviously Pasha Afshar's press agent read last week's "REM Race Report," where Pasha's all-black gear was criticized, because Pasha showed up this week in all-white. Pasha was third in the Over-40 Experts and sixth in the Over-50 Experts. Photo: Jon Ortner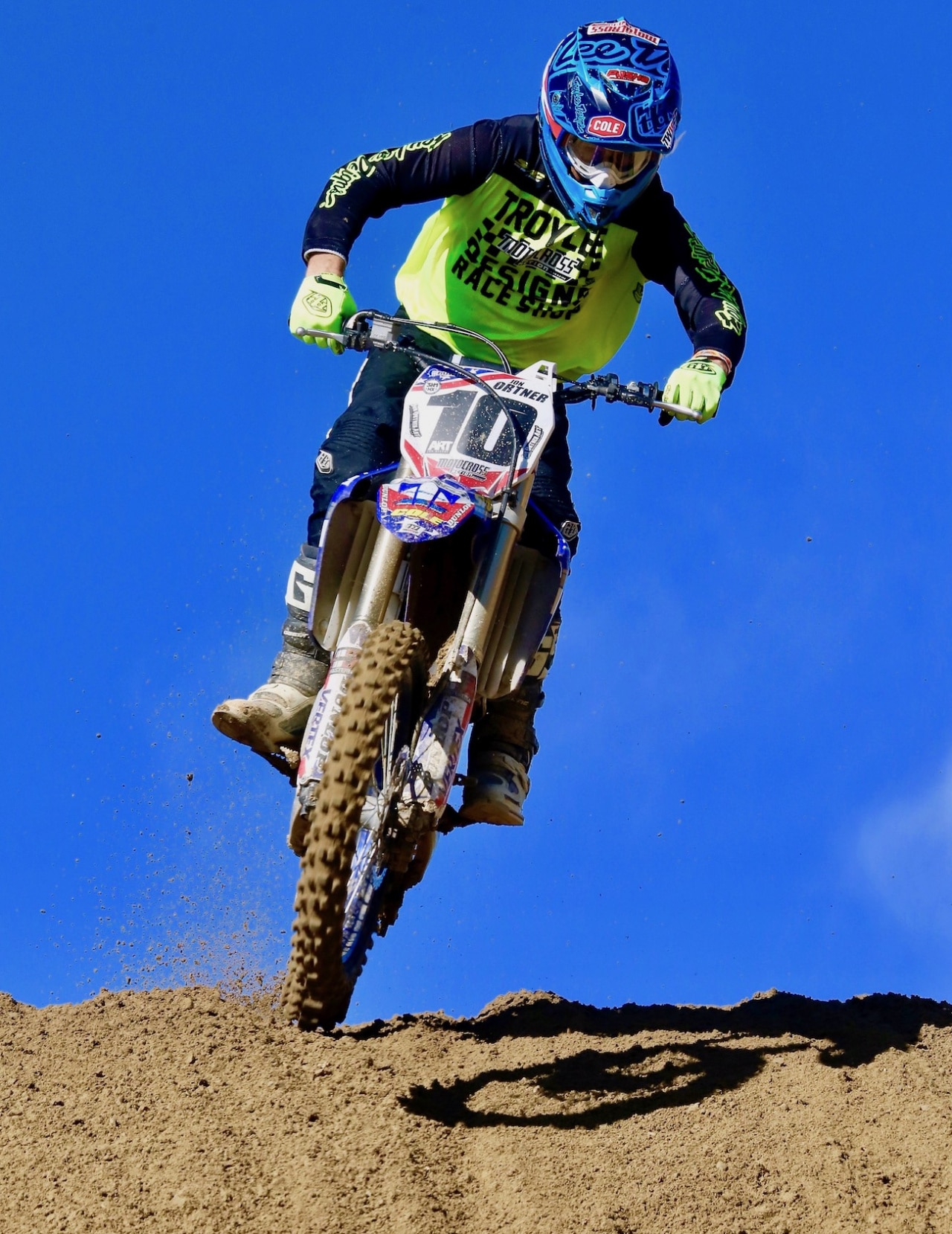 Jon Ortner (10) won the combined Over-50 Elite/Expert races. He was celebrating the birth of his first grandchild.  Photo: Debbi Tamietti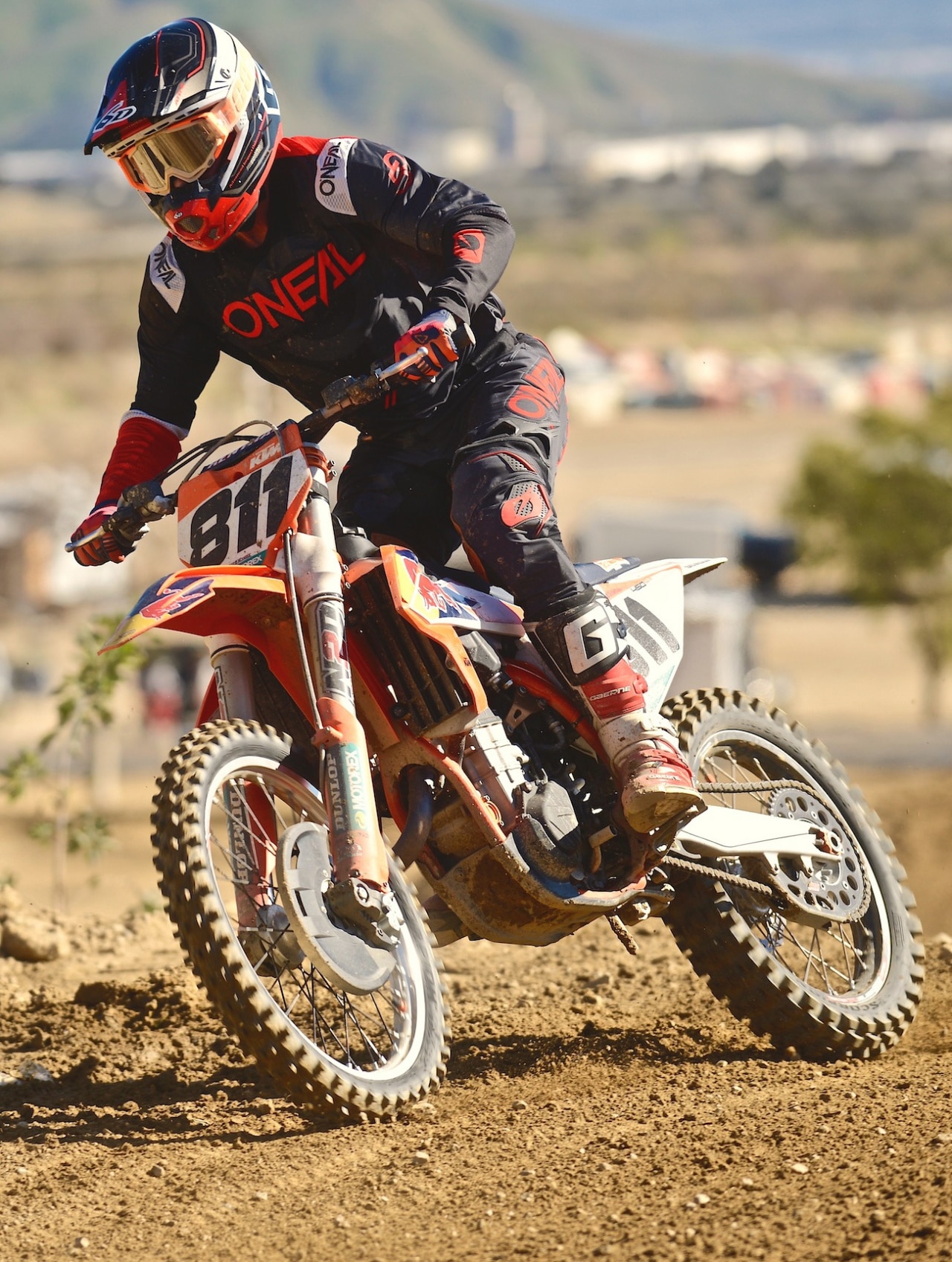 Former 1970's 125 star Dave Eropkin won the Over-60 Experts with a 1-2 over Val Tamietti's 3-1, but Val  came back to win the Over-50 Experts with a 2-1 day. Photo: Jon Ortner
Patrick Veritch (126) celebrates, but that was before he found out that his 1-2 in the Over-50 Novice class was beat by Lance Sloanes' 2-1. Photo: Dan Alamangos
This in the hill that the spectators at Glen Helen never see. It is on the backside of the giant Mt. Whitney hill. It sends the riders straight up and over the top—except during early morning practice when all they can see is the sun sitting on top of the crest. Photo: Dan Alamangos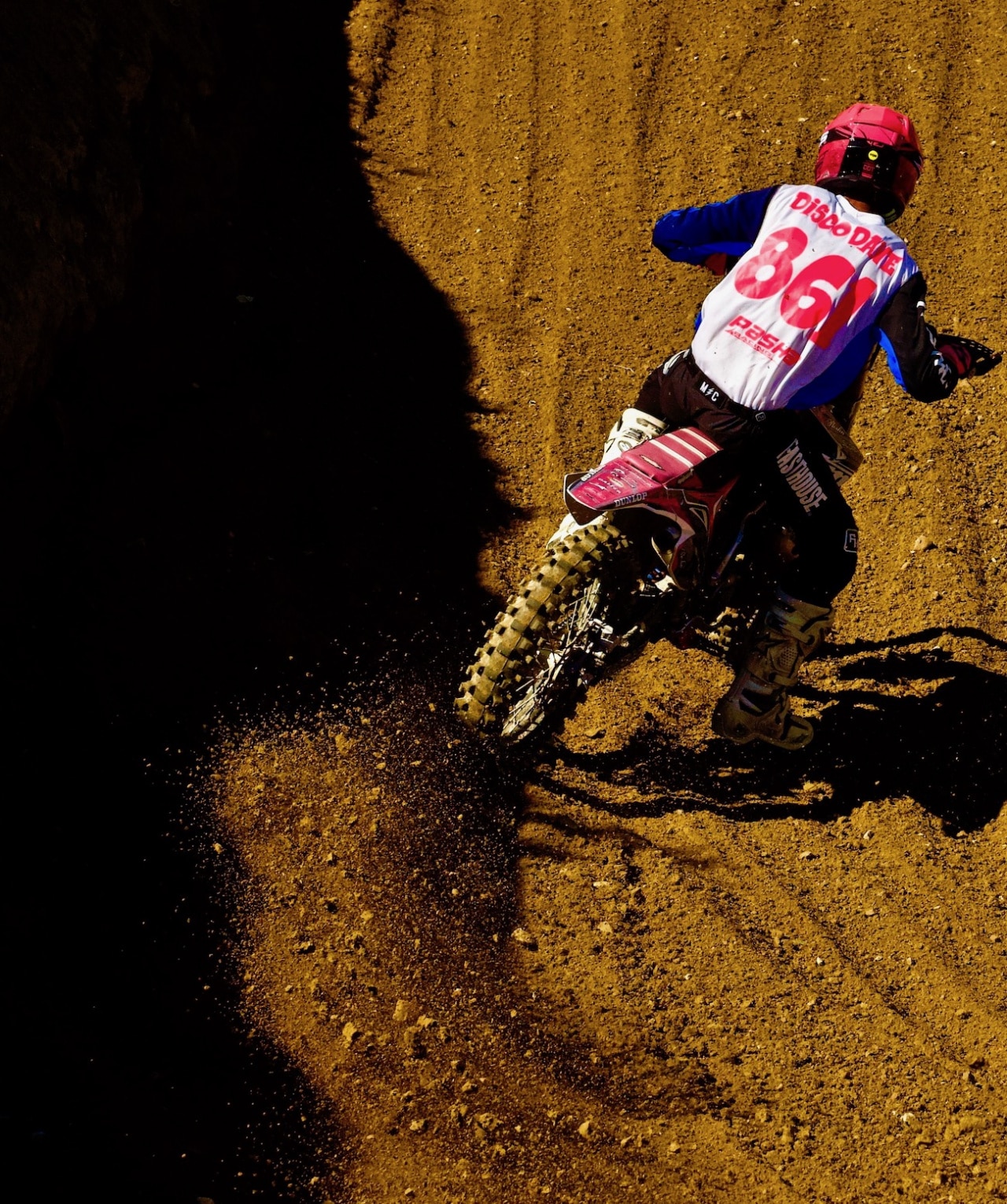 Disco Dave Cincotta (861) has been missing from the REM motocross ranks while racing Speedway bikes this winter. Dave won the Over-40 Intermediates on his TM. Photo: Jon Ortner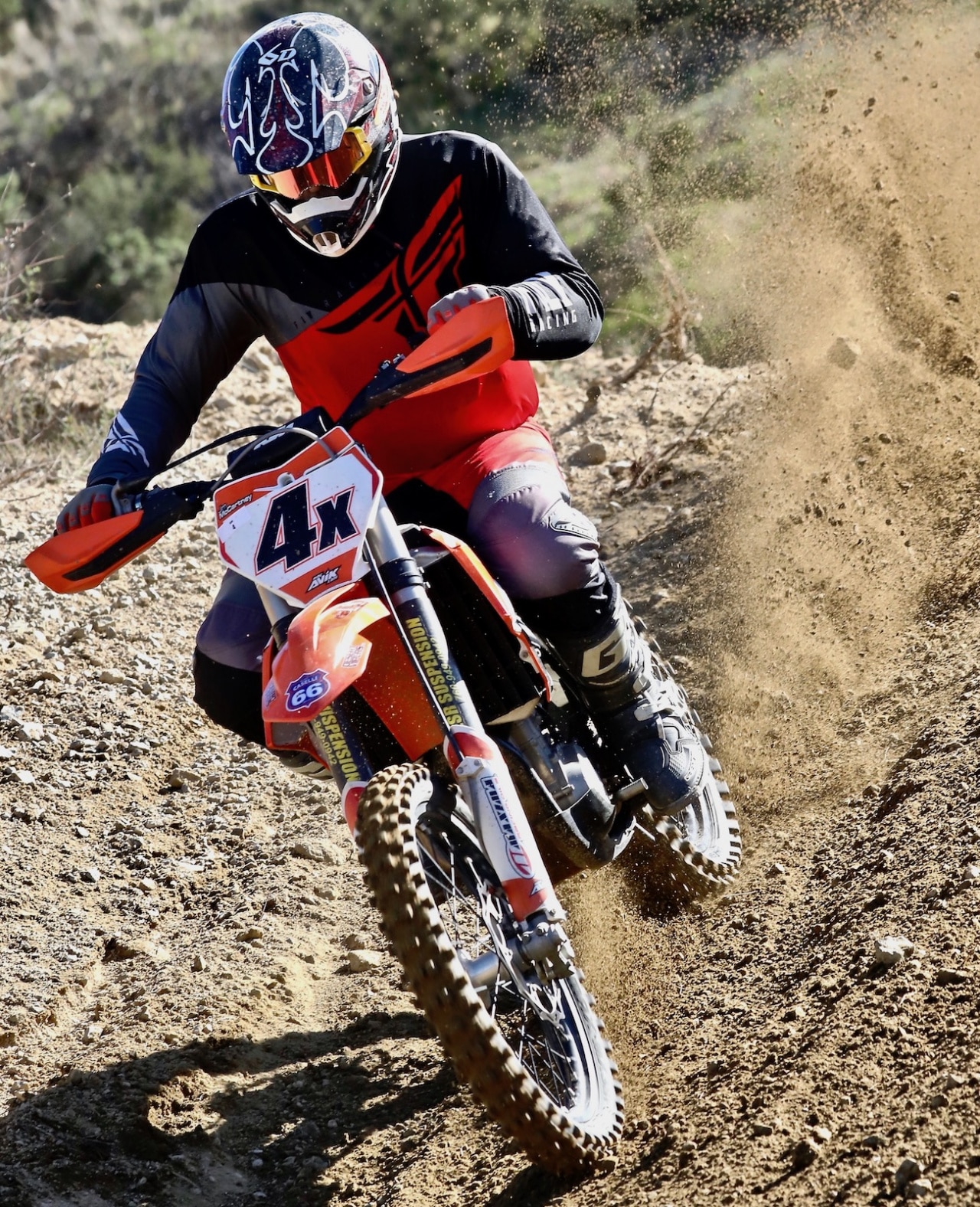 Redondo Beach's Jim McCartney (4X) was a solid 5-5 in the Over-65 Intermediates for fifth overall. Photo: Debbi Tamietti
Sam Ramirez (27G) sports black numbers on gray number plates on his YZ450F. Very stylish—if Yves St. Laurent is doing the scoring. However, transponders mean you could run black on black and still get scored, but you will get yelled at by the promoter. Photo: Debbi Tamietti
Pete Vetrano is the American SWM importer. The Italian brand has focused its American effort on dual-sport and adventure bikes, so Pete races a Husqvarna. He was 8th in the Over-50 Experts and 9th in the Over-60 Experts.  Photo: Debbi Tamietti

Hawaaiian Randall "Kauai Boy" Osakoda is from Kapaa, Kauai. He finished 3-3 in the Vet Novice class.  Photo: Debbi Tamietti
Robert Pocius, "Smokin' Bob" to his friends, puts a little pizazz into the jump that leads to the long sand section in the canyon. Photo: Debbi Tamietti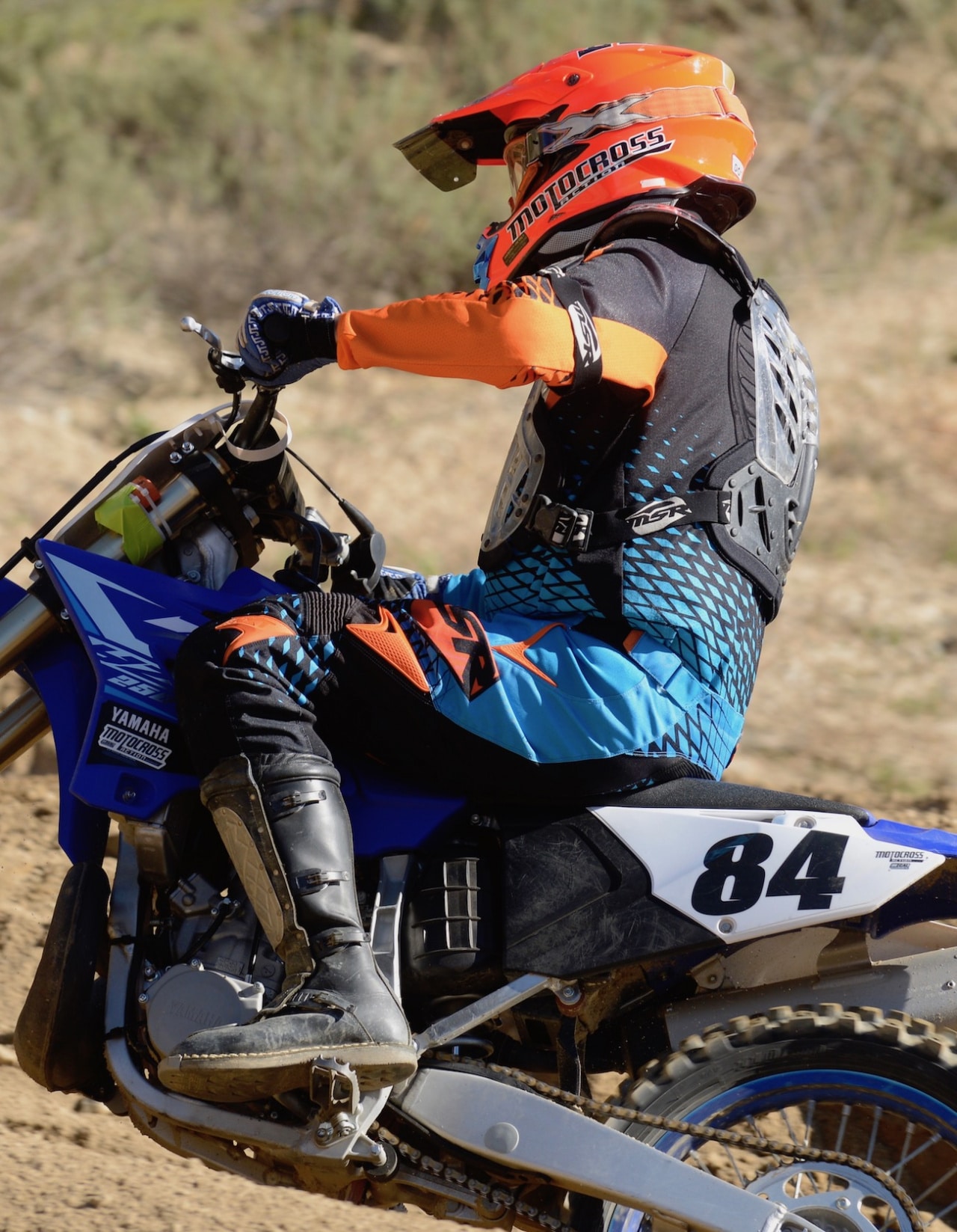 When flu struck half of the MXA wrecking crew, Lar Larsson couldn't ride the Husqvarna FX300i that the former Husqvarna factory rider prefers, so he switched to the YZ250 that Mike Monaghan prefers (because Monaghan had the flu also).  Photo: Dan Alamangos
Ron Shuler (333) gives Will Harper (7) a light spritz to dirt in the Over-50 Elite/Expert race. Ron was second in the Over-50 Elites and Will was third in the Over-50 Experts. Photo: Debbi Tamietti
Val Tamietti (31) grabs the holeshot in the Over-60 Expert race ahead of Ron Lawson (J5), Bob Rutten (83), Jim Hanson (83), Steven Chandler (306) and Mic Rodgers (115). Photo: Debbi Tamietti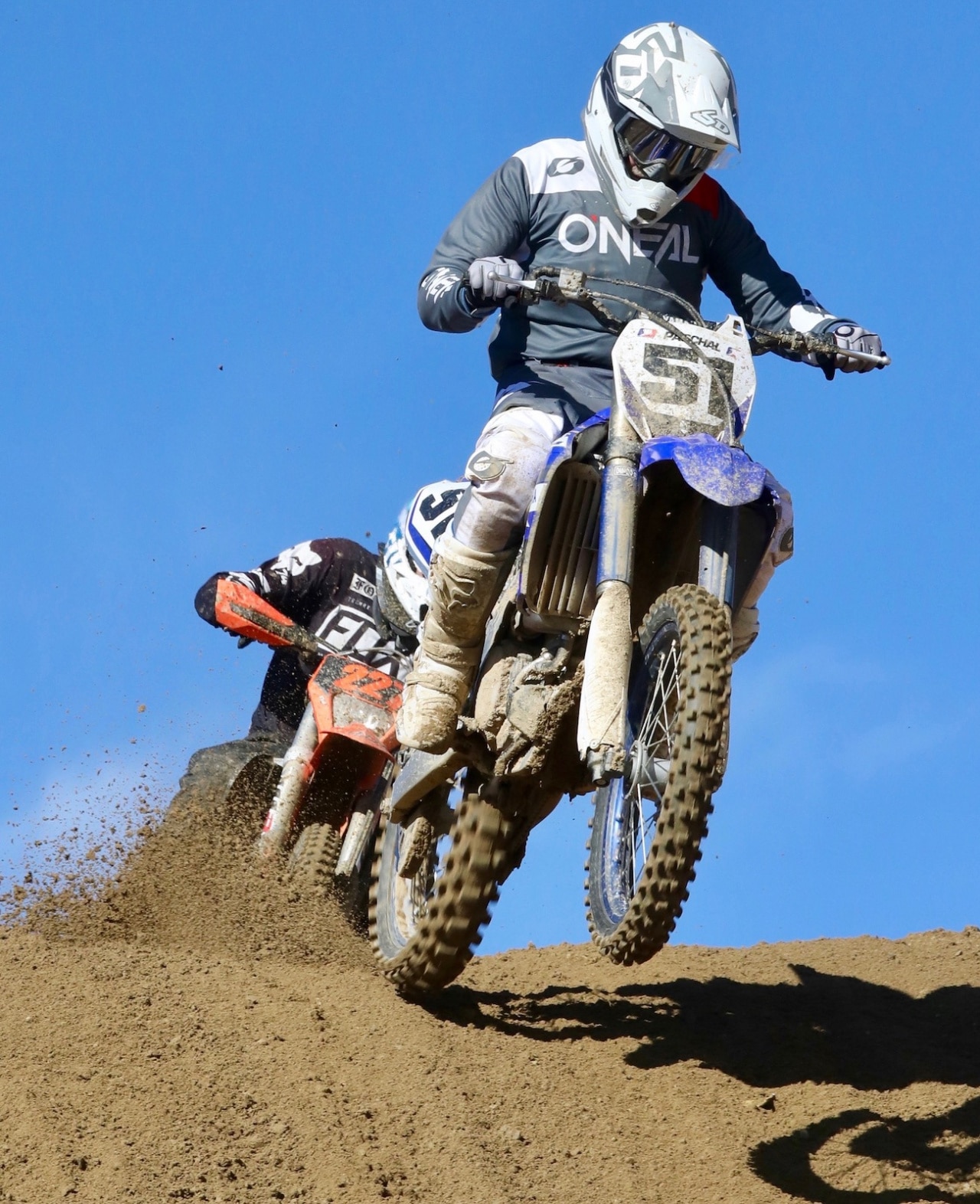 Lonnie Paschal (51) leads eventual Over-50 Intermediate winner Eric Hameister (224). Paschal would go 2-6, while Hameister swept both motos. Photo: Debbi Tamietti
Mike Phillips (433) had a strong second moto to give him a 5-2 score that was good enough for third overall in the Over-50 Intermediates. Photo: Debbi Tamietti
If you must go down, pick the softest looking spot. Dennis Feeney won the first moto of the Vet Beginner class, but this happened in the second moto. Photo: Debbi Tamietti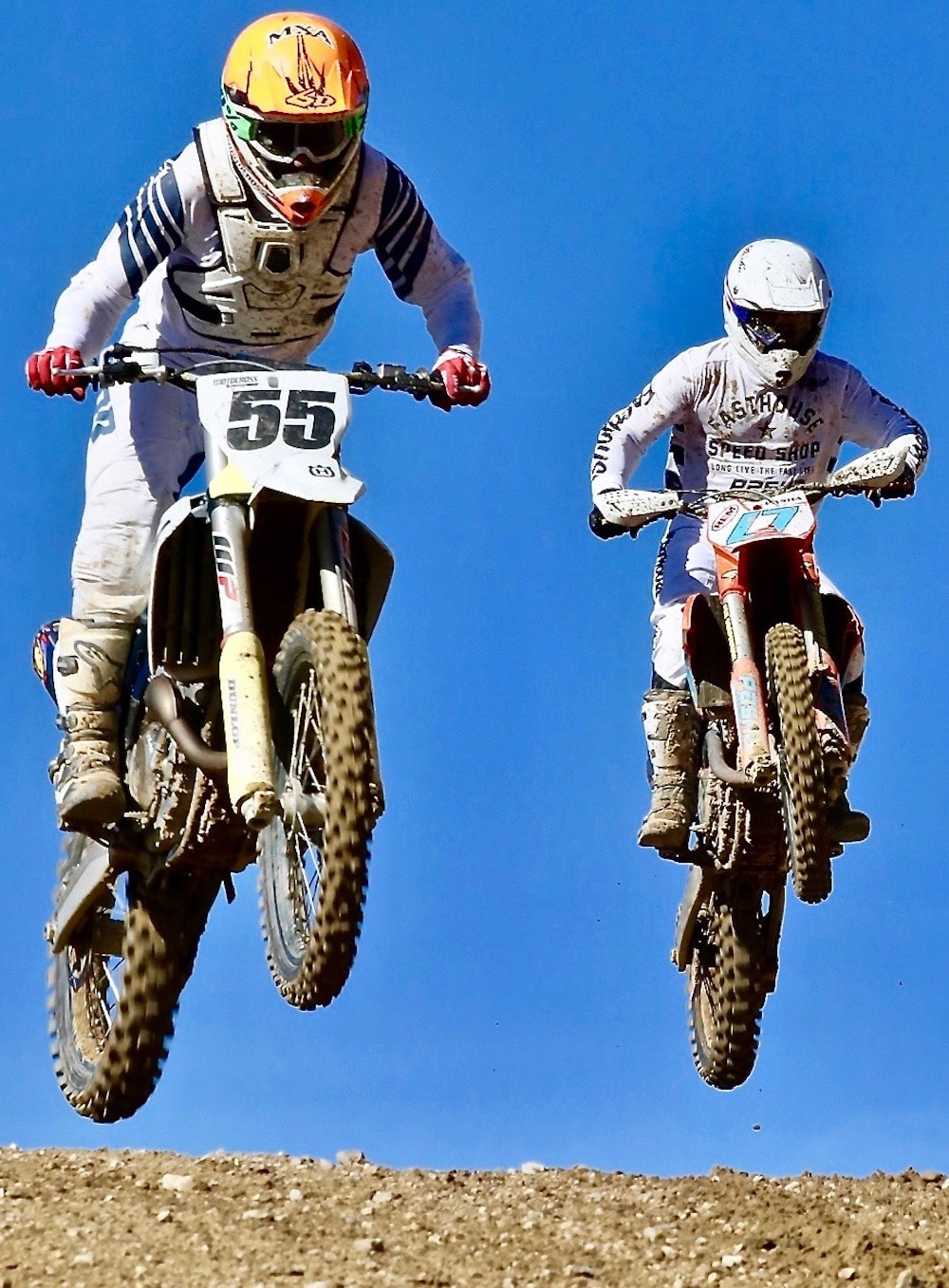 The white knights. Pasha Afshar's all-white helmet pulls his ensemble together, but Australian Dan Alamangos (55) only wears white when he is assigned to race a Husqvarna — and white on white is a winning combo. Photo: Debbi Tamietti
Nathan Thomas won the first moto of the 250 Beginner class, but a wild ride through the braking bumps on the front straight left him on the ground. He suffer an arm injury when tangling with his YZ. Tyler Andrews (114) took the 125 Beginner win. Photo: Debbi Tamietti
Rich Stuelke practices his Gaylon Mosier knee-out jumping style, but the only person watching is REM promoter Frank Thomason (on the quad). Save the fancy stuff for the front straight Rich. Photo: Debbi Tamietti
Mark Tilley riding with his son Jacob on the Glen Helen Pee-Wee track. Photo: Debbi Tamietti
In a partial race schedule for 2020, REM is scheduled to hold motocross races on  February 1, February 15, February 22, March 7, March 14, March 21, March 28, April 18, April 25, May 2, May 9, May 16 and May 24.
UPCOMING 2020 REM RACE SCHEDULE
Feb. 1
Feb. 15
Feb. 22
Mar. 7
Mar. 14
Mar. 21
Mar. 28
Apr. 18
Apr. 25
May 2 (REM Vet Cup)
May 9
May 16
May 23
In case you don't remember this is how Pasha dressed last weekend at REM—black on black with a black helmet and black goggles.
REM races this coming weekend on February 1.  For more info about REM motocross go to www.remsatmx.com or their Facebook page by Clicking Here.
DO YOU RACE AT REM? WANT A PHOTO OF YOU IN ACTION?  DEBBI HAS THEM
Give Debbi a day or two to process this week's REM race photos to her SmugMug account and then browse to your hearts content. You can order digital photos of yourself or friends from her page—for as little a $1.50. To look at this week's REM race (posted in a couple days) and Debbi's favorites photos go to www.debbitamietti.smugmug.com