REM GLEN HELEN MOTOCROSS RACE REPORT: TILFORD WINS 450 PRO CLASS; BOBBY GARRISON HURT; PISARSKI TAKES OVER-60 EXPERT VICTORY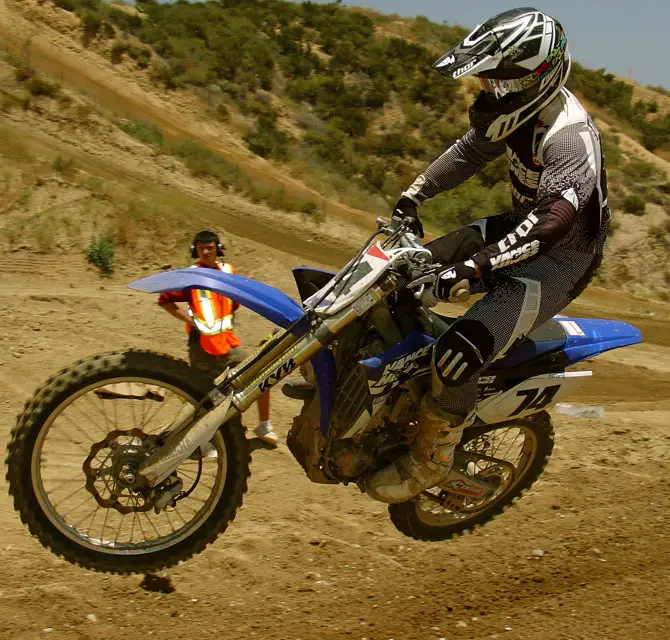 Vance & Hines rider Preston Tilford used a 1-2 to win the 450 Pro class.
The 450 Pro class at this week's REM motocross was a mix of good and bad. Vance & Hines rider Preston Tilford took the victory with a 1-2, but the victory was damped when Tilford was force to run into a fallen Bobby Garrison in moto one. Garrison was leading Tilford by the smallest of margins, when the WORCS star fell directly into Tilford's path. Tilford hit Garrison in the back. Tilford endoed spectacularly, but remounted in time to take the 450 Pro win.

Bryce Stewart (24) went 1-1 in the 250 Pro class.
Bobby Garrison wanted to get up, but the track personnel kept him down until the Ambulance crew could look him over. Luckily, Garrison suffered no broken bones and was released from the hospital…sore, but okay.
Jake Canada would win the second 450 Pro moto, but Tilford hung on to second (with a flat tire). Tilford's 1-2 was good enough for the win. Chris Hay was third in moto two…which gave him second overall behind Tilford.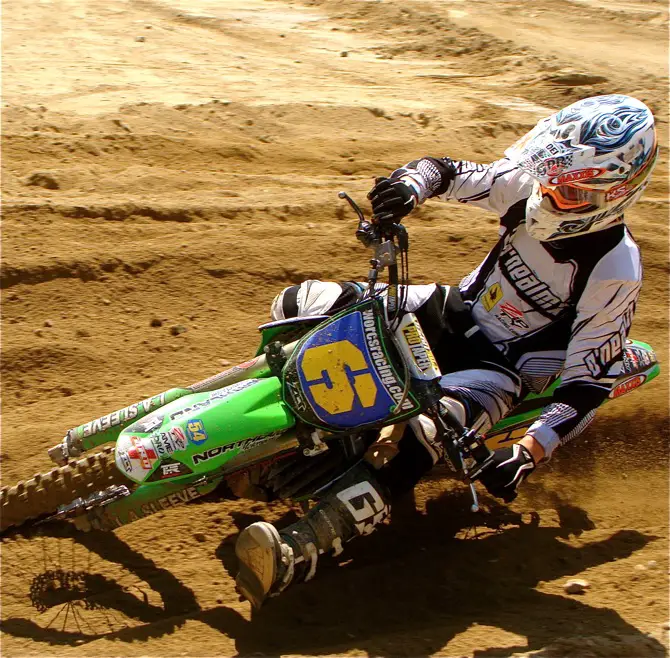 Bobby Garrison (6) and Preston Tilford were locked in a tight battle in the first 450 moto, when Garrison fell directly in front of Tilford's YZ450F. Tilford hit the fallen Garrison in the back and endoed over him. Garrison complained of back pain and took a trip to the hospital (Bobby checked in and said he is okay).
Bryce Stewart won the 250 Pro class, whIle Daniel Meynet took the 250 Intermediates (in front of Garrett Eckman and Rowan Trefz). Delton Bailey was the 450 Intermediate winner with Chris Bartley, Tallon Taylor, Ryan Lester and Ivan Gomez rounding out the top five.

This is the Over-50 Expert class going up and down Mt. Whitney. Whitney can be used in either direction and as an up-and-over hill.
THE ANCIENT MARINERS OF MOTOCROSS
It's no secret that REM has a large following of older riders…but no other track can boast as many Over-60 Expert riders on a weekly basis as Glen Helen. When most of these riders were born, Harry Truman was the President of the United States, the Indy 500 was won by Johnny Parson (Senior), Ben Hogan won the U.S. Open and Feets Minert, who was entered in this week's Over-60 Expert class, was fighting in the Korean War. On a side note: Herbert Hoover was the U.S. president when Feets Minert was born.

Don Grahn came from Idaho to win the Over-50 Expert class in front of Dave Eropkin, Dennis Boulware and Greg Nelson.
This week's Over-60 Expert winner was Ray Pisarski, who caught and passed T.V. Holmes in both motos for a 1-1 sweep. In the first moto the top five was Pisarski, Holmes, Jody Weisel, Swedish rider Bengt Johansson and Bill Seifert. The second moto had the same top three, but John Huegel was fourth with Seifert fifth, Minert sixth and Bengt Johansson eighth.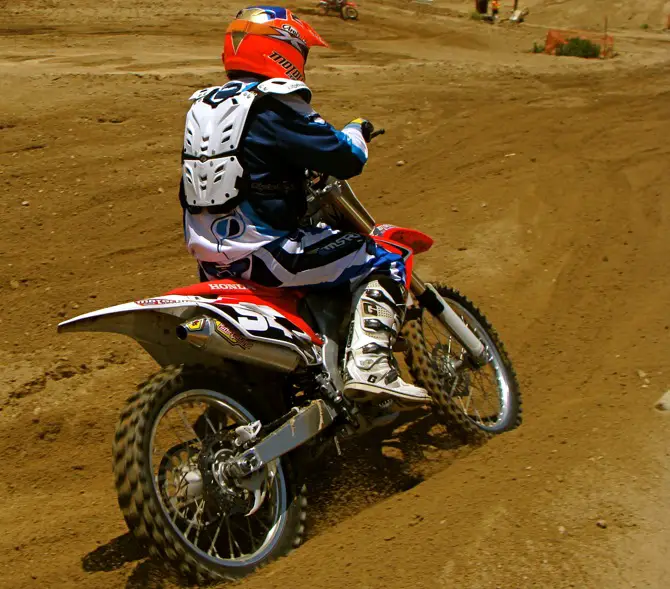 No where are there as many 60-year-old motocross racers on a weekly basis than at REM. Ray Pisarski (94) swept both motos after hard battles with T.V. Holmes.

MXA's Jody Weisel raced the first moto on a 2012 Kawasaki KX450F and the second moto on a 2012 KTM 250SX two-stroke. He finished in the same place in both motos.
In the younger group, the Over-50 Expert class, Idaho's Don Grahn took the win in front of a top ten of Dave Eropkin (2-2), Dennis Boulware (4-3), Greg Nelson (3-5), Randy Skinner (7-4), Tim Murphy (5-6), Pete Vetrano (8-7), Mike Monaghan (6-9), George Kohler (9-8) and Jim Masters (10-10).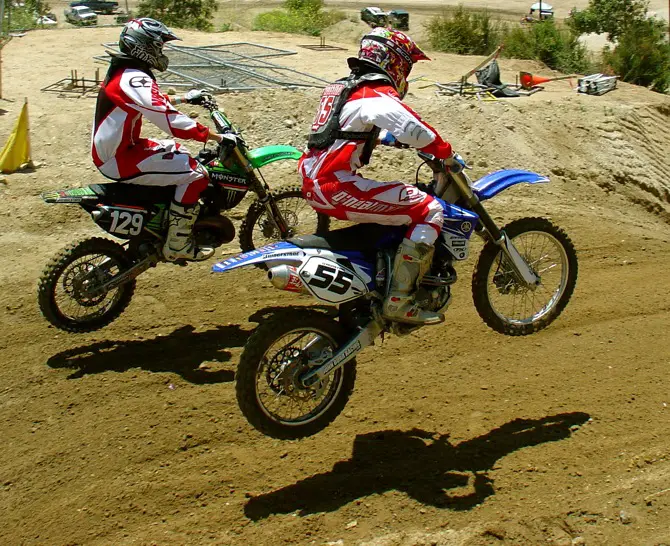 Daniel D'Agostino (55) and Mark Taylor (129) engage in a mid-air drag race in the 450 Novice class. D'Agostino ended up second with Taylor sixth.
THE NERVOUS NOVICES
450 Novice: John Milner used a 3-1 to take the 450 Novice gold in front of Daniel D'Agostino, Alex Boost, Shane Tanner and Steve Mendoza.
Vet Novice: Rick Richards swept the Vet Novices easily. Pete Vetrano raced his TM 450MX to second overall with Mike Phillips, Chris Alamangos and Rob Deeds rounding out the top five.
Over-40 Novice: Mark Theis led a top five of Lex Rowland (2-4), Josh Heckman (5-2), Mike Hillion (4-5) and Rich Merrill (3-6) across the line.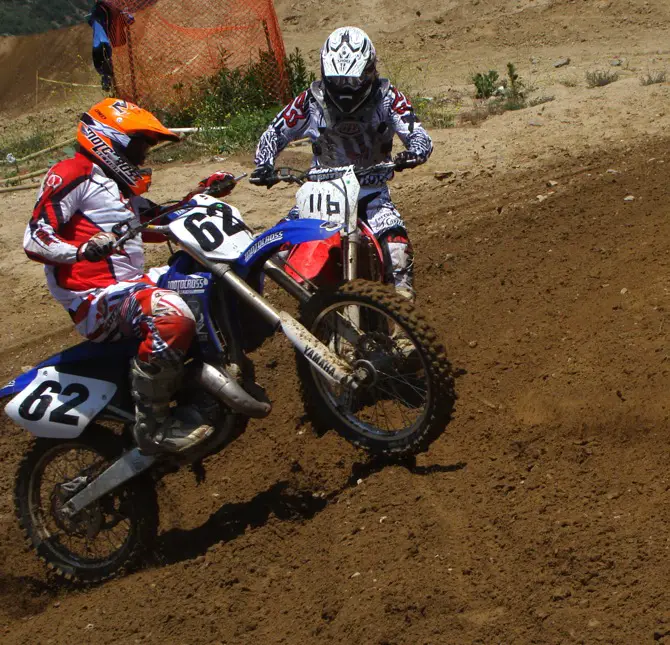 This may look like a crash in the making, but it was actually the line that Australian Chris Alamangos (62) used in this off-camber corner on every lap. Alex Boost (116) has to be wondering where Chris came from.
250 Novice: Anthony Perez won the first moto and got a second in moto two to defeat Randy Merrill, who won the second moto, but was third in the first stanza. Elias Chain used a 2-3 to get third overall.
125 Novice: Elias Chain recovered from his third in the 250 Novice class to sweep both motos of the 125 two-stroke Novices in front of Matt Bynum, who went 2-2. Darrin Wall and Cary Brown with trade 1-2 and 2-1 motos scores in the 125 "A" Adult class with Wall getting the trophy.
The brand breakdown at this week's race was: Honda 29%, Kawasaki 24%, Yamaha 22%, KTM 13%, Suzuki 9% and other (TM/Husqvarna) 3%.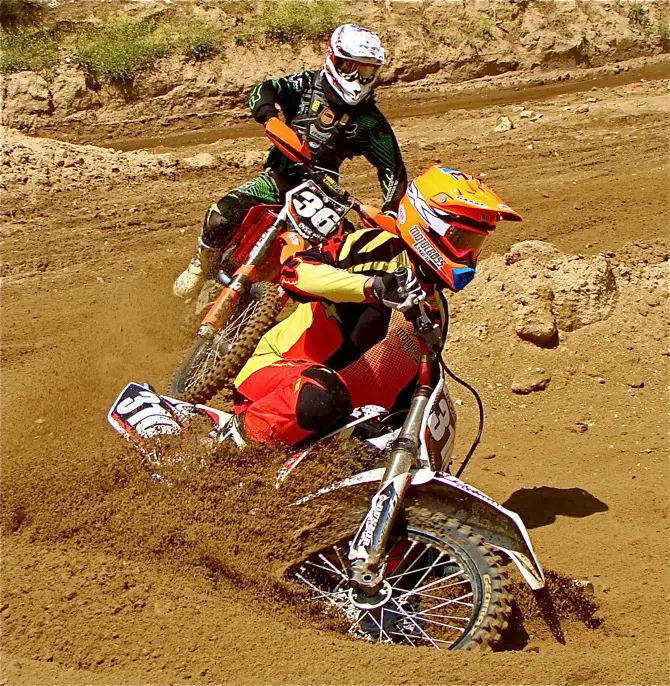 MXA test rider John Minert blows up a sand storm in front of Alec Hersh (36). Minert was testing a 310cc Yamaha YZ250F big-bore kit. From the sand pattern, it looks like it works.
REM will take a two week break before returning for its annual Summer Series. Next week Glen Helen will be holding its 12-Hour races and the following week is the Fourth of July weekend. REM returns to action on July 9th, July 16, July 23 and July 30.
For more info go to www.remsatmx.com.
Photos by Dan Alamangos