REM GLEN HELEN MOTOCROSS RACE REPORT: WITH CHUCK SUN, GARY JONES, BOB RUTTEN, TERRY FOWLER & PETE MURRAY BATTLING, REM LOOKED LIKE A WORLD VET PREVIEW

1980 AMA 500 National Champion Chuck Sun pursues former CMC 125 Pro Dave Eropkin (811) early in the Over-50 Expert race.
With the MTA World Veteran Motocross Championship only two weeks away, the turnout out of experienced riders has grown steadily at REM Glen Helen. And, with next Saturday's Octobercross to be held on the first full run of the actual 2012 World Vet track, the number of oldsters should grown significantly.

A lap later, Dave Eropkin (811) pursues Chuck Sun (93). Sun would get third with a 3-3, while Eropkin went 4-4.
As it was, there was a lot of fire power at this week's regular REM race. Most Notably in the Over-50 classes.
In the Over-50 Experts Pete Murray was the class of the field as he ran away with the first moto victory in front of Jon Ortner, Chuck Sun, Dave Eropkin, Bam Simons, Willie Amaradio, Greg Nelson, Ken Alpanalp, Ron Lawson and Bob Rutten.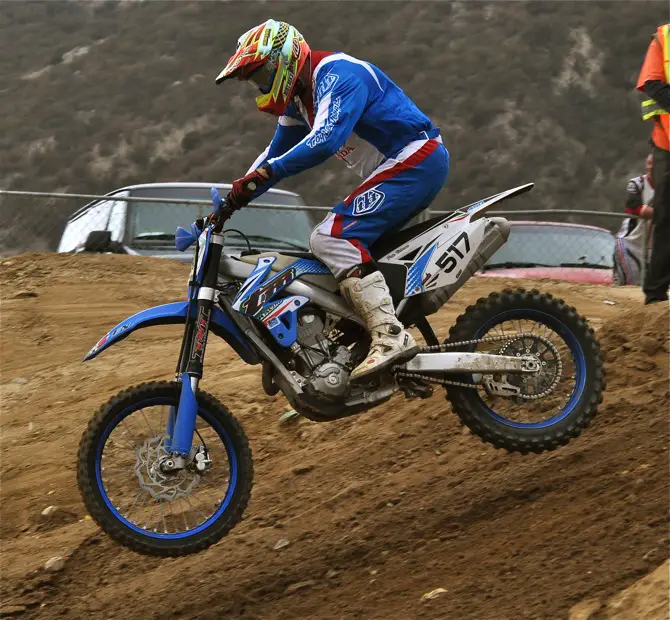 Four-time 250 National Champion Gary Jones won the Over-60 Expert class on a TM 450MX.
The second moto saw Pete Murray get a bad start and Jon Ortner quickly open up a big gap at the front. With each lap of the long REM motos, Murray got closer, but Ortner picked up the pace and clicked off six lappers in the short span of three corners?Murray had to work harder to get by…and that was the difference as Ortner's 2-1 beat Murray's 1-2. AMA Hall of Famer Chuck Sun as third.

Randy Skinner (383) was second overall in the Over-50 Intermediate class with a 4-1.
A massive pack of Over-50 Intermediates showed up to race. Greg Groom took the overall win with a 1-2. It was Groom's second win in a row. George Kohler came up only a few feet short of running Groom down in moto one and was in front of him in moto two, but got a flat front tire. He struggled to 18th and ended up tenth overall.

George Kohler (52) went 2-18 in the Over-50 Intermediate class (thanks to a flat tire in moto two). Paul Fitz-Gibbon went 11-11 for, what else, 11th. Mark Testa (47) went 15-17.
Four-time 250 National Champion Gary Jones won both motos of the Over-60 Expert class with George Kohler finishing second in front of a revitalized Bengt Johansson with Ray Pisarski fourth and Jody Weisel fifth.

Jon Ortner (11) and Pete Murray (7) had a great battle for the Over-50 Expert victory. Murray won the first moto and Ortner took the second moto (and the overall).
Braden Larson won the 450 Novice class with a 2-1. Kevin Imes won the first moto, but ended up in third in moto two. Mark taylor was third with a 4-2 with Cory Clark fourth and Nick Zandbergen fifth.

250 Novices Bradley Cole (14) and Travis Hoffman (722) duel for second overall. Willy Simons, Jr. was the overall victor. That is Josh Wright (315) coming up from behind.
In the 250 Novice class Willy Simons, Jr. swept both motos easily while Travis Hoffman (2-2), Bradley Cole (3-3), Noah Hickerson (5-4) and Matt Bynum (4-5) rounded out the top five.

Bam Simons was ninth overall in the Over-50 Expert class, but he looked good doing it.
IN THE OVER-40 CLASSES
Over-40 Novice: Gavin Antill went 1-1 in front of the 3-2 of Joe Sutter, 4-3 of Karl Holmberg, 2-5 of Jason Aeck, 5-4 of Chris Hansen, 7-6 of Owen Fitzsimon and 6-7 of Greg Atkinson.

Devin Roth (yellow gear), Tony Amaradio (130), Terry Fowler (51) and Brett Hottel (76) chase some roost up one of Glen Helen's big hills.
Over-40 Intermediate: Ian Fitz-Gibbon's 2-1 took the win over Bryan Friday (3-2), Dirk Davidow (1-5), Jeff Jetton (4-3) and Dan Alamangos (7-4).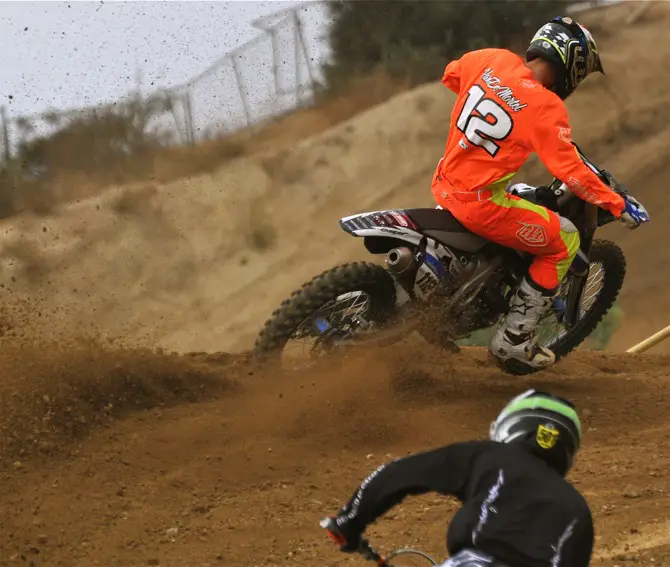 You never had to wonder where Mitch Van De Mortel was on the track. His Troy Lee gear shined like a beacon.
Over-40 Expert: Greg Pierce swept both motos of the Over-40 Experts in front of Ron Engel, John Begin and Shawn Heit.
Over-40 Pro: Terry Fowler won the Over-40 Pro race.

Colton Aeck's 3-1 was good enough to take the 450 Pro victory in front of Billy Joe Mercier and Mitch Van De Mortel.
THE PRO RACES
It was hard to tell who was going to win the 450 Pro class. It was always in doubt. In the first moto Colton Aeck led every lap…well, every lap but the last one. Aeck was caught and passed after 20 minutes of racing by Justin Jones and Mitch Van De Mortel. In the second moto, Aeck got clear of the hapless Jones and van De Mortel to take the victory with Billy Joe Mercier in second. The overall score was Colton Aeck 3-1, Billy Mercier 4-2, Mitch Van De Mortel 2-4 and Justin Jones 1-5.

Justin Jones, son of Gary Jones, is barely visible through the blizzard of roost in the 450 Pro class. Jones won the first moto, but crashed twice in the second moto to end up fourth overall with a 1-5.
Tony Amaradio won the Over-30 Pro class, while Terry Fowler took the Over-40 Pros.


Broc Shoemaker, son of the late Mike Shoemaker, took the 250 Pro victory and mixed it up with the 450 Pros in the process.

MXA test riders are assigned the bikes they race. They don't get to choose. And, they are warned to not even think about riding a bike they weren't schedule to race. This note was a joke to keep Ray Pisarski off the 2013 CRF250.

The Octobercross is next Saturday, October 27. It will be held on the USGP track and run in the same configuration as the November 3-4 World Vet track. For more info go to www.remsatmx.com
Photos by Dan Alamangos