REM GLEN HELEN MOTOCROSS REPORT: KYLE SUMMERS, COLTON HAAKER, BRYCE VALLEE, SEAN COLLIER, TRAVIS BAKER, KYLE BEATON, VIKTOR BJORKLUND, BILLY MUSGRAVE, MARK TILLEY & DENNIS STAPLETON

The 250 Pro class was so close that three of these riders tied for second overall. Amazingly, the guy who is totally sideways, Kyle Beaton got the nod with a 4-2, in front of Billy Musgrave's 3-3 and Viktor Borklund's 2-4. Neither Travis Baker (51) nor 450 Intermediate winner Justin Jones (red jersey) had any math problems as they went 1-1 in their classes.
Glen Helen has been a busy place as of late. Not only are they gearing up for the World Two-Stroke Motocross Championship on April 1 (which will feature an all-new track), but they will be hosting the Red Bull X Fighters extravaganza on May 12 (which Red Bull estimates will draw over 20,000 spectators). This week was also jam-packed with a Lucas Oil Offroad truck race on Glen Helen's truck track, Yamaha Quadcross event on the GP track and the weekly REM motocross on the original Arroyo Motocross Park track.
REM HAD FIREPOWER


Sean Collier successfully navigates his way over the big downhill jump. The trick was to not hit the cliff on his left?which not every rider understood on the first few laps of practice. Practice is for learning the track, not for richocheting off of cliff faces.

The Pro classes were intense at REM. WORCS racer Kyle Summers ended up taking the 450 Pro victory over Sean Collier after they traded moto wins and seconds. Former trials rider turned offroad racer Colton Haaker was third overall with a 3-3.

Kyle Summers (394) took the win when Sean Collier had issues on the first lap of moto two of the 450 Pro race.

Preston Tilford.
Preston Tilford, now riding for the 51-Fifty team, wanted to race against Troy Lee Design's Travis Baker, but when Preston saw that Baker was signed up in the 450 class, he moved himself out of the 250 Pro class into the 450 class?unaware that it was a typo and Baker was actually signed up in the 250 Pro class. Tilford took his CRF250 to third overall in the first 450 moto behind Collier and Summers, but got hit in the shoulder by a flying rock in moto two and dropped out. Not only did he not get to race against Travis Baker, but he didn't get any money. Kris Keefer's 6-3 was good enough for fourth overall in front of Jaromir Romancik's 5-5.

Colton Haaker dabs, but wasn't penalized any points.

Bryce Vallee high-sided at the top of Mt.Whitney and ended up falling halfway down the hill. His bike only made it a quarter of the way. A flagman and Jon Ortner tend to Bryce on the sidelines.

Bryce Vallee was winning the first moto…and had built up a big lead until Sean Collier began to reel Vallee in near the end. As the pace picked up, Vallee made a big mistake at the very top of the steep Mt. Whitney hill. His rear end kicked coming out of the rut at the top and Bryce high-side down the hill. He tumbled about 40 feet, got to his feet running and then did a couple somersaults until he finally came to a stop. Vallee's bike was bent up and he hurt his wrist, but did ride off the track on his bike.

Travis Baker won the 250 Pro class and looked a lot better this week than his last outing at REM. Ring rust goes away faster on the race track than on the practice track.
In the 250 Pro class the racing was intense, and would have been a lot better if Preston Tilford had made the right call at sign-up. Travis Baker went 1-1, but the battle for second was a scramble as the next three riders tied on points for the runner-up spot. Canadian Kyle Beaton's 4-2 edged out MXA's Billy Musgrave 3-3 and Swedish 250 Champion Viktor Bjorklund's 2-4.

MXA's Dennis Stapelton was on his way to Kuwait for an International race, but decided to join the rest of the MXA gang at the races before his flight. That's dedication.
The Vet Pro class was mixed in with the 450 Pros and it provided a lot of insight into the overall speed of each class. MXA's Dennis Stapleton (1-1) would win the Over-30 Pro class in front of Dirt Bike's Mark Tilley (2-5) and LightSpeed's Tony Amaradio (5-5), but at any given moment the Vet Pros were running in first, fourth or fifth in the 450 Pro class. As always Tony Amaradio showed his holeshot skills, but was basically using the race as a training exercise. And all three Vet Pro's also raced the Open Expert class, which is a class that is offered to Pro riders to allow them to race two classes in a day to get in shape. Mark Tilley won that class with a 1-1 in front of Dennis Stapleton, Tony Amaradio, Robert Barnum and Sean Collier (who only raced one moto).

Mark Tilley works at DR.D, tests for Dirt Bike and races everything from AMA Nationals to WORCS to Endurocross to GNCC, but he prefers REM.
MXA's Dennis Stapleton was racing carefully because he would be getting on a flight for a race in Kuwait immediately after the Glen Helen race?and wanted to get to Kuwait in one piece.
WHAT ABOUT THE BIG CLASSES?


Swedish pro Viktor Bjorklund is in America to get some racing in before heading home for the Swedish Nationals. He got all he ask for at REM.

Mark Kalpakoff used a 2-1 to take the overall in the Vet Novice class. This class has seen a massive increase in entries over the last month and the competition is getting tougher. Scott Ficthter (3-3) was second, Owen Fitzsimon (4-4) third, Joe Sutter (7-2) fourth and Mark Theiss (9-5) fifth.
The Over-50 Novice class has always been big at REM and this week was no different. Bob Gilbert and Mike Hillion traded moto wins?with Gilbert two-stroking to victory with a 2-1. Brian Underdahl was third, Ty Larson fourth and Greg Whitfield fifth. Winning the Over-50 Novice class is a happy day, but winning too easily or too often could quickly get you moved to the Over-50 Intermediates ? which is paradoxically packed with Over-50 Experts just waiting for hopeful newcomers.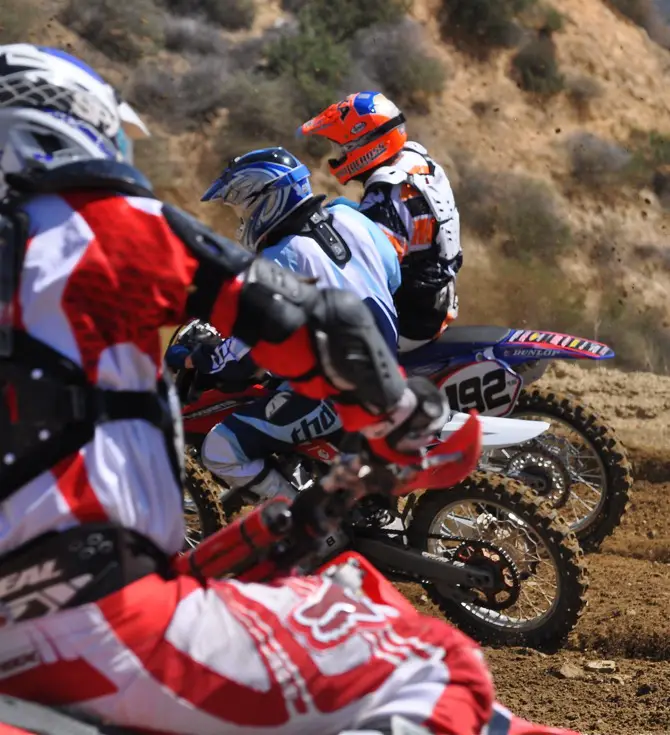 Mike Mongahan (white fender) drives MXA's 2012 Husqvarna CR144 under George Kohler (192) on MXA's 2012 Yamaha YZ250. Two-strokes were first, second and fourth in the Over-50 Intermediates.
The Over-50 Intermediate class was also jam-packed. Mike Monaghan used a CR144 Husky to win both motos of the Over-50 Intermediate class. This class has become a refuge of sorts for former Over-50 Experts who don't want to run that pace anymore. Monaghan's 1-1 bested Randy Skinner's 2-3, Russell Brown's 5-2, Mark Hall's 4-3, George Kohler's 3-4, Lyle Sweeter's 7-6, Mike Phillips' 6-7 and Marc Crosby's 9-8.
AWESOME OLD GUYS AT SPEED

John Ortner (11) and Troy Lee (25) pose in an artistic setting as the sunlight plays gently with the chiaroscuro of the palette. Naw, they were just going for it in the Over-50 Expert class.

The Over-50 Experts were awesome to watch. Jon Ortner, Troy Lee, Dave Eropkin, Willy Simons, Randel Fout, Gary Jones and Willie Amaradio were all loaded for bear. The real race, in the minds of those in the know was between Troy Lee, Jon Ortner and willy Simons?and among the three they all felt that Willy Simons was the fastest of the bunch. But, fast doesn't always take the prize.
In moto one, Willy Simons fell twice on the first lap. He never recovered and ended up in seventh place after a hard, long, lonely race. Up front John Ortner, Troy Lee, early leader Dave Eropkin and Randel Fout dueled for domination. Gary Jones would crash out of contention in both motos. In the end, Ortner would take the win with Troy Lee second and Dave Eropkin third.

Greg Nelson finds the limits of adhesion..not of his tires, but of his right elbow. Eric Coffin (3) avoids him while Randel Fout (46) escapes.
The second Over-50 Expert moto fell to Willy Simons, but his first moto seventh wasn't something he could build on?even the intensity of his race against Ortner in moto two was tempered by the fact that Simon's couldn't win the overall for the day. Simons won the second moto, but not the overall. Ortner's 1-2 took the victory with Eropkin (3-4) second, Simons (7-1) third, Willie Amaradio (4-5) fourth, Randel Fout (12-3) fifth, Eric Coffin (5-10) sixth, Greg Nelson (10-6) seventh, Dennis Boulware (8-8) eighth, Gary Jones (11-7) ninth and Fred Nichols' (9-9) tenth.

Ernie Becker (blue) on a YZ125 leads Mark Theiss in the Vet Novice class. Becker would fade to 10th, but Theiss would end up fifth.
REM races again next Saturday, March 17 (Sunday will see Glen Helen's Six hour endurance race). For more info on REM go to www.remsatmx.com

Justin Jones won the 450 Intermediate class and got a deal to race TM's for the importer. Justin is expected to get a TM MX250 for the World Two-Stroke Championship in three weeks.
Photos by Dan Alamangos