REM GLEN HELEN MOTOCROSS REPORT: MOTOCROSSERS AREN'T GOOD AT SHARING

This is an overview of the bottom part of the REM race track. The other half is over the hill (behind where the photo was taken).
When the REM regulars showed up at Glen Helen for the weekly moto wars this weekend, they were surprised to find a line at the front gate and all three parking lots jammed with motor homes, trailers and trucks. It turns out that Glen Helen wasn't holding one race on this day, but three.
(1) There was a Lucas Oil Offroad truck race on the big offroad course. The stadium-style truck racers had been pouring into Glen Helen for two days to get setup and by the time the REM motocross racers showed up the complete parking lot and AMA Pro pit was full.
(2) The USGP track was closed to practice riders because it was being used for the "King of the Hammers" offroad race…which unlike the Lucas Oil offroad truck event was a more traditional Baja-style offroad race. It was scheduled to run on both motocross tracks, the offroad courses and hills of Glen Helen.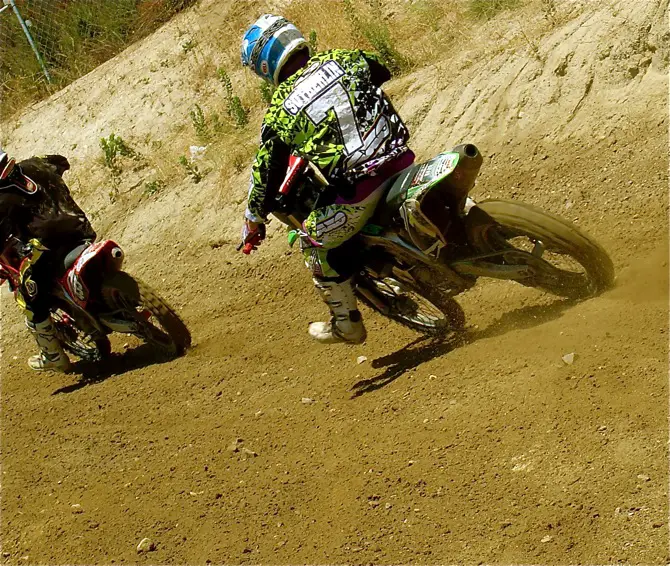 Gary Sutherlin.

(3) And, REM was on the back track. It had been prepared and the racers showed up at 8:00 a.m. only to discover offroad buggies, trucks and Rhinos using part of the REM course for a race. Luckily, this race was scheduled to run from 8:00 a.m. to 9:00 a.m. and then the Baja buggies would be thrown off of the motocross track until later in the day (after the REM motocross races were over).

Cole Zitterkopf is the son of one of the first four-stroke heroes of the modern era. Greg Zitterkopf raced four-strokes in the AMA Nationals in the 1990s…when nobody else did.

IT'S A WEIRD WORLD
Racing at Glen Helen is like no place in the world. One week a hill climb is being held just off the REM starting line. The next week you find out that the pits are being used for a WRC-style car rally. And, there have also been Mud Runs, RC cars events, TV shows, video shoots and a radio-controlled airplane airport.
The REM racers take everything in stride. It wasn't that long ago that the complete track was dug out and rebuilt to host a round of the Red Bull X Fighters. So, REM racers are used to weird things taking place and are happy that their local track is making money…because that means it will be around for a long time.

REM's elevated straight are quite unique. This photo shows two levels, but there are actually three levels (not counting the big hills).
This week, with high temps and a later start (although none of the REM racers knew that they would have to hold practice until the offroad buggies were done with their race), the riders were faced with a challenge. But, even in the sweltering Summer heat the cream rose to the top…then it curdled.

Tony Amaradio (130) searches for traction on one of REM's steep uphills.

Pro: The star of the 450 Pro class was Endurocross and WORCS star Gary Sutherlin. Brett Hottel was second. In the 250 Pros Dylan Lemburg defeated Ryan Sandoval.
Intermediates: Justin Jones was the powerhouse of the 450 Intermediate class as he raced from his second gate start deep into the faster starting Pro gate. Christian Campos was second. Cole Zitterkopf, son of four-stroke hero Greg Zitterkopf won the 250 Intermediates in front of Jack Miller.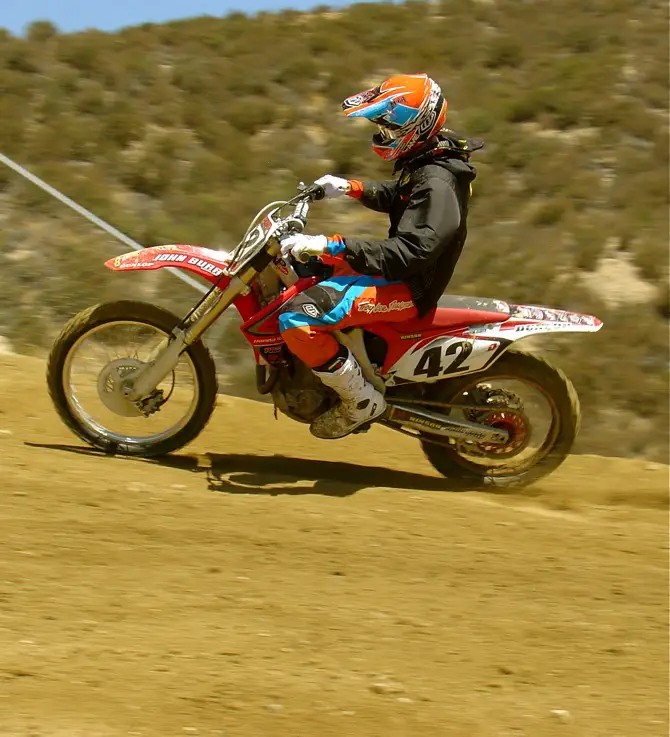 It was 100 degrees, but Justin Jones raced with a jacket on. He said it was a mental exercise to help him deal with hot weather better.

Vets: Tony Amaradio easily won the Vet Pro class. Jeff Belknap used a 2-2 to win the Vet Intermediates. Ron Lawson was the winner of the Open Vets (which riders use as a second unclassified race event).
In the Vet Novice class Joe Sutter's 2-1 defeated Scott Austin's 4-2, Pete Vetrano's 6-3 and Doug Reddings' 1-8.
The Vet Beginner class saw another 2-2 winner in the form of Mike Wilson, Kelley Gilman was second with a 4-1, while Edward Cotter got a third with a 1-4.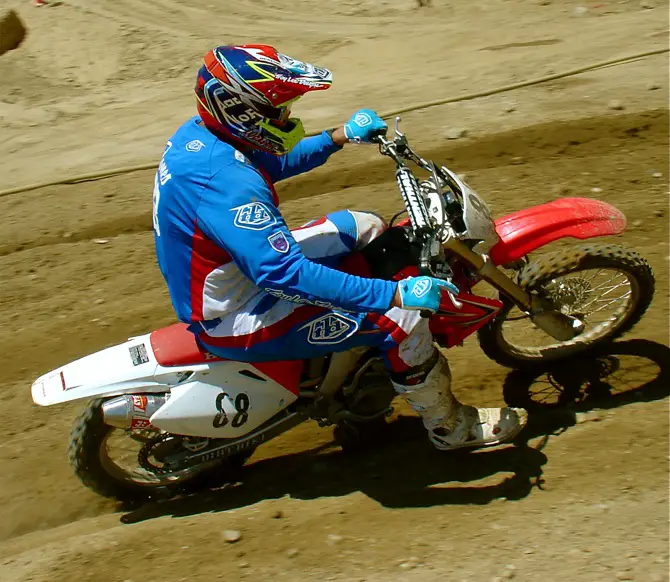 Four-time 250 National Champion Gary Jones won the Over-60 Expert class and then gave up a decade to the younger riders to finish third in the Over-50 Experts.

Over-40: Robin Hall swept the Over-40 Novice class with Steve Hermann and Mike Borowski rounding out the top three.
Bryan Friday used a 2-1 to take the Over-40 Intermediate gold over Mike Gee's 3-2, Dirk Davidow's 5-3, Kelly Gelhaus' 4-4 and Scott Lindley's 1-8. The Over-40 Expert win went to Gary Bowman.

The lower level of REM's terraced layout shows how many times the racetrack crosses its artificial valley.
Over-50: Steve Lawler was the class of the Over-50 Expert class, beating Dave Eropkin (2-3), Gary Jones (5-2), Willie Amaradio (3-4), Ron Lawson (4-5), Mike Monaghan (7-6), Dennis Boulware (6-7) and Bob Marino (8-8).
Speedway racer Randy Skinner won both motos of the Over-50 Intermediate class. It was the biggest class of the day and the top five was made up of Skinner, Joe Sutter, George Kohler, Mike Phillips and Pete Vetrano.
Jim Masters took the Over-50 Novice victory in a class that almost matched the Over-50 Intermediates in numbers and intensity. Master's 1-1 was better than Jeff Scott's 2-2, Jeff Mason's 4-3, Brian Underdahl's 3-5, Michael Mosca's 5-4. John Tookey's 7-7, Mitch Evans' 6-8, Ian Pederson's 9-9 and Dennis Smith's 8-13.

Two-stroke rider Willy Musgrave was assigned by MXA to race a 2013 KX450F. Sometimes you have to make sacrifices.

Minis: Bret Zitterkopf won the 65 Beginner class over Tyler Belknap and Rene Pouponnot. Chrisian Wehrli took the 85 Beginner gold in front of Kirk Waymire and Kyle Turner. Jimmy Willis was the 150 Beginner winner.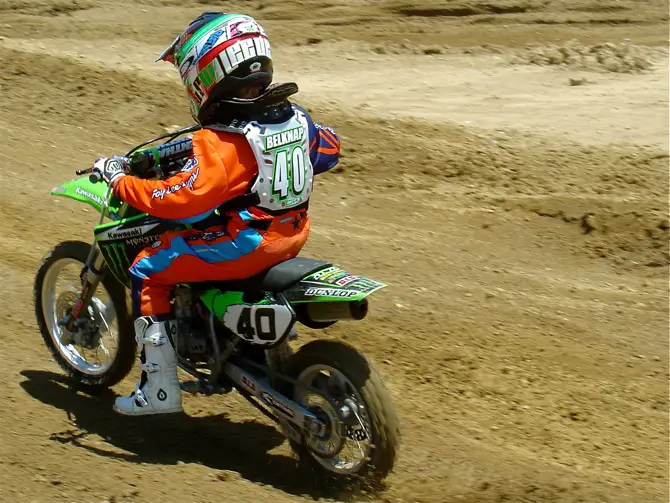 Tyler Belknap has style.

REM races again next Saturday, July 27. Practice starts at 9:00 (unless Glen Helen schedules an NHRA Top Fuel drag race on the REM track in the morning). For more info go to www.remsatmx.com.