REM GLEN HELEN MOTOCROSS REPORT: SURVIVING WORLD WAR 450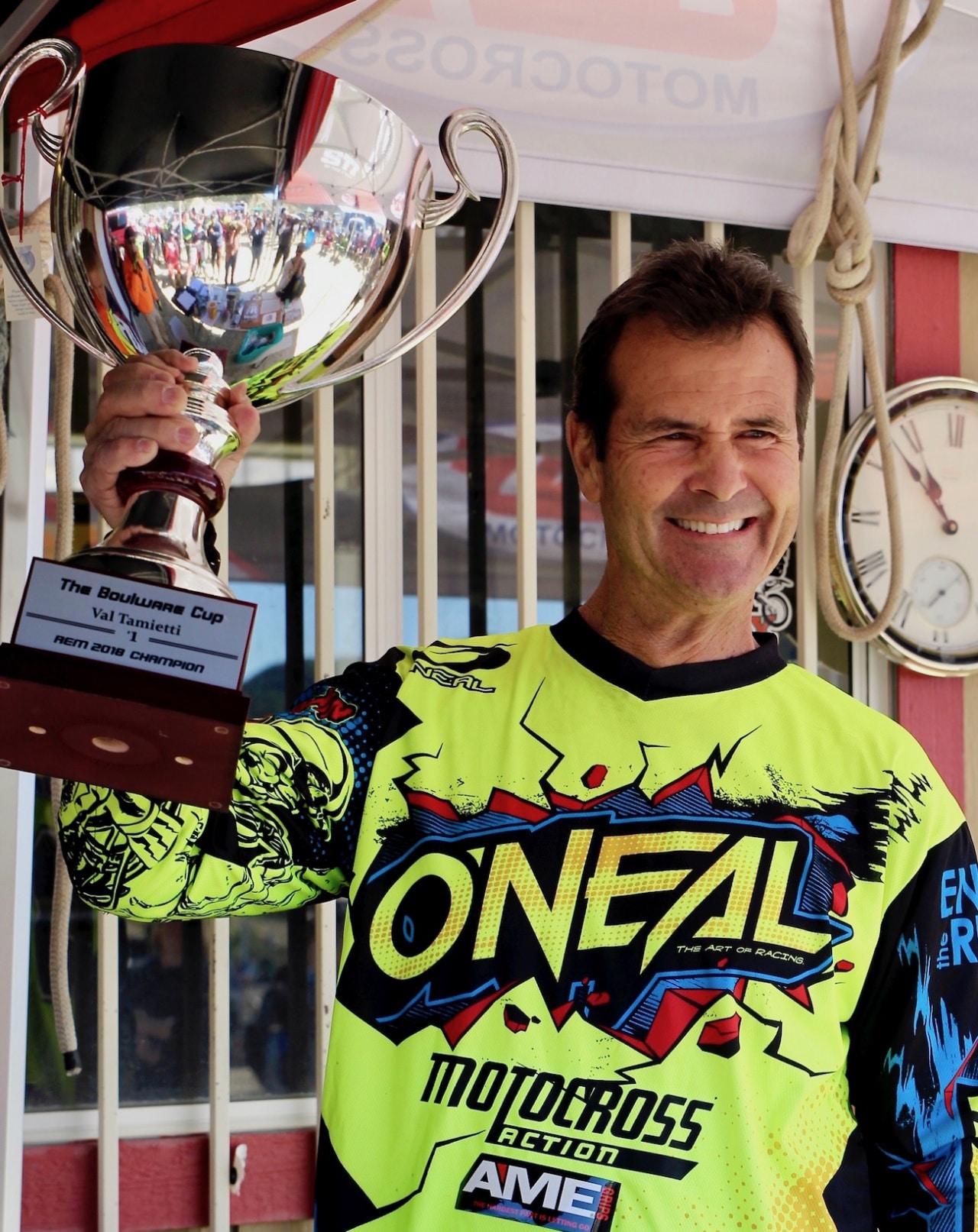 This weekend's race was the first opportunity to hand out the hardware to 2018's top riders. Val Tamietti earned the most points of any rider at Glen Helen in 2018. He even managed to break his leg with three races to go, but managed to have a big enough margin to get his second straight number one Boulware Cup.
Photos by Debbi Tamietti, Dan Alamangos and Jon Ortner
The REM motocross track is a hidden gem that is located above and behind the more famous Glen Helen National/Grand Prix track. It was one of SoCal's original motocross tracks  (back when the REM track was known as Arroyo Cycle Park). Arroyo lay unused for many years as a remote park of the massive Glen Helen facility. It was used as a catch-all track for ATV practice, vintage races and even Red Bull X-Fighters, but when the REM promoters moved up from Carlsbad Raceway, they built it into an amazing motocross facility.
Cole Tompkins was the 450 Pro winner with a 1-2. In fact, American riders went 1-2-3.
It has an incredible Vet following, which it caters to classes from 30 to 65 years old. But it has one other clientele that is famous all over the globe. It is the place that foreign riders, riders on vacation and visiting moto tourists want to race at. This week there were racers from Sweden, Norway, Australia, England, Holland, South Africa, Japan and Germany.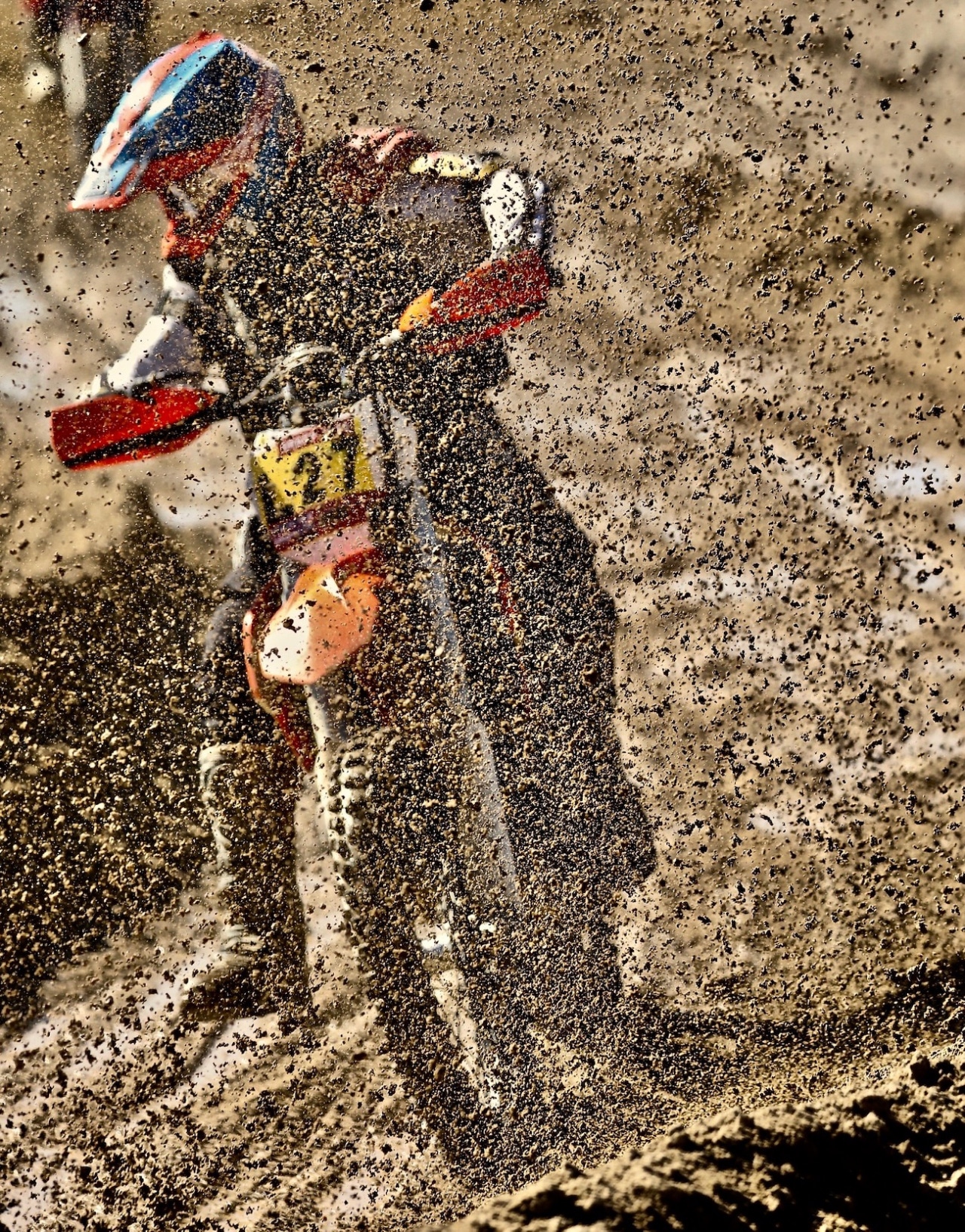 This January and February have been the rainiest in decades. Unfortunately, lots of races have been canceled because of flooding, but on the good side, the rain washed sand down off the hills onto REM's back straight. Here, John Huegel eats a large portion of decomposed granite.
Take a look at this Saturday's REM motocross. It was jam-packed with foreigners willing to challenge the REM track's constantly climbing and falling terrain.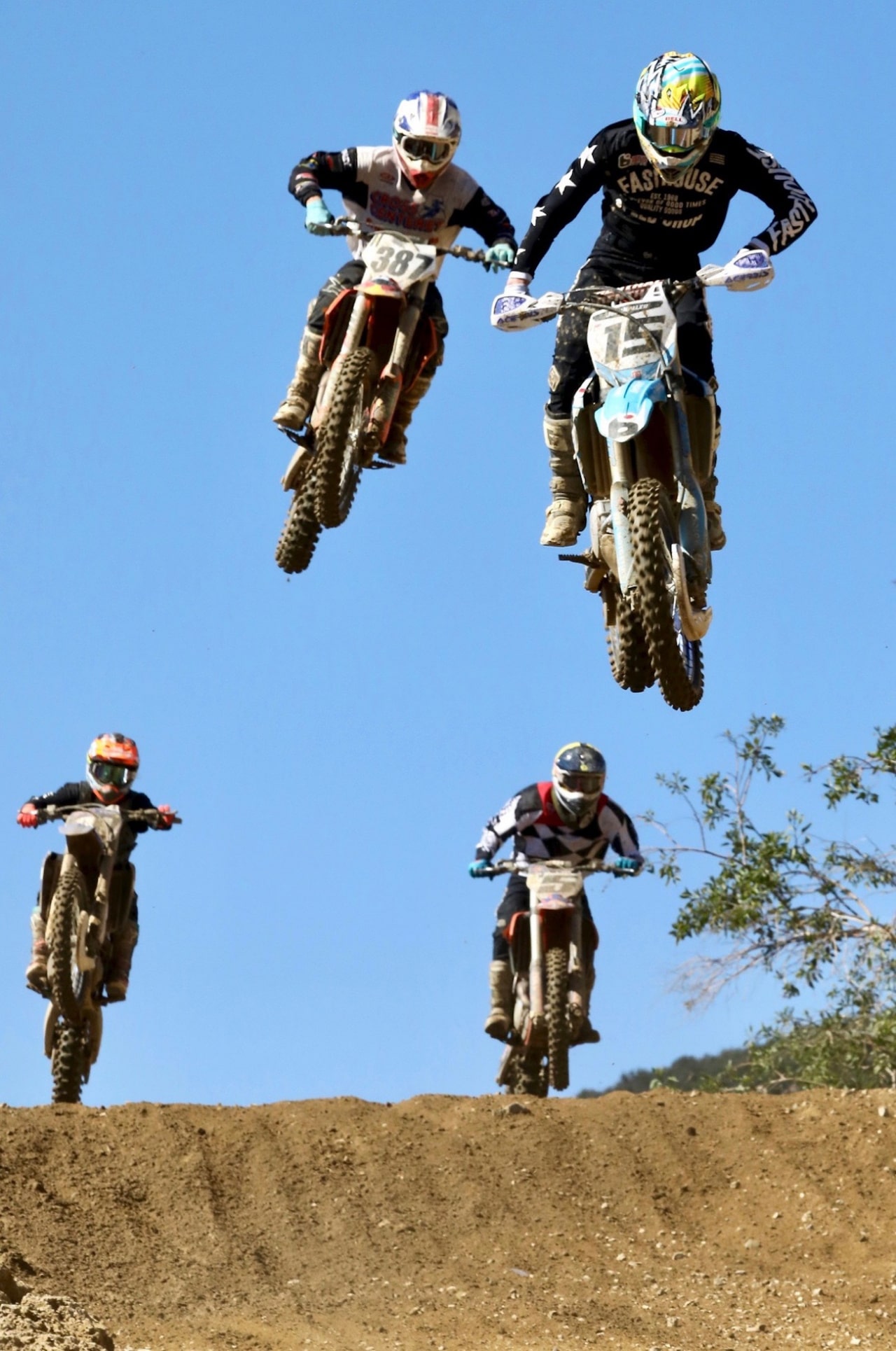 Josh Kaller (15) got his first-ever paycheck after going 3-5 for third overall in the 450 Pro class. That is a big day in the life of a young Pro.
BREAKDOWN BY BIKE BRANDS IN PERCENTAGES (FEB. 23)

This week KTM jumped to the lead in the number of riders racing each brand at 38% (at the last race KTM and Yamaha were tied for the top spot). Yamaha is second  with 26% of the racers on blue. The big surprise is that Husqvarna has surpassed Honda for third and that there were more TMs at REM this week than Kawasakis and Suzukis (combined).
1. KTM…38%
2. Yamaha…26%
3. Husqvarna…15%
4. Honda…11%
5. TM…5%
6. Kawasaki…4%
7. Suzuki…0.8%
Bradley Denton (474) was sixth in the 450 Pro class.
Britain's Kurt Nicoll was a four-time runner-up in the FIM's 500 World Motocross Championships, now he runs a motocross vacation camp and races whenever he can. 53-year-old Kurt won the Vet Pro class, but ran near the front of the 450 Pro class.
Former AMA Pros Jon Ortner (1) and Bill Joe Mercier (501) looked like they were racing together, but not for long. Mercier won the Over-40 Pro class and Ortner was second in the Over-50 Elite class.
Mike Monaghan raced Husqvarna's for Mitch Payton's Pro Circuit team back in the 1980s. Mike was 6th in the Over-50 Expert class and second in the Over-60 Experts on a YZ250 two-stroke.
Norwegian Vegard Falmar (387) went 2-8 in the 450 Pro class.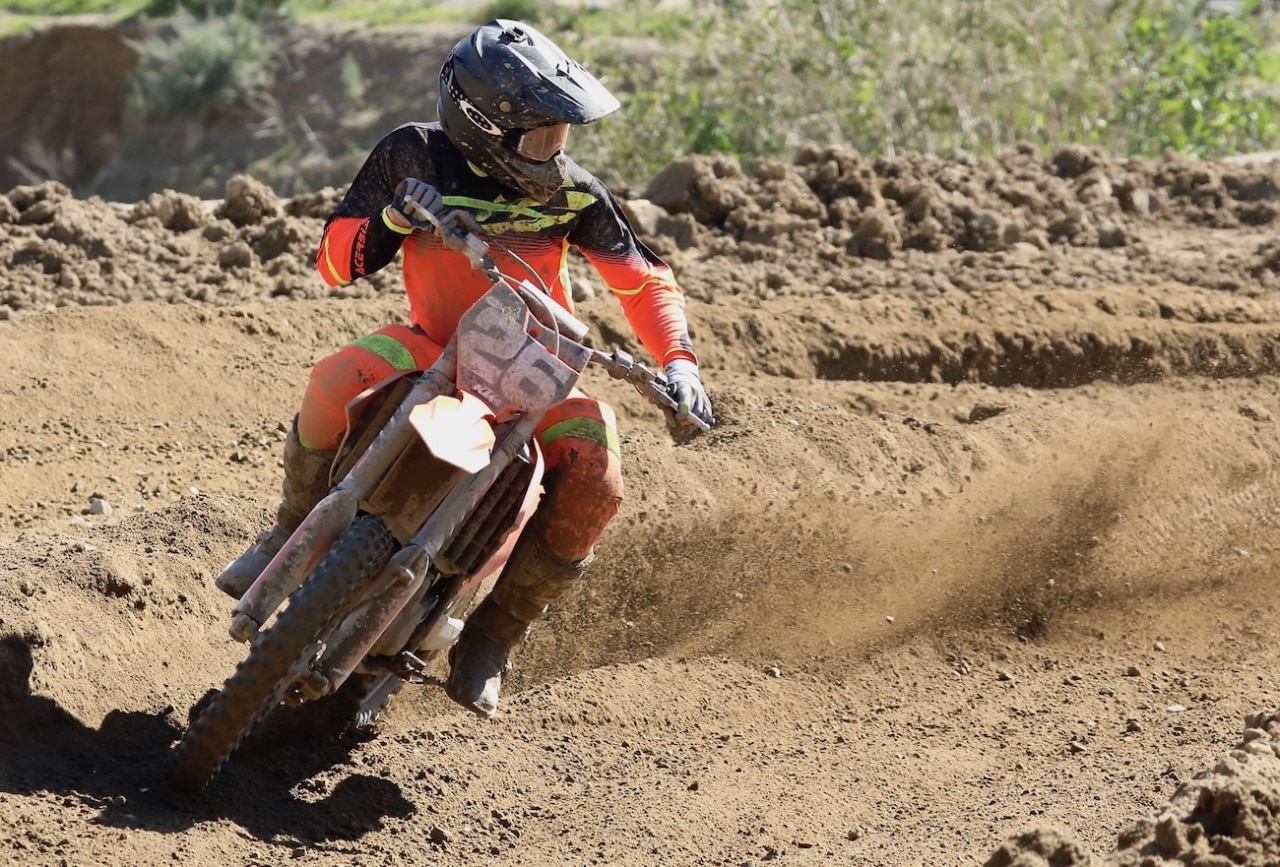 Among the eight riders from Norway, Cornelius Toendel was the most successful, Toendel went 1-1 in the 250 Pro class. Cornelius didn't have to look back to see his competition as he was running up front with the 450 pack.

Japanese rider Youkei Okura went 2-2 in the 250 Pro class for second overall.
David Cincotta's 2-3 was good enough for second in the Over-40 Expert class, but he was sandwich between Dutch rider Ralf Schmidt (73) who went 1-1 and South African Alan Jullien (3-4).

FormerJapanese National Champion Toshiki Tomita raced the 2018 AMA 450 Nationals for Team Honda (finishing 14th overall) and has been on Japan's Motocross des Nations team. At REM, Tomita was 9th in the first moto after some issues, but came back to win the second 450 Pro moto for 4th overall.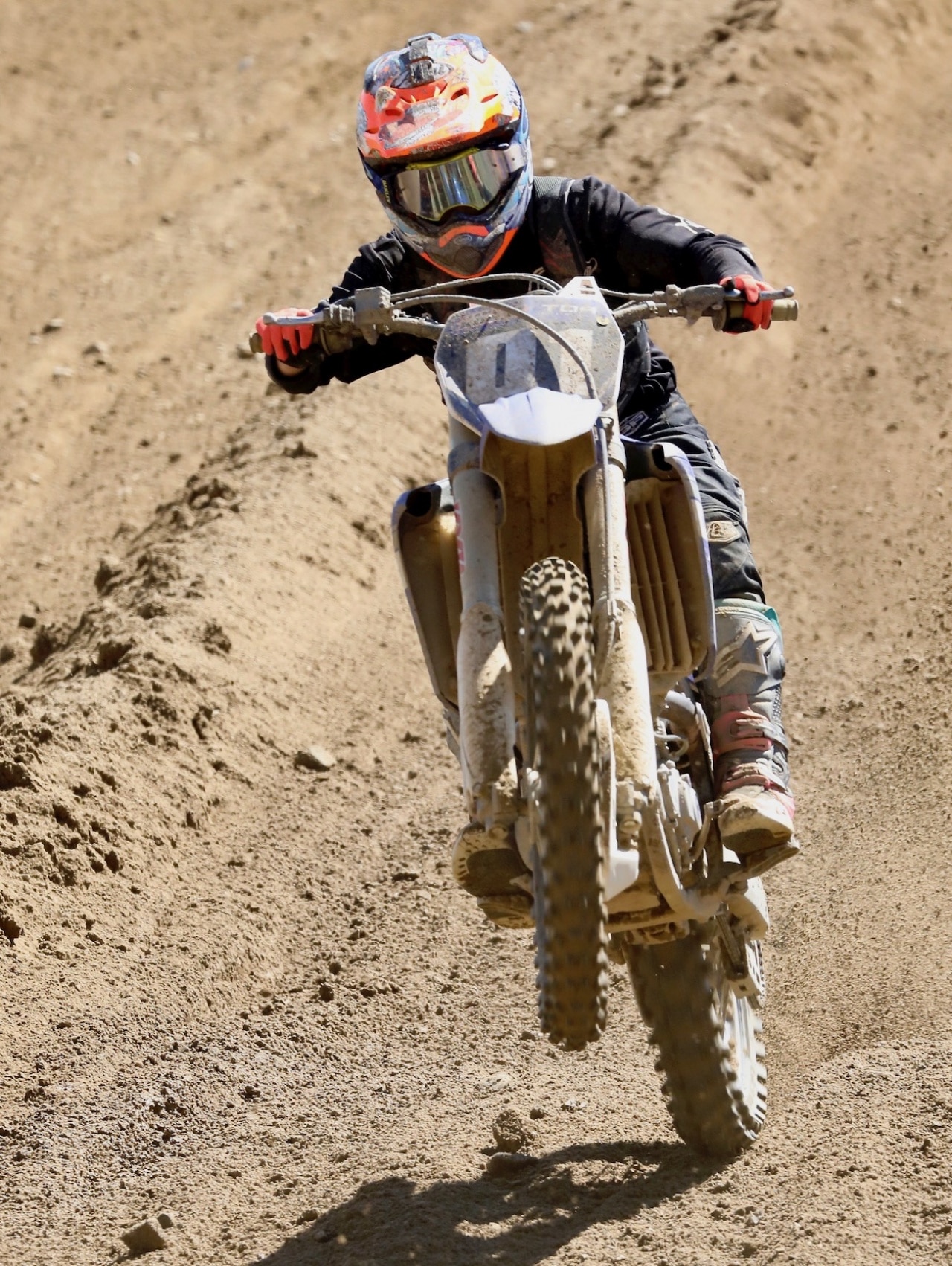 Toa Kishi (01) went 3-4 in the 250 Pro class for third. Japanese riders were second and third in the 250 Pro class, while the Norwegians were first and fourth.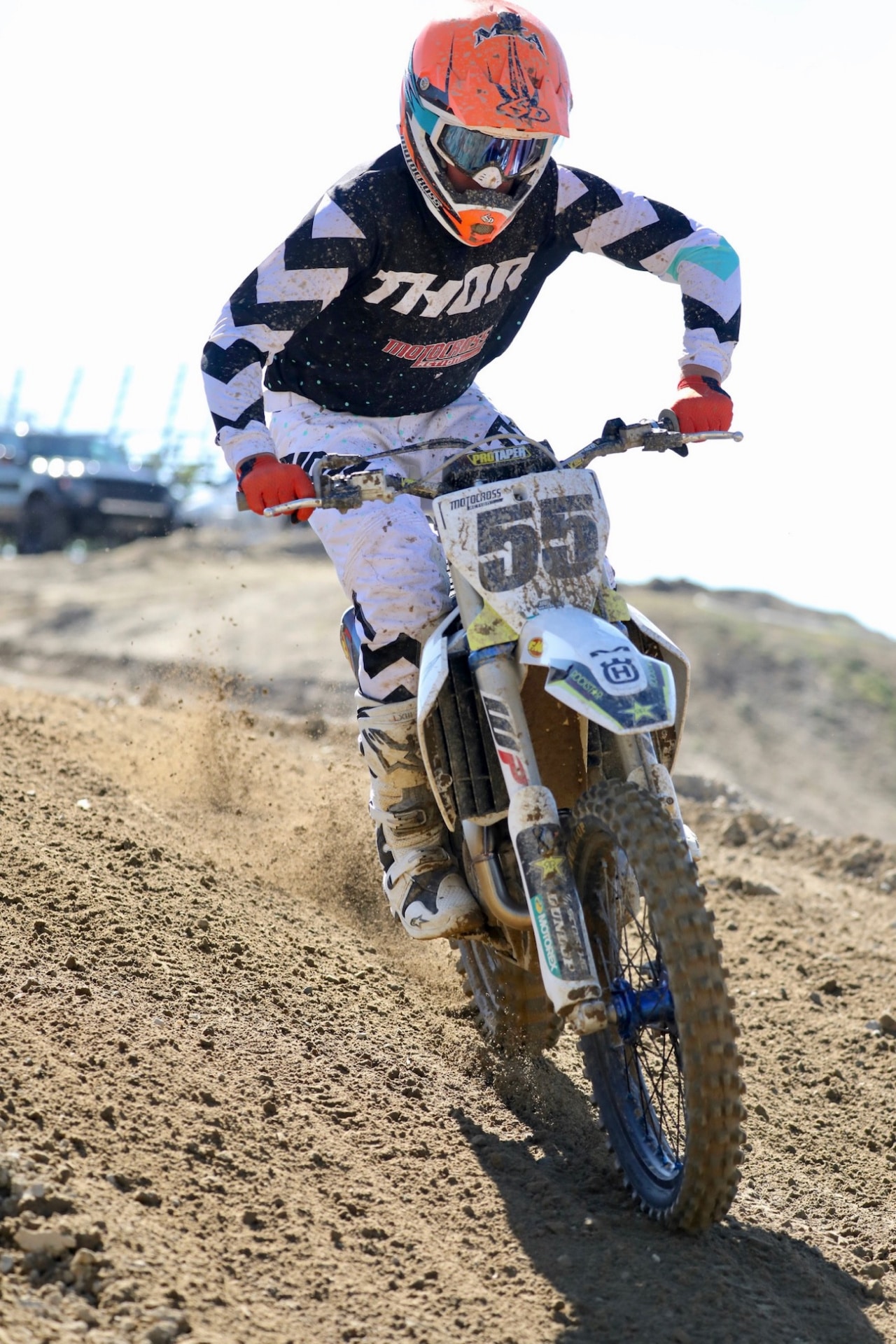 Josh Fout (55) was one of three MXA test riders assigned to race MXA's 2019-1/2 Husqvarna FC450 Rockstar Edition and 2019-1/2 KTM 450SXF Factory Edition.
Justin Muscutt (58) raced MXA's 2019-1/2 450SXF Factory Edition to a 5-7 day in the 450 Pro class.
Mark Moore (103), Bill Seifert (37) and MXA's Jody Weisel (38) start down a hill in the formation.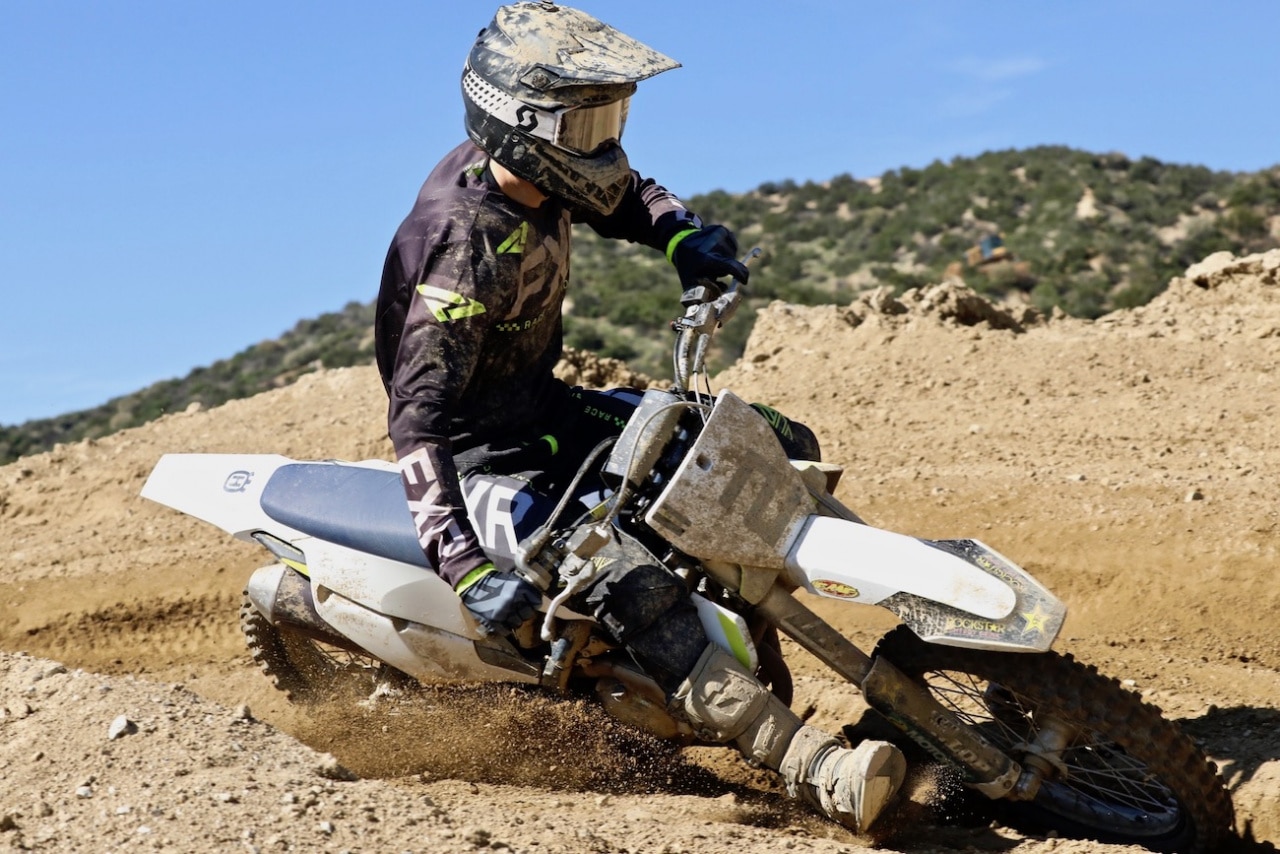 Runar Sudman, yet another Norwegian, went 6-3 in the 250 Pro class.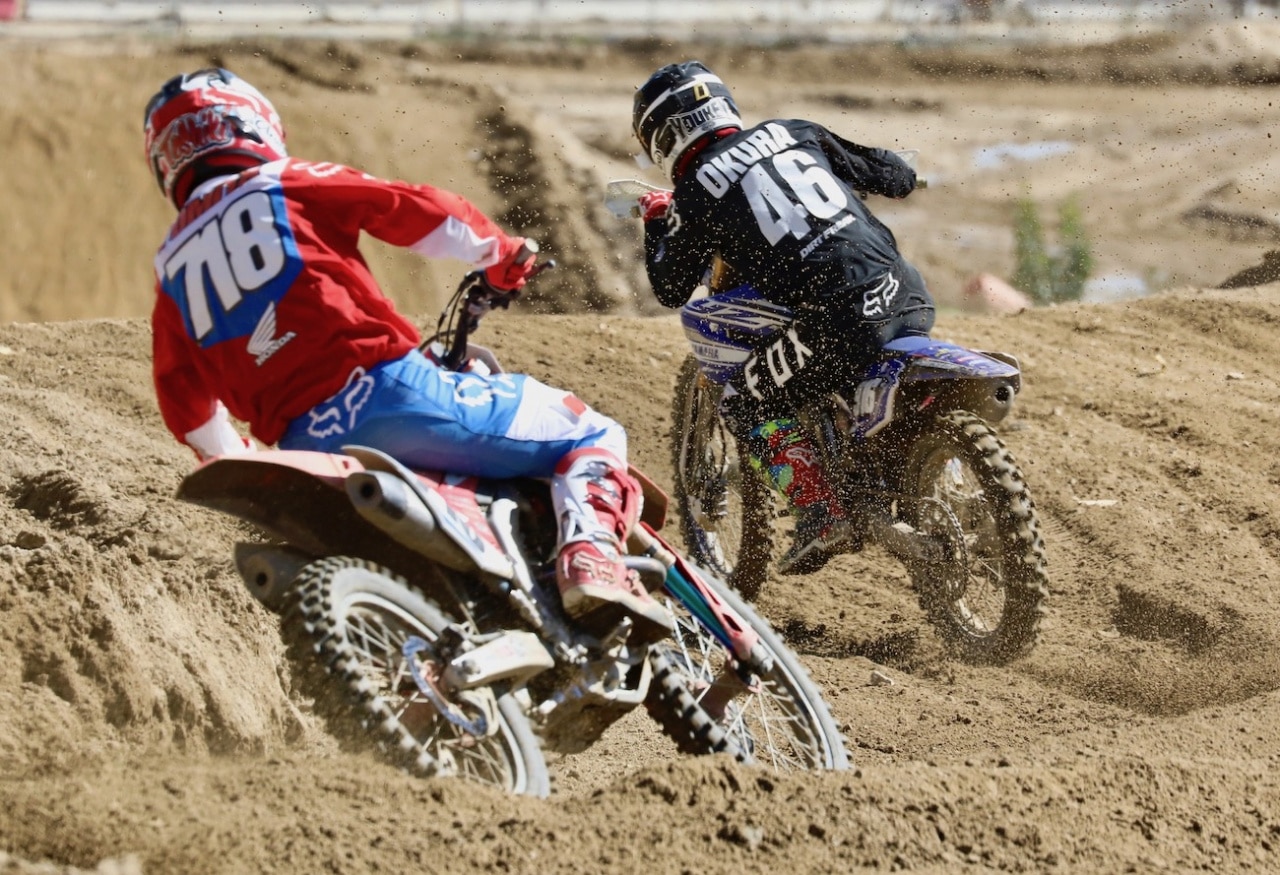 Toshiki Tomita (718) and Youkei Okura (46) look forward to a little roller coaster action. Okura finished second in the 250 Pro class.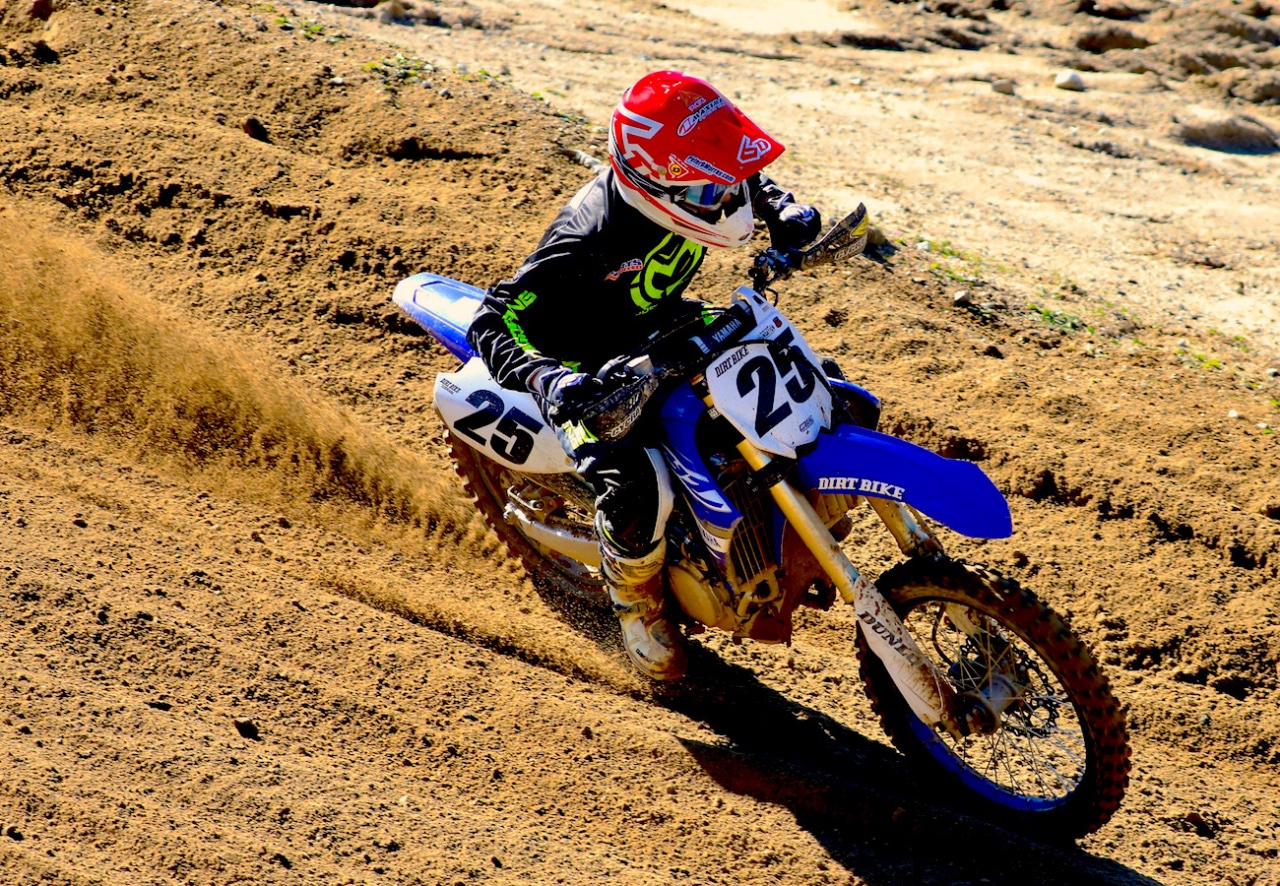 Pete Murray (25) took the overall win the Over-50 Elite class in front of a top five of Jon Ortner, Craig Davis, Robert Reisinger and Ron Shuler.
Swedish Grand Prix rider, multi-time ISDT Gold Medalist, AMA Hall of Famer and co-founder of Torsten Hallman Off-Road Products (THOR) Lars Larsson continues to amaze. At 78 years old he finished 5th in the Over-65 Intermediate class on MXA's 2019 Yamaha YZ250X cross-country two-stroke.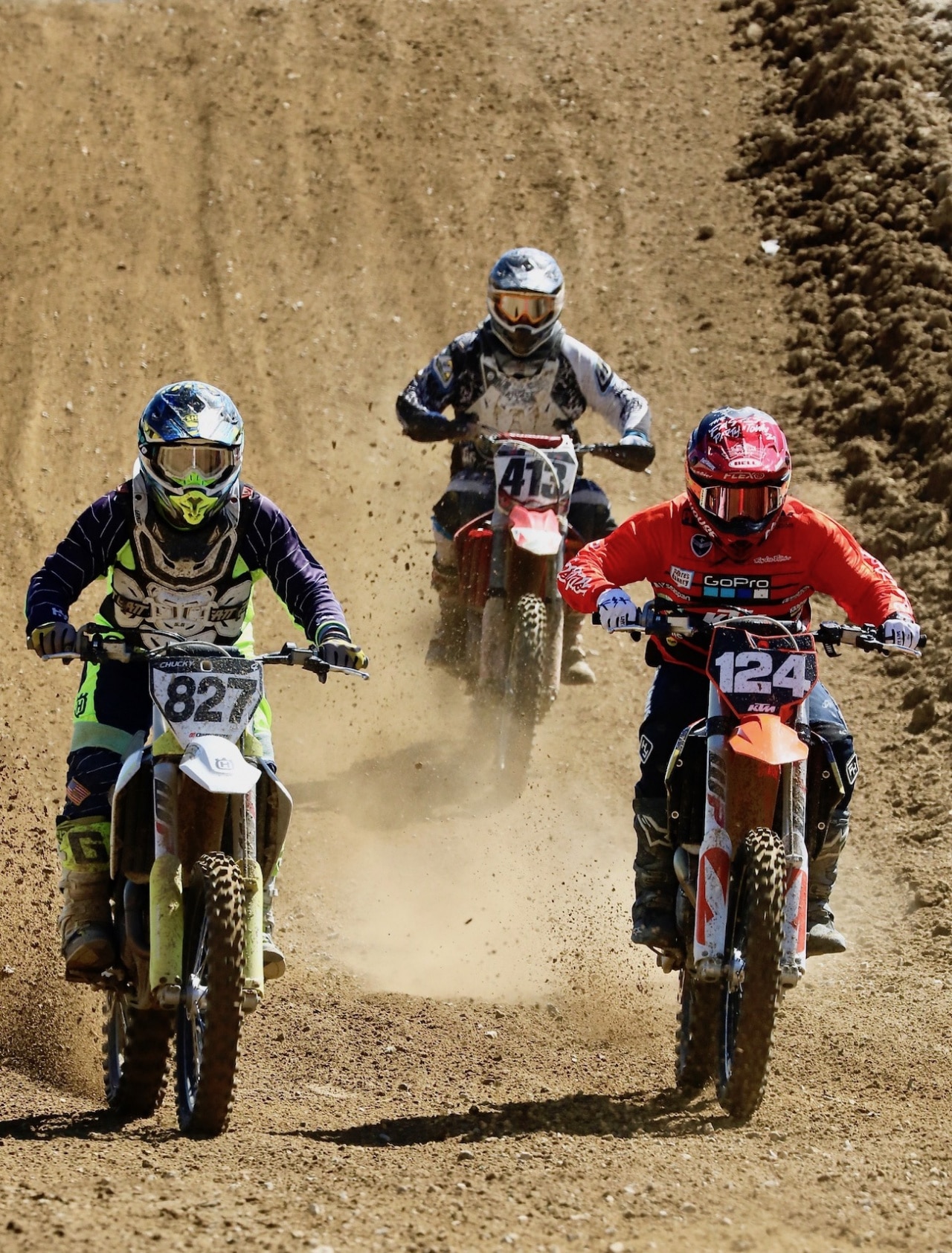 Lance Sloane (124) won the Over-50 Novice class. Chuck Cooke (827) was sixth and Mike Hillion (413) fifth.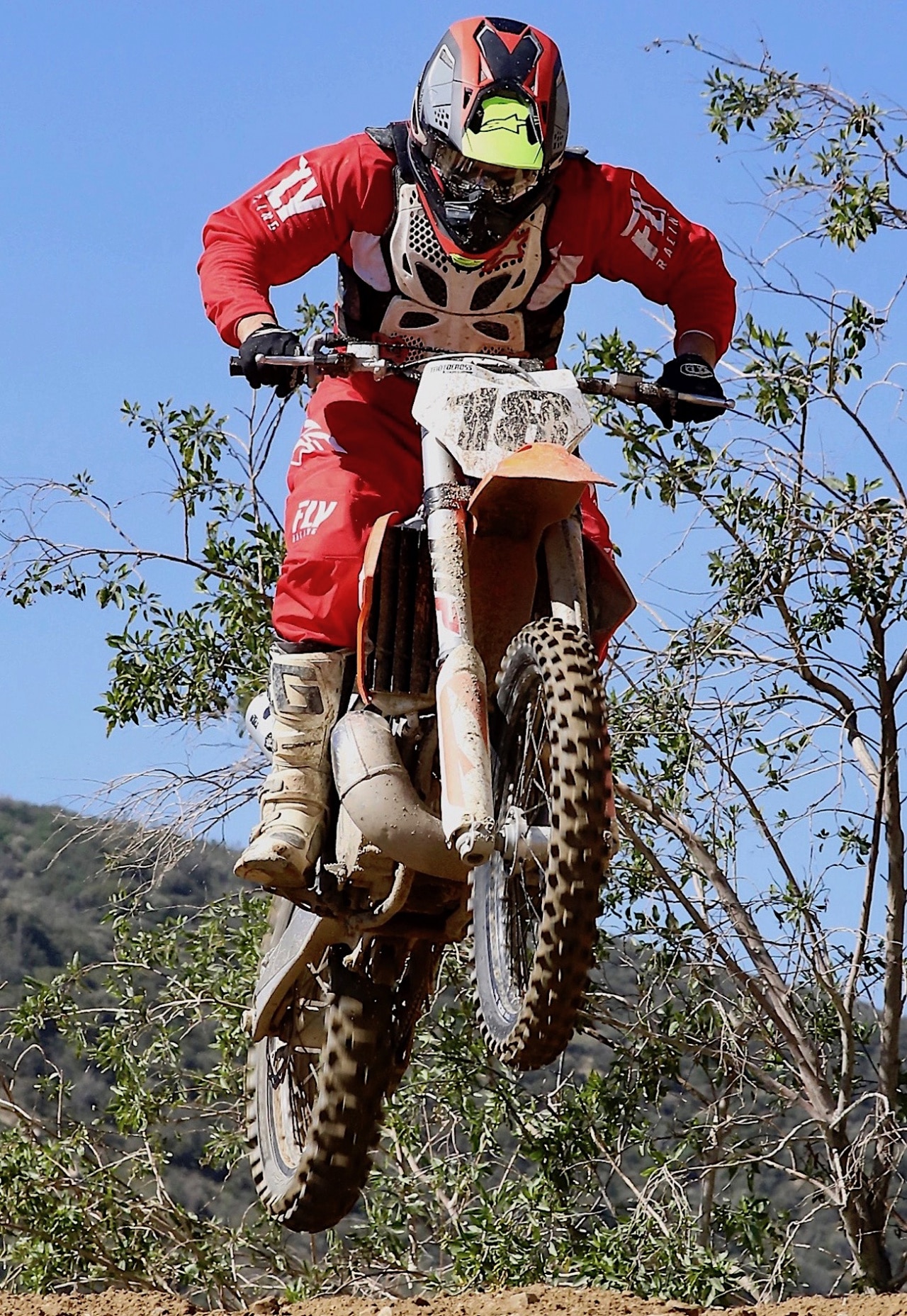 Marc Crosby (18) flies his KTM 250SX two-stroke out of the back of the REM track.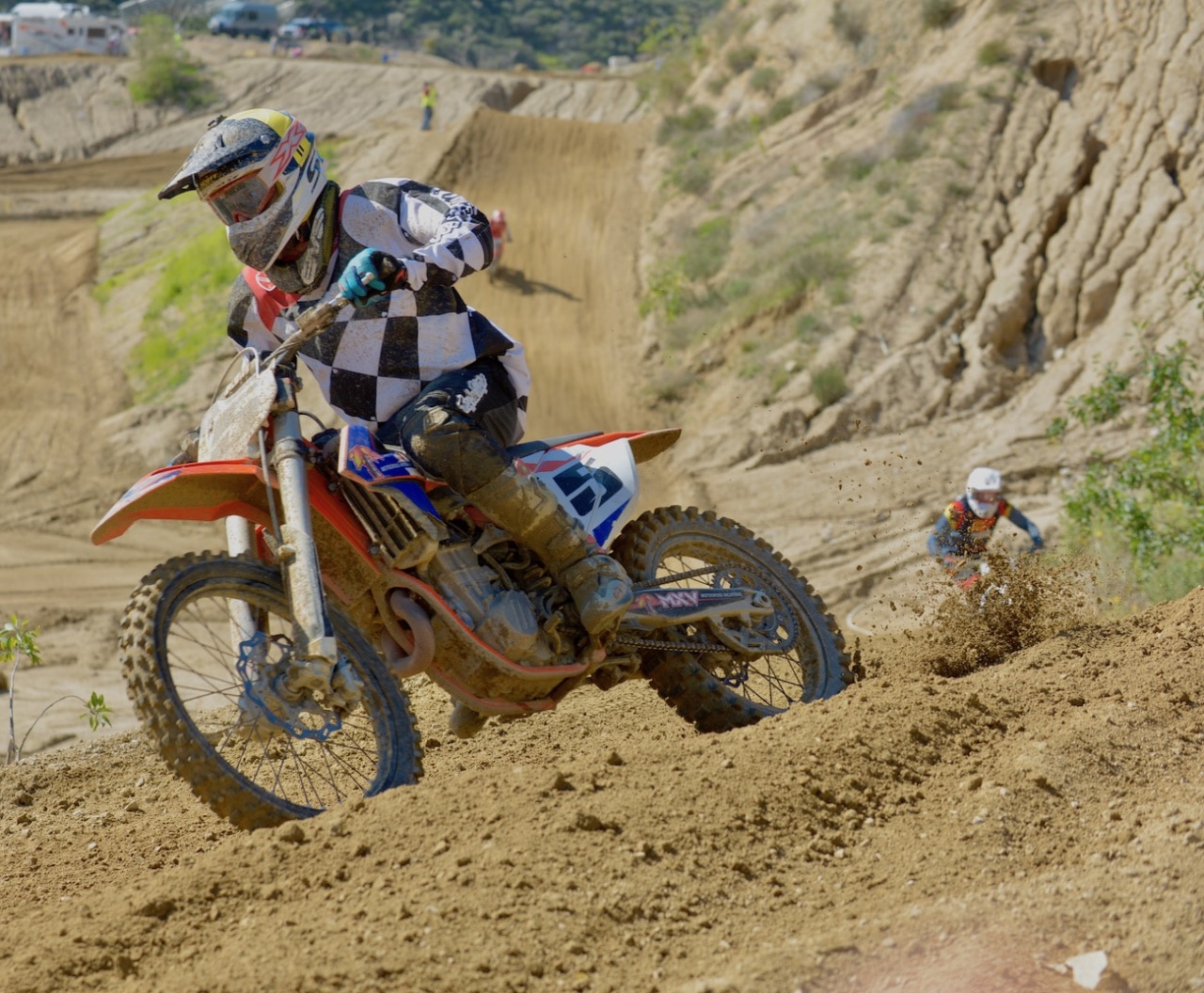 Greece's Xenofon Andelus (5) split moto wins with Adrian Spiker at 2-1 and 1-2. The Greek took the Over-40 Intermediate win.
Mark Oetzell (N23A) has a racing number that looks more like space coordinates than a motocross number, and a style that is more speedway than motocross, but he made it work. Mark went 2-3 for third in the Vet Novice class.
The imposing cliff behind this rider is all the more impressive when you realize that 10 seconds earlier this rider was at the top of this cliff before plunging downward and then turning back to the final jump to what is ground floor.

At the end of the day Kent Reed had to clean more than his KTM 450SXF.
REM races again on March 9 and 16 at Glen Helen and March 23 at Cahulla Creek. For more info about REM motocross go to www.remsatmx.com.