REM GLEN HELEN MOTOCROSS REPORT: VANCE & HINES' STEVEN TOKARSKI WINS 450 PRO CLASS, DAVE EROPKIN WINS IN THE BIG FIVE-OH

Justin Jones (15) not only won the 250 Intermediate class on a borrowed MXA bike, but he had to race it with different setups in each moto. He adapted quickly. Photo: Ernie Becker

Imagine a motocross series that started on January 1, 2011, and finishes on December 31, 2011. You don't have to use your imagination because Glen Helen's REM motocross season is 12 months long. It pays points at every race?with the ultimate prize being Glen Helen Raceway Park's number 1 plate. To get to be number one?you virtually have to race every weekend (although REM does gives its racers weekends off when Glen Helen is hosting the WORCS series, Red Bull X Fighters, World Vet Championship, 24-Hours of Glen Helen and Lucas Oil Offroad Truck Championship). All totaled, an REM racer has the opportunity to race 40 events. The number of riders who attempt to race all 40 events is surprisingly large?although life, injury, illness, family and holidays take their toll.

Bryan Friday took the Over-40 Intermediate victory in front of a top five of Ron Shuler, C.T. Falk, Dan Alamangos and Sam Ramirez. Photo: Ernie Becker
In December, REM winds its season down (and winds is spelled the same as winds…which blew for the third race in a row). So, after 38 long races, there are only two events left. The last chances are next Saturday, December 10, and a special "New Year's Eve Morning Motocross" on December 31. Oh yeah, then the 2012 season starts again on January 7, 2012. This has been going on for 25 straight years.
THIS WEEK'S WINNERS


Vance and Hines' sponsored Steven Tokarski swept the 450 Pro class. Photo: Ernie Becker

In the Pro ranks, Vance & Hines Steven Tokarski and Tony Amaradio dueled at the front for a couple laps before Tokarski pulled away to go 1-1. MXA's Billy Musgrave won the 250 Pro class and gave Tokarski a scare when he began to catch the Vance & Hines rider late in the second moto. Tokarski was able to nurse his ailing engine home without letting the 250 Pro leader catch him.



When Willy Musgrave broke his collarbone two weeks ago, his son Billy was moved up to MXA's potent 2012 KTM 250SX from his normal 150SX. Billy found the extra power, TCR wheels, Pro Circuit exhaust, Showa Works suspension and Intelajet carb to his liking. Photo: Ernie Becker
In the Intermediate classes, Justin Jones, son of four-time National Champion Gary Jones, borrowed a box-stock Suzuki RM-Z250 from MXA after breaking the brake pedal on his own CRF450 in practice. Jones moved to the 250 Intermediates (and even though he had to change back to the stock exhaust system between motos, as part of a scheduled MXA test) he went 1-1 in front of a top five of Max Groom (2-2), Ryan Surratt (3-3), Lorenzo Brogi (4-4) and Jonathan Chappell (5-5). Jones came from the second gate (behind the Pro class) and motored his way into the top four in the Pros from a 30-second disadvantage.

Glen Helen's REM racetrack has big climbs, steep downhills, tricky offcamber corners and covers a lot of ground. Plus, the Saturday race program is run very efficiently so that REM racers can get done in time to go home and prepare for Sunday. It only has a few fun jumps, so it is more motocross than Supercross.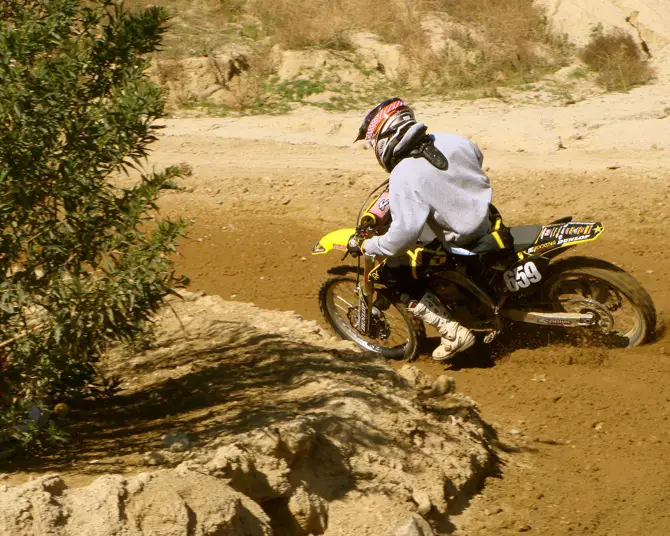 Max Groom (659) has been riding well as of late. Max was second to Justin Jones in the 250 Intermediates, but was in front of Loretta class winner Ryan Surratt. Photo: Ernie Becker
Kristoffer Palm raced a TM MX450Fi to victory in the 450 Intermediate, while Todd Gravitt won the Vet Intermediates, Bryan Friday the Over-40 Intermediates, Randy Skinner the Over-50 Intermediates, Lorenzo Brogi the Open Intermediates ("open," as in any skill level) and Mitchell Falk the 85 Intermediates (Falk was impressive on his KTM).
WHAT ABOUT THE BIG CLASSES?


Too little too late. Randel Fout (946) beat Dave Eropkin (811) in the second moto of the Over-50 Expert class, but a first moto fourth killed his chances of a repeat victory this weekend. Photo: Dan Alamangos

Almost 50 percent of the racers at this week's REM motocross were over the age of 40. And, as always, REM's phenomenal Over-50 Expert class was the most competitive as racers from the Saddleback, Indian Dunes and Carlsbad era continue to ply their trades. This class is also the most unpredictable. Winners this year have included Pete Murray (last week), Randel Four (two weeks ago), Jon Ortner (three weeks ago)?plus Dave Eropkin, Andy Jefferson, Steve Lawler, Greg Nelson, Chuck Sun, Willy Simons, Troy Lee, Don Grahn, Bob Casper, Fred Nichols and many others. 

Dennis Boulware (44) and LightSpeed's Willie Amaradio (130) fought for fourth overall in the Over-50 Expert class, but wheel troubles in the first moto forced Amaradio to ride his old CRF450 instead of his normal YZ450F in moto two. As you would expect, Amaradio did better on his beater bike than his race bike. Photo: Dan Alamangos
This week the major players were Dave Eropkin, Randel Fout, Greg Nelson, Dennis Boulware and Willie Amaradio. It is hard to believe, but every one of these riders scored a top three finish in at least one moto?and if your math skills are any good, that means that only one rider scored a top three in both motos. And that rider was Dave Eropkin. The former hotshot 125 Pro from the 1970s went 1-2 in front of Randel Fout's 4-1, Greg Nelson's 2-4, Dennis Boulware's 3-5 and Willie Amaradio's 6-3.

Greg Nelson's 2-4 was good enough for third overall behind Eropkin and Fout in the Big Five-Oh. Photo: Dan Alamangos
In the Over-60 Experts Tom White turned the tables on Tom Holmes from last week (when Holmes used a 2-1 to defeat White's 1-2). This week it was White who got the 2-1 and the victory. Ray Pisarski, Lars Larsson and Bill Seifert rounded out the top five.
THE 125 TWO-STROKE CLASS


John Basher raced a box-stock 2012 Yamaha YZ125 to his second straight 125 "A" class win. John also raced a second class on a project YZ250F (shown here). That is Baja star Paul Krause's son Brandon (430) behind Basher. Photo: Dan Alamangos

Although REM holds the regular 125 Beginner and 125 Novice classes (won by Boaz Casucci and Brandon Krause respectively), the big 125 class is called "125 Adult A." To race this class you have to be over 21-years-old. It attracts riders from a wide variety of other classes?with this week's field made up of riders from the Over-50 Experts, Over-40 Intermediates, Over-40 Novices, Vet Novices and 450 Novices. Only two riders in the field were just racing this class?everyone else was double classing it…and putting most of their attention into the 125 Adult A victory.

Aussie Dan Alamangos raced two classes, but said that he should have "just raced one moto, because that is how many I did good in." Photo: Ernie Becker
Last week's winner was MXA's John Basher, who moved to the class as part of an MXA test program on 125 two-strokes (where test riders switch brands each week). Last week Basher used a KTM 125SX to go 2-1. This week he took the overall win again with a 2-1 on a 2012 Yamaha YZ125 in front of Randel Fout's 1-2. Basher holeshot both motos with Fout stalking him. Lapped traffic made all the difference and Fout passed Basher in the first moto when Basher got held up lapping a clump of 450 Novices. In the second moto, Basher and MXA teammate Dan Alamangos opened up a big lead?and Fout struggled to get to second (eventually aided by trouble for the Aussie Alamangos). Ernie Becker went 4-3 for third with Pete Peterson (5-5) fourth and Dan Alamangos (8-4) fifth.

Greg Groom says that George Kohler roosted a rock into his hand in the first moto. George says that Greg stupidly rode into the rock as it was harmlessly floating by him. Photo: Dan Alamangos

Greg didn't ride his second moto. Photo: Dan Alamangos
REM races again next Saturday, December 10, before taking a break for the Christmas holidays. But, REM will be back on New Year's Eve morning with the race that ends the season?and gives SoCal racers a chance to blow-out the holiday blahs before the real New Year's Eve blow out parties. For more info go to www.remsatmx.com