REM GLEN HELEN MOTOCROSS: SEAN COLLIER RETURNS & ALL'S GOOD WITH THE WORLD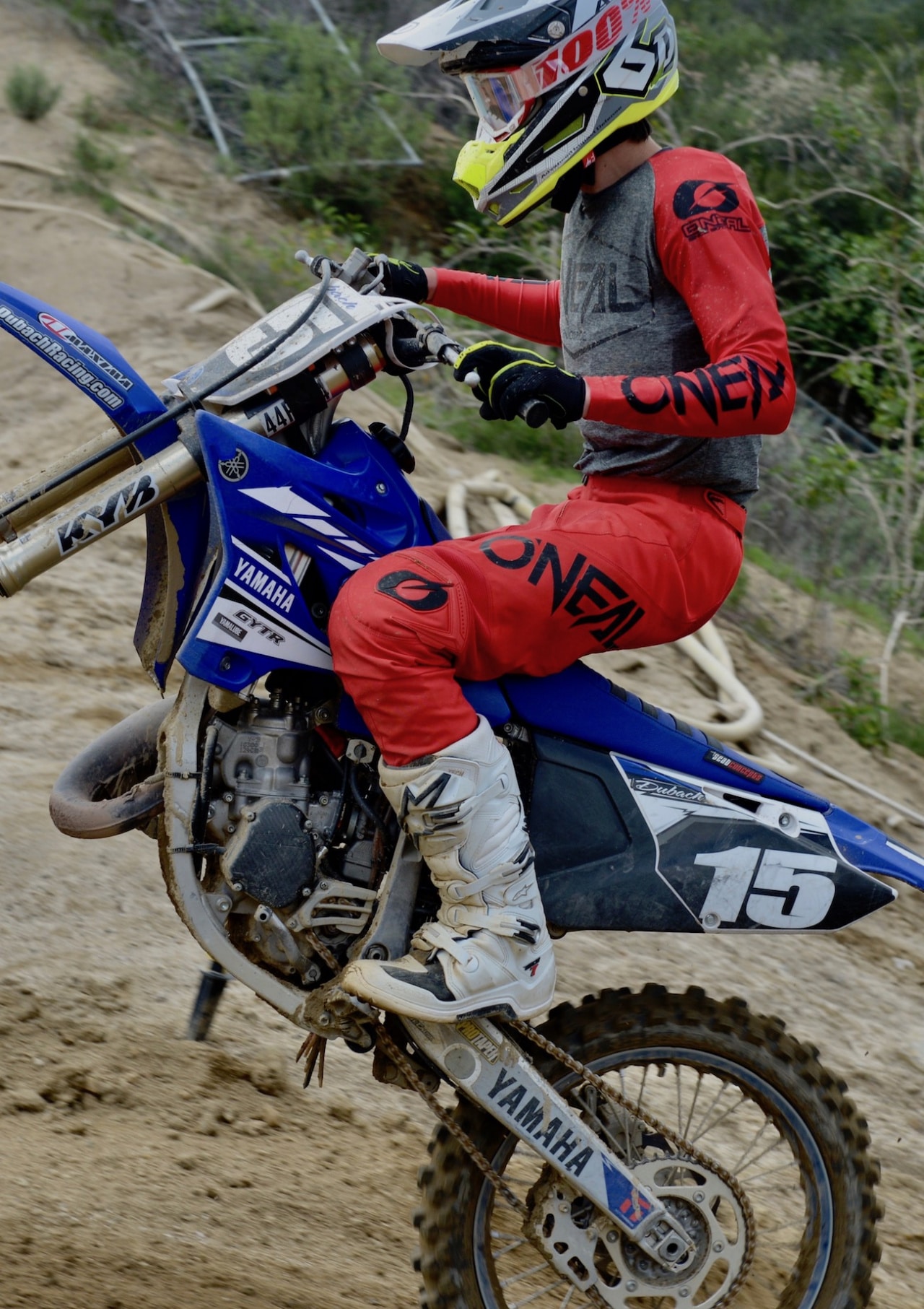 Carter Dubach's broken wrist has healed and he's back on his YZ125 ironing out the kinks by going1-1 in the 250 Intermediate class. Photo: Dan Alamangos
Photos by Dan Alamangos, Rich Stuelke, Jody Weisel, Mark Chilson and Jon Ortner
Glen Helen has managed to hold races during the unusual rain events of the past two months—even when the main road into the motocross track is closed because  of flooding. They have been bringing riders into the track by the back road that cuts through the housing project on Glen Helen Parkway—and by getting the Sheriffs to open up the gate that cuts through the prison grounds. In fact, on this past week's Thursday practice, they had to use the back way in—and with the potential of more rain, this week's REM motocross was in serious jeopardy of being canceled. Luckily, the rain held off, the county cleared the main road and the race was on.
In the morning the weather was gloomy, but dry. Justin Hoeft took advantage of the cool temps to walk away with the 450 Pro win. Photo: Dan Alamangos
There was a surprise at Glen Helen this Saturday as Sean Collier made his return to racing this weekend. Sean had become an underground hero with his fabulous rides on his custom-built Kawasaki KX500 two-stroke—including victories at the World Two-Stroke Motocross Championship in 2013-2014. Unfortunately, Sean got hurt at the 2016 two-stroke race and hung up his gear. But, this week he brought his KX500 out of storage to finish second in the 450 Pro class. Glad to see Sean back at REM motocross.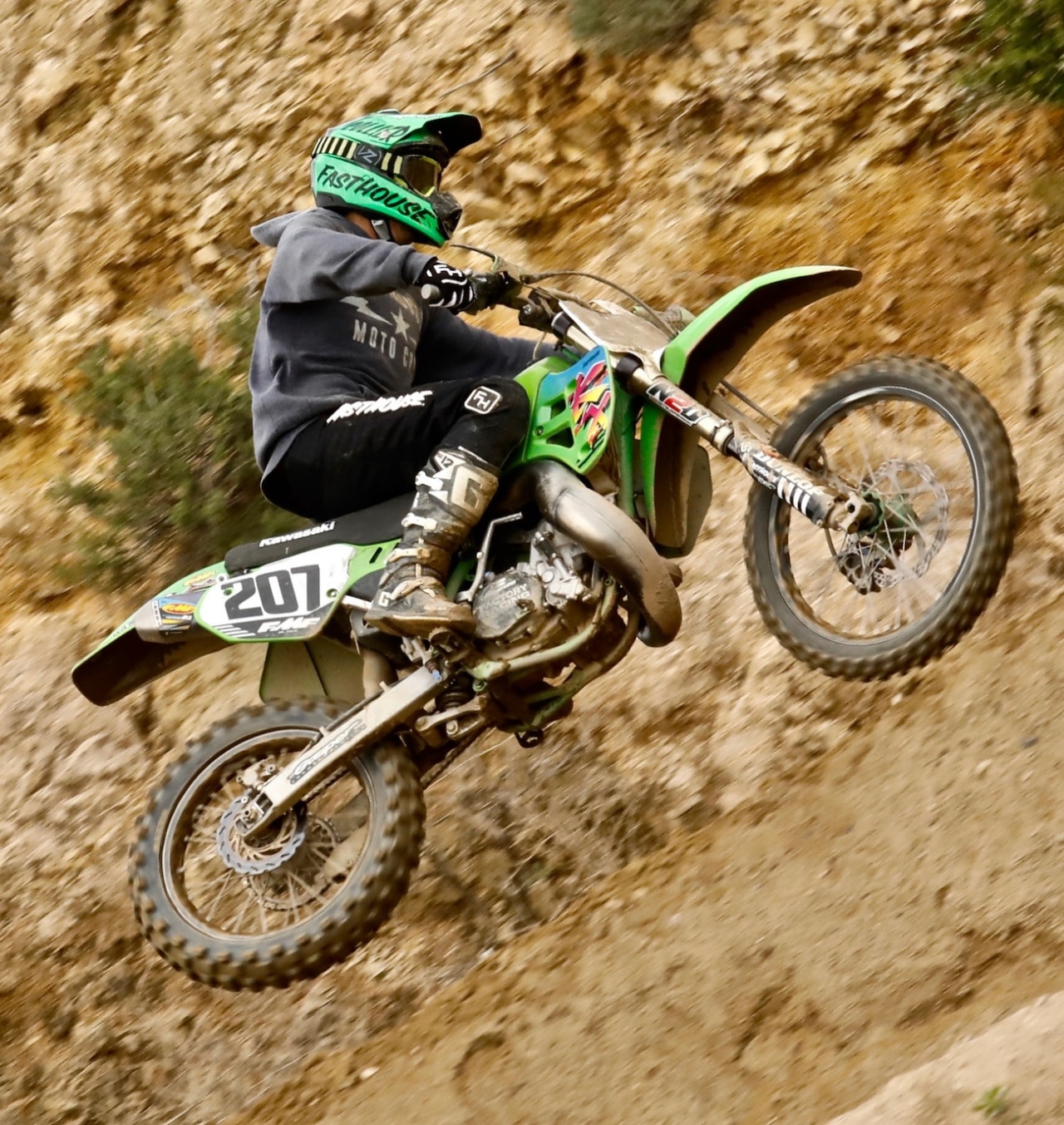 It was good to see Sean Collier back on his big two-stroke where he belongs. Photo: Rich Stuelke

The other good news from this week's REM race was the 6D Helmet's Robert Reisinger survived a hair-raising crash that mimicked Chad Reed's famous "Chadapult" crash at Millvile in 2011. Just like Chad, Robert swapped as he approached the face of a giant blind tabletop. And, just like Chad, Robert never shut off as he veered off the side of the jump. And, just like Chad, Robert stepped off his bike and did an arm waving imitation of a bird. And, just like Chad, Robert fell from 20 feet up and hit the sloped side of the hill and tumbled to the ground below. And, just like Chad, he got up and was uninjured.
Yusuke Watanabe won the 250 Pro class. Photo: Jon Ortner

There was lots of injury news from the REM regulars. Tom Holmes got hurt at an Arizona race and will be out of action for a couple months. Carter Dubach returned to action this week from the wrist he broke three months ago. Jody Weisel has been trying to race with Vertigo, but was a no-go this week after riding practice. Luther French sold his bikes and hung up his leathers after his last crash. Chris Cole also decided to take some time off. Lyle Sweeter was badly injured at a different race a year ago and is still in recovery mode. Bill Seifert is back racing again after twice injuring his shoulder—surprisingly, in the exact same corner both times. Hopefully, he's gonna give that turn a little more respect in the future.
250 Pro Justin Muscutt (26) had one of those days where you spend more time picking up your bike than riding it.  Photo: Jon Ortner
BREAKDOWN BY BIKE BRANDS IN PERCENTAGES

KTM continued to be the most popular race bike at REM with 36% of the riders choosing orange. Yamaha was second with 27%. Husqvarna continues to get more traction as Husky and Honda tied at 11% each. Kawasaki made up 7% of the bikes at REM, just edging out Italian boutique builder TM—who had 6% (last week TM beat Kawasaki in total numbers). As always, Suzuki was seventh in the rankings with only 2%.
1. KTM…36%
2. Yamaha…27%
3. Husqvarna…11%
3. Honda…11%
5. Kawasaki…7%
6. TM…6%
7. Suzuki…2%
Richard Taylor (44) chasing Yusuke Watanabe in the 250 Pro race. Photo: Jon Ortner
TOP FIVE BIGGEST CLASSES OF THE DAY

(By percentage of total riders)
1. Over-50 Intermediate…13%
2. Over-50 Expert…10%
3. Over-60 Expert..10%
3. Over-40 Novice…6%
5. Over-65 Intermediate…5.5%
(These five classes accounted for 45% of the riders at REM)
Carter Dubach (left), Doug Dubach (center) and Yusuke Watanabe (right) watch  some videos of their early morning practice. Photo: Jon Ortner

Shaun Hillion (413) mows a little grass on his way to third in the 450 Pro class. Photo: Dan Alamangos

MXA's Dennis Stapleton (184) is busy fine tuning his 2019-1/2 KTM Factory Edition before heading off to the Middle East for the FIM test race of the all-new and potential Grand Prix track in Kuwait. Photo: Dan Alamangos
American TM importer Ralf Schmidt never stops testing his model line-up —he does it by racing them. Photo: Jon Ortner
Lars Larsson was second in the Over-65 Intermediate class behind former L.A. Police Chief Charlie Beck. Lars said that Beck "should be arrested for speeding" after going 1-1- to Lars' 2-2.  Photo: Mark Chilson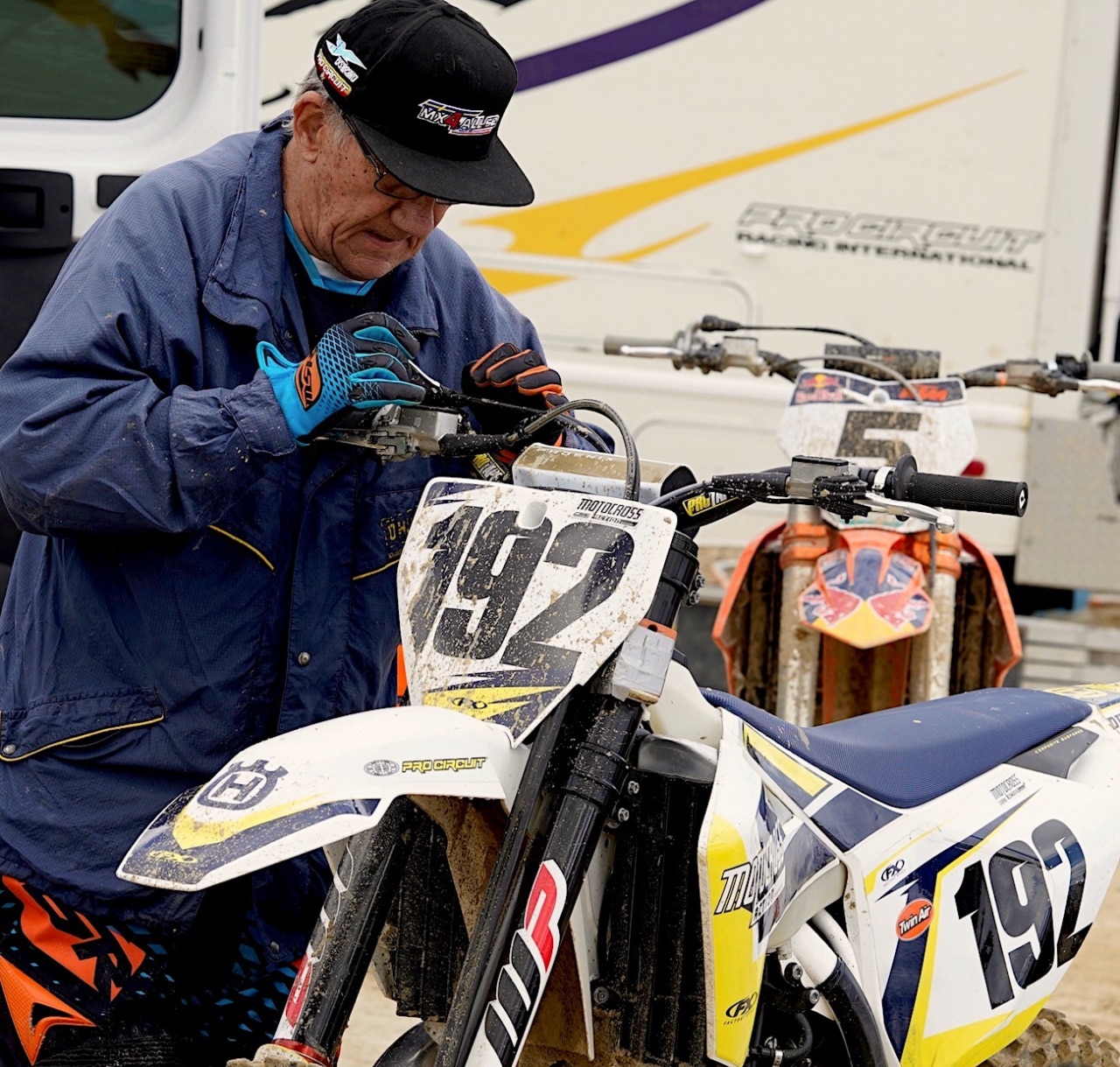 MXA built a motocross version of a fuel-injected Husqvarna TE300i—and handed it over to former GP rider Lars Larsson so he could use it at the Husky Championship race next week at Cahuilla Creek.  Photo: Dan Alamangos
C.T. Falk leads Gionvanni Spinali (45), Vincent Krioski (554), Greg Pierce (416) and John Griffin (7) down a newly installed hill in the back section of the REM track. Photo: Jody Weisel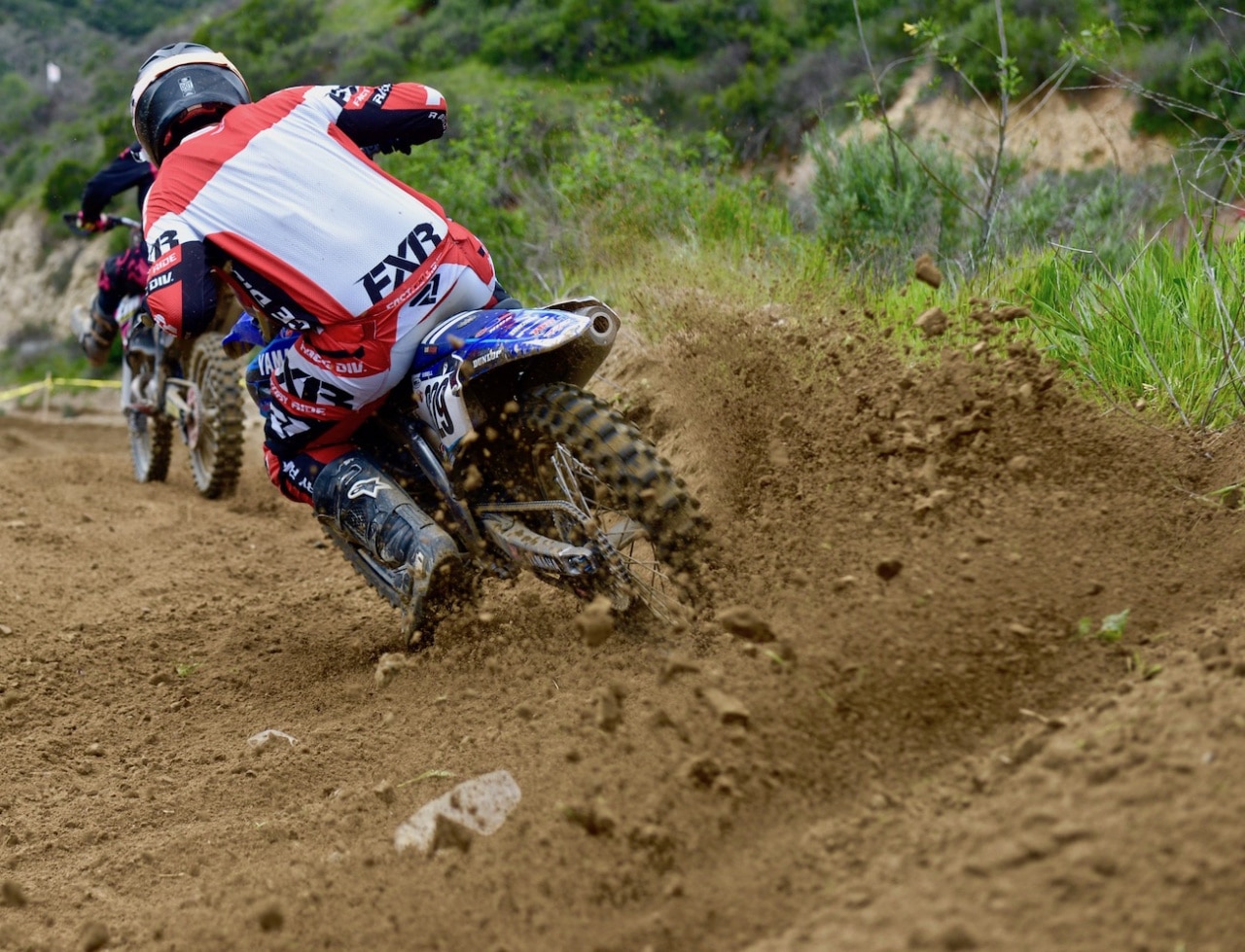 Todd Sibell moves a little earth and what looks like one tear-off in this tight left. Photo: Dan Alamangos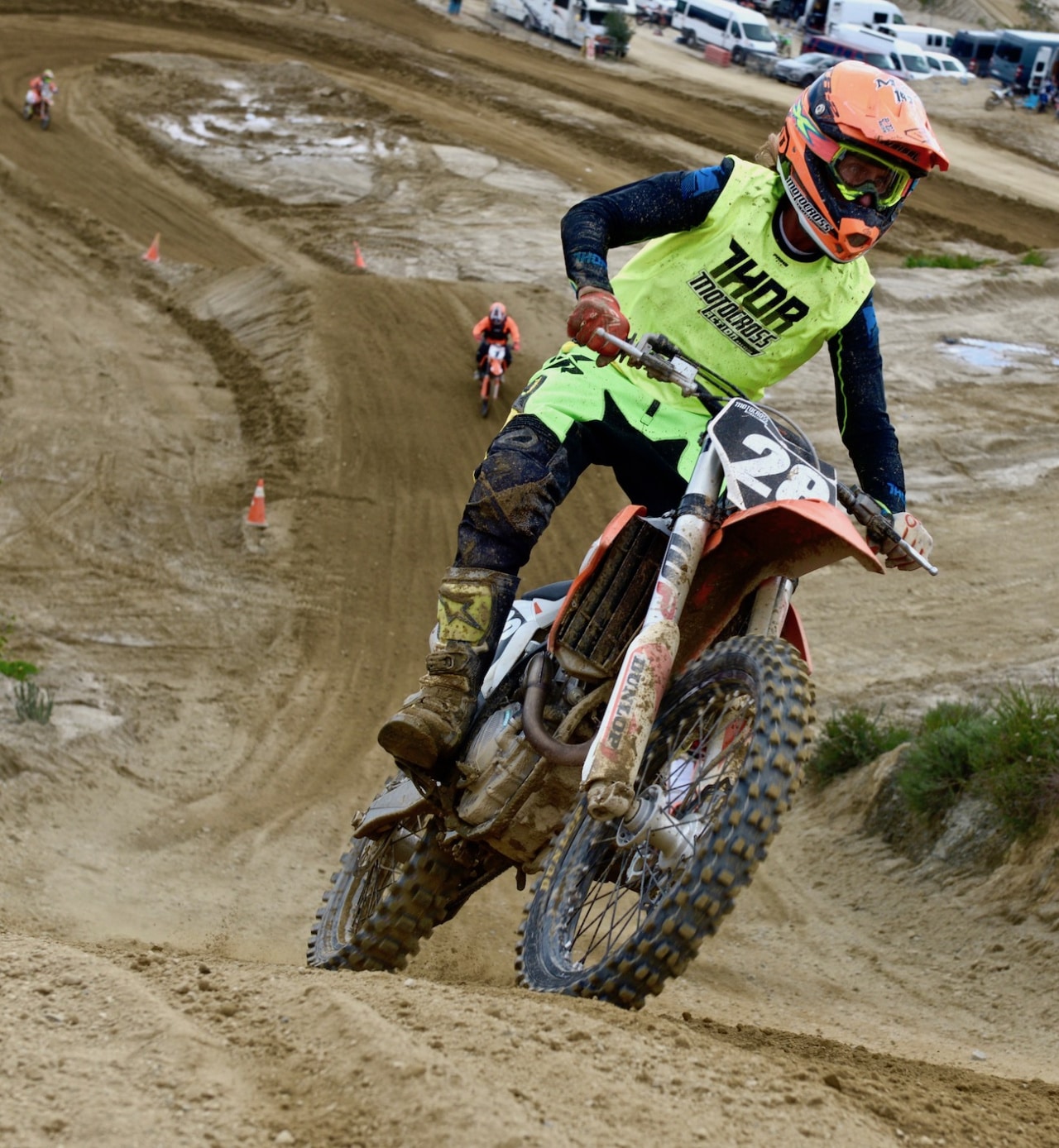 Randel Fout (28) raced a Kawasaki, KTM and Husqvarna at REM. His favorite? MXA's Husky TE300i fuel-injected two-stroke that as been modded to become a motocross bike. Photo: Dan Alamangos
On the last lap of the second moto of the Over-50 Elite class Robert Reisinger (96) crashed big-time. Photo: Dan Alamangos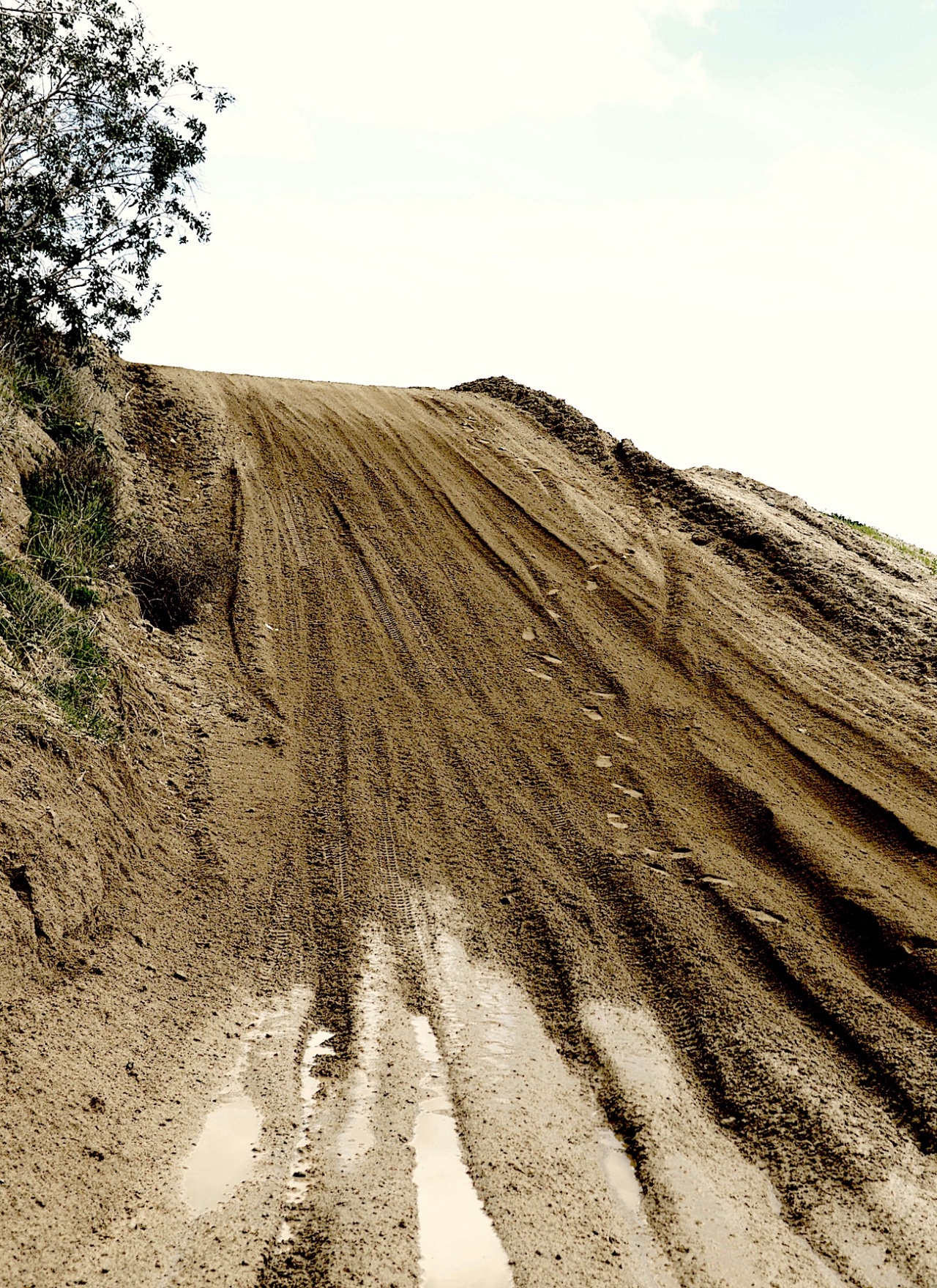 See the tire track veering off this giant jump face on the right? That is where 6D's Robert Reisinger flew off the side of the jump, which is elevated 25 feet above the ground below, and did his version of the "Chadapult."  Robert sailed into the air before ejecting and tumbling like a rag doll to land on the flat ground below. Amazingly, after help from the EMTs, he got up and walked away. Photo: Dan Alamangos
Bob Rutten (83) and Mike Monaghan (16) fought over the Over-60 Expert victory after regular class winner Dave Eropkin crashed in the sand section. Photo: Dan Alamangos
Mike Monaghan (16) took the Over-60 Expert class victory with a 1-2. Photo: Dan Alamangos
Former SoCal 125 star from the 1970s, Dave Eropkin had won every Over-60 Expert race at REM in 2019, but a mistake in the deep sand on the back straight gave him a 9-1 score. Photo: Dan Alamangos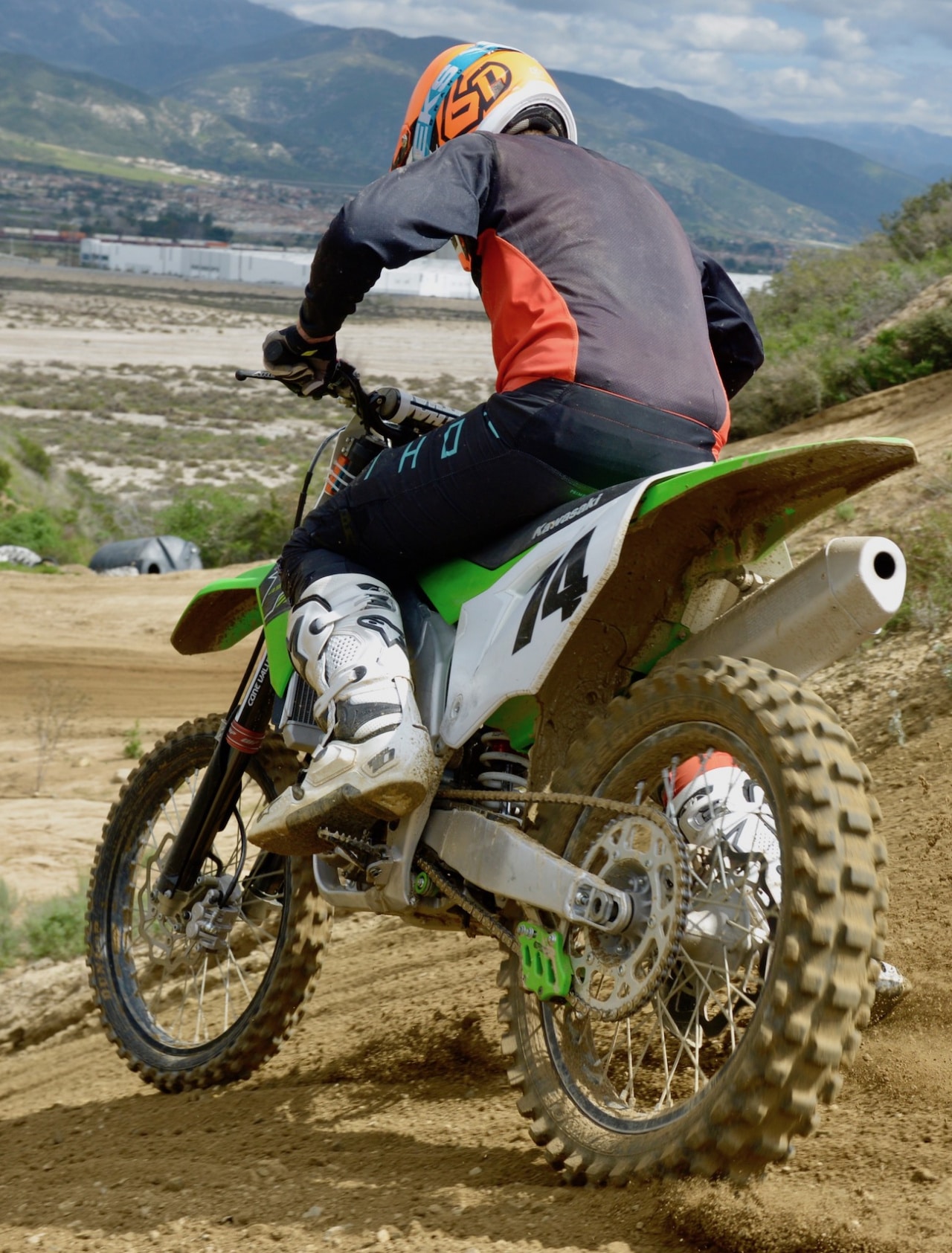 If you've ever wondered what's on the other side of  REM's big hills, Josh Fout (74) gives you a good look from the saddle of his WP-suspended KX450. The big sandy area looks like a flat expanse of land, but it is actually a dry river bed—which isn't dry when it rains. Photo: Dan Alamangos
Australian Dan Alamangos switched from his normal KTM 250SXF to a 2019 Kawasaki KX250. Dan went 9-8 for eighth overall in the Over-50 Expert class. Photo: Jody Weisel
In the first turn of the Over-50 Expert/Elite class, you can see that Dan Alamangos (24) got a 9th place start on his KX250. To Dan's left is Joe Sutter (111). Joe and Dan don't care where they finish as long as they are in front of each other. Sutter went 11-7 for ninth overall (one spot behind Dan) . Photo: Rich Stuelke
Darrin Berg, 4th in the Over-50 Novices, on his yellow YZ250. Photo: Richard Stuelke
D.R. Clements is a vision in blue. Photo: Jody Weisel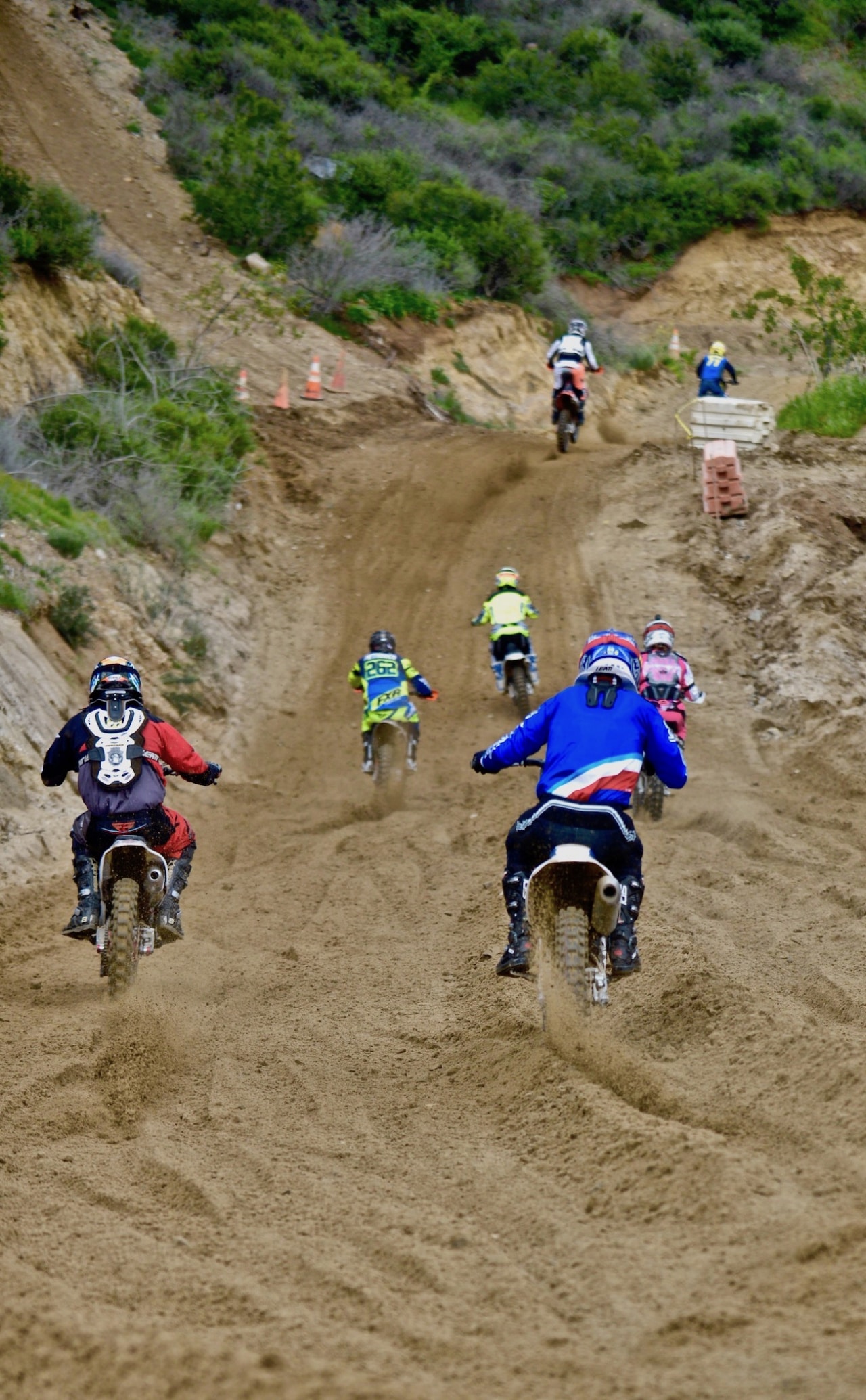 The rains have washed lots of sand on to REM's back straight. The long camera lens has foreshortened the straight. It is almost 100 yards long. Photo: Jody Weisel
Erik Danoski (124) went 1-2 to lose the 450 Novice class to Gabriel Havtan's 2-1. Photo: Dan Alamangos
Ernie Becker (27) leads Jonny Benskin (77). Becker finished fourth in the Over-50 Intermediates, while Benskin was eighth. Photo: Dan Alamangos
Ron Shuler was third in the Over-50 Elite class. Photo: Mark Chilson
REM races again on March 16 at Glen Helen and March 23 at Cahuilla Creek. For more info about REM motocross go to www.remsatmx.com.
NEXT REM RACE AT GLEN HELEN ON SATURDAY, MARCH 16