REM GLEN HELEN MOTOCROSS: THIS ISN'T THE DESERT, BUT YOU CAN SEE IT FROM HERE
TM USA ridera Ralf Schmidt (73) and David Cincotta brought out their pink 2018 TM MX300 two-stroke and their 1995 TM250 (that left the factory in OEM pink plastic). You can read more about these two bikes by clicking here. Photo: Ernie Becker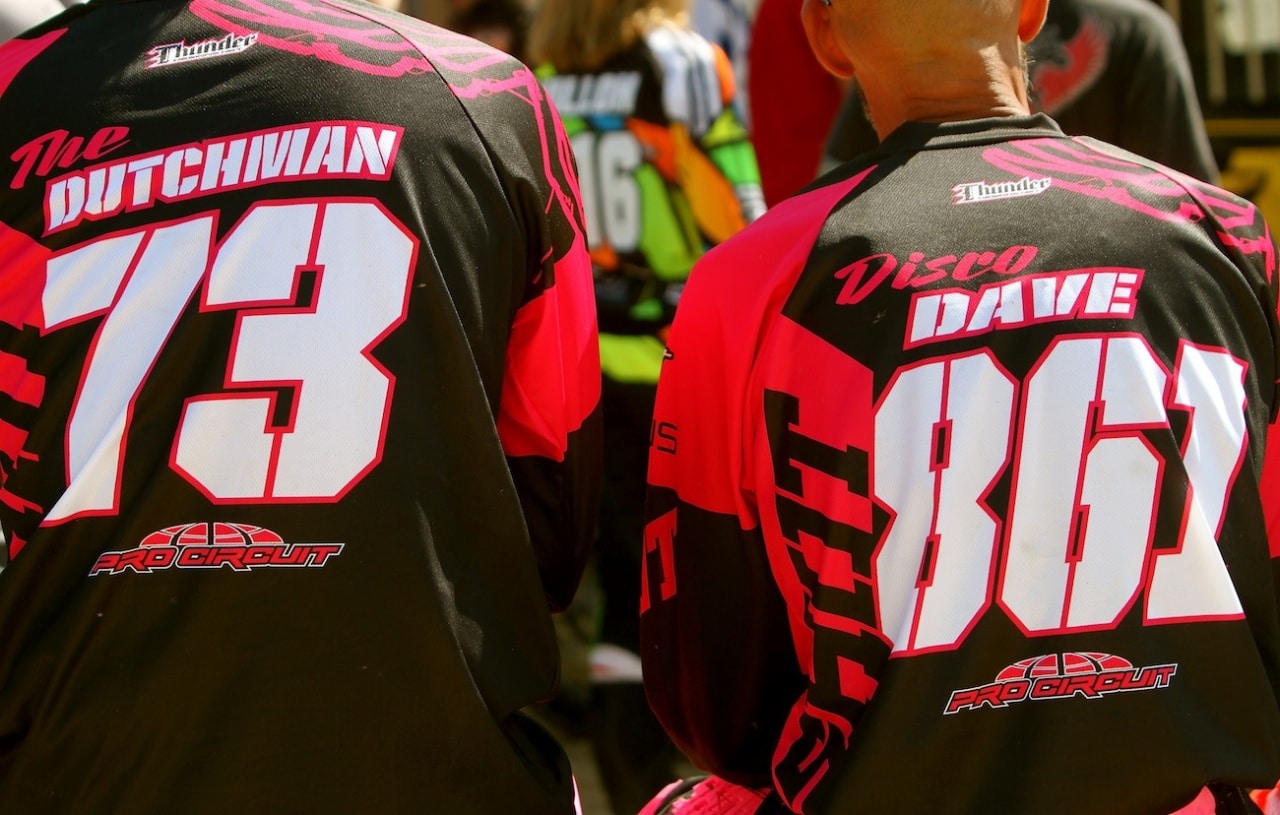 The Dutchman and Disco Dave in their special Shot Racegear. Photo: Ernie Becker
Photos by Ernie Becker, Jon Ortner & Rich Stuelke

(Click on images to enlarge)
Glen Helen is not in the Calfornia desert. In fact, it is tucked into the base of the intersection of two 10,000 foot mountain ranges. There is a mountain pass, called the Cajon Pass, that allows traffic to use Interstate 15 to get to the true-to-life California desert (and is the main freeway to Las Vegas). However, the fact that Glen Helen is located up against the mountains and no where near the desert doesn't help when it is 100-degrees in SoCal.
Joe Melton (33), Bill Reimer (71), Robert Pocius (153) and Mike Phillips (433) come through the Roller Coaster section in the Over-50 Intermediate class. Melton went 1-1. Photo: Ernie Becker
REM motocross racers don't mind hot temperatures. They are used to them, because even in the dead of winter, Glen Hlen is warm…or warm and windy…and occasionally, just windy. Such is the lot in life for a track located at the bottom a mountain pass. A couple weeks ago it was 117 degrees at Glen Helen, so when it's only 100 -degrees it feels cool—except for one major thing. SoCal residents are not familiar with humidity. There are days in Los Angeles when the humidity is 5%, most days its 30%, but if's never even remotely like Florida, Texas for Ohio. However,  over the past couple weeks the humidity in SoCal has climbed to up to muggy levels. At Glen Helen on Saturday, the humidity was 64%. Yes, we know that is a far cry from the 95% humidity of the Banana Belt, but if you aren't used to 65% you will find it stifling.
Robbie Carpenter flashes by the pits as he starts the first of a series of uphill climbs. Photo: Ernie Becker
But with awnings and a cool breeze occasionally wafting off the ocean (which is 40 miles away) it is a terrible. It is, after all, summer in California. At least the racers weren't in Palm Spring (which is 40 miles away in the opposite direction) where the temperatures were close to 120 degrees (although the humidity was much less). So, with all the kids gone to Loretta Lynn and most of the Pros in Washougal, the REM motocross racers had a pleasant day in which the biggest complaint was that the ice cream truck ran out of Drumsticks.

Every Saturday REM awards prizes at the riders meeting. Luc Deley won a set of FXR gear when his name was drawn. Photo: Ernie Becker
Fred Nichols (56) chases D.R. Clements (82) down Mt. Whitney. Nichols may be behind Clements at this point, but Nichols is crossing over to the better, but harder to get to, inside line for the turn up the next hill, while Clements is looking for traction. Nichols finished 7th and Clements 8th in the Over-50 Expert class. Photo: Ernie Becker
Steve Donovan (68) holehot the Over-60 Intermediates on his 2007 Honda CRF450. His CRF450 may be over a decade old, but it was the best CRF450 ever made—Steve went 1-1. Photo: Ernie Becker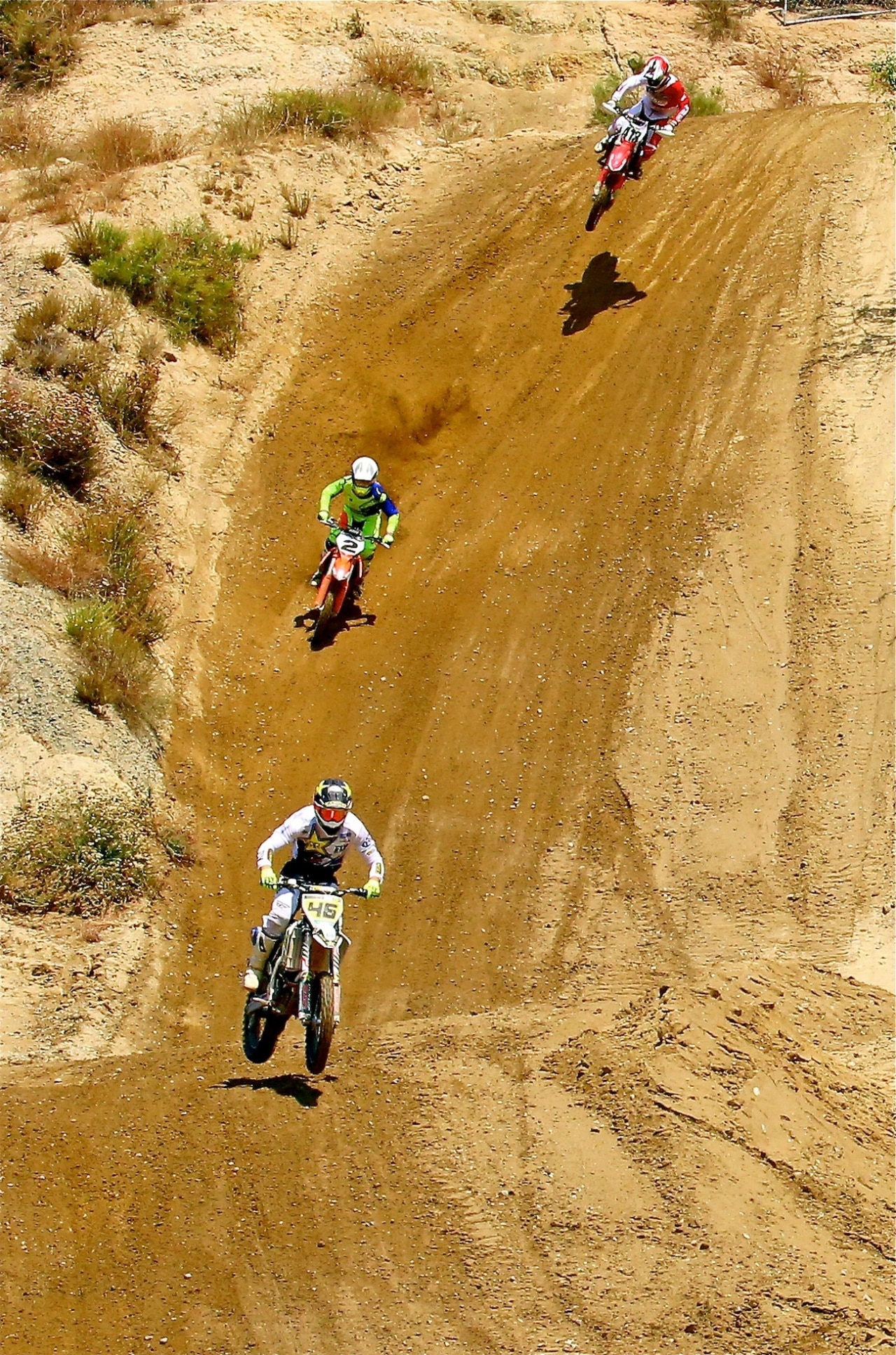 Dalton Shirey, Kurt Nicoll and Shaun Hillion rocket down a hill. Photo: Rich Stuelke
Tony Parson's gear is a cacophony of colors and stripes. Photo: Ernie Becker
Bryan Friday elected to wear black on a 100-degree day, but went fast enough to take advantage of his 450cc air conditioner. Photo: Ernie Becker
This is a photo Dave Eropkin without Val Tamietti in the frame. Well, actually Val is there but we cropped him out on the right. That's Tracy Hrach (14) giving chase to Dave and Val. Tametti went 1-1, Eropkin 2-2 and Hrach 3-3 Photo: Ernie Becker
The big battle this week in the Over-50 Elite class came down to the same two riders who have been battling each other for the last couple years—Luther French and Jon Ortner. They are the two fastest half-century riders who are at REM on every weekend. It is true that they can be beat if Kurt Nicoll, Doug Dubach, Ed Foedish, Pete Murray or Andy Jefferson show up, but they aren't beat by much. And for the week after week wars, they are a joy to watch.
Angela Castro gets the checkered flag on REM's stand-alone Kid's track. It is designed fot fun racing on 50cc, 65cc and miscellaneous small displacement play bikes. No pressure, no big jumps and no Loretta Lynn-crazed parents. If your kid just wants to try racing, this is the place to bring him or her. Photo: Ernie Becker

Last week Dominic Desimone dueled for the win the 450 Pro class. This week he showed up on a 10-year old Honda CR250 two-stroke and had fun—he still finished 3rd in the 450 Pro class. Photo: Jon Ortner
OVER-40 EXPERT
1. Ralf Schmidt (TM)…1-1
2. David Cincotta (TM)…2-2
3. Jason Miller (Yam)…3-3
OVER-40 INTERMEDIATE
1. Brian Bolding (KTM)…2-1
2. Louie Romo (Yam)…2-2
3. Fred Nichols (KTM)…3-5
The stadium section of the REM track is lined with knolls and small hils that keep the riders in sight most of the time—until they go over the hills. Photo: Rich Stuelke
OVER-40 NOVICE
1. David McCarthy (Yam)…2-1
2. Pete Vetrano (Hus)…1-2
3. Joe Pena (Yam)…3-3
Off-road racer Dalton Shirey has been working on his motocross speed as of late and it's working out as he won the 450 Pro class for the second week in a row. Photo: Jon Ortner
450 PRO
1. Dalton Shirey (Hus)…1-1
2. Gaun Hillion (Hon)…2-2
3. Dominic Desimone (Hon),,,3-3
Brit Kurt Nicoll won the Vet Pro class, but could have easily finished second overall in the 450 Pro class. At 53 years old, the former Grand Prix racer is getting in the shape for September's Vet MXDN Nations vintage race at Farleigh Castle. He looks ready—as he looks back to see if anyone is chasing him. Photo: Jon Ortner
VET NOVICE
1. David McCarthy (KTM)…1-1
2. Corby Reutgen (Hon)…2-2
3. Gary Stoltenbergr (Yam)…3-3
VET BEGINNER
1. Todd Potkey (KTM)…1-1
2. Damon Der Avanessian (Hon)…2-2
2. Jordan Der Avanessian (Hon)…3-3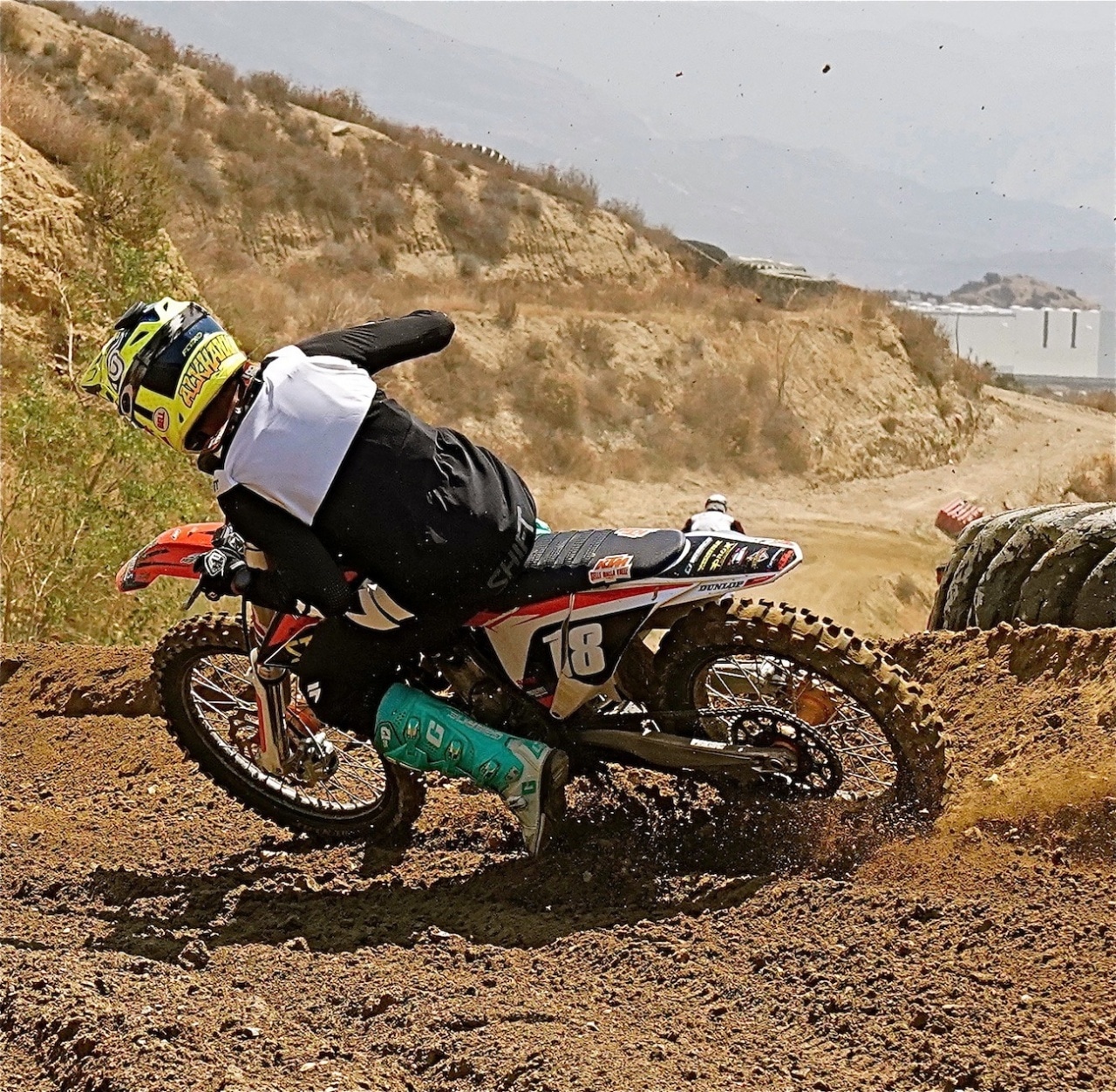 Kuwaitti Adulahtif Al-Kahanna is one of the fastest racers in the Middle East, but at REM he is a 250 Novice. Photo: Jon Ortner
Over-40 Intermediate Brian Bolding (33) tried to brake slide at the top of this steeply banked 180-degree bowl turn. Unfortunately, he over-rotated and came straight down into traffic (going the wrong way). Over-40 Expert Jason Miller only had a split second to react before Bolding knocked him down. Photo: Jon Ortner
OVER-50 EXPERT
1. Robert Reisinger (Hus)…1-1
2. Pasha Afshar (KTM)…2-2
3. Doug Frankos (Hon)…3-3
OVER-50 INTERMEDIATE
1. Joe Melton (Yam)…1-1
2. Luc De Ley (KTM)…2-2
3. Paul Fitz-Gibbon (KTM)…3-3
OVER-50 NOVICE
1. Jack Phinn (KTM)…1-1
2. Corby Reutgen (Hon)…2-2
3. Gary Stoltenberg (Yam)…3-3
This is N2Dirt's Brian Bolding going the correct direction. Photo: Jon Ortner
OVER-60 INTERMEDIATE
1. Steve Donovan (Hon)…1-1
2. Tom Holmes (KTM)…3-2
3. Phil Cruz (Hus)…2-5
OVER-65 INTERMEDIATES
1. Bill Seifert (Hus)…1-1
2. Tony Parsons (KTM)…2-2
3. Jody Weisel (Hus/KTM)…4-3
Tony Amaradio demonstrates what Brian Bolding wanted to do in the bowl turn. Photo; Jon Ortner
The brand breakdown this week at REM Motocross was the strangest ever. What made it strange? There were absolutely no Suzuki's or Kawasaki's entered in the big bike classes—although over at the Kid's track (for 50s and 65s) Kawasakis were the most popular brand along with KTM.
BIKES BY BRAND AT REM 8-28-2018
1. KTM…33 %
2. YAMAHA 28%
3. HONDA…20%
4. HUSQVARNA…17%
5. TM…2%
Jon Ortner (10) holeshot the first Over-50 Elite moto in front of Robert Reisinger (86) and Luther French (2). Ortner's lead was short-lived as his clutch hub nut came loose before the first lap was over. Photo: Rich Stuelke
RIDERS BY AGE AT REM 8-28-2018
Under 30 years old…18%
Over 30 years old (30-70)…82%
Over 40 years old (40-70)…68%
Over 50 years old (50-70)…53%
Over 60 years old (60-70)…22%
Robert Reisinger's FC350 Husqvarna leads Luther French (2), Pasha Afshar (0), Doug Frankos (71) and Bryan Friday early in the Over-50 Elite/Expert race. Photo: Rich Stuelke
RIDERS BY AGE AND CLASS AT  REM 8-28-2018
In the Over-30 classes…13%
In the Over-40 classes…16%
In the Over-50 classes…28%
In the Over-60 classes…22%
Jody Weisel's 4-3 was good enough for third overall in the Over-65 Intermediate class, but he has struggled since breaking his left arm in two places and getting it plated. He has more surgery scheduled in August. Photo: Ernie Becker
REMAINING 2018 REM MOTOCROSS RACES
Aug. 11…Summer Series #3
Aug. 25…Summer Series #4
Sept. 1…Summer Series #5
Sept. 29…Glen Helen, CA
Oct. 6…Glen Helen, CA
Oct. 20…Glen Helen, CA
Oct. 27…Octobercross (National track)
Nov. 17…Glen Helen, CA
Dec. 1…Glen Helen, CA
Dec. 15…Glen Helen, CA
Dec. 22…Glen Helen, CA
Dec. 29…Glen Helen, CA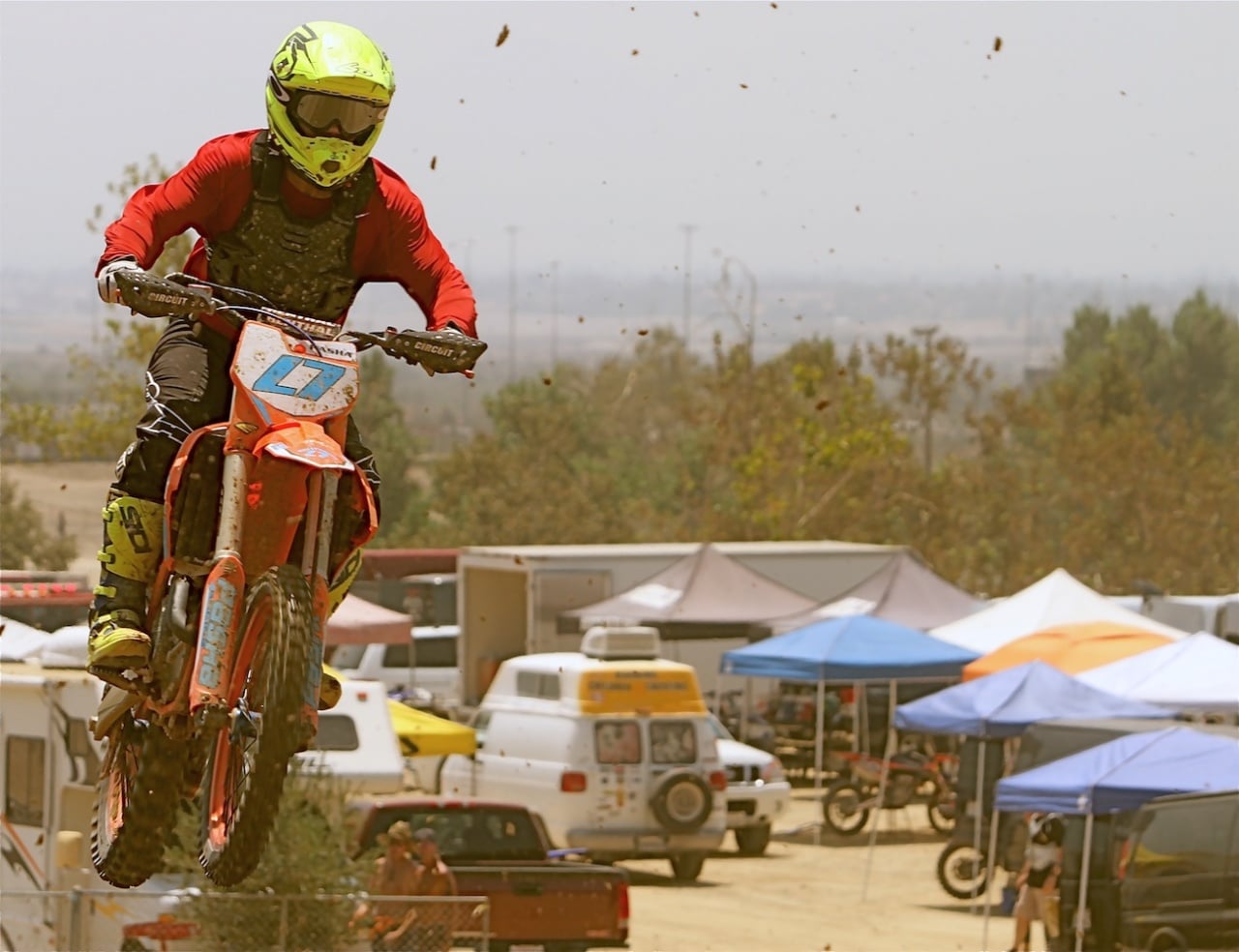 This is not a photo of Pasha Afshar, instead it is a photo of the ice cream truck cruising through the pits. Pasha wanted a 50/50 bar. Photo: Ernie Becker
Hollywood stuntman Mark Donaldson (26) and Marc Crosby (33) finished 6th and 7th in the Over-50 Expert class. Marc beat Mark. Photo: Ernie Becker
REM races again at Glen Helen on August 118. For more info on REM Motocross go to their facebook page or web page at www.remsatmx.com