REM GLEN HELEN MOTOCROSS: AECK, DIETRICH, O'NEAL, TAYLOR & VOHLAND SHINE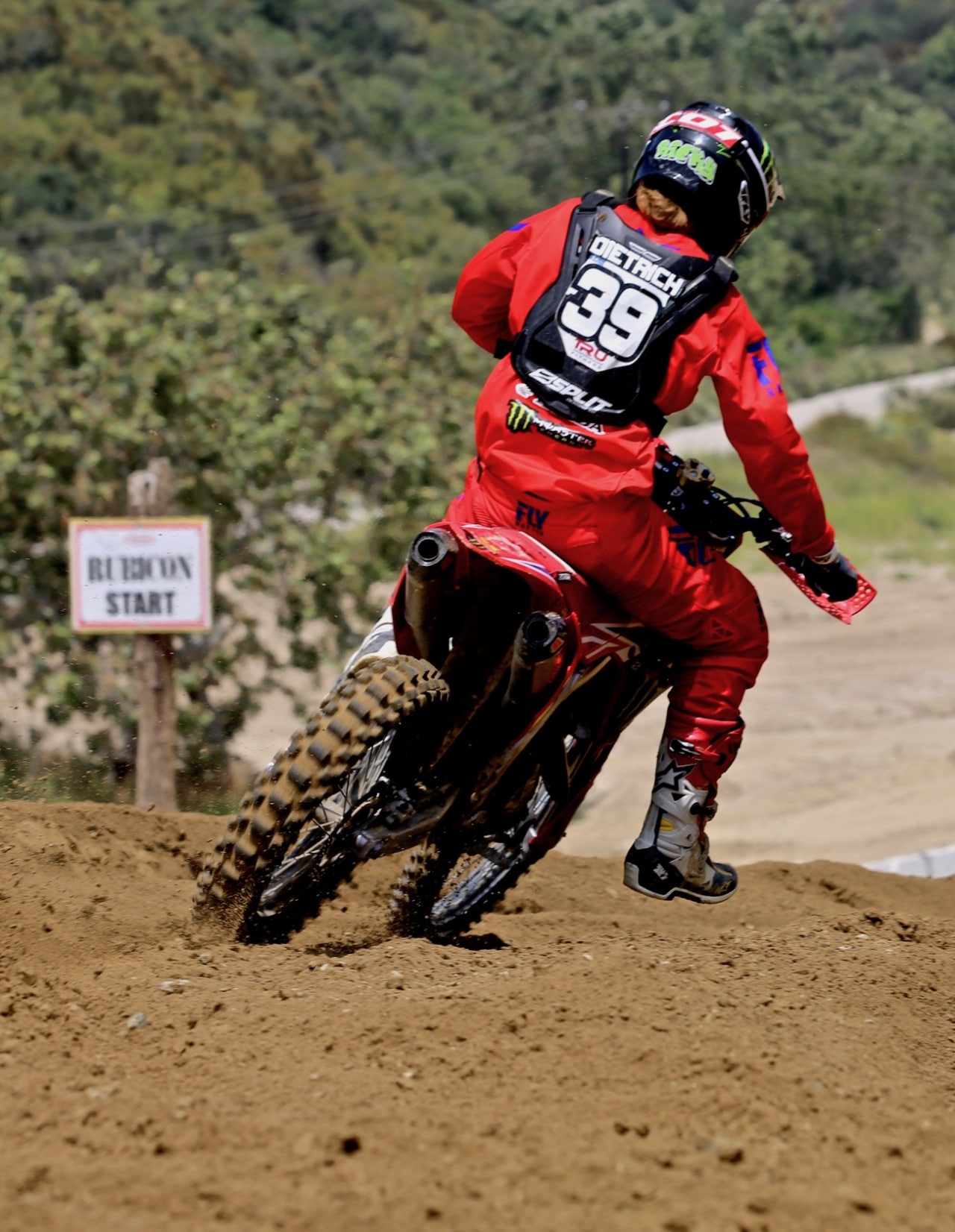 Off-road star Ricky Dietrich (39) won the first moto of the 450 Pro class, but his second moto 4th left him in third overall. Photo: Jody Weisel
Last week the REM motocross racers could not race at Glen Helen because the Last Dog Standing off -road race was using the whole park. This weekend there was a Scott Burnworth-promoted vintage race on the National track, REM on the upper track and Sunday's 10-hour of Glen Helen endurance racers setting up their pits for the early morning start.
Dennis Stapleton cue balls off the outside wall on this very steep downhill. Stapo is trying to get to the opposite side of the track to set up for the right-hand downhill turn at the bottom. Photo: Jody Weisel
Motocross racers can't get used to SoCal's weird 2019 weather. Early last week the temps were around a 100-degrees at Glen Helen, but by the time the REM Motocross was held this weekend the temps had dropped into the high 70s. One thing that a Glen Helen racer has learned over the years is that once it gets hot it stays hot — and because of that it is easy to adapt to the boiling temperatures, because, surprisingly, a 95-degree day feels really cool after a week of 100-degree days. However, in 2019 the Glen Helen weather has cycled through hot days, cold days and rainy days. No one's complaining about the cool weather, it's just hard to figure out what to wear. This has been the coldest start to a SoCal year since 1962.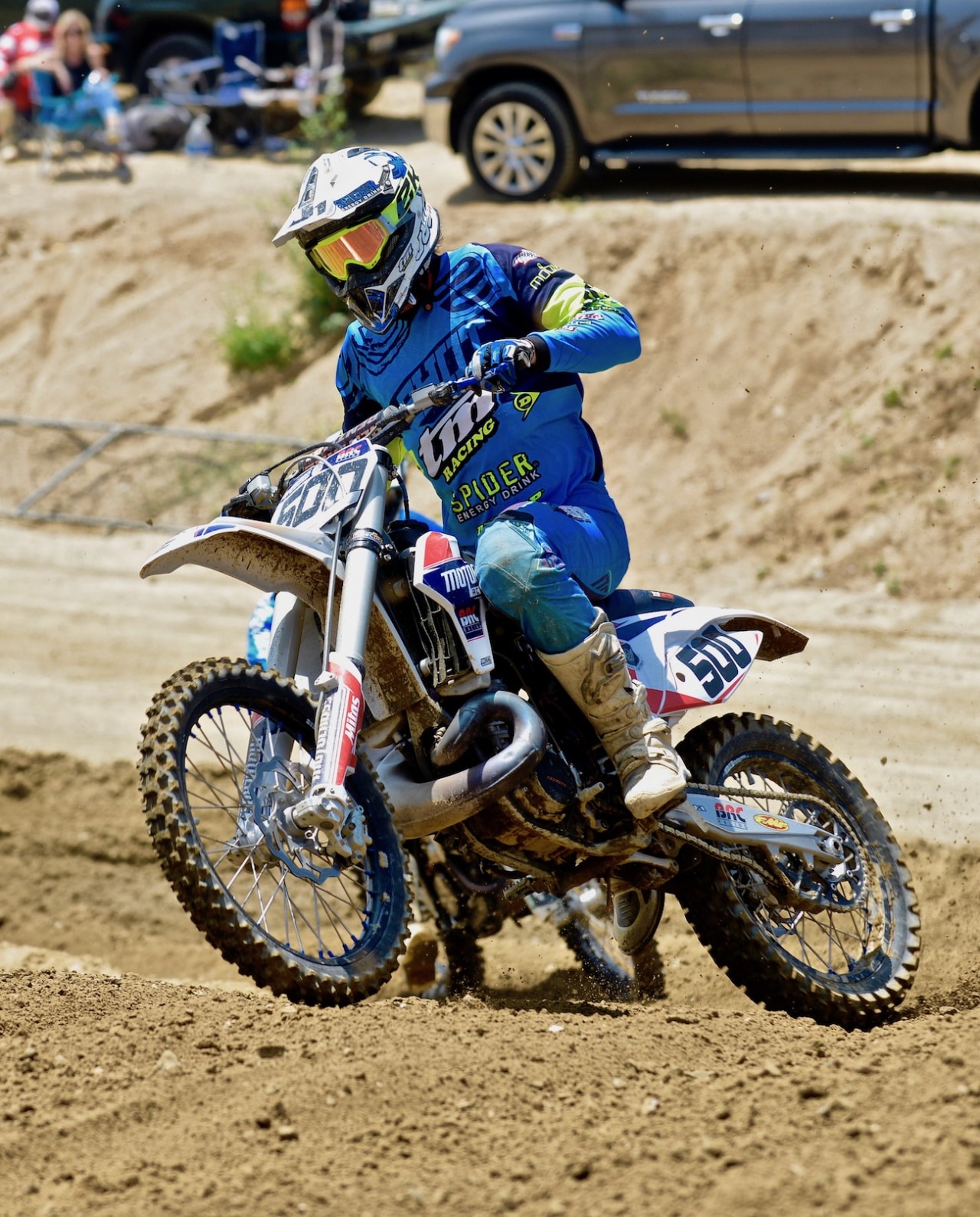 Dutch rider Ralf Schmidt was drafted to help the MXA test riders learn more about the BRC 500cc engine (which fits in a KTM 250SX frame). The complete engine is made in Canada as a drop-in way to get a KTM 500SX. Photo: Dan Alamangos
The racing this week was especially intense in the 450 Pro class between Colton Aeck, Ricky Dietrich and Richard Taylor. The Over-50 Experts were a dog fight between Mike Monaghan (2-1), Nick Waters (3-2), Scott Lindley (1-4) and Joe Sutter (5-3). Monaghan took the win in the Over-50 Experts class and then came back to go 2-2 in the Over-60 Experts behind Dave Eropkin's 1-1, but ahead of Randy Skinner's 3-3 and Joe Pena's 4-5. In the Over-50 Elite class, there was no doubt that Eddie Davis (1-1) was the winner, but behind him the results were in doubt as Craig Davis got second with a 4-2, Kevin Barda third with a 3-3 and Jon Ortner fourth with a 2-4. Max Vohland raced his KTM Supermini in the 125 Intermediate class, but he had no problems with the other Intermediates and some of the Pros.
Here is a close-up look at MXA's BRC 500. BRC casts the cylinder, head cylinder and center cases and sells the engine as a kit. Photo: Daryl Ecklund

The best family at REM came from Simi Valley. Ryan Circocco was second in the 450 Intermediate class, Garrett Circocco was third in the 450 Intermediates, Nick Circocco was third in the Over-50 Novice class and Joey Circocco won the Over-40 Intermediate class. The Dentons—Andrew, first in the 450 Intermediate, and Bradley, fifth  in the 450 Pros, were a very solid brother act.
Joey Cirocco (154) used this holeshot to go 1-1 in the Over-40 Intermediate class. Steve Edwards' (401) second place overall helped produce the first one-two Suzuki sweep in recent memory. Photo: Jody Weisel
Photo one: Nick Cirocco (257) has a little trouble getting his front wheel into the inside groove, but when Craig Harvey (101) decides to change lines at the last second, He and Jason Aeck (51) collide. Photo: Rich Stuelke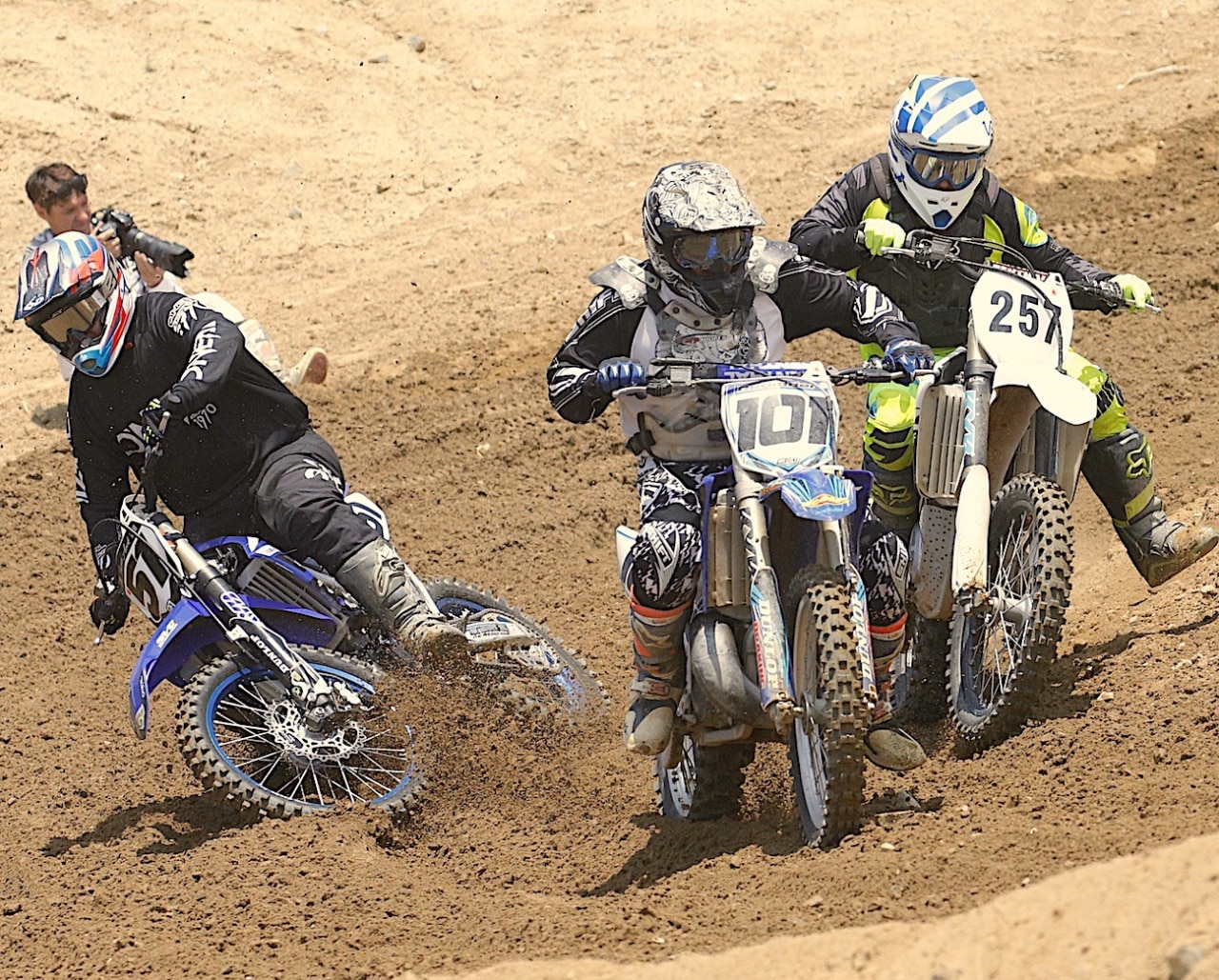 Photo two: As Jason Aeck (51) starts to high side, Harvey (101) decides that perhaps he should keep moving over. In the end, Nick Cirocco ended up third in the Over-50 Novice class, while Craig Harvey was fourth in the Over-40 Novices and Jason Aeck was 7th in the 50 Novices. Photo: Rich Stuelke
For the next three weekends, June 22, June 29 and July 6, REM is off—which will allow a few racers who are riding injured to heal up before the second half of the REM race season ( which doesn't end until the Saturday before Christmas).
Richard Taylor (44) went 2-2 to tie Colton Aeck at 4 points, but Aeck's 3-1 got the win in the 450 Pro class. Photo: Jody Weisel
Giovanni Spinali's 3-4 wasn't good enough against Alan Jullien, Mike Carter and Ralf Schmidt in the Over-40 Expert class. Photo: Jody Weisel
If you are not going up at REM, you are going down. Photo: Jody Weisel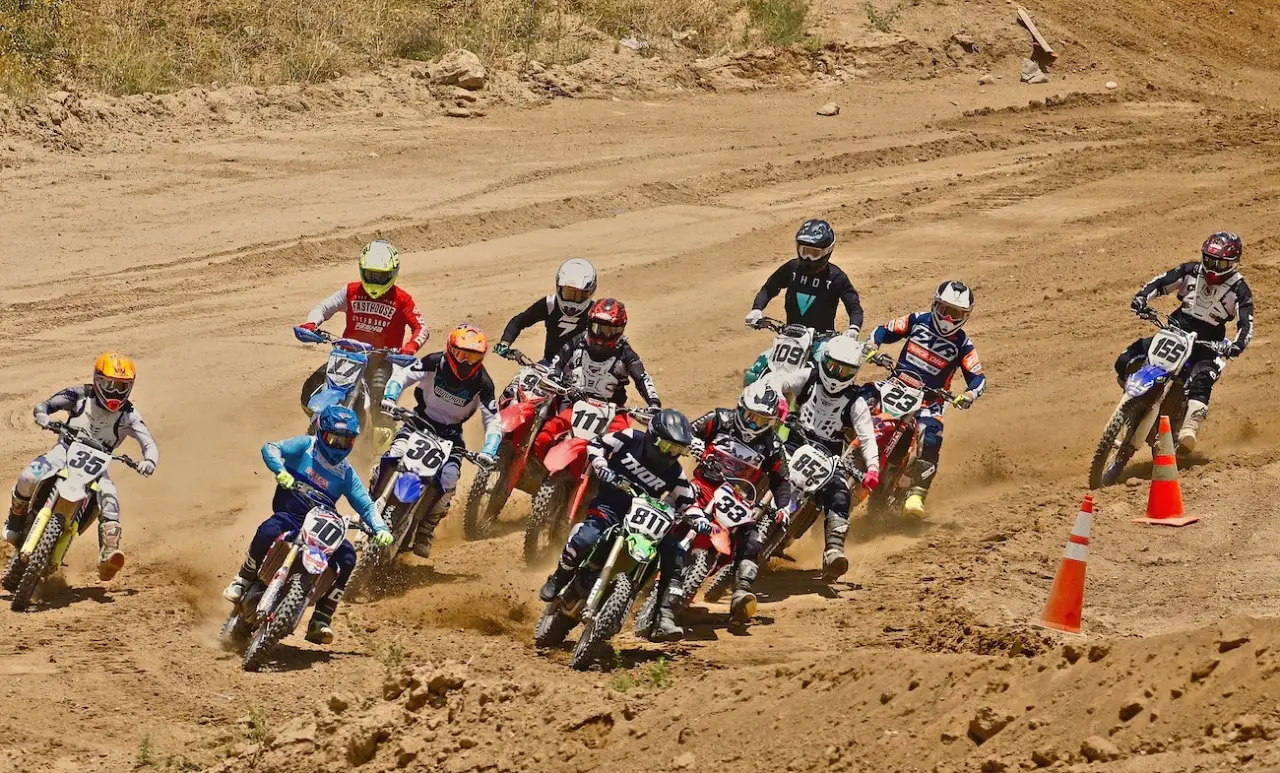 These are the stars of the fast Over-50 class. They are from left to right —Dan Alamangos (35), Jon Ortner (10), Pasha Afshar (L7), Mike Monaghan (36), Joe Sutter (111), Craig Davis (811), Ron Shuler (33), Kevin Barda (852), Phil Dowell (23) and the eventual winner Eddie Davis (155). Photo: Rich Stuelke

MXA's Randel Fout (45) was busy testing WP XACT Pro Cone Valve suspension on a 2019 KX450 and doing laps on the BRC 500. Photo: Jody Weisel
Aryton Ward, son of Jeff Ward, lets it all hang out in the 250 Pro class. Aryton was second overall with a 4-2. Photo: Jody Weisel
Famous moto-photographer Ketchup Cox showed up at Glen Helen for the vintage race, but came up to the REM pits to visit with his old MXA buddies. Photo: Kyoshi Becker

Former Grand Prix race Rob Andrews (left) was in SoCal on vacation, but wanted to come to Glen Helen to see Kurt Nicoll (at the vintage race on the National track) and the MXA guys (on the REM track) before heading home. Here, Rob chats with Pasha Afshar and Mark Donaldson—both Hollywood stuntmen. Photo: Ernie Becker

MXA test rider Willy Musgrave has given up motocross to focus on his MRC kart company and the blossoming racing career of son Billy Musgrave—who also was an MXA test rider, but is now a three-time National Karting champion. Photo: Kyoshi Becker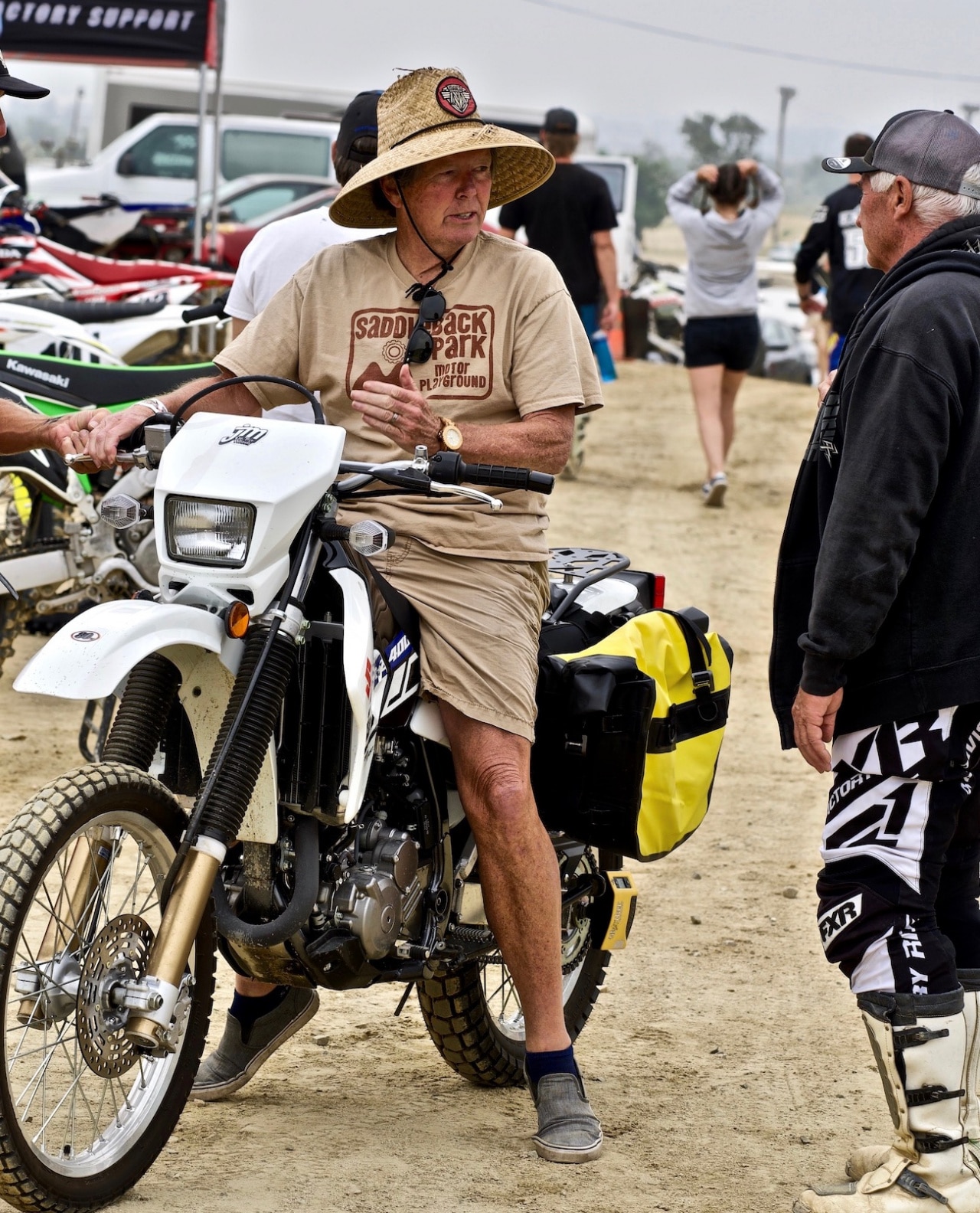 Jimmy Mac of "Jody's Box" fame brought his Suzuki DR400 adventure bike to REM so that Jody (right) could help him set up the suspension before embarking on an all-dirt-road journey through Oregon, Washington and Canada. Photo: Jon Ortner

The Hollywood stunt coordinator and the airline pilot. Mic Rodgers (115) won the  Over-65 Expert class, while pilot Joe Melton (14) is still working on his fitness for the Vet MXDN at Farleigh Castle. Photo: Kyoshi Becker

These three riders, Kevin Barda (852), Jon Ortner (10) and Eddie Davis (155), raced this close in the Over-50 Elite class. Davis went 1-1. Robert Pocius (153) was third in the over-50 Intermediates and was happy to only get lapped once. Photo: Ernie Becker
Fresno's Brandon Oakes (X706) and Apple Valley's Ryan Lewis (X767) are obviously off-road racers who decided to get in a little moto practice before Sunday's Ten Hours of Glen Helen endurance race. Photo: Ernie Becker
This is the top three in the Vet Novice class—except in reverse order. David O'Connor (30) leads Daniel D'Agostino (38)  and Chris Ayers (86). D'Agostino came to race the SoCal Vintage Classic, but his 1997 Suzuki RM400 broke, so he borrowed a modern bike and went 2-2 in the Vet Novices. Chris Ayers (86) may be trailing here, but he would go 1-1 for the win. Photo: Kyoshi Becker

Sand and Pee-Wees are a combustible mixture. Photo: Rich Stuelke
South African Alan Jullien (70) just switched to Honda, but says it was "a match made in heaven." Alan won the Over-40 Expert class. Photo: Kyoshi Becker

This week's "Greg Groom Creative Line Award" goes to Richard Taylor, who used the berm off the track to pass John Roggero (22). Unfortunately for Richard, REM promoter Frank Thomason was 50 feet away when Richard used a line that was off the track . Photo: Dan Alamangos
The next time Richard Taylor came around, REM promoter Frank Thomason had blocked the cheater line with orange cones, but he could have penalized Richard one lap and didn't. The "Greg Groom Award" is named after infamous REM racer Greg Groom who never saw a track he couldn't cut. Photo: Dan Alamangos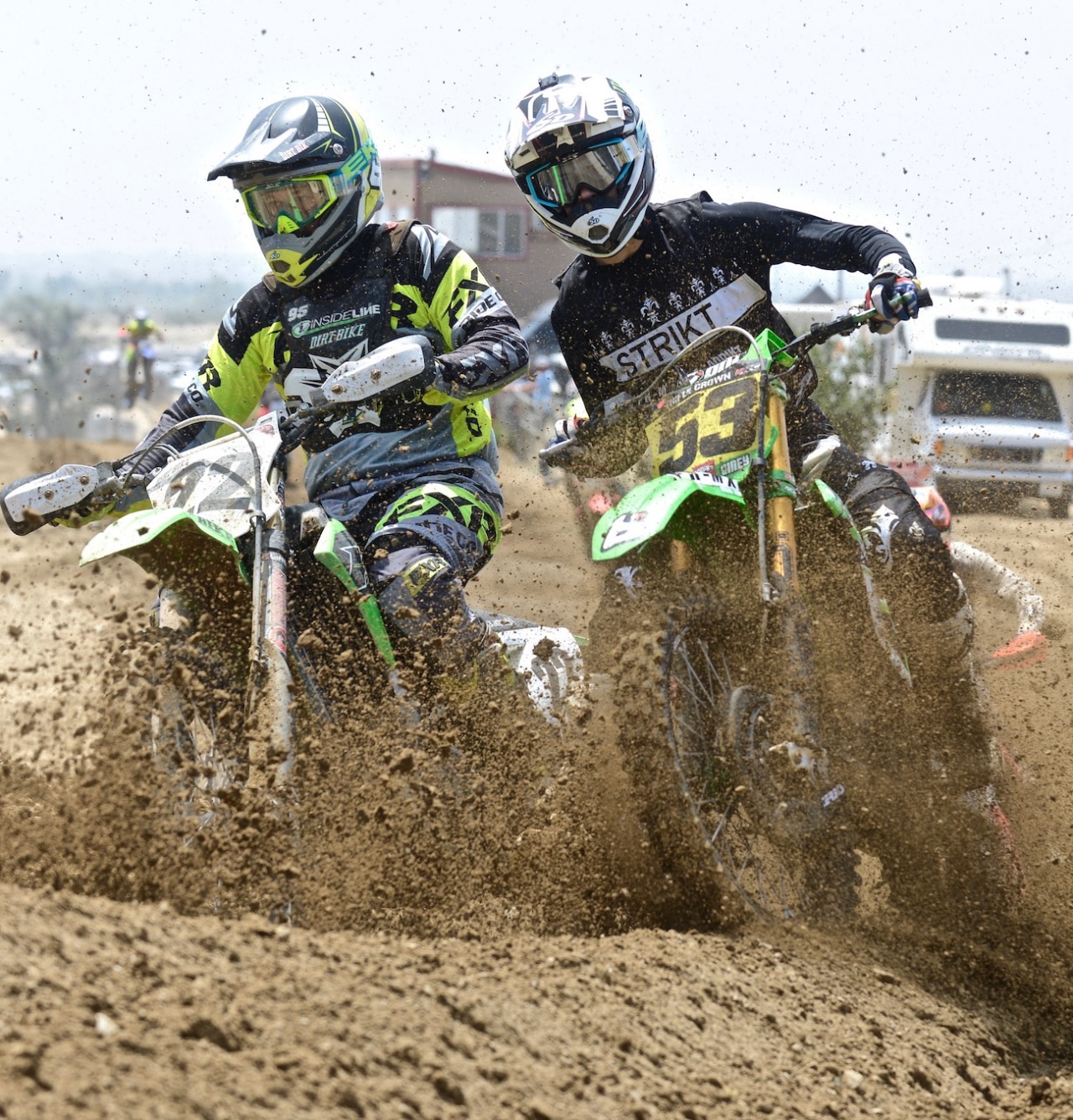 Mark Tilley (22) and Bjorn Viney (53) give each other just enough room to survive. Viney would go on the win the 250 Pro class over Aryton Ward. Photo: Dan Alamangos
Tristian Higgins (411) was the bravest man at REM when he elected to race on the rocky track without gloves. Photo: Dan Alamangos
This is the 2019 Irish Motocross des Nations team. Well, at least the REM Edition. KTM's David O'Connor and fellow countryman James Farrell had a fun day at Glen Helen. Photo: Dan Alamangos
Ireland's James Farrell (194) brakes his TM MX300 hard at the end of the front straight. Photo: Jody Weisel

Now this is a motocross photo that any arborist would appreciate. Ricky Dietrich does a little bird watching. Photo: Dan Alamangos 
Steve Chandler (306) took the Over-60 Intermediate win with a 1-1 on a TM two-stroke. Photo: Mark Donaldson

Former Los Angeles Police Chief Charlie Beck is a gonna be tempted to give Over-60 Expert Mike Mongahan (36) a speeding ticket, but they started on different gates and Monaghan, the second place Elite rider, is lapping Beck, the second place Over-65 Intermediate. Photo: Mark Donaldson
Braden O'Neal went 4-3 in the 450 Pro class. Mark Donalson laid down to get a good photo and Braden laid it down to get around the inside line Photo: Jon Ortner
The dirt at the bottom of the downhill was really good—depending on whether your were roosting it or eating it. Photo: Jon Ortner
Brian Medeiros was second in the first 250 Pro moto, but lost his front brake in the second moto and had to pick his way to 4th in moto two. Racing without a front brake on the hilly Glen Helen circuit is incredibly difficult. Photo: Jon Ortner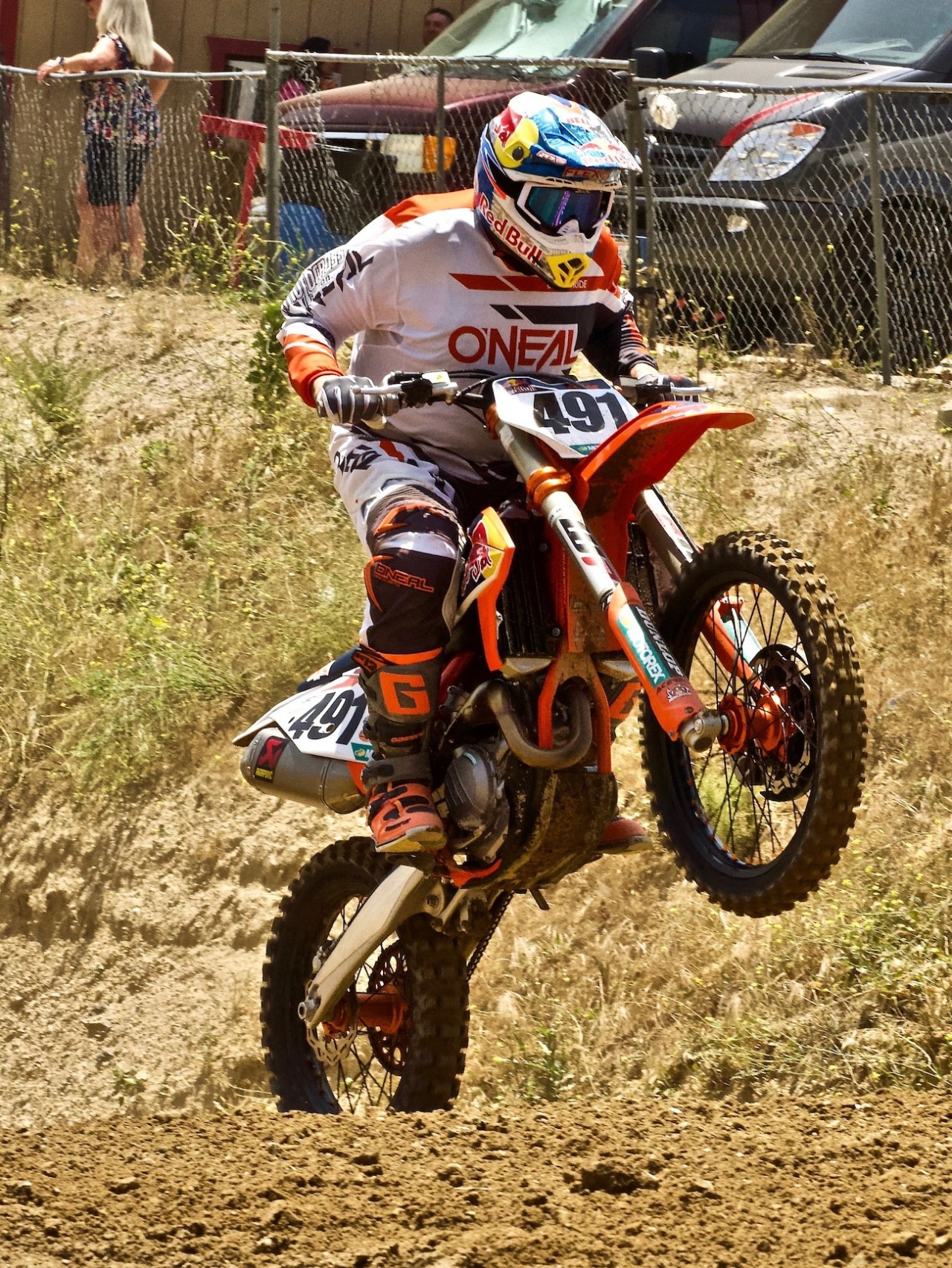 Kent Reed went 3-3 in the Over-60 Intermediate class. Photo: Jon Ortner
REMAINING 2019 REM RACE SCHEDULE
July 13…Glen Helen
July 20…Glen Helen
Aug. 10…Glen Helen
Aug. 17…Glen Helen
Sept. 21…Glen Helen
Oct. 4…Glen Helen
Oct. 19…Glen Helen
Oct. 26…Glen Helen
Nov. 16…Glen Helen
Nov. 23…Glen Helen
Dec. 14…Glen Helen
Dec. 21…Glen Helen
REM will take three weekends off and return to Glen Helen on July 13 and July 20. For more info about REM motocross go to www.remsatmx.com or their Facebook page by Clicking Here.