REM GLEN HELEN RACE REPORT: THE FLING, THE THING & THE RING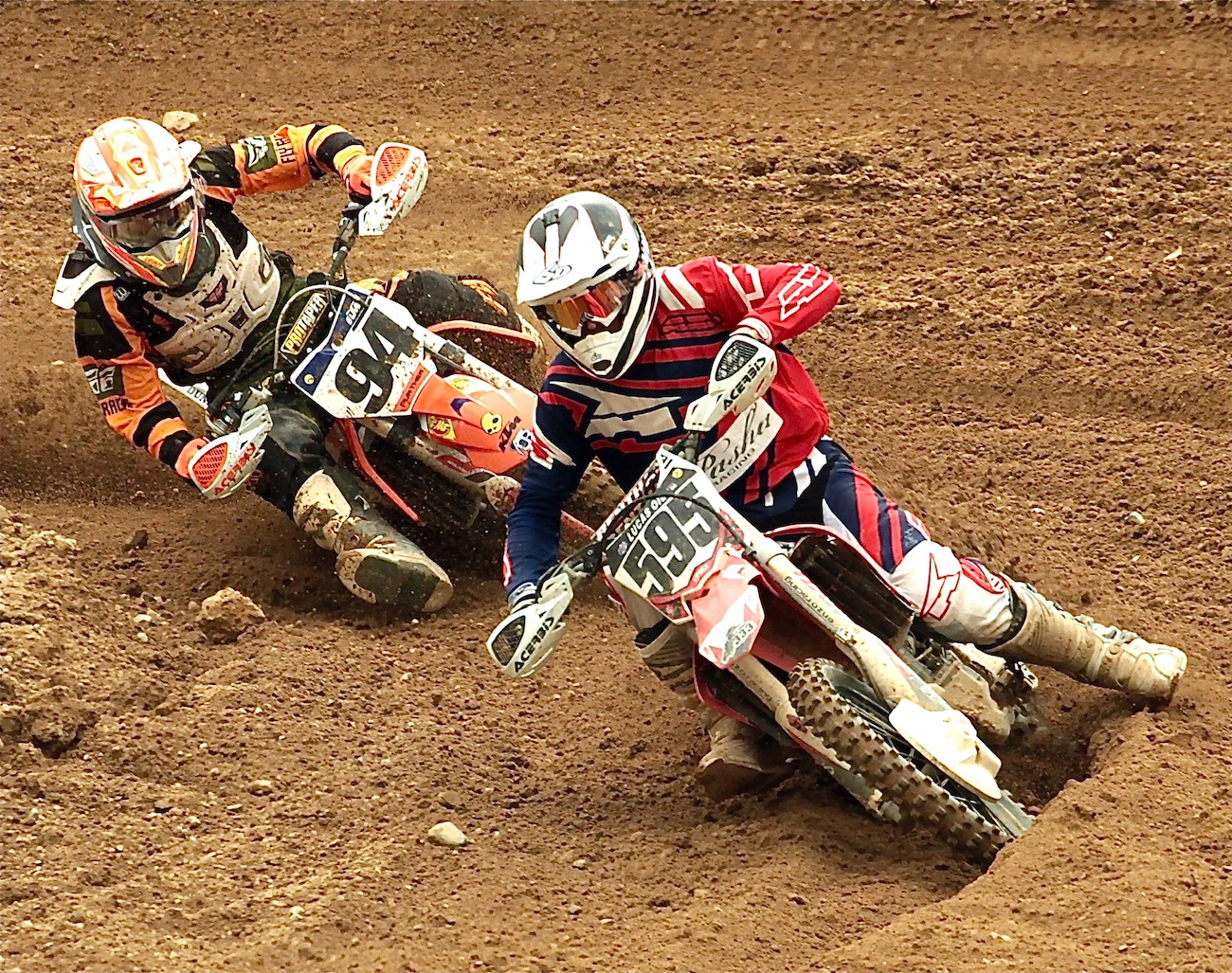 Luke Purther (94) and Dominic Desimone (595) were never more than this far apart during both 450 Pro motos. Photo: Debbi Tamietti
REM seems to have the magic touch when it comes to the foiling the best laid plans of SoCal's weather community. Since the beginning of the 2016 season, REM has ignored "Waether Watch 2016" warnings and held their races anyway—even as other promoters canceled because of bad weather—REM never wavered. You would think that at least once the weatherman would have been right, but in Southern California's unique weather climate the weather men are never right—and least not when it comes to Glen Helen.
This week the TV weathermen in the plaid suits and weatherwomen in extremely tight clothes predicted rain all day Friday and Saturday. And, while it may have rained in many towns in California, it didn't rain at Glen Helen. Not a drop! In fact, the sun came out. Here is the action, as captured by Debbi Tamietti with help from Jon Ortner.
You probably thought that we were kidding. These two racers put up an epic two moto duel with Purther finally getting the win. Photo: Debbi Tamietti
MXA's Dennis Stapleton flew in from Denmark on Friday and showed up at REM on Saturday to test modified KTM AER air forks. Photo: Debbi Tamietti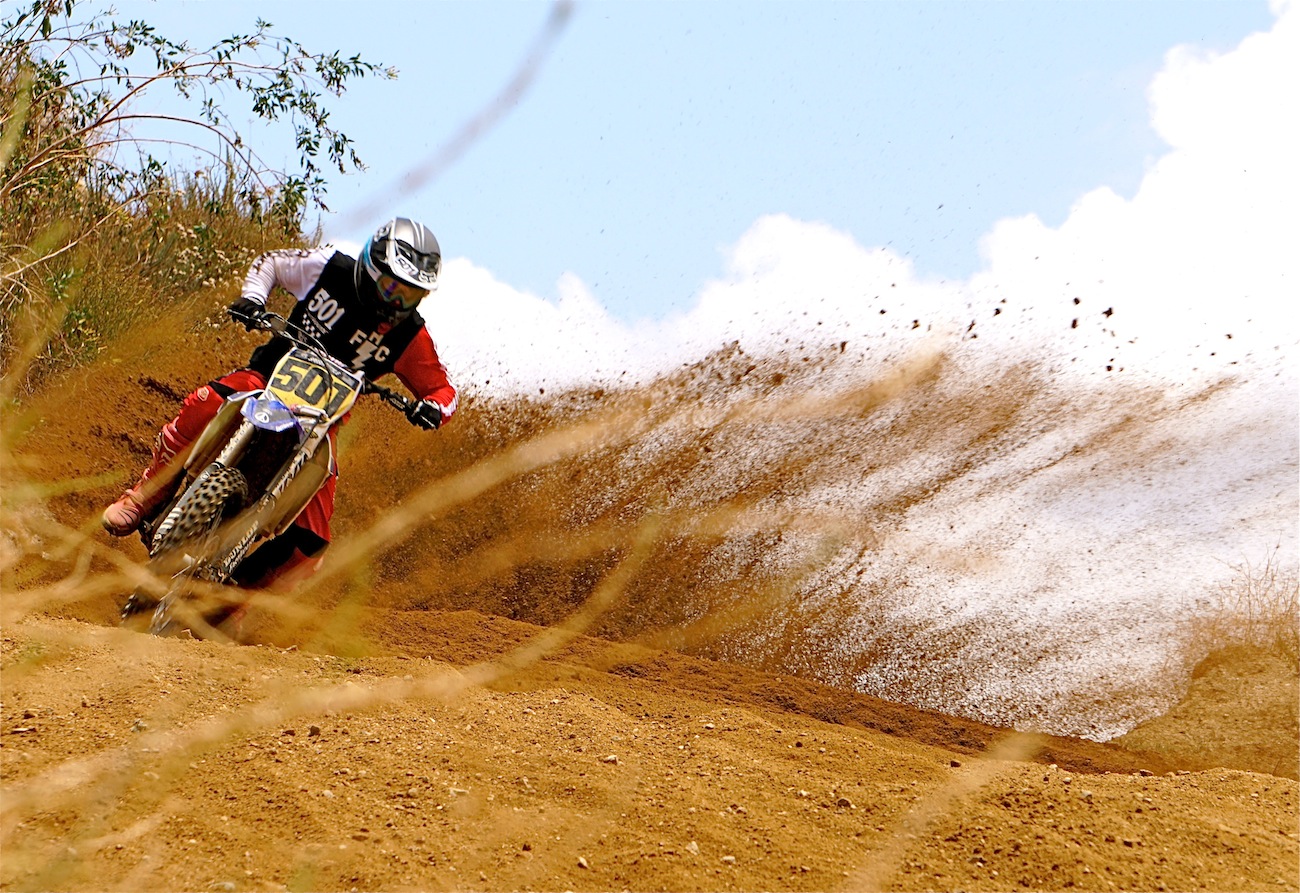 You have to click on this image to see how cool it really is. Billy Mercier (501) won the Over-40 Pro class and then headed to Las Vegas to get married. Photo: Jon Ortner
Long time, no see. Gary Denton was an eight-time National ATV Champion, but before that he was 10th overall in the 1980 AMA 125 Nationals and 7th in the 1982 AMA 125 Nationals. He made a surprise visit to REM to race the Over-50 class. Photo: Debbi Tamietti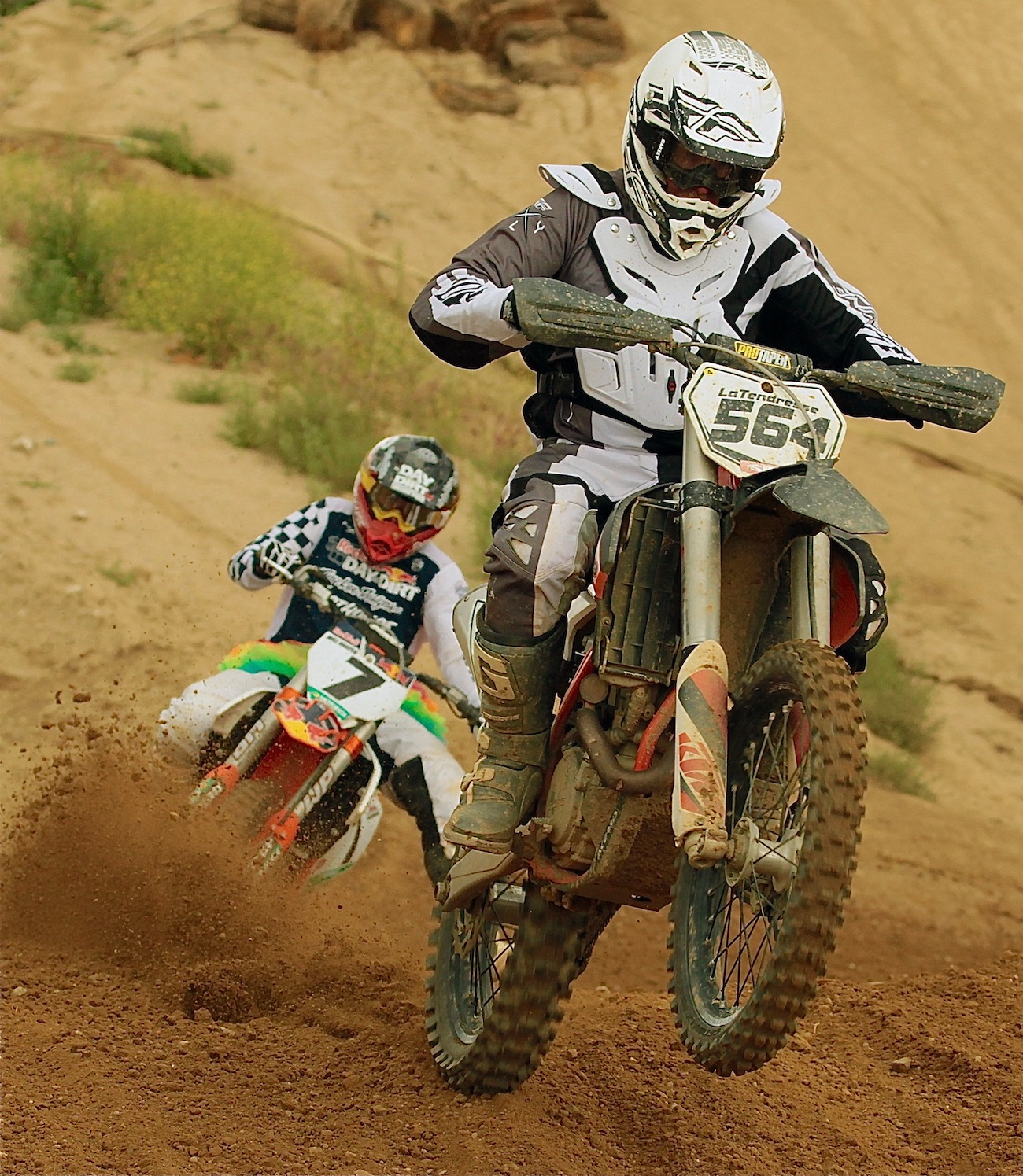 Jim Latendresse (564) leads Will Harper (7) in the Over-60 Expert class, which Harper would win in front of Bob Rutten and Latendresse. Then, Will came back to finish second in the Over-50 Experts behind Val Tamietti (who will be 60 later this year). The famous names from the glory days at Saddleback and Indian Dunes are getting up there in the years Photo: Debbi Tamietti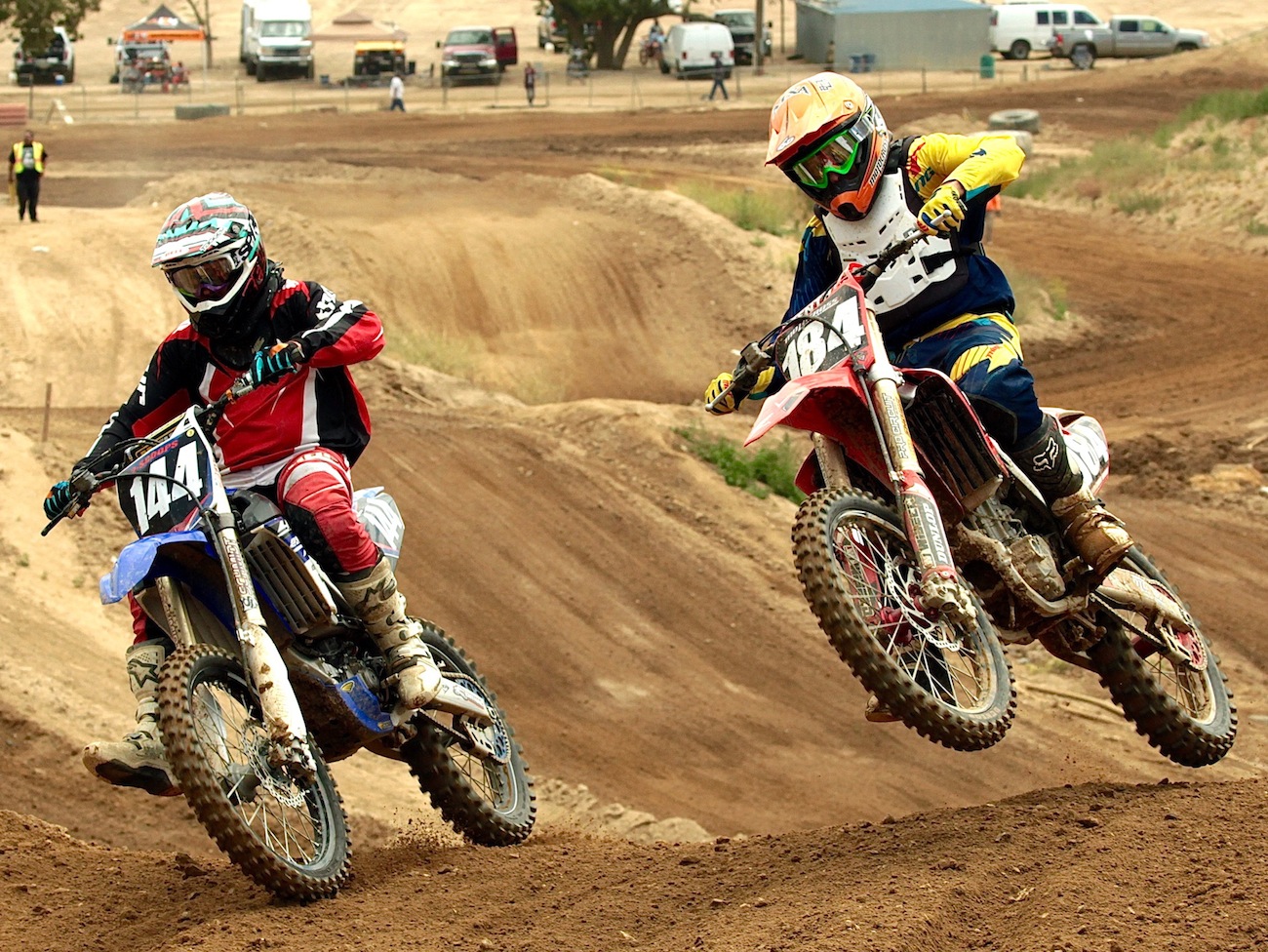 Aussie Dan Alamangos (184) sweeps around Tom Neston (144) in the Over-40 Intermediate class. Photo: Debbi Tamietti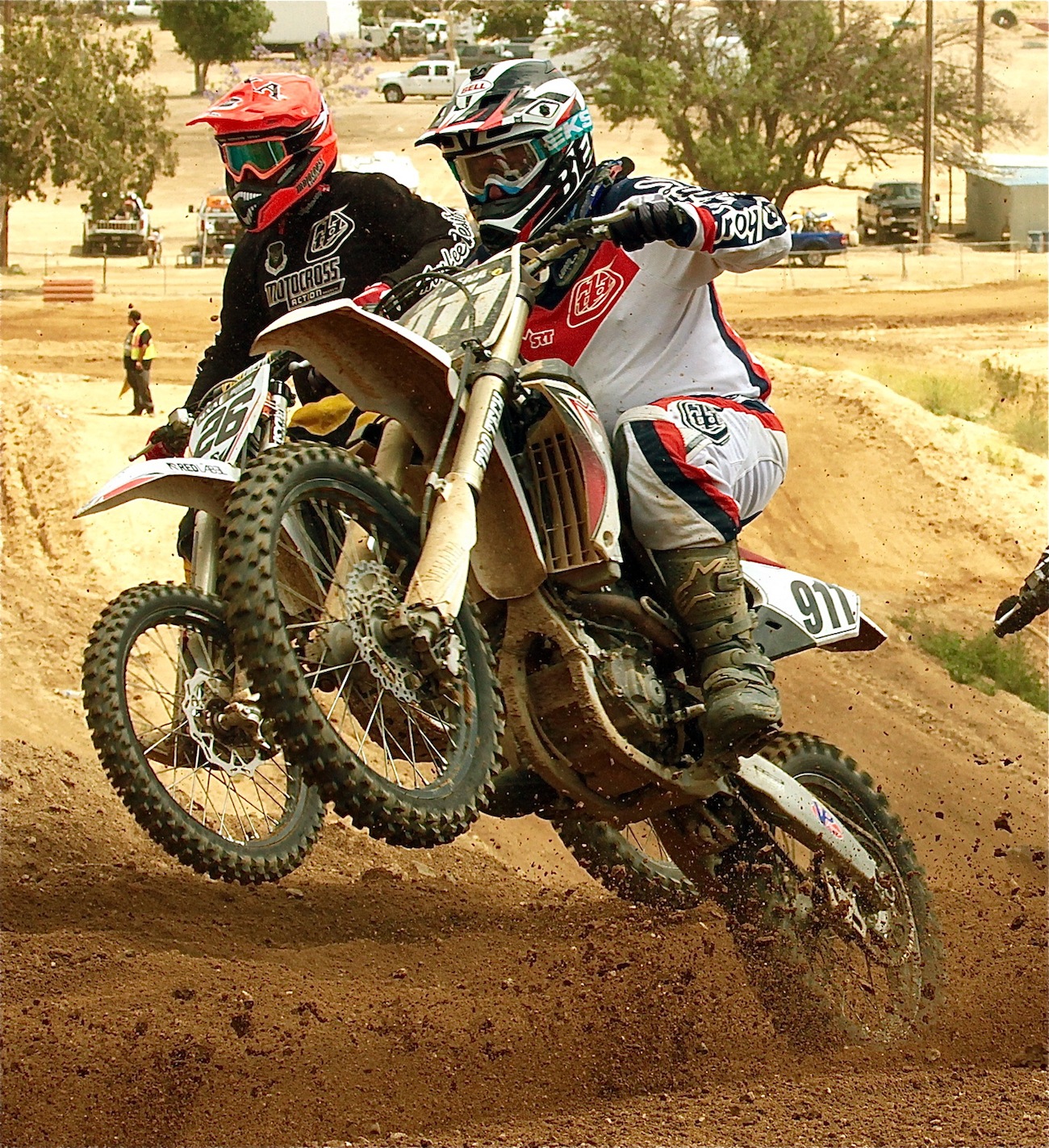 Joe Pena (911) and Ernie Becker (26) practice wheelying out of corners in the Over-50 Intermediates. Pena had a 4-7 day to Becker's 6-6. Photo: Debbi Tamietti
Bill Seifert (37) will be missing from action for awhile as he crashed into a fallen rider's bike and suffered a broken collarbone. Photo: Debbi Tamietti
Randy Skinner (383), a long time Suzuki rider, showed up with a brand-new KTM 350SXF. Why did he switch? Old injuries made it hard for him to kickstart his RM-Z450 (and the KTM has an electric starter). That's Luther French (2) behind Randy. Photo: Debbi Tamietti
You rarely see a rider being sprayed by the bubbly at a local race, but Will Harper flew in from Atlanta, where he is working on "Guardians of Galaxy II," to race at REM. It was his bachelor fling before his upcoming nuptials. His friends hosed him down after his final moto. Harper flew in Friday night, raced Saturday and flew out Sunday morning. Photo: Debbi Tamietti
Even though the weathermen had predicted massive rainstorms in SoCal, the same ones that would hit the Las Vegas Supercross, Justin Muscutt and his dad drove down from Northern California on a whim. Guess what? It rained everywhere but Glen Helen. Justin was 4th in the 450 Pro class. Photo: Jon Ortner
Robert Pocius powers over the roller coasters on his way to second overall in the Over-50 Intermediate class behind Rick Johnson, but ahead of Jim Hansen. Photo: Debbi Tamietti
Dave Eropkin has the "glow look" this week. It was pretty sunny for a day that was suppose to be rained out. Photo: Debbi Tamietti
JON ORTNER'S REM FAMILY PORTRAITS
Don't ask, don't tell. Luther French (center) and Phil Dowell (right) try not to stare at Will Harper's tutu. Photo: Jon Ortner
Most of you will remember this man when he was made of liquid Mercury and walking through prison bars in "Terminator II". Pasha Afshar sponsors lots of racers—including himself. Photo: Jon Ortner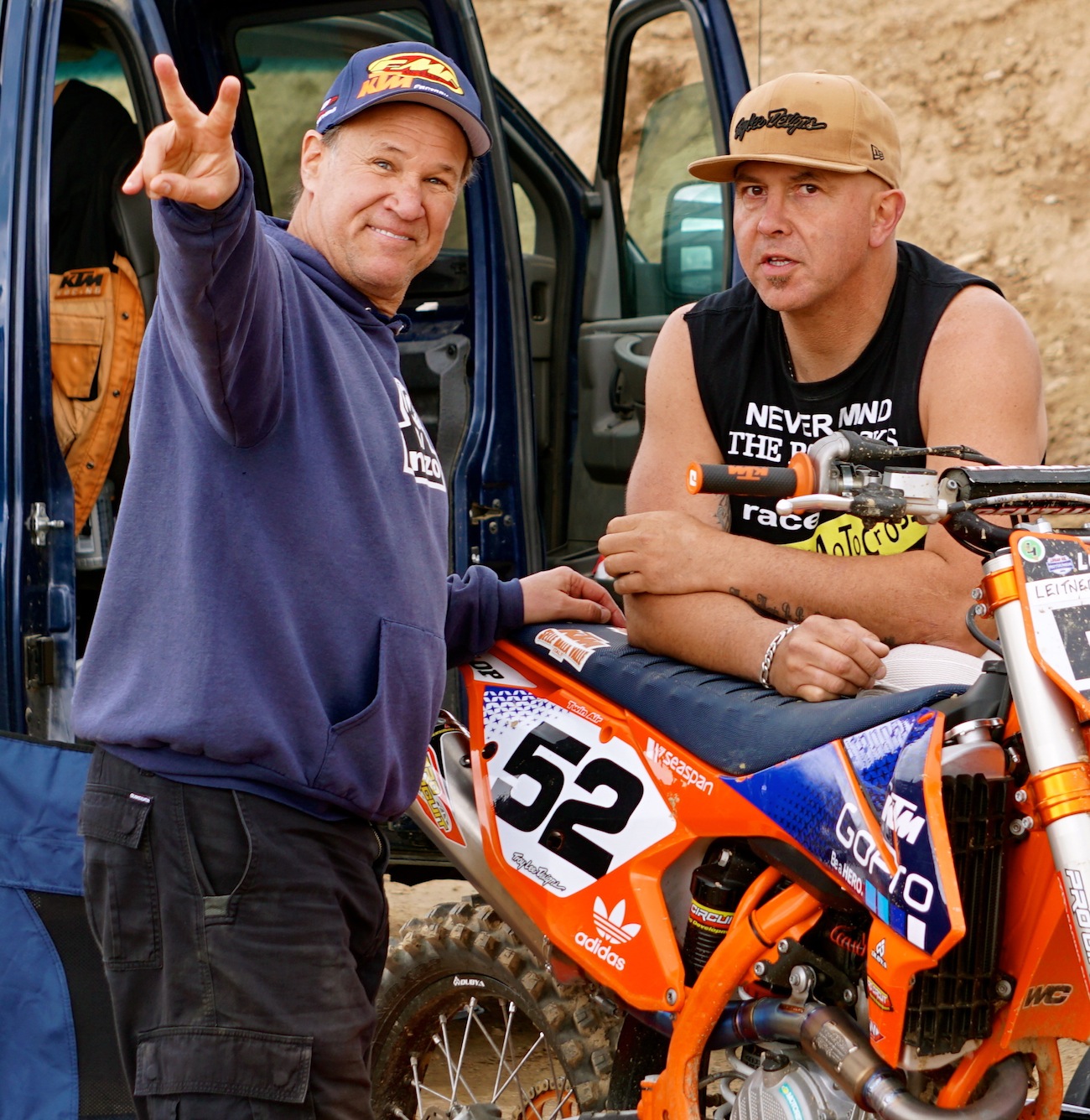 Dentist to the Stars Marc Crosby is almost healed from his last big crash, while Harry Leitner swapped out his Supermoto wheels and switched back to motocross. Photo: Jon Ortnerv

David Cincotta (left) and Tom White point out people they don't like. Tom wasn't racing because of a golfing injury. At least they aren't both pointing at Jon! Photo: Jon Ortner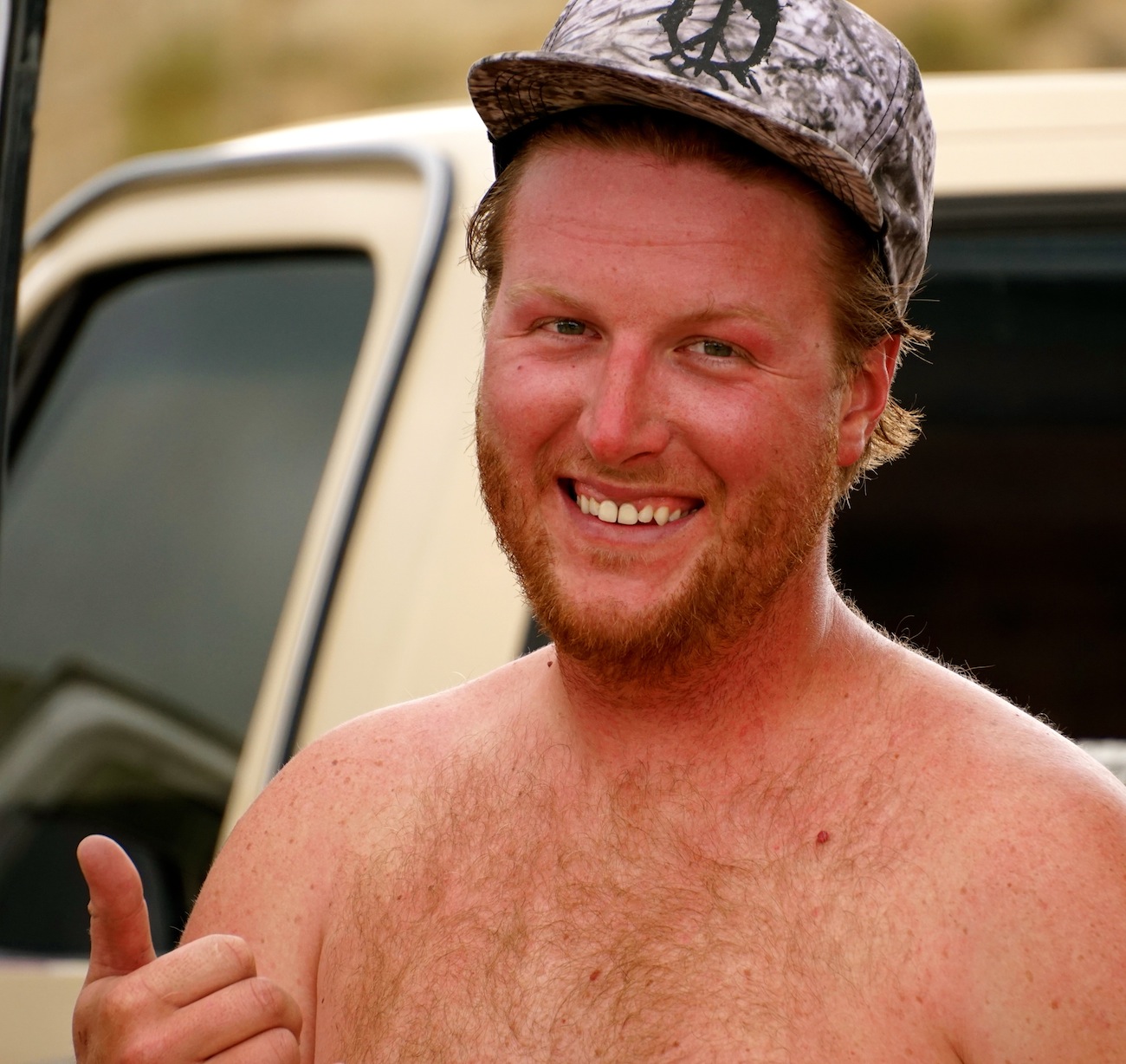 Mountain man Josh Fout came down from Big Bear to race. It snowed 30 miles and 7000 up from Glen Helen two days before this week's race. Photo: Jon Ortner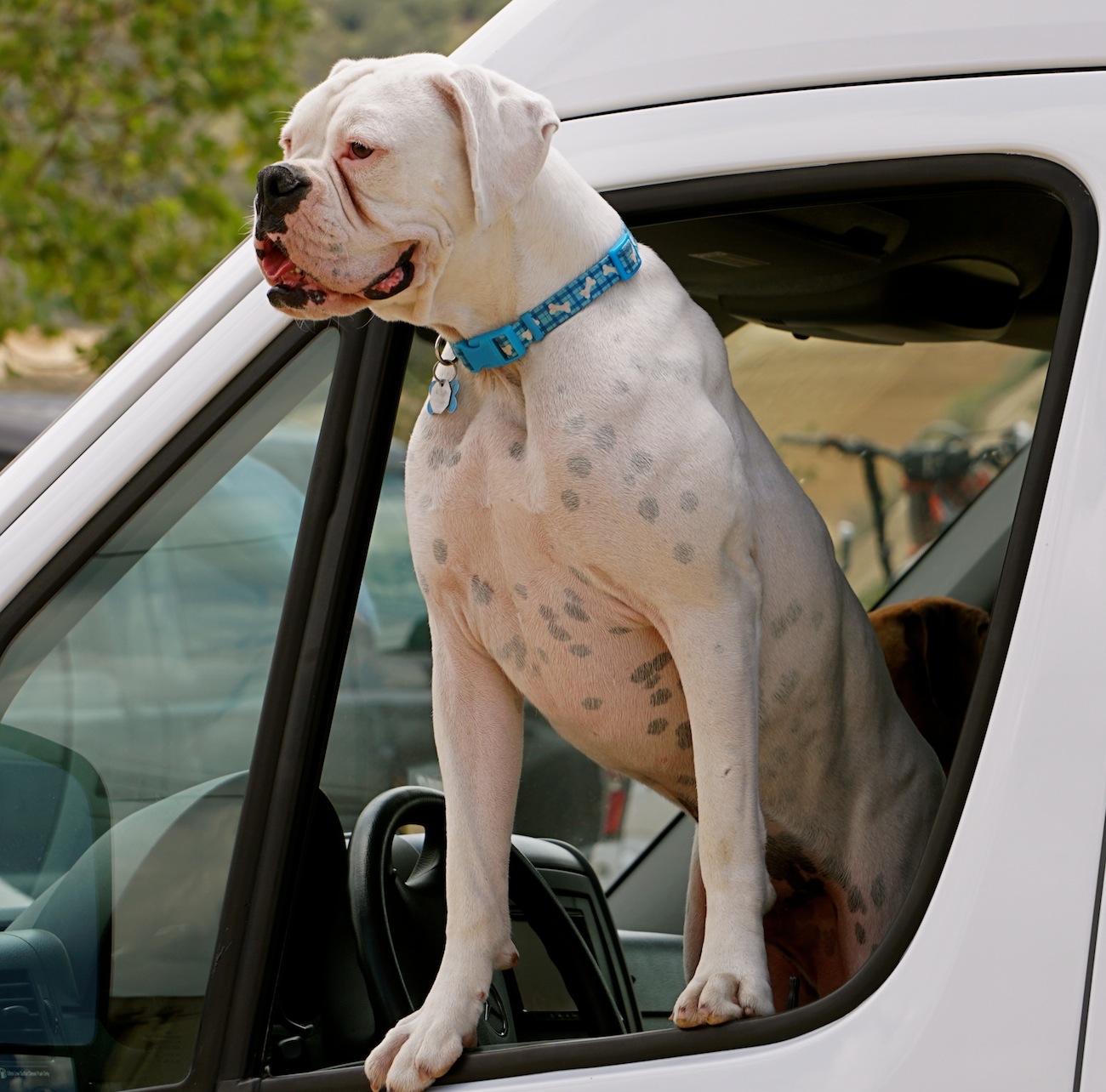 Nobody messes with Terry Cook's van. Photo: Jon Ortner
Flagman Monty Lee ponders how to smoke a cigar and talk on his headset at the same time. Most of the time he chooses to focus on the cigar. Photo: Jon Ortner
Not every local racer is lucky enough to have a full-time mechanic working on their bike. Photo: Jon Ortner
It takes two hands to pour 5 gallons of gas into your bike, so what do you do with the cap to the gas can spout? Whatever you choose its best not to breathe in. Photo: Jon Ortner
O'Neal is good to REM racers…and it shows. Photo: Jon Ortner
Glen Helen owner (and USGP and AMA National promoter) Bud Feldkamp (left) came out to watch son Buddy (center) race. Buddy went 5-5 for 5th in the Vet Novices. Photo: Jon Ortner
Did they or didn't they? The Merciers? Photo: Jon Ortner
Update: Billy and Suzy did it.
UPCOMING REM RACES
May 21…Glen Helen, CA
May 28…No race (AMA  250/450 National)
June 4…Glen Helen, CA
June 11…No race (King of Hammer offroad race)
June 12…Glen Helen, CA (very rare Sunday race)
June 19…No race (Last Dog Standing race)
June 25…Glen Helen, CA
July 2…Glen Helen, CA (AMA National track)
July 9…Glen Helen, CA
July 16…No race (Lucas Oil Off-Road Truck race)
July 23…Glen Helen, CA
July 30…Glen Helen, CA
Aug. 6…Glen Helen, CA
Aug.13…Glen Helen, CA
Aug. 20…Glen Helen, CA
Aug. 27…Glen Helen, CA
Sept. 3…Glen Helen, CA (AMA National track)
Sept. 10…No race (United States Grand Prix)
For more info on REM go to www.remsatmx.com