REM GLEN HELEN: DARRYN DURHAM WINS IN A TUMULTUOUS DAY

Fasthouse represents a lifestyle that is energized and full of passion for motorcycles and motorcycle racing. The Fasthouse mission is to represent that passion to its fullest; as designers of apparel, racewear and hardware, as promoters and creators of events and parties, and always, as the purveyors of good times. Find out more at www.thefasthouse.com.
Photos by Chris Alamnagos, Mark Chilson & Debbi Tamietti
Darryn Durham. Photo: Mark Chilson
Darryn Durham is getting ready to return to the AMA Nationals at Unadilla in two weeks, so he made the almost required stop at Glen Helen's REM races to get a race tune up. Durham didn't pick a very good weekend to make an appearance since most of REM's Pro riders were either at Washougal for the National, at the WORCS race in Washington or getting packed up for Loretta Lynns. But, Darryn did have to face Pasha Racing's two star riders, Preston Tilford and 16-year-old Jeremy Byrne.
Preston Tilford. Photo: Mark Chilson
Meanwhile, the powerhouse classes at REM, the Over-50 riders were in fine form. Composed of former Pros from the 1970s and 1980s, the Over-50s are the elite riders at REM. It may seem strange, but given that almost 40 percent of the racers at REM on a weekly basis are over the age of 50, its understandable that they are who the spectators line up to watch. Plus, they race like they are 18 again — they aren't.
Sequence one: Darryn Durham (45) gets under Jeremy Byrne as they crest a little rise. Byrne's front wheel has lifted out of the rut which makes room for Durham. Photo: Mark Chilson
THE PRO CONTROVERSY
In truth the Pro race was a foregone conclusion as Darryn Durham was the class of the field and easily worked his way to the front and pulled away to win moto one in front of Jeremy Byrne, Preston Tilford and Shawn Hillion. It was in the second moto where the fireworks occurred. Jeremy Byrne got the holeshot and gave it his all to pull away, but Durham closed on him quickly and  while sweeping over one of Glen Helen's undulating rises Durham made his move and Byrne went down.
The crowd was mixed on whether Durham cleaned Byrne out or if it was just a racing incident. You can judge for yourself from Mark Chilson's crash sequence, but from the photo evidence, Durham appears to have made a good move to get inside of Byrne. Byrne ended up going over the berm and crashing. The hand gesturing between the two riders on the next lap was amusing and amateurish, but meaningless. Byrne was angry, but Durham's body language was "welcome to the big leagues."
Durham took the overall victory in the combined Pro race with a 1-1 and held a 20 second lead on Preston Tilford by the end of moto two.
Sequence two: Byrne loses his front wheel over the berm and falls on the back of Darryn Durham's bike. Photo: Mark Chilson
Sequence three: Darryn Durham rides on as Byrne's bike cartwheels down the hill. Photo: Mark Chilson
Sequence four: On the next lap Jeremy Byrne gestures "What were you thinking," while Darryn Durham  gestures, "What are you talking about?" Photo: Mark Chilson

THE OVER-50'S IN ALL THEIR MIGHT
There are actually four Over-50 classes at REM (Novice, Intermediate, Expert and Elite)—and the heirarchy is easily explained by the speed differential.
Kevin Barda (852) grabs the lead in front of Willy Simons (behind Barda), Greg Pierce (416) and Jon Ortner (48). Photo: Debbi Tamietti
Over-50 Elite: These are the fastest of the group born before 1964. They have been kicked upstairs to their own private class because they were running away from the rest of the Over-50 Expert pack. Last weekend Willy Musgrave showed up to win the Elite class, but this week he was back racing karts with his Musgrave Racing Company (MRC) team. That opened the door for either Willy Simons or Jon Ortner, both multi-time winners in this class and both former Indian Dunes stars. Making the Elite class more interesting was the addition to the two fastest Over-40 Pro riders. You would think that this small, but select group, would provide for dull racing—but au contraire.
Over-40 Pro Kevin Barda holeshot both motos and fought mightily to hold off Over-50 Elite rider Willy Simons. But, in both motos Simons powered his way to the front with Barda second. Behind them was a battle between Jon Ortner and Over-40 rider Greg Pierce. They traded places with each other while in pursuit of Barda and Simons. With one lap to go in moto two Willy Simons overcooked the big hump jump and landed high on the race track's steeply banked side. His bike swapped and thanks to the judicious application of throttle, Willy was able to save it by leaping off  the vertical wall back down on to the landing zone of the jump. The impact blew his front tire.

Willy Simons (46). Photo: Debbi Tamietti
In typical Willy Simons' fashion, he powered on, ignoring his flat front tire. Then, three corners from the finish, he realized that he was taking big chances to beat Barda, who wasn't in his class, so he slowed and waved Kevin by. In the end Kevin Barda won the Over-40 Pro class, and Simons won the Over-50 Elites.
Over-50 Expert winner Val Tamietti chased by Over-50 Intermediate winner Dirk Davidow (9). Photo: Debbi Tamietti
Over-50 Experts: Val Tamietti showed the agility of his YZ250 two-stroke by motoring to the front of both Over-50 Expert motos. This week's victory was the third in a row for the former Maico rider and CMC number 1. Phil Dowell's 3-3 got him second overall in front of Joe Sutter's 2-5, who styled for a while out front in moto one. Luther French was fourth with a 6-2 and he was followed in by a top ten of Dave Eropkin (4-4), Will Harper (5-7), who also led some laps during the day, Jeff Fahy (8-6), Randy Skinner (7-9), Darren Lowry (9-8) and Doug Rupert (10-10).
If you thought Durham and Byrne raced hard against each other don't get between two MXA test riders when they are in the heat of battle. Chris Alamangos (184), borrowed Dennis Stapleton's YZ250, and tried to kill MXA's Mark Hall (58). Photo: Debbi Tamietti
Over-50 Intermediates: Dirk Davidow not only won both motos of the Over-50 Intermediates, but he ran in the front group of the Over-50 Experts (they started on the same gate). "The Jeff's" were second and third, with Jeff Scott's 2-2 beating Jeff Mason's 4-3. Dicks Racing's Dick Wilk had driven down from Utah for a wedding and brought his bike with him—he went 3-4 for fourth in front of TM importer Pete Vetrano's 5-5. Terry Varner eked out a sixth overall despite missing the start of moto one and getting lapped. In his rush to get to the starting line Terry forgot his gloves — which his hands paid for on the rough REM track.
Lonnie Paschal (51) and Ted Kukla (96) go against the grain in the Over-50 Novice class. Photo: Chris Alamangos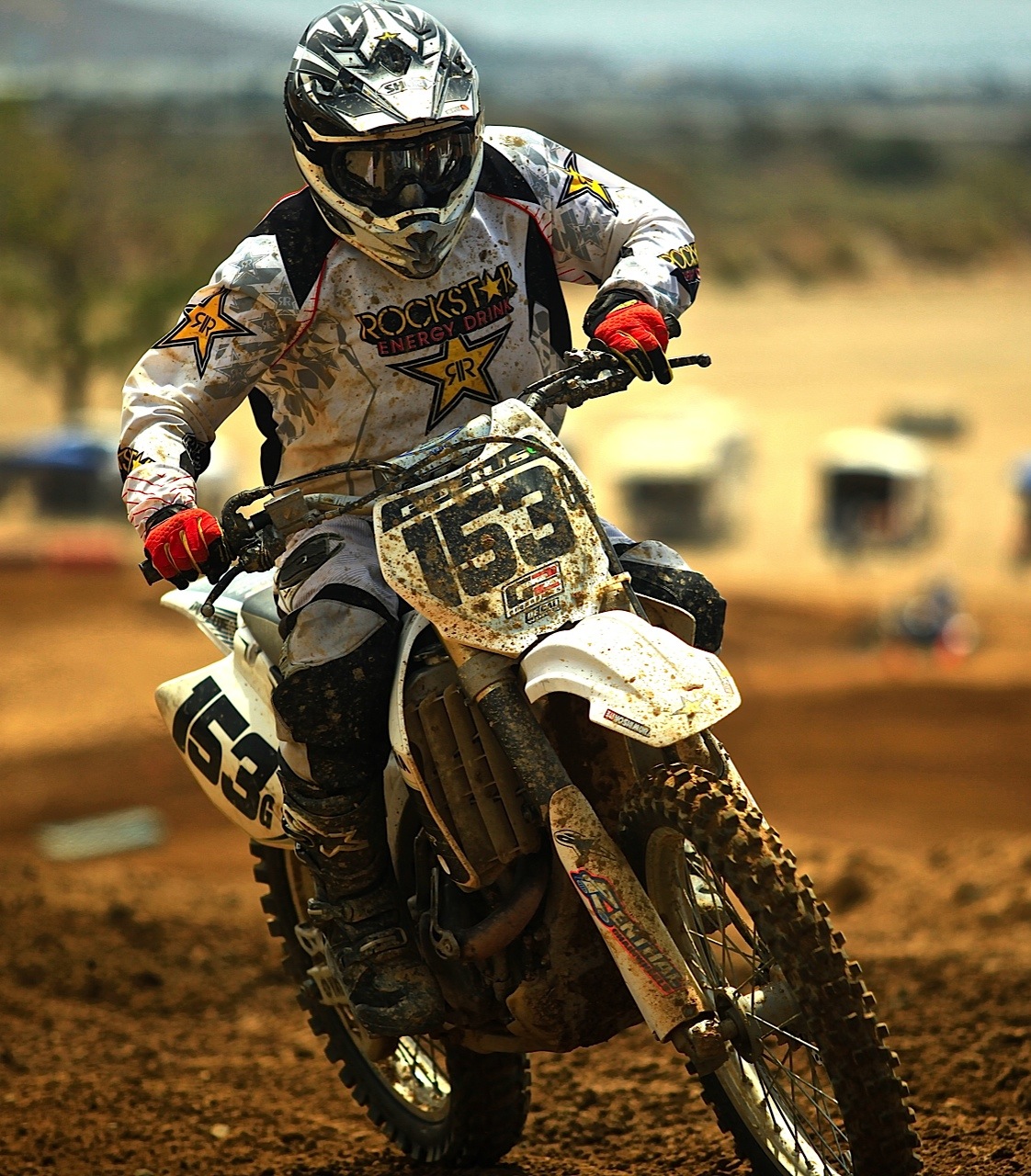 Robert Pocius (153) — Over-50 Novice winner. Photo: Debbi Tamietti
Over-50 Novice: For the first time in recent memory the Over-50 Novice class wasn't the biggest classes of the day (it was the fifth largest). Robert Pocius won both motos in what he hopes will turn into a win streak. Ted Kukla was second with a 3-2 in front of Lonnie Pascal's 4-3.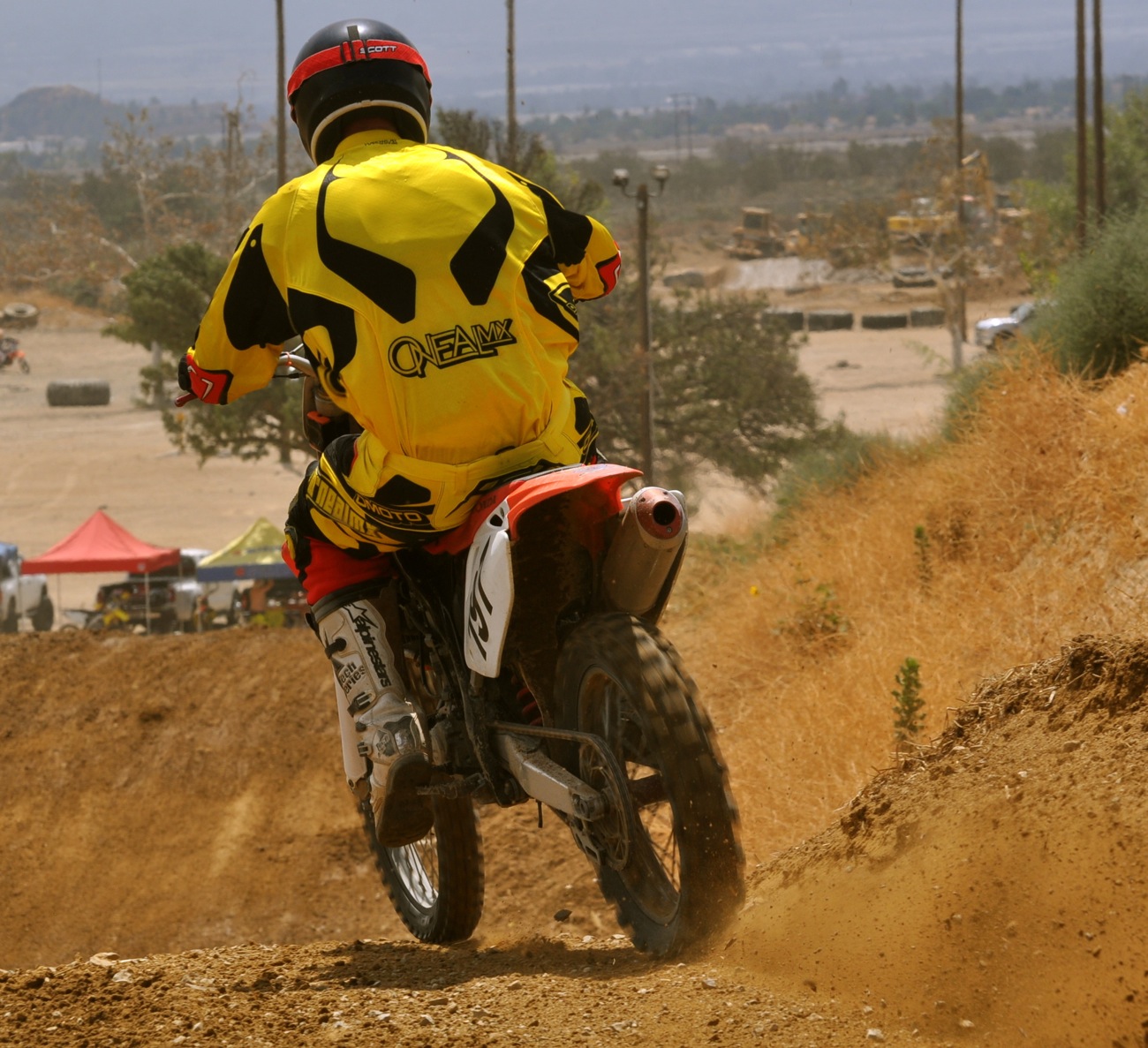 Bill Maxim. Photo: Chris Alamangos
Over-60 Experts: When you look down the starting line and see a three-time Over-60 World Vet Champion sitting next to you, you know you are racing for second overall. Bill Maxim, World Champion in this class in 2007, 2009 and 2010, rode casually away from the field in both motos. Tom White, former AMA Grand National dirt tracker and recent inductee into the AMA Hall of Fame, was second overall — even though he had to pick himself up off the ground after a first moto crash. Bill Seifert was third and Brit Tony Parson's fourth.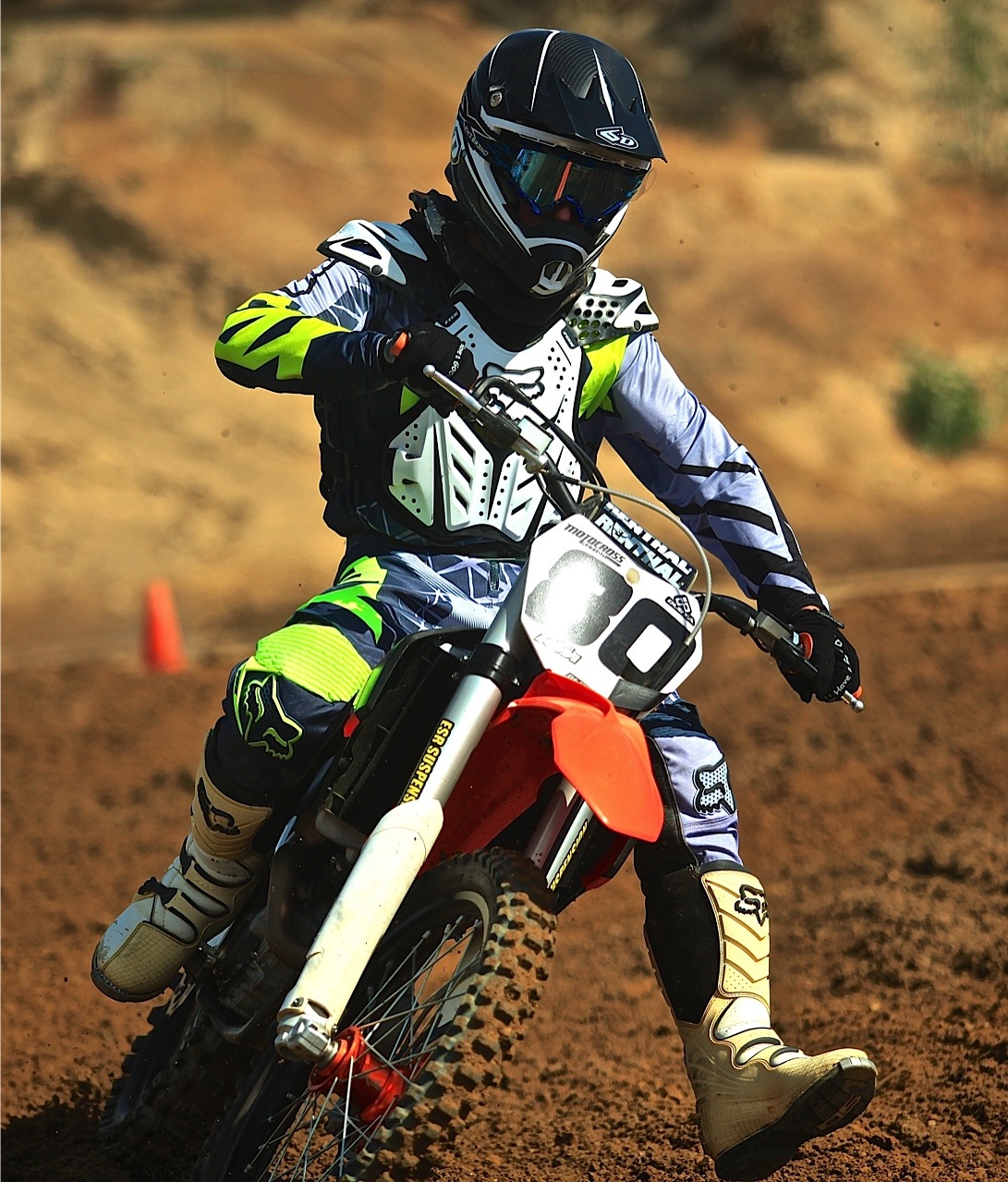 Tom White (8) got up off the ground to make it back to second in moto one. He didn't have to get up in moto two. Photo: Debbi Tamietti
Normally a surprisingly big class, the Over-60 Experts were without Gary Jones (headed to Loretta Lynn's for Hinson clutches), Lars Larsson (in Sweden for the summer), Jody Weisel (suffering from pneumonia made worse by racing with pneumonia), last week's winner Ken Ehlers (on vacation), last week's first moto winner John Alden (working), George Kohler (moved to Carson City last month) and the unknown whereabouts of Carl Gazafy, Jim Latendresse, Alan Kent, Mike Marion, Mic Rodgers and T.V. Holmes.

THE BIGGEST CLASS OF THE DAY
Hayden Cole (93) with John Roggero (222). Photo: Debbi Tamietti
In what would be considered a freak occurence at age-centric REM, the biggest class of the day was the 250 Novice class. Todd Sibell's 2-1 took the trophy, while first moto winner Cole Tompkins got a 1-4 for second overall. John Roggero was third with a 3-3, while Hayden Cole, nephew of former Kawasaki factory rider Eddie Cole (who also founded Answer, Pro Taper, SixSixOne and Matrix) went 9-2 for fourth. Austin Wade's 6-5 got him fifth.
Pasha Afshar sponsors many Pro riders, but his main focus is on his own racing. Pasha was fifth overall in the Over-40 Intermediates. Photo: Debbi Tamietti
Meanwhile in the 450 Novice class, Brandon Reid swept both motos in front of a top five of Ryan Cirocco (2-2), Mark Taylor (3-3), Douglas Reid (5-4) and Tim Melton (4-5).
You know you're at a place where everybody knows your name when the score girls allow two riders with the same number, on the same brand of bike, in the same class to race without the requisite electric tape X. Jeff Fahy (2) leads Luther French (2). Photo: Debbi Tamietti
REM does not race next Saturday, August 2, because the Lucas Oil Offroad Truck series will take over Glen Helen, but they will return on August 9. For more info go to www.remsatmx.com.