REM GLEN HELEN RACE REPORT: AN REM MOTOCROSS LIKE NO OTHER
The REM riders meeting. Photo: Jon Ortner
PHOTOS BY DEBBI TAMIETTI, DAN ALAMANGOS & JON ORTNER

It is no secret that REM Motocross has been at Glen Helen for over two decades, when Frank Thomason moved it from Carlsbad Raceway to the abandoned Arroyo Cycle Park layout just above the Glen Helen National track in 1989. But after 35 years of promoting REM races, Frank and Myra Thomason want to get their weekends back. So, this past Saturday, the hosted their final REM race and a large crowd of friends, former racers and sponsors came to wish them a happy new life. This won't be an end to Saturday racing at Glen Helen as Glen Helen will become the new caretaker of REM racers and they promise to upgrade the REM Tower's PA system, lower the entry fees and run Spring, Summer, Fall and Winter race series (of four or five races each) and keep points for each quarterly series and do total points for the yearly REM Number One rider. The same people who worked for Frank and Myra will stay on to take care of the riders. It should be a seamless transition once everything is worked out.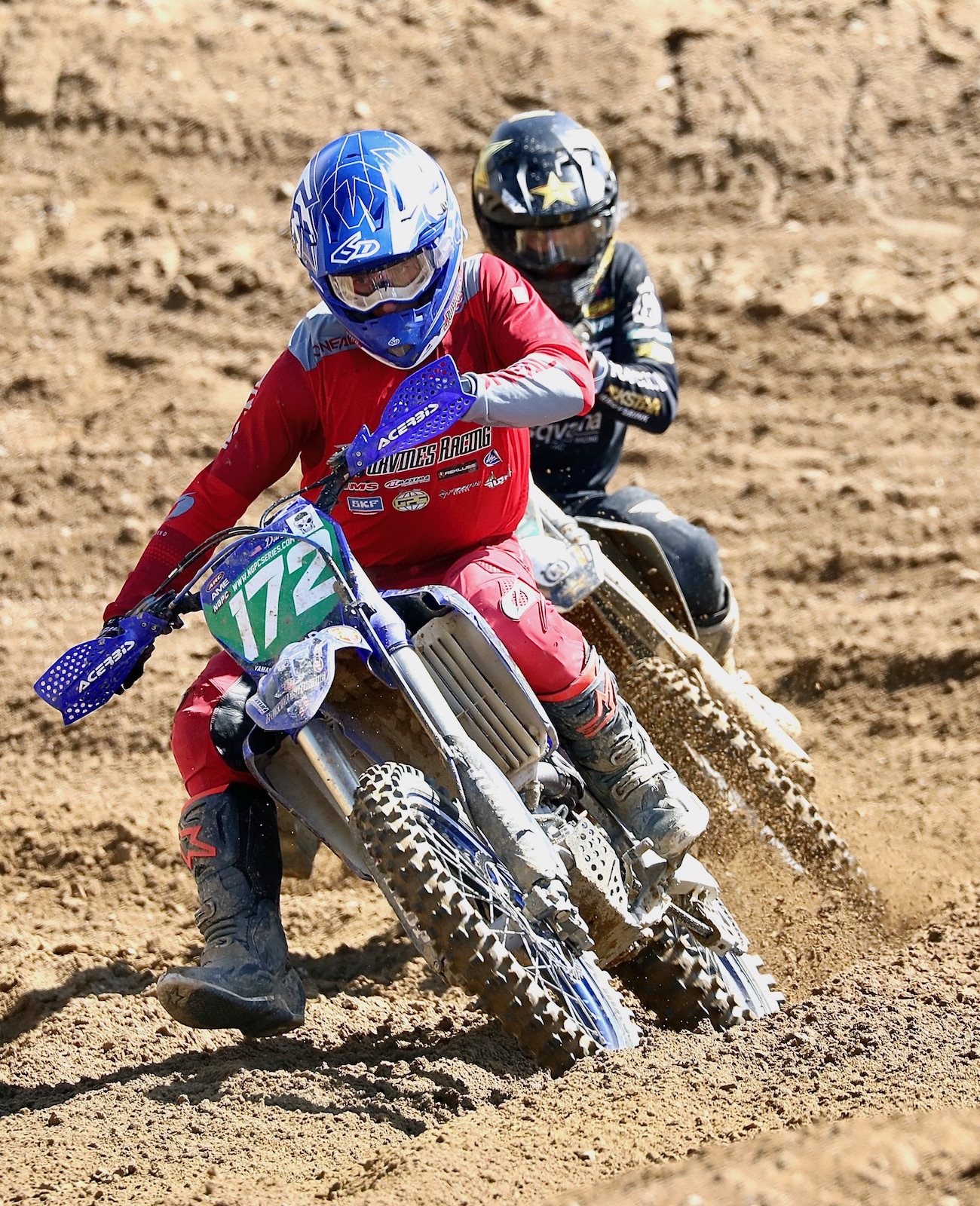 Thomas Dunn (172) went 1-1 to take home the 450 Pro cash. Photo: Jon Ortner
Additionally, Glen Helen promises to keep the spirit of REM alive as they understand that there would be no pure motocross tracks left in SoCal if REM disappeared. The first Saturday At The Glen race will be on April 2, 2022. For more info go to www.glenhelen.com. What follows is a photo essay of Frank and Myra's last race—with as many photos as Debbi Tamietti, Jon Ortner and Dan Alamangos could shoot in one race day.
The new banked first turn has been reworked every race for the last three and it's getting better. Here, Robert Reisinger (96) squeaks out a holeshot over Ron Shuler (33). Photo: Debbi Tamietti
Tyler Nichols was the rider chosen this week to receive a framed photo from Rich Stuelke of MotoPhotoLLC. Photo: Debbi Tamietti

Talon Hawkins (71) slides under Casey Casper (493) and Dustin Pulliam (V817).  Photo: Debbi Tamietti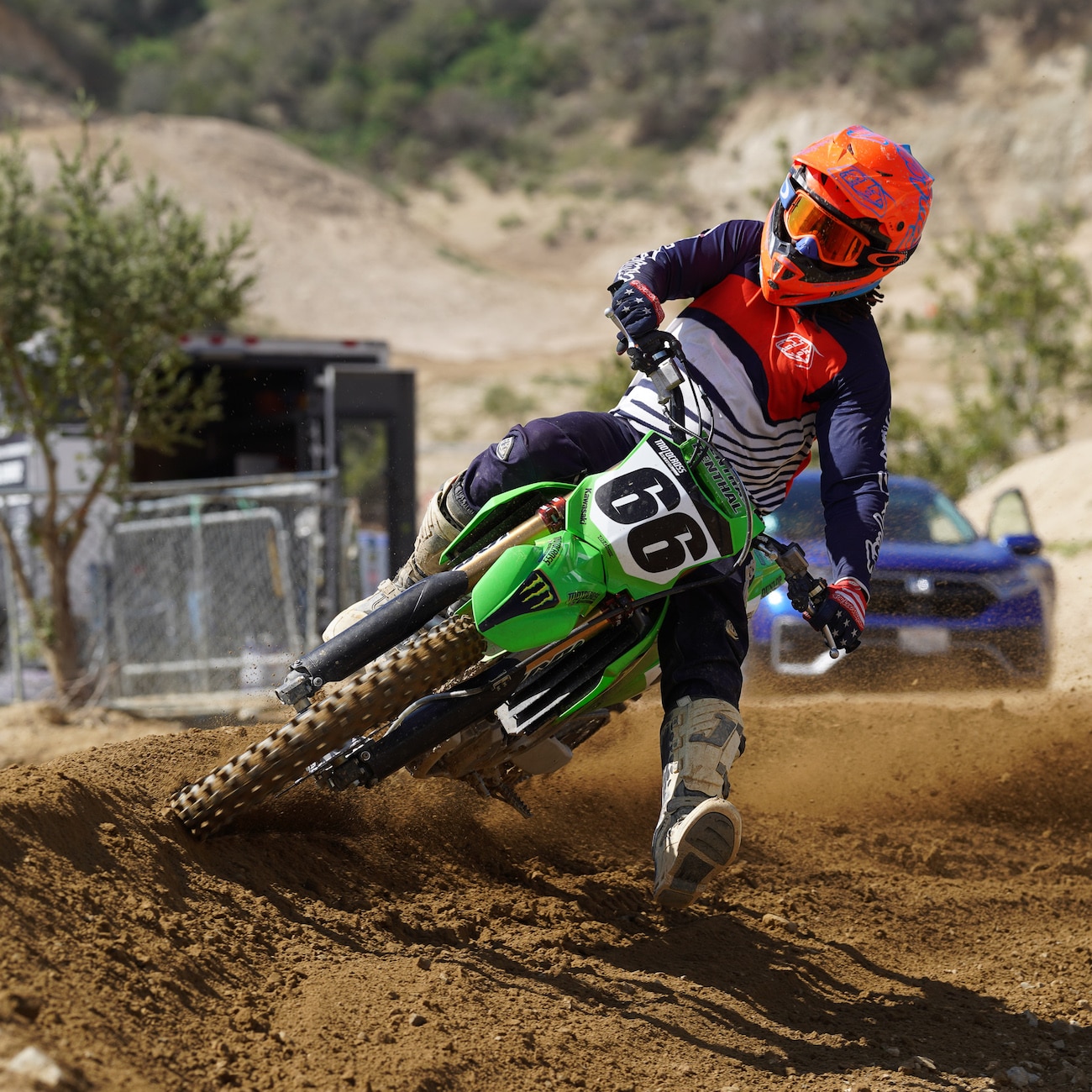 Preston Tilford (66) is slowly working his way back into shape and was flying in the 450 Pro class. Photo: Jon Ortner
Connor Styers (62) won the 250 Intermediates easily, but entertained himself by jumping the tower jump. Photo: Debbi Tamietti
Tyler Belknap (40) went 2-2 in the 250 Pro class. Photo: Dan Alamangos
Talon Hawkins lost his rear brake on the way down the fast and steep Mount Whitney. He could not turn the corner at second half of the downhill, that the rider to his left has turned down, so he hit the berm at the bottom of the hill head-on in this photo. Photo: Jon Ortner
The berm sent him up into the air, which amazingly allowed him to clear most of the steep bank below him, and land on an unused section of track that was also going down hill. He rejoined the race by riding down the unused straight and re-entering at the next corner. He was very lucky. Photo: Jon Ortner
These are the 6D Helmet executives hard at work. Bob Weber (left) and Robert Reisinger (right) know their moto stuff. Photo: Debbi Tamietti
Pete Murray (36) loves to race in the Over-50 Elite class and Over-60 Experts. Photo: Debbi Tamietti
Former 1970s 125 hotshoe Dave Eropkin (811) went 5-6 in the Over-60 Experts. Behind him is the long-lost Hootie Davis (8), who showed up for the first time in a long time. Come again Hootie. Photo : Debbi Tamietti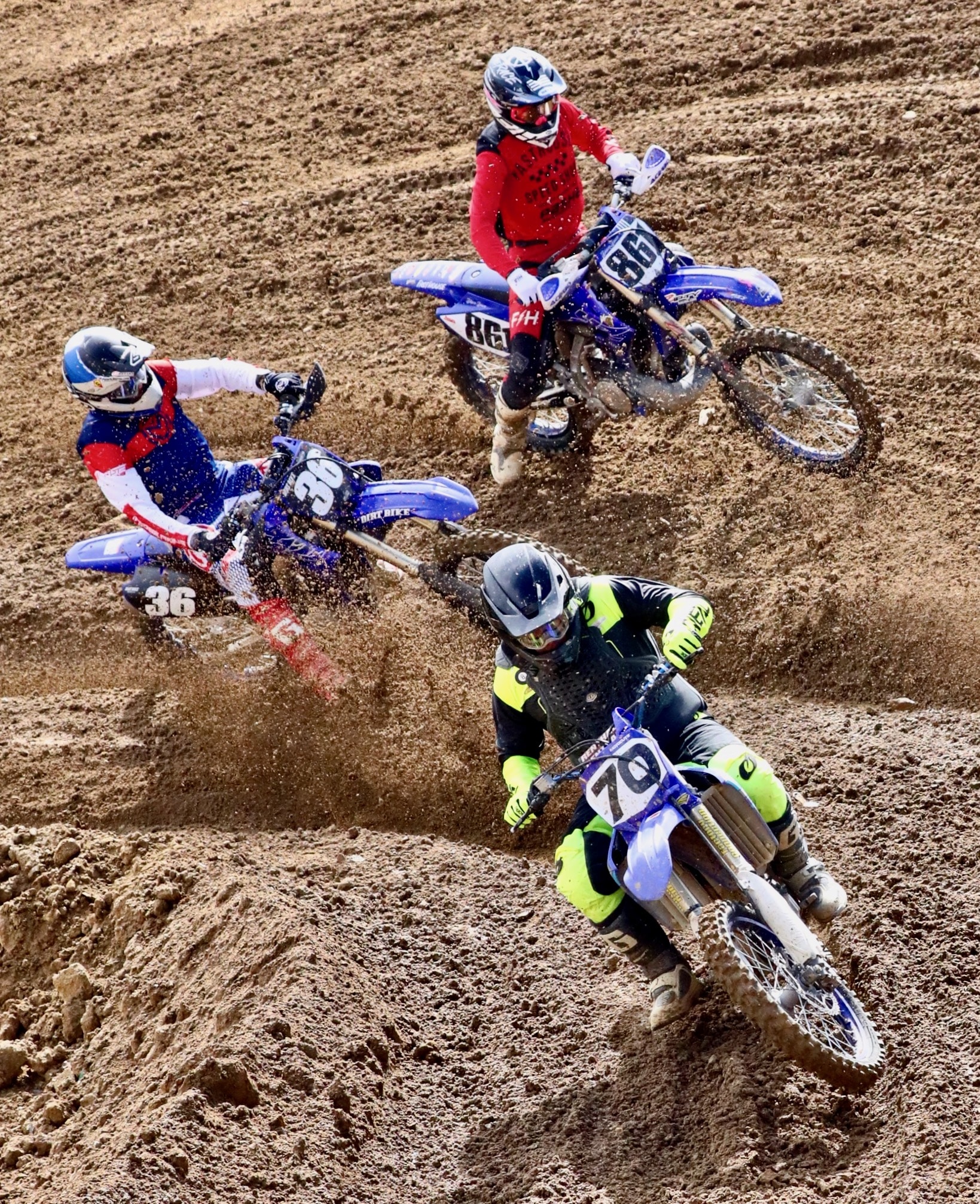 South African Alan Jullien (70) leads Pete Murray (36) and David Cincotta (861) through a loamy berm. Unfortunately, this was the highlight of Alan's day. Photo: Debbi Tamietti

Later in the first moto, Alan Jullien hit a submerged rock hidden in the disced dirt and was thrown over the bars, where he put his hands out of break his fall. They did break his fall by breaking his left wrist and right thumb. One needs surgery and the other doesn't.
Doug Frankos (710) went 7-7 in the Over-60 Expert class. He is being chased by Dave Eropkin (811), who went 5-6. Photo: Debbi Tamietti
Jon Ortner (10) went 2-2 in the Over-60 Experts behind Pete Murray, but ahead of Ed Guajado, Val Tamietti, Dave Eropkin, Fred Nichols, Luc De Ley, Ron Lawson and Robert Reisinger (who Jon may or may not have knocked down in moto two). Photo: Debbi Tamietti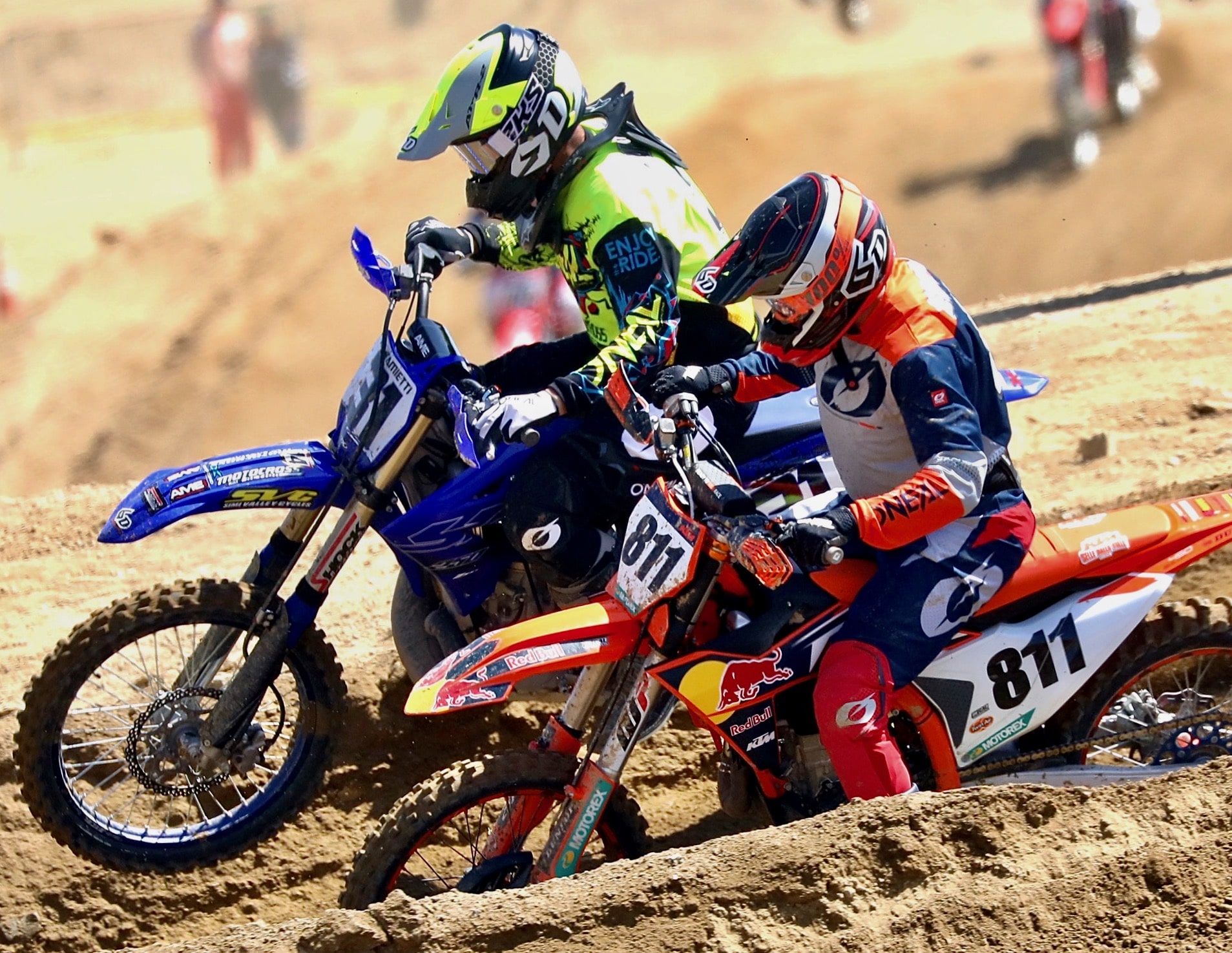 Dave Eropkin (811) and Val Tamietti (31) were big SoCal motocross stars a couple decades go, but no one ever told them it was time to quit. Their best days have been been since they turned 50. They are over-60 now.   Photo: Debbi Tamietti
Lars Larsson (13) and Jody Weisel (192) have been racing since the 1960s. Lars thought about retiring when he turned 80-years-old, but he says that Jody wouldn't let him. They both still wear leather Alpinestars Super Victory boots. Photo: Debbi Tamietti
Australian Dan Alamangos (52) switched from the 2022-1/2 KTM 250SXF Factory Edition that he raced last week to a 2022-1/2 Husqvarna FC250 Rockstar Edition this week (and just like last week he had a 3rd in the first Over-50 Expert moto and lost a contact lens in the second moto). Photo: Jon Ortner
Speedway racer Randy Skinner (66) is one of four MXA test riders who have done time testing and racing the 2022 Kawasaki KX450SR Special Edition. Photo: Debbi Tamietti
Pasha Afshar has rounded-up $15,000 in purse money for the Pasha 125 Open classes at the World Two-Stroke Championship on April 16. There are three 125 Pro races, one for any 125 Pro, one for  Over-30 125 Pros and one for Over-50 125 Pros. Here, Pasha is fine tuning his KTM 150SX two-stroke's jetting Photo: Debbi Tamietti
Bob Pocius (153) moves a little dirt as he heads back towards Budd Creek. Photo: Debbi Tamietti
In order to return to its roots, REM didn't require racers to use transponders at this special race, but somehow Steve Watson (75) and and Frank Emerson (75) figured out a way to screw up the scoring anyway. Photo: Debbi Tamietti
Josh Fout raced MXA's Yamaha YZ450FX at the Lake Havasu WORCS race last Saturday and Sunday, then took the Dunlop MX12 scoop tire off and raced it at REM to the Vet Intermediate win. It still had the mousses in the tires though. Photo: Jon Ortner
Kris Petrat went 1-1 in the 450 Novice class on a GasGas MX450F. Petrat's 1-1  beat Lamont Dusseaus' 3-2, Gary Taylor's 2-3 and Jared Hannebrink's 4-4. Jared is the son of the late Dan Hannebrink, who was a prolific inventor, sportsman and used to race at REM in the good old days with Jared. Photo: Dan Alamangos
REM race promoter Frank Thomason interviews Kuwaitti motocross racer Omar Almedlej. Omar is a Green Beret in the U.S Army. He used his vacation to come and race at Glen Helen. He says REM is very famous in Kuwait. Photo: Dan Alamangos
Ryan Donley (327) took his GasGas MC 250F to a 1-1 sweep of the 250 Novice class. Photo: Debbi Tamietti
Gabriella Sanchez (78) rides off-road races, but only does the occasional motocross. Photo: Debbi Tamietti

ARC levers designer Bob Barnett (215) hasn't raced in a long time, but he won the Over-65 Novice class with a 1-1. Photo: Dan Alamangos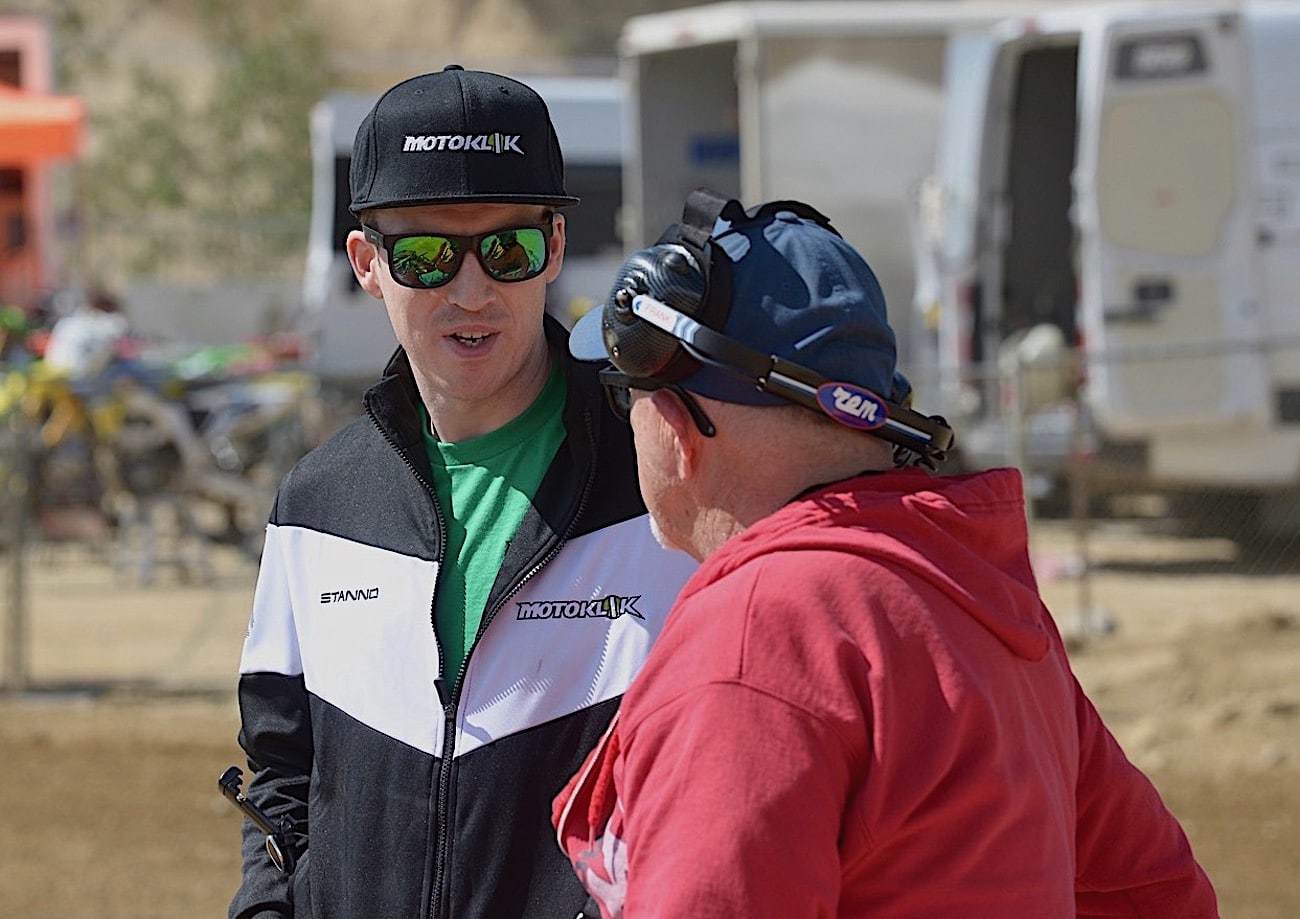 Ireland's Jens Kopke came the USA to demonstrate his MotoKlik electronic data logger that does things that no other handlebar-mounted connectivity tool can do. While he was in SoCal, he came to REM to see what it was all about. He shot a video and did an interview with Frank Thomason to show what it's like when he gets back home. Photo: Dan Alamangos
ASV's Bob Morales (278) used a 3-2 to get second overall in the Over-50 Novice class. Photo: Debbi Tamietti
Frank Thomason (far right) gave all the former REM number one riders, those that are still racing anyway, special plaques and had them pose for a group photo. There were eight former Champs racing at this week's race. They are (from left to right) Dave Eropkin (2019), Jody Weisel (1998), Val Tamietti (2017-2018), Curtis Jablonski (1989), Robert Reisinger (2021), Marc Crosby (2005), Randy Skinner (2001 & 2012) and Jon Ortner (2013-2o14-2015). Photo: Debbi Tamietti
This is what the championship plaques looked like. The names in black won their titles at Carlsbad Raceway and the ones in blue were from Glen Helen. Photo: Dan Alamangos
Curtis Jablonski (30) was the first-ever REM number one rider back in 1989. That was 33 years ago.  Photo: Debbi Tamietti
Mike Hillion (413) discovered that he had a flat tire when he got to the line for the second moto of the Over-60 Novice class. He pumped the tire up, but it didn't stay up long. Photo: Debbi Tamietti
Scott Williams came out of hiding to race this week's special REM race. Scott went 8-5 in the Over-50 Novice class. Photo: Debbi Tamietti
At the end of the day, retiring REM race promoter Frank Thomason went out and spun some laps on MXA's 2022-1/2 250SXF Factory Edition. Frank became a promoter to keep the local track he raced at alive 35 years ago—but soon found out that race  promoters don't get to race their own races. They are too busy. Photo: Debbi Tamietti
REM is will race again on April 2, April 30, May 7 and May 14. For more info go to www.glenhelen.com.