REM GLEN HELEN RACE REPORT: AUSSIE WINS & THE NAVY IS IN THE HOUSE
Photos by Debbi Tamietti & Dan Alamangos

Aussie Jackson Richardson (57) won both motos of the 450 Pro class. He is on a three-moto win streak at REM while waiting for the 250 West to start back up again.
With more brilliant warm and sunny weather, SoCal's winter has been incredibly mild and that has led to intense racing at Glen Helen as motocross racers from around the world are ducking out of their native lands in search of better weather for testing. Aussie Jackson Richardson has been racing the 250 West Supercross series for several years now and came to REM for the last two weeks. Last week he suffered a DNF because of a broken wheel, but this week he came back to ride brilliantly to win both motos of the 450 Pro class. Justin Jones was second and Preston Tilford, now on a Yamaha, third. British rider Aaron McCarroll won the 450 Intermediates. South African Allan Jullien won the Vet Intermediates.
Justin Jones went 2-2 in the 450 Pros. Last week he won the first moto, but got sick and skipped the second moto. This week he was healthy in both motos.
Dr. Gregg Shellack, USN, reporting for duty.
The best long distance story came from former REM racer Gregg Schellack. Greg is a orthopedic surgeon for the U.S. Navy and has been stationed in Italy for the last two years. Before that he worked on his residency at the Loma Linda trauma unit and raced at REM on his off weekends. This week he had a chance to come back to SoCal for a visit. Just so he could race, Gregg found a 2008 CRF450 on Craigslist in Fresno. He bought it long distance from Italy and had a friend pick it up and get the suspension, tires and graphics done done. He bought some left-over gear and had it shipped to his friend's house. Last week Gregg flew in to Fresno and drove down to REM. After having not raced for two years, on a bike he had never ridden before, Gregg won the Over-40 Novice class. And, will be headed back to Italy with a trophy. His tour of duty ends in 18 months and Gregg will be back then.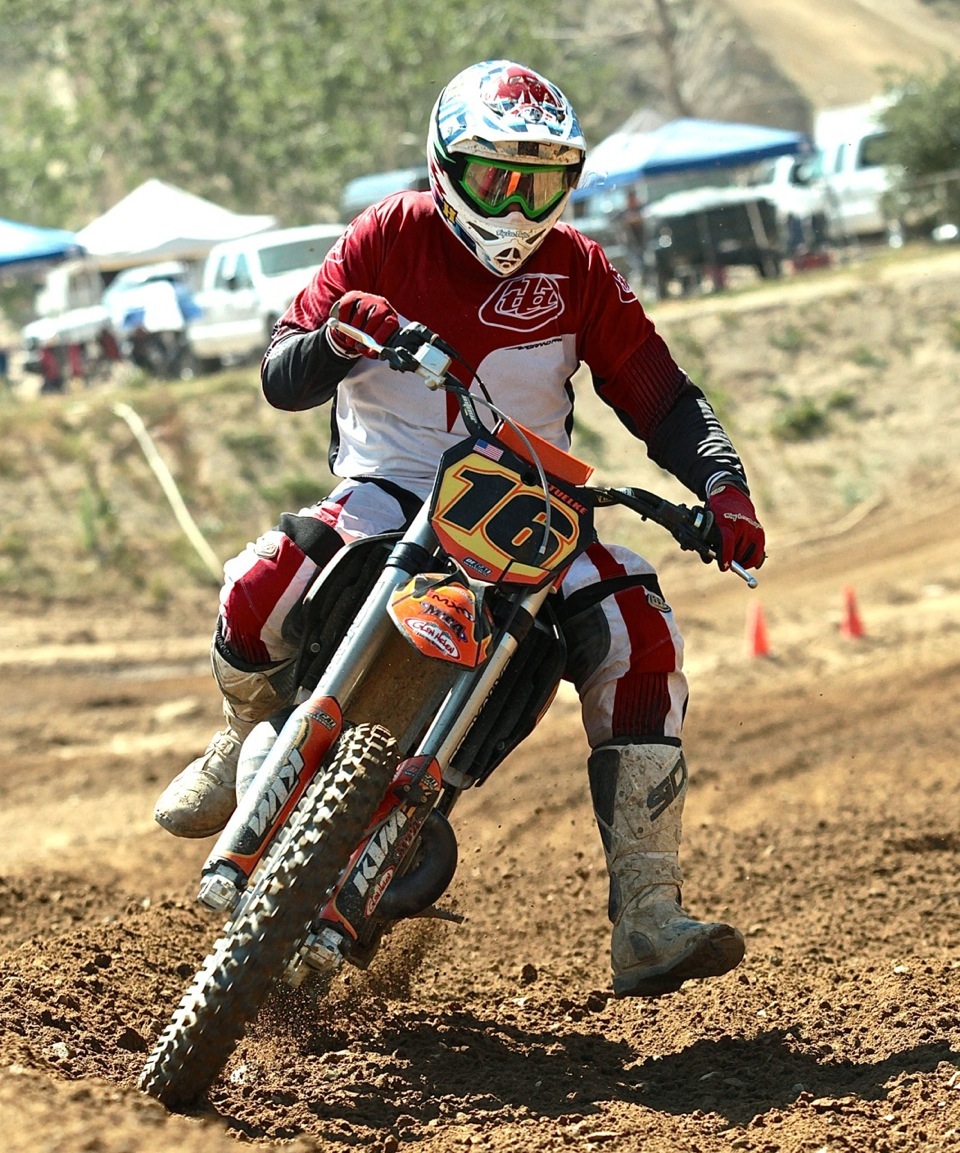 While son Justin was getting second in the 450 Pro class, four-time 250 National Champion Gary Jones won the Over-60 Expert class on a KTM two-stroke.
AMA Hall of Famer Gary Jones, there were three Hall members racing at REM this weekend, won both motos of the Over-60 Expert class on a KTM two-stroke that he borrowed from fellow Over-60 rider Rich Stuelke (Stuelke had another KTM for himself). Jones went 1-1 in front of YZ250 two-stroke racer Mike Marion. The top ten was rounded out by Carl Gazafy in third, Kent Reed fourth, Tom White fifth, Mic Rodgers sixth, Jody Weisel seventh, Lars Larsson eighth, Tony Parson's ninth and Mitch Evans tenth.
Jeff  "Chicken" Matiasevich gets a status update on what time dinner is from Randy Skinner.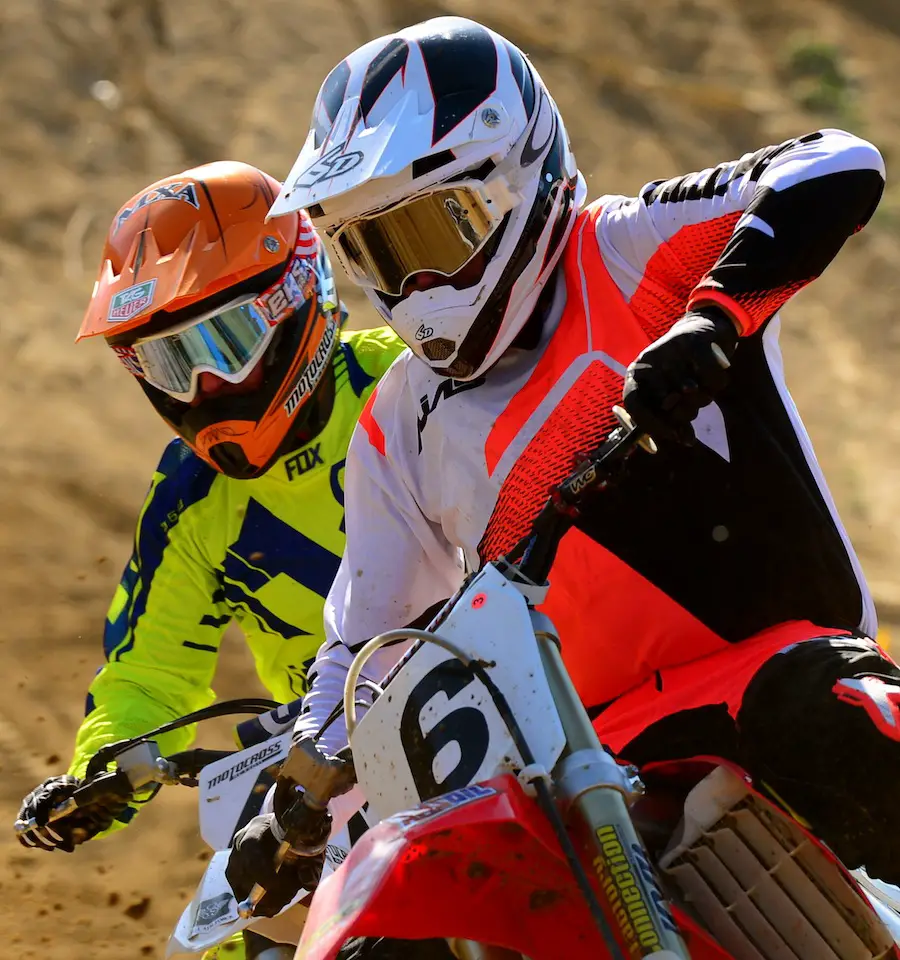 Bob Weber (6) spends his weekend testing his product on the race track. What is his product? 6D helmets. Bob went 3-3 in the Over-50 Elite class.

Broadi Davis (126) won the 250 Open class. The "Open" category can be raced by riders of any skill level, but goes off the gate with the Intermediates. That makes it better training for a rider who wants to race against faster competition.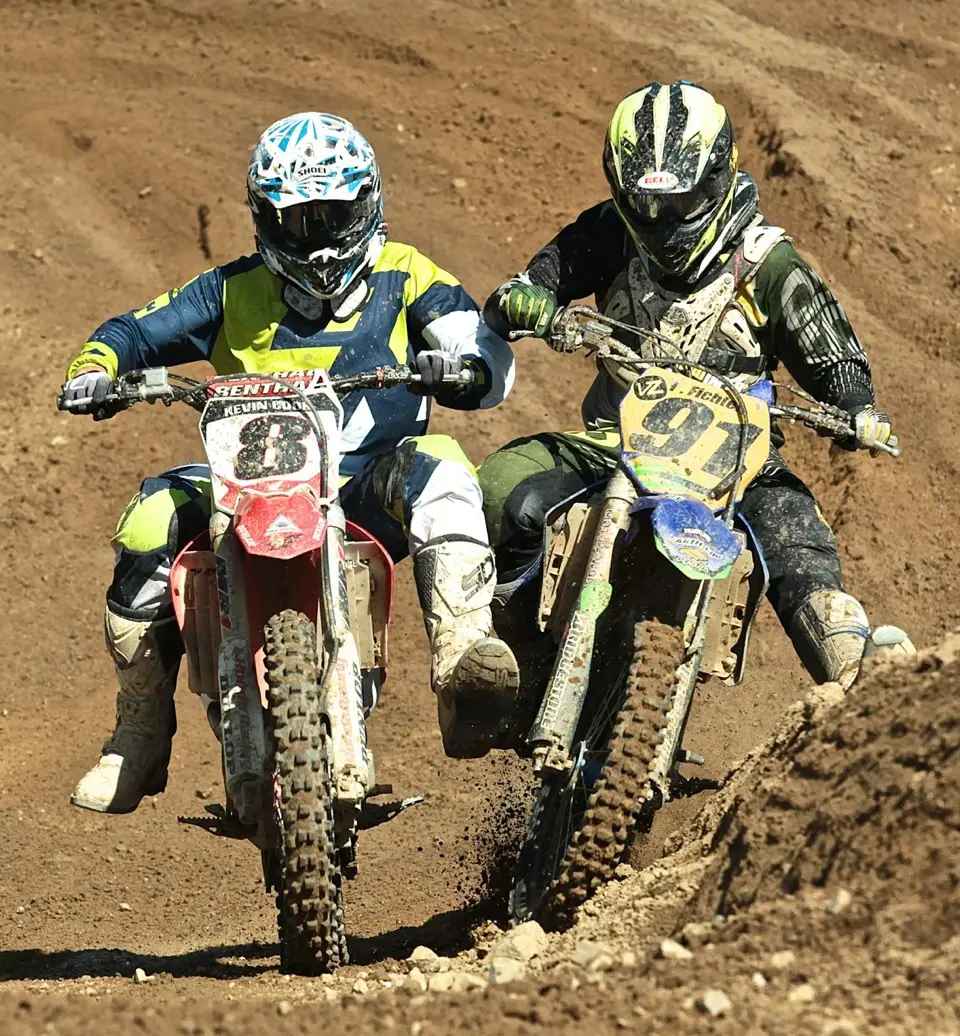 Kevin Cook (8) and Tommy Fichter (91) approach the finish line turn together. Fichter has his arm in front of Cook, but Cook has his foot in front of Fichter.
Fichter begins to run out of room as Cook turns away.
But, it's too late as Fichter's bike hits the inside bank and flops over. Fichter was third in the 250 Novices and Cook was 8th in the 450 Novices.
This is the first start of the Over-50 Expert class. Dave Eropkin (811) has the holeshot with Bob Weber (6) and Ian-Fitz-Gibbon (21) behind him. It was all for nought as a crash in the wall turn required the race to be red flagged and started over.
This is the second start of the Over-50 Expert class. Luther French (2) has the holeshot with Dave Eropkin (811) and Jon Ortner (10) behind him. Luther won the Expert class with a 1-1, while Jon Ortner won the Over-50 Elites with a 1-1.
Michael Quinn (31) took the 250 Novice victory with a 1-2 in front of Bradley Cole's 3-3. Pablo Montoya won the second moto, but had an 8th in moto one and ended up fifth overall.

Aussie Dan Alamangos (28) is back to racing, although conservatively, after his recent injury. He was assigned MXA's 2015 KTM 250SXF Factory Edition for the day.
This week's downhill was short and steep (as the turn was moved onto the face with very little runout at the bottom). Luther French (2) goes for the tight inside line, while Dirk Davidow (9) swings wide for the outside.

Mark Hall (47), Randy Skinner (383), Joe Sutter (111) and Andy James (58) try to find a little daylight against the man in front of him. They would finish 8th, 9th, 6th and 10th respectively in the Over-50 Experts.
Tom White (80) went 6-5 in the Over-60 Expert class for fifth.
REM's banked first turn has plenty of room for Terry Cook (303), South African Alan Jullien (0), Eddie Davis (155) and Joe Cirocco (154).
Scotty Walker (5) and Daniel D'Agostino (55) have a monopoly on the fifth numeral.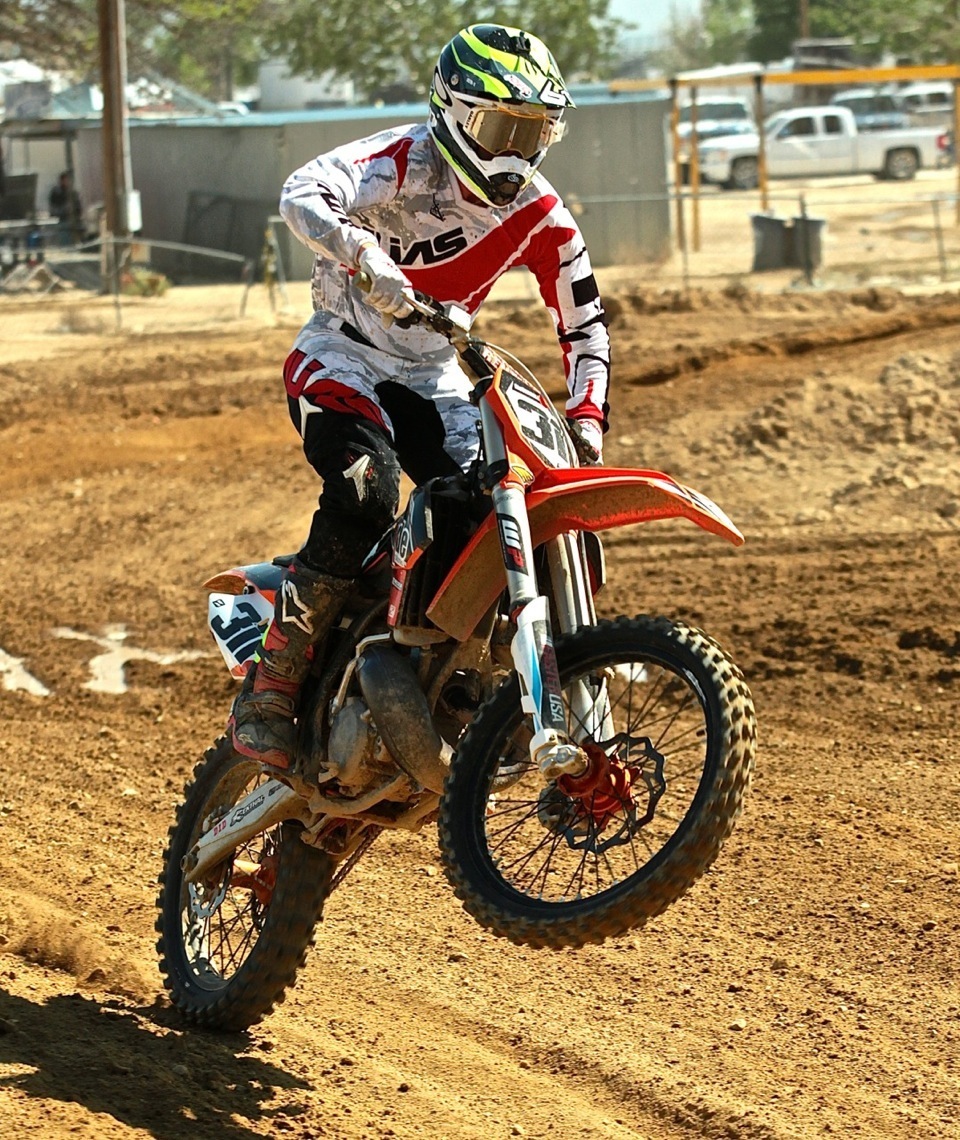 British rider Aaron McCarroll won the 450 Intermediate class.
Swedish rider Andreas Sundberg won the prize for the least visible numbers on his way to third in the 250 Intermediates.
The next REM race is on April 4. They are taking next weekend, March 28, off because Glen Helen is hosting a Tough Mudder mud run. For more info go to www.remsatmx.com