REM GLEN HELEN RACE REPORT: BLAKE WHARTON'S COMEBACK RACE GOES AWRY IN SPECTACULAR FASHION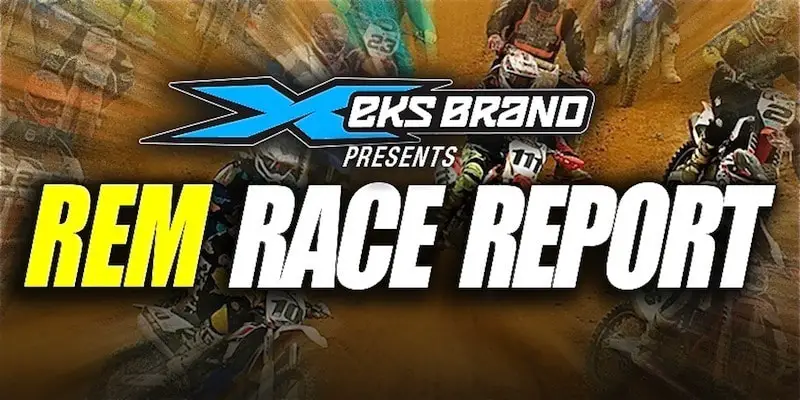 With a light drizzle falling throughout the first motos, traction was prime in lots of places, with just a touch of slip-and-slide on the wet spots (and don't even asked how gently you had to go to get off the concrete starting pad). Jon Ortner demonstrates where the tacky part is. Photo: Debbi Tamietti
Blake Wharton dropped out of AMA Pro racing during the 2014 season. Blake had three 250 East Supercross wins to his credit and the former Rockstar Suzuki and Geico Honda rider finished in the top five in 250 Supercross five times. He planned to return to Pro racing a couple weeks ago, but suffered a practice injury and had to wait a few weeks. He is riding for the ibCorp/Eterra Yamaha team. However, before he makes his comeback in St. Louis next week, he wanted to get in some actual race time, so he showed up at REM's weekly Glen Helen motocross.
It's important to note that the track is going left, while Blake Wharton in going right (and over the berm). Photo: Debbi Tamietti.
Blake had a good outing in the first 450 moto, on a borrowed YZ450F, leading most of the way with Sean Lipanovich pursuing all the way to the flag. But in the second moto, the positions were reversed with Blake chasing Sean. Blake closed the gap about halfway into the moto, but overcooked the fast downhill straight and, when he smacked the berm at the bottom on the hill, his YZ450F stood up and threw him off to the right. Blake hung on but as the bike cleared the berm it bucked him forward—then he hit his face on the crossbar pad. He got up, dusted himself off and worked his way back to second place.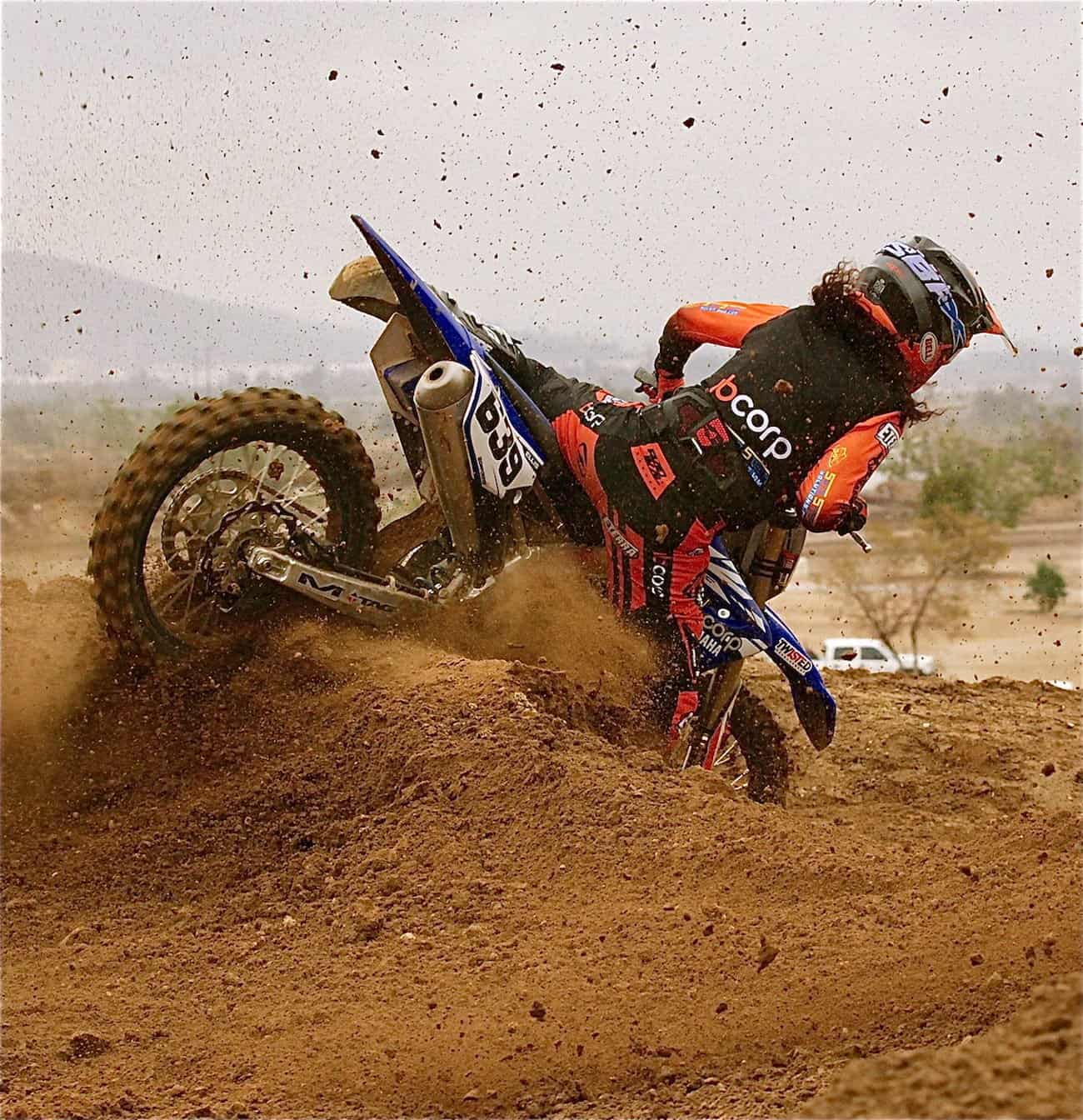 Blake's swingram and frame catch on top of the berm. Photo: Debbi Tamietti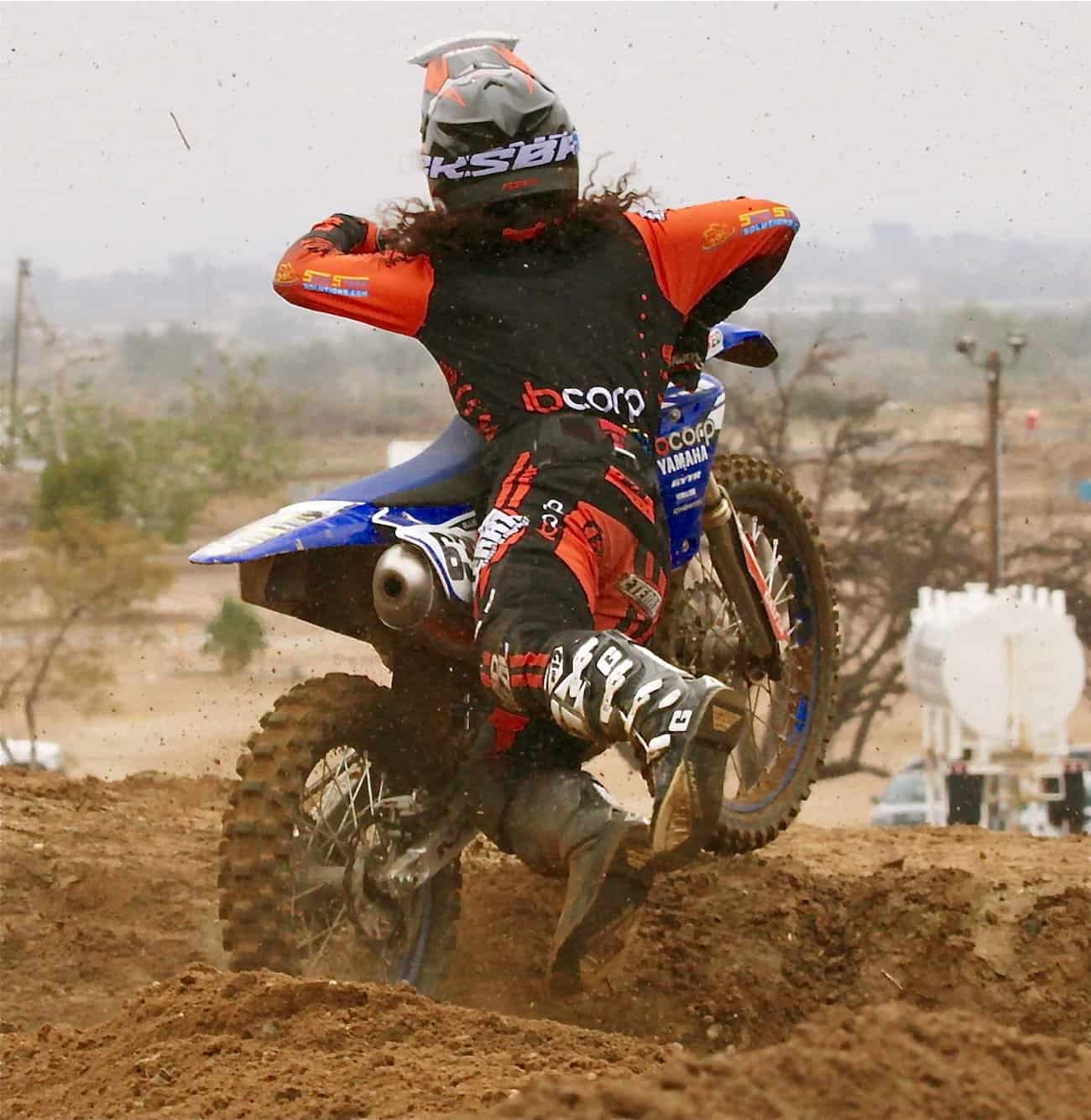 But, never one of give up, Blake hammers the throttle and gets over the berm, but he reverse-Hoppalong Cassidy's off the bike (and in this photo his head is recoiling from bouncing off his triple clamps). Photo: Debbi Tamietti.
By the time it was all over, Sean Lipanovich had blasted by to take the win, but none too worse for the wear Blake got up to finished second. Photo: Debbi Tamietti.
450 PRO
1. Sean Lipanovich…2-1
2. Blake Wharton..1-2
3. Cody Johnson…3-4
4. Michael Witcher…5-3
5. Dennis Jonon…4-5
The 450 Pro winner was Sean Lipanovich (505). Here, he gently moves lapper David Cincotta (861) out of the way. Photo: Debbi Tamietti
Dennis Jonon (85) went 4-5 in the 450 Pro class for fifth place, but to get fifth he had to race through a blizzard of flying dirt. Photo: Dan Alamangos.
If it hadn't been for Wharton's surprise appearance at REM, the big news would have been the rain, predicted rain, hit-and-miss drizzle and eventually a perfect day for racing. As is always true at REM, once the races were over, the skies opened up and poured.
You gotta love a rider who is prepared, although the rain was never intense enough to affect the track, the fine mist played havoc on rider's goggles. As far back as the 1970s a goggle lens taped on your visor helped keep your goggles clean. Michael Wichter was ready for rain. Photo: Dan Alamangos.

Ralf Schmidt (73) and Alan Jullien (70) were the powers that be in the 125 Adult class. Photo: Debbi Tamietti
At the March 24th REM motocross, which is only one week before the MTA World Two-Stroke Championship, STI Tires will sponsor a $500 purse 125cc two-stroke class. It will be a warm-up for the World Teo-Stroke racet and even though there is a purse, the class isn't limited to Pros, anyone can sign up—as long as they are on a 125 two-stroke.

STI Tires owner Craig Petersen not only raced this week's 125 warm-up for the World Two-Stroke Championship, but he is sponsoring a $500 purse for the next 125cc Adult race on March 24. Photo: Debbi Tamietti
As a warm-up to the warm-up, REM held a 125 Adult two-stroke class this weekend (the "Adult" reference in the class name means "no kids on minicycles"—just true-to-life 125s). This week's race 125 class had some powerhouse REM talent (all of them adult in the truest sense of the word). Dutchman Ralf Schmidt took the win on a TM MX125 in front of South African Alan Jullien on a YZ125, Giovanni Spinali was third (on another YZ125) with David Cincotta was fourth on a Honda CR125 with John Griffin fifth on a Suzuki RM125. Next week's sponsor, Craig Peterson from STI Tires, raced a Honda to 6-6 finishes.
125 ADULT
1. Ralf Schmidt…1-1
2. Alan Jullien…2-2
3. Giovanni Spinali…3-3
4. Dave Cincotta…4-4
5. John Griffin…5-5
Val Tamietti, yes, the same Val Tamietti from Saddleback Park fame, leads a hungry pack of Over-60 racers, the youngest of whom was born in 1958. Photo: Dan Alamangos.
In what has become a major surprise, not just in SoCal, but to most race tracks across the country, the biggest class at REM Motocross has become the Over-60 class. And this week was a barn burner of a race, as some well-known names from SoCal racing in the 1970s showed up in the Expert class.
Former Pro Circuit Husqvarna rider Mike Monaghan (33) proved that he still knows how to race a two-stroke. Mike was second in the Over-60 Experts and third in the Over-50 Experts. Photo: Debbi Tamietti
Former CMC number one and Maico racer Val Tamietti has been unbeatable on his Yamaha YZ250 two-stroke—but this week two new faces, who just recently turned 60, showed up to race. They were also mounted on 250 two-strokes. Randel Fout won the first moto of the Over-60 Experts on MXA's 2018 KTM 250SX. Randel was followed by former Pro Circuit Husqvarna Pro Mike Monaghan on MXA's 2018 Yamaha YZ250. The normally unbeaten Val Tamietti crossed the line in third with former 125 Pro Dave Eropkin in 4th on a KTM four-stroke.
Mike Marion (80) on the YZ250 that Tom White gave him before he passed away and Randy Skinner (72) on MXA's 2018-1/2 KTM 450SXF Factory Edition had a battle in both moto, but Skinner would end up 4th overall and Marion 6th. Photo: Dan Alamangos.
The stage was set for an epic second moto, but Randel Fout elected to moved to the Over-50 Expert class for his second moto, leaving Monaghan, Tamiettti and Eropkin to duke it out. It was not to be as Monaghan crashed late in the moto and ended up third, while Eropkin looked good for awhile, but then faded. Val Tamietti's unbeaten streak remains alive.
Marc Crosby went 8-8 in the Over-60 Expert class on MXA's blue and yellow KTM 250SXF. Photo: Dan Alamangos.
OVER-60 EXPERT
1. Val Tamietti…3-1
2. Mike Monaghan…2-3
3. Dave Eropkin…4-2
4. Randy Skinner…6-4
5. Joe Pena…5-6
Cody Johnston went 3-4 for third overall in the 450 Pro class. Photo: Dan Alamangos.
Max Lee (50) won the 250 Pro class, but spend most of his day in the midst of the 450 Pro battle.  Photo: Debbi Tamietti
6D Helmet's Robert Reisinger took the Over-50 Expert win. It helped that his main nemesis, Ron Shuler, tried to race with the flu…unsuccessfully. Photo: Debbi Tamietti

Kent Reed (491) swept both motos of the Over-65 Intermediates in front of Gene Boere, Phil Cruz and Brian Martin. Photo: Debbi Tamietti
Brand breakdown: At this week's REM motocross there were 30% Yamahas, 23% KTMs, 15% Huskys, 15% Hondas, 10% Kawasakis, 5% Suzukis and 2% TMs.
Ignore the pink gear. David Cincotta had a busy day as he was 4th in the 125 Adult class and 5th in the Over-40 Experts. Photo: Debbi Tamietti.
The age breakdown: Out of the total number of racers at REM, 60% of the REM racers were over the age of 40 (17 percent were in the Over-40 classes). 42% were over the age of 50 years old (20 percent were in the Over-50 class) and 22% were over the age of 60.
Neken's James Lavender (328) wheelies over the ups and down of the fast straight to the back corner. James was third in the Over-40 Experts with a 3-3. Photo: Debbi Tamietti
Tony Parson (68), Mark Donaldson (192) and Curtis Jablonski (3) try to keep things straight. How so? Tony is an Over-65 Intermediate, Mark is an Over-60 Expert and Curtis is an Over-60 Intermediate. It works itself out eventually. Photo: Debbi Tamietti
Randel Fout (38) led a two-stroke sweep of the first moto of the Over-60 Expert class ahead of Monaghan and Tamietti, but didn't want to be scored because he wanted to switch to a different class for the second moto. Photo: Debbi Tamietti
MEANWHILE, AT THE REM KID'S TRACK
Kale Bucher (511) used a 1-2 to secure the 50cc win. Photo: Debbi Tamietti
One of the coolest things about REM is that they built a Pee-Wee track inside the perimeter of the big REM track. It is so close that it can easily be seen from the REM pits. REM holds races for 50cc and 65cc bikes while the regular REM races are going on (nothing bigger than a 65 is allowed—except by permission). An regular REM racer with young kids or grandkids can race at REM and take Junior with him and let him race on a safe and fun Pee-Wee track.
Ryder Friday (42) and Travis Pietronico (99) swap scores with Travis going 3-1 and Ryder scoring a 2-4. Photo: Debbi Tamietti
REM's next race is on Saturday, March 24. For more info go to www.remsatmx.com
NEXT REM RACE IS ON SATURDAY, MARCH 24, AT GLEN HELEN

Click on all images to enlarge
Photos by Debbi Tamietti, Mark Chilson and Dan Alamangos