REM GLEN HELEN RACE REPORT: CLASSIC RACING WITH JUSTIN JONES, SEAN COLLIER, BOB RUTTEN & ROBERT REISINGER
Four-time Baja 1000 Champion and ISDE Gold Medalist Justin Jones (2X) left motocross to become an off-road racer, but still knows how to do it, as his 1-1 score in the 450 Pro class proves. Photo: Dan Alamangos
When the REM racers showed up for Saturday's regularly scheduled race they were greeted by a much longer track—even longer than the previously longest track. This layout included a high-speed sand section and seven uphill/downhill combinations. The best thing about REM is that promoter Frank and Myra Thomason know how to run a race. They are masters at combining different classes into two-wave starts so that the racers can get out of the park by 2:00 p.m. It's quick, the motos are long, the track is well-prepped and  everybody  behaves.
Sean Collier decided to race a YZ250 two-stroke to get ready for next Saturday's Pasha 125 Open two-stroke race at Glen Helen. Why did he ride a YZ250 to prepare for a 125 race. He was saving his 125. Sean went 2-2 in the 450 Pro class, but crashed a couple of times. Photo: Debbi Tamietti
With the Pasha 125 Open next Saturday, most of the two-stroke regulars were out in force, but the heavy 125 Pro hitters were saving their tiddlers for what could be an intense month-and-a-half of two-stroke racing leading up to the April 3rd World Two-Stroke Championship. Sean Collier showed up on a two-stroke, but it was a YZ250. He said that he would be at the Pasha race next Saturday, but he didn't want to ride his 125 too much too soon.
Max Groom (959) got to lead the 450 Pro class, before Jones and Collier took over at the front. Photo: Debbi Tamietti
What follows are photos from moto-photographer Debbi Tamietti (with a little help from Dan Alamangos and Jody Weisel). Debbi hasn't been at the races lately, because husband Val injured his hand and she stayed home to feed him porridge and wipe the sweat off his brow. It must have worked because Val Tamietti came back to finish second in the Over-60 Expert class on a borrowed YZ250. Enjoy the photos and see you at Glen Helen next week.
Debbi is back. Photo: Jon Ortner
Ford Heit went 1-1 in the 250 Pro class. Photo: Debbi Tamietti
450 PRO RESULTS:
1. Justin Jones (Hon)…1-1
2. Sean Collier (Yam)…2-2
3. Max Groom (KTM)…3-3
There are flat sections of the REM track, but they are joined by steep uphills and even steeper downhills. Tristan Higgins (411) leads the Pros down a hill that bends to the left while still descending. Photo: Debbi Tamietti
450 BEGINNER RESULTS:
1. Nate Janis (Hus)…1-1
2. Eric Miller (Yam)…2-2
3. Tyler Eversman (Yam)…3-3
Former Kawasaki test rider and 6D helmets engineer had it all his own way in the Over-60 Expert class. Bruce Ashmore (111) was sixth. Photo: Dan Alamangos
Val Tamietti (26) finished second in the Over-60 Experts. The former Saddleback star used a 3-3- to beat Randy Skinner's GasGas which went 2-4. Photo: Debbi Tamietti
OVER-40 NOVICE RESULTS:
1. Eric Warrington (Hon)… 1-1
2. Lamont Dusseau (Yam)…2-3
3. Craig Peterson (KTM)…4-2
Patrick Flynn (23) and Frank Emerson (75) expose a few rocks in this downhill right-hand turn.. Photo: Debbi Tamietti
OVER-50 NOVICE RESULTS:
1. Todd Polaky (KTM)… 3-1
2. Rodrigo Luna (KTM)…2-3
3. Matthew Trussell (Yam)…1-4
Former Baja Champion Bob Rutten (83) makes the trip down from Utah every couple weeks to race at REM. He won the Over-65 Expert class with a 1-1. Photo: Debbi Tamietti
OVER-60 NOVICE RESULTS:
1. Angel Montoya (Hus)… 1-1
2. Owin Wright (Hon)…2-2
3. Stephen Johnston (KTM)…3-3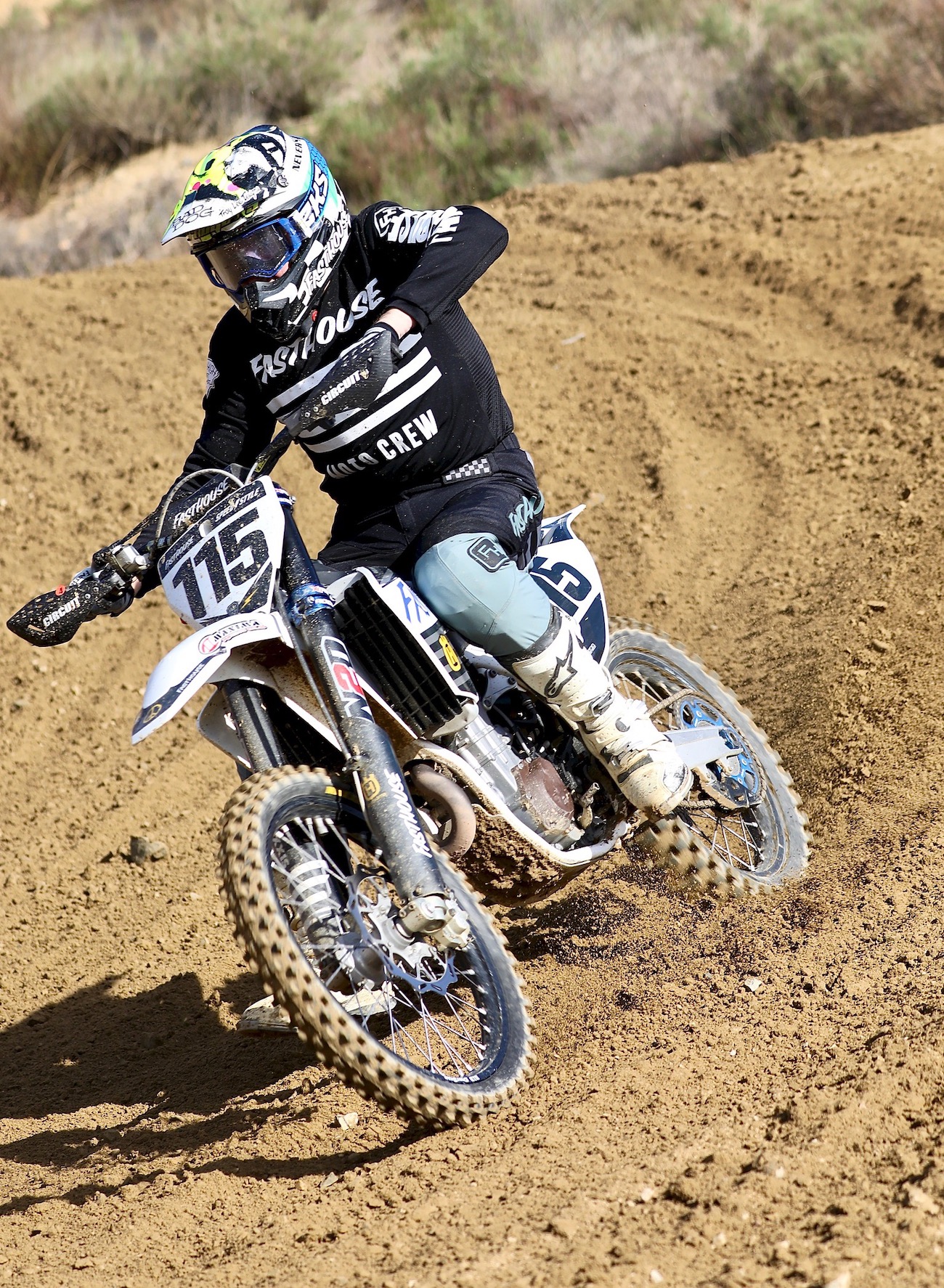 Hollywood stuntman Mic Rodgers finished second in the Over-65 Experts with a 3-2 Photo: Debbi Tamietti
OVER-40 INTERMEDIATE RESULTS:
1. Steve Moore (KTM)… 1-1
2. Kevin Weston (Kaw)…2-2
3. Lamont Dusseau (Yam)…3-3

Luc DeLey (74), who just happens to be Mitch Payton's next door neighbor, used a 1-2 to beat Lance Sloan's 3-2 and Tim Hoole's 6-1 for the Over-60 Intermediate gold. Photo: Debbi Tamietti
OVER-50 INTERMEDIATE RESULTS:
1. Mark Sandzmier (KTM)… 2-1
2. Pete Anagnos (Hon)…1-2
3. Earl Roberts (Yam)…4-3
Australian Dan Alamangos (57) doesn't like getting beat, but its worse if Joe Sutter (111) is handing out the whipping. Sutter went 6-1, while Alamangos went 4-6 for fourth and sixth respectively in the Over-50 Expert class. Photo: Debbi Tamietti
OVER-60 INTERMEDIATE RESULTS:
1. Luc DeLey (KTM)… 1-2
2. Lance Sloane (KTM)…3-2
3. Tim Hoole (Yam)…6-1
Four-time 250 National Champion Gary Jones (88) and Ed Guajardo (27 got to sit down and have a chat after they both went down in a deep rut. Photo:Dan Alamangos
OVER-65 INTERMEDIATE RESULTS:
1. Gene Boere (KTM)… 1-1
2. Tom Holmes (KTM)…4-2
3. Tony Parson (KTM)…3-3
Gary Jones (2) can still fly, as proven by his World Vet Championships in the Over-30, Over-40, Over-50 and Over-60 Expert classes. Photo: Debbi Tamietti
OVER-65 EXPERT RESULTS:
1. Bob Rutten (KTM)… 1-1
2. Mic Rodgers (KTM)…3-2
3. Gary Jones (KTM)…2-4
Gary Jones's son Justin is no slouch on a bike, but he does have to slouch to get his tall body to fit on his Honda CRF450X off-road bike. Photo: Debbi Tamietti
OVER-60 EXPERT RESULTS:
1. Robert Reisinger (KTM)… 1-1
2. Val Tamietti (Yam)…3-2
3. Randy Skinner (Gas)…2-4
Lars Larsson (58) is one of a small group of Over-70 racers at REM that don't have a class to race in, so they congregate in the Over-65 Intermediate class. 79-year-old Lars went  2-4, but ended up in a three-way tie for second overall, but his 2-4 was beaten by Tom Holmes' 4-2 and Tony Parsons' 3-3. Photo: Debbi Tamietti
OVER-50 EXPERT RESULTS:
1. Bryan Friday (KTM)… 2-2
2. Mke Davis (Hus)…3-3
3. Chris Radzinski (Kaw)…1-5
We don't know what Dan Alamangos is shooting a photo of, but he should stop and shoot a photo of Randel Fout's tire changing contraption instead. Photo: Debbi Tamietti
OVER-50 ELITE RESULTS:
1. Luther French (KTM)… 3-1
2. Jon Ortner (Yam)…2-2
3. Alan Jullien (KTM)…1-3
This week's REM track was considerably longer than in the past. Here, Jody Weisel (98) and Gene Boere (62) head out back to the North 40. Photo: Debbi Tamietti
John Griffin (7), Johnny Benskin (77) and Ralf Schmidt (73) engage in some close formation flying. Photo: Debbi Tamietti
Mike Burgmeier's 4-2 in the Over-50 Novice class was only good enough for fourth overall. Photo: Debbi Tamietti
Rodrigo Luna (146) was second overall in the Over-50 Novices with a 2-3. Photo: Debbi Tamietti
Matthew Trussell (38), Tony Parson's (68) and Mike Hillion (413) avoid this logjam in the first turn. Photo: Debbi Tamietti
George Pritchard (641) won the 85 Beginner class. Photo: Debbi Tamietti
The first turn at REM looks nice and flat as you approach it at speed…. Photo: Debbi Tamietti
…but once you get there it becomes a steeply banked, 180-degree, bowl turn. Photo: Jody Weisel
REM has a nice Pee-Wee track right next to the REM tracks starting line so that racers can bring their kids with them to ride their 50s or 65s while dad races. This is Logan Fout. Photo: Debbi Tamietti
REM is schedule to race on February 20 (with the 125 Pasha Open two-stroke race). For more info go to www.remsatmx.com or Click Here for REM's Facebook page
$6000 2021 PASHA 125 OPEN TWO-STROKE RACE ON FEBRUARY 20 AT GLEN HELEN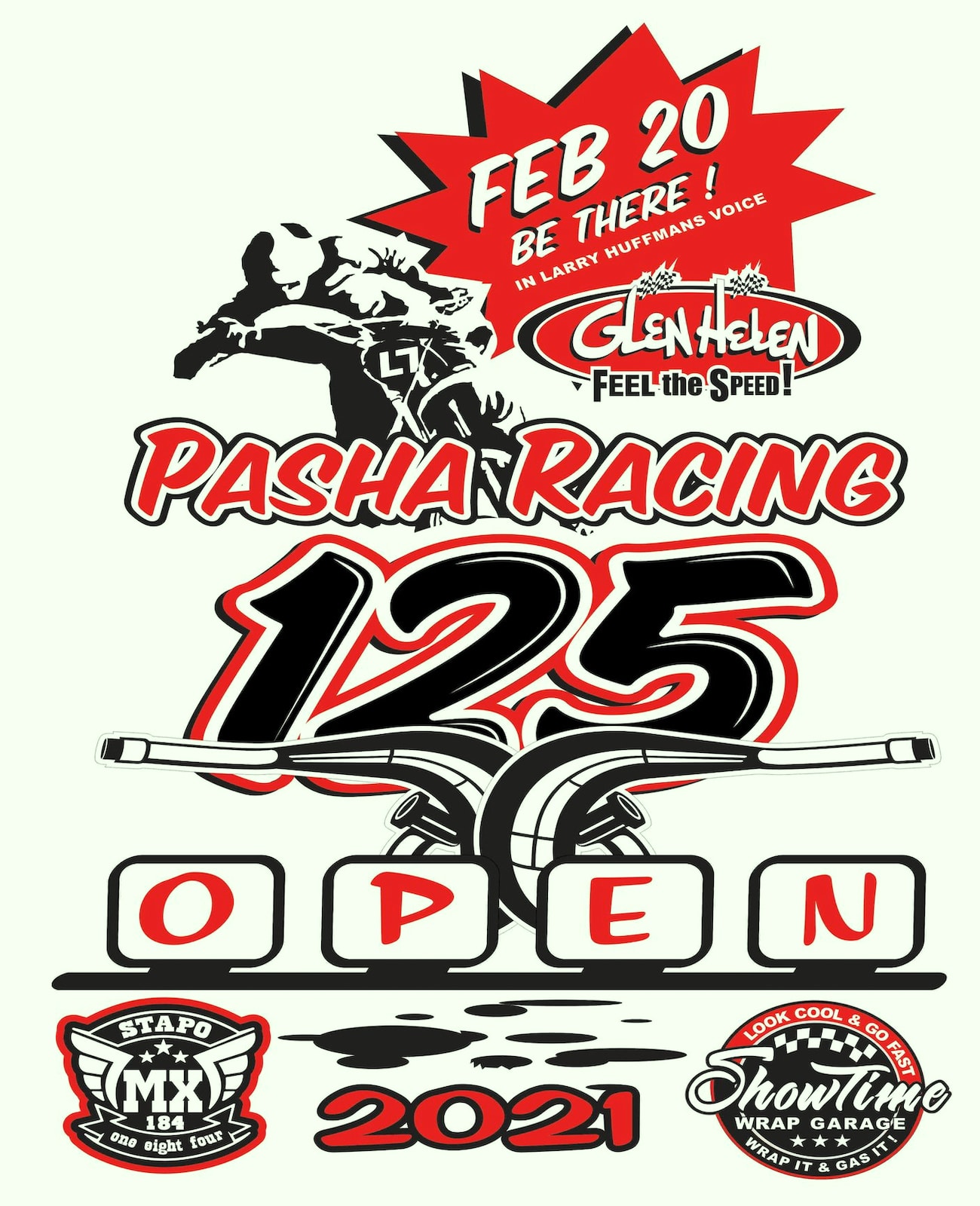 The $6000 Pro purse divided by three classes (Open Pro, Over-30 Pro and Over-50 Pro). First place pays $1000, second place $600 and third place $400 in each class. This is a 125-only race (for up to 150cc two-strokes). There are no amateur classes, if you want to race your 125 two-stroke, you have to accept the money when you win even if you are a Novice! For more info go to www.remsatmx.com