REM GLEN HELEN RACE REPORT: JUSTIN HOEFT VERSUS BRADLEY TAFT


Click on images to enlarge
Photos by Debbi Tamietti, Dan Alamangos and Rich Stuelke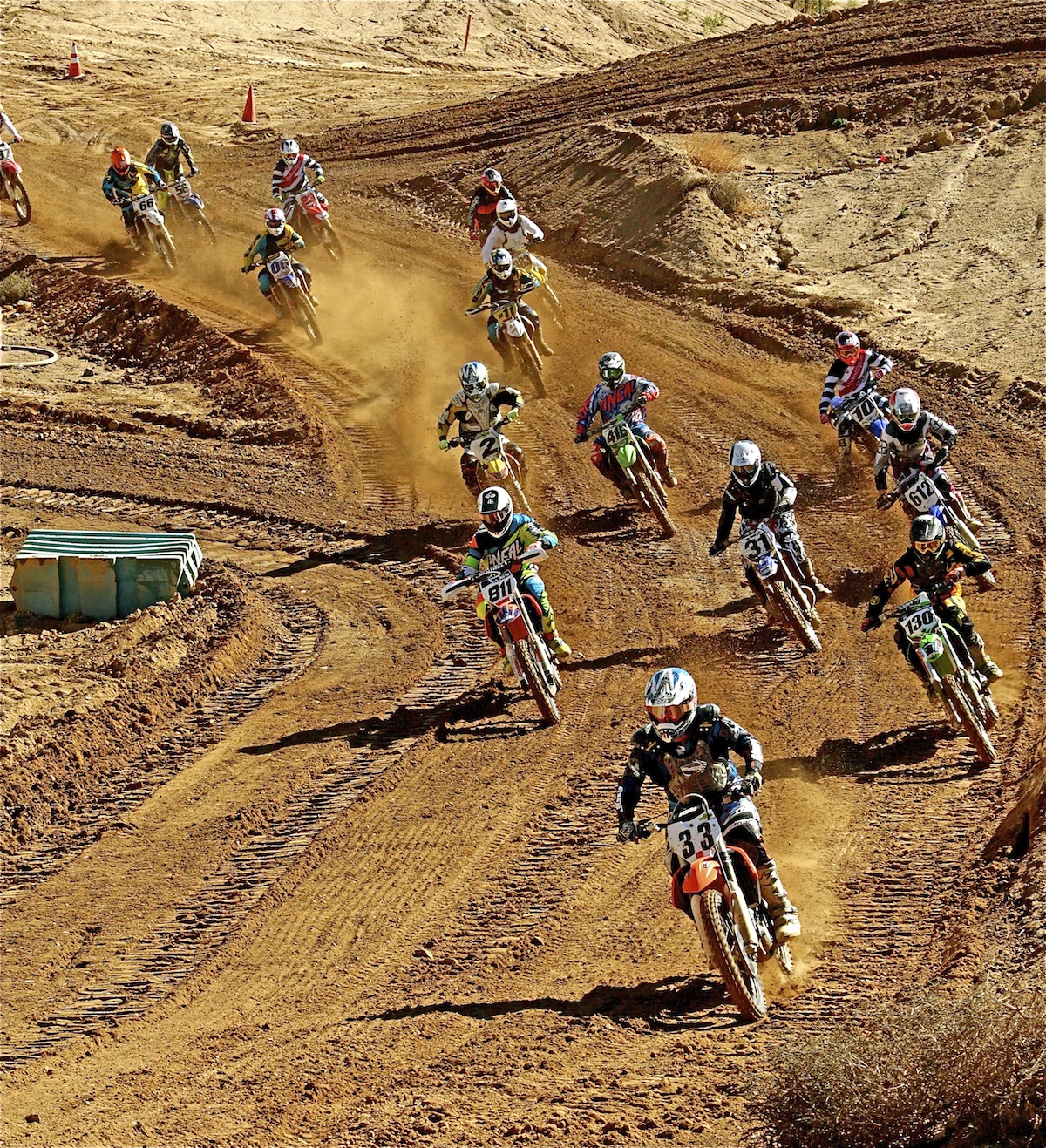 Ron Shuler (33) gets the holeshot in the Over-50 Expert race. Other notables include Dave Eropkin (811), Val Tamietti (31), Luther French (2) and Phil Dowell (23). Ron Shuler went 2-4 for second behind Steve Pfaff (612). Photo by Rich Stuelke
The build-up to the World Vet Motocross Championship saw very large REM turnouts, but now that the long four-day World Vet weekend is over, things are back to normal at the Glen Helen motocross facility.
Justin Hoeft (237) digs a trench on his way to a 2-1 victory in the 450 Pro class. Photo by Debbi Tamietti
This week's motocross race was a chance for the REM regulars to kick back and relax without the pressure of having to race against riders from 20 different countries. It was like old home week at REM.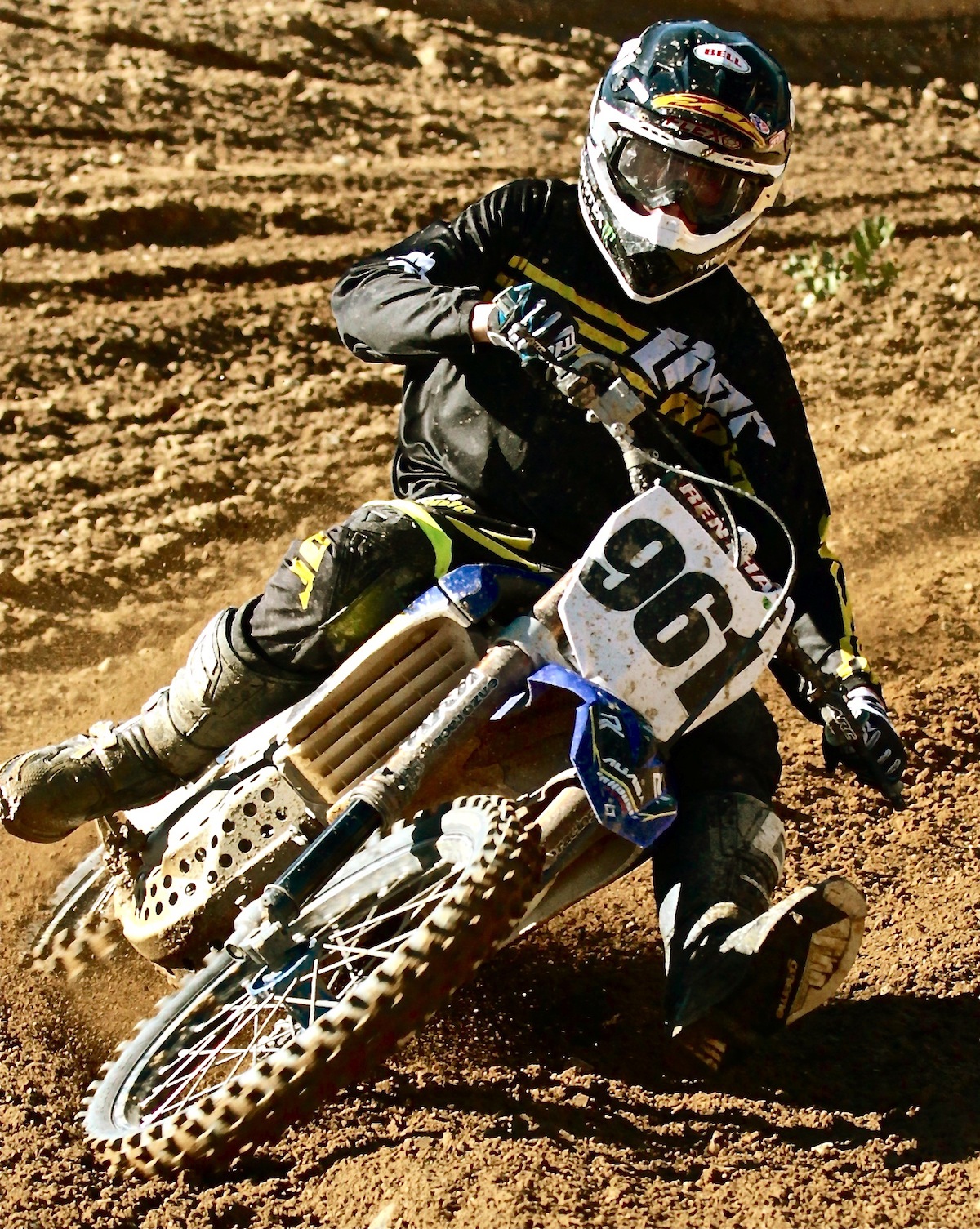 Bradly Taft (961) gets help from the Star Yamaha team. His 1-2 left him second in the 450 Pro class. Photo by Debbi Tamietti
This week's breakdown by brands showed that 28% of the riders were on Yamahas, 25% on KTMs, 23% on Hondas, 9% on Kawasakis, 8 % on Suzukis, 6% on Huskys and 1 % on TMs. The most interesting fact is that almost half of the Suzuki racers were on two-strokes and Suzuki hasn't sold a two-stroke in the USA since 2008.
Ciaran Naran (11) not only won the 250 Intermediate class, but he did it on a Husqvarna two-stroke. Photo by Dan Alamangos
As far as the age breakdown goes, a phenomenal 65% of the REM racers this weekend were over the age of 40. Of all the riders over 40 years old, 75% were over 50 years old (20% of those were over 60 years old). In simple math, 13% of the riders at REM were born before 1955 and almost half of those Over-60 were born in the 1940s. This may well be a California phenomenon because of the large number of racers from the good old days who still work in the motorcycle industry and never stopped racing.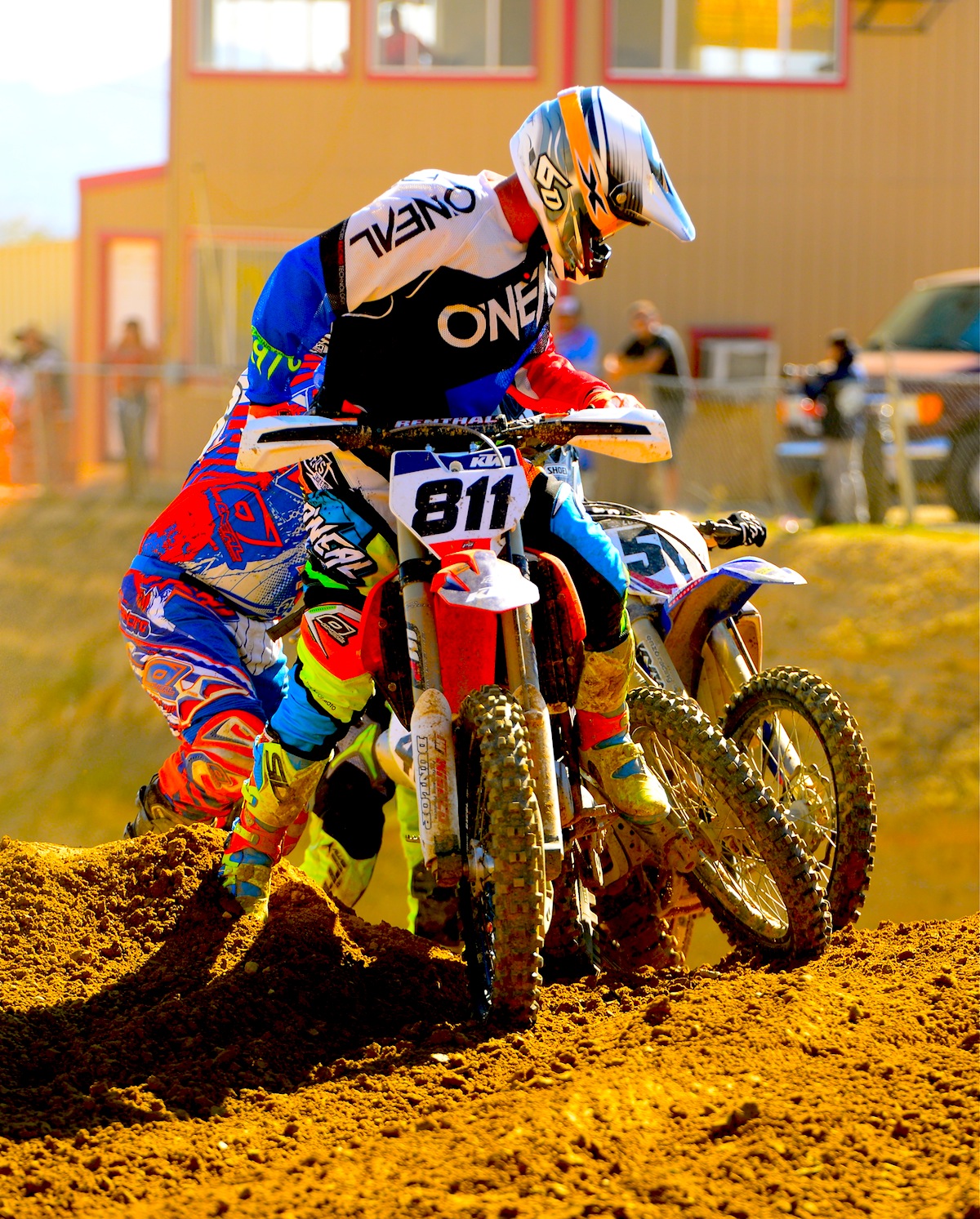 Dave Eropkin's forward progress was halted by Greg Pierce and Fred Nichols. You can's see everyone in this crash, but you will note that there are some extra legs in the photo. Eropkin (811) salvaged a 6th overall in the Over-50 Experts. Photo by Dan Alamangos
The winners on the day were: Justin Hoeft (450 Pro), Tony Amaradio (Vet Pro), Scott Boston (450 Intermediate), Ciaran Naran (250 Intermediate), Steve Pfaff (Over-50 Expert), Robert Pocius (Over-50 Intermediate), Ted Kukla (Over-50 Novice), Greg Pierce (Over-40 Expert), Craig Bouman (Over-40 Intermediate), Josh Heckman (Over-40 Novice), Will Harper (Over-60 Expert), Brian Martin (Over-60 Intermediate), Rich Stuelke (Over-60 Novice), Nathan Berge (250 Novice), Maxx Maurphy (450 Novice) and Nick Pollack (Vet Novice).

Jerry Black was not first to the big mud hole —as you can tell from this photo—because the first guy to the mud always comes out clean. The mud came from a broken fire hose and was only a factor in one moto. It just happened to be Jerry's. Photo by Dan Alamangos
REM races again next Saturday, November 21, before taking Thanksgiving weekend off for Day In The Dirt. REM action will resume for the final three races of the 40-race-long 2015 REM season with races on December 5,  December 12 and December 19. For more info go to www.remsatmx.com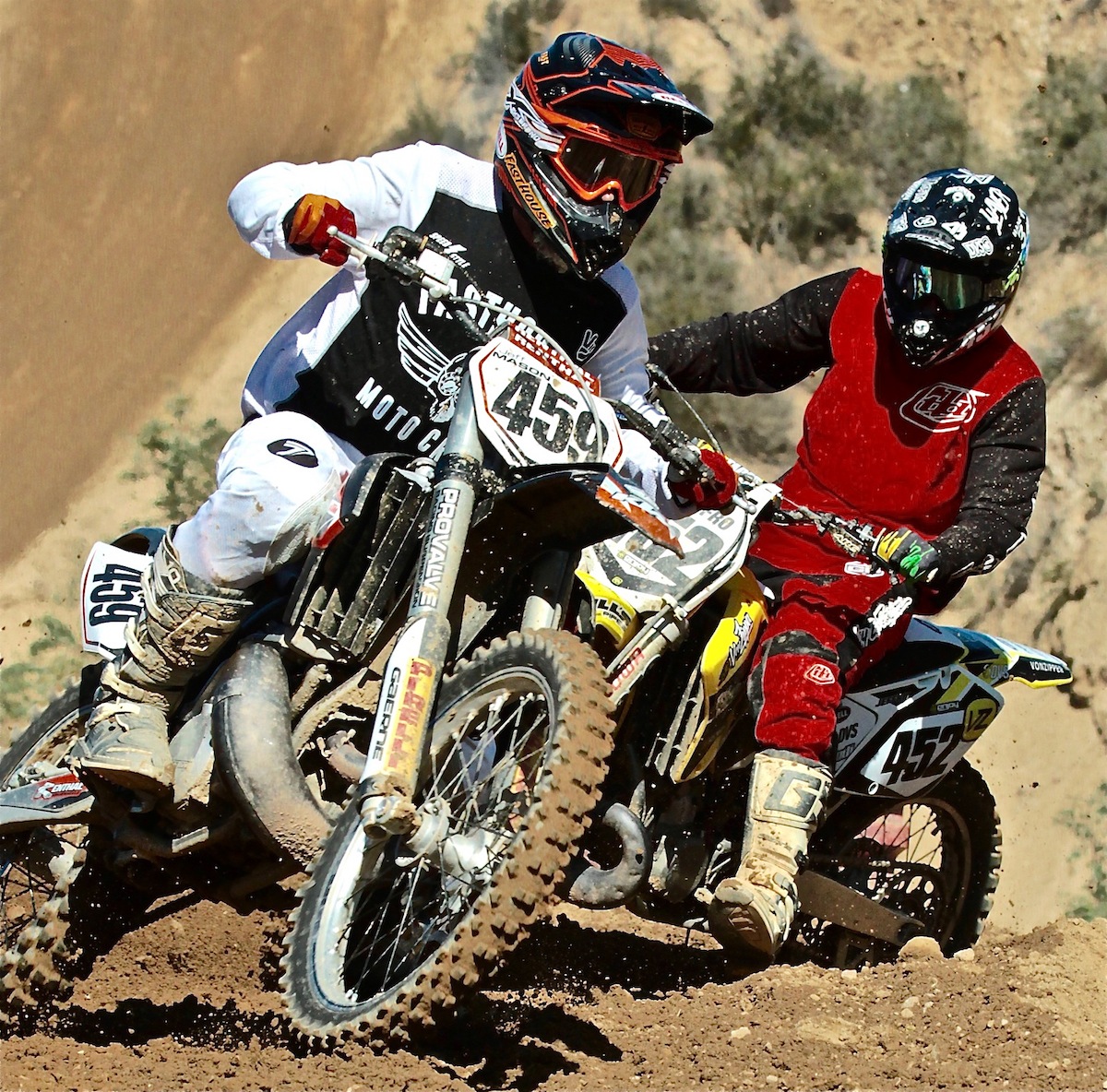 Jeff Mason (459) and Jeff Scott (452) were second and third in the Over-50 Intermediates on their Suzuki RM250 two-strokes. Photo by Dan Alamangos

Dan Alamangos raced MXA's 2016 Honda CRF450 all the way to his big crash. Note anything strange about Dan's CRF? It is equipped with WP Cone Valve forks. Photo by Rich Stuelke
Dean Dickinson from R&D Racing asked the MXA guys to help him map his creative Genius throttle body for the 2016 Kawasaki KX450F. He came out to change maps, while three different MXA test riders raced the bike. Photo by Dan Alamangos
Jody Weisel (64) on the R&D Genius-equipped KX450F. Photo by Dan Alamangos
Jon Ortner (64) on the R&D Genius-equipped KX450F. Photo by Dan Alamangos

Randel Fout (64) on the R&D genius-equipped KX450F. Photo by Debbi Tamietti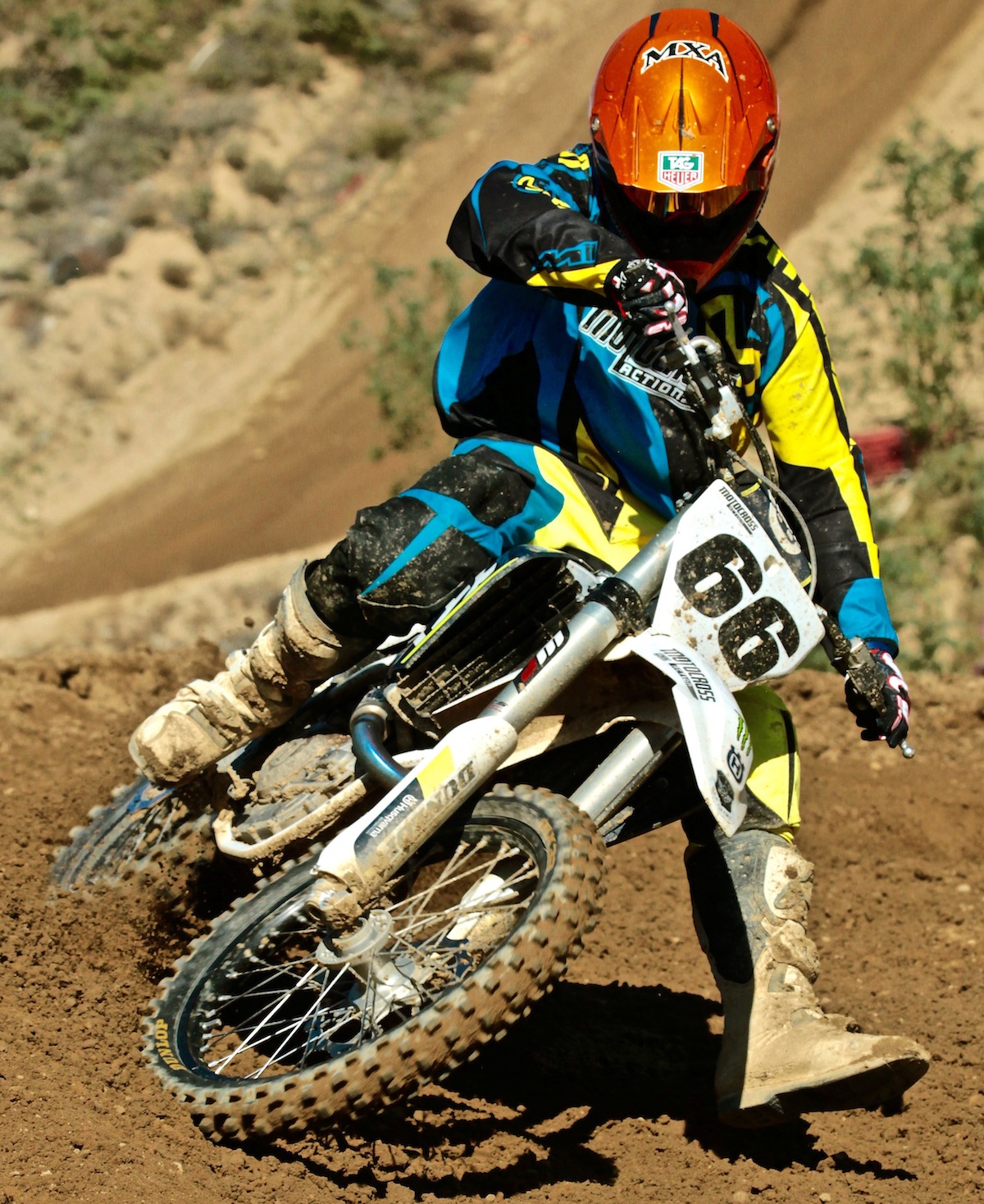 Mark Hall (66) was not allowed to ride the R&D Genius-equipped KX450F. He is assigned to the Husqvarna FC450. Photo by Debbi Tamietti
Ted Kukla (96) used a 1-2 to win the Over-50 Novice class. Behind Ted you can see Anthony Rose (127), Lonnie Paschal (51), Tim Rohan (3) and Marc Crosby (42). Photo by Dan Alamangos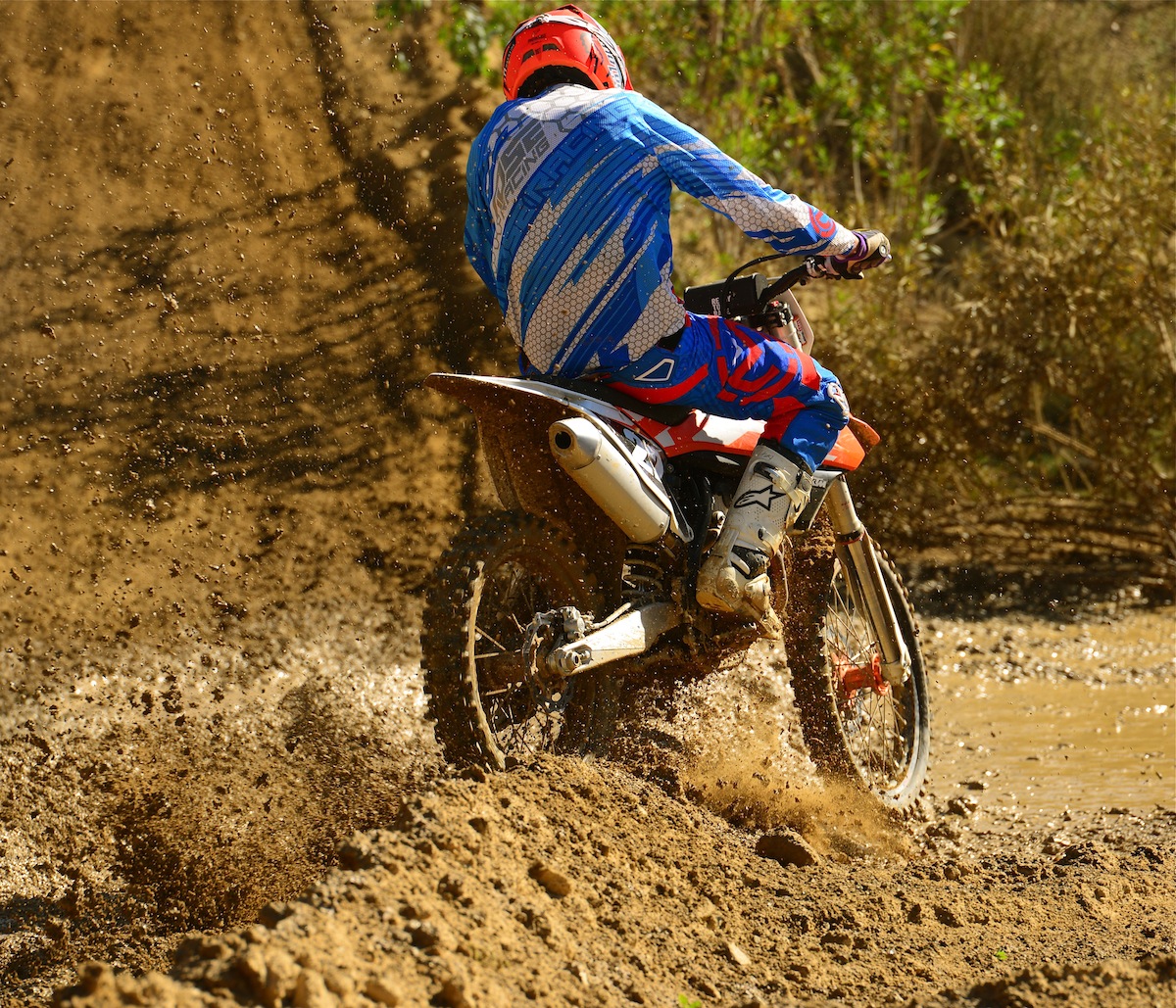 You have admire Australian Chris Alamangos' total commitment. The track has turned left, but he is headed right into a muddy pond. But note, that he still has the throttle pegged. Photo by Dan Alamangos
Steve Pfaff (612) comes over from Sedona, Arizona, to race REM on occasion and every time he comes he wins the Over-50 Expert class. If anyone is a candidate to get moved to the Over-50 Elite class–it's Steve. Photo by Debbi Tamietti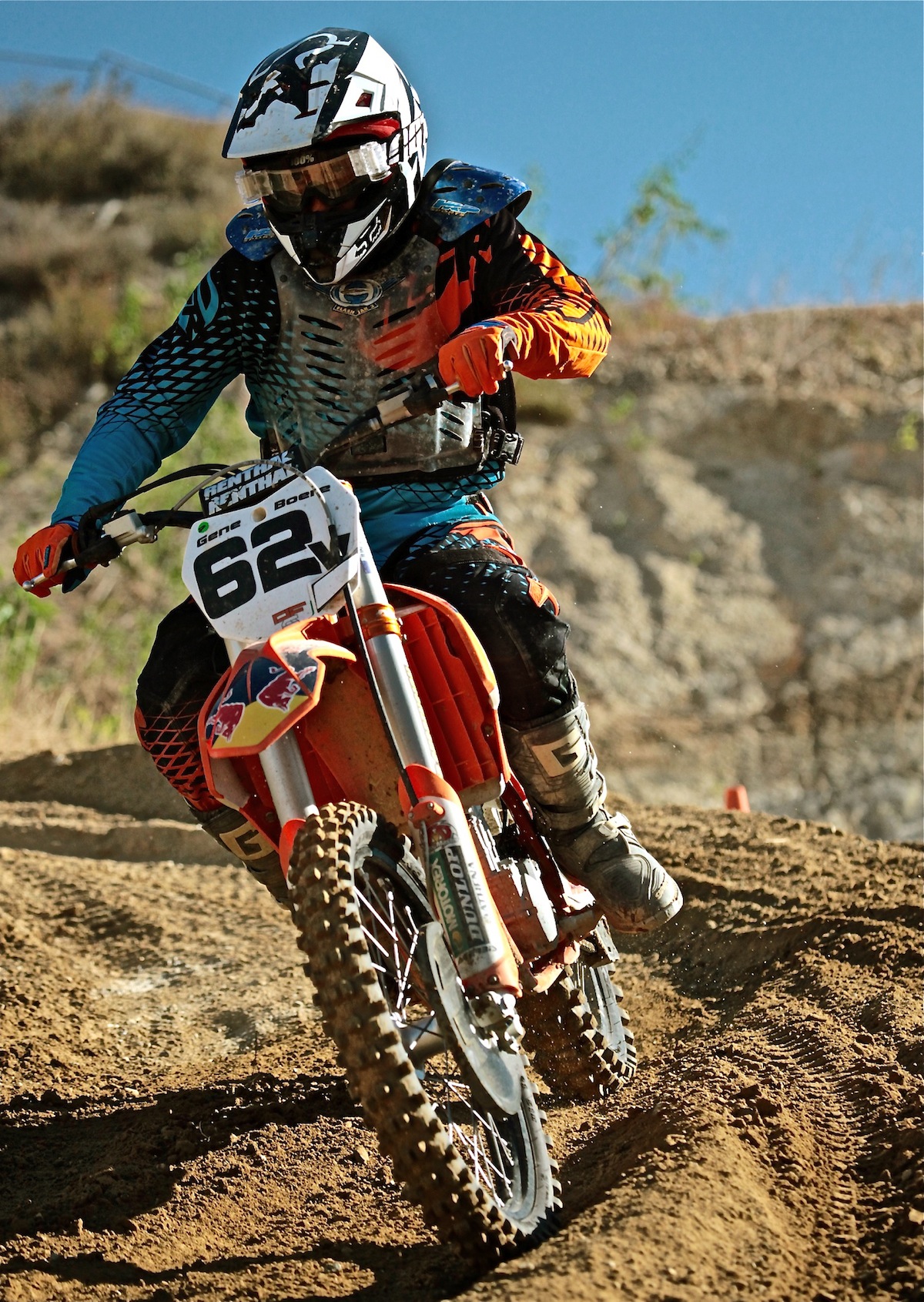 Gene Boere (62v) was a solid 5th in the first moto of the Over-60 Experts behind Will Harper, Carl Gazafy, Mike Marion and Kent Reed. Unfortunately, Gene had issues in the second moto and ended up 9th for the day. Photo by Debbi Tamietti
Kurt Nishimura (12) got a chance to come to REM to race his trusty CRF450. That's his buddy Bil Seifert (37) chasing him. Photo by Debbi Tamietti