REM GLEN HELEN RACE REPORT: KYLE PETERS TAKES 250 CLASS, JEFF ALESSI WINS 450 PROS, SWEDES STYMIED THIS WEEK

Photos by Dan Alamnagos

MXA's Dennis Stapleton (25) leads the Pro class on a merry chase around a section of track that looks like it goes in a circle. It doesn't.
During the month of April REM Motocross does something special for the Pro classes ? in order to help aspiring AMA Pros get ready for the start of the AMA 250/450 National Motocross Championships ? REM holds 30-minute motos. It is a chance for riders to test their endurance, get a feel for going beyond their normal limits and see if they are ready for the long AMA National motos.
A funny thing happens when REM begins its month of 30-minute motos…the typical AMA Pros go into hiding. Guys who show up for the regular 20-minute motos get scarce when the motos extend out to 30-minutes. It's as though they prefer not to know if they can race flat-out for 30 minutes…they'd rather show up at Hangtown and be surprised.
So, who does show up? Young riders who want to test themselves, AMA Pros who are serious about working on their race speed and Swedish riders who are prepping for the long AMA National motos or even longer FIM GP motos.
THE FASTEST OF THE FAST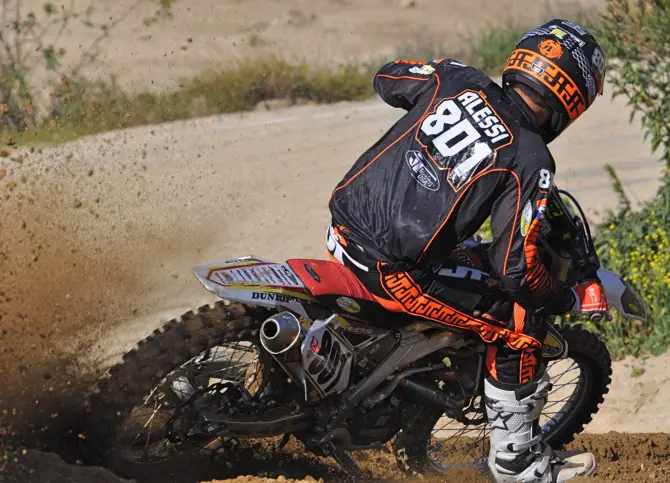 Jeff Alessi is trying to get ready for the Nationals…REM is the place to start because of their long motos.

Jeff Alessi and Swedish rider Fredrik Noren were well matched at REM in the 450 Pro class. Alessi got better starts, while Noren was faster. But, and this is a big but, over the course of two 30-minute motos speed isn't as important as racecraft. Alessi had it and Noren didn't.
After going 1-2 in the first moto, the winner would be decided in moto two. Alessi led and Noren pursued, but when he caught Alessi…Noren crashed. The Swede lost 10 seconds to Alessi and fell back to third. But he whittled Alessi's lead down at about a second a lap…taking time out of Jeff, but also running off the track and giving some of it back.

Kyle Beaton (132) couldn't run with Kyle Peters in the 250 Pro class, but he did get second overall.
With one lap to go, coming down Mt. Whitney, Fredrik Noren finally reached the rear wheel of Jeff Alessi's bike. Noren knew that this was his best chance and the two collided under hard braking. Noren succeeded in blowing Alessi off the inside line, but he hit Jeff so hard that his feet flew off the pegs. Both riders staggered around for a few seconds, but once they were back in motion, Jeff Alessi was in front again.

The Pro conga line.                                                                                                     Photo: Mark Chilson
It was a really good race for Jeff. He was pushed hard and he survived. He didn't get rattled under pressure and he held on for a 1-1 win.
Fredrik Noren went 2-2 for second and after the moto, the two riders stopped at the exit and fist bumped each other…no hard feelings either way. Swede Robert Lind used a 4-3 to take third from Travis Bell's 3-4. Swede Marcus Ovgard was fifth with a 7-5.

Kyle Peters (96) took his Star/Valli Yamaha to first overall in the 250 Pro class and third overall among all the Pros.
Star Yamaha's Kyle Peters swept the 250 Pro class with Canadian Kyle Beaton going 2-2. Jared Petruska was third.
THE LUCKY INTERMEDIATES


Ryan Surratt (51) and Billy Musgrave (42) represented the youth two-stroke movement. Both plan to stick with two-smokes all year.

The lucky Intermediates got a chance to race 30-minute motos also…because they started in the second gate behind the 250/450 Pros. Ryan Surratt, son of former AMA 125 West Supercross Champion Willy Surratt, took the 250 Intermediate victory with a 2-2 beating Swede Krisoffer Palm's 1-3. Joseph Reynolds was fourth in the first moto, but came back to win the second moto ? it was only good enough for third.
Ray Obermeyer won the 450 Intermediates, while Tony Amaradio and MXA's Dennis Stapleton dueled over the Vet Pro money. They split moto wins, but Stapleton blew the shock on his MXA test bike in moto two and struggled with a pogo stick for 30-minutes. Don Biscelgia won the Over-40 Pro class.
THE BIGGEST CLASSES OF THE DAY


Brain Martin (65) and Dr. John Tookey (24) try to match their four-stroke and two-strokes tastes in the Over-50 Novice class. Tookey's YZ250 took him to sixth, while Martin's YZ250F left him tenth.
What were the biggest classes at REM this weekend? The Over-50 Novice class was the biggest class, with the Over-50 Intermediate a close second and the Over-40 Novices the third biggest.
Over-50 Novice: Every Over-50 Novice is aware of the dangers of winning the Over-50 Novice class too many times – a quick trip to the Over-50 Intermediates (and nobody wants to move to that class since a horde of Over-50 Experts were allowed to move down earlier this year). Brian Underdahl used a 2-1 to hold off Ty Larson for the Over-50 Novice victory. Roy Krull's 3-3 and Terry Varner's 4-4 got them exactly what the math dictates. Ian Pederson's 7-5 got him fifth overall with Dr. John Tookey (8-8) in sixth.

This is the Over-50 Intermediate class, but not the order that they finished in. Greg Groom (659) would eventually have a ramathon with Mike Monaghan (52) and they would both fall out of the top five. Kevin McCarthy (711) ended up eighth and Mike Phillips (7) was third. Photo: Mark Chilson.
Over-50 Intermediate: The transplants from the Over-50 Expert class have been winning the Over-50 Intermediate class since the start of the year. And, this week was no different as Fred Nichols went 1-1 in front of Randy Skinner's 2-3. REM hopes that the migration of the back-of-the-pack Over-50 Expert class riders to the Over-50 Intermediates will reset the class…and that the previous batch of Intermediates will rise to the challenge.

Over-40 Novice: Pasha Afshar got the win, but didn't win any motos. Afshar's 2-2 beat Joe Sutter's 1-3 and Owen Fitzsimon's 6-1
THE MISCELLANEOUS CLASSES ARE THE FLAVOR


If you've never been to Glen Helen you really can't appreciate the steepness of the hills. Travis Bell (29) doesn't have time to marvel at how big Mt. Saint Helen is in the background.
Here are some of the other winners

250 Novice: Chad Blackburn used a 1-1 to stay in front of Steven De Rose's 2-2, Cameron Reitzel's 5-3 and Swede Mattias Augustsson's 4-4.
250 Beginner: Evan Renka put together a 2-2 score that was good enough to edge out Corey Pennington's 1-3. Second moto winner Joe Valencia was working with a seventh in moto one and could only manage third overall.

Brian Smith (294) leads Nick Nahas (713) and eventual Vet Novice victor Joe Sutter (111), as Owen Fitzsimon (258) looks on. Smith ended up eighth, Fitzsimon seventh, Nahas fifth and Sutter first.
Vet Novice: Joe Sutter backed up his second overall in the Over-40 Novice class with a win in the Vet Novices. Sam Ramirez was second, Pete Vetrano third, Scott Fichter fourth and Nick Nahas fifth.

Don Biscelgia (677) came in from Texas for a little bit of REM. Don won the Over-40 Pro class.
Vet Intermediate: Gary Bowman came down from Bakersfield to use a 2-1 to take the gold over Kris Lavoie's 1-2 and Adam Morrow's 3-3.
Over-50 Expert: Jon Ortner took the win with a 1-1 over Dave Eropkin, Willie Amaradio and Ron Lawson.

Ray Pisarski (11) and Tom Holmes (510) split moto wins in the Over-60 Expert class.
Over-60 Expert: Tom Holmes won the first moto, but lost the overall when Ray Pisarski, on a CRF250, got a second place start behind Jody Weisel, who was immediately stung by a bee on lap one and needed the paramedics to check him out after the moto. Pisarski's good start gave him the second moto win and the overall. Lars Larsson was third overall.
REM races again next Saturday. For more info about the long motos and the AMP Research/Pivot Works Spring Series go to www.remsatmx.com