REM GLEN HELEN RACE REPORT: MITCHELL FALK HEADED TO THE BIG TIME


Click here to subscribe to MXA: https://hi-torque.com/motocrossaction
This aerial view flattens out the terrain, but take our word for it, the inside line was a very steep hump with an equally deep rut.  It's downhill coming into the turn and uphill going out. If you did the rut right, it was the fast way, but lots of riders did it wrong, which is why the outside line looks so well used. That's Willy Simons, Sr. in the corner. Photo: Harry Leitner
With another new track design, including a steep uphill in the back canyon section, this week's REM race saw some incredible races and lots of crashes. The new uphill was steep and deep and if riders jumped up onto the face at an angle they often squirreled out, sometimes taking the guys behind with them.
Everything on the REM track was a challenge, from the flat-track sweeper down by the starting line, to the hump turn in the back corner, to the choppy uphill that led to the big fast downhill. There were lots of exciting battles.
It is never this dirty at the Daytona 200, but Joey Pascarella (57) rides through the spray trying to keep Swedish speedway racer Kim Nilsson (233) behind him. Photo: Dan Alamangos
Not the least of which was in the 450 Intermediate class, where Swedish speedway racer Kim Nilsson, Mexican star Jose Brambilla and 2012 Daytona 200 road race winner Joey Pascarella traded places all day long. In the end, the speedway rider's 2-1 beat the Mexican's 1-3 and the road racer's 3-2.
Mitchell Falk (612) recovered from this crash to catch up to and repass Willy Simons, Jr. (46). Photo: Dan Alamangos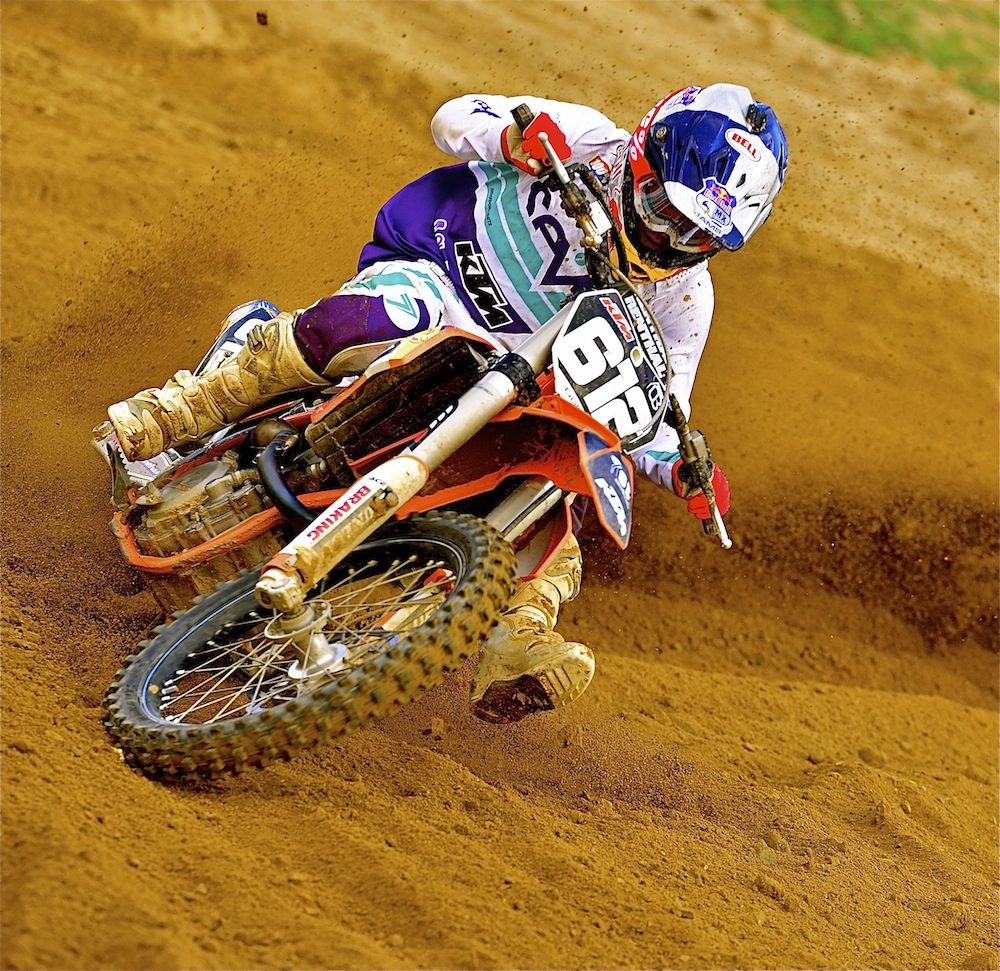 The miscue above aside, Mitchell Falk (612) rode with intensity. Photo: Dan Alamangos
KTM's former Pee-Wee, 65 and minicycle star, Mitchell Falk,  showed up on a KTM 250SXF four-stroke and immediately proved that he was ready for the bigger bike. KTM had given Mitchell a 125SX two-stroke to race for six months while he made the transition to the larger machines, but now he is on the bike that he will race the foreseeable future. The 250 Intermediates shared the gate with the 450 Pros and Mitchell Falk poured it on to run down 450 Pro leader Bradley Lionnet to take the first moto win in the Intermediates and first overall of all the classes. Hoping to do the same thing in moto two, Falk went all out again, but this time Lionnet was ready for the assault and managed to get away, helped by a Falk crash. Lionnet won the Pros and Falk won the Intermediates.
Bradley Lionnet won the 450 Pro class. Photo: Dan Alamangos
Ralf Schmidt, the TM importer for the USA, showed up with a just uncrated 2015 TM 125MX and proceeded to win the Over-40 Intermediate class (which is the stomping ground of 450cc four-strokes). Schmidt's 1-1 bested Bryan Friday's 2-3, Chris Radzinski's 3-4, Kendall Stanley's 5-5 and Jeff Cases' 6-6.
The Over-50 Experts stream over the second turn. That is Jose Brambilla (311), Willy Simons (46), John Ortner (10), Phil Dowell (23), Dave Eropkin (811), Ron Shuler (33), Val Tamietti (31) and Arnie Davis (4G) Val Tamietti (31), Arnie Davis (4G) and Joe Sutter (111). Photo: Debbi Tamietti
In the popular Over-50 Expert class Phil Dowell left the pack and mixed it up with the higher-profile Over-50 Elite riders. Dowell is trying to prove that he is worthy of moving up to the faster class — and his performance this week was evidence that he is getting there. Val Tamietti's 2-2 gave him second with Ron Shuler (4-4), Dave Eropkin (3-5), Craig Christian (7-3), Will Harper (6-6), Mark Hall (8-7), Arnie Davis (5-12), Mike Monaghan (10-8) and Joe Sutter (9-10) rounding out the top ten.
REM's Over-60 Expert class is one of the biggest every weekend. Here Jody Weisel (58), Tom Holmes (510), Mark Lane (38) and John Huegel (27) navigate en masse. Photo: Chris Alamangos
The Over-60 classes continue to grow. In the Over-60 Experts Hollywoord stuntman Mic Rodgers swept both motos in front of Mark Lane (2-2), Tom White (4-3), Jody Weisel (5-4), Kent Reed (3-7), Tony Parson (6-5), Tom Holmes (7-6) and Lars Larsson (8-8).
Over-60 Expert winner Mic Rodgers. Photo: Debbi Tamietti
THE WINNERS AND THEN SOME

The groom and his best man! Jason Ramsey (285) was getting married at 4:00 p.m. on Saturday, but he and best man Ricky Diaz (51) decided that the best way to prepare for the ceremony was to go racing — in their tuxes. Photo: Debbi Tamietti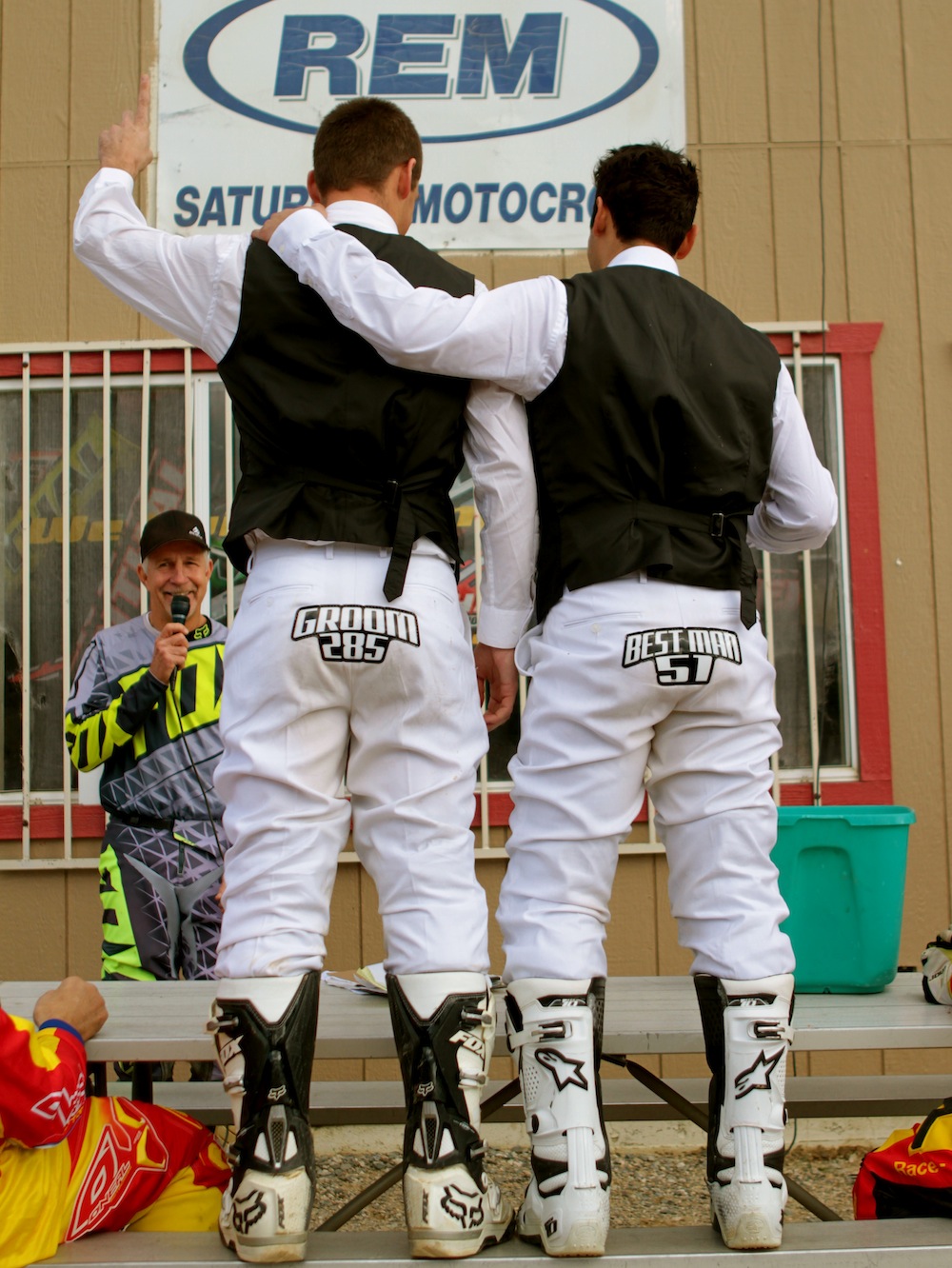 The new wedding day ritual. Photo: Rich Stuelke
450 PRO
1. Bradley Lionnet…Hon
2. Preston Tilford…Suz
3. Ricky Diaz…Hon
4. Jason Ramsey…Yam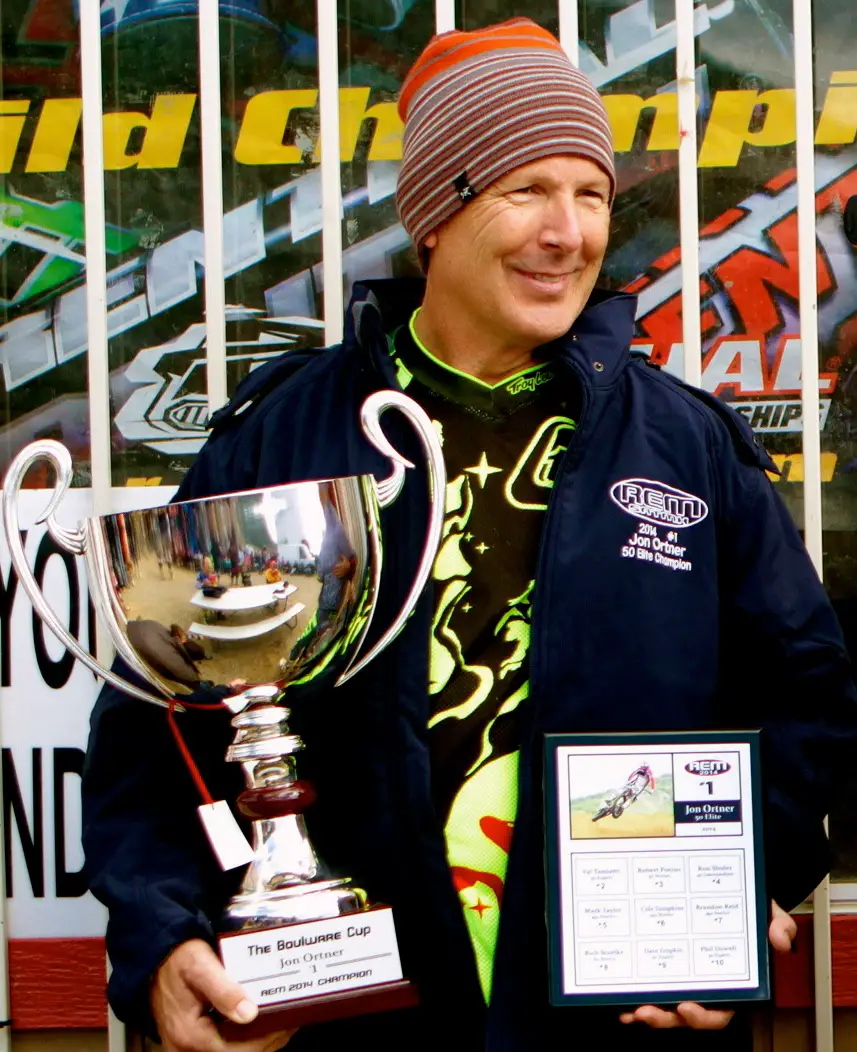 This weekend was awards day, where all of the class Champions were awarded their prizes for the 2014 season. Jon Ortner won the number one plate. Photo: Rich Stuelke
OVER-50 INTERMEDIATE
1. Dirk Davidow…Kaw
2. Michelle Horton…Yam
3. Robert Collins..KTM
4. Robert Pocius…Ya
5. Jeff Scott…Suz
Dirk Davidow. Photo: Debbi Tamietti
VET NOVICE
1. Dirk Davidow….Kaw
2. Craig Peterson…Hon
3. Scotty Walker…Hus
4. Craig Christian…KTM
5. Pasha Afshar…Suz
VET BEGINNER
1. Lamont Dusseau…Yam
2. Alfonso Ruiz…Hon
3. Jason Chism…Suz
4. Shawn Kacherian…KTM
5. Tim Smith…Kaw
Greg Pierce (416), Bryan Friday (43) and Ralf Schmidt (73). Photo: Debbi Tamietti
250 BEGINNER
1. Zach Randolph…Hon
2. Nicole Longinger…KTM
3. Jeff Carpenter…Yam
4. Elish Conlon…Kaw
5. Kristopher Carter…Kaw
Steven Schneider. Photo: Debbi Tamietti
250 NOVICE
1. Cole Tompkins…Hon
2. Steven Schneider…Kaw
3. Ty Cullins…Beta
4. Luis Macias…Kaw
5. Gavin Leachman…Yam
Does this place look like fun? It should because it is blast to sail over this hill and down into the valley below. Photo: Harry Leitner
OTHER NOTABLE WINNERS
250 intermediate: Mitchell Falk (KTM)
450 Intermediate: Kim Nilsson (KTM)
450 Novice: Braden Larson (KTM)
Open Vet: Mark Hall (Kaw)
Over-40 Expert: Greg Pierce (Kaw)
Over-50 Elite: Willy Simons (Yam)
Over-60 Intermediate: Brian Martin (Yam)
85 Novice: Revin Easley (Kaw)
85 Beginner: James Pietronico (Kaw)
Will Harper. Photo Debbi Tamietti.
REM races again this weekend, Saturday, February 7. For more info go to www.remsatmx.com


Click here to subscribe to MXA: https://hi-torque.com/motocrossaction