REM GLEN HELEN RACE REPORT: MOOSE AND SQUIRREL GO RACING AT THE GLEN
The banked first turn has lots of line options, which Billy Joe Mercier (501) and Bullwinkle (861) are demonstrating. However, a little farther back, Pete Murray (25) is leaning in on Jason Goss (828), while Bryan Friday's front wheel is about to join the party.  Photo: Dan Alamangos (Click on images to enlarge)
Goss ended up as the meat of the first turn sandwich and went down.  Photo: Dan Alamangos
Photos by Dan Alamangos, Jon Ortner, Rich Stuelke & Debbi Tamietti

It's hard to imagine life without the weekly motocross wars. Every week at the races you tell tall tales about your accomplishments with people who were there when you accomplished whatever is was you are bragging about. Luckily, the complete and honest truth is not required between old friends or when bench racing. Racing should be fun; on and off the track.
Bryan Friday (43) won the Over-40 Intermediate class with a 1-1. Photo: Dan Alamangos
Next week they will be telling their co-workers at the office party about the guy who raced in a furry moose suit in the Over-40 Expert class—and finished 3rd overall. By the time the moto was over, David Cincotta had sweated enough to attract a real moose to the Glen Helen foothills.
REM promoter Frank Thomason (551) has recovered from his knee replacement surgery —as this photo proves. Photo: Rich Stuelke
The racing between man and moose was great. The weather was warm and sunny. The dirt was ripped and watered. And the hills were just as steep as ever. Best of all, no one got hurt. With Christmas on Tuesday, the REM racers will be back on Saturday, December 29, for the absolute last chance to race motocross in 2018. For anyone who wants to race, the December 29 race is two days before New Year's Eve, so it is good opportunity to blow out the toxins before ingesting a lot of them when the calendar switches over to 2019.
Drew Castro (433) was third in the Over-50 Novice class behind David Bress and Lance Sloane. Photo: Dan Alamangos
Jon Ortner styles for awhile on his way to the Over-50 Elite victory. Photo: Rich Stuelke
THE RESULTS FROM THE BIGGEST CLASSES OF THE DAY
250 NOVICE
1. Noah Viney (TM)…1-1
2. Cole James Gress (KTM)…3-2
3. Josh Fout (Yam)…2-3
4. James Pietronico (Yam)…5-4
4. Garrett Briggs (KTM)…4-5

Pasha Afshar gets weightless without the Space Shuttle. Photo: Jon Ortner
OVER-30 NOVICE
1. Chris Ayers (Yam)…1-1
2. Mark Taylor (Yam)…2-2
3. Ian Stoner (Hus)…4-3
4. Jamison McClain (Hon)…3-4
5. Mark Quintero (Hon)…5-5
Randel Fout was one of four MXA test riders assigned to keep testing the 2019 250 four-strokes. The 250 Shootout video may be done, but the complete magazine test is still in the works and we learn new stuff at every race. Photo: Dan Alamangos
OVER-40 NOVICE
1. Bil Reimer (KTM)…1-1
2. Joe Pena (Yam)…2-3
3. Lamont Dusseau (Yam)…3-4
4. Pete Vetrano (Yam)…6-2
4. Mark Saldibar (Kaw)…4-4
Richard Taylor (44) won the 450 Pro class. Photo: Dan Alamangos

OVER-50 INTERMEDIATE
1. Dirk Davidow (KTM)…2-1
2. Robert Collins (KTM)…1-2
3. Shy Moshe (Yam)…5-3
4.  Mike Phillips (Hus)…4-5
5. Bill Reimer (KTM)…3-6
Swede Rickard Hansson was second in the 450 Pro class. His last race was at the ISDE in Chile. Photo: Dan Alamangos
OVER-50 NOVICE
1. David Bress (Suz)…2-1
2. Lance Sloane (KTM)…1-2
3. Drew Castro (Yam)…3-3
4. Ron Rich (Hus)…5-6
5. Chuck Cook (Hus)…8-4
Pete Murray (25) didn't have all day, so the 59-year-old raced with the Over-40 Experts because they were Race 1. He would have been second overall if he was scored with them. Photo: Dan Alamangos
OVER-50 EXPERT
1. Robert Reisinger (Hus)….1-1
2. Ron Shuler (KTM)…3-2
3. Brian Calhoun (KTM)…2-4
4. John Griffin (Suz)…6-3
5. Mike Monaghan (Yam)…4-5

Mark Hall (77) came down from Boise, Idaho, to spend time with the family over Christmas. He figured that he might as well squeeze in a race between the festivities. Mark went 9-9 for 9th in the Over-60 Expert class. Photo: Dan Alamangos
OVER-60 EXPERT
1. Dave Eropkin (KTM)…1-1
2. Mike Monaghan (Yam)…2-2
3. Bob Rutten (KTM)…3-3
4. Ron Lawson (Yam)…4-4
5. Pete Vetrano (Yam)…5-5
Josh Fout (26), Chris Ayers (86) and Geza Simon jockey for position at the end of the front straight. Photo: Dan Alamangos
OVER-60 INTERMEDIATE
1. Phil Cruz (Hus)…1-1
2. Mitch Evans (Yam)…2-2
3. Brian Martin (KTM)…3-3
4. Gene Boere (KTM)…4-4
5. Mark Noore (Hus)…6-5
You don't see a lot of Ossa Phantoms at modern races, but Randy Lewis is the exception. Photo: Jon Ortner
OVER-65 INTERMEDIATE
1. Randy Lewis (Oss)…1-1
2. Lars Larsson (Hus)…2-2
3. Tony Parsons (KTM)…3-3
5. Jody Weisel (KTM)…4-5
4. Mike King (Hus)…5-4
Billy Joe Mercier (501) was flying on his way to the Over-40 Pro victory.  Photo: Jon Ortner
WINNERS OF SELECTED CLASSES

125 BEGINNER
1. Carson Necessary (Hon)…1-1
125 NOVICE
1. Jeremy Lacy (Yam)…1-1
Doug Redding (484) came back to racing after a long battle with cancer.  Doug went 3-2 to finished second in the Over-40 Intermediate class. Photo: Dan Alamangos
250 INTERMEDIATE
1. Dakota Bender (Yam)…1-1
450 PRO
1. Richard Taylor (Yam)…1-1
Kevin Weston (22) went 4-7 in the Over-40 Novice class, had a lot of fun and ended up in 6th place overall. Photo: Dan Alamangos
250 PRO
Brian Medeiros (Kaw)…1-1
OVER-50 ELITE
1. Jon Ortner (Yam)…1-1
OVER-40 PRO
1. Billy Joe Mercier  (Kaw)…1-1
Dave Eropkin (811) won the Over-60 Expert class with a 1-1. Dave was aided by the fact that Mike Monaghan fell down, all by himself, on the last lap of the first moto while leading. Photo: Debbi Tamietti
OVER-40 INTERMEDIATE
1. Bryan Friday (KTM)…1-1
Mike King (47 went  5-4 for fourth in the Over-65 Intermediates. Photo: Debbi Tamietti
THIS WEEK'S BREAKDOWN BY BRAND
1. KTM……………….34%
2. Yamaha…………..23%
3. Husqvarna…….13%
4. Honda…………….11%
5. Kawasaki……….11%
6.  TM…………………..4%
7. Suzuki……………….2%
8. Other………………..1%
"You don't stop riding because you get old, you stop riding when you can't lift your bike up on to the stand anymore." Enter the electric stand! Photo: Debbi Tamietti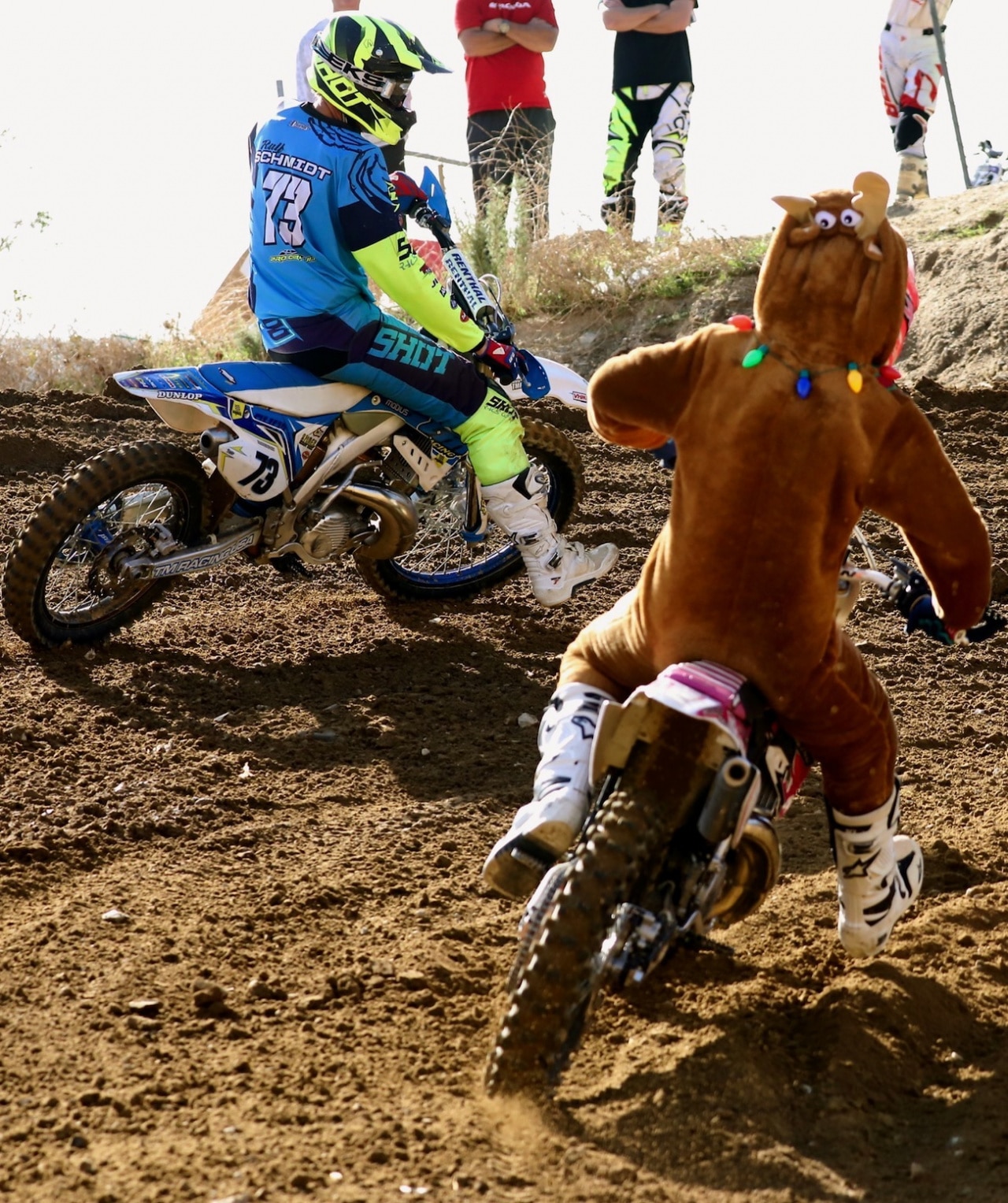 The bike of choice for a moose is a TM MX300. While TM importer Ralf Schmidt (73) swings high in this corner on his TM, the Moose cuts underneath him for his shot at glory. Not the necklace of battery-powered Christmas lights around the moose's neck. Photo: Debbi Tamietti
REM races again next Saturday, December 29,  The 2019 REM motocross season will start on January 12, January 19 and January 26.  For more info go to REM's facebook page or web page at www.remsatmx.com