REM GLEN HELEN RACE REPORT: PRESTON TILFORD, MAX GROOM, BILLY MUSGRAVE, TOM WHITE & STEVE LAWLER WIN

Killy Risk (60) spent the second 450 Pro moto is the spray of Preston Tilford's roost. The two young riders split moto wins.
Vance & Hines rider Preston Tilford, who is riding out the last few races on his V&H contract (because Tilford is turning Pro at Pala and doesn't fit into V&H's Amateur National program), made life difficult for himself in moto one of the 450 Pro class when he started at the back of the pack. Killy Rusk, taking a break from the "back east Nationals" to get ready for the finale at Pala, was up front and running away on a Honda. The first moto ended with Rusk first, Tilford second, Chris See third, Brett Hottel fourth and Italian Luca Nastrini fifth.

When the 450 intermediates where assigned to start in the same gate as the 450 Pros, no one expected 450 Intermediate Justin Jones (42) to grab the lead. Brett Hottel (76), Killy Rusk (60), Luca Nastrini (561) and Chris See (749) wonder how that happened.
In the second moto, Tilford got the holeshot and opened up a small gap over Rusk. Both riders powered their way through the crowded field to finish exactly where they started. Tilford got the 450 Pro victory, Rusk second (1-2) and Hottel third (4-3).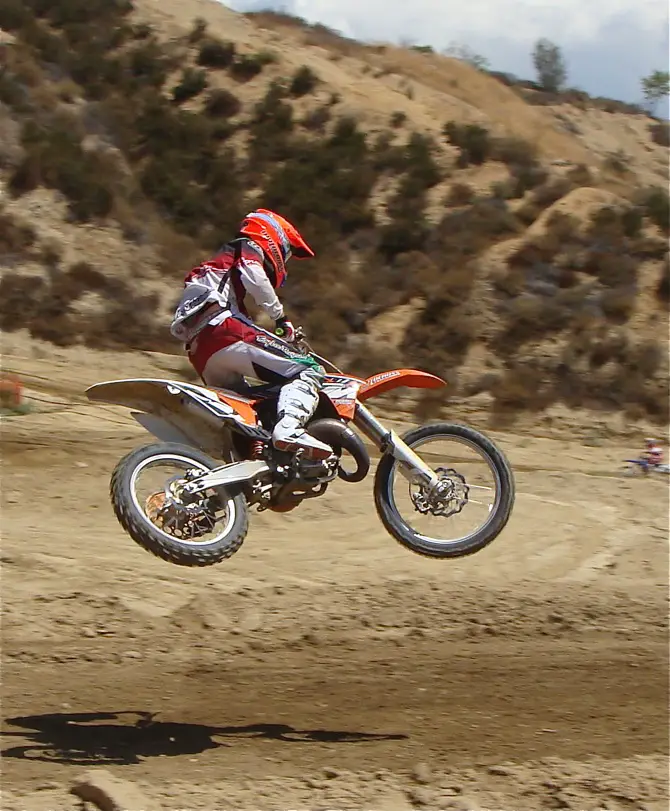 MXA test rider Billy Musgrave keeps the two-stroke flag flying with a win in the 250 Pro class.
Billy Musgrave won the 250 Pro class on MXA's 2012 KTM 150SX, while his dad (on MXA's 2012 KTM 250SX two-stroke) took the Over-40 Pro class. Max Groom went 1-1 in the 250 intermediates to beat WORCS racer Evan Kelly (3-2) and Italian Lorenzo Brogi (4-3). The 450 Intermediate victory went to Cody Brownfield with a 2-1 over Justin Jones (after Jones had engine troubles in the second moto).

Taylor Lacombe didn't get to race very much while with the Marines in Iraq and Afghanistan, but now he is back home and making up for lost time. Taylor was fifth in the 450 Novice class on his YZ250.
WHAT ABOUT THOSE OLD GUYS?
Tom White took the Over-60 Expert class victory with a 1-1 over T.V. Holmes (2-2), Ray Pisarski (3-3), Jody Weisel (5-4), Bill Seifert (6-5), Larry Popp (7-6), Alan Olson (4-10) and Feets Minert (8-7).

Ray Pisarski was assigned MXA's 2012 Kawasaki KX250F for this week's race, but it blew a shock seal in practice. Ray was reassigned to a Honda CRF250. Tough life.
Steve Lawler was this week's Over-50 Expert winner. Lawler's 1-1 beat Dave Eropkin's 4-2, Gary Jones' 3-3, Willie Amaradio's 5-4, Dennis Boulware's 2-7, last week's winner Greg Nelson's 6-5, Randel Fouts' 10-6, Randy Skinner's 9-8, Mike Monaghan's 8-9 and Ron Lawson's 7-10. Ron Lawson would come back on his KTM 125SX to win the Adult "A" two-stroke class.

Dirt Bike's Ron Lawson (56) has been racing a 2012 KTM 125SX in the Adult "A" class (which he won this week), but he likes it so much that he races it in the Over-50 Experts also.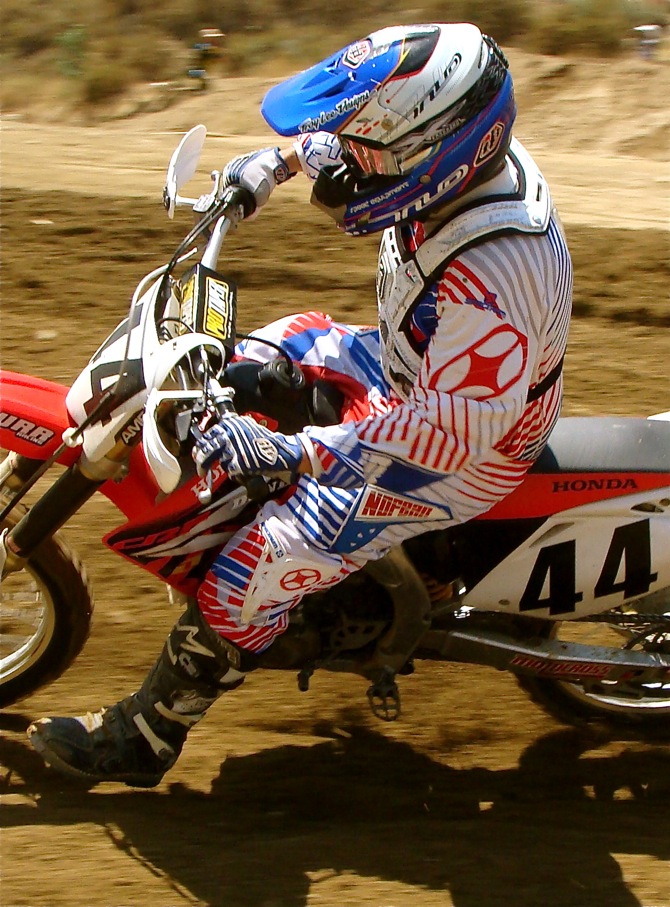 Life is tough in the Over-50 Expert class. Dennis Boulware was second in the first moto, but snoozed on the start of moto two and ended up seventh.
Robot Rogers (a blast from the past) used a 2-1 to take the Over-50 Intermediate class in front of Rob Collins' 1-2 and Mark Hall's 3-3. The Over-50 Novice victory went to Michael Mosca in front of a top five of Brent Jackson, John Bradley, George Garcia and Brian Martin.
The Over-40 victors were Scott Noseworthy (3-1) in the Novices, Bryan Friday (1-2) in the Intermediates, Greg Pierce (1-1) in the Experts and Willy Musgrave (1-1) in the Pros.

Alan Olson's 4-10 day in the Over-60 Expert class was caused by lack of fitness from the former Over-40, Over-50 and Over-60 World Vet Champion (Olson, who was also Chad Reed's mechanic, has nine World Vet titles). Olson has been busy this summer dragging his young Vance & Hines riders, Preston Tilford and Steven Tokarski, all around the country to amateur races.
OTHER CLASSES
Sean Bell, son of 1980 AMA Supercross Champion Mike Bell, won the 85 Novice class. Michael Rogers, son of Robot Rogers, won the 150 Beginner class. Nathan Cernicky used a 2-2 to win the 250 Novices (moto winners Johnny Martinez and Anthony Perez finished second and third). Nate Bailey took home the gold in the Vet Beginners, while Lee Pattison used a 3-1 to win a close 250 Beginner race (over Ty Cullins (2-2) and Sinjin Lloyd (1-2). Ryan Hick swept the 125 Beginners.
REM races again next weekend, Saturday, September 3. Practice starts at 9:00 a.m. For more info go to www.remsatmx.com