REM GLEN HELEN RACE REPORT: SEAN COLLIER GIVES A RIDING LESSON, WHILE EVERYONE ELSE BATTLES
Sean Collier (207) has been racing a lot more now that son Damian is old enough to race motocross also. Sean had an easy time in the 450 Pro class, but still has the most unique lines. Photo: Debbi Tamietti
PHOTOS BY DEBBI TAMIETTI

Everybody who races at REM Motocross likes the clockwork precision of the organization, but this week there was a glitch in the first practice session when Over-50 Novice Rodrigo Luna grabbed a big a handful and started to wheelie. He couldn't get the front end down and eventually fell off the back of his bike, even though his bike continued on down the track without him. Luna landed hard on his back and it was determined that it was best to let him lay until the EMT's cleared him to move. Thus, a red flag fell before the first practice session was over. The old hands don't remember that ever happening before.
Practice ran fairly smooth after that but the motocross races had few weird moments. Kevin Barda's Husky found a strong magnetic attraction to Pablo Mogollon's Husky in the first turn of the second Pro/Expert moto. Barda took a trip to the hospital, but checked out okay, while Mogollon, who was landed on by Barda, remounted only a little worse for wear. Barda texted an apology for whisky throttling straight through the first turn—until he came to Mogollon's bike. You can see a video of the crash by Clicking Here.
Kevin Barda and Pablo Mogollon went down early in the Pro moto. Kevin texted Debbi Tamietti from the hospital and ask her to "please find the Pro kid (Pablo Mogollon) I cleaned out and tell him I'm so sorry.  Total knucklehead move on my part and I feel so bad.  I misjudged my closing speed (or I've just had too many hits to the head)."  Kevin got X-rays, but was able to walk out of the hospital with a sore shoulder. You can see a video of the crash by Clicking Here. Photo: Debbi Tamietti
Things settled down for a few races and then Alan Jullien didn't like the way the riders in front of him where using their brakes in the first turn, so he veered off the track and up the inside of the first turn. It might have worked, although it did smack of cutting the first turn, but it didn't matter because Alan's footpeg hit the tractor tire and his bike stopped in its tracks. Alan barely avoided the fate of falling into the center of the giant tractor tire, but held on to remounted in last place. No harm done, as he raced back to second overall in the Over-40 Expert class.
Former Michigan Pro Randel Fout broke his wrist a month ago and decided to try it out at REM. We are lucky that Debbi shot this photo of Randel in practice, because that's as far as his wrist got. Always upbeat, he said, "I'm gonna give it two more weeks off." Photo: Debbi Tamietti
Then Pasha Afshar ran out of gas in the back portion of the track, where there was no one to help push and faced the walk of shame back to the pits. It silly to run of of gas, but silly things do happen. Australian Dan Alamangos was having a good day in the Over-50 Expert class and looked like a top three was in the books, when his Husqvarna FC350 stopped dead in its tracks. He rolled down the big hill and back into the pits, where he got a bunch of people to try to fix the problem, but a bunch was one bunch too many. Finally, Gene Boere walked over and said, "Check your fuel line's quick release fitting." Sure enough his gas line had popped open, which on a fuel-injected bike means it dies instantly. How he made it through the first moto is a mystery because no one touched the fuel lines all day. Nothing was lost, as MXA told him to go race the 2021 Yamaha YZ250FX in the next moto as part of a big test of the YZ250F-based cross-country racer. Dan loved it, maybe because it was good and maybe because it didn't have quick release fuel lines.
South African Alan Jullien (70) won the Over-40 Expert and Over-50 Elite classes, but you can't tell from this first turn photo. Alan tried to squeeze up the inside, but caught his footpeg on the tractor tire delineating the inside of the first turn (well, actually there is a berm that is a couple feet away from the tire, but Alan was inside that).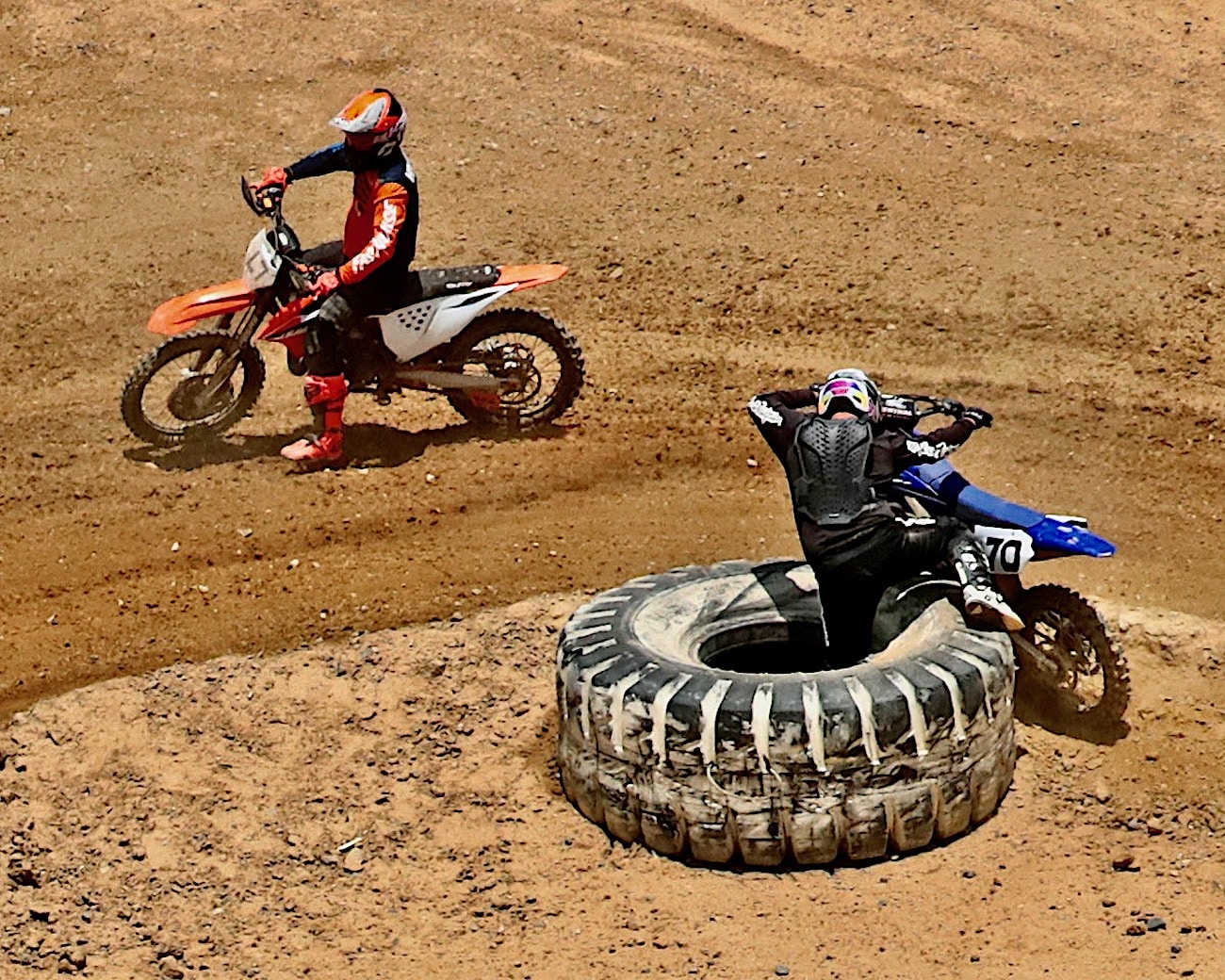 Had Allen fallen down into the tire, he wouldn't have been the first rider to do it, but he saved it, thanks to one long leg, and came back to second place to go 1-2 in the Over-40 Experts. Photo: Rich Stuelke
Every REM racer loves it when Sean Collier shows up to race. Just watching Sean ride is like watching an artist paint. He chooses good lines, seamlessly shifts at the right point and is a patently nice guy..
Alan Jullien (70) without his spare tire being chased by Nick Gonzales (10).  Photo: Debbi Tamietti
TM's Ralf Schmidt was second in the Over-40 Experts behind Jullien.  Photo: Debbi Tamietti
What follows is a photo essay of Saturday at Glen Helen by Debbi Tamietti.
Jon Ortner crashed three weeks ago at a secret practice track and broke his foot. Jon gave his sponsored Yamaha YZ450F back to Simi Valley Yamaha. They gave it to Pro Richard Taylor (141) to race.  Photo: Debbi Tamietti
Don't look! Oh, now you've done it. Jon Ortner's toes will haunt you every time you pull your boots on after seeing this. Jon got  three pins and a plate, but in three more weeks he'll get the pins out. The plate is there for life. Photo: Jon Ortner
Pasha Afshar forgot to put gas in his KTM 150SX and had to push it the long way back to his truck.  Photo: Debbi Tamietti
Jason Miller (339) couldn't get any closer to Nick Dorsett (16) if he tried. Photo: Debbi Tamietti
We take that back. He could get closer and he did one second later. Photo: Daryl Ecklund
Joe Sutter (111) tries to hold off the advances of Australian Dan Alamangos (98) in the Over-50  Expert class. Late in the second moto, Alamangos had secured third overall when the quick release gas line on his Husqvarna FC350 popped off. Without gas they don't go very far. Photo: Daryl Ecklund

This was one of the closest and most intense races of the day. Ed Guajardo (27) and Robert Reisinger (96) were hooked up for the Over-60 Expert win. Reisinger tried everything in his power to pass Guarjardo. They blew by lapped riders like men possessed, here they pass Joe Root (8) and Frank Emerson (75). Guajardo held him off both motos.  Photo: Debbi Tamietti
And now for one with Robert Reisinger (96) in front of Ed Guajardo (27).  Photo: Debbi Tamietti
Fred Nichols (56) and Dave Eropkin (811) couldn't match the pace of Guajardo and Reisinger in the Over-60 Experts, but they fought tooth and nail for third overall. Eropkin made the necessary passes to end up with 3-3 day to Nichols 4-4.  Photo: Debbi Tamietti
Former Saddleback hero Val Tamietti was the model of consistency with a 5-5 in the Over-60 Experts.  Photo: Debbi Tamietti
1970's Indian Dunes star Joe Root (8) can win the Over-65 Experts when Bob Rutten doesn't come down from Utah. Unfortunately for Joe, Bob made the trip this past weekend. Photo: Debbi Tamietti
Bob Rutten (83) owns the Over-65 Expert class, but there are a lot of Over-60 Experts who will be turning 65 years old in the coming months and will want to escape the intensity of the younger class.  Photo: Dan Alamangos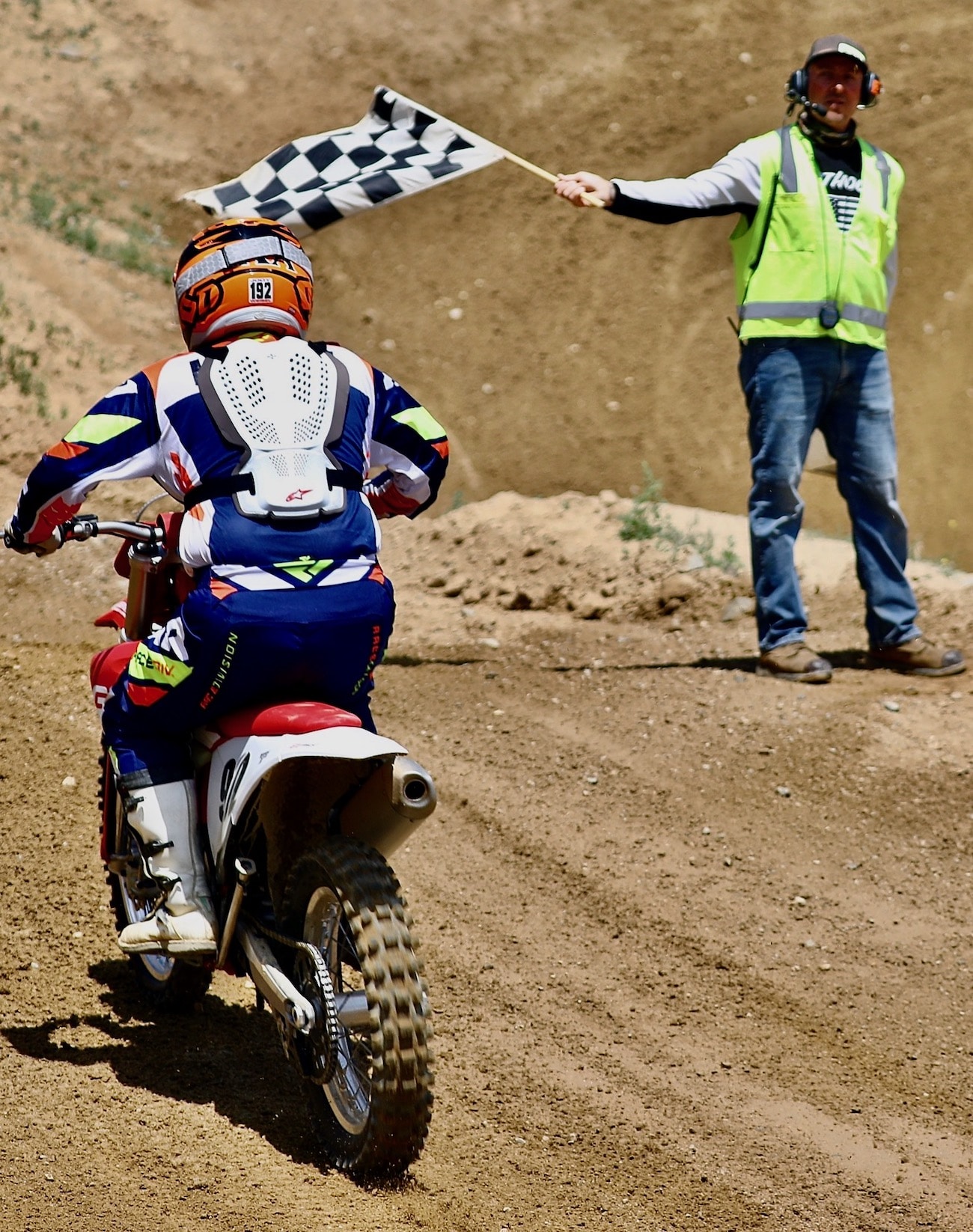 MXA's Jody Weisel gets the checkered flag. However, once back in the pits Lovely Louella made him go out and thank the flagman for his patience.  Photo: Debbi Tamietti
Last week Luc DeLey won the Over-60 Intermediate class on a 43.70 horsepower Pro Circuit-built KTM 150SX. This week MXA put him on a stock KTM 150SX with nothing more than a Scalvini pipe that made 39.52 horsepower. He won again, but it took him longer to get to the front. Photo: Debbi Tamietti
We thought that the Reisinger/Guajardo battle was good, until we saw the three-man battle between Bob Gilbert (427), John Bosanko (101) and Marc Crosby (38). At the checkers it was Crosby, Bosanko and Gilbert. Best of all they stopped at the track exit to congratulate each other. Photo: Debbi Tamietti
Marc Crosby without his to two shadows.  Photo: Debbi Tamietti
Mark Trabucco (63) went 2-2 in the Over-65 Intermediates behind Gene Boere's 1-1, but in front of Kent Reed's 4-3.  Photo: Dan Alamangos
Todd Potkay (990) swept both motos of the Over-50 Novices.  Photo: Debbi Tamietti
Ernie Becker (78) is a race car driver, who does promotional driving schools for Lexus and AMG Mercedes. When he's not at Glen Helen, he's at a sport's car race.  Photo: Debbi Tamietti
Damian Collier (126) looks a little bit more like his dad with every race. Damian is still a 125 Beginner, racing an old Honda CR125, but you can't tell from his form in this corner. Photo: Debbi Tamietti
Mark Taylor has got this berm all wrong, but rather than panic he just turned the throttle wide open and headed in the direction he originally wanted to go. Mark went3-3 in the Vet Novice class on a Yamaha YZ250. Photo: Debbi Tamietti
Ryan Donley (327) swept both motos of the 125 Beginner class on a GasGas MC 125. Photo: Debbi Tamietti
Everybody has to start somewhere and for young Luke Johnson his first race will be a day he will never forget. Luke gets down low in the 125 Beginner class where he went 5-5 Photo: Debbi Tamietti
For more information about REM go to www.remsatmx.com or Click Here for REM's Facebook page.